There's no doubt about it, in recent years, arts and crafts activities have enjoyed an enormous surge in popularity. In fact, in 2017, the global arts and crafts market was worth roughly $35 billion. This is projected to escalate to a whopping $50.9 billion by 2024!
You only have to do a quick online search to see web pages littered with arts and craft ideas for adults and kids alike. And we're not surprised – creative play is time absorbing, educational, and a whole lot of fun. 
Maybe you already know your child is great at arts and crafts and loves nothing more than getting creative? Or perhaps you're just looking to entertain the little ones without breaking the bank? 
Either way, there are plenty of natural arts and crafts ideas to inspire your kid's imagination. So, we're shining a light on some of those ideas right here, right now. The idea is to condense some of our thoughts onto one page so that if, like most parents or carers, you don't have tons of time, you can dive right in and start having some fun.
So, without further ado, let's explore some of our favorite arts and craft ideas for kids:
The Great Outdoors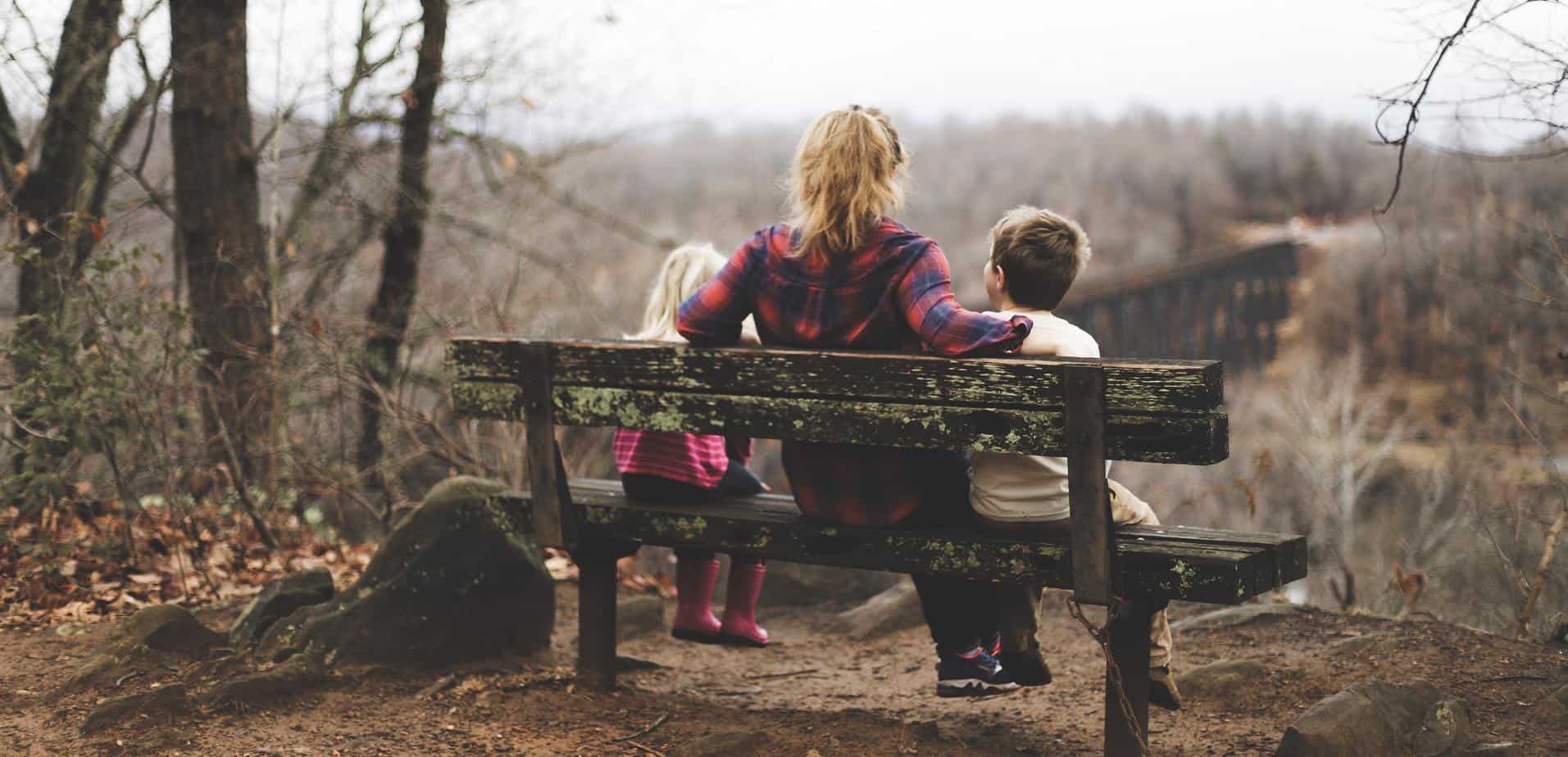 Here, we're talking about taking inspiration from the great outdoors. You can either literally venture outside for this one or just use it as a theme to spark an afternoon's worth of fun.
Use your garden, nearby park, or forest to collect fall leaves, pine cones, nuts, and twigs. Fill your bags full of free and gorgeous-looking stuff for you to play within the comfort of your warm home. 
You can use what you've collected to stick to paper to create an autumnal collage, or use your leaves (or whatever else you've gathered) to draw around and color in.
Alternatively, grab your pinecones and tie a piece of string to their tops, so there's a small loop (a bit like a Christmas tree bauble). Then raid your kitchen cupboard for peanut butter (stay with us here!) and add small dabs of it to the pine cone. Why?
So you can transform it into a pinecone bird feeder that your kids can hang in the garden. Your children can happily watch the birds feeding, playing, and even drawing and painting them. 
…As you can see, a simple walk outdoors can really create hours of fun!
Paper Mache
Inspire your kid's inner artist with some fun (and sometimes messy) paper mache projects. 
All you need is:
Newspaper

Paint

Paper mache paste (equal quantities of water and flour to create a thick glue) 

Other decorating products (aluminum foil, glitter)

Paper scissors

Paintbrushes
…And you're good to go!
Now, just choose what you want to make. There are no rules here. We've opted for a simple paper mache bowl. It only takes approximately 20 minutes to make, then leave it for about a day to dry before decorating it in fun, bright colors. 
Once you get the hang of paper mache, you can go all in and make more ambitious items!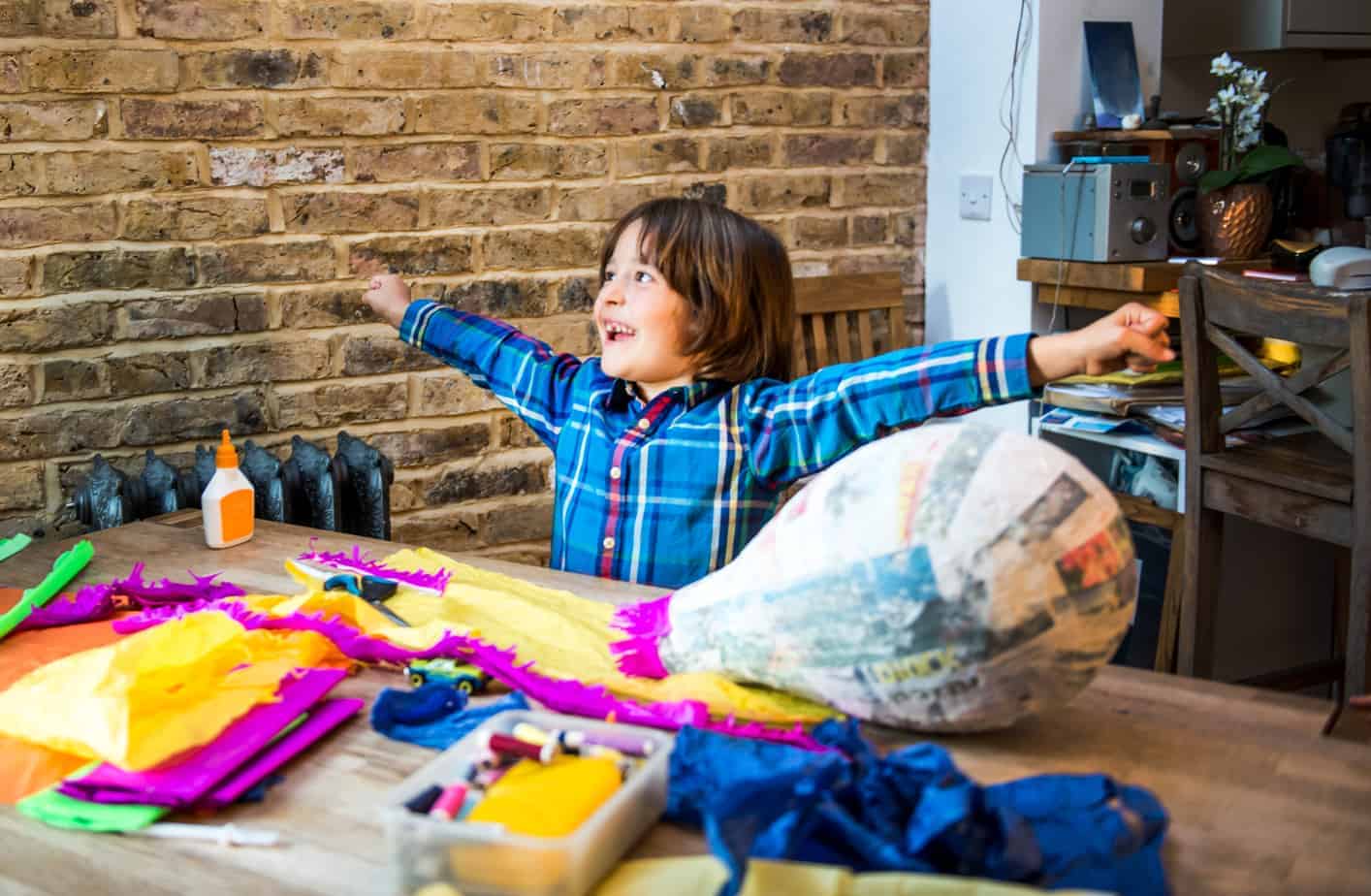 One for Bored Teens
If you're desperate to get your teens away from their screens (and let's face it, that's a perennial problem for all parents!), how about raiding their wardrobes (or bedroom floor…) for clothes they no longer wear? Then, spend an afternoon upcycling some of their discarded items. 
Your teens can totally DIY themselves some new wardrobe must-haves with the clothes they already have. For example, you could grab an old pair of jeans and the following items:
Fabric marker (for example, a fine point Sharpie)

Fabric paint and a paintbrush

Fabric markers

Your imagination!
Then, literally, draw or paint anything you want onto the denim. From abstract or graffiti art, your favorite quotes, song lyrics (or anything else you can think of) – it's a simple way of keeping your teen occupied.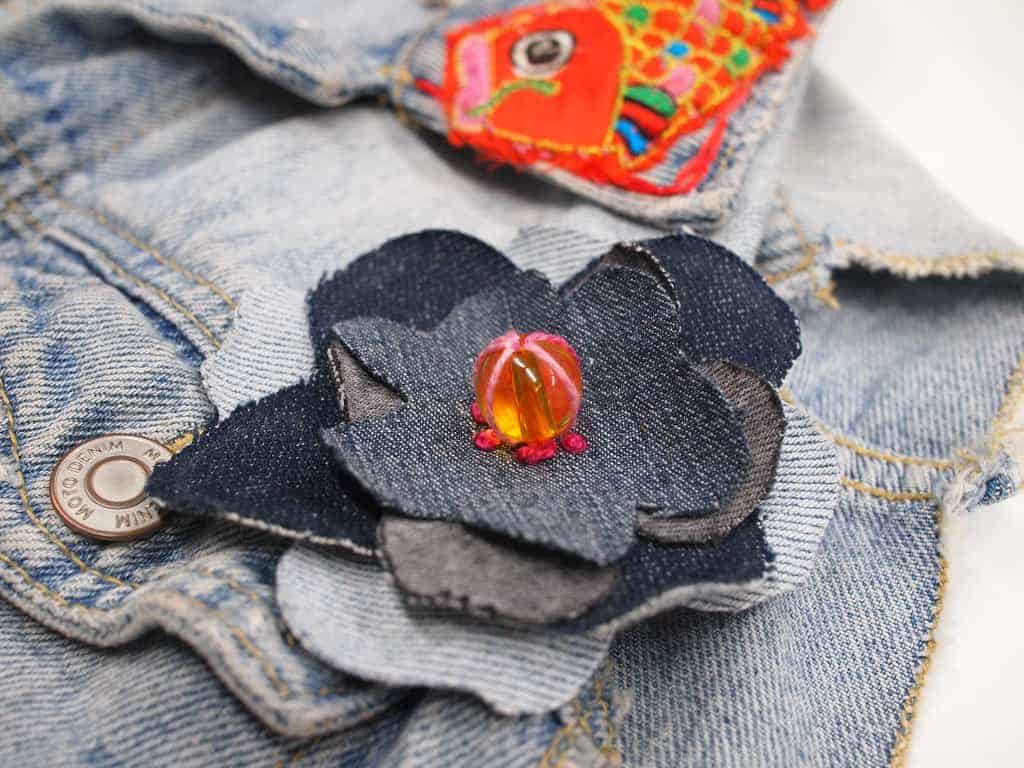 Sensory Natural Arts and Crafts for Preschoolers
Entertaining younger kids doesn't have to be challenging and exhausting if you plan ahead. There are tons of educational arts and craft projects you can do with your little ones. These are lots of fun, but they also encourage their development, imagination, and growth – win-win! 
One suggestion is to make some playdough. If you want to add to the fun, your kid could help you make it. In case of allergies, here's a cheap and straightforward recipe for gluten-free play dough that will keep the little ones entertained for hours! Playdough can be used to make shapes, round objects, be flattened out, and molded to create whatever you want. It's a fabulously fun and sensory experience!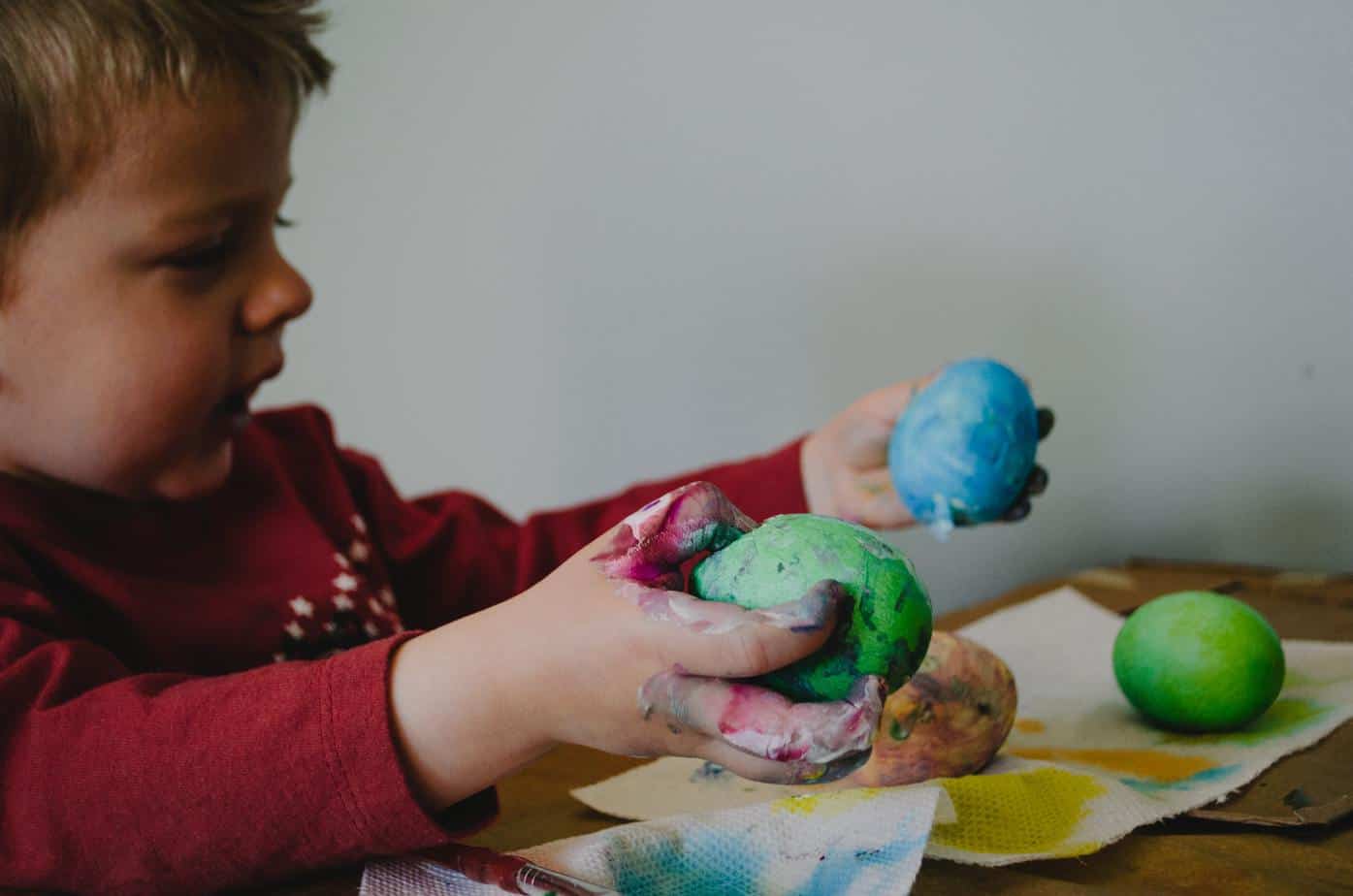 Wine Cork Kits
Here's a use for something we're guessing many households will have to hand: wine corks. While some people use them as firelighters in their log burners/open fires, we've found a longer-lasting use for them… 
Gather up your old wine corks and start using them for your child's arts and crafts projects. You may be scratching your head at this point, so here are a few ideas:
Cork people: As well as corks, you'll also need fabric, wool, glue, felt, and so on. Creating cork people is an excellent way for your kids to create different characters and have fun making up stories. 
For more ambitious crafters, how about creating a car or train made from wine stoppers? You may need a fair few corks for this project, but if you're a wine lover, that shouldn't be an issue.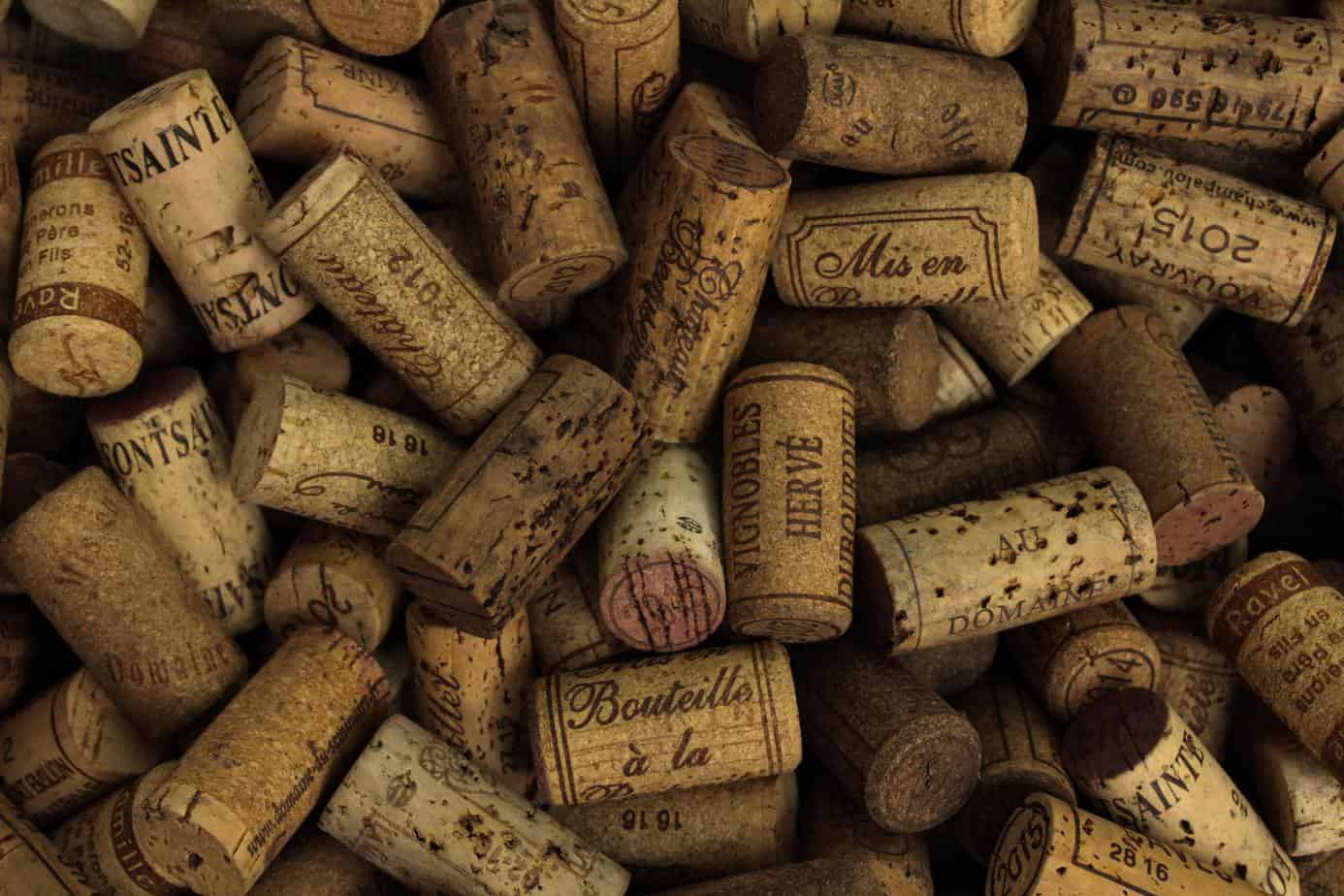 Collages
Here's a natural arts and crafts idea that's suitable for all ages and abilities. The best part is that it doesn't have to cost a ton of money. Plus, if you're lucky, you won't have to step outside to go and get supplies. 
If you're a committed recycler and keen to pass on that important environmental message to your kids, check your recycling bin for newspapers, colored papers, magazines, etc.
Then, if you have other items for collaging, like old buttons, glitter, pasta pieces, ribbon, and so on, gather them together. Then, put everything in a pile on your kitchen table. Add some child-safe glue into the mix, and your collage recipe is complete!
Fun Tip: Mix up the items you're going to use, so your kids work with different colors and textures. They can even cut out letters and words and incorporate those in their collages too.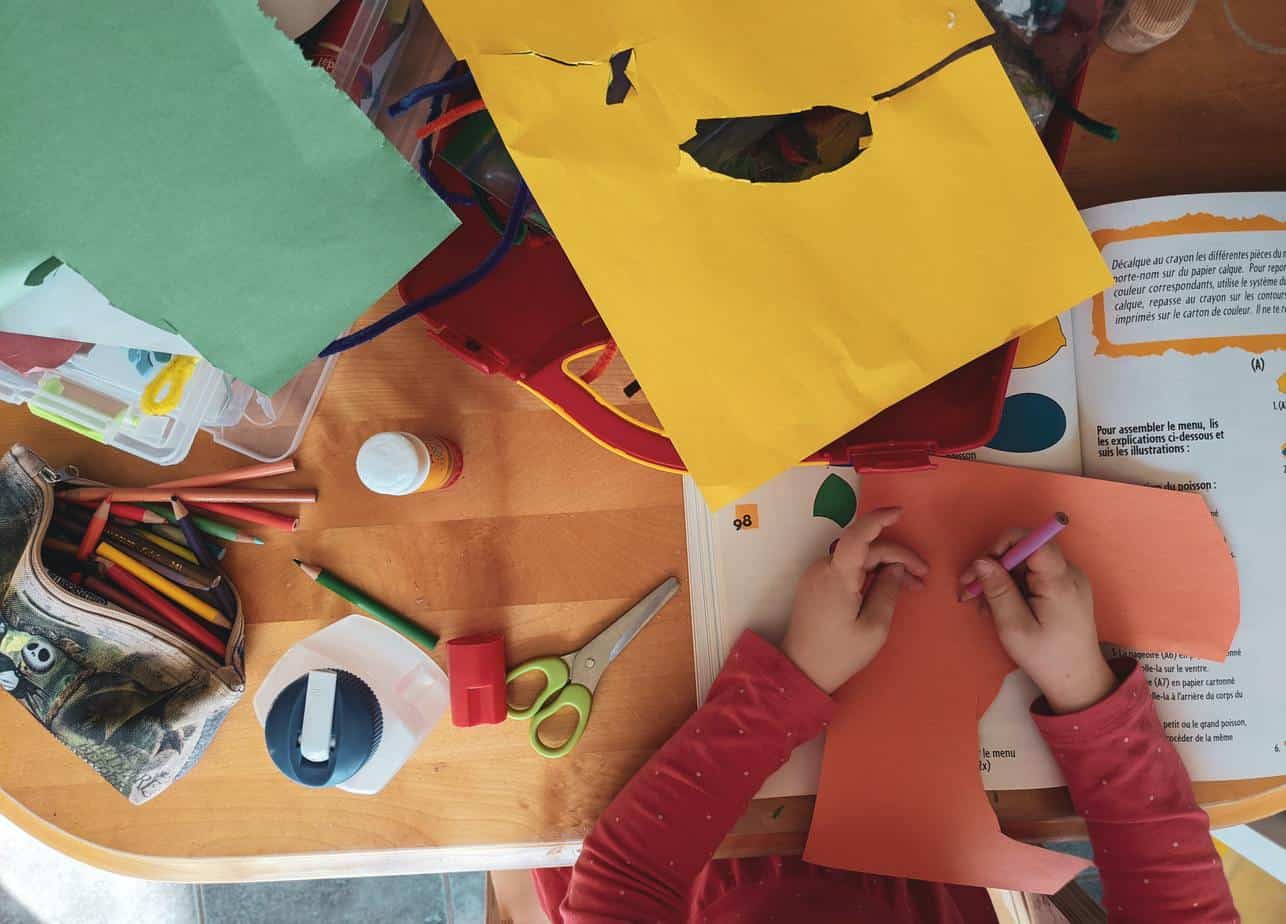 The Major Differences Between Natural Arts and Crafts and Other Types
When you're researching and shopping for natural arts and craft ideas, you'll see straight away that they fall into one of two categories: 
Natural vs. Plastic arts and crafts

Digital art projects
There's no right or wrong answer here about which is best. It's just worth understanding the differences between the two categories because it will help you decide on the projects you and your kids want to undertake.
Compared to natural products, plastic-based arts and crafts projects are way less environmentally friendly (unless you're using recycled/recyclable materials). As such, if you want to reduce your carbon footprint, you may be more interested in using materials you already have. 
When we talk about digital arts and craft ideas, we're referring to online art projects, which sometimes combine technology and natural arts and crafts. For example, creating digital versions of mosaic portraits, animated GIFs, digital designs for printed temporary tattoos, and so on. 
Digital arts and crafts projects are fabulous for encouraging kids to think creatively and critically. If, however, you're keen to get your kids away from their mobile/tablet/desktop/tv screens, you may be swayed by more natural arts and crafts ideas, which prompt them to focus on more traditionally creative methods. 
The Advantages and Disadvantages of Natural Arts and Craft Ideas for Kids
Natural arts and crafts have their advantages and their disadvantages. But, first, let's take a look at their benefits:
The Advantages of Natural Arts and Craft Ideas for Kids
We've already mentioned some of the benefits, but here's our round-up of why we think natural arts and crafts are an excellent activity for kids:
First off, they don't have to cost a lot of money. Whether you buy pre-made kits from stores or dig out items you already have at home, a little goes a long way. If, for example, you decide to make your own playdough, not only are you teaching your kids that it's possible to make things for scratch, but you're honing your own arts and crafts skills too – win-win! 
To summarise some of the health benefits that come with organic crafting projects, here are our thoughts:
They improve hand-eye coordination

They enhance your child's motor skills

They encourage creativity and working with colors, textures, and shapes, allowing kids to experiment and play in a non-structured and fun way
Lastly, on average, kids aged 8-12 in the US spend around 4-6 hours a day watching screens, across smartphones, tablets, TVs, gaming consoles, and so on. Once they hit their teens, that goes up to a whopping nine hours! While we're in no way saying that all screen time is terrible and no screen time is good, striking a healthy balance will enhance learning and lessen potential sleep problems. 
The Disadvantages of Natural Arts and Crafts Projects for Kids
As with most things, there are always drawbacks to be found. While we struggled to think of any disadvantages of your kids getting crafty, we managed to come up with the following:
Back to the screen time issue, if your kids are glued to their screens, you may find it difficult to pry them away…leading to tantrums and tears. Oh, dear. 
Sometimes, natural arts and crafts can be pretty messy, but in our opinion, the few disadvantages far outweigh the advantages.  
Safety Tips
It's worth mentioning if you're incorporating materials that younger kids can swallow/stuff up their noses, etc., you're going to have to keep an eye on them. The last thing you want is to end up in the Emergency Room of your local hospital!
Also, if you're buying from crafting stores, check what materials your arts and crafts materials are made of, including the glue. You want to ensure everything you buy is child-safe. 
My Top Recommendations 
We had a lot of fun at this point, compiling our favorite recommendations, and here they are:
Pinata Kits
One of our absolute favorite natural arts and crafts projects for kids are these pinata kits you can buy on Amazon. They range in price from $8.99 up to $49,99, and, even better, you can choose different characters. Whatever your kids are currently crazy about, there's everything from Pokemon to unicorns. 
Alternatively, there's this wild long-haired looking animal pinata kit right here. This just takes a few minutes to make!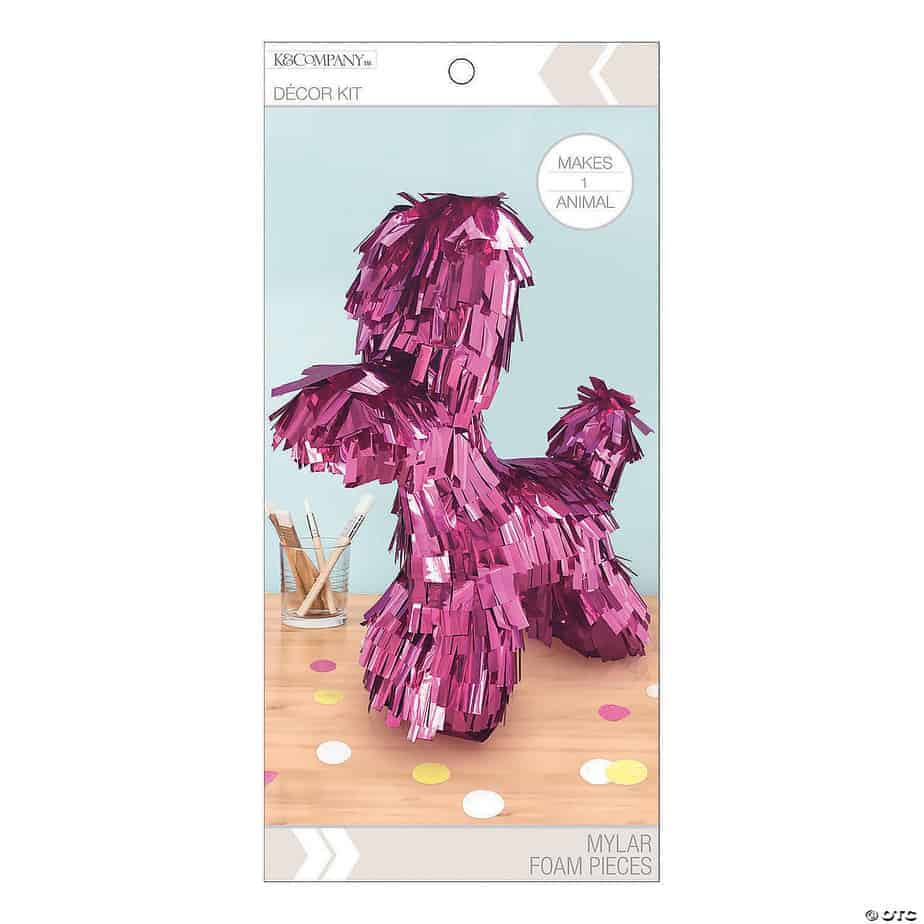 Clothes Upcycling Kits
If painting or drawing on clothes just doesn't cut it with your teen and bling is more their thing, check out these cute Swarovski crystal kits. You can use them on clothes, sneakers, bags, anything you like! There are plenty of examples of how creative crafters have adapted their clothes. Best of all, these kits retail pretty cheaply at around $10.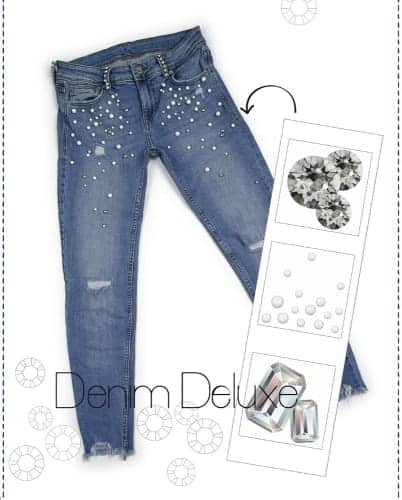 Play Dough Kits
If you're short on time or you're not keen in the kitchen, rather than making your own, spend a little cash on a fun playdough kit. There are literally dozens of these to choose from in multiple colors. 
We especially like these freshly made to order kits from dougshiedough. There are plenty of themed accessories available, so you and your preschooler can use the dough to tell stories and create fun experiences together. These aren't so cheap, running to around $32 each, but you get a fair amount of product for your dollar.
Alternatively, you can buy entire clay modeling sets from Amazon across a whole host of colors. They're non-toxic and come in easy to store tubs. Prices for a set of 24 tubs start at $20.99 – and these can generate hours of fun!
Collage Kits
While it's possible to delve into your recycling bin to drum up a load of collage materials, eventually, you may run out of materials. 
Cue one of our favorite stores: Creativity Street. Here you can stock up on items like glitter, feathers, stickers, beads, felt, and way more to use when creating fabulous collages.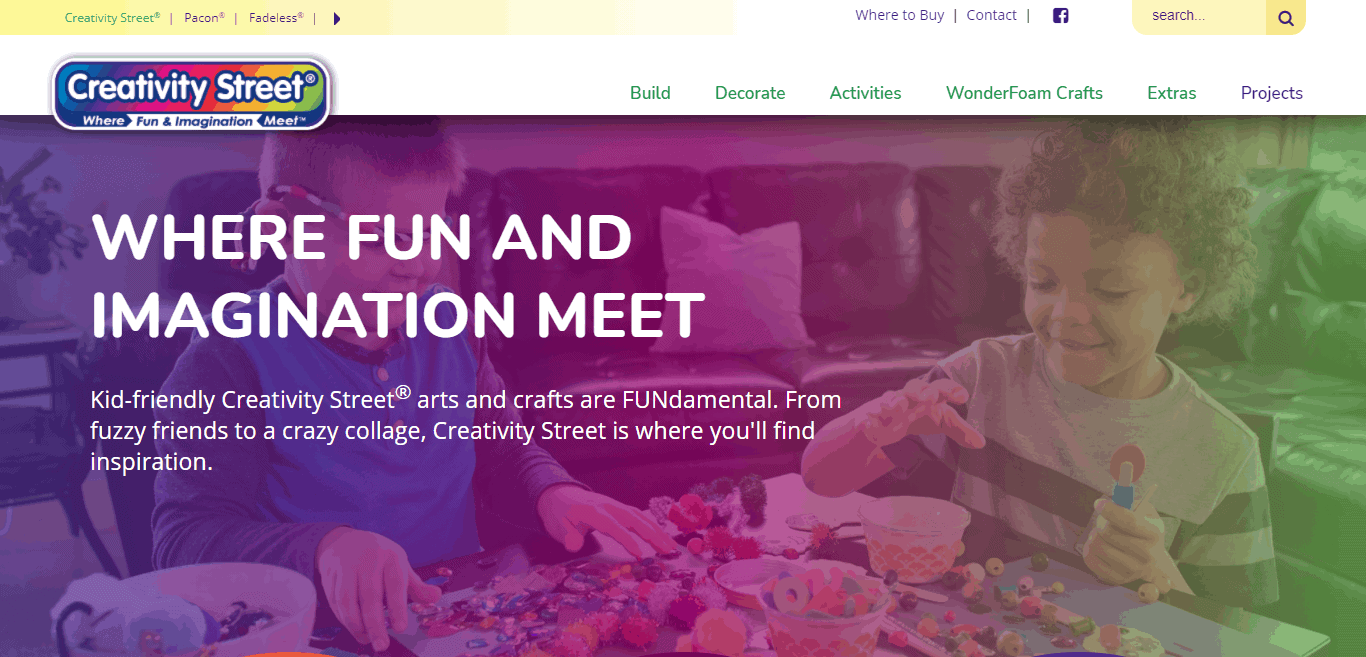 DIY Ornaments
Since, at the time of writing, Christmas is almost upon us, we thought we'd throw in a cheery Christmas crafting idea as our parting shot. 
We think that these cute DIY Christmas baubles are just the thing to add a little sparkle to your tree. Just invest in some clear Christmas baubles like these cuties from Amazon. Here you can bag 25 for only $13.99, then either:
Fill them with materials you already have like glitter, stars, ribbon, etc. 
OR
Grab those old CDs you no longer listen to and have fun smashing them up into tiny pieces. You can then stick the pieces onto the bauble to create a mosaic effect.  
These don't have to be just for Christmas; you could adapt the theme and run with it for birthday gifts or room decorations. It's entirely up to you. Either way, it's a fun way for you and your kids to make decorations that will potentially last for years to come!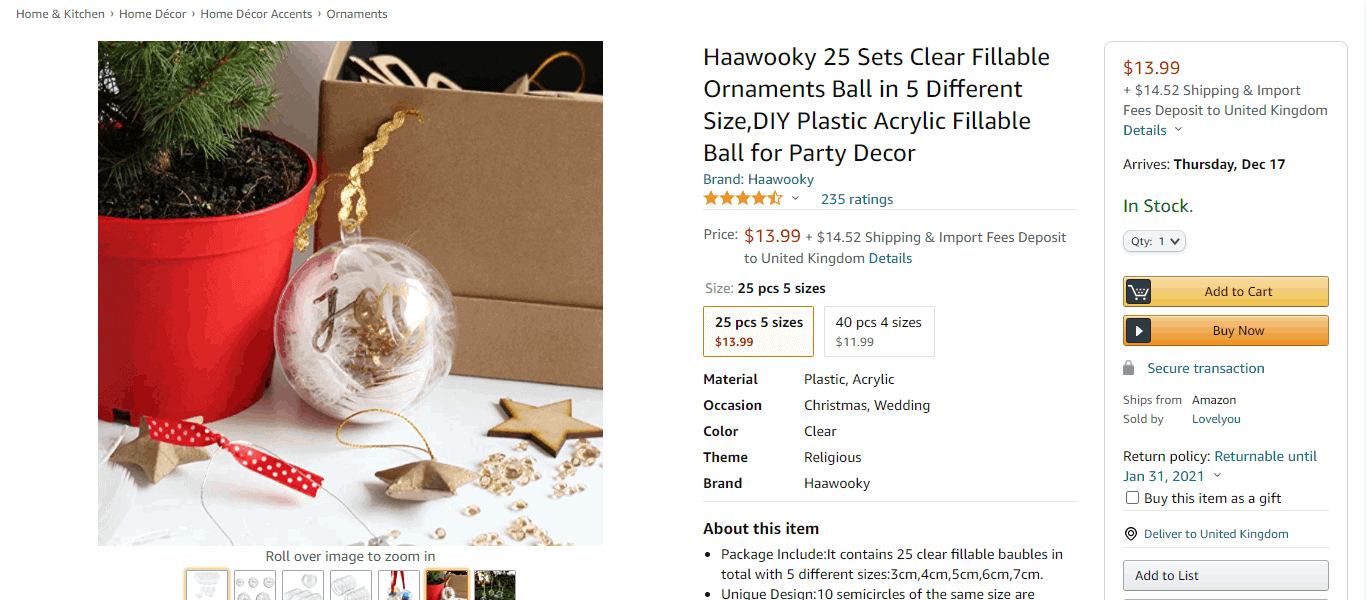 Are You Ready to Get Crafty?
Natural arts and crafts for kids can be a wonderfully satisfying and challenging way to spend time. Not only that, but over time and with practice, your kids will acquire dexterity, creative and problem-solving skills…all while having fun. What could be better?!
Use this guide to get to grips with the essential details you need to inspire your kids with the best natural arts and craft ideas. That way, when you and your family start their first or next arts and crafts project, you can do so with knowledge and confidence! Happy crafting!
Also, don't forget to tell us how you get on in the comments box below? We would love to hear all about your latest crafting projects!
FAQs:
Question: Are Natural Arts and Crafts expensive?
Answer: Arts and crafts projects never have to be expensive, especially when you're using natural materials. The beauty is that you can use bits and bobs from the great outdoors and/or upcycle items you already have. Not only is this tons of fun and eco-friendly, but you'll also spare your wallet.
Question: What do I need for natural arts and crafts?
Answer: Every project is different, but there are a few good things to have around the house for any crafting activity. These include scissors, a sewing kit, glue, paper, and string. As you purchase or collect your crafting materials, you'll slowly build an ensemble of useful items. Start looking for craftable things you usually throw away, like cardboard boxes, scrap clothes, or trimmed wood from the garden!
Question: What ages are natural arts and crafts suited to?
Answer: Most crafting activities require a degree of hand coordination, so they're not always suited to very young children. That said, your toddle will still have a great time painting and collecting materials out in the great outdoors. 
At this point, it's worth noting that if your project includes any small parts that might be swallowed, be careful that they don't become a choking hazard. 
Question: What are the benefits of natural arts and crafts projects for children
Natural arts and crafts for kids can be a wonderfully satisfying and challenging way to spend time. Not only that, but over time and with practice, your kids will acquire dexterity, creative and problem-solving skills…all while having fun. What could be better?!
Use this guide to get to grips with the essential details you need to inspire your kids with the best natural arts and craft ideas. That way, when you and your family start their first or next arts and crafts project, you can do so with knowledge and confidence! Happy crafting!
Also, don't forget to tell us how you get on in the comments box below? We would love to hear all about your latest crafting projects!