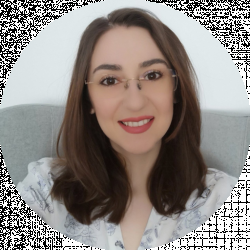 Latest posts by Alexandra Gavrilescu
(see all)
Nowadays, there's almost an endless variety of children's toys. All of them are appealing due to their designs, colors, shapes, and aesthetics. However, choosing the best wooden educational toys for your kids could be overwhelming if you don't have a clear idea about what you're searching for and what your child needs.
Today's guide will cover some of the most popular, safest, and educational toys made of wood and other natural materials. Moreover, I will tell you a couple of practical guidelines to remember when searching for wooden toys.
My Bottom Line Up Front
In my opinion, the best wooden educational toy choices, based on your child's developmental stage are the following items:
The Shape sorting cube for babies by Melissa & Doug – due to its colorful design and wide variety of shapes that will teach your little one many exciting and valuable new things;
Wooden jigsaw puzzles are my favorite toys for toddlers – that could be because I used to love doing puzzles as a child so it might be a highly subjective opinion. However, these puzzles are genuinely great and safe for your children;
For preschoolers, I would undoubtedly pick the Montessori wooden building blocks because they're fun to play with and they provide a wide range of educational perks. 
Top 9 Best Wooden Educational Toy Ideas
*All the following products aren't listed in any particular order. I've chosen them based on their fabrics, customer reviews, popularity, and the benefits these toys bring. 
For Babies
a. Organic Montessori Wooden Rattles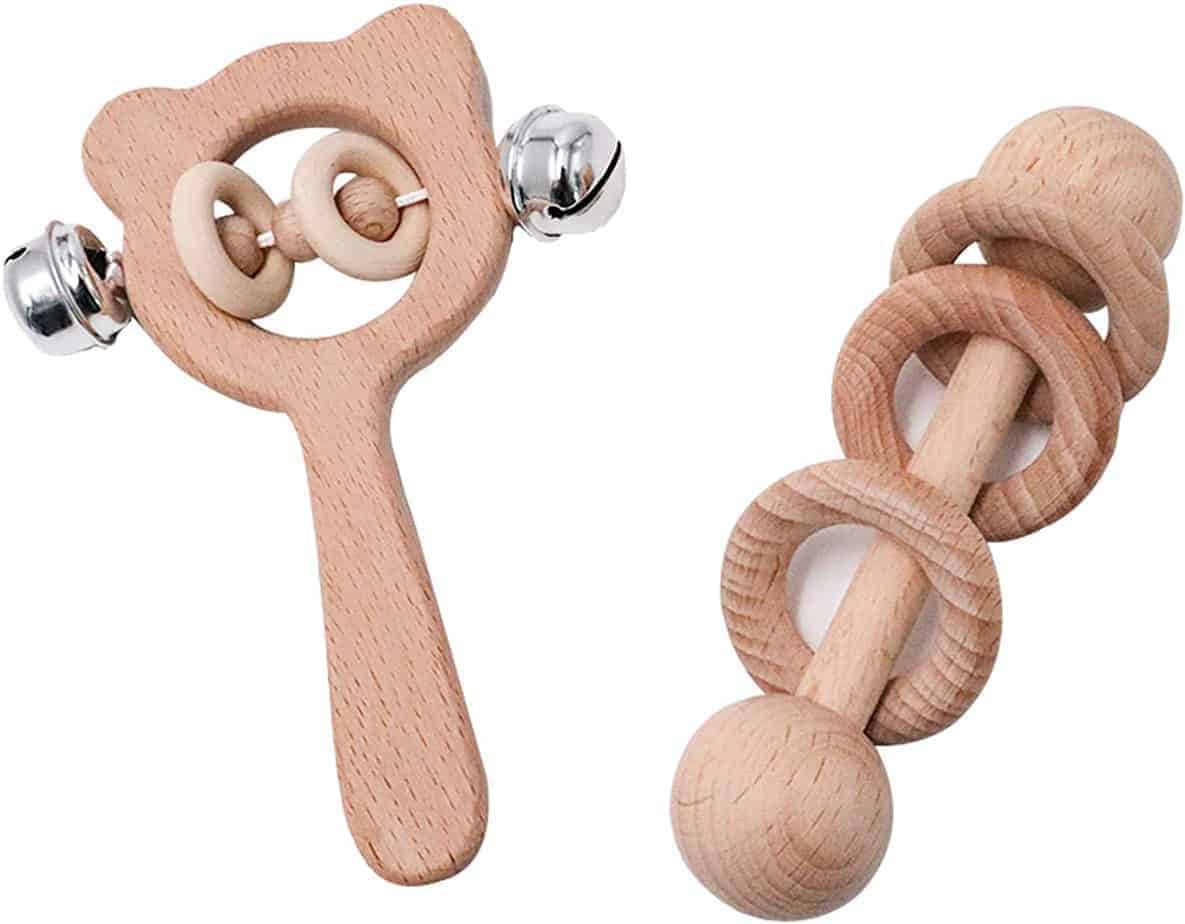 All babies can enjoy these wooden rattles since they're made of natural beech wood, which is safe for teething infants. Your little one will spend a lot of time exploring these wooden toys. The design is incredible, and the entire product is very well crafted. The set comes with a bear teether and a rattle teether.
I love how these wooden toys are safe and when I give them to my niece I'm relaxed knowing they are free of BPA so that when she puts these rattles in her mouth, she won't expose herself to any dangerous paints or toxic substances. I'm a fan of coconut oil so, I was very pleasantly surprised to find out that these toys have an outer layer made of organic coconut oil and beeswax, both of which are natural compounds (and, to me, that's another major advantage).
Your kid will love to play with these wooden rattles and you, as a parent, will be happy to know they're affordable products that won't break the bank.
On the other hand, when I tested the toys a bit harshes than before, pulling the rings, and pushing the components against each other, I found out that the rattles can be taken off of their stick if you have enough hand power. That concerned me a bit and I told my sister-in-law to supervise my niece whenever she plays with this toy. Still, I am quite relaxed knowing that my little niece isn't really that strong to pull the toy apart.
b. Wooden Teething Bracelet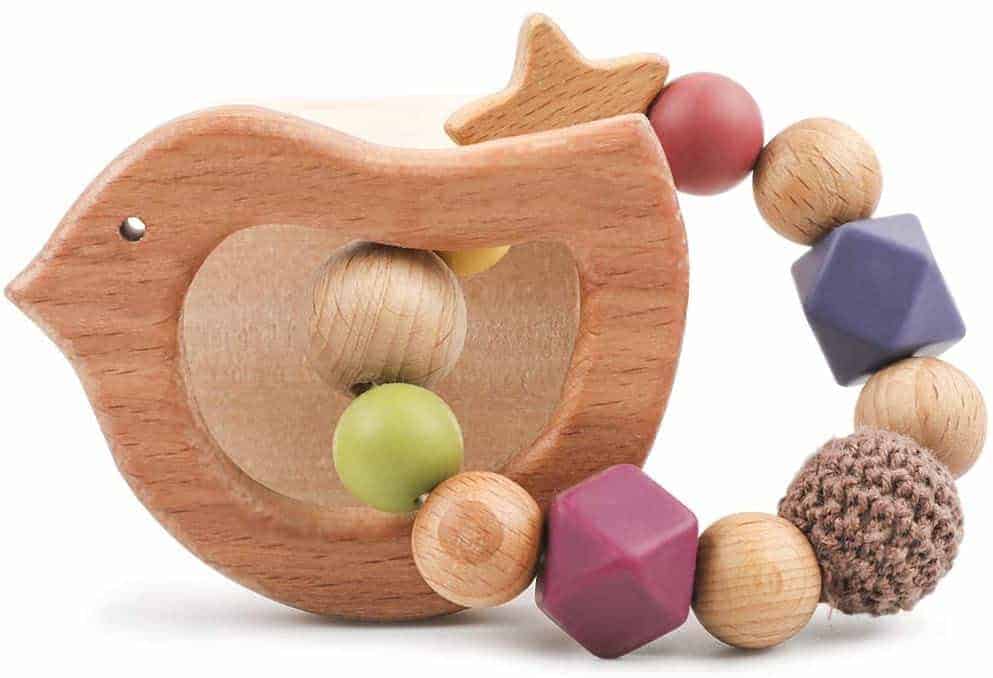 Babies love wooden teething toys that will comfort their gum discomfort. Therefore, this teething bracelet, made of non-toxic materials, is the ideal choice. The toy is created from beech wood and covered in a layer of organic virgin olive oil. Its craftsmanship is awe-inspiring, and the quality of the product is a great one.
At first sight, I was impressed with this toy's design which is very appealing and beautiful. I also like the fact that the beads are colored and made of silicone instead of wood. So, they won't be hard on my niece's teeth when she's biting on the toy to relieve her teething discomfort. The silicone is also non-toxic and kid-friendly.
My niece's mother was relieved to see that the toy can be easily cleaned in the machine so she can save a lot of time and effort. Unlike other baby toys, this one is sturdy enough (I've tested it more than once) and the double string that connects the beads makes the entire structure even more durable. I was so happy to see my little niece holding this toy in her little hands with ease due to the ergonomic design of the product.
What I didn't like about it was the smell of the wood varnish which can be a tad overwhelming when the toy is still freshly taken out of the box. I was afraid that my niece would reject it because of that but, as it turned out, the smell didn't bother her.
c. Shape Sorting Cube by Melissa & Doug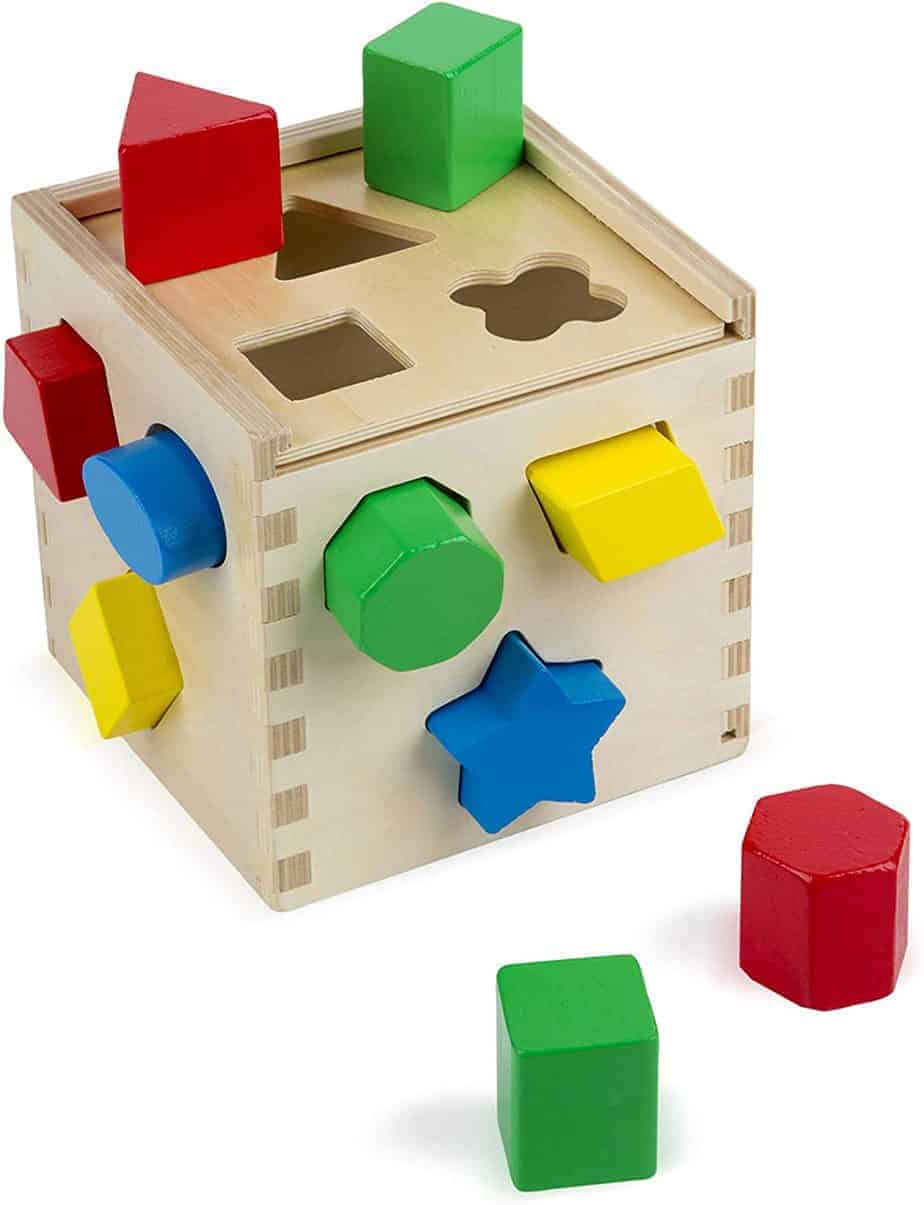 This sorting cube is colorful and comes with many beautiful shapes that your baby will have to learn how to insert in the proper space on the surface of the wooden cube. Your little one will learn different colors and shapes with this educational toy. Their task will be engaging yet straightforward. It's a safe and fun wooden toy that doesn't need adult supervision.
This is another great toy for babies that's also affordable. It's an important aspect for all new parents because they deal with a lot of financial stress and numerous baby-related expenses. I wanted something simple such as this wooden toy to help my two nieces understand the concepts of fit, shape, and color. One of them is in-between babyhood and toddler period, while the other one is an independent toddler all the way. She also has a strong personality so giving her toys is always a challenge.
Toddlers have stronger arm muscles so the fact that this 12-piece toy has a sturdy construction is definitely a great aspect. I love how it improves hand-eye coordination.
What I don't love about it is the lateral panels that can be easily taken out of the cube. That's quite frustrating. Also, pay attention to the item you receive because I've heard some parents complain about a few faulty pieces.
For Toddlers
Let's find some of the best wooden toys for toddlers who, by this age, need something a bit more challenging.
a. Wooden Solid Drum by PlanToys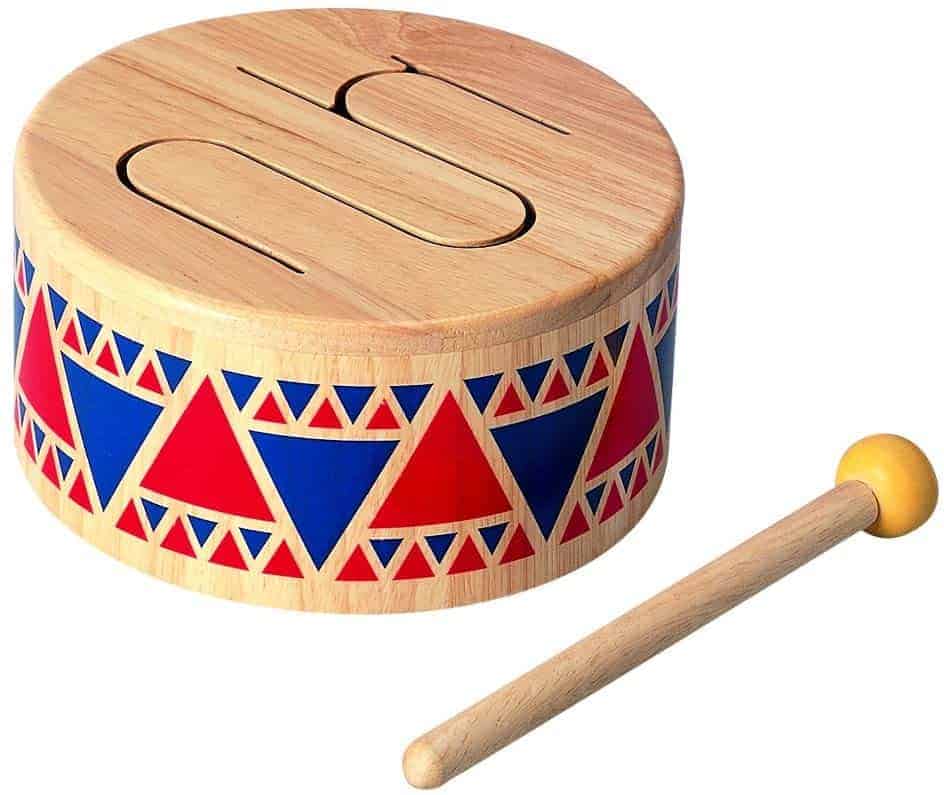 This fun and engaging wooden drum set is excellent as a gift for toddlers because it helps them become familiar with music rhythm and improves your kids' auditory reception. The top part of the drum stick is covered in rubber so that your child can produce musical tones while beating the drum. Experts also say that this type of activity will strengthen your child's hands and arms.
This toy brings the best of both worlds: educational play and fun times. I picked this toy due to its rubberwood sustainable material that's collected from responsibly-grown forests in Thailand. I don't think that my niece's parents were very happy to see their daughter bang that drum all day long, but it made me so happy to see her little joyous face playing this wooden instrument. Her tiny delicate hands could grip the drumstick perfectly.
The parents chilled a little bit when I've explained to them the benefits of playing with this toy, including improved auditory perception, rythm skills, and stronger arm muscles. Again, the same issue occurred regarding the smell of the wood varnish but after a while, you don't even feel it anymore. Also, you should supervise your kids when they're playing this drum since they could insert the stick inside their mouths.
b. Wooden Jigsaw Puzzles by Hzone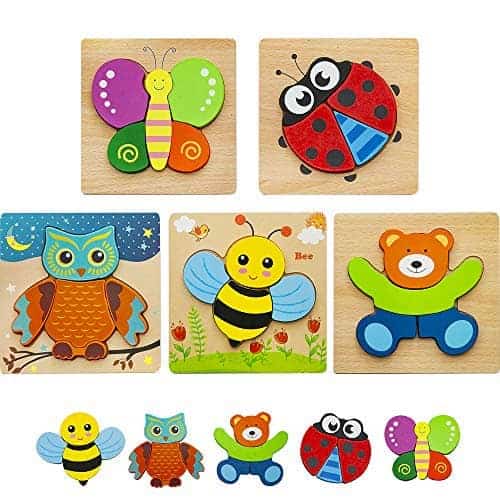 Jigsaw puzzles are so much fun, and these alternatives made by Hzone are so colorful, and they come in many wonderful shapes. You can make your child happy by offering him puzzles representing animals, birds, and insects such as butterflies, friendly bears, owls, bees, and more. The wooden blocks are safe for toddlers, and the CPSIA approves them.
My sister-in-law isn't that crazy about reading parenting books and studies, but that's a sensitive topic for me so, every time I see her I'm trying to give her a couple of recommendations. One of those recommendations was to purchase a jigsaw puzzle for her daughter since these toys stimulate the little one's brain development. Moreover, it will teach my niece the art of being patient. She will develop sensory skills, hand-eye coordination, and other abilities.
The fun part is to choose one or more of the five available animal shapes, all of which feature bright appealing colors. I've looked and looked, searched and searched, but I couldn't find any downsides or faulty aspects to this toy.
c. Wooden Train Set by Play22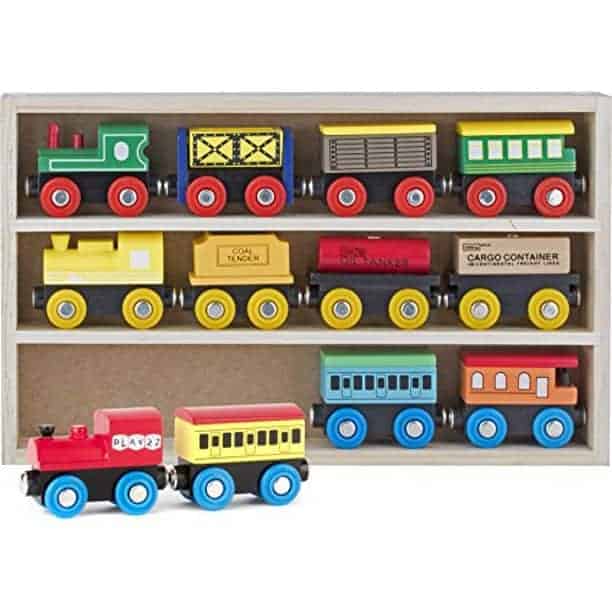 This Play22 train set is made of wood, and it comes with 12 different pieces. It looks fantastic and features bright colors that will keep your child happy and entertained. All those tiny elements such as train engines, cargo cars, coaches, and tanker cars are very well done, and they're safe to play with since they have round edges.
Parents will love this train set because it is well-crafted, has a beautiful design, and it's made of safe materials that won't harm their children in any way. This was among my dream toys when I was a child. I would love to go back even for one day and play with this kind of train set once more, to create a longer train by placing the wagons together. They stick together because of the strong magnets featured on the sides of each piece.
It's a more expensive toy compared to other wooden alternatives but it's also a certified toy that's totally safe for your child. One thing that bugs me is how the magnets could lose their strength in time.
For Preschoolers
a. Wooden Parking Garage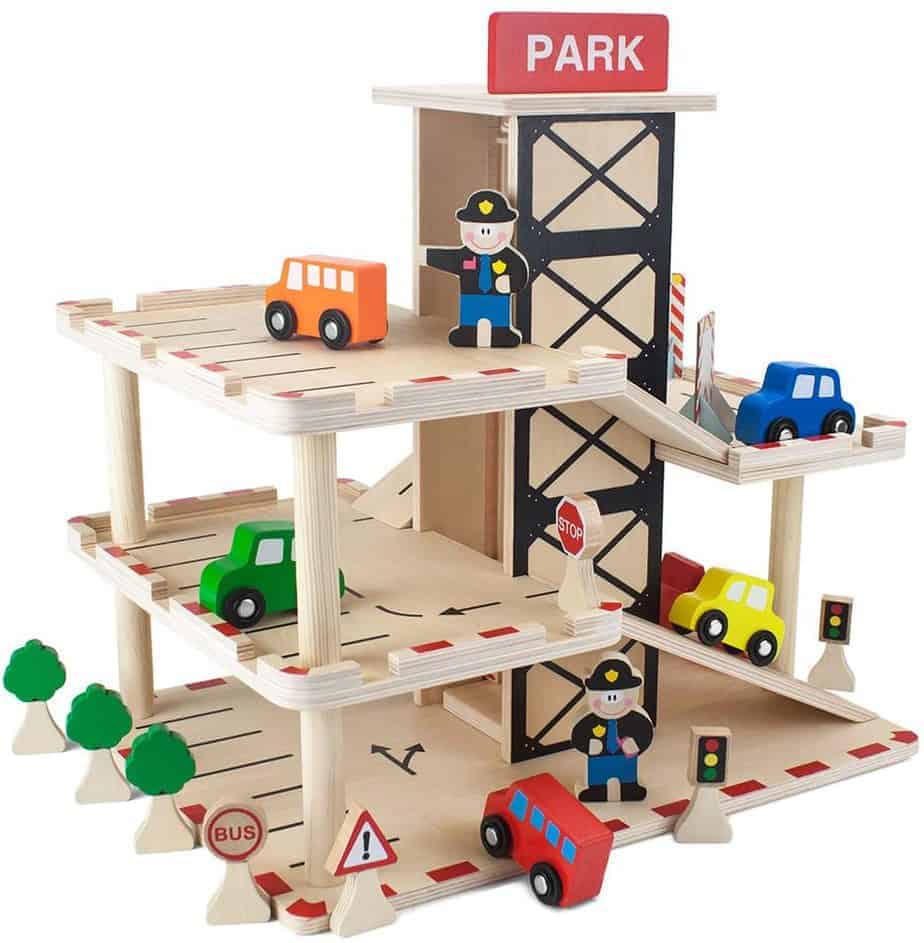 This wooden toy is quite large and provides a lot of play and fun value. With the help of this toy parking garage, your kids will be able to explore counting, sorting, and colors, and all these abilities will be developed as they park those toy cars. In addition, by using the manual elevator and the wooden ramps, your preschoolers will also learn about simple science concepts.
It's a more complex toy that has numerous wonderful accessories, including tiny cars, an elevator, driving signs, parking ramps, and other items and vehicles. If you ask me, this is definitely a unisex toy, especially when I remember how much I used to love cars at some point during my childhood.
This 19-piece engaging set has a sturdy design and all the materials are natural, hence they're safe. What I like the most about this toy is the fact that it encourages imaginative play and boosts children's creativity. At first, I was delighted to see that the toy comes with instructions but then I started reading them only to become disappointed by how unclear these guidelines are detailed.
b. Wooden Unit Building Blocks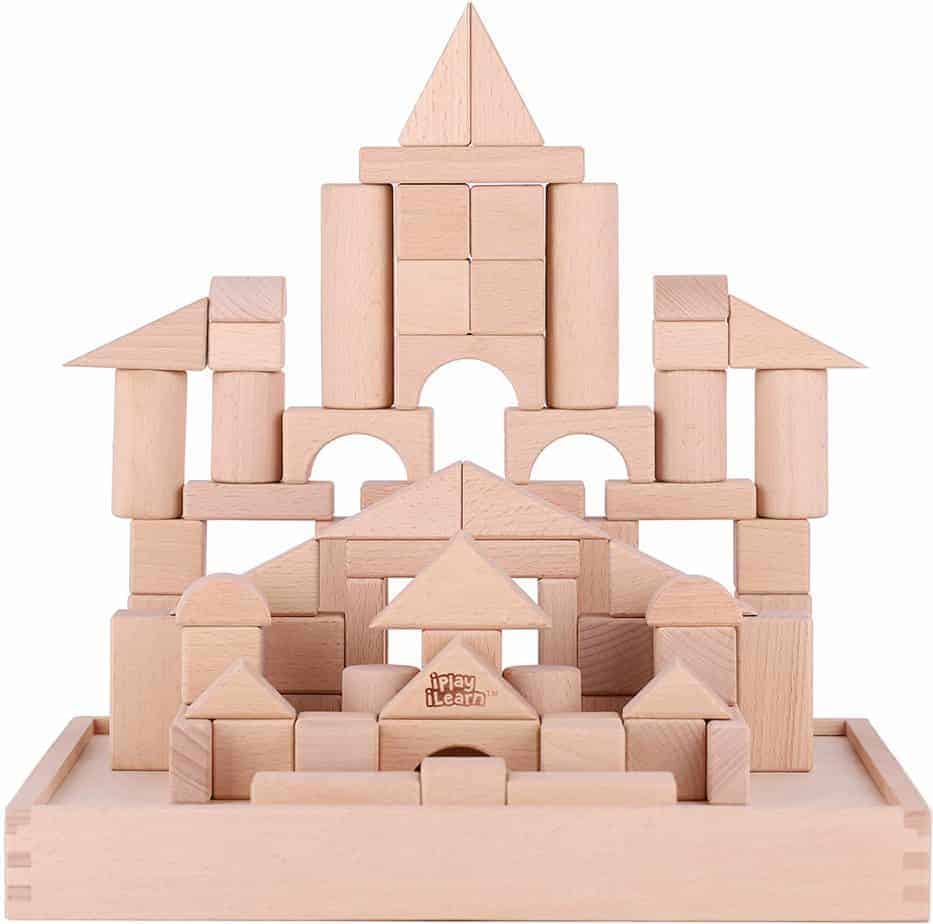 This wooden block set contains no less than 72 pieces, and it's a Montessori toy that could be the perfect birthday gift for your preschooler. Building blocks offer endless possibilities and benefits for kids. In fact, this type of toy represents a significant staple of any childhood. This toy set is beneficial for all children, regardless of their age; it's also a great unisex toy.
You may think this toy looks too simple but, believe me, the simpler a toy is, the more your child's imagination will develop. I used to play with a similar set as a child. Ok, I admit that my childhood set of building blocks was colored but still. These wooden blocks are made of beech wood which is a natural and durable material.
The manufacturer considered all the aspects and varnished the blocks with non-toxic polish. I cannot wait to offer this to my nieces to see how they create all sorts of things, including toy castles, ships, cars, tanks, and rockets. It's a great educational toy with outstanding craftsmanship and a reasonable price.
The freshly-applied polish might have a weird smell at first, right after you take the block out of the shipping box but that will probably fade away in time. I was a tad disappointed to see that certain pieces are a bit small and I started to become anxious regarding their dangerous side as a choking hazard. But, as long as your child plays with them while under your supervision, everything should be peachy.
c. Wooden Spelling Boards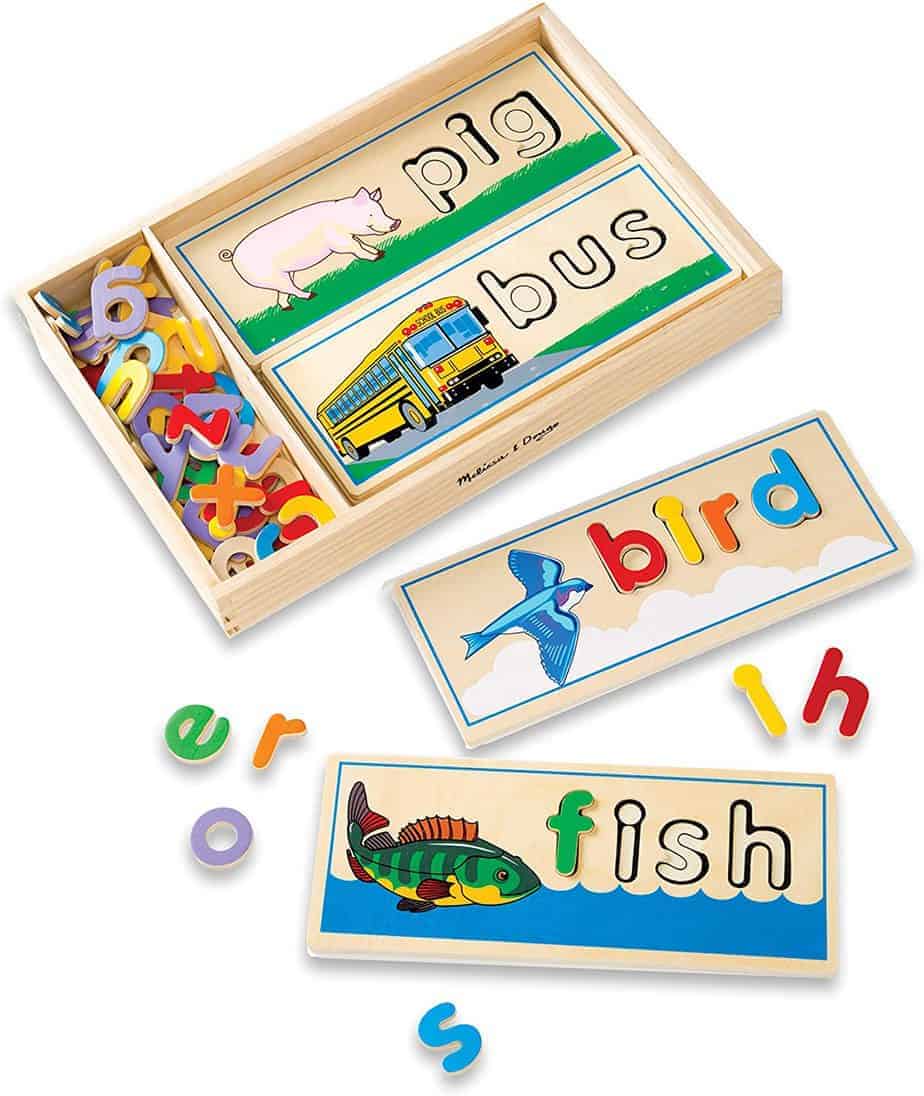 This puzzle set is pretty straightforward and very hands-on. With it, your preschooler will learn a bunch of different skills, all at the same time. Your children will improve and expand their vocabulary while also learning how to spell different words and read on sight. Moreover, this wooden toy develops fine motor skills as well.
The puzzle is made of kid-safe wood and it represents a fun and educational toy. The wooden case is sturdy and increases the toy's portability but it lacks a lid which makes it tricky to keep all the pieces in one place, inside the box. While playing with this puzzle set, preschoolers will develop a number of important abilities. They will be more prepared for school in terms of reading skills.
One thing I didn't like was how certain images displayed on the wooden boards didn't match the words placed right next to them. That's truly a shame when you think about how useful and cute this toy is.
Best Wooden Educational Toy Ideas – How to Choose Them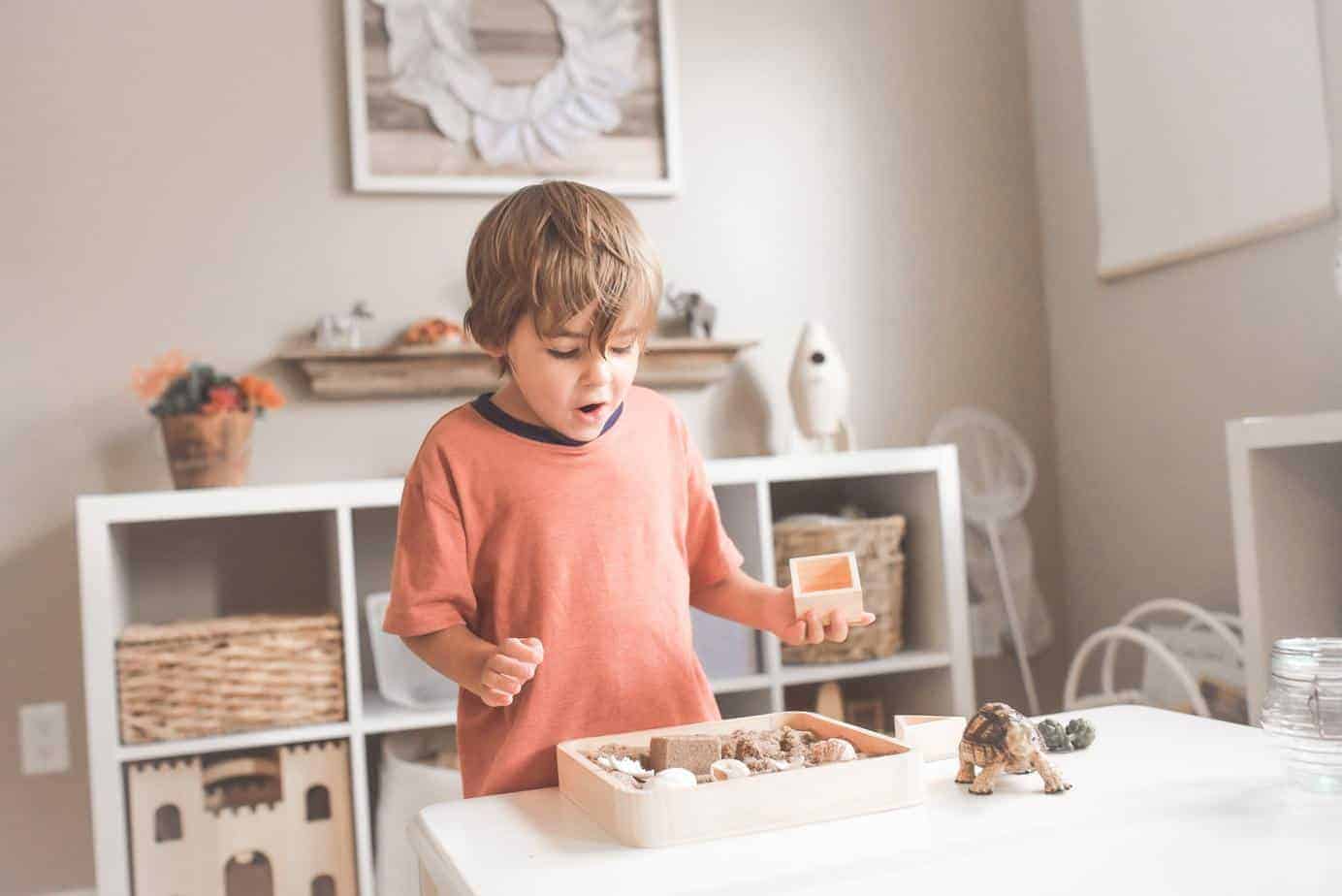 Here are the things you should consider when choosing the best wooden toys for your children.
a. The Size of the Product
This is a crucial aspect of any toy purchase since small parts can quickly become choking hazards for younger children. To stay on the safe side and prevent your kid from this potential danger, you should choose those toys that are big enough, so they don't fit inside your child's mouth.
b. The Toy's Quality
Nowadays, most toys are tested, and some of them receive safety certificates. The safest types of toys are those that are free of PVC, BPS, and phthalate, especially for kids under the age of one year old. Also, make sure the layer of paint that embellishes a toy is at least non-toxic, if not organic. That's a smart precaution since little kids put these toys in their mouths.
c. The Existence of Pointy Ends or Sharp Edges
It's obvious that toys that have sharp edges or pointy ends can be dangerous for your little one. These items are hazardous for young kids under three years old because they can lead to eye injuries or hurt other sensitive areas like the child's mouth, nose, ears, etc. Therefore, you should always choose toys with round-shaped edges that are made of sturdier materials.
d. Non-Toxic Materials and Safety Concerns
Always opt for natural materials such as wood, cotton, and others, and avoid toys made of plastic that's probably colored with toxic paint. All synthetic materials can be dangerous and harmful to children. Child-safe toys are also those without sharp edges, pointy surfaces, chords, magnets, strings, and metallic parts. If possible, choose toys made of organic fabrics.
Best Wooden Educational Toy Ideas – FAQs
Question: Why Are Wooden Toys Recommended for Babies and Toddlers?
Answer: Not only are wooden toys better for the environment, but they're also safer for your children. These toys are usually made with non-toxic materials, and they're also more durable. Because they're biodegradable, they don't contribute to the vast plastic waste that the world faces at the moment. Moreover, simpler wooden toys have a lot of educational benefits, and they boost your child's imagination and creativity.
Question: Are Montessori Toys Made of Wood?
Answer: Yes, most Montessori toys are made of wood and other natural materials. That's because these fabrics are safer, healthier, and more inspiring for kids. Besides their beauty, Montessori wooden toys are also long-lasting and durable. It's all about going back to basics since initial toys were made of wood.
Question: What Are the Best Woods that Toys Are Made of?
Answer: First and foremost, you should know that there are two wood categories out there: soft and hardwoods. Obviously, the most durable toys are made of hardwoods since they don't break that easily. But, on the other hand, softwoods are more affordable than hardwoods. Hence, wooden toys cost more than plastic toys.
There are four popular types of wood that many wooden toys are made of:
Maple – when it comes to baby toys, maple is a prevalent wood used to create those items because it is highly durable heavy, and the appearance of splinters is improbable. Maple is also food-safe and hypoallergenic, so it's an excellent option for teething babies;
Rubberwood – the best type of wood if you want something sustainable and friendly to the environment is rubberwood. Tropical areas of the globe are rich in rubber trees, and this type of wood isn't soft nor heavy; it's perceived as a wood with a medium density level. It's also very safe for children since it doesn't contain any preservatives;
Beech – numerous toymakers opt for beech to create their products because it's durable and long-lasting, being a hardwood. Despite being hardwood, beech isn't as expensive as other types of wood. The risk of splinters is also lower with beech;
Birch – this is another hardwood that's both popular and durable. Birch won't splinter easily, and it's more lightweight compared to maple. Furthermore, it's less expensive than other hardwoods.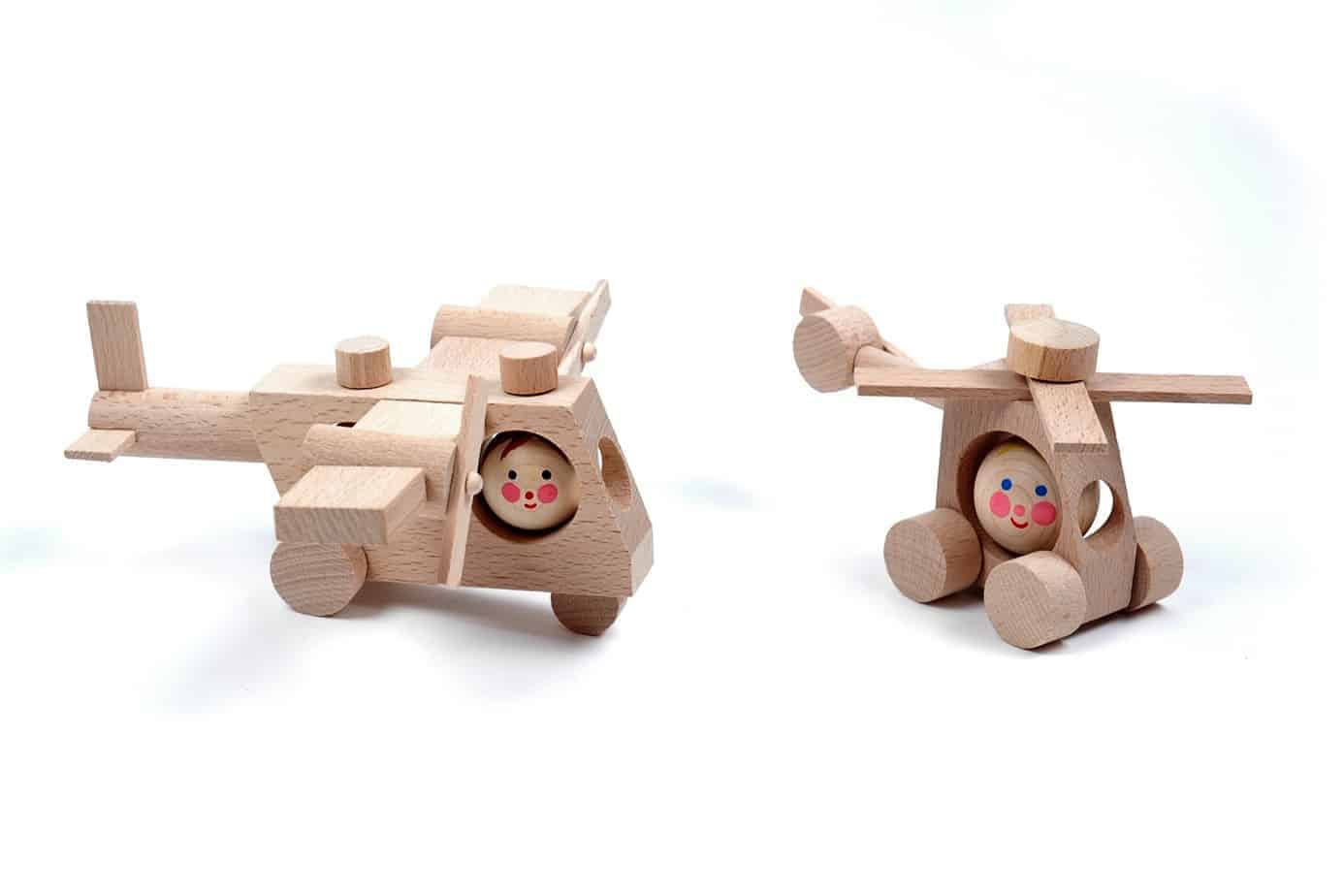 Bottom Line
There are so many wonderful choices out there when it comes to the best wooden toys for children. Many of them have beautiful designs, bright, appealing colors, and they're also educational as well as fun and engaging. Based on your kid's preferences and your budget, you should opt for the safest alternatives available on the market. Keep in mind that toys made of natural materials are the safest ones.
Also, educational toys such as Montessori items are also a great idea that will help your little one learn all sorts of skills and abilities.
Recommended Reads: