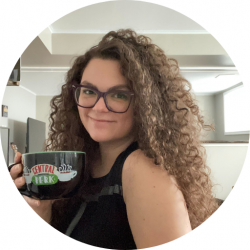 Latest posts by Candace Osmond
(see all)
Have you ever wondered why wooden toys are more expensive than plastic ones, even though they look quite boring? The truth is that wooden toys are never boring for a child, especially one that has plenty of imagination.
Designed to be safe for use but also to stimulate creativity, wooden toys are a great choice. And if your child love animals, allow me to show you some of the best wooden toy animal ideas based on their overall quality, ease of use, and design.
Bottom Line Upfront
Wooden toy animals were something I played with as a kid, so finding some for my own children was a ton of nostalgia. My littles loved Melissa & Doug Wooden Toys, and so did we because their choices are great, and they were more on the affordable side.
Top Picks at a Glance
Customer's Choice: Le Toy Van – Wooden Petilou Forest Stacker Puzzle: Parents have spoken: this stackable set of forest animals is safe for children, fun to play with, and the design of the pieces is just adorable.
Tender Leaf Toys Woodland Animals: With a wooden display case

that helps keep these adorable toys off the floor, Tender Leaf Toys offers a genius 2-in-1 product: a set of wooden toy animals and a child's room decorative piece.

Bargain Buy: Melissa & Doug Wooden Toys: Wooden toys can be expensive, but Melissa & Doug

heard the cry of parents looking for something cheaper. This set includes different barn animals and a system designed to develop a child's motor skills.

Best Overall: TEKOR Bendable Wooden Animals Toys: Designed to be flexible, easy to lift and play with, and offer 12 different safari animals, the TEKOR wooden animal toys set

is just great in every aspect.

Best Unpainted Toys: VINNY Unpainted Wooden Animal Cars Set: For parents still skeptical about giving painted toys to their children, I suggest the VINNY set

. Not only are the toys unpainted, but their round edges make them even safer to play with.

Best for Nursery Decor: Wooden Polar Bears: Lions and tiger and bears, oh my! No, it's just the polar bears here. Handmade with love, these adorable polar bears

can be purchased alone or as a complete set.

Best Handmade: Unicorn Toy: "This is the prettiest wooden unicorn

I've seen! I'm using it as a cake topper for my daughter's bday cake, and she'll get to keep it as a toy/decor. It's made so well, packaged beautifully, and arrived so quickly!" (Customer review)

Best for Toddlers: Wooden Animal Jigsaw Puzzles: The second your little one is ready to walk, they are ready to play with this adorable puzzle set. It comes with four different animal parts

that give your little one the chance to learn some animal anatomy.
Can You Play with Wooden Toy Animals?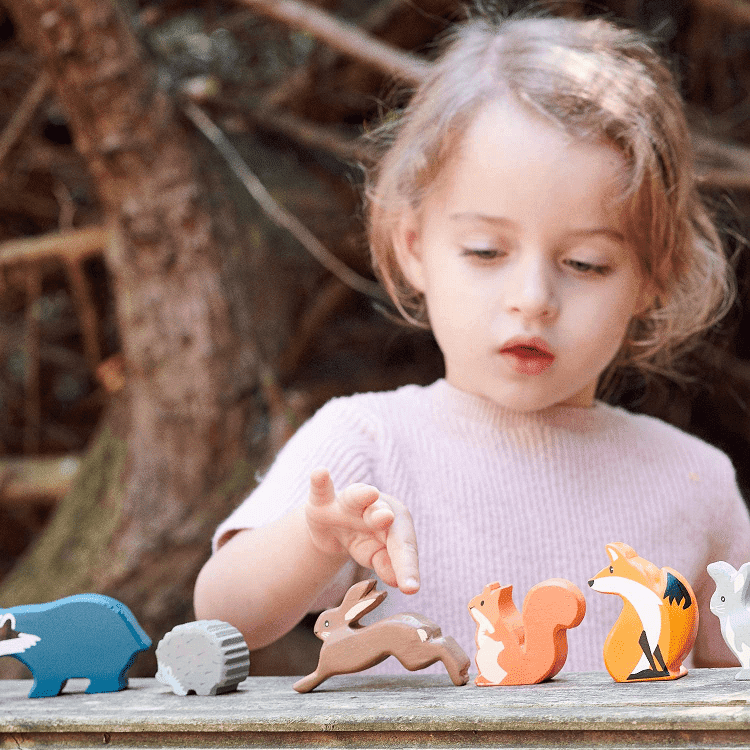 Plastic toys may be a lot of fun. However, many modern parents are looking for wooden toys since they tend to be more mindfully built, use fewer resources, and have a more appealing appearance.
For toddlers, in particular, the fundamental advantage of wooden toys is that they accomplish something that plastic toys do not: they allow children to fill in the gaps with their own imagination.
While open-ended imaginative play may appear meaningless, wooden toy animals inspire children to make up their own stories. It pushes them to utilize their imagination can really result in more learning for the children involved.
Check out our guide on How to Find the Best Natural Indoor Toys here.
Are Wooden Toy Animals Good for Kids?
Yes, because wooden toys, in general, are good for kids. Aside from the health and safety benefits they offer, wooden toy animals are also good for child development.
They Stimulate Imagination
Children's creative and imaginative play is sparked by wooden toys. These toys are more passive in nature. This means that children must be more involved in their play to stimulate their imaginations.
They are known as "open-ended" toys and do not have a single purpose for play. That means that children can use them in various ways, whereas plastic toys frequently have a purpose. This could be accomplished by pressing a button or turning a wheel, limiting the toy's imaginative use.
They Support Cognitive Growth
With wooden toys, a child gets to develop their logic, reasoning, and thought-process. These toys can help kids with memory, teach them how to stack and balance, and grab and lift. A child is more likely to learn how to draw logical conclusions when playing with wooden toys.
Pros and Cons of Wooden Toy Animals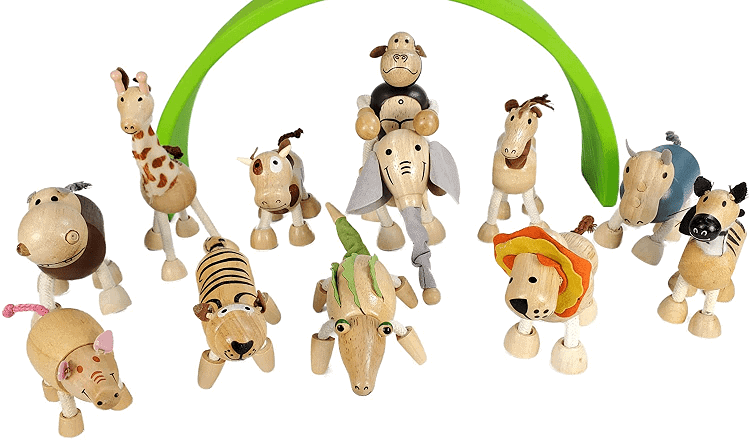 When analyzing the advantages and drawbacks of wooden toys, people often compare them with plastic toys. That's because plastic toys are cheap and so easy to work with. Manufacturers can literally make anything from plastic.
Even so, in the end, there are plenty of reasons to choose wooden toy animals over plastic ones (but also a few drawbacks):
Pros
Pro: They encourage imagination.

Pro: They are often made with non-toxic materials.

Pro: They are more eco-friendly.

Pro: They are more durable.
Cons
Con: Those made with poor quality wood can end up with dangerous splinters.

Con: They can't actually mimic the sounds made by animals.
Note: I'd like to add something in regard to the price. Most people avoid buying wooden toys because they have a large upfront cost. However, they are more durable and don't need batteries, which saves you money in the long run.
What Type of Wood is Most Common for Wooden Toys?
Toys made of hardwood are more resistant to wear and tear and will last for generations (or choose hardwood to make your toys).
Of course, better-quality (harder) wood is used to make better toys, but hardwood is more expensive, and so are hardwood toys.
Woodworking professionals indeed are the most knowledgeable about wood. They have years of experience working with various types of wood.
However, I would argue that their standards for wood quality exceed those of the average consumer. Perhaps we don't require a toy constructed entirely of top-shelf wood for the rest of us.
You are likely to find good wooden toy animals made from hardwood and softwood. Below are some of the most common options.
Oak
Another excellent wood for making toys. A lot of people use this wood to make furniture and wood crafts. It's very dense and strong, but it also has a special ability to keep water out. It's ideal for slobbery babies or outdoor wooden toys.
Maple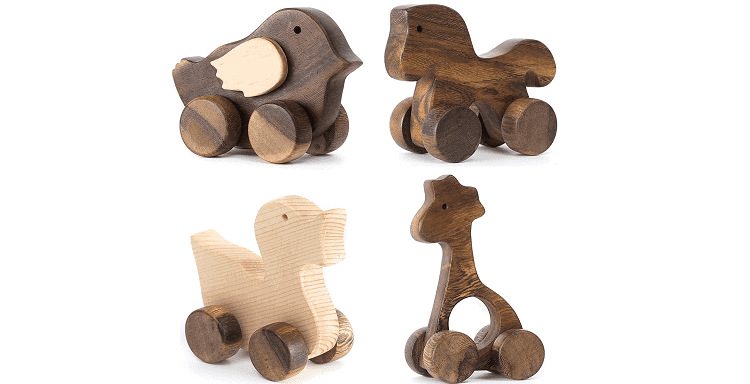 One of the most frequently recommended woods for toy construction. It's extremely dense and durable, with fine grains that resist splintering. In addition, because it's a hypoallergenic and food-safe wood, there's no risk of harming your baby if they put it in their mouths.
Walnut
Another dense, strong wood that is not overly heavy. However, some people are extremely allergic to walnuts, so proceed with caution if your child suffers from allergies or other sensitivities.
Beech
Unsurprisingly, so many wooden toy manufacturers choose beech. Durable, decently priced, fine-grained (resulting in fewer splinters), bending resistance, and ease of cutting and shaping. All factors that make beech awesome.
Rubberwood
A medium-density hardwood native to tropical regions and derived from a rubber tree. Known as "green" and "sustainable," rubberwood is a wood that doesn't need to be treated with chemicals. It's also safe for kids to play with. Thus, it's understandable why so many toy manufacturers choose rubberwood.
Cedar
While cedar is popular due to its reddish hue, it splits easily like pine and other softwoods. Additionally, cedar has a very low level of toxicity, making it virtually harmless in small doses, but why take the risk?
Basswood
Basswood is particularly well-suited for wood carving due to its moderate softness, lightweight, and low density. And because of its low sap content, it is ideal for painting.
Pine
A pliable wood that is extremely easy to work with. However, pine warps and splinters easily, making it unsuitable for toys intended for children's mouths. Avoid pinewood if your child is allergic to pine nuts.
Things to Know About Wooden Toy Animals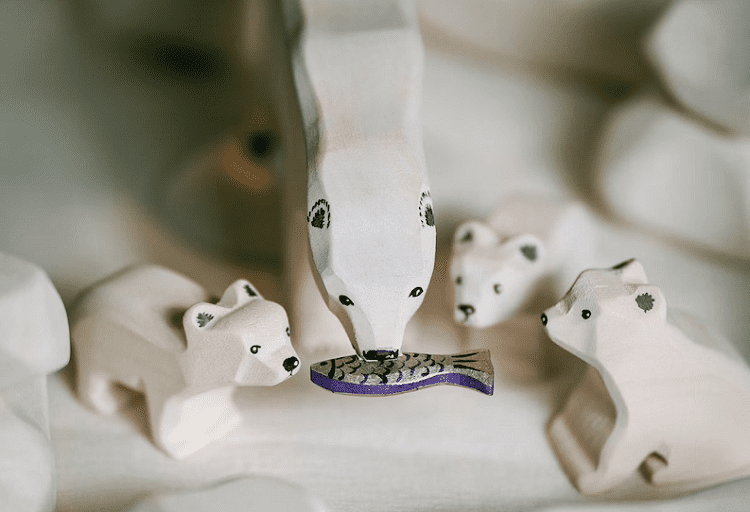 No Chemicals
One of the primary benefits of natural wood toys is that they are a more environmentally friendly alternative to plastic toys. The majority of modern wooden toys on the market are made from sustainable materials and are easily recyclable.
These naturally crafted wooden toys are free of phthalates, a chemical used to make plastic moldable. Most wooden toys don't contain any harmful chemicals that might pose any kind of risk for your children.
The Safety Factor
The most important thing you should do is look for wooden toys that are free of sharp edges that could injure your child. Additionally, you should avoid wooden toys with small parts that your child can put in their mouth.
Inspect the wooden toy for cracks or other types of damage. If you discover any such damage, it is prudent to pursue other avenues.
Easier to Clean
Anti-bacterial properties in wood cause bacteria and viruses to die off more quickly. Bacteria cannot survive on the porous surface of wood because it lacks the necessary moisture. As a result, wooden toys have an entirely natural self-cleaning mechanism. Usually, all you have to do to clean a wooden toy is wipe it with a clean cloth.
The Best Wooden Toy Animal Ideas for Kids
Customer's Choice: Le Toy Van – Wooden Petilou Forest Stacker Puzzle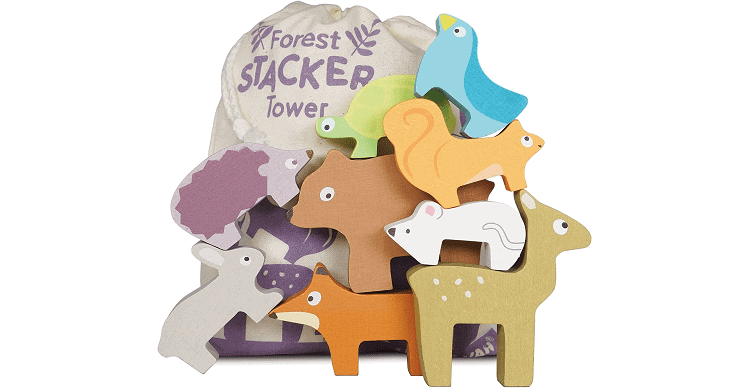 This set of nine stackable wooden forest animals will teach your child plenty of different things. First of all, it helps them get acquainted with forest inhabitants: from deer to bears. Granted, there are some intruders in here, particularly the turtle.
Price range: $10 – $20

Materials: rubberwood, MDF

Type of animals: forest animals
These tactile toys are designed to help your child develop their cognitive skills while also providing them with safe toys to play with. The toys have been tested prior to selling them, and they comply with plenty of safety regulations. They're more suitable for kids over the age of two.
Pros
Lightweight and easy to play with.

Made with quality rubberwood.

Meet safety regulations.
Cons
Smaller than you'd expect.
Best for Toddlers: Tender Leaf Toys Woodland Animals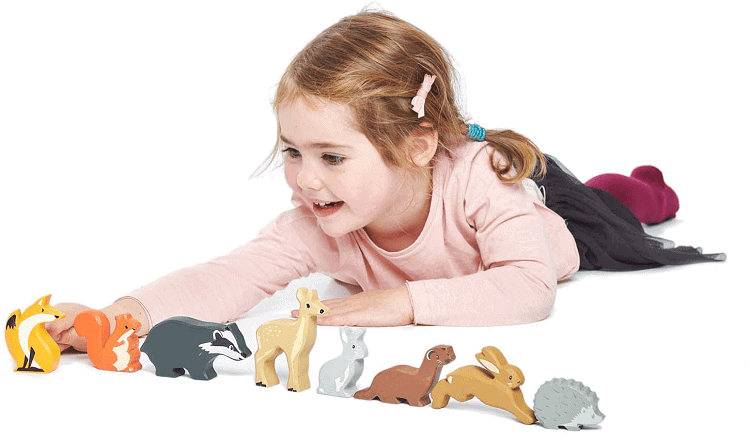 If there's something I truly love about this set, it's the fact that it comes with its own display case. This adorable set functions as both a toy and a playroom decoration. When your child is finished playing with the animals, they can store them in the shelf case, which keeps them organized and off the floor.
Price range: $40 – $50

Materials: rubberwood

Type of animals: forest animals
The toys and the case are made using rubberwood and painted using non-toxic paints. The set comes with eight adorable forest companions, from squirrels to hedgehogs.
Pros
Includes a storage/display case.

Comes with eight animals.

Made with quality rubberwood.
Cons
Some holes were misaligned for attaching the top piece.
Bargain Buy: Melissa & Doug Wooden Toys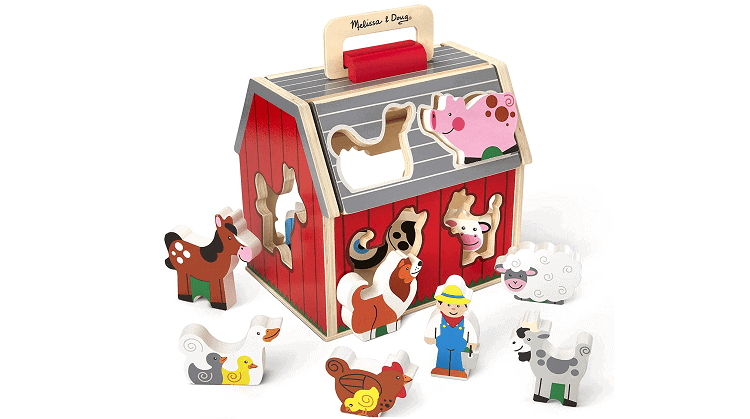 This set comes with ten different pieces for your toddler or preschooler to play with. The set includes a wooden barn-shaped toy with carvings that allows your child to fit the animals through the designated holes. The set includes a farmer, a tractor, a cow, a dog, a goat, a pig, a chicken, a sheep, a horse, and a duck.
Price range: $10 – $20

Materials: wood

Type of animals: farm animals
The barn roof is foldable and can be lifted whenever your child wants to take the animals out. It's also great for storing the animals when playtime is over. It also equips a top handle for convenient transportation.
Pros
Promotes motor and logic skills.

Great for toddlers and preschoolers.

Easy to store and carry.
Cons
Wood variety not specified.
Best Overall: TEKOR Bendable Wooden Animals Toys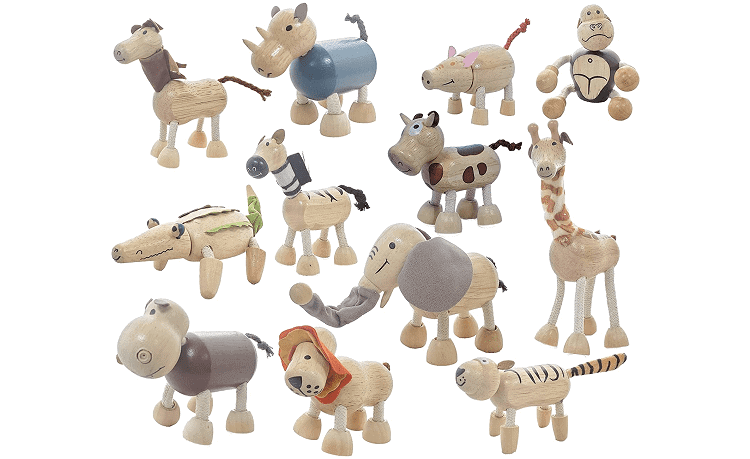 This is a very generous set of wooden toy animals that includes 12 different companions for your child to play with. This shows them the animals that live around the house (like pigs and cows) and wild animals (like leopards, rhinos, and lions).
Price range: $70 – $80

Materials: natural wood

Type of animals: farm and safari animals
What makes this set different from the others in this list isn't just the animal variety but also the flexibility of the toys. They are designed with flexible body parts that are sturdily attached to the toy. That means that even if the lion's legs move, your child won't be able to tear them apart and swallow them.
Pros
Includes 12 different animals.

Flexible and easy to play with.

Painted with non-toxic paints.
Cons
Best Unpainted Toys: VINNY Unpainted Wooden Animal Cars Set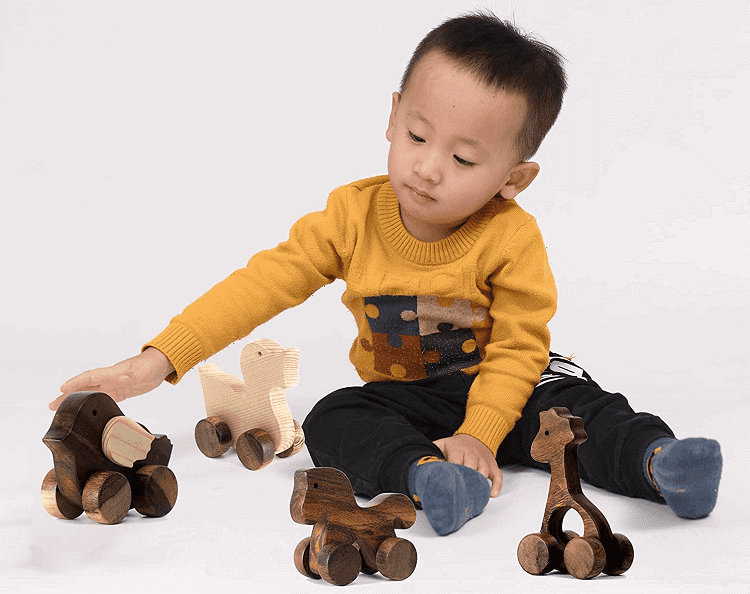 If you're still skeptical about non-toxic paint, there's always the option to choose wooden toy animals that are not painted. This set is a great example of how easy it is to find such products.
Price range: $30 – $40

Materials: natural wood

Type of animals: giraffe, horse, chicken, duck
It includes four wooden animal cars, which basically means they are toys on wheels. You get a giraffe, a horse, a duck, and a chicken. They are carved with rounded edges, so they are very smooth and pose no danger.
Pros
Rounded corners and edges.

Contain no paint.

Easy to play with.
Cons
The exact wood type is not specified.
Best for Nursery Decor: Wooden Polar Bears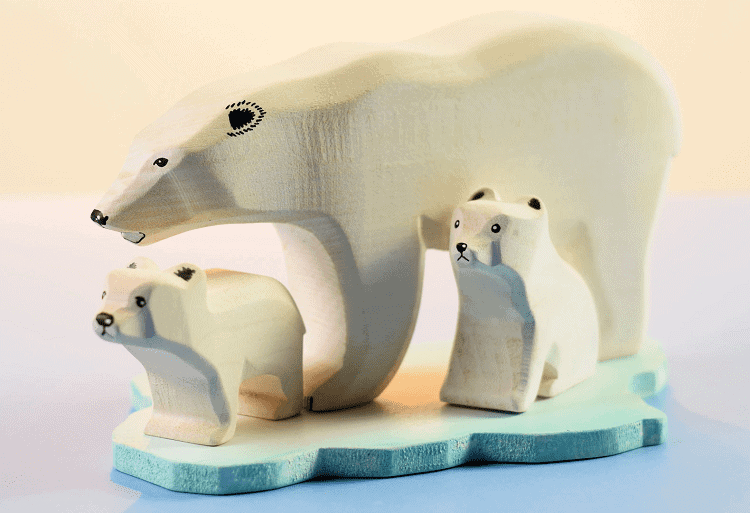 Etsy is a great marketplace to find gorgeous and useful handmade things. For instance, you have these adorable wooden polar bears that are priced depending on how many of these you buy. You can go for just one or purchase an entire set. It's up to you!
Price range: starts off at $8

Materials: lime wood

Type of animals: polar bears
The bears are made using lime wood and painted with non-toxic paints. They are suitable for children that are at least three years old. The cute polar bears are available in different sizes. They can make great toys for your kids or even be used as nursery decor.
Pros
Non-toxic paints.

It can be purchased as a single product.

Available in multiple sizes.
Cons
The colors can vary from what you see on your monitor.
Best Handmade: Unicorn Toy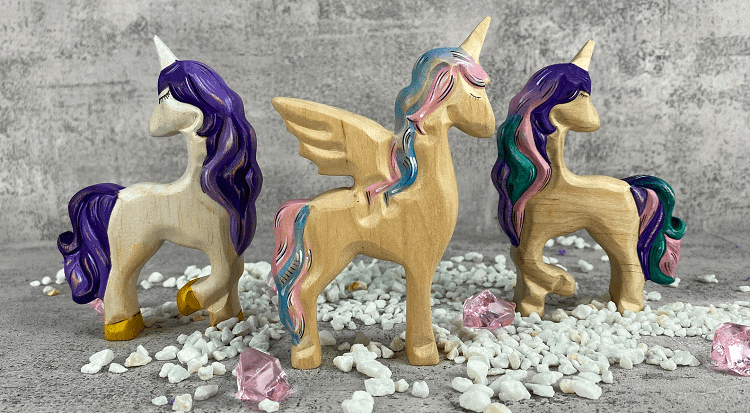 Unicorns are what dreams are made of. Girls and boys often fantasize about the existence of these fairytale creatures (even some of us adults do as well). Take a look at these adorable handmade unicorns that look even better in person than they do in pictures.
Price range: $10 – $20

Materials: alder wood

Type of animals: unicorns
They are made entirely out of alder wood. Some of the other materials used to make them include bio wax, linseed oil, and water-based paints. The materials are non-toxic and are all suitable for kids' use.
Pros
Made with non-toxic materials.

Multiple designs are available.

You can opt for very fast shipping.
Cons
They're not available as a set.
Best for Toddlers: Wooden Animal Jigsaw Puzzles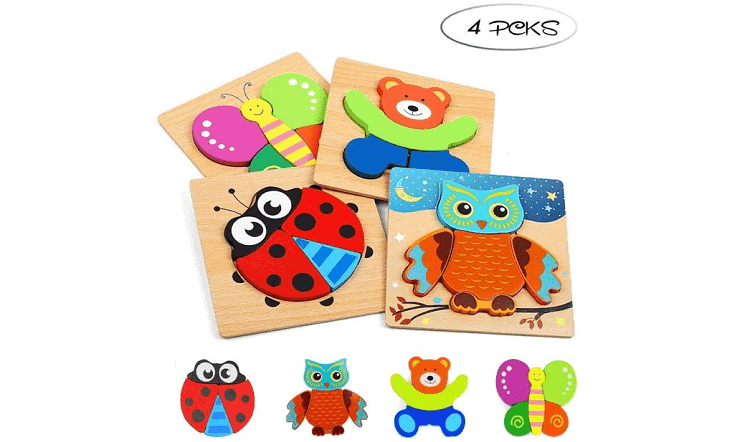 I love this ingenious way of introducing your baby to wooden toy animals. It's basically a set that includes the wooden pieces needed to put together four different animals: an owl, a bear, a butterfly, and a ladybug.
Price range: $20 – $30

Materials: not specified

Type of animals: butterfly, bear, owl, ladybug
This adorable puzzle will give your child a sense of animal anatomy. The colors are immaculate and safe, as the manufacturer uses lead-free paint. A downside is that the product page doesn't mention what type of wood was used to make these.
Pros
Develops logic and cognitive skills.

Four puzzles are included.

Adorable and vivid colors.
Cons
FAQs
Hopefully, these common questions will help answer any lingering concerns you might have. If you have concerns after this, feel free to drop them in the comments, and I'll get back to you!
Question: Can You Make Wooden Toy Animals?
Answer: Yes, but this would be a project that requires time and patience. If you're not skilled in carving wood or don't have the tools needed to do so, it's more convenient to just purchase them.
Question: What Type of Paint is Best for Wooden Toy Animals?
Answer: Milk paint is usually a great option for wooden toy animals. It has a great consistency and is non-toxic.
Question: What Ages are Good for Wooden Toy Animals?
Answer: It's typically recommended to give your child wooden toy animals if they are at least one year old. However, most manufacturers label their wooden toy animals as being suitable for kids over 2 or 3 years of age.
Final Words
As you can see, the best wooden toy animals are those that your child can easily manipulate and are made without any toxic materials. It's important to know that not all wooden toy animals are the same.
Did you find one you like? Personally, I love the Melissa & Doug Wooden Toys; you just can't go wrong with their quality and reputation.
If you're looking for even more great wooden toy recs, check out my list of the best wooden toy cranes!
Recommended Reads: