Suppose you're looking for the perfect gift for your little one. In that case, you might have returned from several toy shops feeling exhausted by the overwhelming presence of brightly colored plastic.
We live in an age in which toys have become noisy and full of gadgets. More often than not, these flashy objects only hold the attention span of our kids for so long before they end up in another landfill.
For many families, sustainability has never been such a concern. More and more responsible parents are concerned about their children's future and the state of the planet they'll live on. So, it's no wonder that so many parents hope to dial back time and return to the days when toys were made from more natural materials.
These toys are often made from wood, clay, wool, etc. Often, these products stand the test of time and inspire many hours of creative play. In light of that, we've compiled all the information you need to know about the best natural indoor toys here in this blog post. 
There's lots to cover, so let's dive in!
A Quick History of Toys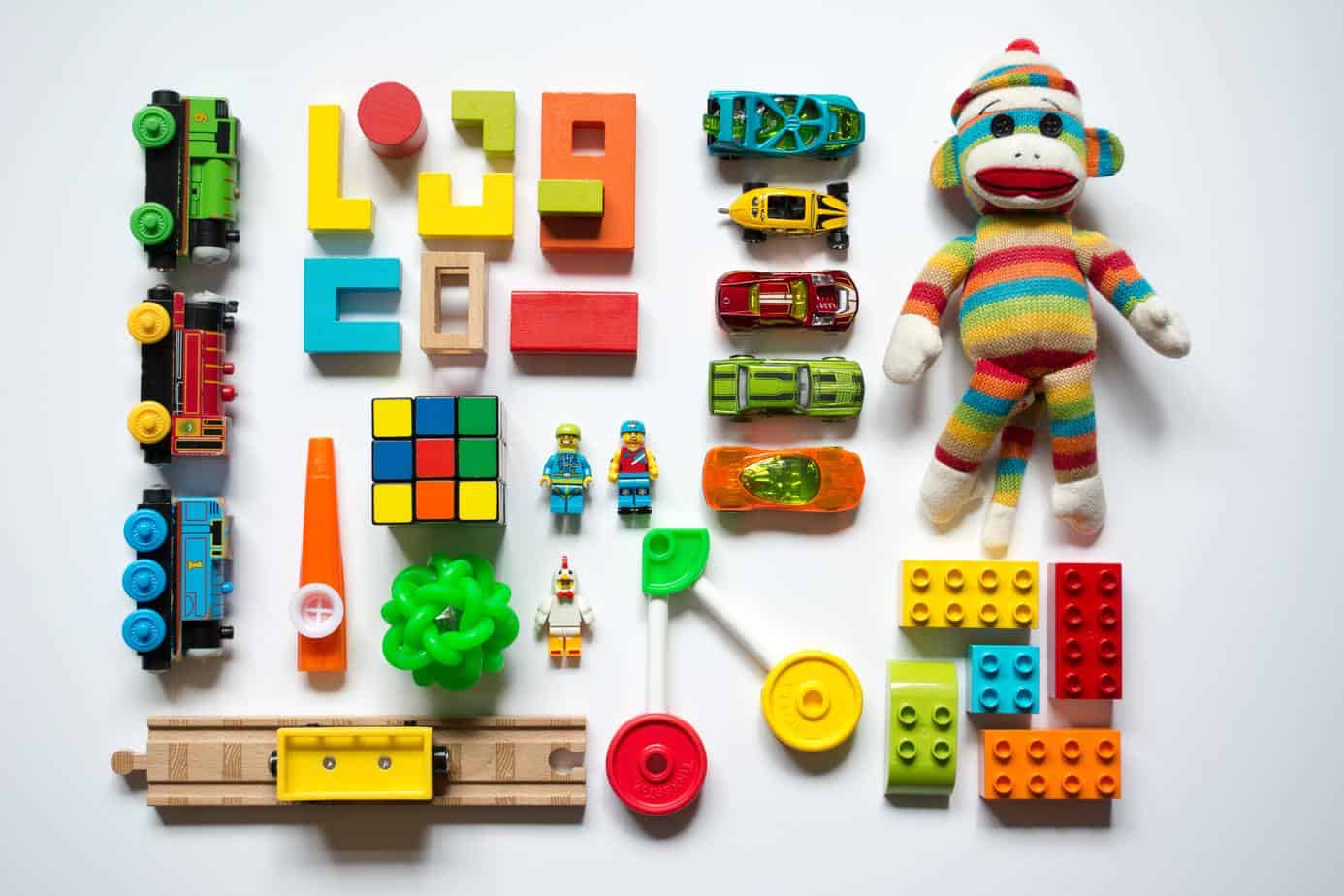 It comes as no surprise that the first toys were made from all-natural materials. In prehistoric times, toys primarily consisted of sticks and stones. Interestingly, children's 'toys' got their name, supposedly, during the 14th century. Throughout the ages, their purpose has been helping kids learn about the world, discover themselves, and encourage healthy physical growth.
In fact, some of the oldest excavated toys (3000-1500 BCE) were small carts, whistles shaped like birds, and toy monkeys. Ancient Egyptian children played with dolls with wigs and moveable limbs. These were made from stone, pottery, and wood. You might also find materials like wax or terracotta used to make dolls in ancient Rome and Greece. On top of that, toy bows, arrows, and yo-yos have also been excavated. 
Fast forward closer to the modern-day, and less than a century ago, most toys were made from wood, metal, and beloved by children across the world. 
The Plastic Revolution
So, why are toys now primarily plastic? 
Answer: For industrial and commercial reasons.
Metal and wood proved difficult for mass production. In the post-war efforts of finding new materials, plastic gained incredible popularity, resulting in plastic toys being churned out in their thousands. 
The prevalence of plastic toys soared in the late 1940s when Fisher-Price first created a range of toys entirely made from plastic. Their competitors soon copied them to rival their success. Plastic afforded a vast range of commercial benefits. Most notably, it allowed manufacturers to get creative with new shapes, colors, functions, strength, and playability. 
This brings us to the market today, where 90% of toys include some sort of plastic.
What are Natural Indoor Toys, and Who Needs Them?
When we talk about natural toys, we're referring to anything made from raw materials, like:
Wood

Wool

Metal

Stone 

Glass

Clay

Cloth
Additionally, natural toys use water-based dyes, formaldehyde-free glue, and food-grade oils for their finishes. In other words, they're eco-friendly. 
Indoor toys make for meaningful gifts that, often, kids cherish for years to come. Not to mention, they make a welcome alternative to screen-time. They're intended to use inside, from the comfort of your home. However, that doesn't mean they can't be taken outside to enjoy some time in the fresh air. 
Nowadays, there's a wide range of engaging indoor toys made from natural materials. You can find construction sets for forts, indoor climbing sets, and balancing games that encourage physical activity.`
But for the most part, indoor toys are great for engaging your child's imagination. Classic examples include dolls, cars, toy-houses, building blocks, and soft toys that children love to hug at bedtime.
Natural indoor toys are an excellent choice for eco-minded parents looking for safe toys to gift their children.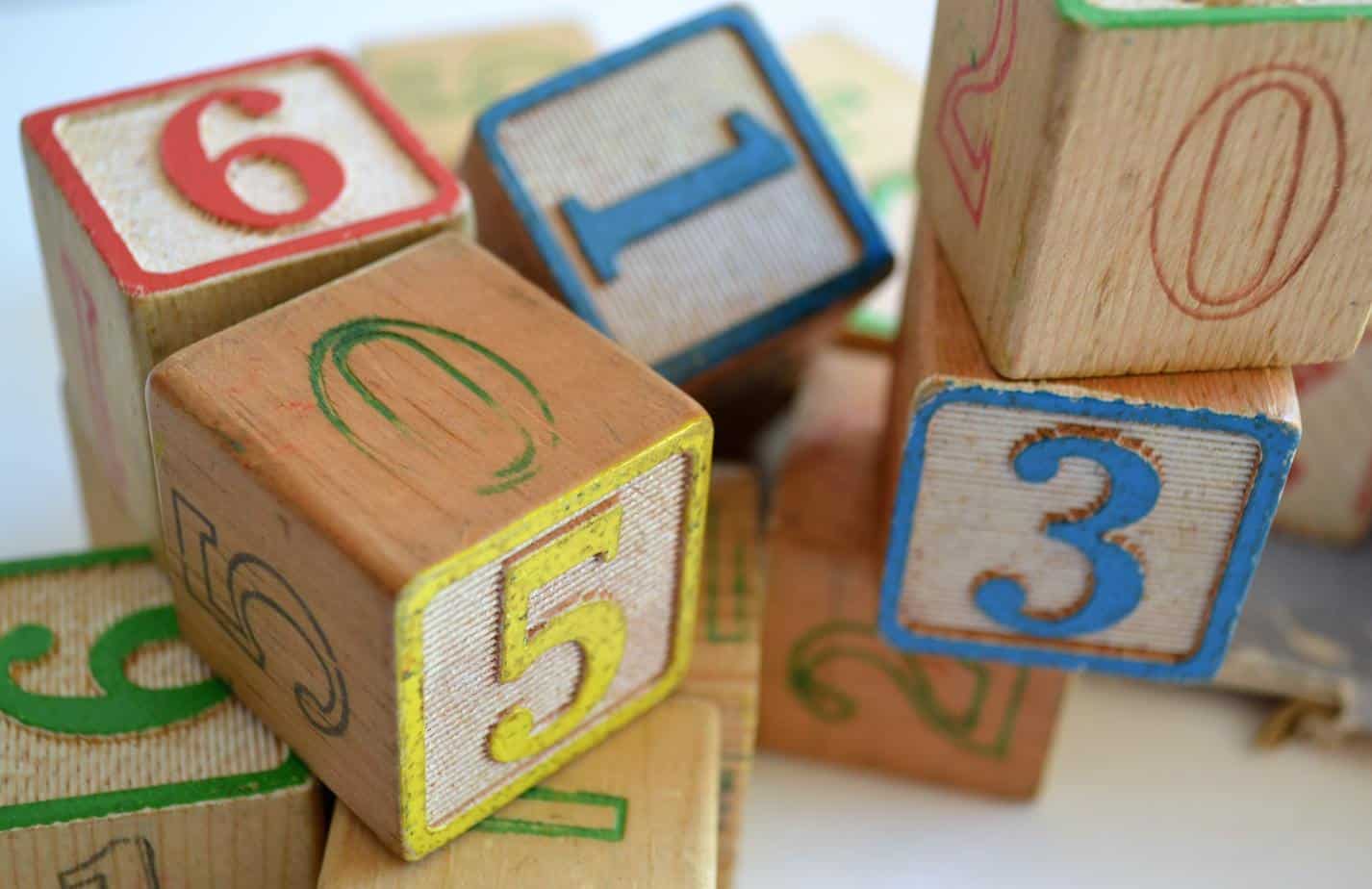 The Benefits of Going Natural – Why You Should Invest In Natural Indoor Toys
Although it's easy to see why huge manufacturers focus their efforts on plastic toys, there are equally good reasons why natural-minded parents want organic toys for their children. Let's explore some of the perks below:
Natural Toys are Safe
Natural toys are built to be resilient. They don't break easily and (typically) don't have sharp edges or splinters. With wooden toys, ensure you purchase goodies made out of non-toxic materials- especially if your kids are of an age where they might chew on toys.
That said, the majority of natural toys utilize water-based dyes and organic color pigments, which present no risk to your child.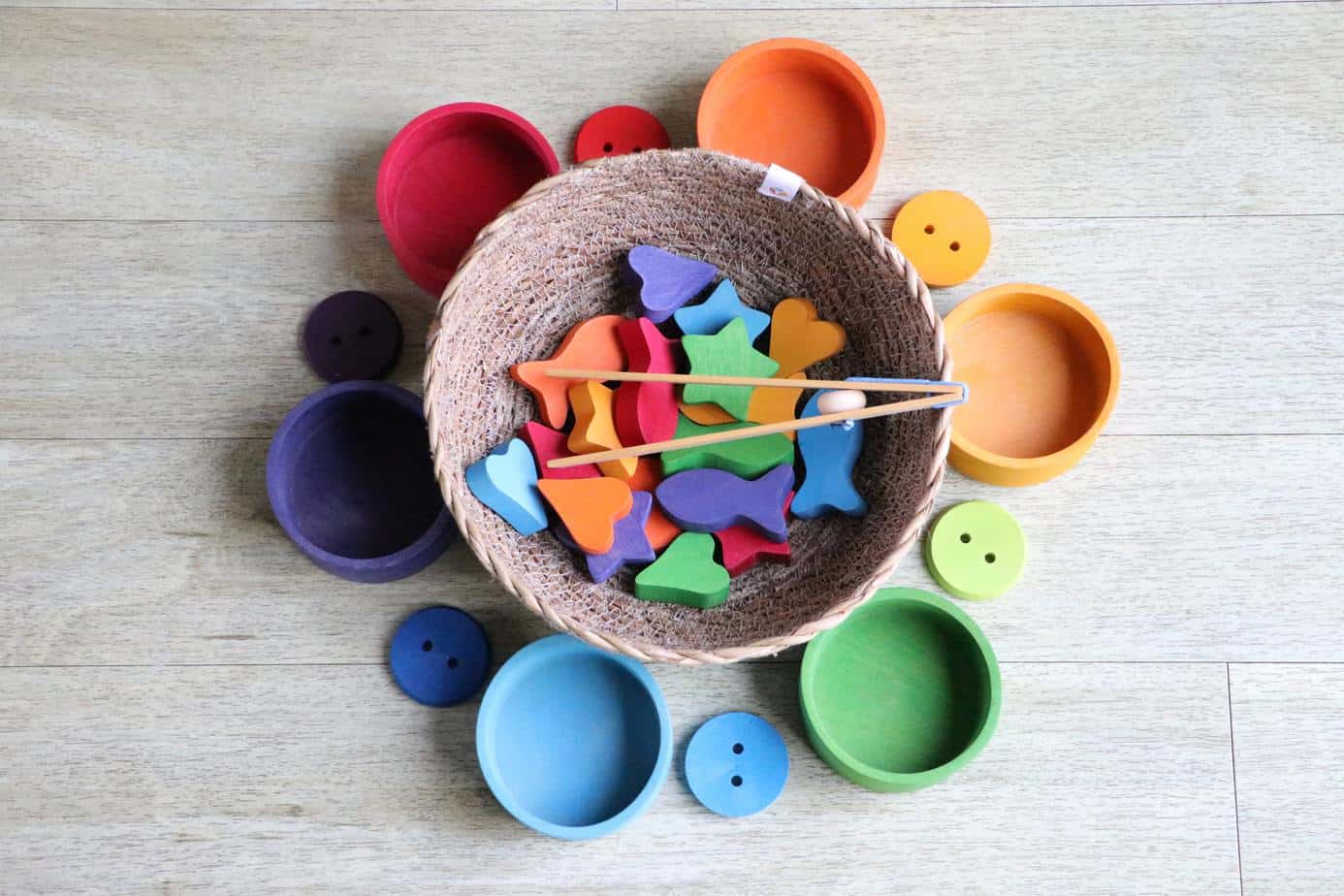 Natural Toys Are Built to Last
If you're looking for toys that will outlast generations, look no further than natural toys. Wooden toys are timeless, durable, versatile, and a popular choice for decades.
So much so that your grandparents might have a box of old toys that are still in perfect condition. This makes them the ideal choice if you're looking to purchase something special for your little one that they can then pass down to their future kids to enjoy.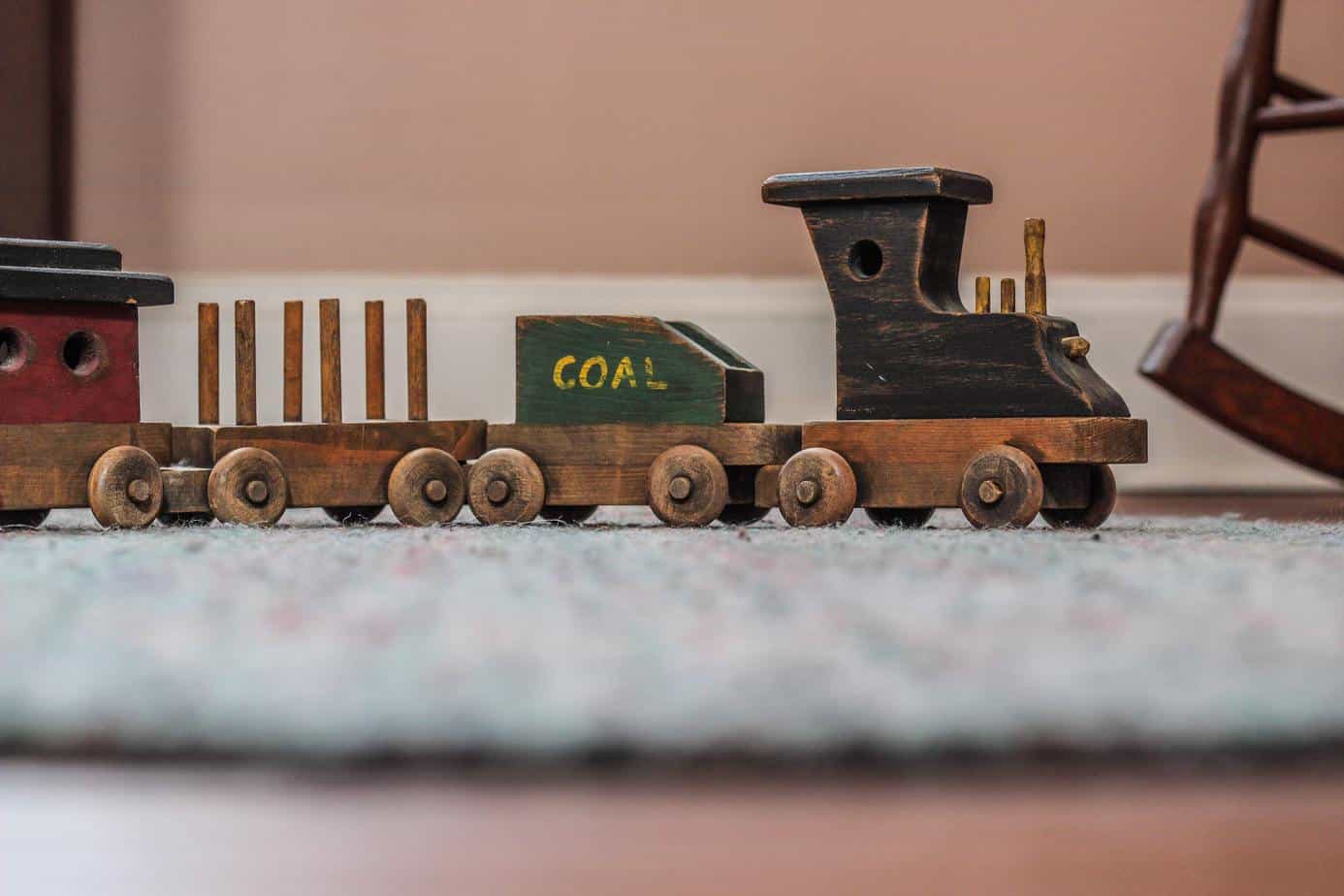 Natural Toys Are Eco-Friendly
Natural toys are designed with sustainable play at their heart. Thus, the brands that create them (often) take an eco-friendly approach to package and production. 
Typically the materials they use for manufacturing will include PEFC certified wood, reclaimed rubberwood, sustainable bamboo, and compressed sawdust.
Most importantly, if your child tires of the toy and you need to get rid of it, rest easy knowing it's easily broken down, so it won't feed another landfill.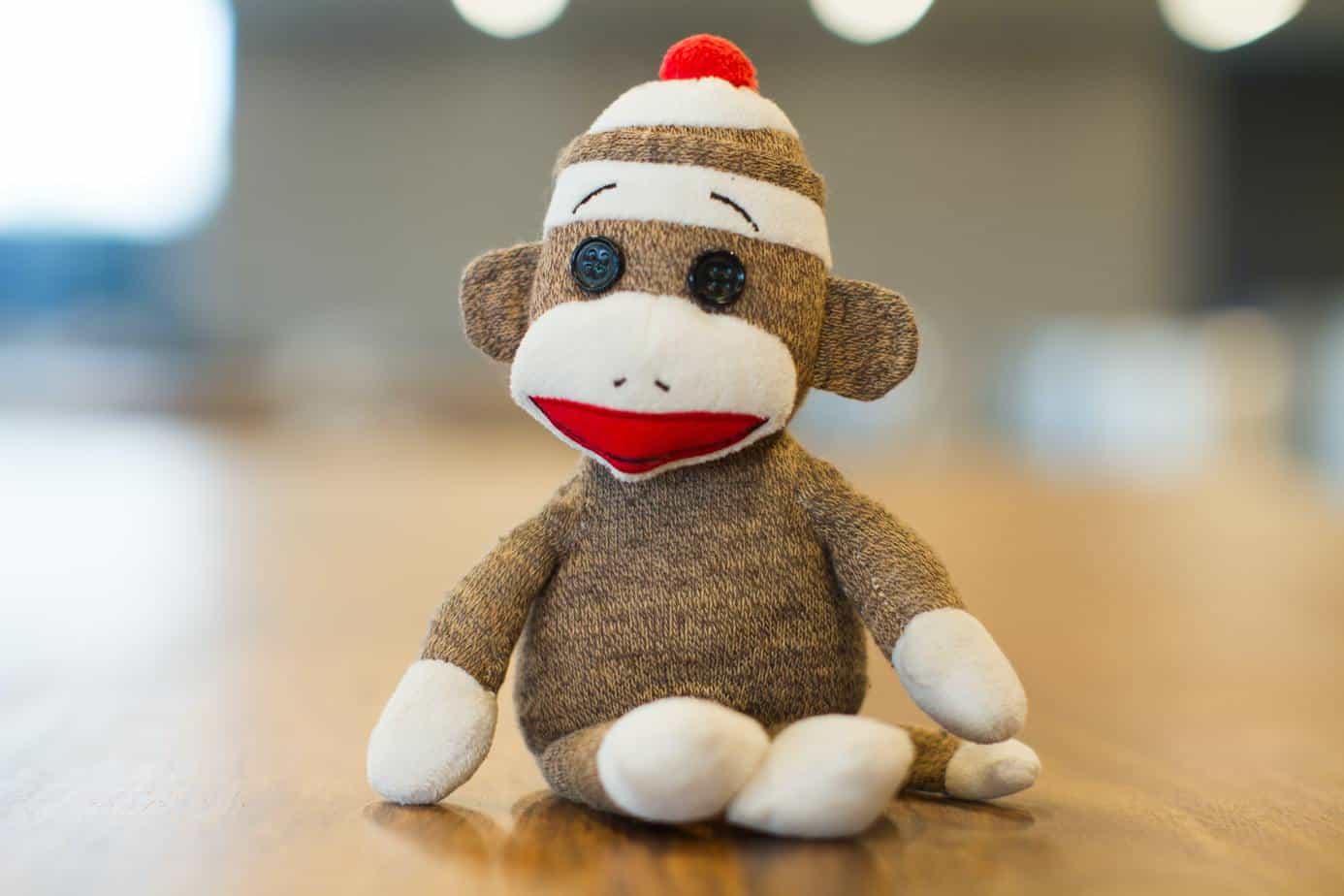 Natural Materials Offer Sensory Play
The texture, weight, and shape of natural and wooden toys add plenty to the play experience. It gives children a textured surface to sense, helping them to explore the world around them.
For instance, wood is responsive to warm and cool, sticky, rough, wet or dry, soft or rigid. Natural materials also carry a pleasant, faint scent of nature.
What's more, wooden toys are great for reducing anxiety. They're soothing to touch, providing a more tranquil experience. In contrast, plastic with its bright colors and smooth, artificial surfaces can overstimulate and exhaust a child.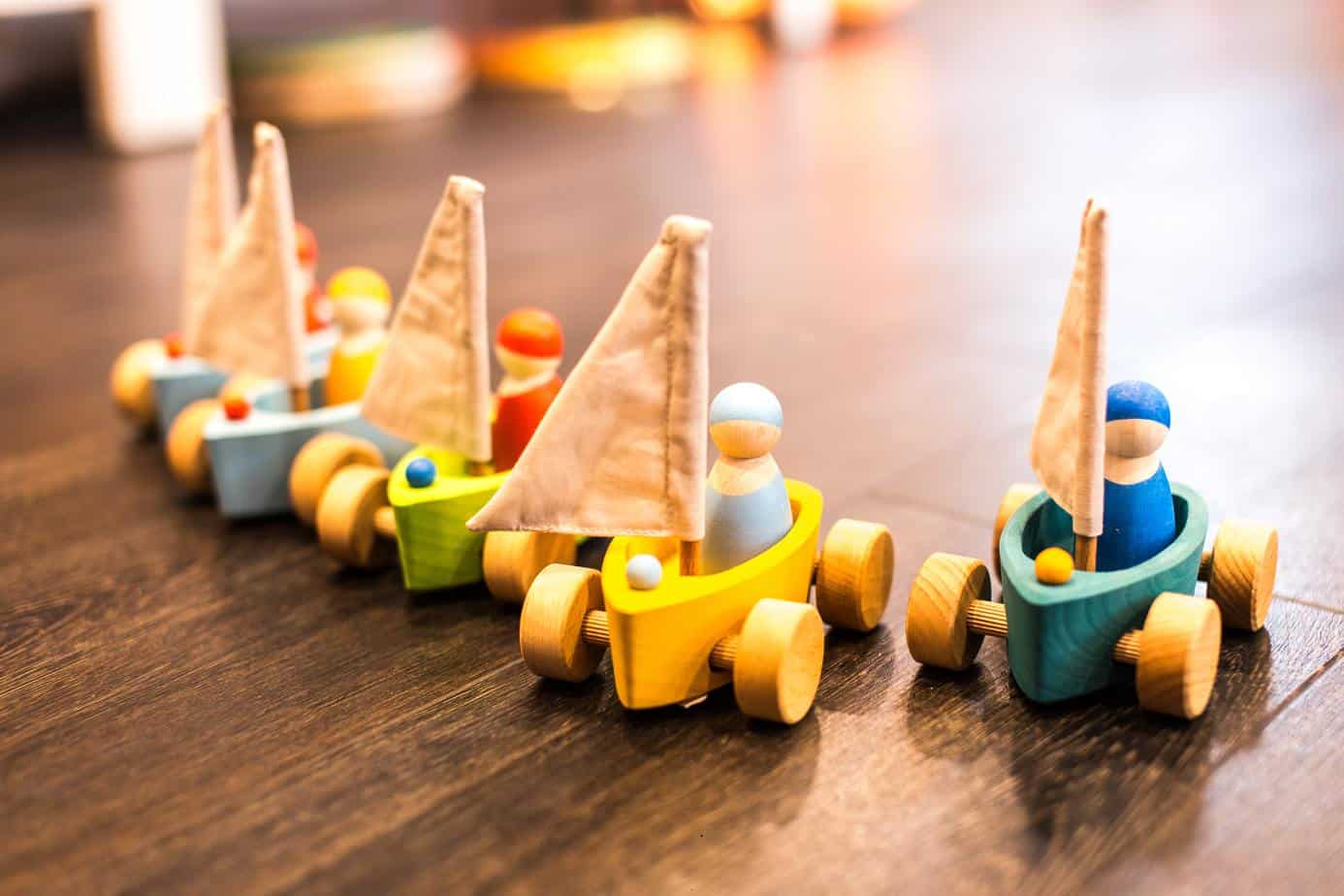 The Disadvantages of Natural toys
In the spirit of balance, we're also exploring some of the drawbacks of natural toys. Let's preface this by saying they are few are far between – you'll find nothing wrong with natural toys, but rather the market built around them seems to be the issue.
Natural Toys Are (Sometimes) More Expensive
Because plastic is used by all major manufacturers for mass production, wooden toys are sold primarily by individual merchants.
Often this involves crafting toys with love and dedication and sourcing materials in much smaller batches. Consequently, due to the cost of materials and the amount of time that goes into creating the products, natural toys are likely more expensive than their plastic, mass-produced counterparts. 
In short, often, there's a trade-off between quality and price – which only you, as the consumer, can weigh up and decide upon.  
There's a Smaller Selection of Natural Toys
Plastic toys have spoilt us in the sense that you can find anything under the sun represented. However, at the time of writing, this isn't the case with naturally produced toys. You won't find toys with too many small finicky parts, nor will you see them in every possible color. 
Plastic pushed toy creation into new realms of possibility; in contrast, natural toys take you back to well-designed, standard playsets with less complexity. However, this encourages children to exercises their imagination more – so again, there's a trade-off to be had. 
Where to Find the Best Natural Indoor Toys
If you're convinced that natural toys are the way to go, now come's the tricky part! How to find the best natural indoor toys? You'll want to ensure they boast all the benefits we've listed above: safe, durable, and pleasant to the touch.
When it comes to shopping for such toys, the most famously known manufacturers aren't your best bet. Instead, you might find several small business suppliers online (or locally) that dedicate themselves to creating natural toys. 
Here are a few websites to explore as you kickstart your search for natural toys: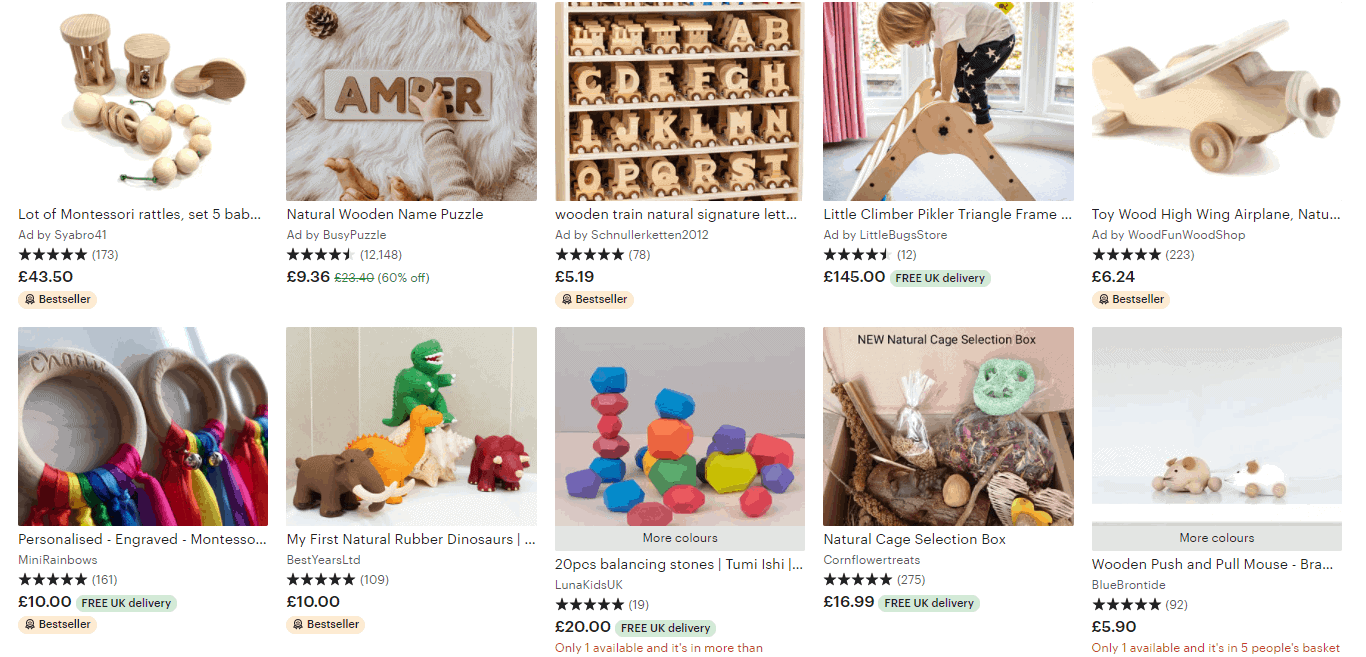 Etsy is the go-to marketplace for anything artisan and handcrafted. It is no surprise that you'll find many natural toys here, crafted by creative individuals.
The key here is to research every toy and seller individually, as you won't find the same quality or criteria across the board. However, Etsy will surprise you with the creativity of its range and will help you find a truly unique toy for your children.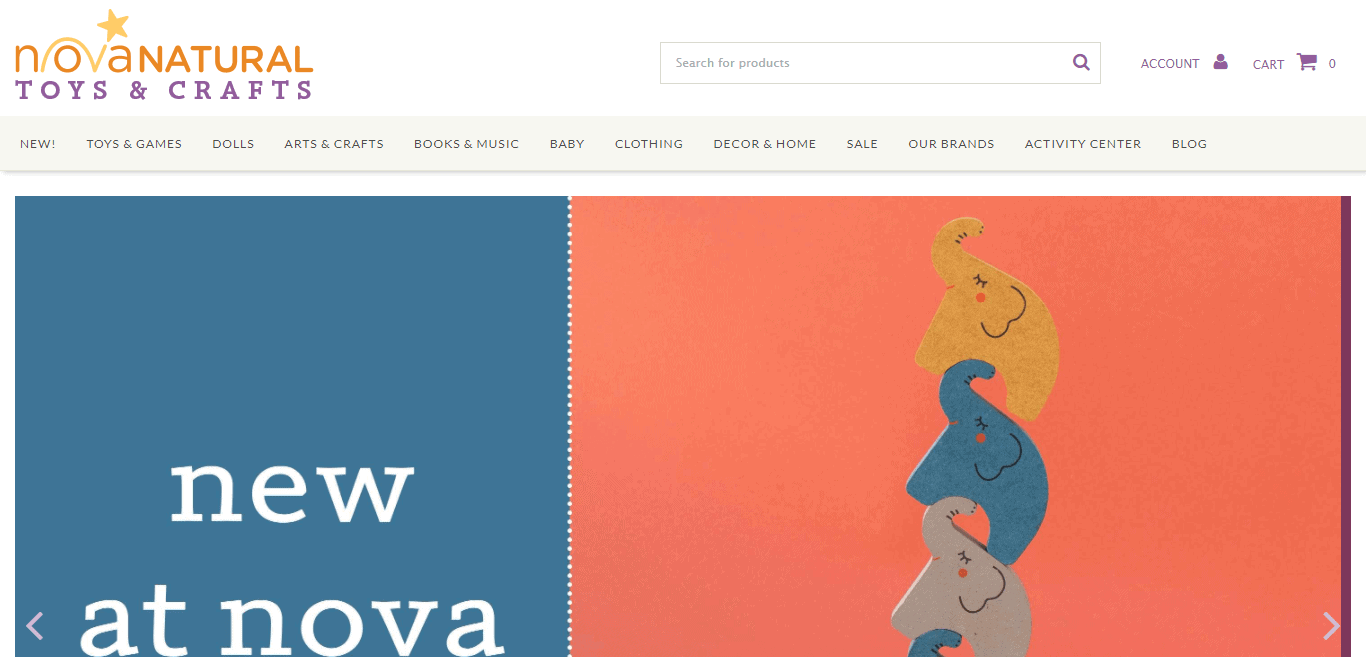 As the name suggests, Nova Natural focuses on a range of natural toys. You'll find a wide selection of wooden, knitted, and marble products on their website, alongside gift guides.
Besides toys, this is also an excellent site for pencil cases and stationery. As well as a variety of crafts that enable your child to learn something new. They're perfect for encouraging your little ones to practice their motor skills.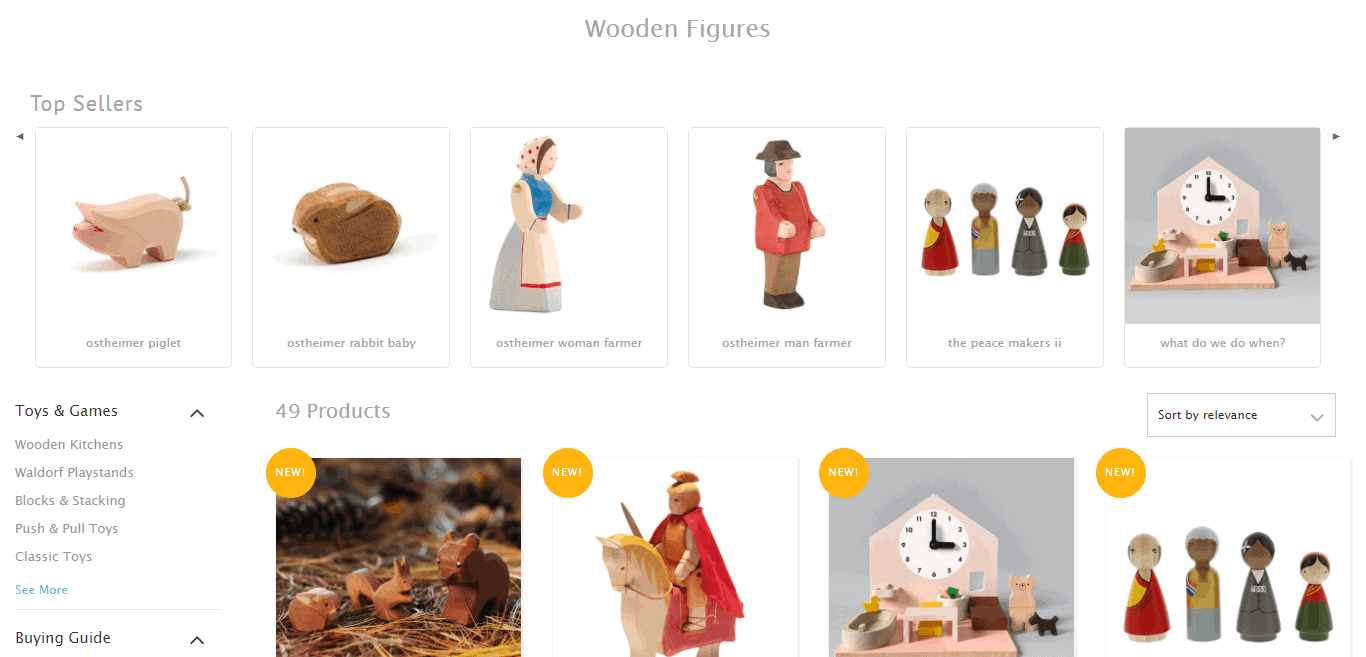 Fat Brain Toys focuses on creating toys that further children's education. Not all of their toys are plastic-free, but you'll find many natural and wooden toys amongst their vast selection. They also provide specific recommendations for toys that benefit children with special needs.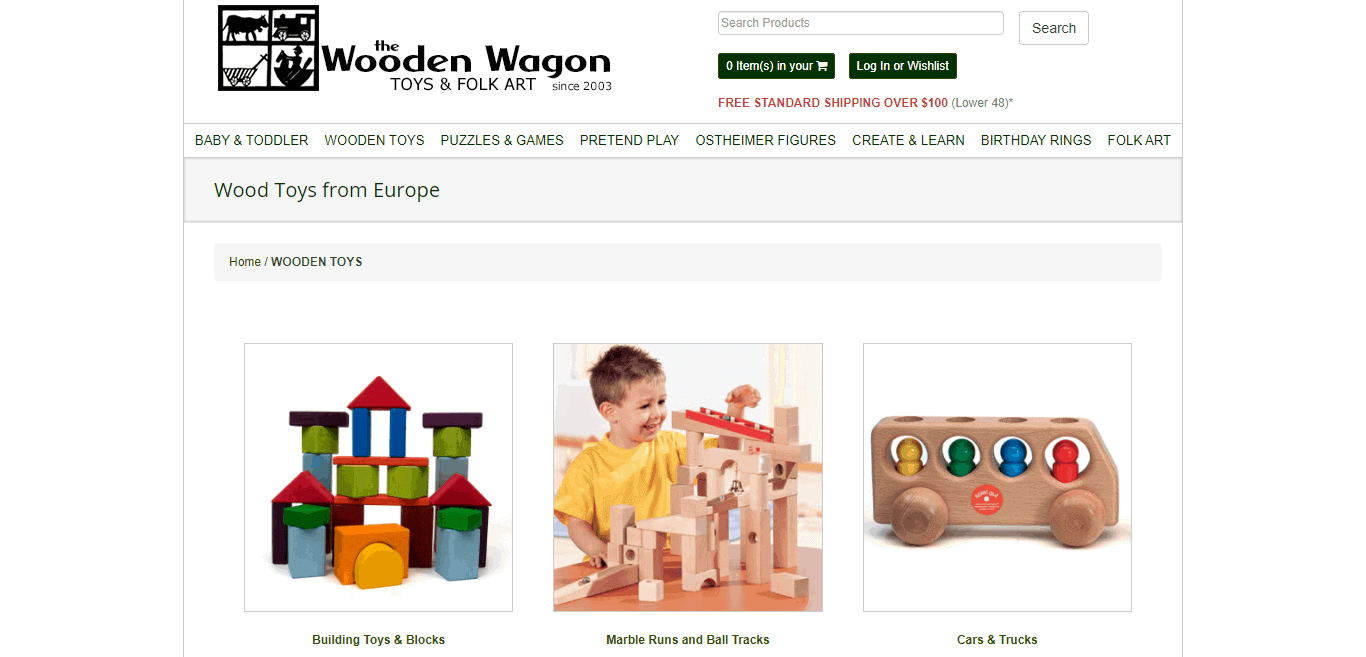 The Wooden Wagon has a massive range of natural decorations and plenty of toys for little ones. Here you'll find puzzles and games, arts and craft supplies, and even wobble boards.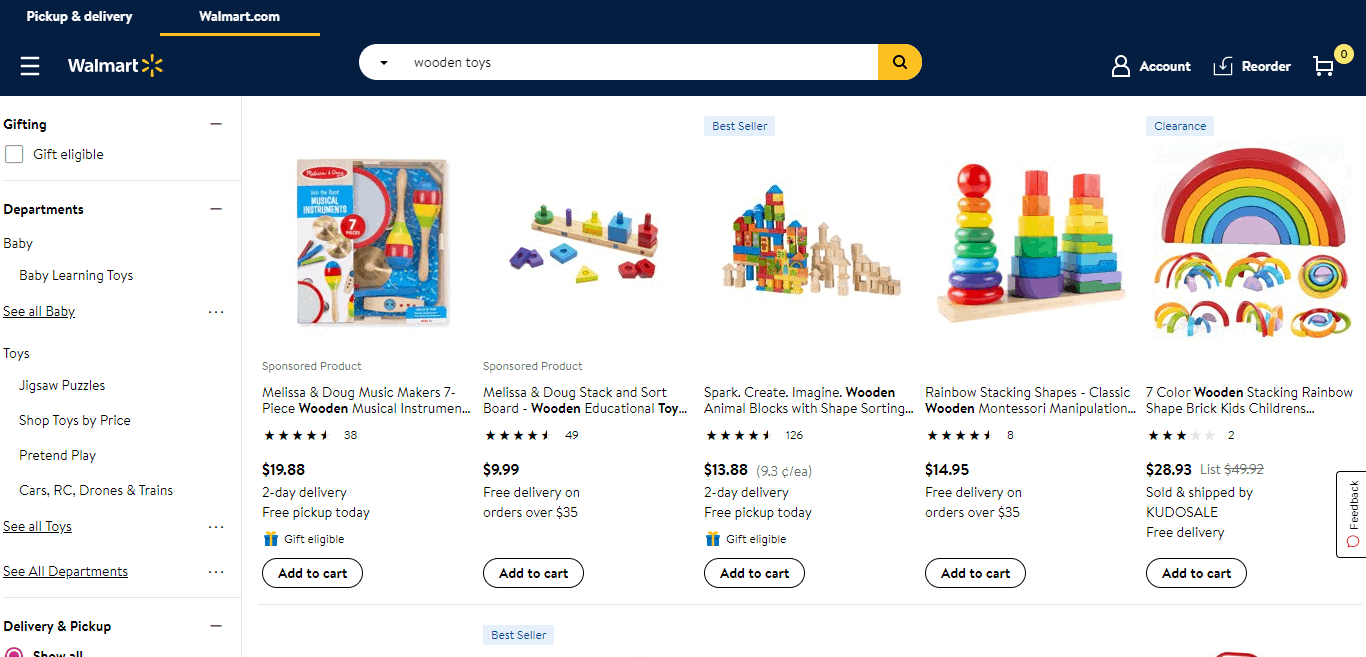 Finally, you'll be pleased to hear, we don't have to discredit major suppliers entirely! With some digging, you'll find natural toys at Walmart. Search specifically for the materials you're after, and you should find some suitable indoor toys to delight your children.
Examples of the Best Natural Indoor Toys
While natural toys are no longer as widely produced as plastic toys, you'll still find an impressive range of toys to choose from. So, we've outlined some of the best natural indoor toys to inspire your search.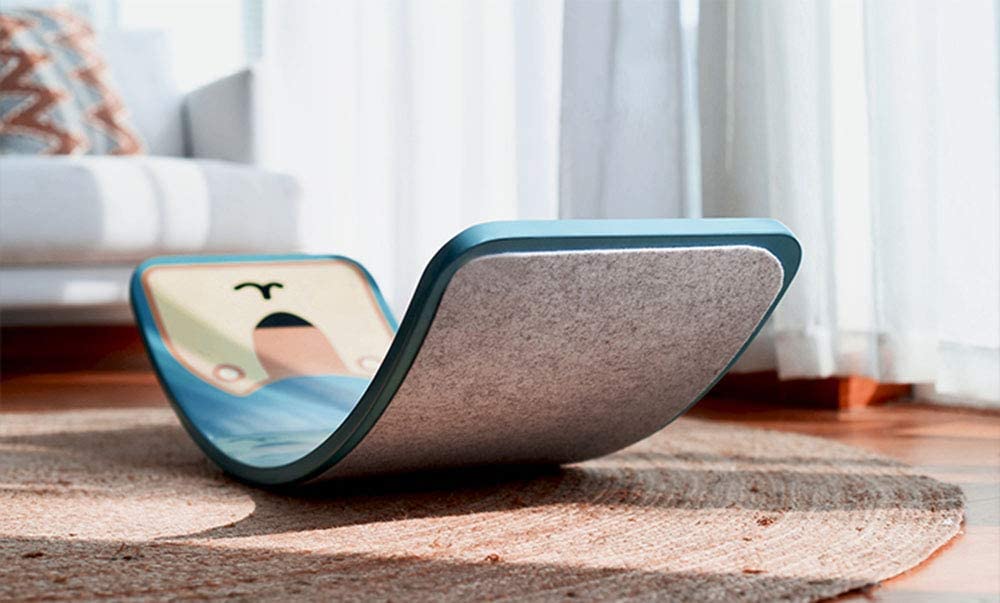 Let's start our list with a toy that showcases the versatility of simple, well-crafted toys. Wobble boards stimulate poise and balance in children young and older and serve as an excellent fitness exercise for adults, making them fun for the whole family. 
They can serve as anything the imagination allows: A bridge, a shop, a seat, a fort… 
Crafted from European beech wood and made with water-based paints, this eco-friendly toy is an excellent long-term play investment. You can find it for $149 at TheWoodenWagon.com.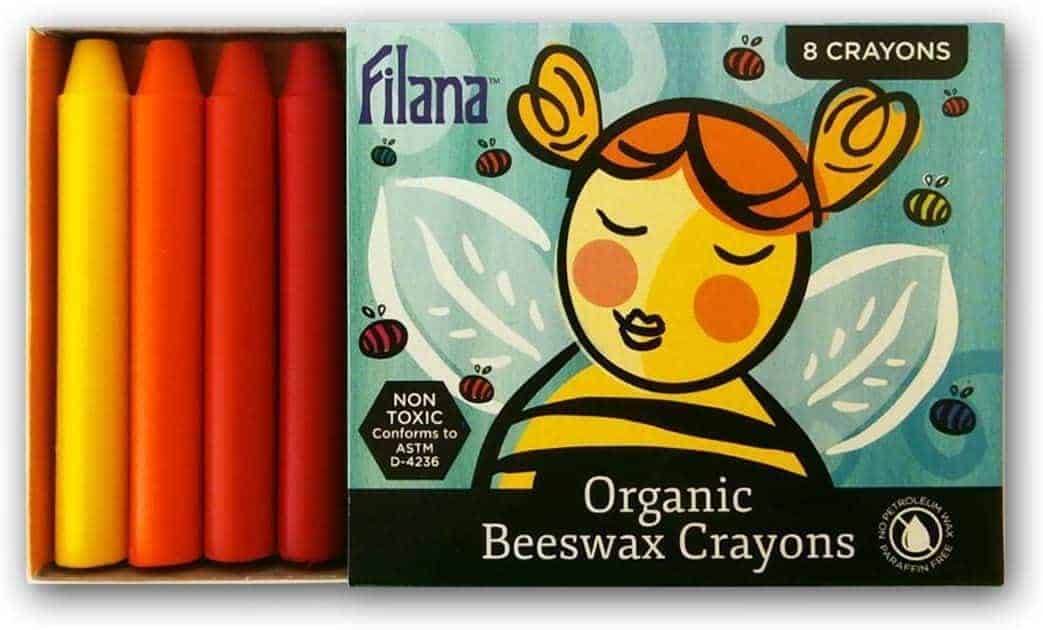 We all know how much toddlers like to bite down on things, crayons included! That's why you can rest easy with organic beeswax crayons. For only $14.95, this set comes with eight sticks boasting the colors of the rainbow. The crayons are entirely non-toxic and add a burst of color to your child's arts and crafts projects.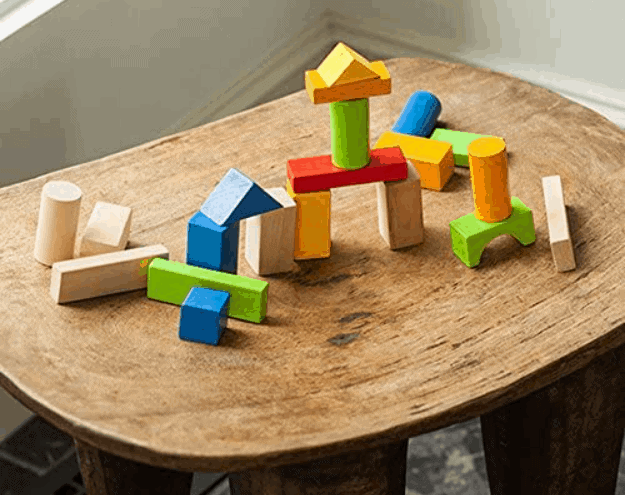 We couldn't possibly talk about toys that spark the imagination without listing a classic wooden block set. There are plenty of learning benefits to this must-have indoor toy.
They promote creativity, teach physics and caution, and encourage children to use their imagination to build ever-greater architectures. Even when they're not used to create, they serve as great additions to other playsets. 
You can find this extensive block set at Fat Brain toys for $28.95.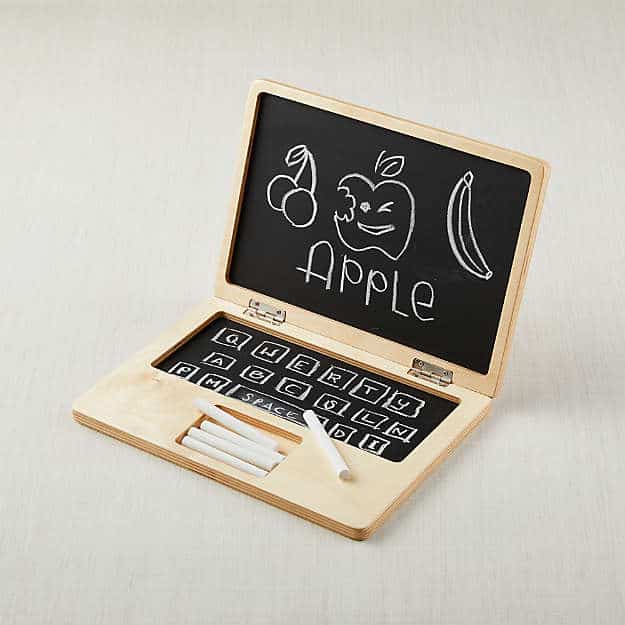 Let your kids feel like grownups, without the eye stress of actual screens. This creative laptop-styled chalkboard is portable and will inspire endless make-believe games for your children. With storage for chalk and two screens to doodle on, the creativity is seemingly infinite. Get the personal laptop chalkboard for $24.95 at createandbarrel.com.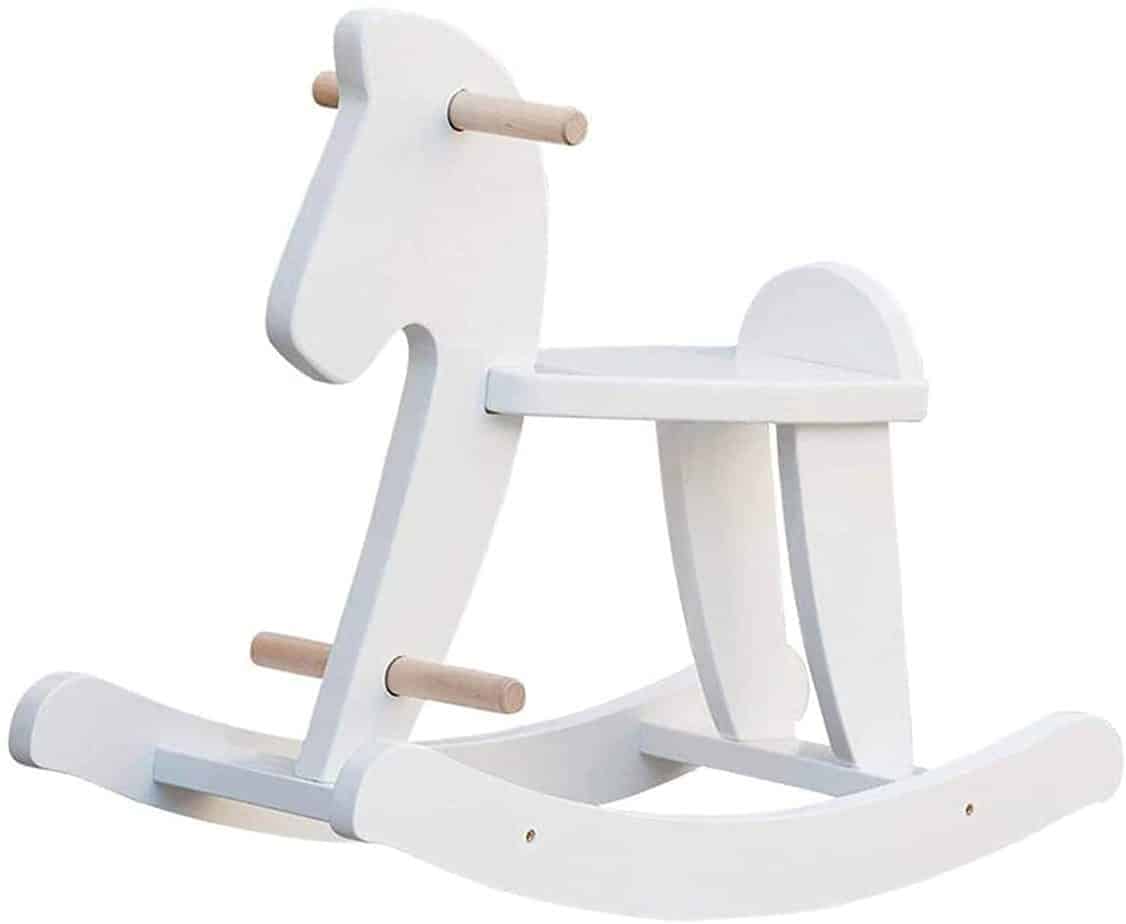 Wooden Rocking horses are the epitome of traditional indoor toys and work wonders for engaging your child's imagination. Whether they're picturing themselves as a daring princess, cowboy, bandit, or a knight charging into battle, at some point, every child fantasizes about riding a majestic horse. 
On Etsy and Amazon, you can find a range of wooden rocking horses. One eco-friendly version fashioned from birch plywood can be found for just over $50.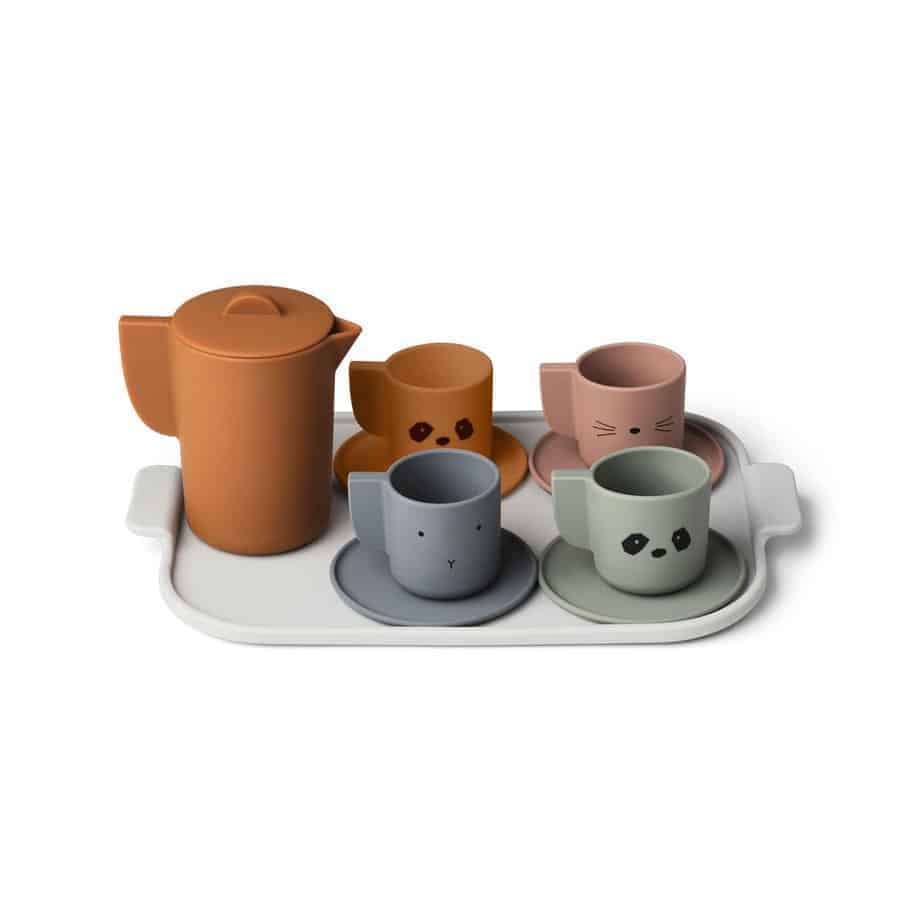 This tea set crafted out of silicone is designed to last. As an excellent alternative to plastic, the silicone feels pleasant to the touch, and they're water-friendly, making them the perfect bathtime toy! 
Each comes with a cute design, all presented on a tray for your kids to host the perfect indoor tea party with their favorite stuffed toys. This particular set can be purchased from liewood.com for $50.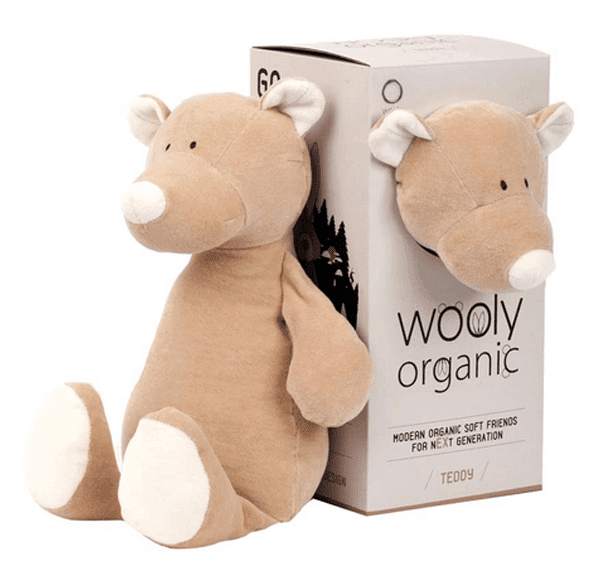 No toy list is complete without a classic teddy bear. Made from certified cotton, this one is entirely organic. With embroidered eyes and gorgeous detailing, there are no small parts to worry about, making it suitable and safe for all ages. Plus, the fibers are naturally hypoallergenic and antibacterial for added safety. 
On Ulula, the teddy bear is available for just over $30.
Safety Tips for Natural Toys
Natural toys can be adorable, boasting plenty of traditional charm. But if you're buying from less-known vendors, know what to look out for. You want to ensure the toy you're buying is safe to use for your little one. Fear not, you shouldn't go too far wrong when you heed the following advice:
Check for Safety Labels
In the UK (and all EU countries, for that matter), toys for sale should have a CE mark on the body or the label. This demonstrates that essential safety requirements have been checked and passed. A lion mark also indicates whether a UK toy manufacturer is a member of the British Toy and Hobby Association. This body, again, undergoes rigorous safety checks. 
On top of that, all toys have to adhere to the USA's ASTM (American Society for Testing and Materials) standards. When you purchase a toy online, make sure this is confirmed.
Keep Choking Hazards Away From Younger Children
Buying toys for the right age is essential. Traditional toys might be hours of fun for an older child, but younger children could choke on them if small parts are present. Always follow the warning labels on toys. For instance, if it says it isn't suitable for a child under the age of 36 months, keep this away from your toddlers!
Check The Surface for Splinters
If you've purchased wooden indoor toys, check the surface regularly to confirm it's still smooth. You don't want splinters! This can sometimes occur with cheaper toys that aren't finished to a good standard. 
Clothes and/or skin can catch on splintered wood. So, if it looks like the toy is losing its smoothness, sand down any rough patches, and the toy will be as good as new.
Be Careful When Buying Second Hand
We mentioned earlier how natural toys can last for decades, which means some old toys are still out on the market today. It's not uncommon for households to clear out the attic and flog these older toys online. Although their condition might be impeccable, they might not adhere to the same safety standards we enjoy today. If you decide to purchase second-hand toys, make sure it isn't coated in lead-based paint or glue with formaldehyde.
Always Check The Materials in The Product Description
You can avoid the majority of safety risks by ensuring the potential toy uses safe materials. Water-based dyes are a good sign when it comes to painting. If the toys aren't painted, ensure food-grade plant-based oils are used for the product's finish. 
When it comes to wood, choosing solid wood toys is a safer choice than something made from plywood or MDF, which are more likely to splinter. 
How to Clean Natural Toys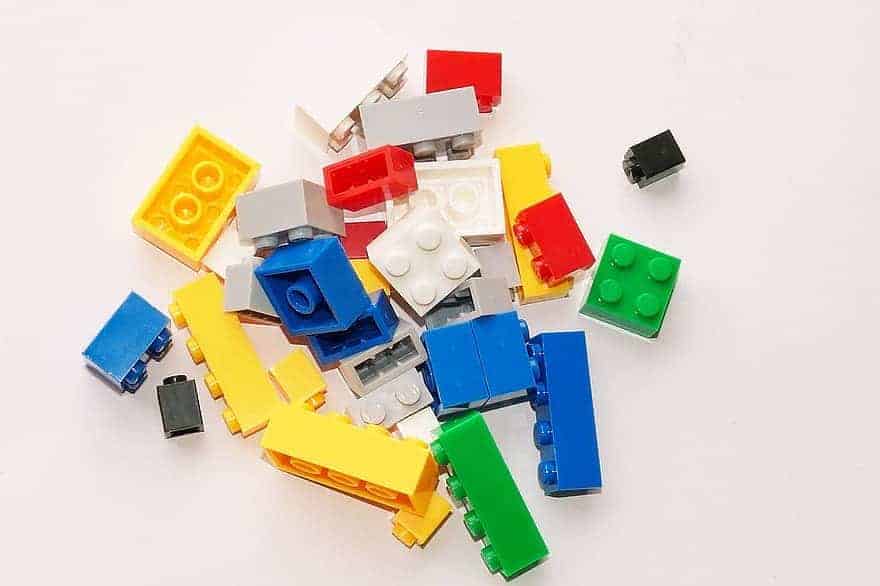 While we're on the topic of safety, we may as well discuss how to best clean natural toys. Keeping toys clean is vital – especially if they've been chewed on a few times. 
Bacteria will naturally develop, which of course, you don't want your little one to consume!
Most natural toys are made from various fabrics, making them as easy to wash as any other mass-produced soft toy. Just stick them in the washing machine and dry them (according to the washing instructions).
But, when it comes to wooden toys, the washing process is different from plastic or metal. That's because wood's porous, and some substances can sink into the surface more easily. That said, due to its natural antibacterial quality, wood isn't affected by germs in the same way plastic toys are.
Well maintained natural toys will last you for years to come, so a little effort in this department is worth it.
With that in mind, when cleaning wooden toys, remember to:
Never soak or immerse them in water. They might swell, lose their color(s), and/or change their shape.

Use a cloth and warm water to wipe down the toys. Then blot any excess water with a clean, dry cloth and allow to air dry.

To clean painted or varnished wooden toys, use a mild soap and rinse with a sponge.

To disinfect wooden toys, use white vinegar or apple cider. Dilute with water and allow the toy to air dry after wiping it down with a dry cloth.
If the natural order accompanying a wooden toy is too strong, giving it a clean should do the trick. You can also re-moisturize wooden toys using olive oil. 
Please Note: Never use cleaning products intended for wooden furniture and stay away from disinfectant wipes. These present toxic substances that you don't want anywhere near your child's mouth.
Find The Best Natural Indoor Toys for Your Child
We hope this article has provided a better insight into natural indoor toys – their benefits, where to buy them from, and how to clean them.  As you can probably guess, we're massive fans of returning to traditional materials. From their natural sensory beauty to their classic, pleasant designs, natural toys provide a tranquil play experience and are delightful to look at. 
As long as you keep in mind safety standards and know what to look for, natural toys can be immensely durable, fun, versatile, and eco-friendly, making them a great addition to any household with children. 
On our website, you'll find reviews of some of the best natural indoor toys for your kid. So, take a look around to find the right gift for your child, and don't forget to let us know how you get on in the comments box below!
FAQs:
Question: Why are wood toys better than plastic?
Answer: When it comes to children's toys, plastic is a long-standing part of the toy box. Colorful, durable, and cheap to make, it's no wonder why either. But as we become more environmentally aware, the shift towards natural indoor toys has risen, and so has the use of wood in children's toys. But why are wooden toys often considered better than plastic?
They encourage imagination – more often than not, plastic toys are brightly colored and feature characters, faces, or textures. These are great for playtime, but they rarely encourage the child to think outside the box. With wooden toys, children must use their own imagination to invent stories and characters, which aids cognitive growth.
They're environmentally friendly – of course, this one goes without saying and doesn't require much of an explanation. Plastic is a man-made product and can take thousands of years to decompose. Wood toys, however, are usually much kinder to the environment as they're biodegradable.
Safer – Generally speaking, wooden toys (just like any other toy) are likely to end up in your child's mouth at some point! As plastic can often break into smaller pieces, it poses a considerable risk. Whereas wooden toys are sturdier and rarely break in this way, making them a safer option.
Question: Why's it important to give your child toys?
Answer:  Children of all ages need toys to develop their cognition, problem-solving skills and to learn the importance of cause and effect. That's as well as nurturing their natural curiosity, creativity, and imagination
Question: Are wooden toys hygienic?
Answer: When it comes to playing, children aren't known for their cleanliness, and why should they! There's nothing more enjoyable to a child than getting their hands mucky and experiencing different textures. But when it comes to the clean-up, how do wooden toys stack up in terms of hygiene?
It often comes as a surprise that wood is actually very hygienic. It offers natural anti-bacterial properties that can't be found in other materials like plastic. These anti-bac qualities mean viruses and bacteria have much less of a chance of thriving. The natural self-cleaning nature of wooden toys empowers your child to be as messy as they like at no risk to their health.
Question: What are natural children's toys made from?
Answer: When we talk about natural indoor toys, most people think wood is the only option. While it's a popular one, there are many more too! Some of the most popular natural indoor toys are made from:
– Wool
– Wood
– Cotton
– Silk
Not only do these materials make for beautiful toys, but they also offer a unique alternative to plastic for engaging your child's senses. Needless to say, this works wonders for contributing to their overall development.
Question: Why should you opt for natural children's toys?
Answer: When it comes to playtime, we want our children to thrive with the most educational, fun, and imaginative toys available. Perhaps one of the most unique benefits of natural indoor toys is that very rarely are two ever the same. Usually, this kind of children's toy is handmade, making it memorable and individual, offering different textures, shapes, and color variants often missed in mass-produced toys.