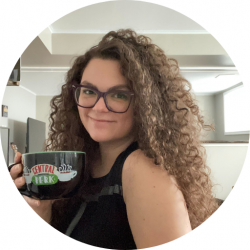 Latest posts by Candace Osmond
(see all)
Wooden dump truck toys bring fond memories to mind for many of us, don't they? A lot of our parents and parents' parents had their own wooden trucks when they were kids. If you've been searching for a wooden truck for your little one, look no further than my compilation of the 8 best wooden dump trucks! I'll also give some insight into picking out the perfect toy truck for your child. Ready to get started?
Bottom Line Upfront
After searching and reading up on the best choices for this list, I fell in love with the design and quality of the Melissa & Doug Wooden Construction Site and ordered one for my nephew! I can't wait to see him play with it.
Top 3 Picks
These are the 3 best wooden dump trucks to buy for your child! When it comes to design, cost, and best overall features, these 3 toys take the winning seats. I'll explain more about each of these products further down into the article!
Best Overall: Wood Truck Toy for Toddlers
This gorgeous handcrafted wooden truck can be customized to feature your child's name on the front. You can also choose to have the wood finished with raw walnut oil.
Best Design: Wooden Toy Truck
This handmade wooden dump truck retains a beautiful natural tone, but the blocks inside of it are painted every color of the rainbow.
Best Price: Melissa & Doug Wooden Construction Site
Even though this wooden truck set has the lowest price, it also gives you the greatest number of toys out of every set on the list. Each truck is painted a bright color.
Do Wooden Dump Trucks Actually Work?
Yes, these toys do actually work! Wooden dump trucks are interactive toys that can move when you push them since they're on wheels. Your child can load other toys into the dump body to transport them around.
Are Wooden Dump Trucks Safe to Play with Outside?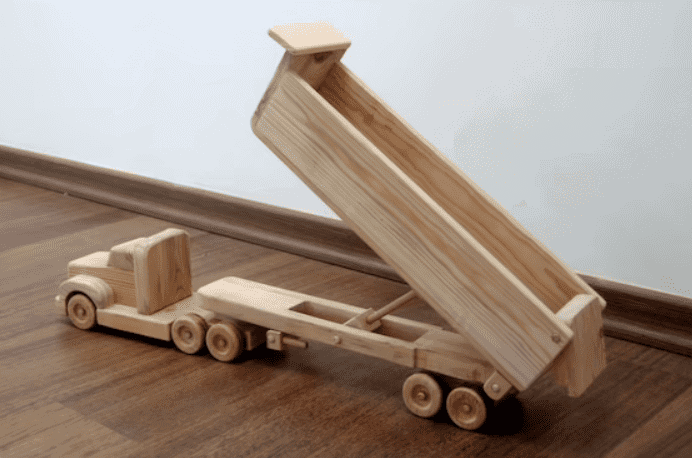 Not all wooden dump trucks are safe to take outside, particularly on rainy days. It should tell you in the item details or product description online if a toy truck is safe to take outside or not. Some wooden dump trucks are made to be more decorative than anything else, meaning they aren't great in the mud.
What Kind of Wood is Used for Wooden Trucks?
Different companies use different kinds of wood. Typically, companies always use hardwoods, because they're resistant to moisture, they're hardy, and they're extremely common in North America. Sometimes, companies will use engineered wood, but for the purpose of a toy, engineered wood still works great.
See Also: How to Find the Best Natural Indoor Toys
What Type of Finish is Used on Wooden Trucks?
Not all wooden dump trucks have a finish, but usually, a finish is done with either food-grade mineral oil or a natural nut/fruit tree oil. Never try to create your own finish with oils like olive oil or vegetable oil, because both of these can go rancid very easily!
What to Look for When Buying a Wooden Dump Truck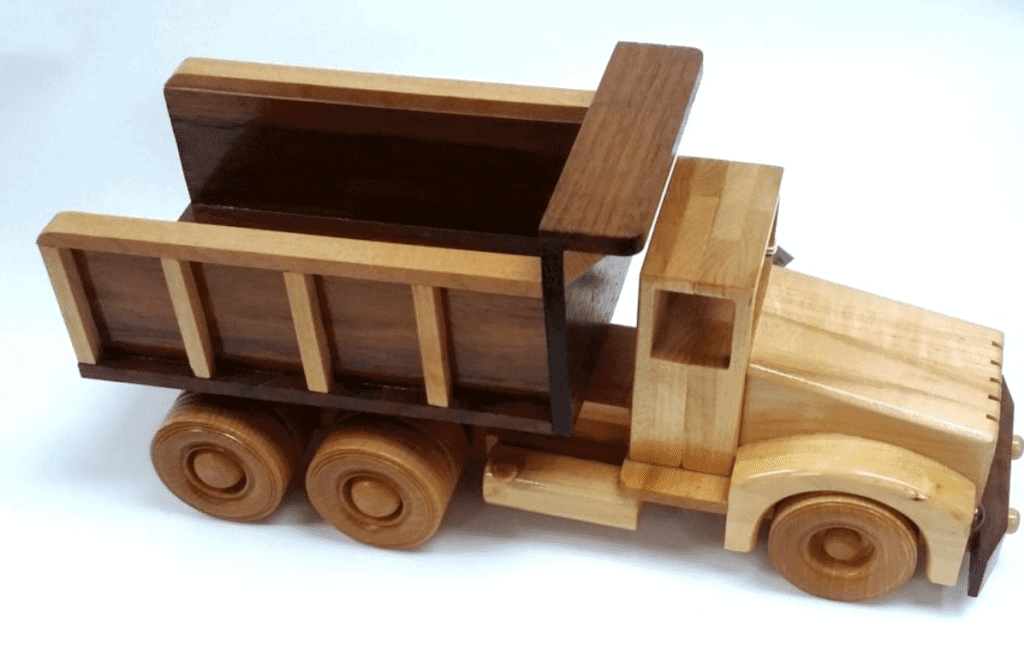 We all know what it's like trying to find the perfect toy for our kids. There are so many choices! Which toy do you go with? I'm going to help you narrow down your choices by pointing out what to check for in the product description of your wooden dump truck.
Size
Do you want your child's wooden dump truck to be small enough to fit in their hands? Big enough to ride around on? Big enough to fit some of their favorite dolls or action figures? Consider what your child would like to use the dump truck for when deciding on which size to get.
Price
Handmade toys are generally always going to be more expensive than mass-manufactured toys. Are you willing to pay for handmade charm, or would your kid rather have a more commercialized-looking toy? Usually, wooden dump trucks can be anywhere between $10-$130.
Age Appropriate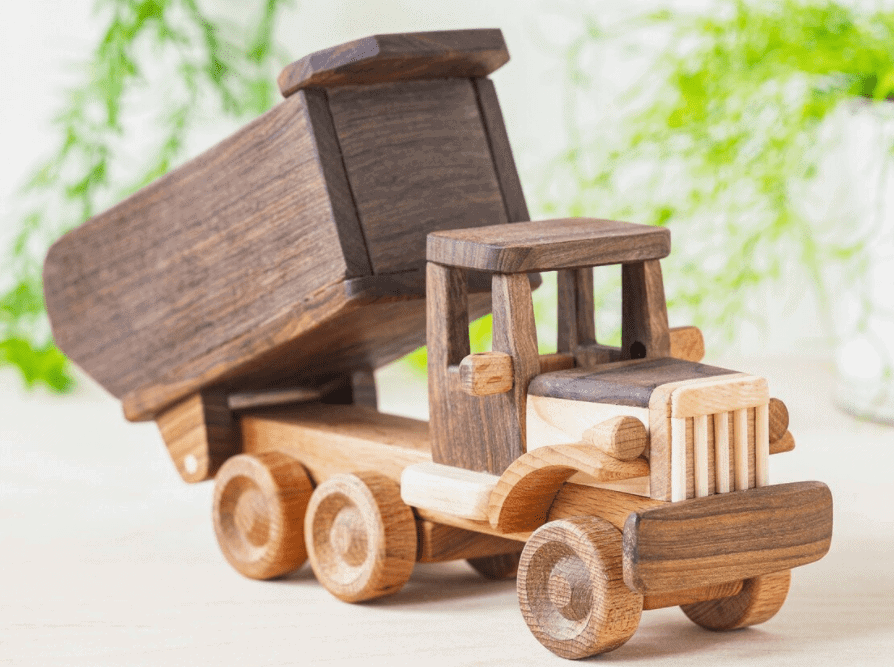 It's super important to check what age a toy is intended for before buying it for small children. Many wooden dump trucks are meant for kids 3 and up, though some are meant for ages 4 and up. Make sure you aren't giving a toy with choking hazards to a baby.
Quality
No one wants to buy a toy for their kid that's going to fall apart on them. To avoid that, follow these easy steps to check the quality of a wooden truck before you buy it:
Always research on the company to check if it's reputable
Read the product reviews of the toy you're going to buy
Check the materials the toy is made from
Zoom into the product picture online to check for abnormalities
Safe Materials
Many sellers of wooden dump trucks pride themselves on using natural, safe materials as opposed to the usual commercial plastic. Many sellers will list the materials that were used to make a specific toy, some even going as far as to report the type of wood. If you would like to know about the materials and they aren't listed, you can always inquire via the contact info on the website.
See Also: How to Find the Best Natural Outdoor Toys
The Best Wooden Dump Trucks for Kids
Here are some of the best wooden dump trucks for kids! In today's age of the internet, it's important to give kids toys that inspire their imagination off-screen (yes, even the little ones.) I know wooden trucks do just that. Each of these made the list for its quality, well-made construction, price, design, and unique features.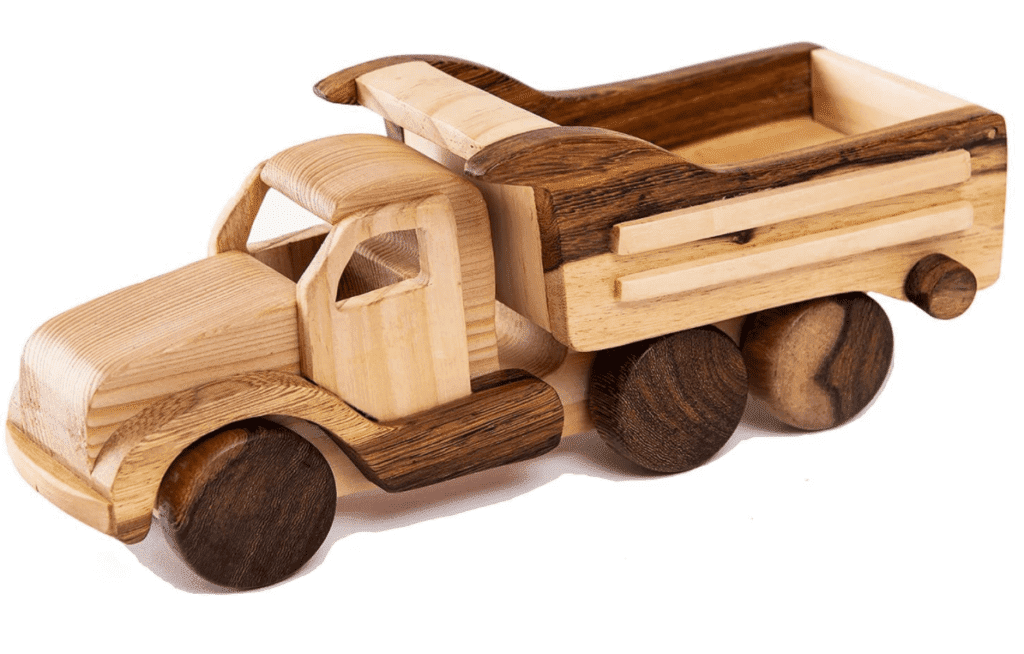 This wooden dump truck looks like something your parents could have played with or their parents' parents. Being made from natural wood, the makers decided not to paint this toy, so it retains its classic beige and brown look. This toy is for kids 3 and up, which makes it a great choice for toddlers!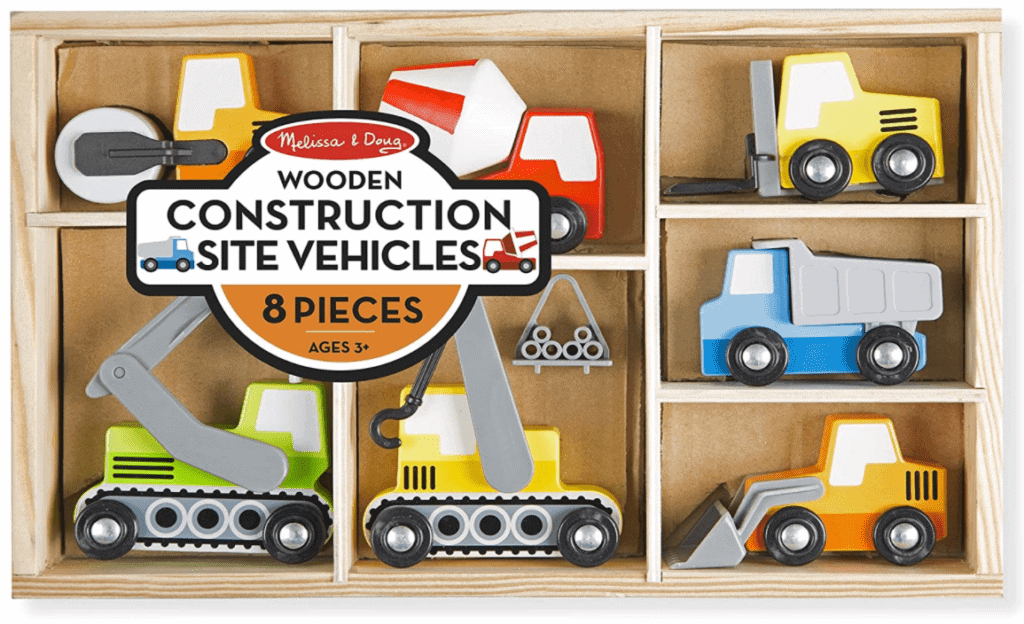 Your kid will get 7 trucks instead of 1 with this set! In addition to a dump truck, they'll get a steamroller, forklift, cement mixer, front loader, backhoe, crane, and construction piece. From red to blue to green, each truck is its own vibrant color. The accessories and extra features of each truck are made of plastic and metal. This set is intended for kids 3 and up.
This beautiful blue wooden dump truck is the perfect choice for toddlers. This toy is large enough that toddlers can sit on it and push it forward with their feet. The beautiful blue color adds to its appeal. Mover is a trusted, high-quality toy brand, which makes the price tag on this classic toy worth it.
Wooden Dump Truck Toy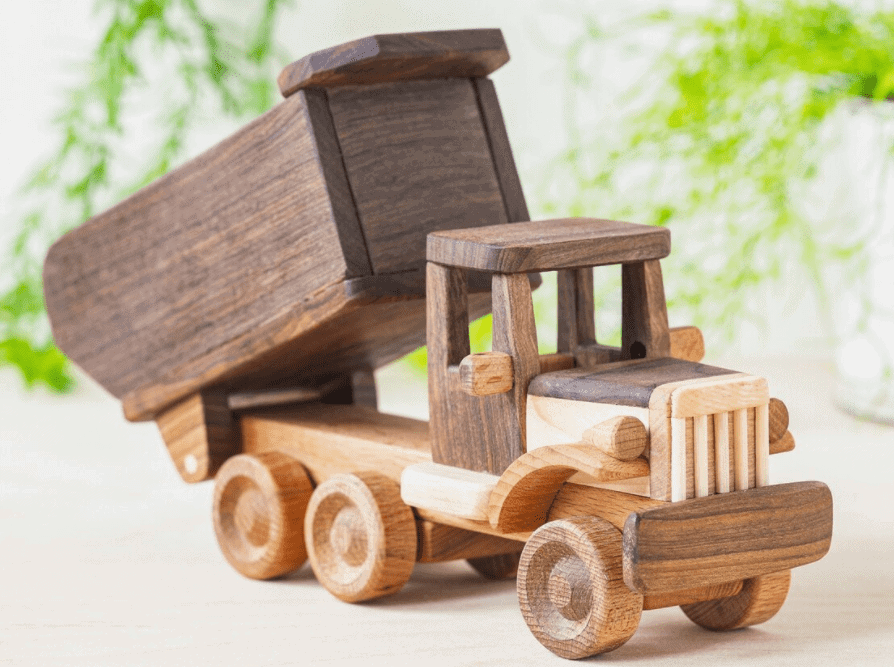 There's something special about handmade toys, isn't there? This wooden dump truck with flawlessly smooth edges is certainly something special. Even the wheels which are also made of wood are rounded to perfection, which makes it easy for them to move. This dump truck has a natural wood color, but you can decide if you'd like to get the toy engraved. You can also pick between having no finish or a raw walnut oil finish.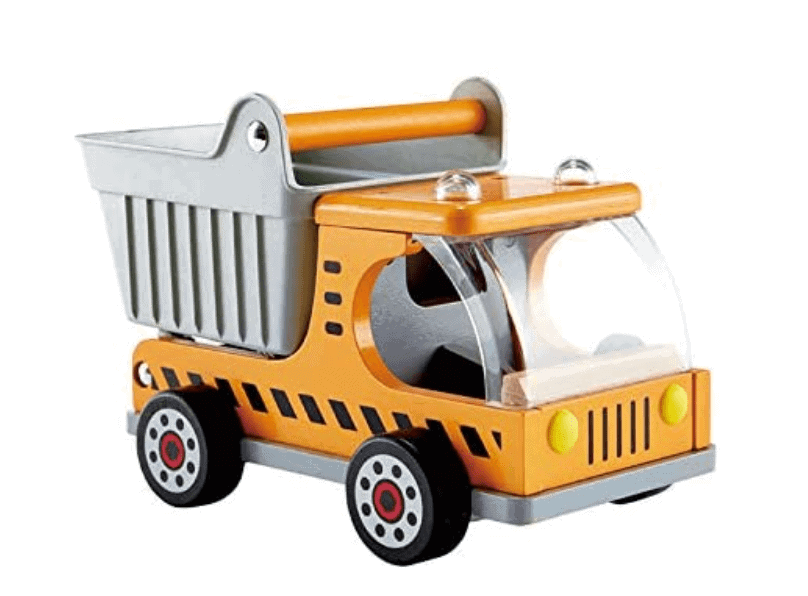 This wooden dump truck from Hape is a happy yellow color that's going to catch your kid's attention immediately. The detailing in the paint and small features is spot-on and clean, which you can see by zooming into the product picture and examining the small details. My favorite feature is that the cab is large enough that action figures or dolls can sit inside it. Toys can be loaded into the dump body, too.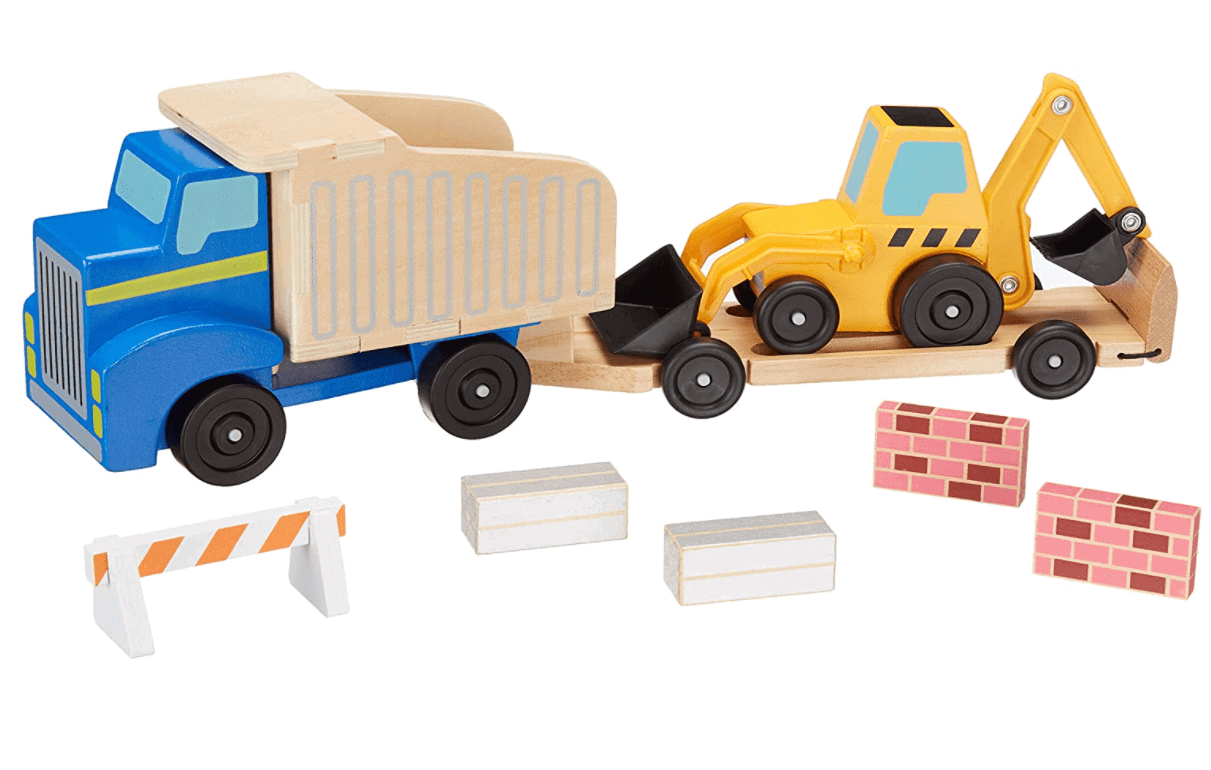 This is another toy set from Melissa & Doug, which is a toy company I can't recommend enough. In addition to a wooden dump truck toy, this set also comes with a loader and flatbed trailer. Other accessories, like a road barrier, give your child even more to interact with. Parts of the wood are left their natural color, and other parts are painted either blue or yellow.
Wood Truck Toy for Toddlers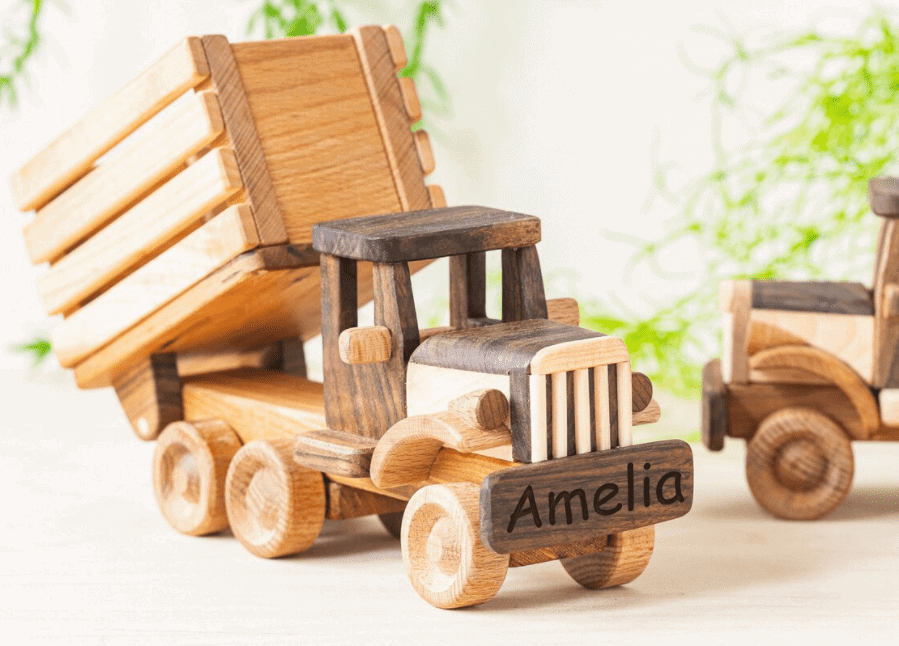 Give your child something personalized. Consider this wooden dump truck that can have a name engraved across the front. A reputable small business sells these handmade toy trucks, and though pricey, the price is worth it for the craftsmanship. The wood isn't painted, so the truck retains a classic, vintage feel. You can leave the wood unfinished or have it finished with raw walnut oil.
Amish Toy Box Wooden Dump Truck Toy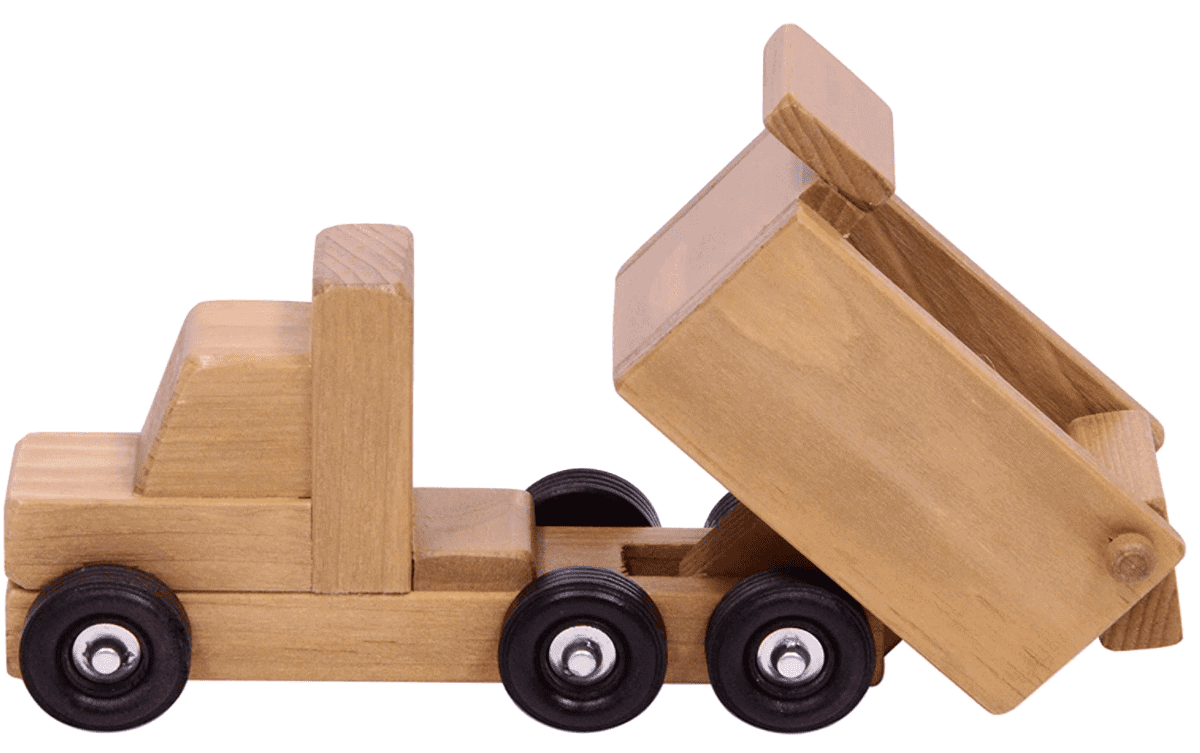 Amish Toy Box has made this wooden dump truck toy with a loadable dump body, 6 movable wheels, and a classic look. Pinewood was used to make this toy, which is a resilient and beautiful hardwood that's perfect for toy making. You'll be happy to know that the truck is coated in a non-toxic finish, too. This toy was handcrafted, which definitely adds to its value.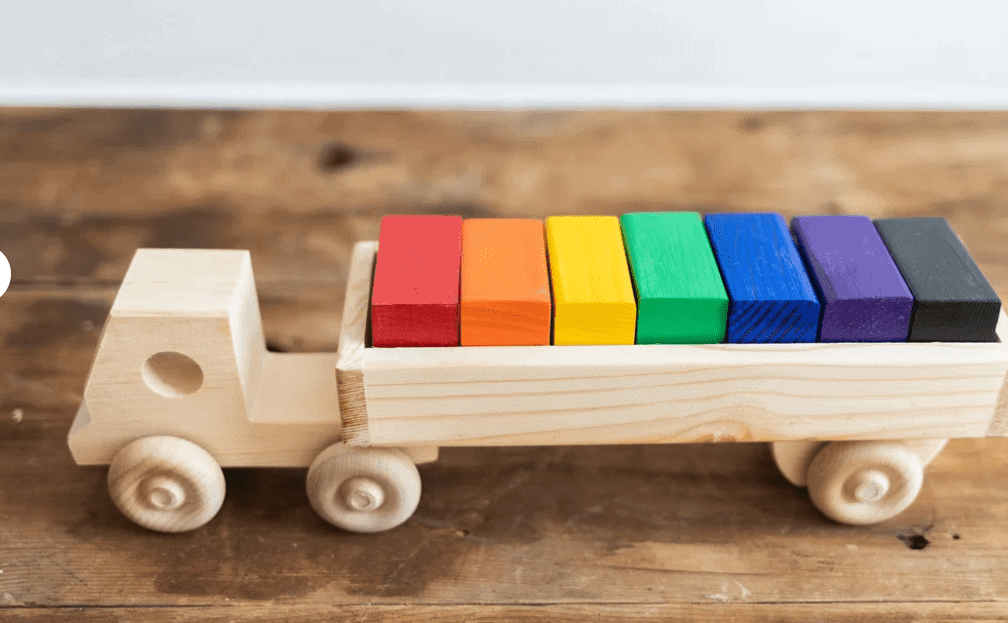 Canadian lumber was used to craft this unique, modern wooden dump truck. The truck itself is a natural light wood color, but the blocks loaded into the dump body are each painted a vibrant color. Nontoxic paints and nontoxic finishes were used to make this toy safe for little ones. The price isn't very high for a quality handcrafted toy, either.
Mobile Dump Truck Toy
If you truly want a more unique piece that puts adults' and children's minds to the test, here is something worth buying. This is a wooden dump truck kit that enables a kid's patience and craftiness since it's a toy that they have to assemble. It comes with mobile parts and wheels that rotate.
Stanley Jr. Wooden Dump Truck Building Set
Another great product suggestion is this wooden dump truck building set that keeps a child entertained while helping them develop their imagination and problem-solving skills. It's a ready-to-build toy, which means that you have to assemble parts to get the actual toy seen in the picture. If your kid is old enough, feel free to supervise them while they try to build this themselves.
Belle & Birdie Wooden Dump Truck Toy
During the design process, special consideration was given to the child-friendly functionality of this adorable dump truck. The handlebar makes moving the tipper exceedingly simple, and loading and unloading become an inexhaustible source of amusement.
It is a well-built, beautifully carved wooden vehicle that has been meticulously developed down to the last detail. The diverse brown colors are achieved solely through the use of a heat process that is unique to goki-nature products.
Dump Truck with Detroit Diesel Engine
If you're ready to step up your toy-building game, this project shows the results of something that looks absolutely stunning. Handcrafted to perfection, this isn't the easiest wooden sump truck project to tackle if you lack the patience to see it through. Disclaimer: it took this builder 2 months to make this.
Dump Truck Made From Wood Scraps

There is something about the vintage vibes of this wooden dump truck made over 100 years ago that makes it a masterpiece. Perhaps it's the sentimental value behind the toy. It is, however, something that anyone can recreate. Can you imagine having your grandkids playing with a toy that you made all by yourself? It must be such an uplifting feeling…
Handmade Wooden Dump Truck

Granted, making your own wooden dump trucks is not always going to be easy. This weighs on how detailed the project is, how many moving parts you want, and the effort you're willing to put in. Here we have a very simple and unpainted toy truck that sparks the imagination children need to develop their personalities. Also, feel free to use water-based non-toxic paints to color it however you want.
Large Dump Truck Toy

Imagine having a dump truck toy made from wood that's actually large enough for your little ones to carry stuff around the yard. While you can use this as an excuse to engage them in gardening activities, the truck can also be used for playtime. It's a great way to transport their toys around the house too!
Wooden Dump Truck Shelf

This idea is quite different from the others I've listed today. It's basically a shelf that acts as a decorative piece and is shaped like a dump truck. Granted, it's not large enough to showcase books, but it does work for putting away smaller toys or perhaps showcasing some trinkets that your children are fond of.
FAQ
In this last section of the article, I'll answer your most frequently asked questions about wooden dump trucks. This kind of toy truck is such a classic for many generations, so it makes sense we want our kids to have one, too! If you have any more questions, please leave them in the comments below so I can get back to you with an answer.
Question: Who Makes Wooden Dump Trucks?
Answer: Tons of toy brands and small businesses make wooden dump trucks! I've provided an assortment of wooden dump trucks above from big companies, small companies, and Etsy sellers. You can buy manufactured or handmade wooden trucks.
Question: Where can I Buy Wooden Dump Trucks?
Answer: You can find wooden dump trucks in lots of places. Amazon, eBay, Etsy, Overstock, and AliExpress all have wooden dump trucks you can buy. You can find these toys in stores like Walmart and Target, too.
Question: Can You Actually Play with a Wooden Dump Truck?
Yes, it's good for kids to play with wooden trucks. It stimulates their imagination and lets them roleplay social situations they'll come across in real life. Kids can enjoy imagining their dump truck is on the way to fix the town, in a race against other trucks, or anything they can think of.
Let Your Kid's Imagination Run Wild
Answer: Did learning about the best wooden dump truck toys for kids take you back? After reading about the 8 best wooden dump trucks, did one of the toys from my list catch your interest? Let me know in the comments below! Personally, I adored the Melissa & Doug Wooden Construction Site enough that I went ahead and ordered one for my nephew! For more great buying guides for kids' toys, come check out our recs for the best wooden doll strollers!
Recommended Reads: