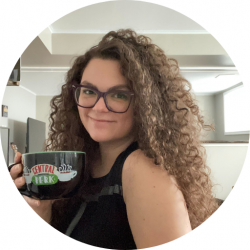 Latest posts by Candace Osmond
(see all)
So, you're interested in buying a Grimms wooden toy set for your tot? I know I'm always intrigued by quality craftsmanship and toys that improve my child's development. Today, I'm going to weigh the pros and cons of Grimms toys and let you know what this company has to offer. And we'll go over the best wooden toy sets on the Grimms website based on their popularity, ease of use, and overall design. Excited to learn about classic wooden toys? I know I was!
Bottom Line Upfront
Grimms has so many amazing toys, but I personally love the Large Rainbow Set of Boxes because they're multi-functional. My daughter played with them, stacked them, learned about colors, etc. And then, when she was a little older, we used them as storage boxes for her other toys.
Top 3 Picks
Out of all the Grimms toy sets I have to show you, these are my top 3 picks. Wooden toys are amazing for babies and toddlers because they help stimulate their imagination early on. When picking out toys for my little one, I look for sets with these qualities.
Best Overall: 60 Natural Geo-Blocks: This set contains 60 building blocks that teach vital motor skills and puzzle-solving skills.
Best Design: Little Land Yachts: 4 little yachts on wheels and 4 little figurines are included in this adorable playset.
Best Functionality: Large Rainbow: This huge, stackable rainbow can be made into a tunnel, a bridge, a set of sprawling hills, and everything else your child can think of. Each block is very brightly colored.
About the Grimms Brand
What makes the Grimm toy brand so special? Why do so many parents turn to Grimms for their babies, toddlers, and young elementary school kids? For one thing, Grimms is devoted to creating all-natural and entirely non-toxic toys. The dyes they use on the wood are all non-toxic and water-based. The finishes are all non-toxic and plant-based.
Not to mention, Grimms' wooden toys are all handcrafted. A real person sat down and created each detail, not a machine. I know that handmade toys mean something special to many of us, which is another reason I recommend this brand.
What Grimms Toys Have to Offer

These are the most valuable lessons Grimms toys teach:
Imagination and creativity
Motor skills
Puzzle-solving skills
Color theory
Pros and Cons to Grimms Toys
When making the decision of which toys are best for your child, it's important to weigh the pros and cons. That's why I've put together this convenient chart laying out the best and worst parts of the Grimms toy brand. What do you think after hearing the strong and weak points of this company?
Pros
Promotes the development of essential motor skills
Helps your child foster their sense of imagination
All non-toxic materials
Wood is bought from sustainable sources
Each toy is handcrafted with love
Helps your child understand patterns and color theory
Cons
You can't buy the toy sets directly from the website
Some of the toy sets are pricey
Who are Grimms Toys Meant for?
Most Grimms toys are meant for babies above 1 year old, and toddlers. Grimms toys are stackable to enrich your kid's imagination. They're small child-friendly since they're made with nontoxic wood stains and finishes.
What to Look for When Shopping for Grimms Wooden Toy Sets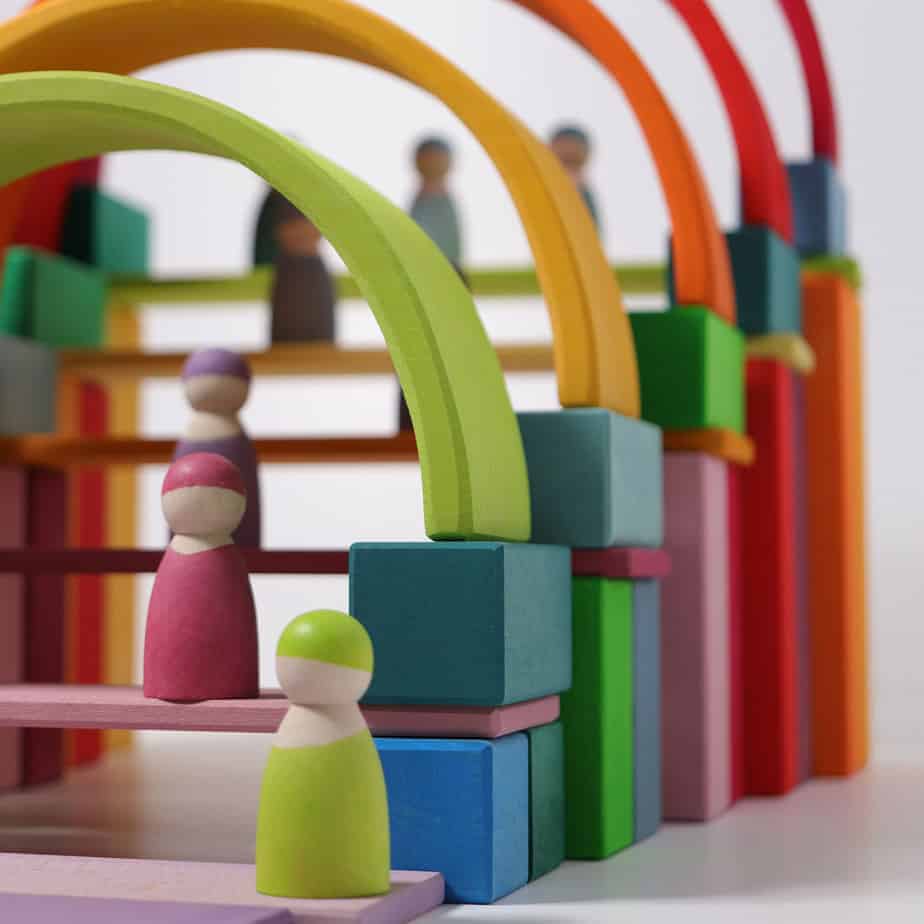 Even though each wooden toy from Grimms lives up to the Grimms quality standard, your child might prefer certain toys over others. In this section, I'll help you decide which wooden toy set would be the most impactful for your little one. Luckily, Grimms has a huge selection of wooden toys you can look through if you want to weigh all your options.
Size
There are small, medium, and large wooden toys sets. Do you want your kid to have a large set that they can use as a landscape in their imagination projects? Maybe you'd rather get them a smaller toy that looks like a vehicle or a person. Consider how they might want to play with the toy.
Age
All of Grimms wooden toy sets come with recommended ages listed for all their toys. Some of their toys have choking hazards that aren't safe for babies, and some don't. Check to make sure you're buying a toy that's meant for your child's age range.
Child's Interests
Is your child already showing an affinity for math? Maybe they'd like a colorful puzzle. Does your kid absolutely love cars? Grimms makes some adorable wooden vehicles. Go with what your child seems most interested in at the time, and they're sure to love whatever you pick out. After all, you know them best!
The Best Grimms Wooden Toy Sets
After searching high and low, I've compiled the ultimate list of the best Grimms wooden toy sets! Grimms has tons of toy sets for your little one, but these go above and beyond in terms of detail and quality. From wooden rainbows to vehicles to building blocks and more, check these out when you want to give your child a toy with a classic feel.
Best Grimms Wooden Rainbows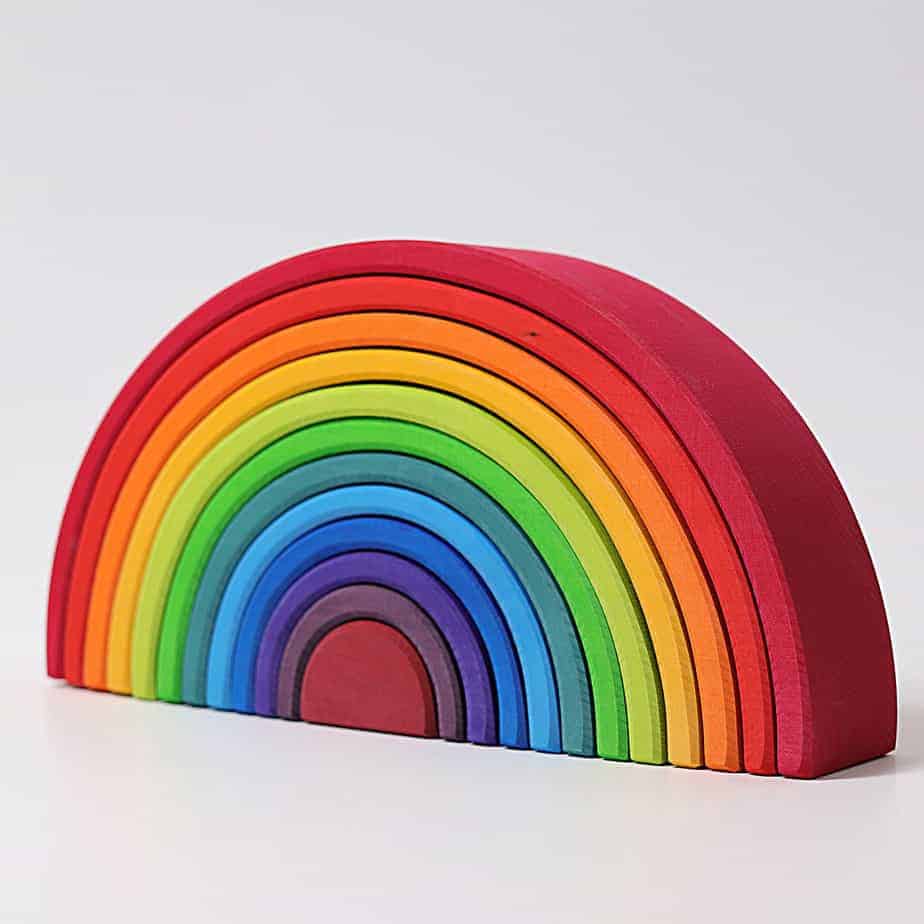 You can buy this large wooden rainbow in the rainbow color scheme you see pictured, or you can choose to have the set feature pastel, natural, or monochrome colors. Each layer of the rainbow is a stackable wooden piece that can be layered in many different ways.
With so many colors and sizes, your kid can have fun imagining new landscapes and figuring out ways to stack the pieces. It's easy to create a tunnel with this set, too.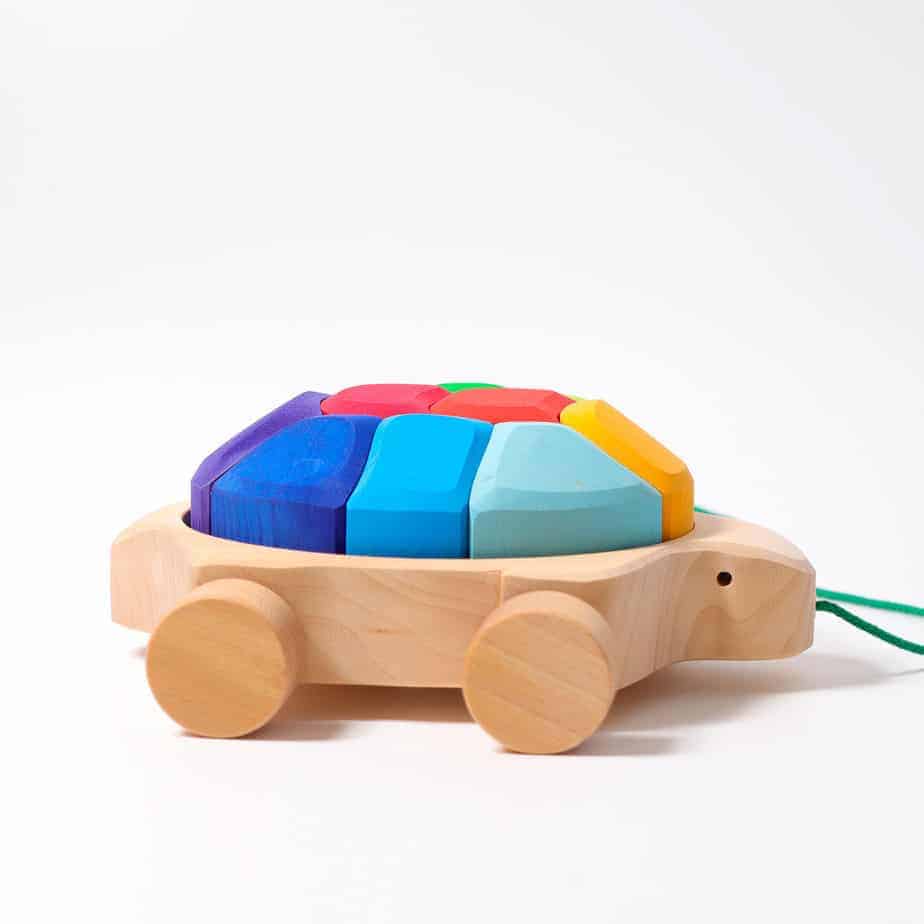 It's a turtle on wheels! I love that this wooden toy set features a super cute turtle on 4 wheels. The turtle has a colorful string attached to his nose, so your child can easily pull him around with very little grip strength.
There are 10 colorful, stackable blocks that make up the turtle's shell. These blocks can be repositioned on the turtle's back or stacked outside of your kid's newfound wooden pal.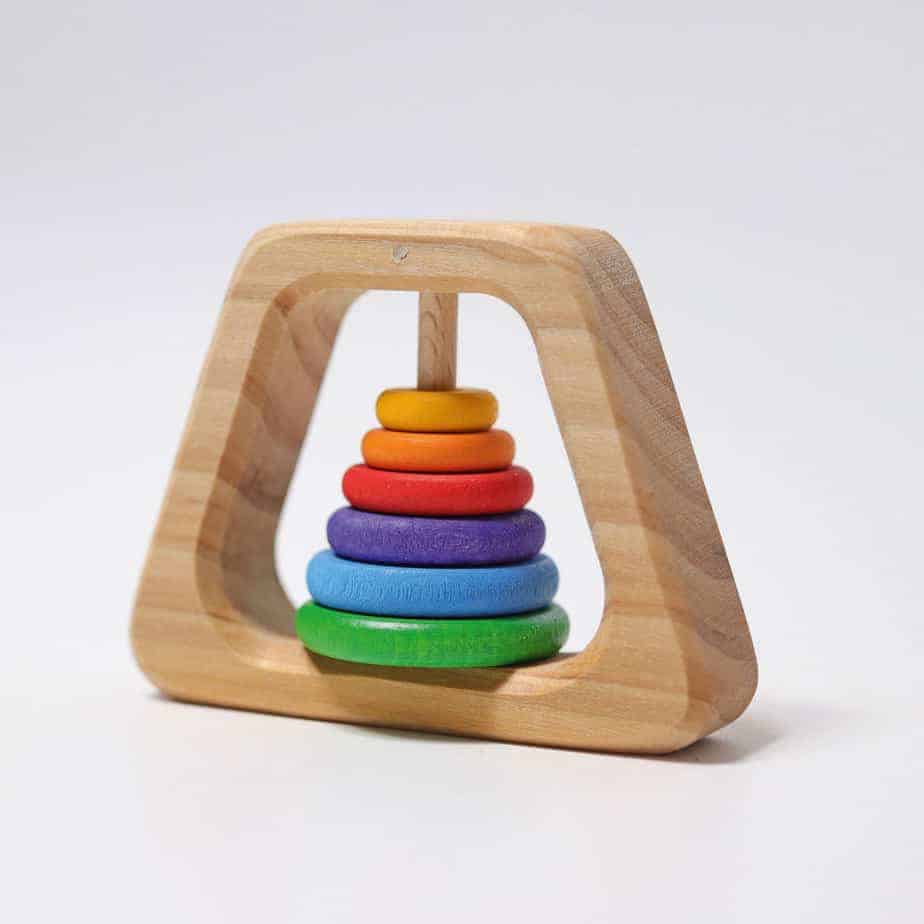 Kids love to play with anything colorful. When it comes to wooden toys, while more expensive, they are always worth the price (as long as they don't crack or splinter). This particular set of colored wooden discs is made from alder and maple wood.
It's covered in non-toxic paint and designed to keep your little one entertained.  You won't find any sharp corners and the edges are all sanded to prevent potential injuries.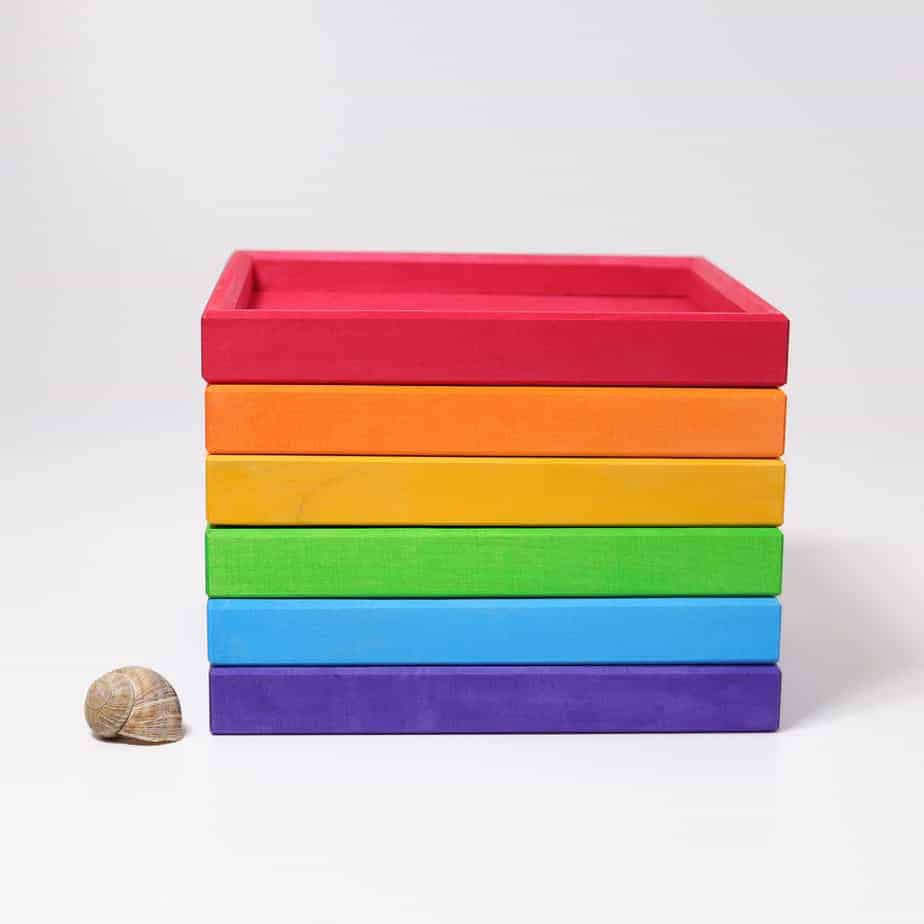 How cool are rainbow-colored toys? This one right here is a set of six trays that's versatile enough to be used for plenty of activities. By providing a clearly organized small workspace, children can easily keep track of their activities.
Additionally, it can be used as a sand picture frame or for Kinetic Sand play. This set is ideal for creating multi-level structures.
Best Grimms Wooden Blocks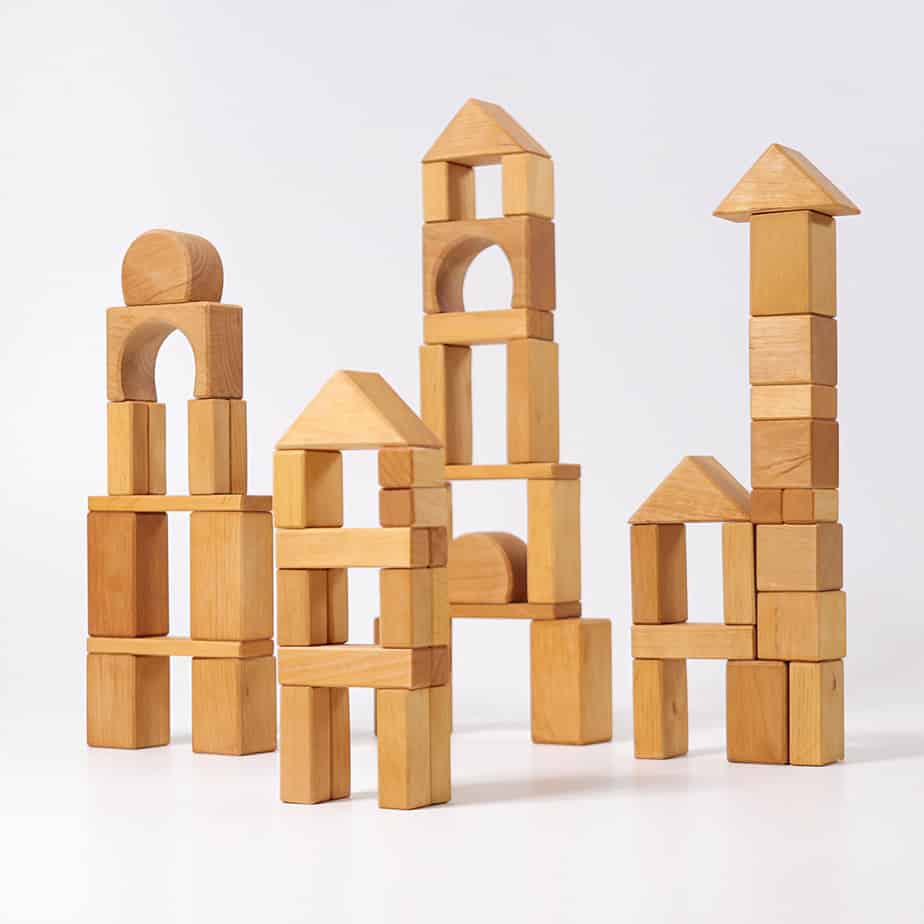 Teaching babies and toddlers to play with blocks and construct things is fundamental to their growth. This set of wooden blocks made from alder wood gives your child 60 blocks to stack into castles, hidden lairs, houses, and more.
A net is included with the blocks so it's easy to put them all away when playtime is done. Though the set pictured is a natural wood color, you can buy this set in rainbow, pastels, or monochrome, too.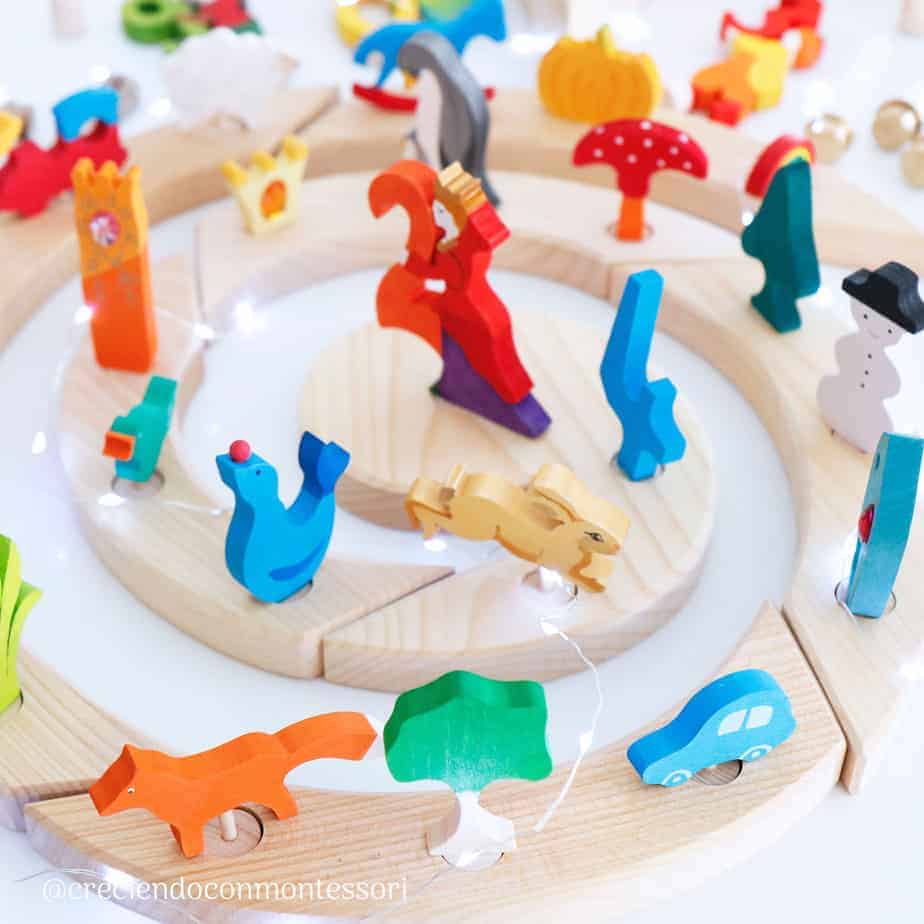 If you're wondering what this is, it's a spiral candle holder that makes for a great piece of decor you can put in the middle of the table. It allows you to create a festive atmosphere to get your kids even more excited about the holidays.
It's made from alder wood and features a non-toxic plant-based oil finish.  Since it comes with 24 holes, it also serves as an advent calendar.
Best Grimms Wooden Vehicles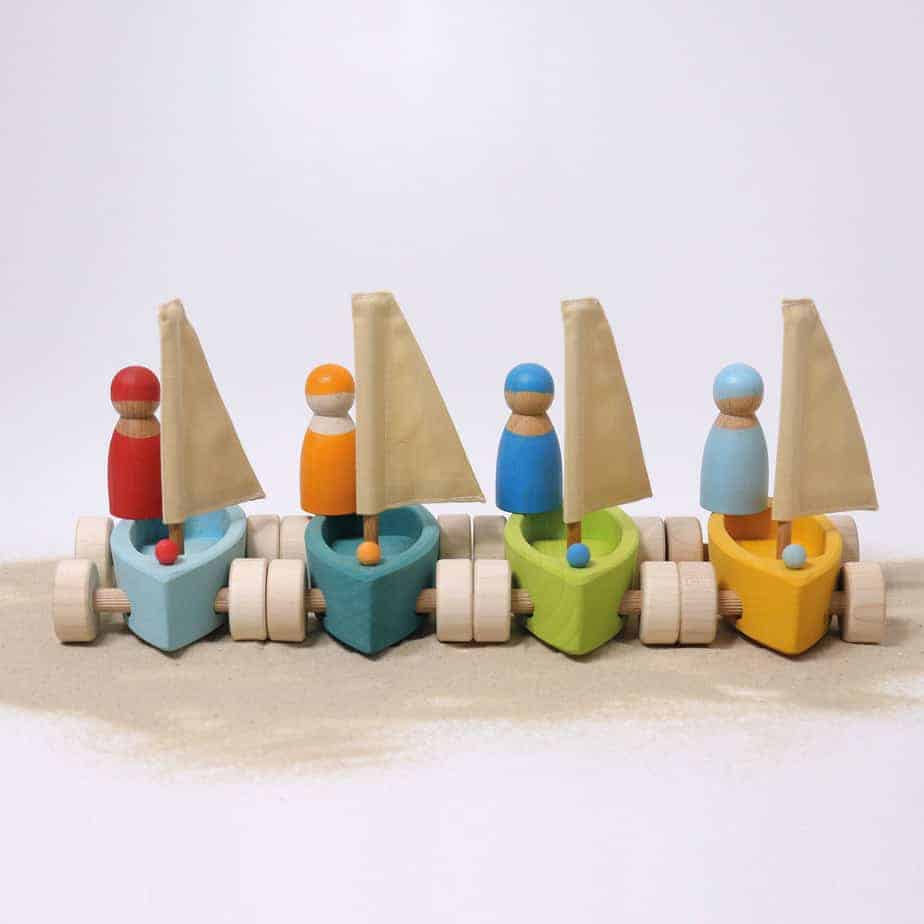 This cute set of little land yachts includes 4 boats and 4 people. The boats and people are bright colors, which many kids are drawn to. Your child can push the boats around easily since they have wheels.
To ensure the sails stay put for a long time, Grimms recommends you tap gently on the top of the sails with a hammer when you first get them.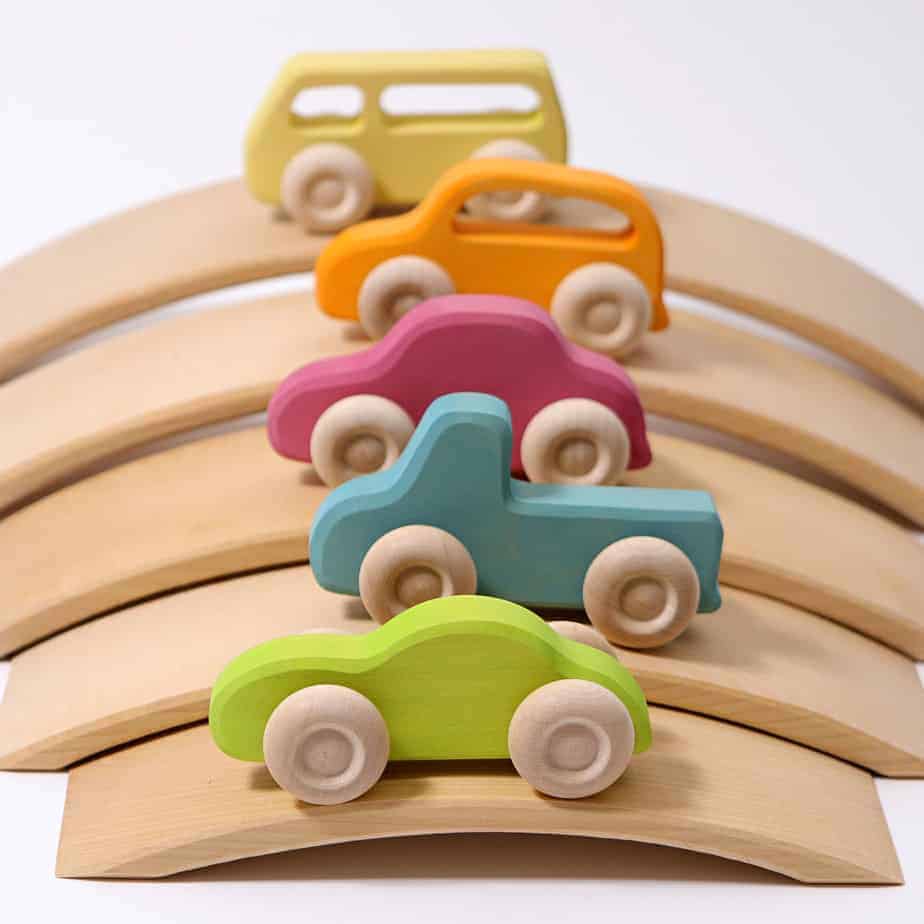 This set of gorgeously crafted wooden cars is perfect for your young one who's obsessed with vehicles. There are 5 wooden vehicles in the set, including 2 cars, 1 truck, 1 SUV, and 1 van.
Each of the vehicles is a different color. These were intended for children as young as a year old, so their design is baby-friendly.
Check out our complete guide on How to Find the Best Wooden Blocks for Kids here.
Best Grimms Wooden Building Boards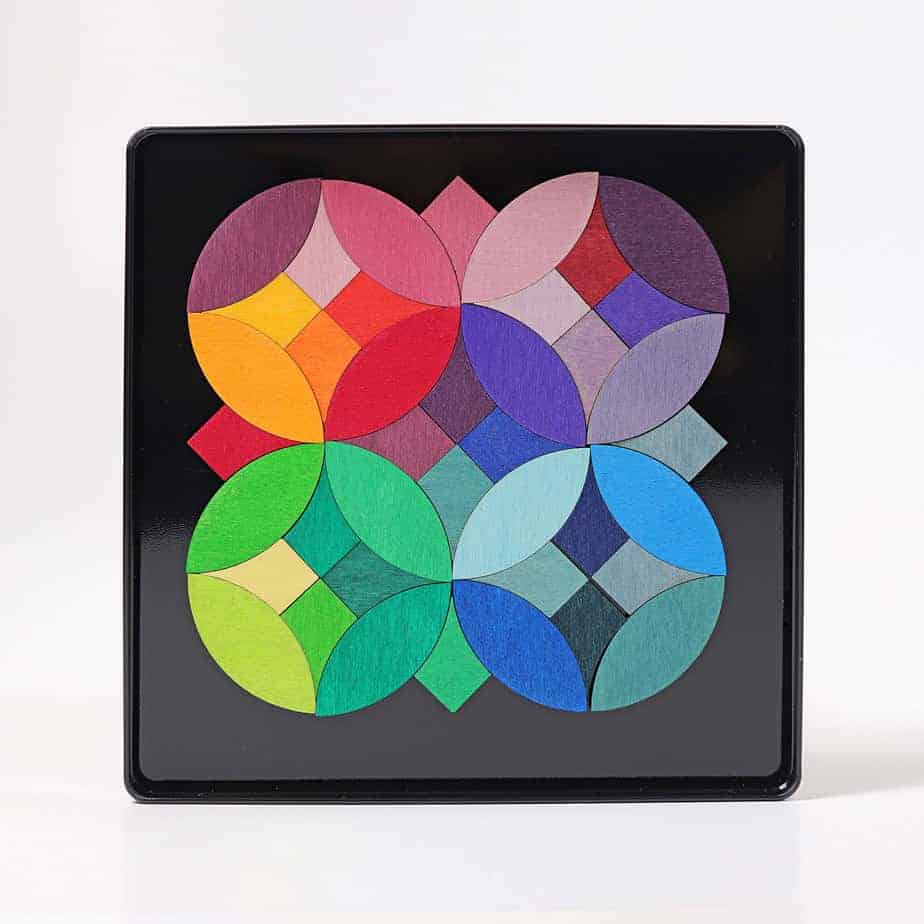 Is your little one a soon-to-be artist? Let them play with this set of wooden blocks that lets them explore color theory like never before.
Each block is a unique shape, capable of fitting against any of the other blocks in a huge number of patterns. A metal tray is included in this set, which your child can use to position the blocks on since the blocks are magnetized.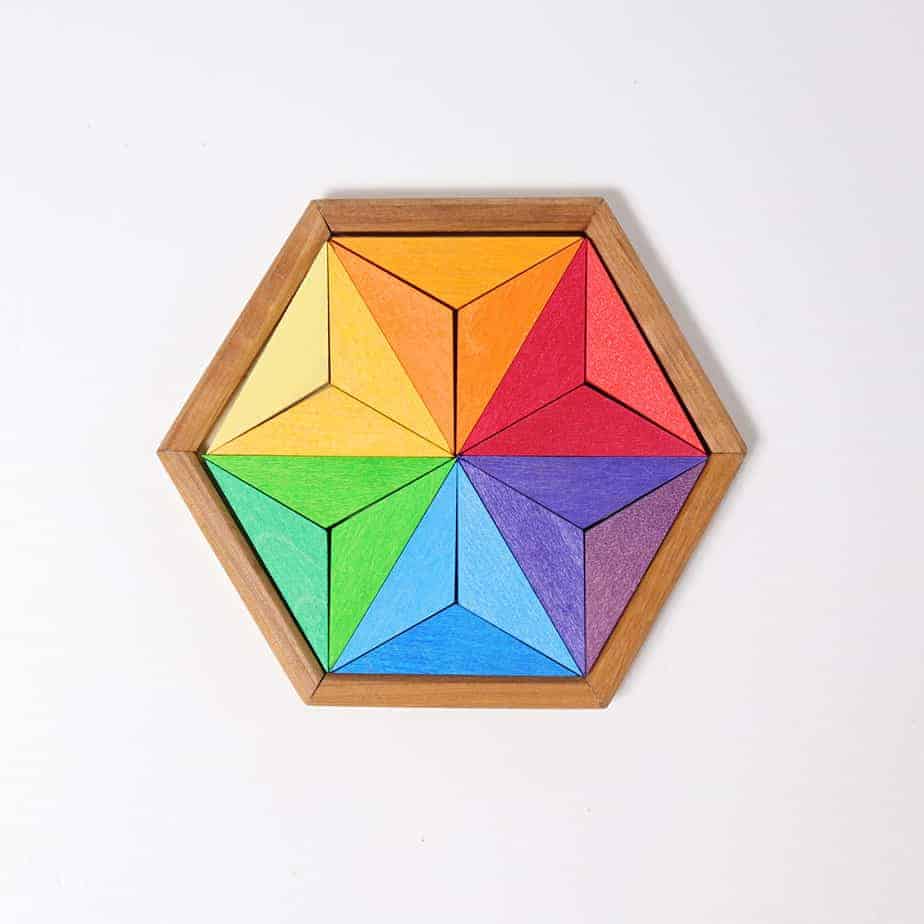 This beautifully made wooden color star will teach your toddler basic motor skills, problem-solving skills, color theory, and more.
The wooden box that comes with this set makes it a challenging puzzle each time your child wants to fit the pieces back into the box. The dye on each piece is vibrant and eye-catching.
Best Grimms Wooden Nested Bowls and Boxes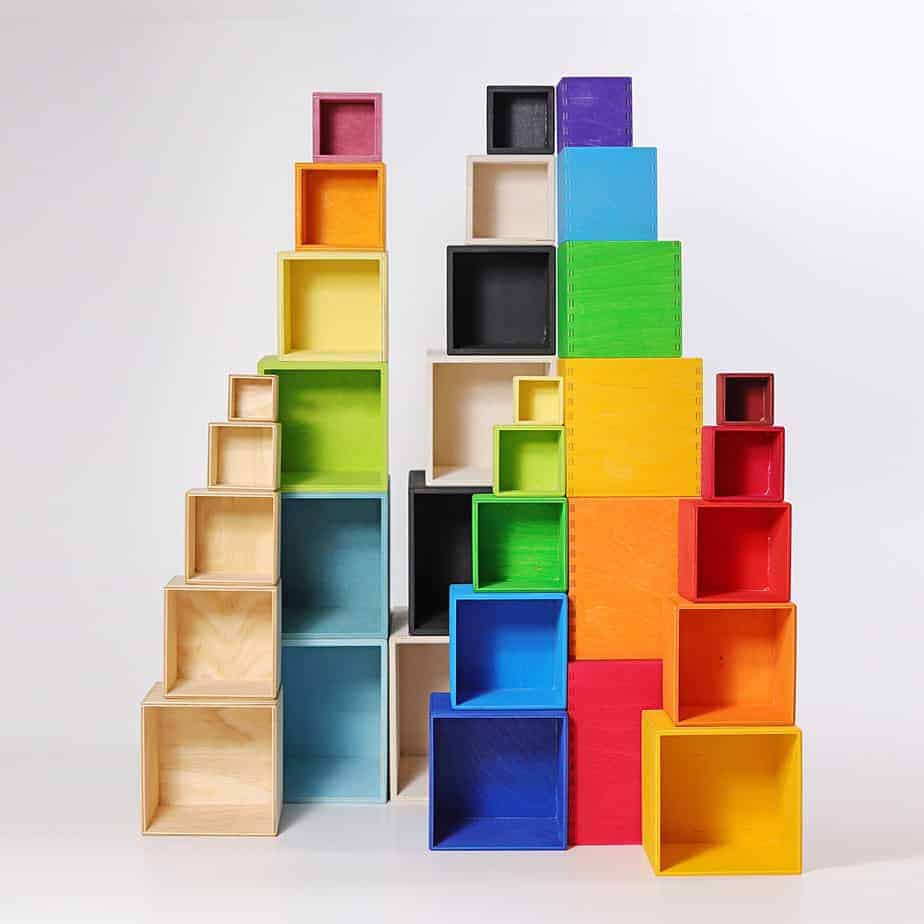 Your young one is sure to adore this set of 6 brightly colored stackable boxes. The purple box is the smallest and the red is the biggest, with each box being a different size that fits within the others.
Your child will get to use their imagination coming up with different ways to stack the boxes and incorporate them into their fantastical world.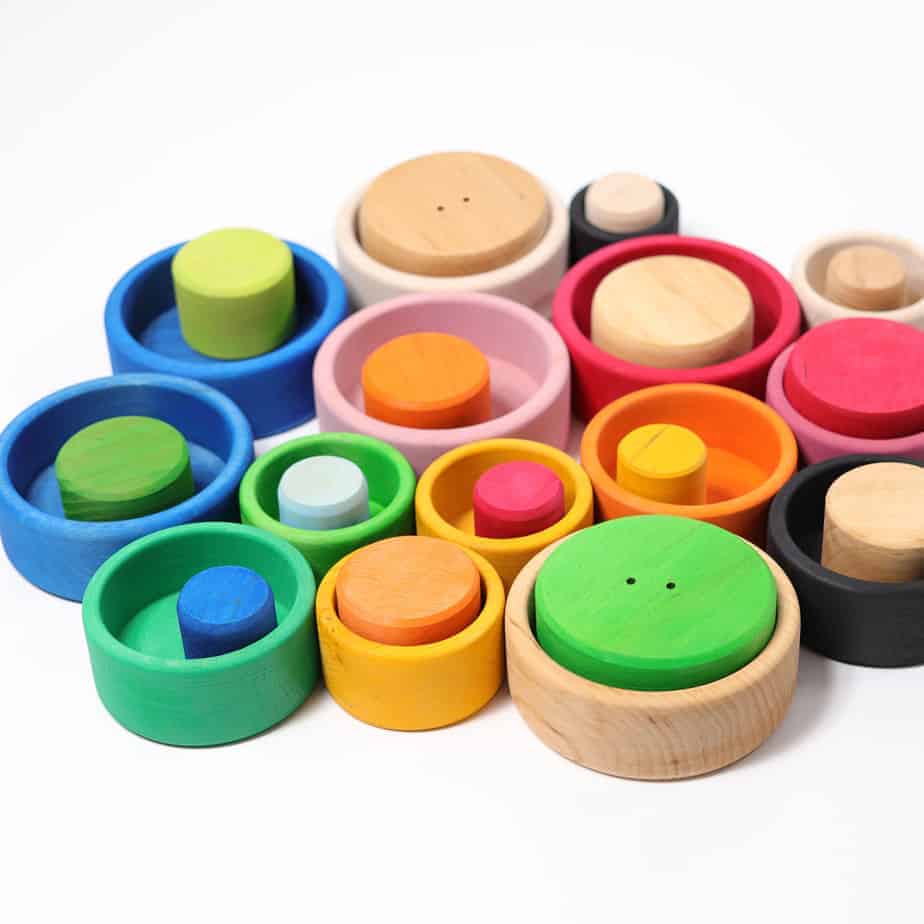 You might think that your child doesn't really have use for a set of wooden bowls but there are so many things they can do with these. They can stack the products or use them during their pretend cooking sessions.
Much like other Grimms products, there are also made using alder wood and coated with a non-toxic plant-based finish. The set includes five pieces of different sizes.
Best Grimms Wooden Number Toys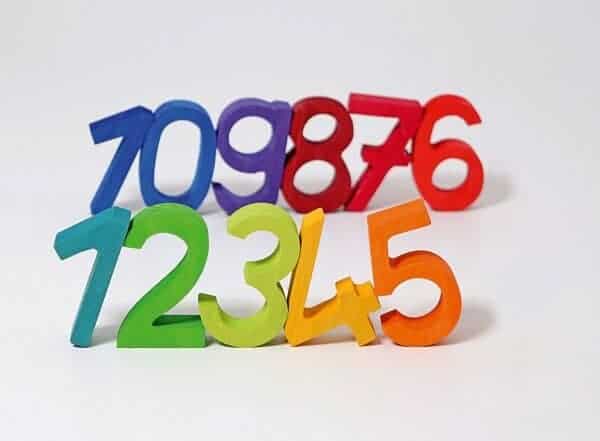 These lovely wooden numbers are not just ready to help your little one learn how to count. Their lightweight and colorful nature can serve both educational and entertainment purposes.
They are made from limewood and painted using water-based color stain which is not toxic. This colorful set includes every number from 0 to 9, with the number 1 being added twice.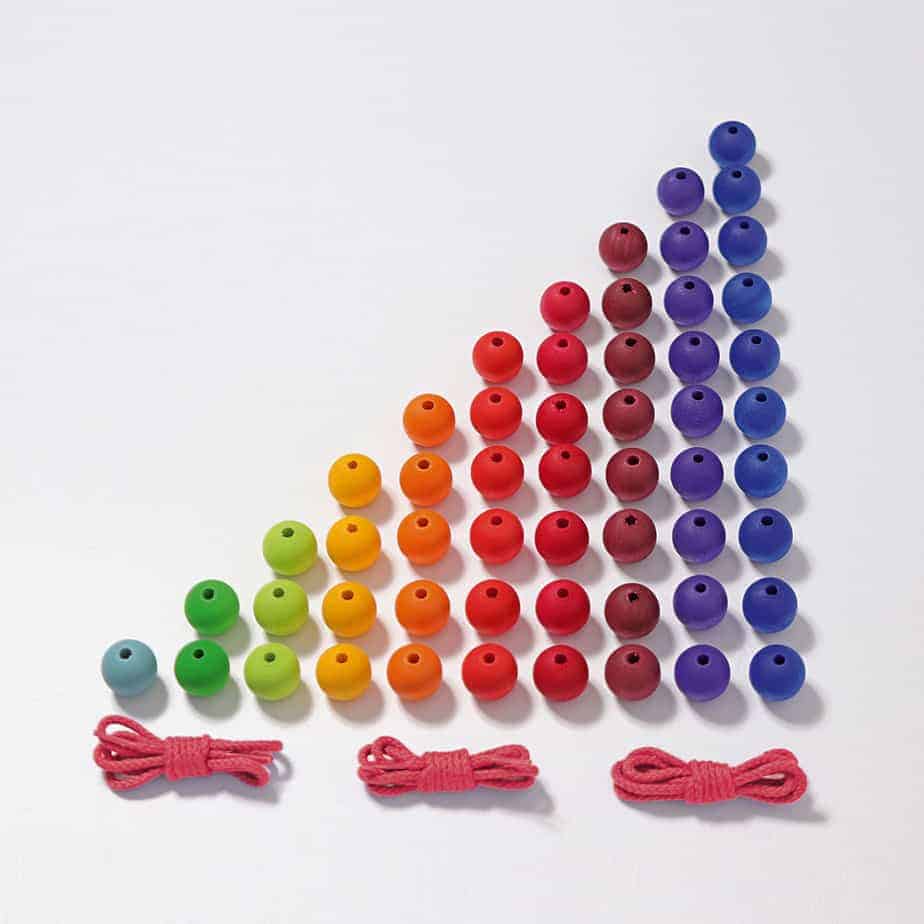 Have to start talking about this one with a warning: since this is a set of small beads, it's not recommended for children under the age of 3 because of potential choking hazards. Now that we got out of the way, I have to mention how much fun this set actually is.
You get 55 wooden beads in different colors and string pieces that can hold up to 10 beads. This enables your child to make beaded bracelets or even parts for other toys and decorations.
FAQ
Your most frequently asked questions about Grimms wooden toy sets will be answered in this last section! If you have any more questions, please don't hesitate to share them with me. Leave me a comment with your question and I'll get back to you with a response!
Question: Are Grimms Toys Worth It?
Answer: In my opinion, they are. I love that Grimms toys have such a classic feel while utilizing modern scientific study to create structures that promote brain development. Kids adore the fun shapes and colors. I'd say that's a win-win.
Question: What Wood Does Grimms Use?
Answer: It depends on the toy. Limewood and alder wood is used a lot. Both of these are great types of wood to use for toys because they're durable. They can withstand the wear and tear of the terrible twos and beyond.
Question: Is Montessori a Grimm?
Answer: No, they aren't. Most are surprised by this, and it's no wonder. Grimms toys pair wonderfully with Montessori educational philosophy.
Question: What are Grimms Toys Made Out Of?
Answer: Besides the wood, many Grimms toys also have non-toxic water-based wood dyes and non-toxic plant-based oil finishes. These types of dyes and finishes are used because they're kid-friendly. It's okay for your little one to put them in their mouth because the toys were made with purely nontoxic materials.
Finale
Are you ready to pick up a Grimms wooden toy set for your little one? Grimms offers so many varieties of wooden toys, and each comes in a selection of colors. I personally love the Large Rainbow Set of Boxes. Do you have a favorite of the toy sets on my list? Let me know in the comments! For more informational buying guides about the best kids' toys, have a look at our list of the best kapla blocks for early development.
Recommended Reads: