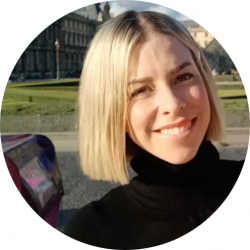 Latest posts by Jodie Chiffey
(see all)
In this guide, you will find a selection of the best wooden doll stroller ideas for your child.
Wooden doll strollers are fun and educational, much like wooden high chairs and pushcarts. Children can enjoy hours of play, learning both motor skills and responsibility.
In this guide, I will share my opinions about the best wooden doll strollers on the market. I will examine the pros and cons and answer a few frequently asked questions to help you find the best toy for your little one.
Bottom Line Up Front
I chose the Guidecraft Espresso Dark Cherry Wooden Doll Buggy due to its high-quality wood materials, accessories, size, and weight. Please check out our reviews on some of the most adorable wooden music boxes if you like these stroller reviews.
In case your time is limited, here's a quick glance of my top picks to help you decide:
At a Glance: 7 Best Wooden Doll Strollers
| | | | | |
| --- | --- | --- | --- | --- |
| Best Wooden Doll Strollers | Best for: | Materials | Dimensions | More Info |
| Lebebe Toy Stroller | Walker, cart, or stroller | Wood | 17.72 x 13.54 x 3.31 | Find out more |
| Guidecraft Dark Cherry Buggy | Toy doll stroller | Hardwood | 19.25 x 4.25 x 12.5 | Find out more |
| Le Toy Van Carriage Pram | Toy dollar carriage | Rubberwood | 18 x 11.4 x 20.5 | Find out more |
| Melissa & Doug Play Stroller | Inside play | Wood | 11 x 8 x 18 | Find out more |
| Imagination Generation | Inside and outside stroller | Hardwood | 16.4 x 10.9 x 10.8 | Find out more |
| Kinderfeets Toy Walker and stroller | For babies, toddlers and children | Birchwood | 19.69 x 13.78 x 17.72 | Find out more |
| Hape Babydoll Stroller | Summertime play | Wood | 17.5 x 12.8 x: 20.2 | Find out more |

Selection Criteria
I use the strictest criteria to examine each product detail and construction in my reviews.
Styles
The best wooden doll stroller has a simplistic design and classic form. These styles are compact and sturdy, with fewer attachments and parts. The best styles are also attractive to the eye.
Materials
Only the highest quality materials are used to construct the best wooden doll strollers. Solid hardwoods are the best materials for a durable product.
Functions/Extras
The best doll stroller comes with quality-made bedding in a beautiful color. Sturdy wheels with rubber rims are extras that come with only the best products. Quality strollers also have plenty of room for dolls and a durable handle.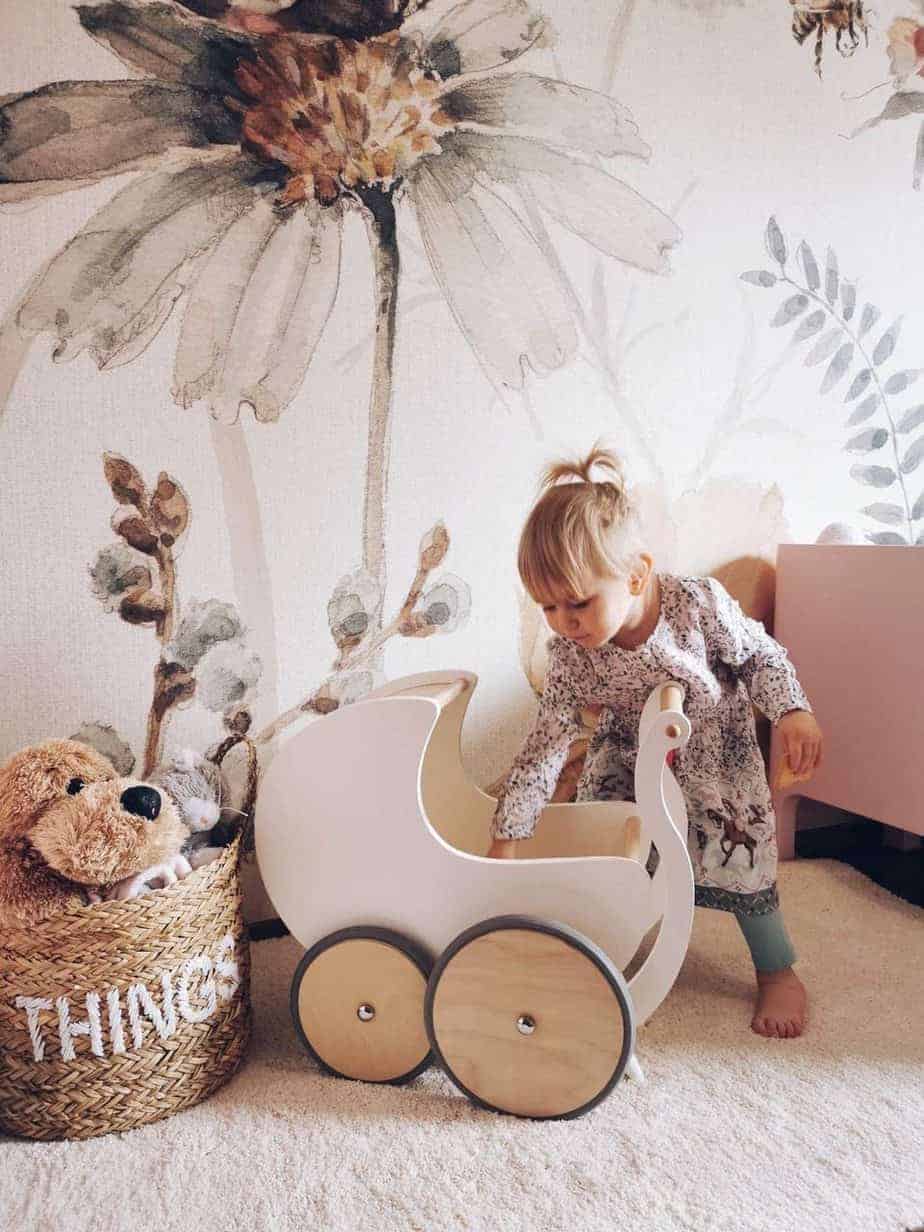 Types of Wooden Doll Strollers
Materials
Only the best quality wood products are used when manufacturing wooden doll strollers. These materials must be sturdy and safe when it comes to making toys for children. They must also withstand rough play and the test of time.
Styles
Most wooden doll strollers are created to double as walkers, buggies, or carts. This makes it easy for your child to utilize the product in many different ways, sometimes outdoors as well. Although some products are higher in quality, most have basically the same structure and visual aesthetics.
Overall, there are open strollers or pram designs (enclosed interior with an open-top). Some styles are also created primarily for babies, while others work best for toddlers and children.
Related: Take a look at my review on the best wooden toy carts.
7 Best Wooden Doll Stroller
lebebe – Baby Walker, Cart, and Push Toy Stroller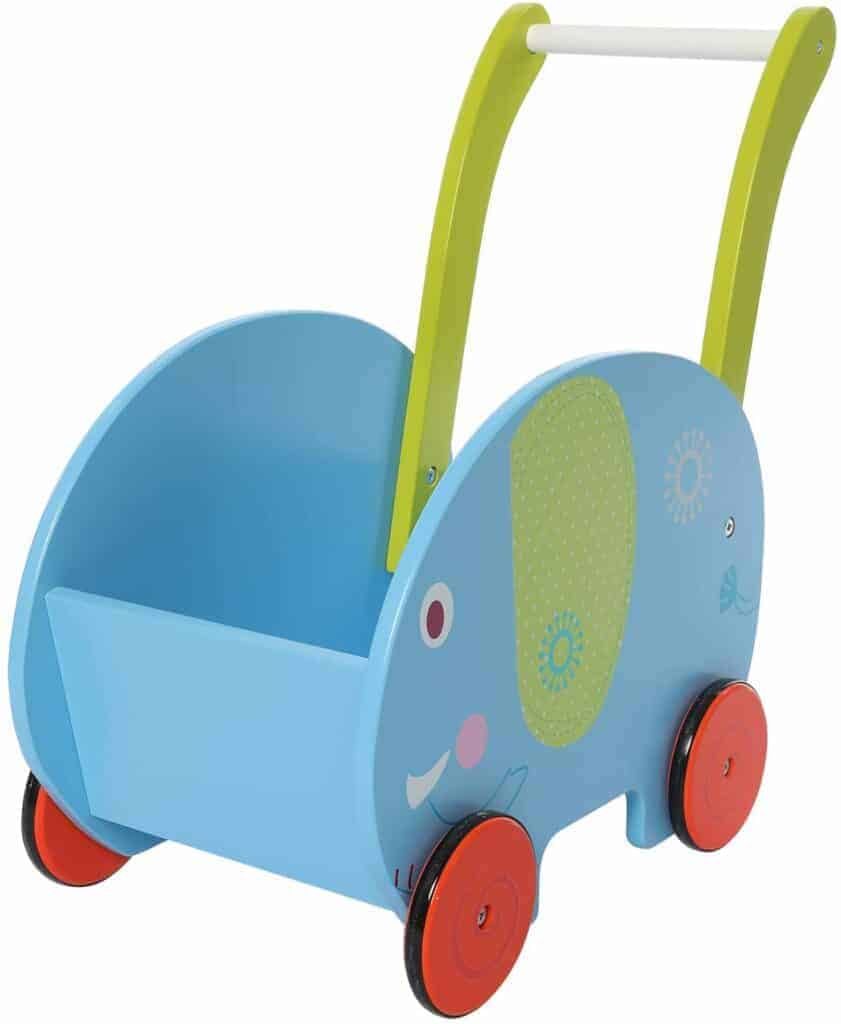 What better way to teach a child how to be a parent than letting them have fun with it. This adorable toy is colorful and whimsical, with a big blue elephant painted on the smooth wooden surface. Your child will giggle and smile while tucking their baby doll under the blanket. You'll feel confident about this safe and sturdy product and let your child play for hours on end.
This stroller is made from high-quality wood, including wide wooden wheels with rubber rings. The stroller has a smooth handle with hidden screws and healthy dyes in the colorful paints. There's plenty of storage in the stroller, so you're little one can carry one or two dolls at a time. Find this Lebebe Baby Walker, Cart, and Push Toy Stroller on Amazon.
Overall Dimensions:17.72 x 13.54 x 3.31
Weight: 7.5 lbs.
Pros:
Perfect for smaller children
Vivid colors and design
Cons:
Not constructed from solid wood
Lightweight and should only be used inside
Rubber sometimes comes off the wheels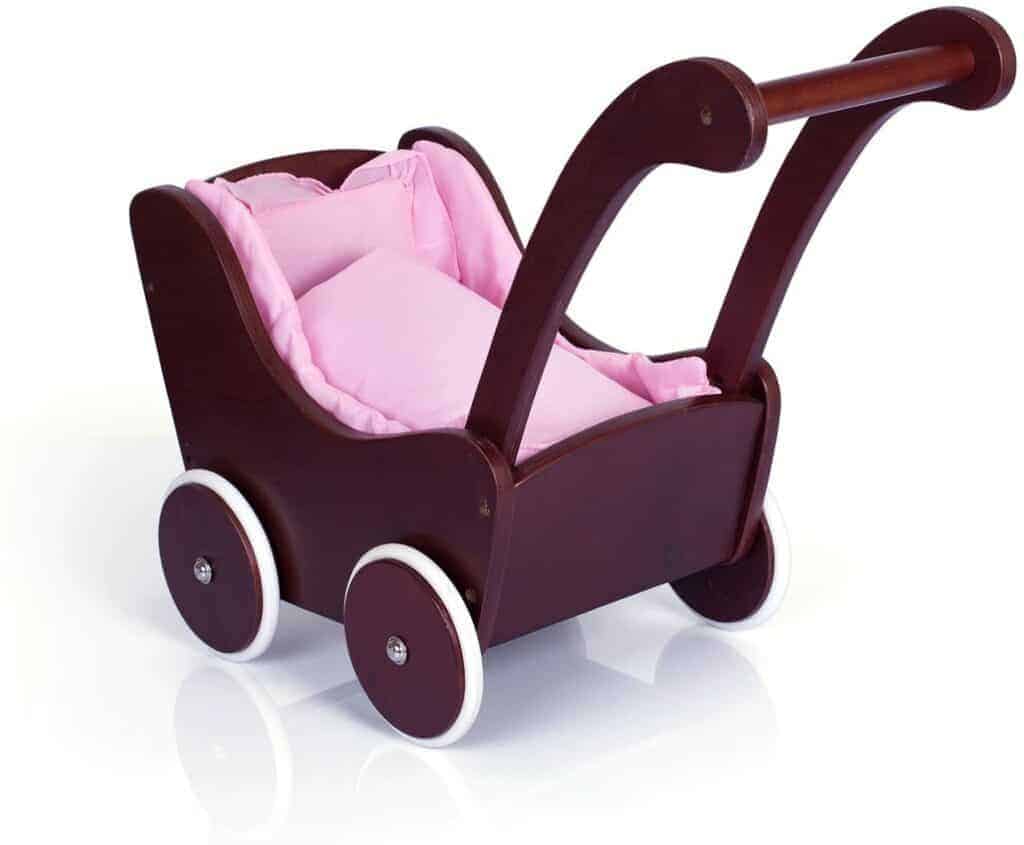 All toys made by Guidecraft are considered STEM toys – these products provide social and motor skills that aid in healthy development. This dark espresso buggy is also a high-quality toy that inspires creativity and imagination. The Guidecraft Dark Cherry Wooden Doll Buggy is a beautifully simplistic toy and accessory to doll cradles and high chairs.
With this cute doll buggy, children can create their own little world, made from only the sturdiest materials. The heirloom buggy is manufactured from hardwood solids and comes complete with bed lining, comforter, and pillow. It has a solid handle and four wheels, all crafted to be sturdy and smooth. Your youngster will love this classic and beloved toy.
Overall Dimensions:19.25 x 4.25 x 12.5 in
Weight: 9.1 lbs.
Pros:
Nice medium weight
Made from Cherry wood
It comes complete with bedding
Simple instructions
Cons:
It may be a bit heavy for younger children
Le Toy Van: Honeybake Sweetdreams Carriage Pram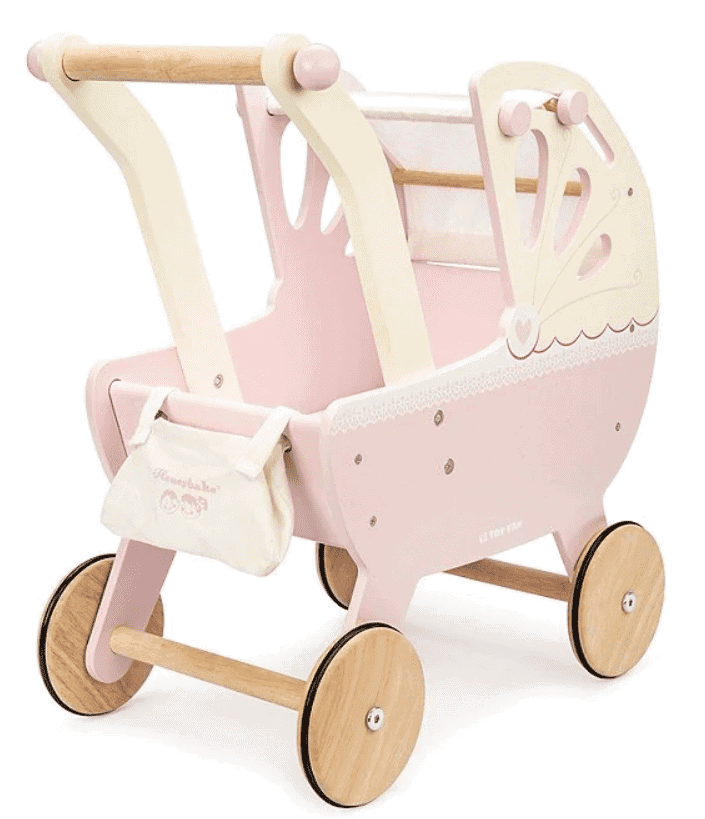 This vintage stroller is manufactured with many delicate details. The beauty of the product grabs any child's attention, and your little one will love it too. Many hours are spent learning responsible behavior and creativity with this fun and educational toy.
The Le Toy Van: Honeybake Sweetdreams Carriage Pram can be found at Dillard's, along with other toy doll accessories. All strollers are manufactured using only the best quality wood and additional materials like screws and fabrics for things such as canopies. This product is built to withstand many hours of play alone or with friends. The stroller's handle has a rubber grip for comfort and a soft padded interior for your child's favorite dolls.
Overall Dimensions: 18 x 11.4 x 20.5
Weight: 6 lbs.
Pros:
It has a canopy and details
It comes with changing bag
Cons:
Small construction
lightweight/may topple over
Rubber sometimes slips off wheels
No interior blanket or pillow included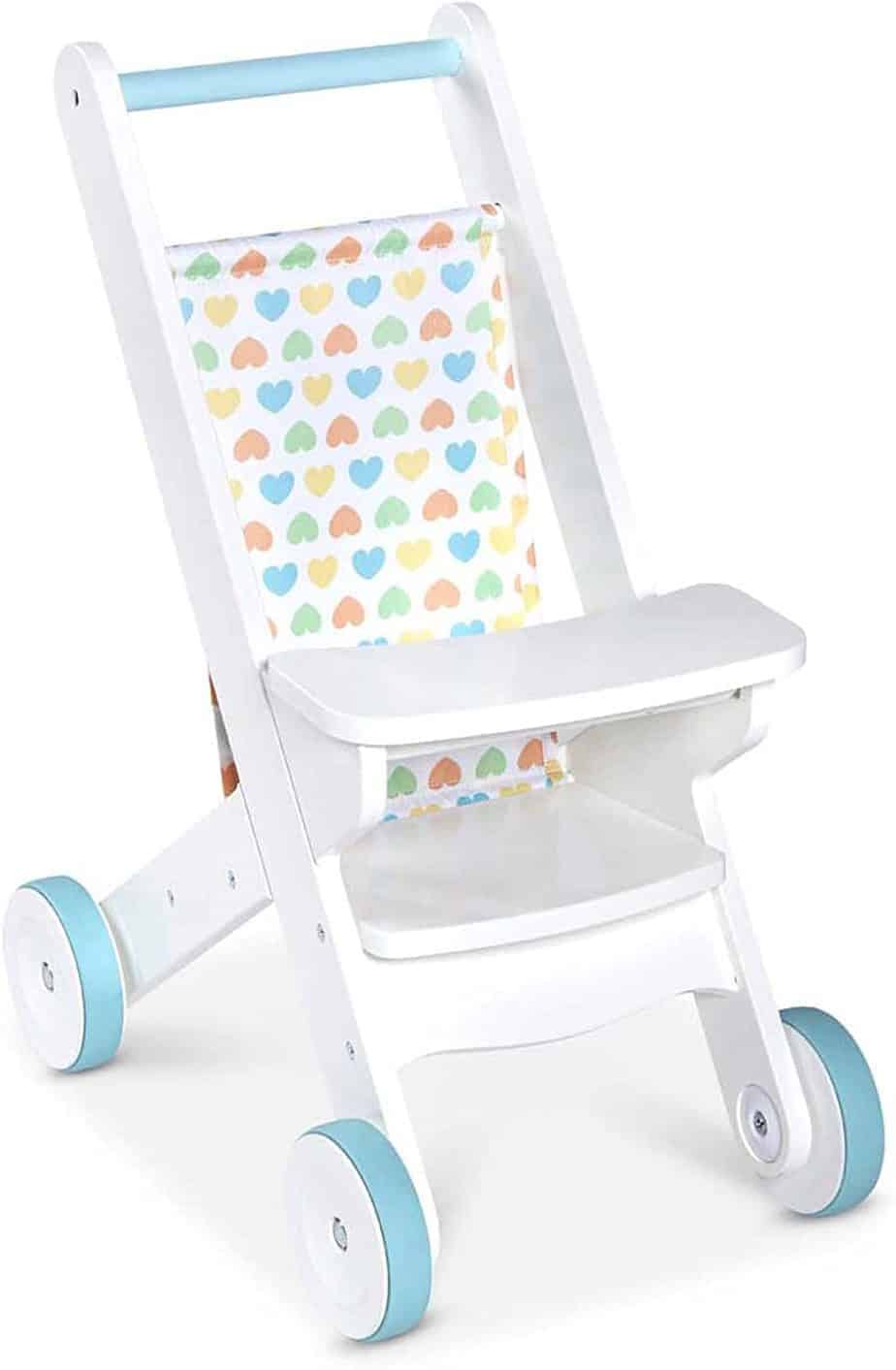 Buy it separately or with other Melissa & Doug Imaginative play products. Your child will love this classic doll stroller. This product is fun and teaches your little one how to express themselves while building empathy. Create a spark in the imagination with the soft colors and attention to detail. Any child would love this stroller for dolls or stuffed animals.
This product is constructed from wood products with a lightweight foundation. There are plenty of extras since this stroller has a cloth pocket for accessories, non-skid wheels, and a fabric seat cover. The stroller also has a front tray for pretend snacks and a smooth handle for easy grip and stability. You can find this Melissa & Doug Mine to Love Wooden Play Stroller on Amazon.
Overall Dimensions:11 x 8 x 18
Weight: 2.2 lbs.
Pros:
Extra pocket for accessories
Cute design
Cons:
Very lightweight
Small
Not outside friendly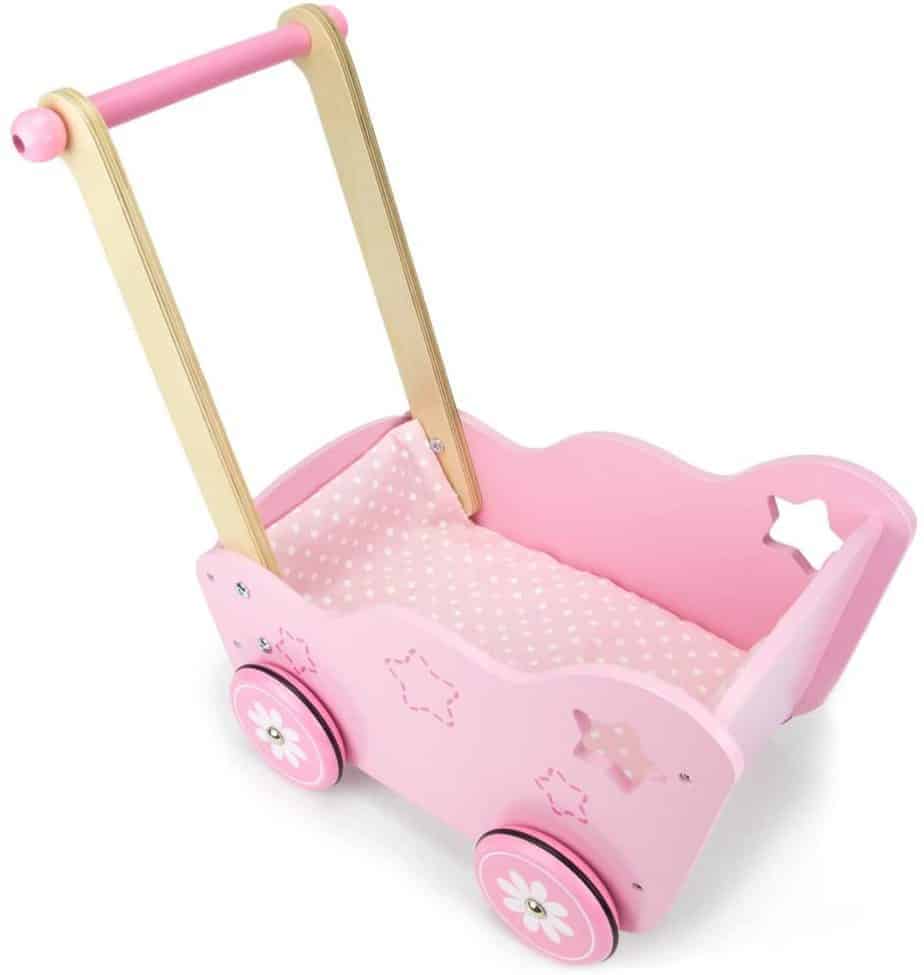 Help your child truly enjoy a walk in the park with this adorable wooden stroller. This toy encourages children to use critical social skills and indulges in imaginative play simultaneously. What better way to enjoy quality time with your child than walking side by side and enjoying the weather. Watch your little one play and learn.
The cute pink design has curvy sides and a long handle, so it's easy to push. The stroller is made from hardwood and non-toxic paints, so it's perfectly safe. The wheels are rimmed with rubber, so the stroller can only go so fast.
There'll be no runaway strollers with this one. The Imagination Generation: Pretty in Pink Wooden Stroller is perfect for any baby doll, as it also has a beautiful polka dot cover on the interior. Find this product on Amazon.
Overall Dimensions:16.4 x 10.9 x 10.8
Weight: 5.19 lbs.
Pros:
Long handle
Large interior space
It comes with a baby doll blanket
Cons:
Back wheels may come off
Complicated assembly
Really light construction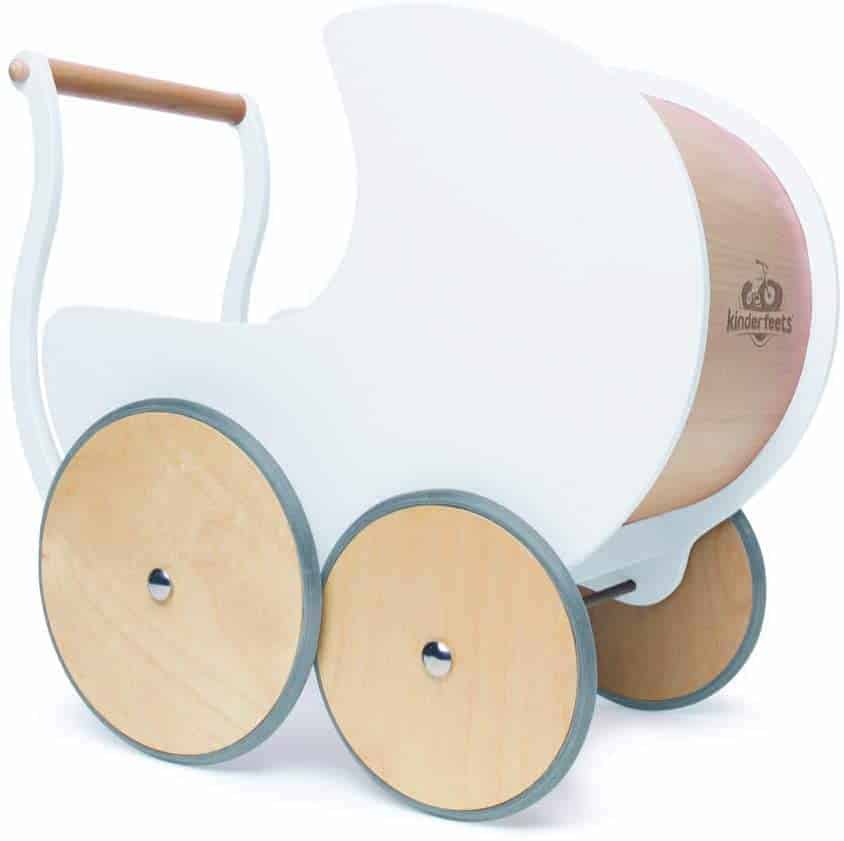 This stroller doubles as a walker and helps your child build confidence and coordination. Its rounded design is also attractive to the eye. However, the good part is that both babies, toddlers, and children can all play with this stroller. In the process, they learn different things, including socializing and critical thinking skills. Yes, this is a great developmental toy and tool.
The Kinderfeets Toy Walker and Stroller is a Dutch/Retro design made with quality materials, notably birch wood. The unique wheels are large toward the back under the handle and slightly smaller in front. This design is interesting and helps with the balance of the toy. In addition, there are two small feet that can be attached to the back of the stroller if your child needs to lean back. The product is painted in white and lavender.
Overall Dimensions:19.69 x 13.78 x 17.72
Weight: 14 lbs.
Pros:
Safe for babies, toddlers, and children
It comes with stabilizer feet for the back
Cons:
Heavy stroller
Short for older children
Small space inside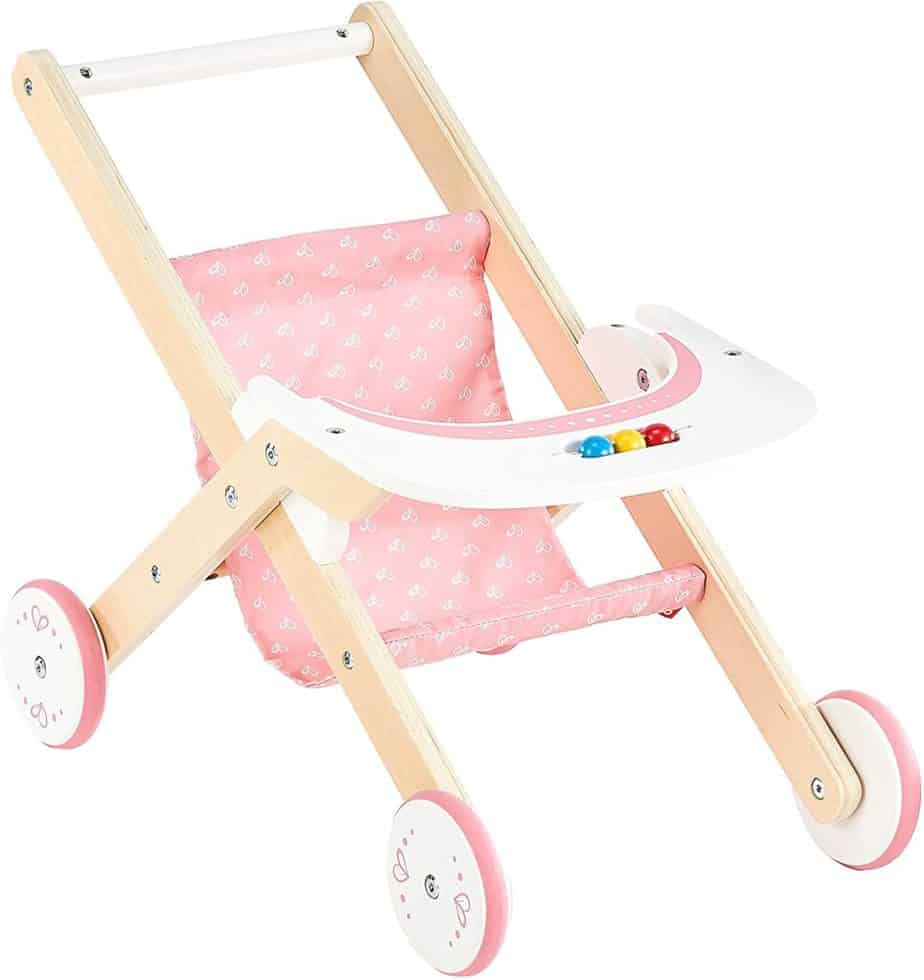 Let your little one pretend to be a parent with this classic open stroller. This product is great for summertime play if your child wants to adventure outside. Since this stroller is smaller than most others, it's built differently than a 'pram' style buggy. However, your child can sit multiple dolls in this stroller and take them for a ride.
Made from child-safe materials, the Hape Babydoll Stroller encourages fantasy and roleplaying. It's decorated with non-toxic paint and has an extra tray on the front. The splayed wheels make the stroller sturdier, so it's harder to tip over this lightweight product. The stroller also has a soft cloth seat for dolls
Overall Dimensions:L: 17.5 x 12.8 x 20.2
Weight: 4.65 lbs.
Pros:
Open design
Splayed wheels
Cons:
Very lightweight
Made from manufactured wood
It cannot be used as a baby carriage
Frequently Asked Questions
Question: Can you tighten the wheels on a wooden stroller?
Answer: The only way you can tighten the wheels on a wooden toy stroller is by adding a washer. This may help with adjustments in how fast the stroller goes. However, it rolls pretty slowly anyway, so adjustments probably wouldn't be needed. If a wheel falls off, contact the manufacturer for help. You may need to replace a faulty part on the product.
Question: Can a child push the stroller outside?
Answer: Honestly, it depends on the construction of the doll stroller. Some brands made from thin or fabricated wood may not hold up very long on rough concrete but do okay on the smooth sidewalk or porch. Other brands, especially those made from thick hardwood, can withstand almost any surface and last for a long time.
So this depends on factors of the toy's size and materials. Some of the heavier products can even be pushed in the grass, but probably not for long.
Question: How do you clean a wooden doll stroller?
Answer: Any wooden toys should be cleaned carefully and often. For example, if the wooden doll strollers are painted or varnished, they can be cleaned effectively with soap and water using a sponge. You can also use a soft dishcloth if you prefer.
You can disinfect the doll stroller as well by using either white vinegar or cider vinegar diluted with water. Again, it's important to keep your child's doll stroller clean to avoid germs. After cleaning, allow the wooden doll stroller to air dry. Do not apply direct heat to the product.
Question: After washing the doll stroller, can it be dried in the sun?
Answer: While the sun can quickly dry toys, it's not recommended to air dry the doll stroller in full sunlight. The problem is that the sun can cause cracking and color fade with prolonged exposure. It's best to wash and dry on an overcast day or simply clean and dry the doll stroller inside the house.
Question: Can you leave the doll stroller outside overnight?
Answer: It's never a good idea to leave the doll stroller outside overnight. There are many reasons this is a bad idea, including that moisture can collect on the wooden surface due to condensation. Always bring the toy inside at the end of the day.
Question: Do all doll strollers tip over?
Answer: The stroller's weight is the biggest factor in whether the toy will tip over or not. If the stroller is really lightweight, it has a good chance of falling over and often. If the stroller is heavy, it's less likely to fall over but may be harder to push. To ensure your child can easily push the stroller without the toy tipping over, a medium-weight product is suggested. A good weight is between 8-10 lbs.
Final Thoughts: 7 Best Wooden Doll Strollers
With my detailed information about each product, it's clear to see the pros and cons of each doll stroller. Of course, each one has unique details, but one stands out above the rest.
As for me, I chose the Guidecraft Espresso Dark Cherry Wooden Doll Buggy. This product has it all in terms of solid construction, beautiful color, and safety. The dark cherry wood contrasts beautifully with the pink bedding, and the stroller is a good size for babies, toddlers, and small children. In addition, the stroller's weight prevents falls while not being too heavy to push. This doll stroller is perfect!
I hope my review helped you find the best wooden doll stroller for your child. If you're looking for other wooden toys that help your child learn while playing, check out our reviews on the best wooden toy cranes. Allow your child's imagination to build and grow!
Recommended Reads: