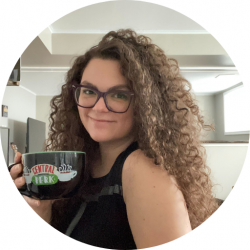 Latest posts by Candace Osmond
(see all)
Is your child obsessed with dolls like mine was? Did you know playing with realistic toys is good for a child's brain development? That's why I recommend sturdy wood doll highchairs when you're at a loss for what to buy.
I'll explain why when I talk about how wooden highchairs for dolls help kids learn and how a toy like this is made to last. I'll also recommend the 6 best wood doll highchairs based on their quality of construction, design, and price range.
Top 3 Picks
These are the 3 best wood doll highchairs I would recommend to any parent. These toys help kids learn about how to interact with the world and can stay in prime condition for decades with proper care. For the best price, best unique design, and best overall features, you can't beat these.
Can You Get Highchairs for Dolls?
Yes, you can buy high chairs for dolls! Highchairs for dolls have been a very popular toy for many, many years. Kids like high chairs for their dolls, because they want to imitate taking care of their dolls the way they saw you take care of them.
You can get high chairs for dolls in toy stores, department stores, and online. Some highchairs are even offered by small businesses.
Importance of Realistic Toys for Kids' Development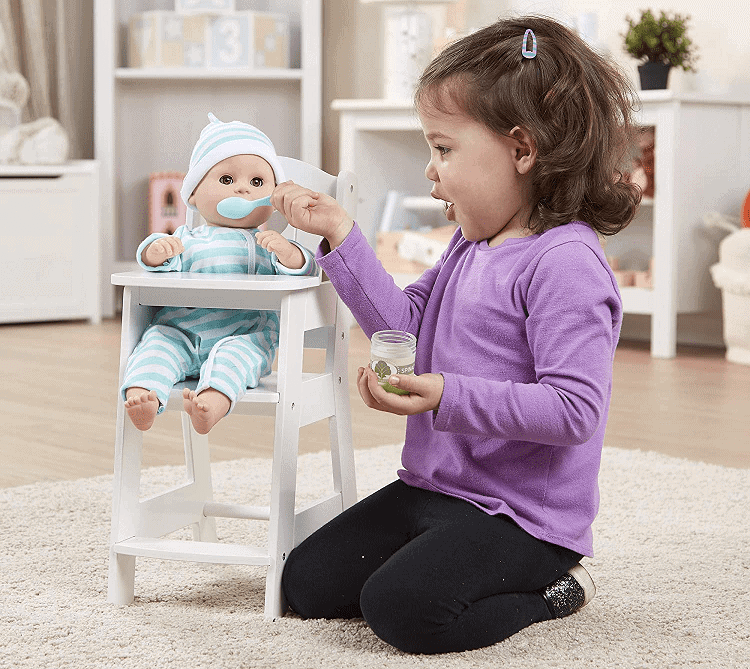 Did you know how important it is for your kids to play with toys that imitate aspects of the real world? Kids learn through play, which is why playtime is so essential. I'll explain what makes doll high chairs not only a fun toy but a tool that your little one uses to make sense of the world around them.
Teaching Life Skills
Playing with a wood doll highchair teaches your kids important life skills. You are giving your child the opportunity to roleplay certain tasks in life that they'll need to know how to do as they get older. Some of these tasks kids learn from playing with their doll in a doll highchair are:
Eating correctly
Looking after a small child
Cleaning up
Preparing food
Instilling Values
When a child places a doll in a highchair, they are showing that they care for the doll. They aren't throwing the doll onto the floor or smearing fake food all over its face (unless a tantrum is being thrown,) because they know you don't do that when taking care of a baby.
By giving a child an object to care for and look after, you are instilling the value that people, particularly weaker and much younger people, should be cared for. Having an accessory like a highchair lets your kid act out scenarios that demonstrate they love the doll and understand how to show care.
Showing How to Be a Family
Chances are your little one has told you they imagine their doll as their child, or maybe as their little sister or brother. Having a doll lets your kid act out the roles within being a family (older taking care of younger,) which is good for their development.
Young kids are still trying to figure the world out. Having play objects that let them rehearse how real life is supposed to work helps them navigate this complicated whirlwind called life.
What Wood is Best for Doll High Chairs?
For any piece of furniture, hardwoods are going to be better than softwoods. As their name implies, hardwoods are harder, denser woods that are much more durable than softwoods. There are tons of hardwoods that make for excellent toys, but when it comes to quality, I recommend:
Hardwood Maple
Beech
Cherry
Walnut
Pine
Wood VS Plastic for Toys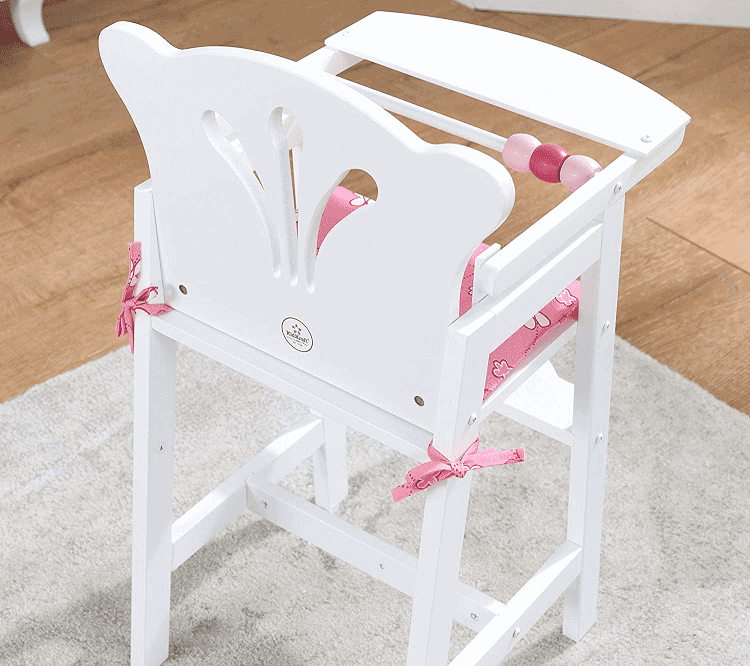 Are wood toys better than plastic toys? Are they safer?
My answer to both of these questions is yes. I made a quick chart down below comparing wood and plastic high chairs, which I hope will help you decide.
What to Look for in a Wood Doll Highchair
Are you ready to pull out your parental inspection gear and make sure the wood doll highchair you buy for your child is the perfect one? Since we've covered why realistic toys are important, I'm going to give you a helpful guide for choosing a quality doll highchair that can stay in the family for generations.
Size
Ideally, a highchair for a doll should come to about your kid's mid-height. You don't want your child to have to strain bending over or reaching up to use the toy. Most doll highchairs are around 20 inches tall.
Wood Types
The hardwoods I listed above are the top wood types I would recommend for a doll highchair. That's because hardwood maple, beech, walnut, cherry, and pine are all resilient woods that can stand up to playtime. These are the types of wood that commonly make up your furniture.
Wood Finish
Check the wood finish of the wood doll highchair you're interested in because some are easier to clean than others. Usually, you can buy highchairs for dolls that have either:
Water-based finishes
Oil finishes
Wax finishes
Ease of Use
Kids like challenges, but they don't necessarily want to deal with a challenging toy every time they want to play. While a highchair can have bells and whistles, I recommend a chair that can be played with simply by placing the doll in the chair.
Quality Construction
Quality construction is paramount when choosing the toys your child plays with. Faulty construction can mean broken toys, which lead to tears, injury, or both.
Check to make sure that the brand you're buying a wood doll highchair from is reputable. They should have positive customer reviews on their website and a solid rating.
Style
Wood doll highchairs come in a huge variety of styles! Seriously, you can buy everything from Disney princess to galaxy to hand-carved wooden highchairs. Always go with your child's unique interests when picking out a style, but here are a few ideas:
A Disney or Barbie chair for fans of all things pink
A solid color chair that's your child's favorite color
A chair that matches the theme of your child's room
Safety
Your child's safety is always your first priority, so it's best to make sure the company you buy from has the certification to sell toys. Official toy sellers will have to create toys that follow safety regulations.
Warranty
Not all quality wood doll highchairs come with a warranty in case something goes wrong with the toy, but some will. If you don't see the manufacturer's warranty listed on their website, shoot the company an email and ask them about their product warranties. Sometimes, a warranty just isn't listed in the product description.
The Best Wood Doll Highchairs
These are my absolute favorite wood doll highchairs to recommend to inquiring parents. These wood doll highchairs sell themselves in terms of design, construction, added features, and much more. Read on if you need ideas for what to buy your little one!
KidKraft Lil' Doll High Chair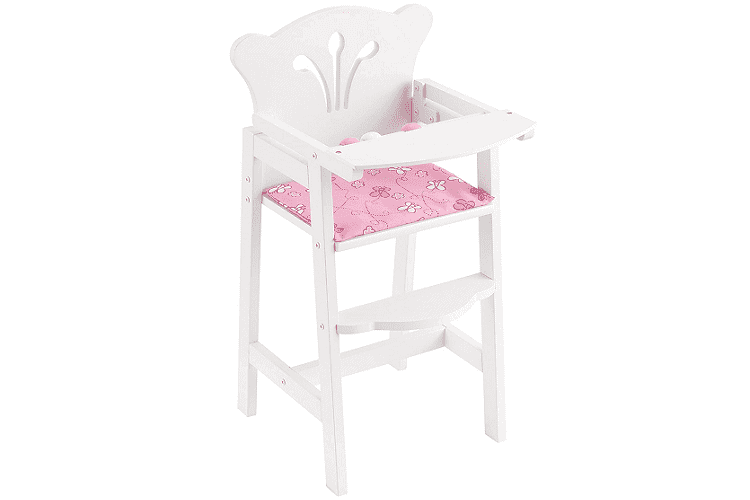 Best For: Functionality
About
This is a white wooden highchair from KidKraft that comes with a pink, butterfly-patterned seat cushion. KidKraft made this wood doll highchair to fit 18" dolls. You'll notice that a footrest is built into this toy and that this highchair is the second least expensive highchair on the list.
Weighing at only 2.2 lbs., it won't hurt your little one to move it around. The dimensions for this adorable toy are 12" X 12" X 22.25".
Material: Wood
Price Range: $25-$35
Warranty: Please contact seller directly
Best Feature: Cute pink pad for a doll to sit on
Care
To make sure you don't wash away any of the white paint, be gentle if you need to clean this toy. Use mild dish soap, warm water, a cloth, and a sponge. Never fully submerge the wood in water. Instead, use a soapy sponge to clean the high chair and use a wet cloth to rinse it. Let it air dry.
Pros
Adorable pink cushion
Footrest
Perfect weight and height
Cons
One of the most simplistic designs on the list
Badger Basket White Doll High Chair with Plate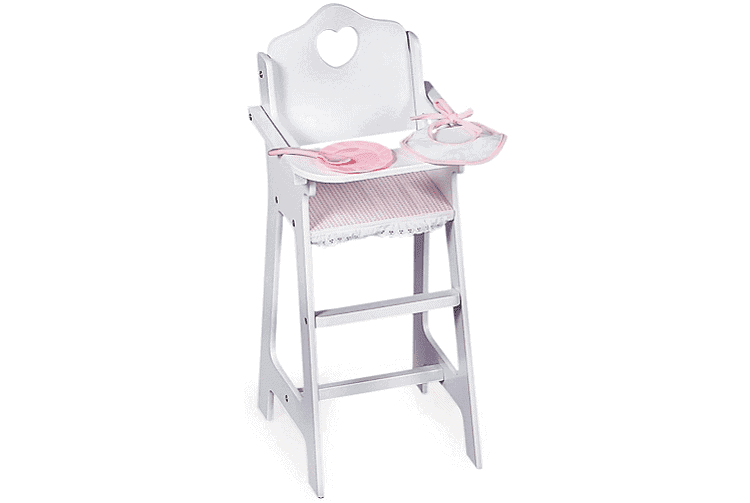 Best For: Price
About
This is another white doll highchair that can fit up to 18" dolls. Badger Basket's highchair for dolls is the least expensive toy on our list, but not the least valuable by any means. This high chair comes with additional accessories and even decal stickers for customization.
Your child will receive an extra plate, a spoon, and a bib with this toy. Over 100 stickers are included, too. The back of the chair features a cute heart cut-out, which adds to how darling this toy looks overall.
Material: Wood
Price Range: $20-$30
Warranty: Please contact seller directly
Best Feature: Additional accessories
Dolls that Fit this Highchair
Some top-selling doll brands sell dolls that are the ideal size for this highchair. Some of these brands of dolls are:
American Girl
Cabbage Patch
Baby Stella
Pros
Inexpensive
Comes with accessories
Cute heart cut-out
Cons
Not as high quality as some other options
Melissa & Doug Mine to Love Wooden Play High Chair for Dolls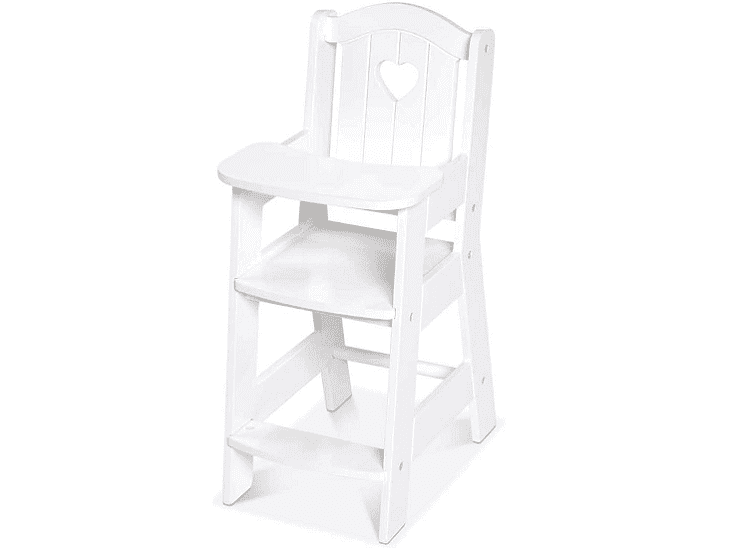 Best For: Ease to Clean
About
This is a solid white wood doll highchair that also features a cute heart cut-out on the back of the chair. I love that the tray that sits over the doll's lap is removable. The surfaces are easy to wipe clean thanks to the finish of the wood, which I'm sure everyone can appreciate.
Material: Wood
Price Range: $52-$62
Warranty: Please contact seller directly
Best Feature: Easy-to-clean surfaces
What About Kids Who Don't Like Dolls?
It's true-some kids don't like dolls; however, most kids like stuffed animals. If your child doesn't like dolls, you can buy them any 18" stuffed toy that will fit inside this highchair for them to practice the same life skills with.
Pros
Easy to clean
Cute heart cut-out
Removable tray
Cons
Le Toy Van-Educational Wooden Toy Role Play Beautiful Doll High Chair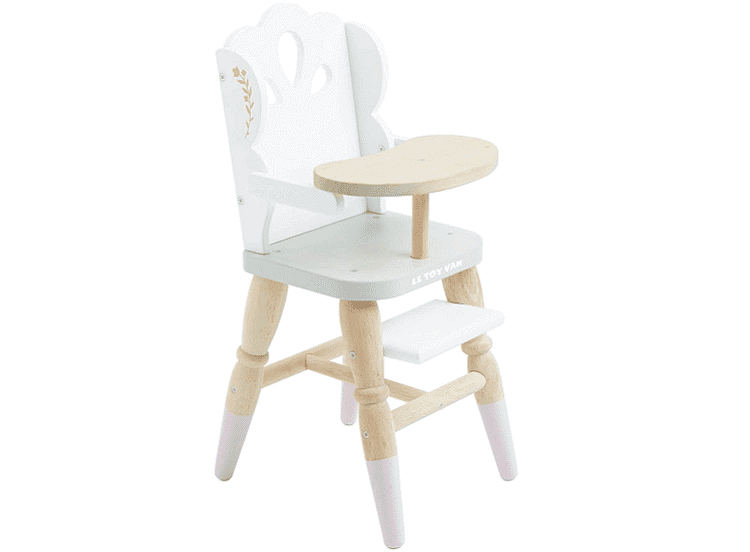 Best For: Overall
About
This wood doll highchair from Le Toy Van is my absolute favorite recommendation on the list. Le Toy Van's chair manages to capture a cutesy and modern vibe with rounded edges and minimalism. Parts of this chair are painted white, and parts are left to show the natural tones of the wood. A golden leaf pattern decorates the top of the chair.
Though this highchair is pricey compared to some of the others, the high-quality construction makes it well worth it. If you want a highchair built to last and stay in the family, I would choose this one.
Material: Wood
Price Range: $45-$55
Warranty: Please contact seller directly
Best Feature: Beautiful, high-quality construction
Safety
Le Toy Van holds itself to very high safety standards. This toy has been tested for safety, which is something to look for. Nontoxic paints were used to make the designs on this highchair, too.
Pros
Gorgeous design
High-quality construction
Tray and footstool for doll
Cons
Janod Candy Chic Highchair-Wooden Baby Doll Chair

Best For: Unique Design
About
If your child loves bright, fun colors and unique designs, this is the wood doll highchair for them! Golden polka dots decorate the cushion and other parts of the chair. The back of the chair, the seat of the chair, and tray are all painted pink. Exposed wood and white paint are used to showcase the legs of the chair.
At 8.86" X 10.83" X 20.67", this highchair is the perfect height for your little one. Eco-friendly, non-toxic products were used to make this toy.
Material: Wood
Price Range: $45-$55
Warranty: Please contact seller directly
Best Feature: Bright, fun colors
Shopping Sustainably
If you're a conscious shopper who likes to buy sustainable products, you'll be happy to know this company uses sustainable wood sources. Eco-friendly oils were used in the production of this highchair, and nontoxic, water-based paints were used to finish it.
Pros
Vibrant colors
Sustainable
Removable cushion pad
Cons
Doesn't come with any accessories
Award-Winning Hape Babydoll Highchair Toddler Wooden Doll Play Furniture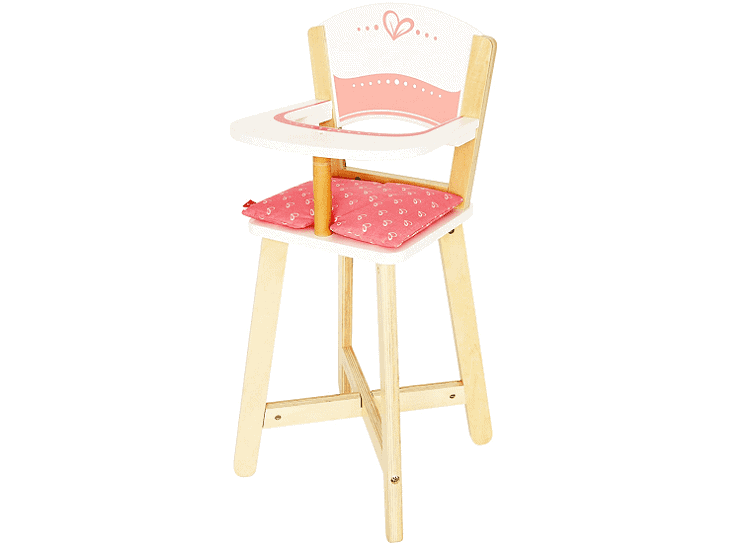 Best For: Lovers of Pink
About
Does your little one love the color pink? This wood doll highchair was made for them if the answer is yes! I love the pink cushion pad for the doll to sit on. The back of the chair and the tray are also a cute pink color with designs. At 10.1" X 10.4" X 22.4", this highchair is the perfect height for your child to play with.
Material: Wood
Price Range: $50-$55
Warranty: Please contact seller directly
Best Feature: Lots of pink
Gifting Ideas
Since this wood doll highchair is pink, why not get your child a doll in a pink outfit to go with it? They make tons of dolls with pink clothes that would look adorable with this highchair.
Pros
Adorable design
Lots of pink
Classic construction
Cons
Not for kids who don't like pink
FAQs
Next up, I'm going to answer your most frequently asked questions about wood doll highchairs. If you have any more questions about wood doll highchairs, please leave me a comment in the section below. I'm sure more curious parents can learn from the question you asked, so don't be shy!
Question: Can Kids Sit in a Doll Highchair?
Answer: No, you shouldn't let your kid sit in a doll highchair. Doll highchairs were constructed to hold the weight of a doll. Dolls are hollow inside, and they barely weigh anything. Letting your child sit on a doll highchair could break the highchair and cause injury to your kid.
Question: How Safe are Wooden Doll Highchairs?
Answer: Wooden doll highchairs are perfectly safe so long as no real people sit on them. Quality wood doll highchairs, like the 6 I listed above, are completely safe for your child to play with. Make sure you tell your kids not to sit on the highchair and supervise them around the highchair if they are small toddlers.
Question: Who Makes the Best Wooden Doll Highchairs?
Answer: The answer to this question depends on what your kid wants. Of course, there are top toy-selling brands that offer high-quality high chairs. There are also lesser-known brands that have produced doll highchairs of amazing quality, too. Check the product reviews of a specific product to give you a more accurate reading on whether a toy is worth your money or not.
Final Thoughts
Whew, you made it! I'm glad we got to go over why realistic toys like wood doll highchairs are good for a young child's developing brain, and dive into what to look for in a quality doll highchair.
I also got to tell you all about the 7 best wood doll highchairs you can buy online if you're already sold on the idea. But, personally, I love the Le Toy Van-Educational Wooden Toy Role Play Beautiful Doll High Chair for its overall design and function.
Do you have any questions about high chairs for dolls? Let me know in the comments! For more great content about quality kids' toys, check out our guide to the best wooden food toys and best wooden doll stroller ideas!
Recommended reads: