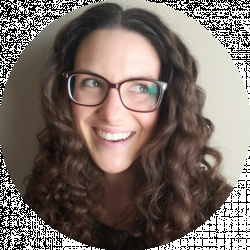 Latest posts by Sarah Caldwell
(see all)
When it comes to offering the best toys to your child, it's hard to get much better than wood. It's a natural option that's usually safe and eco-friendly. There are plenty of other advantages to offering wood toys to kids, too.
Fire trucks are great toys to add to any collection, so when considering purchasing fire trucks, look into wood alternatives. If your little boy or girl loves fire trucks, there are plenty of options out there.
Advantages of Wood Toys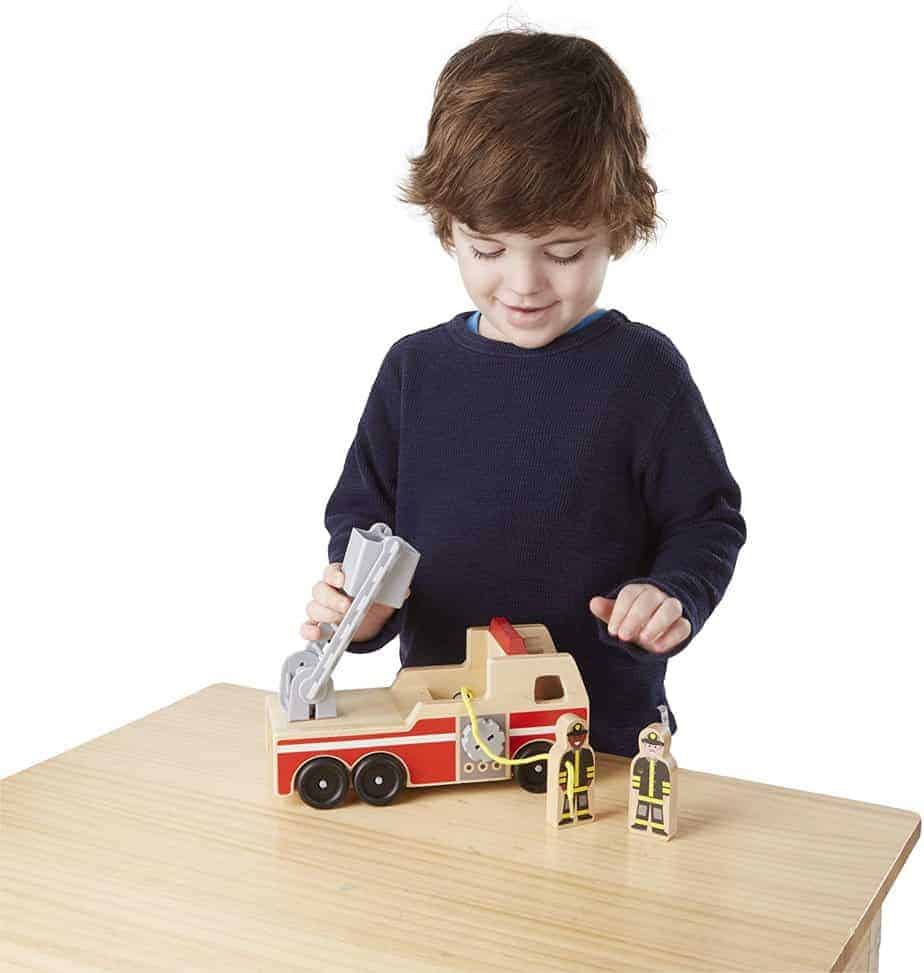 Let's take a lot at some of the best advantages to choosing wood over plastic or another material for your child's toys. Whether it's a fire truck, a set of blocks, or something else they'll love for a long time, wood offers some benefits that you simply can't get anywhere else.
Safety
It's likely that your primary concern is safety when it comes to offering your child toys. Wood is a much safer and more natural alternative to any other material because, let's face it, kids put things in their mouths.
Unlike plastic, wood won't break easily, leaving potentially sharp edges or small parts as a choking hazard. It's also not toxic like metal or plastic can be.
High-quality wood toys are sturdy and offer much less risk in terms of safety, health, and well being.
Environmentally friendly
Wooden toys are biodegradable and can be recycled. When your child is done with it (which may be a while, because wood lasts longer, too), you can recycle it rather than filling up the landfill.
You're doing your part to save the planet and teach your child about being a responsible steward of the earth and the creatures living in it. You can impart these values simply by choosing renewable, sustainable, organic toys like wood.
Durability
Kids are pretty rough on their toys, but wood is incredibly durable. Plastic toys are cheap and the stickers and dyes fade over time. The toys often break, but wood will last for a long time and can be refinished or painted to look brand new.
It makes off for the slightly higher upfront cost of the toy and reinforces its environmentally friendly nature. Wooden toys are great candidates for hand me downs to younger siblings and they make great family heirlooms.
Wood toys offer excellent value and are lifelong, durable toys that can be played with for years.
Timeless
Wood toys are timeless. They feel different in your hand, they look different, and they give a completely different sensory experience for the child than any other toy. Many children take great pride in wooden toys over cheap plastic ones.
They can also contribute to the overall aesthetic of a playroom or a bedroom. They can add a modern or a rustic look, depending on what type of wooden toys you buy. They can spark nostalgia and bring joy to everyone in the family.
Cheap, but valuable
While the upfront cost to purchase wooden toys is a bit more, you'll end up saving money in the long run because they won't often need to be replaced. In fact, the lifespan of a wooden toy is significantly longer and could last for decades or generations.
You can pass toys down, reuse them, and save a ton of money. You also don't need to purchase batteries or electronic components, because wooden toys typically don't have them. They also cost much less money to maintain.
You'll save a ton of money and get a great value. If you're lucky, you could wind up with a wooden toy that increases in value over time as well.
Best Wood Fire Truck Toys
Now that you're familiar with why you should be buying wooden toys rather than plastic or metal, let's take a look at some of the best options for wood fire trucks. If you have a child who loves fire trucks, you're in luck, because there are a lot of options for wooden fire trucks out there.
Melissa & Doug Wooden Fire Truck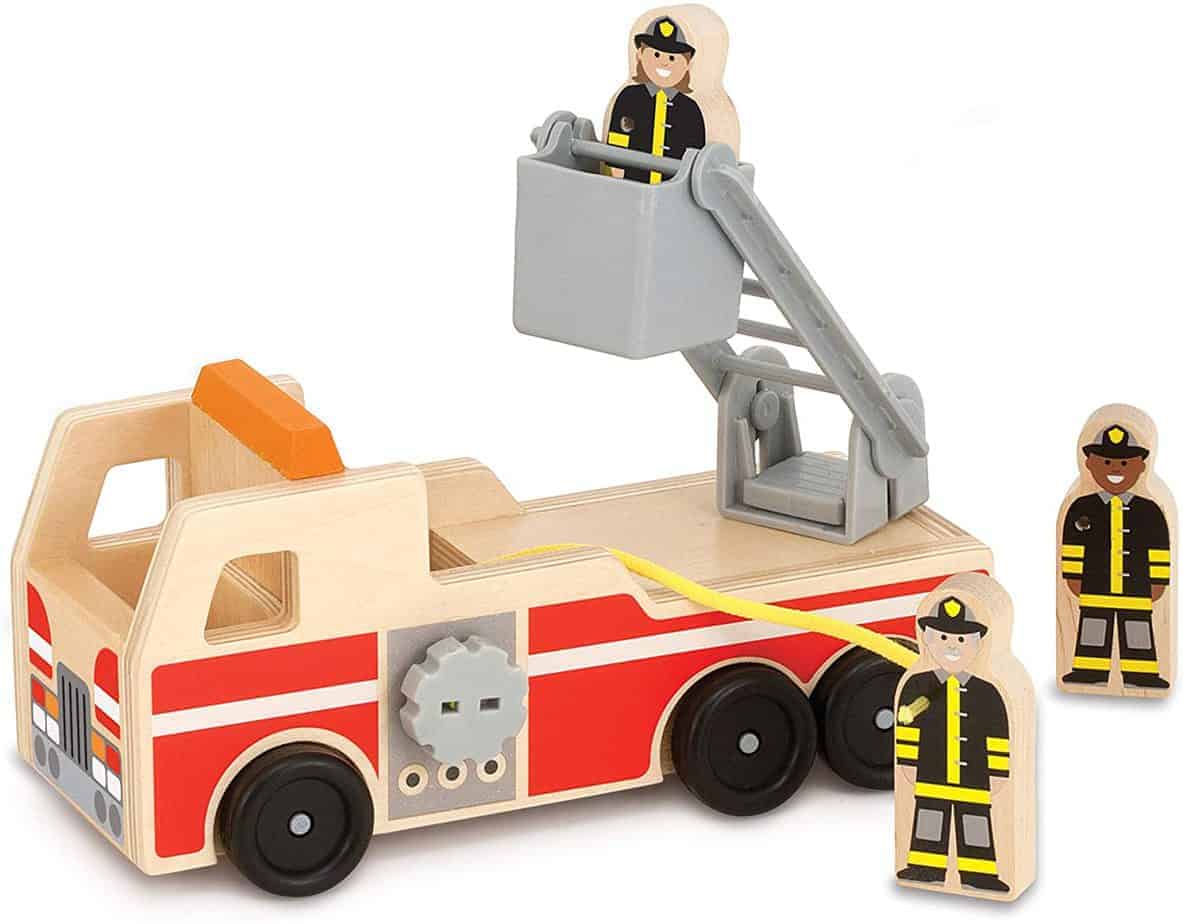 Melissa & Doug stands behind all of their products, and that includes this cute and classic wooden fire truck toy. It comes with three wooden firefighter figures, so your little one can play imaginatively with people, too.
This fire truck has a roll-up threaded hose, a lifting ladder with a bucket at the top, wheels that roll smoothly, a cab at the front where the firefighters can sit, and a gear on the side that gives your little one an extra tactile experience.
Your little one can be a hero all day long while riding in the front, standing in the bucket, or holding the hose. The durable wooden construction ensures a long-lasting toy and classic styling makes a cute toy that will spark your child's imagination.
While the fire truck and the people are wooden, it does come with other components that aren't. The hose is made of yarn and the wheels and the bucket are plastic. Unfortunately, if you want something that is all wood, this isn't it.
The good news is, the price is right, and Melissa & Doug is a reputable company. They make excellent children's toys of great quality, and they include their phone number on every item. If you ever have a problem, you can contact them directly and they will make it right.
Pros:
Quality manufacturing
Responsive customer service team
Cute design
Extra accessories
Affordable
Cons:
Toy Chest Nyc Wooden Fire Truck 7 Piece Play Set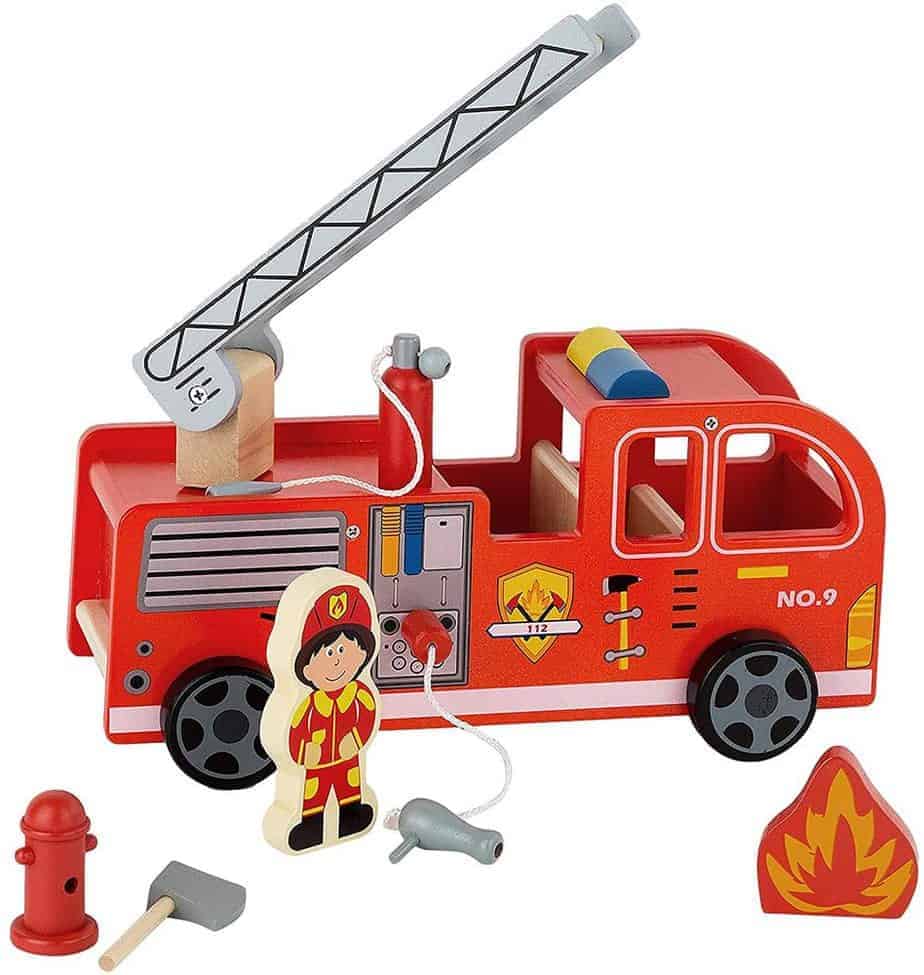 This colorful fire response team is ready for action. It's a classic toy fire truck with a moving ladder and rotating wheels, but it also comes with plenty of other accessories to join in the fun.
There's a firefighter to sit in the cab, climb the ladder, or hold the hose. The fire extinguisher, the water hose, and the fire hydrant can all be used to put out the fire. The ax can be used to break down any barriers to reaching safety, and the firefighter can heroically extinguish the fire quickly when the time comes.
This action-packed toy is made almost completely of wood and encourages imaginative play in a safe, non-toxic environment. It's hand-crafted with hand-selected wood to be sturdy and durable.
It helps develop your child's grasp and can expand both fine and gross motor skills. It can also help grow your child's hand-eye coordination and their interaction between small muscles like their hands and fingers.
The playful design will bring joy to your child as they play and it can be mixed perfectly with other sets of cars or people they already love.
Pros:
All wood
Comes with 7 pieces
Combination of large and small accessories encourages fine and gross motor skill development
Fun design
Affordable
Cons:
Choking hazard for small children
Battat 6 Piece Wooden Vehicle Set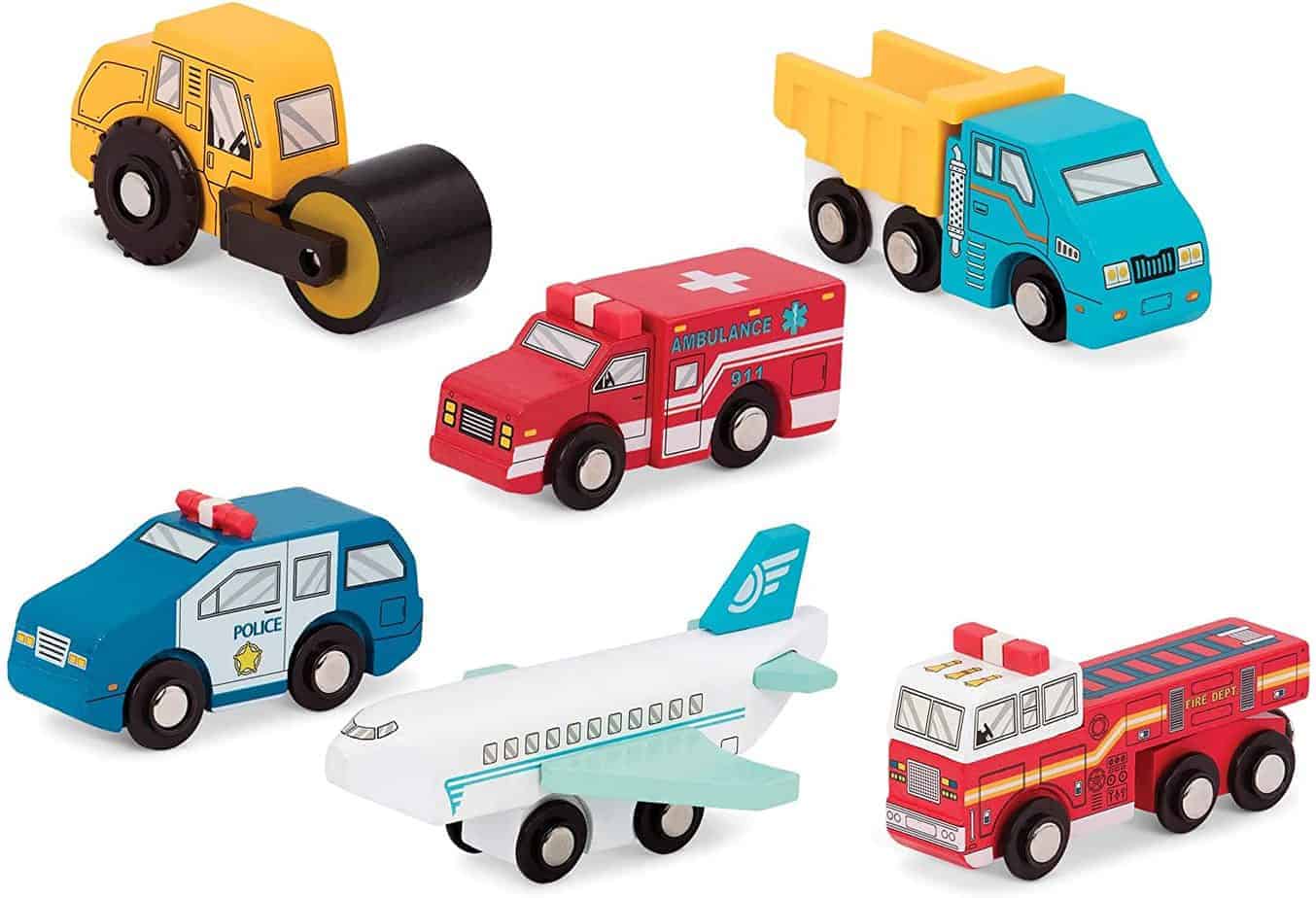 This wooden rescue vehicle set includes a fire truck, airplane, steamroller, police car, dump truck, and ambulance. Each cute little miniature toy is equipped with smooth-rolling wheels so your child can interact and play to their heart's content.
They come with adorable, retro wood styling that makes it a classic and collectible set everyone will love. They're compatible with all other Battat toy vehicles, too, so you can collect them all. The colors are vintage, so they're perfect for the kids of collectors, or maybe even the collector themself. The great thing about these toys is that the spacing is perfect for them to be compatible with the Battat wooden train set.
If you already have a wooden train set at home from another manufacturer, like Cubbie Lee, they'll work with that, too. It's a great way to let your child explore the wide world of interconnectivity.
A fire truck may not drive on train tracks in real life, but that doesn't mean it can't in his imaginary world. Besides, if your child is anything like mine, they'll literally drive anything on those train tracks. As an added bit of fun, the steamroller has a working roller and the cement truck's mixer really spins. These timeless classics may not be large or flashy, but they're the perfect size for little hands.
Pros:
Set of 6 vehicles, including a fire truck
Compatible with other vehicle sets
Works with Battat wooden train set
Perfect size for little hands
Working wheels
Cons:
Pidoko Kids Ride On Fire Truck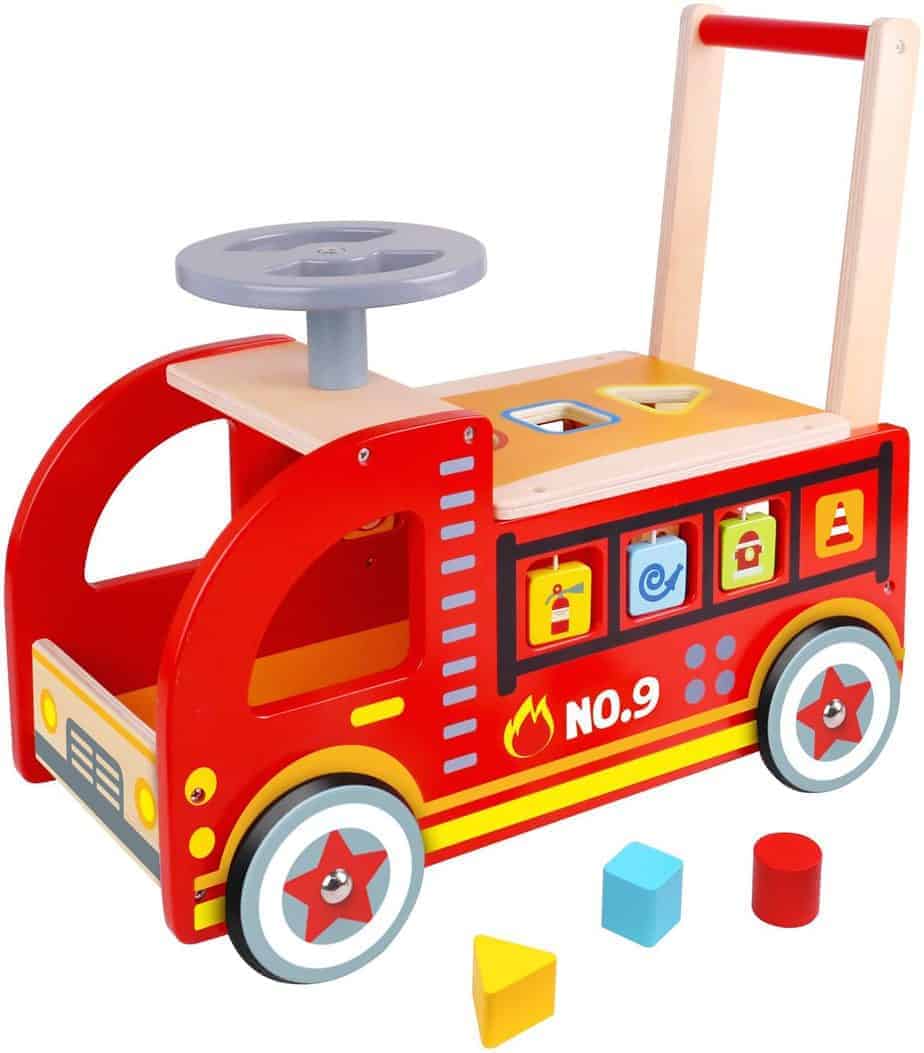 This is a memorable wooden fire truck toy that really engages your child in the action. It's a large ride-on fire truck that allows your child to be the firefighter. Your child can drive or walk behind the truck and interact creatively as much as he or she chooses.
It features a sturdy wooden frame that's safe and stable so you can ensure that your child will be able to sit or stand without falling or breaking the toy. The gender neutral coloring makes it perfect for a boy or a girl.
There are shapes cut out of the seat and it includes blocks that encourage younger children to learn and evolve their fine motor skills by matching the block to the hole of the same shape. It also improves grasping and balancing techniques.
Your child will be able to develop coordination in many different ways as well. By steering, matching shapes, walking behind, or spinning the whimsical drawings on the side, your child will be absorbing knowledge while they play. The storage compartment also gives you a great place to keep other toys when you're not playing with them.
The rubber trimmed wheels protect your floor while making sure that the cart isn't slippery. It gives your child a safe platform, especially before they're stable on their own two feet.
Pros:
Versatile learning toy for walking or riding
Storage compartment for other toys
Durable wood construction
Rubber trimmed wheels for extra stability and floor protection
Helps develop fine and gross motor skills as well as coordination
Cons:
Pricey
Requires tools for assembly
Hey! Play! Fire Station Playset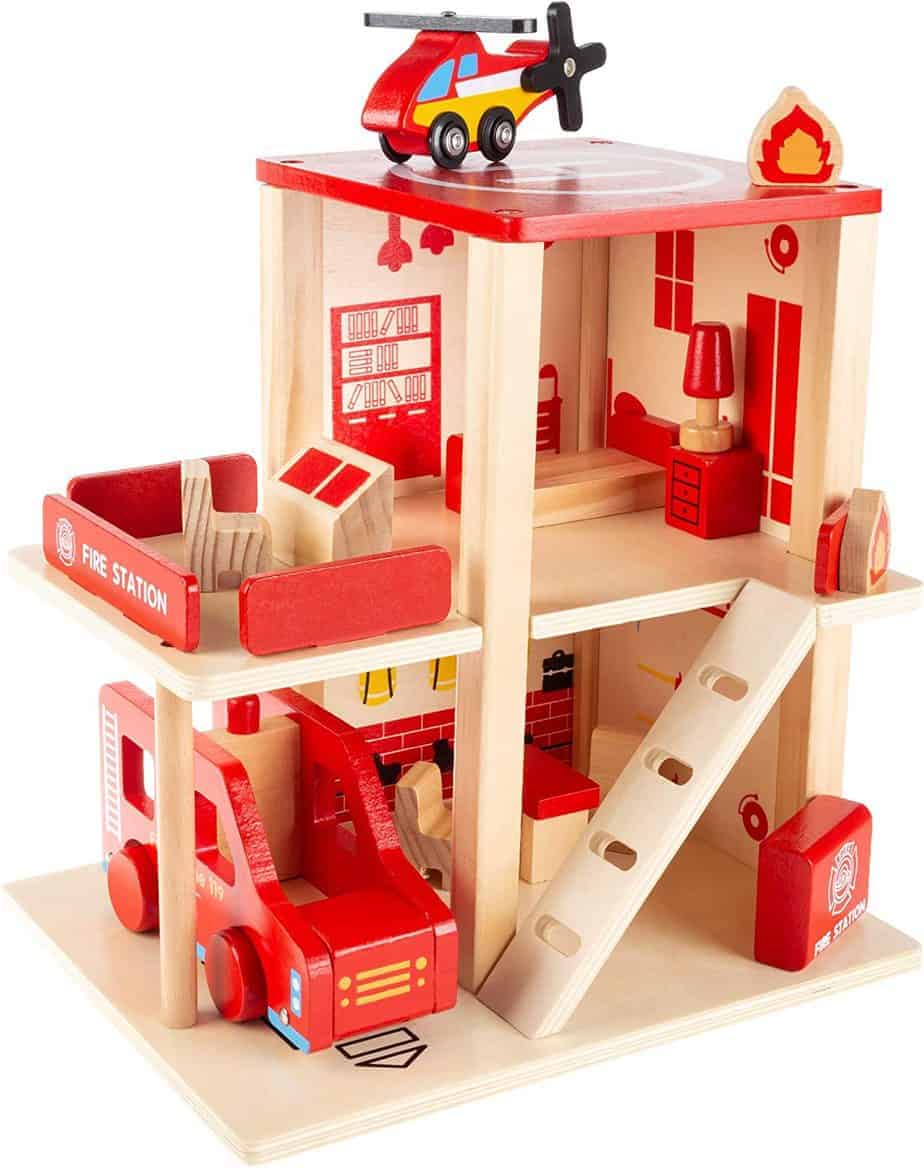 This 19-piece set goes beyond just a wooden fire truck and incorporates the whole fire station. It comes with a fire truck, a helicopter, furniture, and more. There are three whole stories for your firefighters to work, play, and relax until the next emergency.
While the back of the fire households everything together, the front and sides are open so your child has easy access to everything for hours of fun. The open design allows multiple children to play with the set at once, so it's a great toy for siblings or a daycare.
The set is made of real wood and MDF and is painted with bright colors. The edges are sanded and safe for little hands. At just 13 inches tall, the size is compact enough to store on a shelf.
This is a great set for honing storytelling skills or developing spatial learning and organizational skills as kids plan and set up furniture in rooms.
It comes in pieces and you have to assemble the entire thing, which can take some time and often ends in frustration for parents, but it's well worth the work for an entire fire fighting set that your kids will love.
Pros:
Entire 19-piece firehouse set
100% wood
Encourages interactive play with multiple children
Develops spatial and organizational skills
Open design
Cons:
Must be assembled
Affordable, but cheaply made
The Original Toy Company Pop Up Fire Truck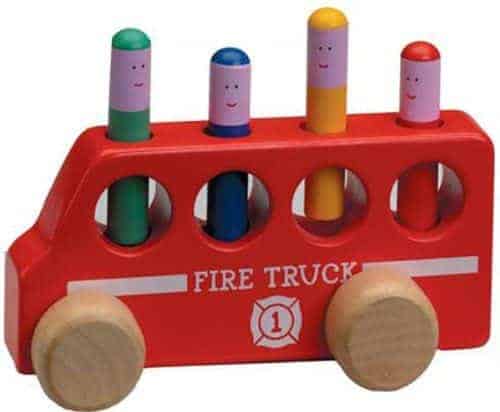 There's something cathartic about a pop-up toy, and perhaps that's why they've been around for so long and so many therapists have recommended them. This fire truck includes four friendly-looking pegs with different colored faces that bob up and down.
The pegs are spring-loaded, so pushing them down too far could result in a flying toy, but it's a great way to introduce hand-eye coordination, matching, color awareness, and counting.
The toy is made of solid hardwood and it's safe for kids. The bright paint is attractive and will engage kids of all ages. It's oddly satisfying, even for an adult.
It also tends to make a great teething toy for younger children, so adult supervision is suggested. The pegs are perfectly sized for little hands and for little mouths.
Pros:
Brightly colored and fun
Teaches colors, counting, hand-eye coordination, and more
100% hardwood
Pegs are perfect for little hands
Cons:
Darice Fire Truck Craft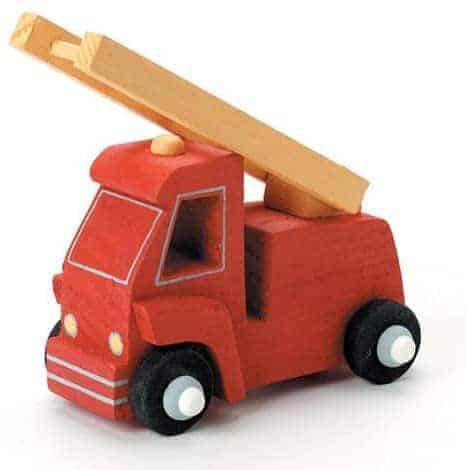 This cute little fire truck is made completely of wood. The wheels spin and the ladder moves. It comes unfinished so you can create a fun afternoon of crafting for your kids. They make great toys or ornaments for the Christmas tree.
It's a great way to decorate your own wooden fire truck toy with crayons, markers, stickers, and more. It's small and affordable, so you can even do more than one. Your child will love the toy even more because they designed it themselves.
It's important to be careful with what you let them decorate. Make sure you're using non-toxic arts and crafts materials or your non-toxic wooden fire truck toy won't be non-toxic for long.
Pros:
100% wood
Comes unfinished so you can decorate yourself
Versatile in use
Cons:
Possibly too fragile for small children
Amish Toy Box Wooden Fire Truck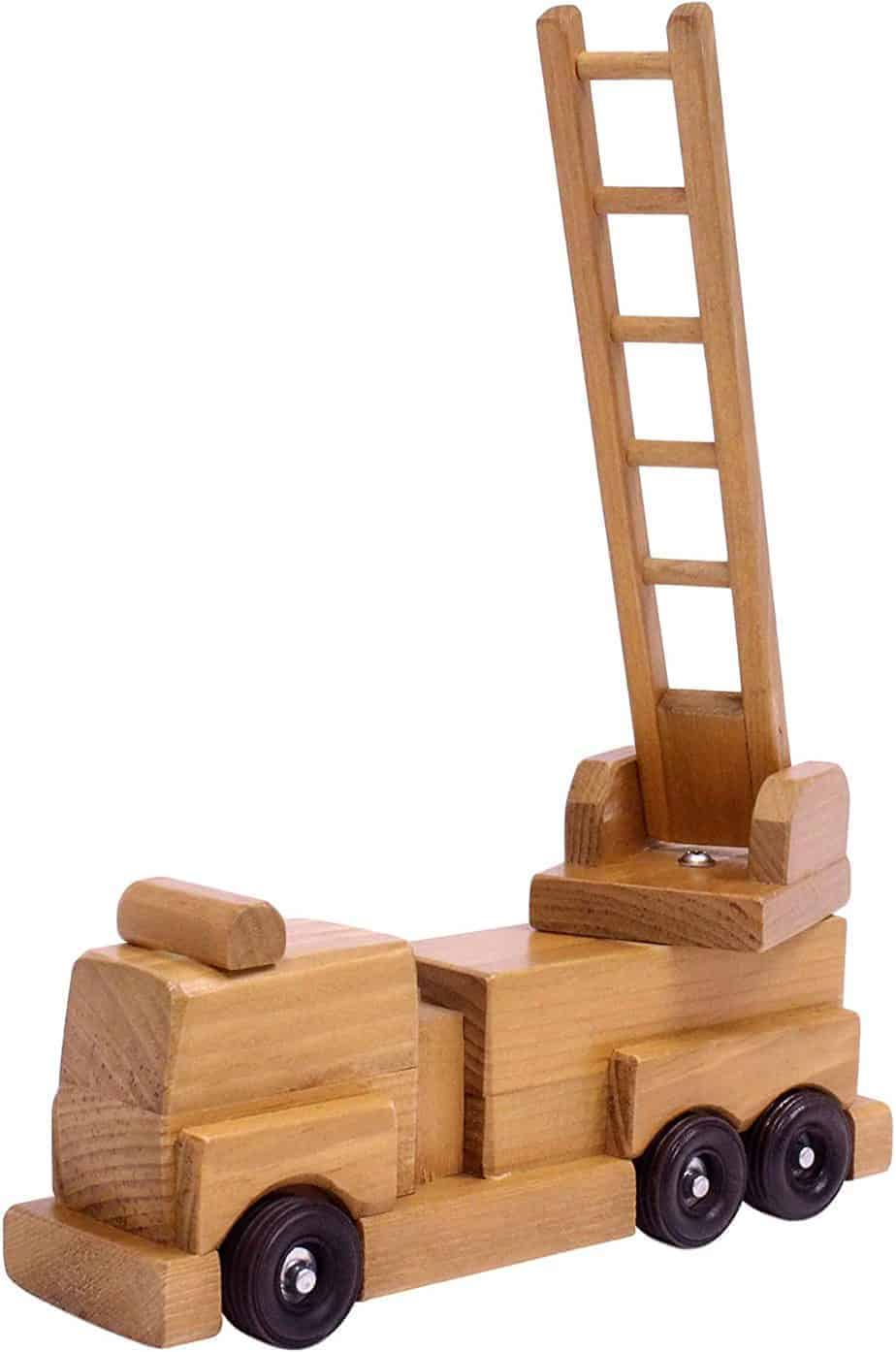 This wooden fire truck is handcrafted in Lancaster County, Pennsylvania by an Amish company that makes kids' toys. It comes with real rolling wheels and a ladder that raises and swivels.
The quality craftsmanship is reflected in the price, so you might find that it's a bit out of your price range, but you won't regret buying it. It's built to last a lifetime.
It comes with a non-toxic finish that's safe for kids, even if they put it in their mouths. It's not painted, Instead, it comes with a classic finish that looks rustic and will attract your child's attention likely because it's so different.
The wheels are plastic, but the rest is made of wood. It's safe, sturdy, and very well-made.
Pros:
Sturdy and well-made
Classic finish
Handcrafted by Amish
Non-toxic
Cons:
Fagus Wooden Toy Fire Truck
If you're really wanting to stretch your budget for a quality fire truck toy that's made of real quality wood, the Fagus wooden toy fire truck may be just the right thing.
It has an extendable ladder, which is something you won't find on any of the cheaper wooden fire truck toys. It extends to almost triple its collapsed length, which is a pretty incredible testament to its craftsmanship.
The chunky knob on the cab actually steers the tires, which are made of real rubber. There are six peg firefighters included in red and blue. The fire truck contains seats for all of them, too.
The fire truck itself is made of solid beech wood and isn't made with any staples, screws, or nails. It's manufactured by interlocking pieces and dowels with glue. It's durable and safe for any child.
Pros:
Quality, durable, safe
Made of real wood and rubber
Real extendable ladder and turning wheels
Not made with any staples, screws, or nails
Cons:
FAQs
Question: Are wooden toys better?
Answer: There are plenty of reasons why wooden toys are so much better for your child and for the environment. They produce less waste than other types of toys, they last longer, and they don't contain all the toxic materials that plastics do.
They may be a little bit more expensive upfront, especially for quality wooden toys, but in the long run, you'll spend a lot less money on maintenance, repairs, and replacements.
Question: Why are wooden toys popular?
Answer: There's just something special about a wooden toy. The smooth feel of the wooden object in your hand and the tactile and sensory experience of playing with just a quality toy is beyond compare.
Wooden toys used to be very popular before plastic toys were developed, and these days they're experiencing a resurgence. Whether it's for nostalgic reasons or because parents are starting to care more about the environment, many people choose wood over plastic now.
Question: Which wood is best for toys?
Answer: Whether you're shopping for wood toys or you're thinking about making your own, it's important to know which woods work best. Harder woods like maple, beech, cherry, or oak are going to make the most durable toys.
Softer woods like pine, spruce, or fir will dent and splinter, which means the toys won't last as long and they will likely be unsafe for a child who is either too rough with the toy or who may put it in their mouth.
If you're making wooden children's toys, make sure to sand the toys down thoroughly to create a smooth edge to prevent splintering.
If you're shopping around for children's toys, it's also important to consider any allergies to wood your child might have. It's unlikely that your child will develop a reaction to playing with a wood toy, especially if that toy has been finished and painted, but it could happen, so it's best to be aware of what kind of wood it is.
Question: Are wooden toys safe for babies?
Answer: Wooden toys are some of the safest toys you can provide for your baby. They're free of toxic chemicals like PVC, BPA, or phthalate. These chemicals are often found in plastic, but with wood, you don't have to worry.
Wood is an excellent material to offer your baby because you don't have to be conscious about avoiding these chemicals altogether. You'll already know they don't exist.
Final Thoughts
If you're looking for wood fire truck toys for your child, these are some of the best. There are plenty of other options out there, so don't limit yourself to these possibilities if there's something specific you're looking for.
Just remember that you want to make sure the wood fire truck toy you buy is right for your child, no matter what it is.
Recommended reads: