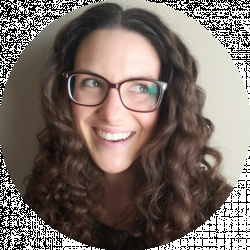 Latest posts by Sarah Caldwell
(see all)
Kids love art. That's pretty much a universal fact. If you've been around kids for any amount of time, and I'm assuming you have, you know that they'll draw on anything, including walls (yikes).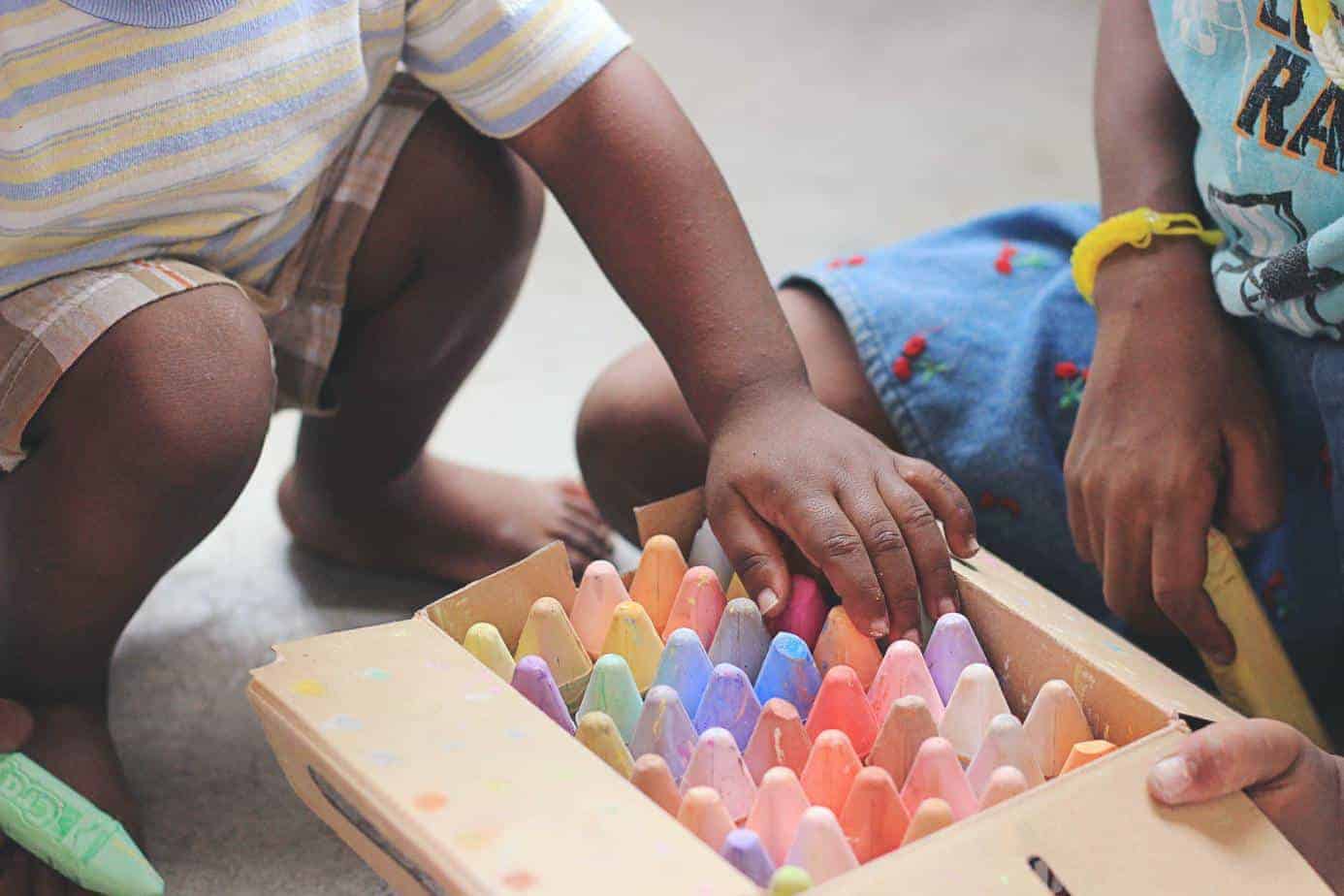 That means that equipping them with the tools they need to exercise their need for creativity is a must. There's really no better way to help them build confidence in the little artist they are than purchasing supplies like beeswax crayons.
There are plenty of reasons why beeswax crayons are superior to regular crayons. They might be a little bit more expensive, but they're fun to use, they're better quality, and they're all-natural.
Why Beeswax is Better
If you haven't tried beeswax crayons before, you have no idea what you're missing. Once you try them, you truly won't want to go back to regular crayons. There are so many benefits, that it's almost impossible to name them all, but I'll try.
Strength and durability
Beeswax is strong and thick. These crayons are heftier than others. They're typically made in chunkier varieties anyway, but you'll notice right away that they're much more durable than the other crayons you're used to, even if they're thin.
However, because they're so much easier to use, you won't notice the weight too much, other than how much nicer they feel in your hand and how much the quality seems to stand out.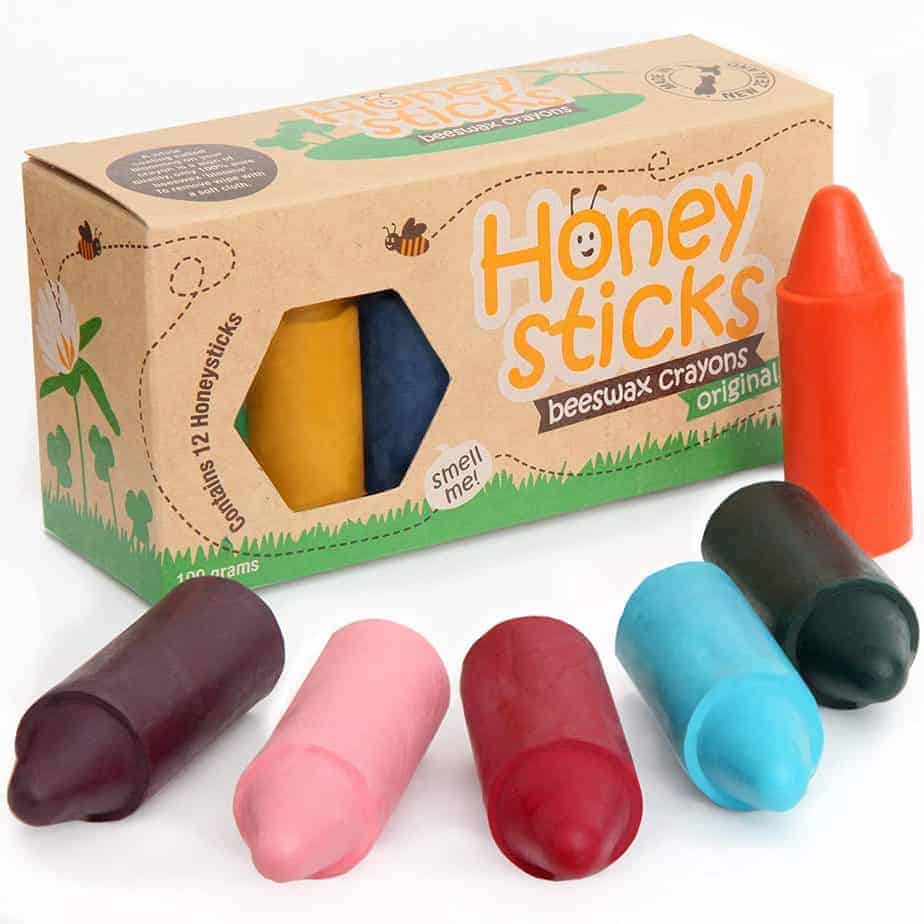 Smooth application
Beeswax is silky smooth. Imagine what else bees make. That's right. Honey. Honey is thick, smooth, creamy, and oh, so delicious. Now put it in a crayon. Oh yes. It's glorious. It's like dragging silky smooth honey butter across your paper.
Drawing and coloring with beeswax crayons is an experience like you've never had before. It really is wonderful. Your crayons don't get stopped up by the tiniest little fleck of dirt on the table and you won't feel obstructed by a wrinkle or a crack. You'll just keep right on going.
Also, because they're so easy to use, you won't experience hand fatigue, which isn't something that novice artists or kids usually struggle with, but it is something that you might find you enjoy if you get tired of endless hours of coloring with your kids.
Rich, vibrant color
Again, because of the silky smooth application and the dense composition of beeswax crayons, they also produce more rich, vibrant color than other types of crayons. They go on thicker to begin with, which means they lay down more of the colors you love and you won't have to retrace your steps multiple times.
That means even less hand fatigue, making them usable for hours on end by kids, parents, and even novice or advanced artists. You may even want to reintroduce them to your stressed teenager and let them blow off a little steam.
All-natural
You will find some beeswax crayons that have other ingredients, but pure beeswax crayons are all-natural. They contain no chemicals or artificial ingredients. That makes them environmentally friendly. Plus, no plants or animals were harmed in the making of the products.
In the year 2000, Prang, Crayola, and Rose Art were all in the spotlight for health risks associated with asbestos in their crayons. After further testing, it revealed that there were only small amounts of asbestos in 1 Prang and 2 Crayola crayons.
However, there was actually more of another fiber that looks a lot like asbestos fibers. While the findings didn't warrant a recall, the companies did reformulate their recipes. However, you won't find any of this nonsense in beeswax crayons.
Renewable
Beeswax is a renewable resource. When manufacturers make these crayons, they're taking something from nature that can be renewed quickly, easily, and naturally. It's not something that harms the environment, plants, animals, or humans.
In fact, it's much more environmentally friendly than using petroleum-based paraffin or other wax products to make the crayons you've already been buying. Bees already produce wax, whether you use it for anything or not.
Harvesting the wax is healthy and a great natural resource for everyone.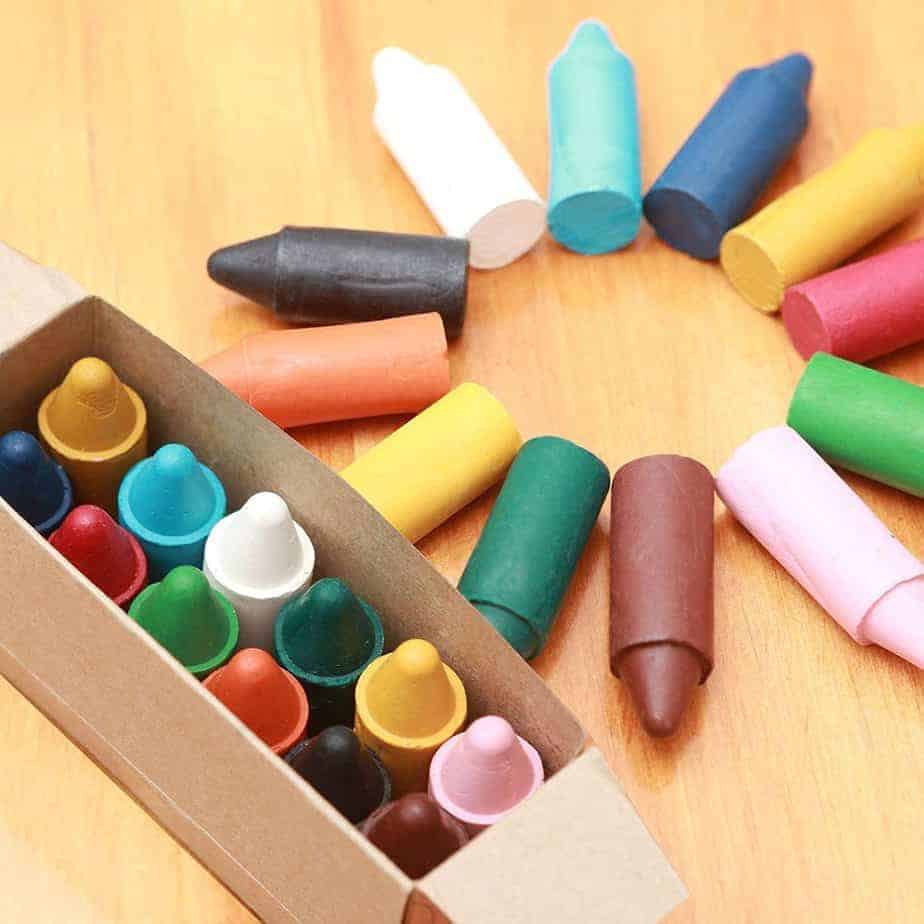 Homemade Beeswax Crayons
If you're a total super parent and you want to make your own beeswax crayons at home, you can give this recipe a try. Make sure you use equal weights of soap and beeswax. You'll find a lot of the ingredients you want at natural food stores like Whole Foods, Sprouts, or Natural Grocers.
Ingredients
1 part inexpensive white bar soap, grated (you can choose any brand you'd like, but glycerin soap will result in a harder final crayon than other types of soaps)
1 part beeswax, chopped
Food coloring (substitute a veggie-based colorant to keep it natural)
Shortening (substitute veggie spray to keep it natural)
Directions
Melt the soap and beeswax in a glass measuring cup in the microwave. A 2-cup Pyrex measuring cup works really well. Be very careful because the liquid will be extremely hot. You can also use a double boiler if you're more comfortable melting it that way.
Watch your mixture closely to make sure it doesn't foam or you'll end up with air bubbles in your final crayons. If it does foam, let it set for a few minutes and gently stir it to remove the air bubbles.
After you melt the soap and beeswax mixture, divide the liquid and mix in your color carefully. The more color you add, the more vibrant the color becomes. When using a vegetable-based colorant, it may be necessary to return your liquid to the microwave.
Choose a mold to solidify your liquid. You can use mini muffin tins, disposable paper cups, ice cube trays, or make your own with foil. You can even get crayon-shaped molds on Amazon. Lightly grease the mold you'd like to use.
Pour your melted liquid into the mold and allow it to dry completely. If your liquid has already started to solidify and you notice your mixture is a bit chunky as you pour, you can place your mold in the oven at 350 degrees for a few minutes to allow it to melt again before cooling.
Make sure your mold is oven-safe first! Watch them closely and make sure they don't begin to foam.
Once your crayons have solidified, you can remove them from the mold and begin to use them!
The Best Options
If you haven't quite reached super-parent status yet, or you simply don't have the time to make your own beeswax crayons right now, there are still plenty of options you can purchase. They're all fantastic, but they're all a little different, so it's up to you to decide which you might like the best.
Honeysticks
These handmade beeswax crayons are made from 100% pure New Zealand beeswax. They contain food-grade pigments for color, so they're completely non-toxic and safe for literally anyone. Kids, pets, you name it.
There's no paraffin, no cheap fillers, and nothing unsafe in these crayons at all. As with most beeswax crayons, they also smell really good, so kids get a kick out of using them because they appeal to almost all of the senses at the same time.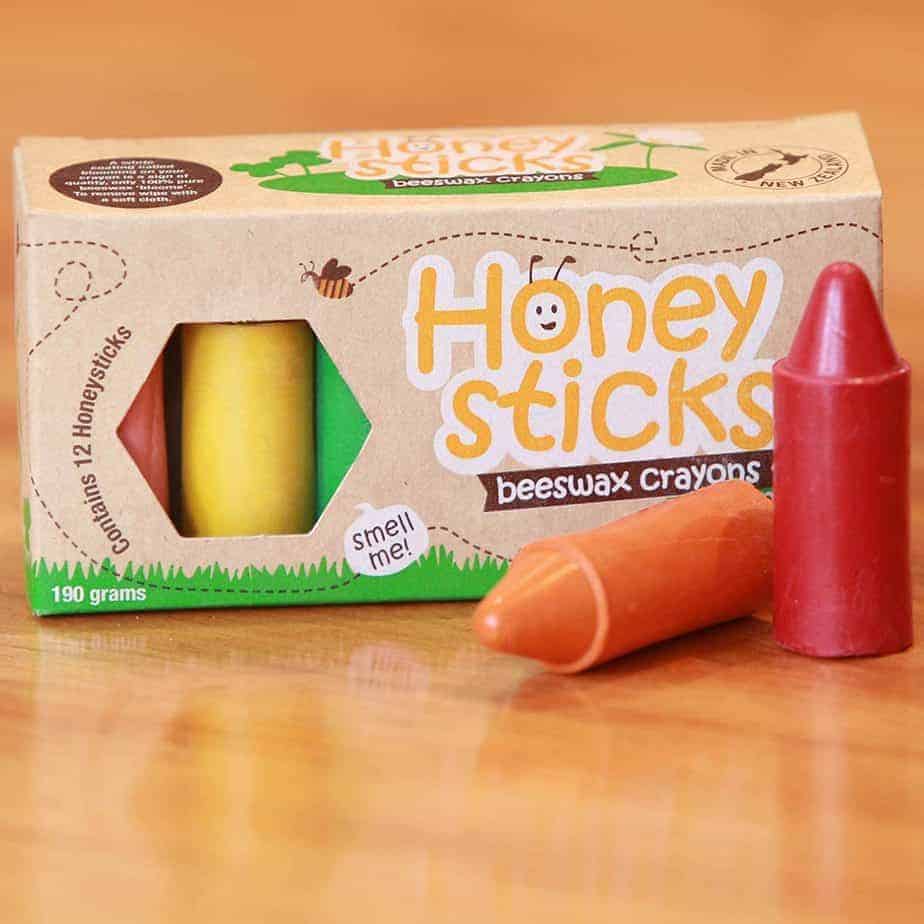 They're made in a durable and ergonomic shape, specifically for little hands, although they're really a joy for anyone to use. They're easy to hold, but hard to break, which will have you sighing with relief.
Because beeswax is a natural byproduct of honey production, these crayons are, of course, sustainable with a low impact on the environment. Even the cardboard packaging is totally recyclable. They come in 12 fun colors and have a money back guarantee.
Pros
Popular, well-known brand
100% beeswax
Food-grade pigments
Sweet smell
Durable
Ergonomic
Eco-friendly
Recyclable
Cons
eco-crayon Sea Rocks
These super adorable beeswax crayons are really original. They're created with all-natural wax and colored with mineral pigments. There are 8 colors in fun natural rock shapes so your child can get creative and feel at one with nature, too.
They're made in the United States with beeswax, camuba wax, and soy wax, so if you're looking for 100% beeswax, it's not here. However, they are made from all-natural ingredients, so they're completely safe for kids and the environment.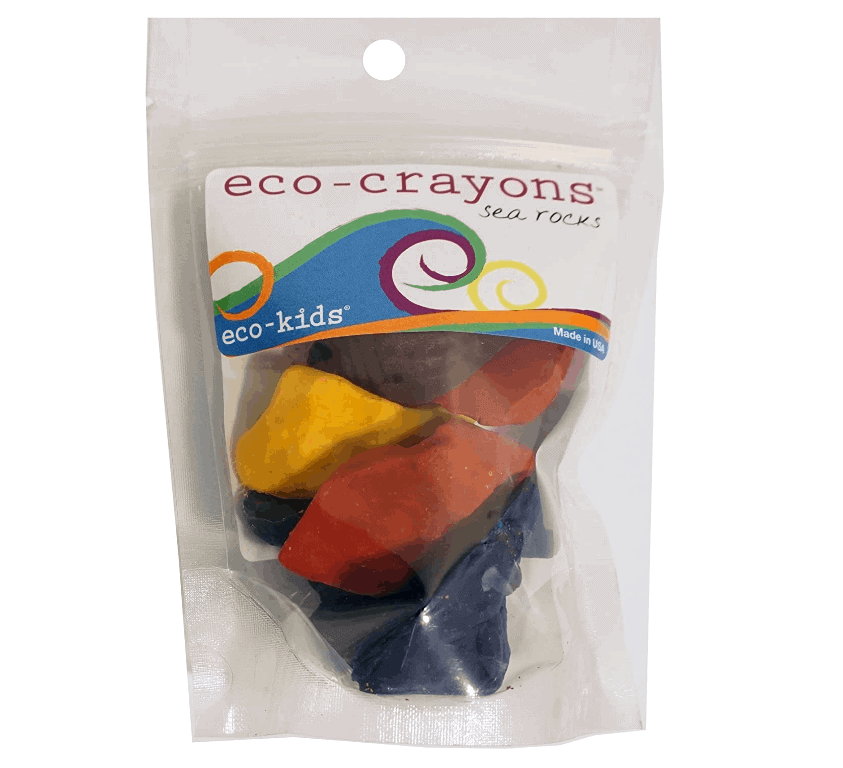 The packaging is printed with soy inks in a wind-powered factory, so you can feel good about the carbon footprint, or lack thereof during production, too.
You'll experience quick shipping and easy returns of unused items within 30 days.
While this doesn't offer the widest range of colors, it's an affordable beeswax option in a unique shape that a lot of kids will love, and it makes a great novelty gift.
Pros
Fun design
All-natural wax ingredients
Made in the US
Eco-friendly
Affordable
Con
Not a wide range of colors
Not 100% beeswax
Brilliant Bee Crayons
These thick, triangular crayons make for an awesome ergonomic fit and you won't experience the frustration of crayons rolling off of the table anymore. The package features 24 vivid colors, but you can also get them in packs of 12.
The really cool thing about these crayons is that they also work on black paper, so you can create truly vibrant artwork in all types of settings. They lay down smoothly for easy use and they're totally versatile.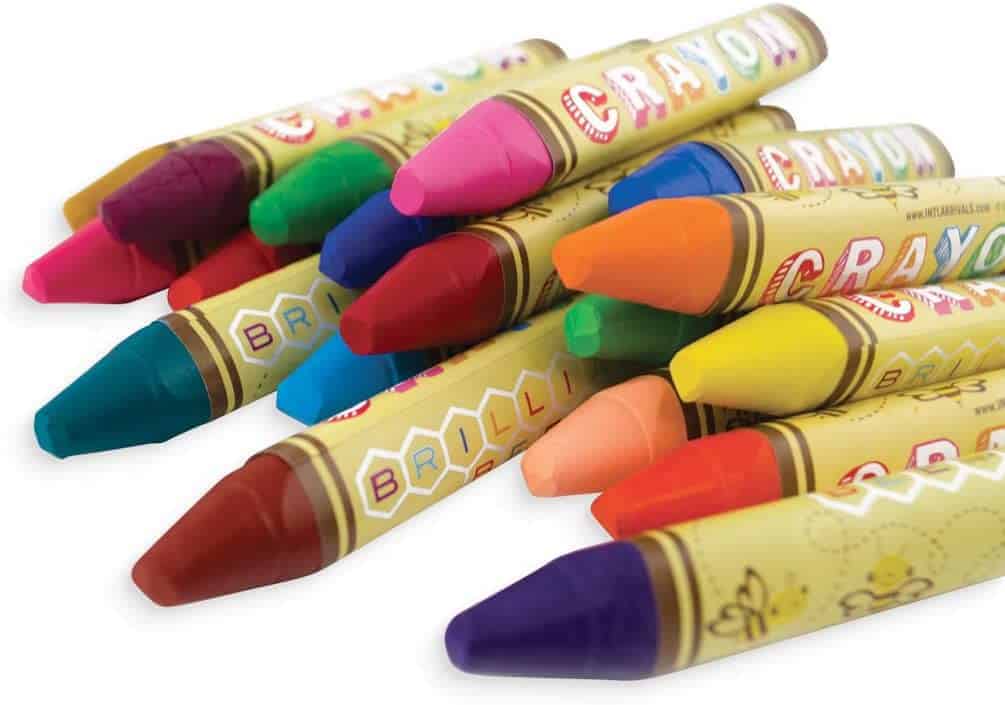 The box contains an insert that makes it easy to pop in and out. It's a portable set so you can take it on the go. Whether it's the park, the doctor, or on vacation, you'll be able to experience the joy of coloring all the time.
The only downside to these cuties is that the crayon wax actually does contain some synthetic ingredients like paraffin and hydrocarbon waxes as well as stearic acid. Brilliant Bee crayon wax contains a mix of talc, hydrogenated palm oil, benzanamine, petrolatum, distillates, hydrotreated light paraffinic, and synthetic coloring, in addition to its beeswax.
Pros
Ergonomic triangular shape won't roll away
24 vivid colors
Works on black paper
Portable
Cons
Not 100% beeswax
Contains synthetic ingredients
Faber-Castell Beeswax Crayons
Faber-Castell makes some of the highest quality art supplies you can find. Even professional artists use their paints, pencils, and crayons. There's no doubt that even their beeswax crayon sets are of superior quality.
While this particular set comes in a storage case with 24 different colors, you can also get them in sets of 12. There's also a coloring bundle that comes with a sharpener and a doodle pad.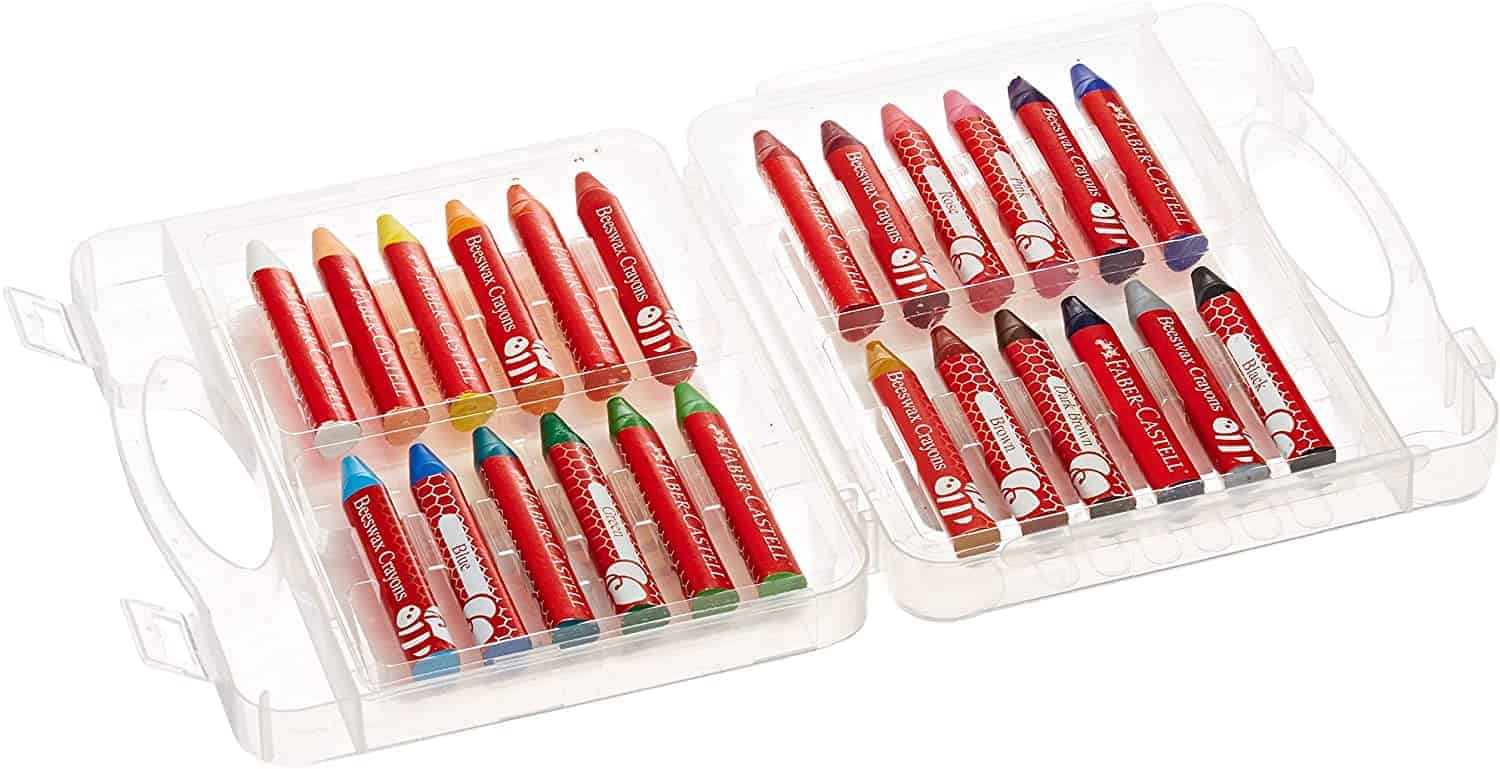 They're triangle shaped, which helps children learn proper grip, they won't roll off the desk, and they're jumbo sized, making them easier for little hands to grip.
The colors are vibrant, and the crayons are versatile enough to work on black paper. They're non-toxic and break-resistant.
The primary complaint with these crayons is that they're not 100% beeswax and they're made in China. The paper sleeves tend to slide as well, making them difficult to use without taking the paper off first.
Pros
High quality
Ergonomic triangle shape won't roll away
Vibrant colors work on black paper
Non-toxic
Break-resistant
Cons
Not 100% beeswax
Made in China
Norman & Jules All of Us Crayons
Norman & Jules made the All of Us crayons for, well, all of us. The set contains beeswax crayons in skin tone colors. How cool is that? They're handcrafted, ergonomic crayons that reflect the diversity of the world we live in.
It's an 8-piece set with multicultural skin tones that were derived from natural pigments, beeswax, and carnuba wax.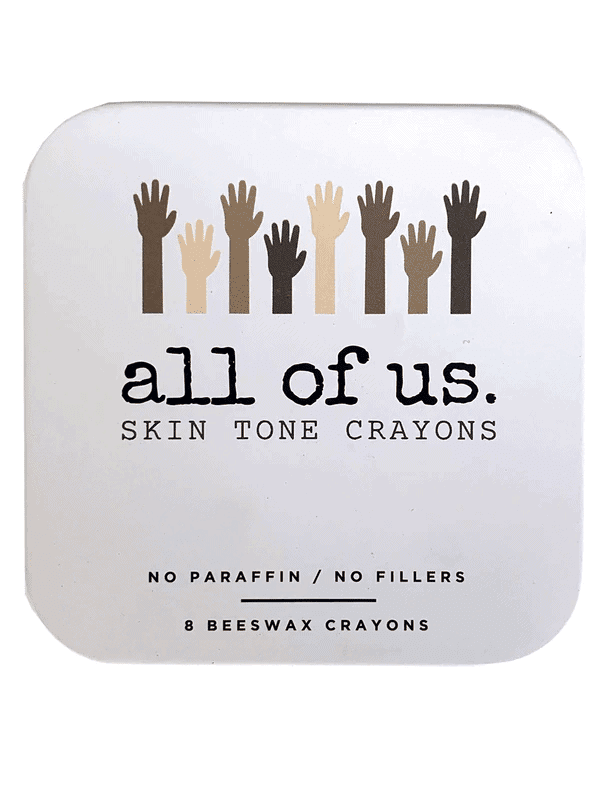 This woman-owned company uses sustainable materials and eco-friendly practices, making their products suitable for all ages. Everything is free of fillers and paraffins.
The set comes in a beautiful tin, packed with a thank you note, a cardboard heart, and 8 triangular-shaped crayons to help with an ergonomic grip and rolling.
Pros
Nifty multi-cultural skintones
Woman-owned company
Comes in a beautiful tin
Handcrafted
Promotes diversity
Ergonomic grip
Cons
It may not be exciting for younger children
Filana Beeswax Block Crayons
These block crayons from bella luna Toys are truly original. They're not circular or triangular like most of the others. They come in blocks. They're really chunky and easy to grab. They lay flat on the table so they're not going anywhere.
They're all-natural, non-toxic, and handmade in the United States. They're made with beeswax and non-toxic pigments. They don't contain any cheap fillers, petroleum, paraffin, or additives. Everything is sustainable.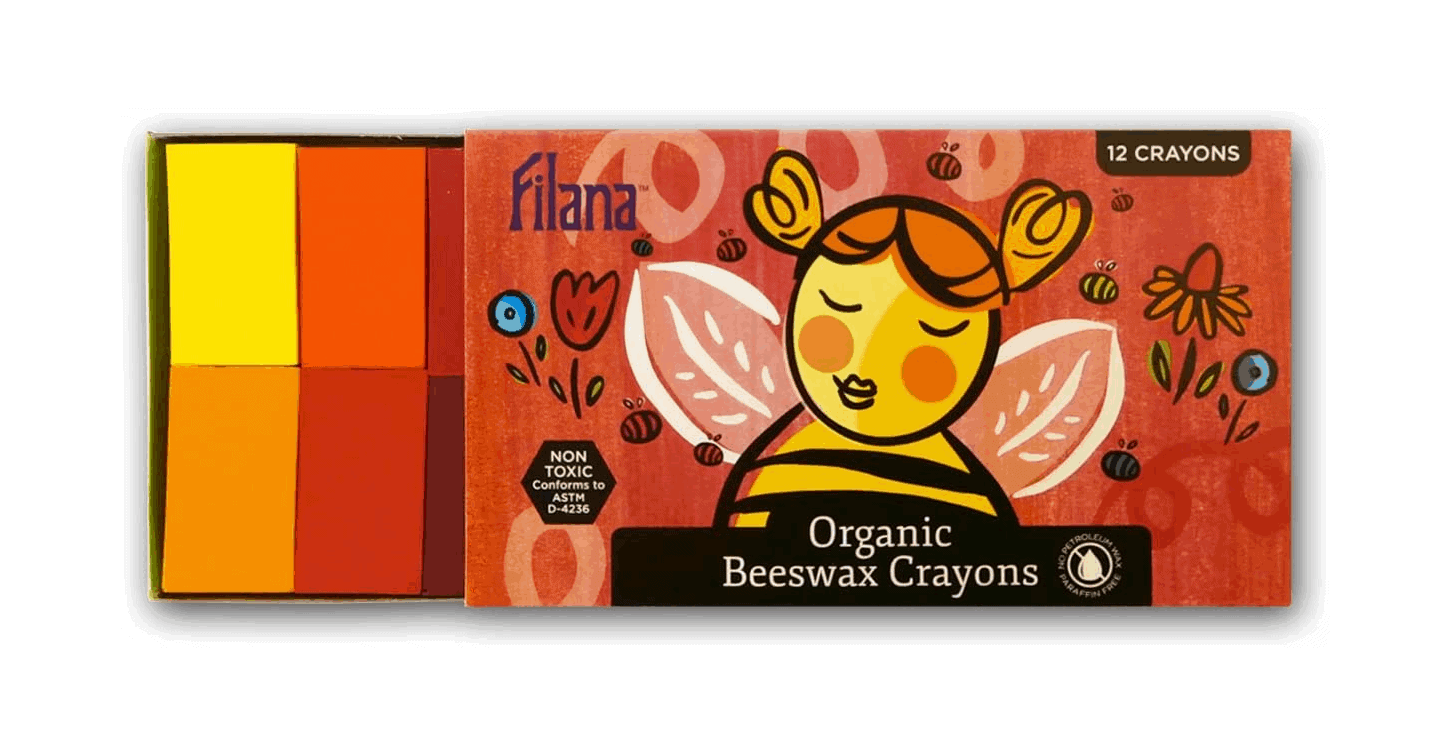 The colors are rich and vibrant and they glide easily across paper. The experience is also unique because of the size and shape. Each color is specially formulated to blend perfectly with the others for excellent shades and art learning.
Pros
Fun block shape
Easy for kids to grab
Lay flat on the table
All-natural and non-toxic
Made in the US
Cons
Stockmar Beeswax Crayons
Stockmar beeswax crayons are made in Germany. They come in sticks and blocks in a variety of assortments. You can get sets of 8, 12, 16, 24, and 32 as well as assortments and combinations of each. You can even get beeswax crayons that are waterproof.
Stockmar is known primarily for vibrant colors, durability, and versatility. The sticks are round and thick, making them easy for young children to grasp. They're great drawing and writing tools.
The blocks feature edges, sides, and corners for creating all sorts of fun details.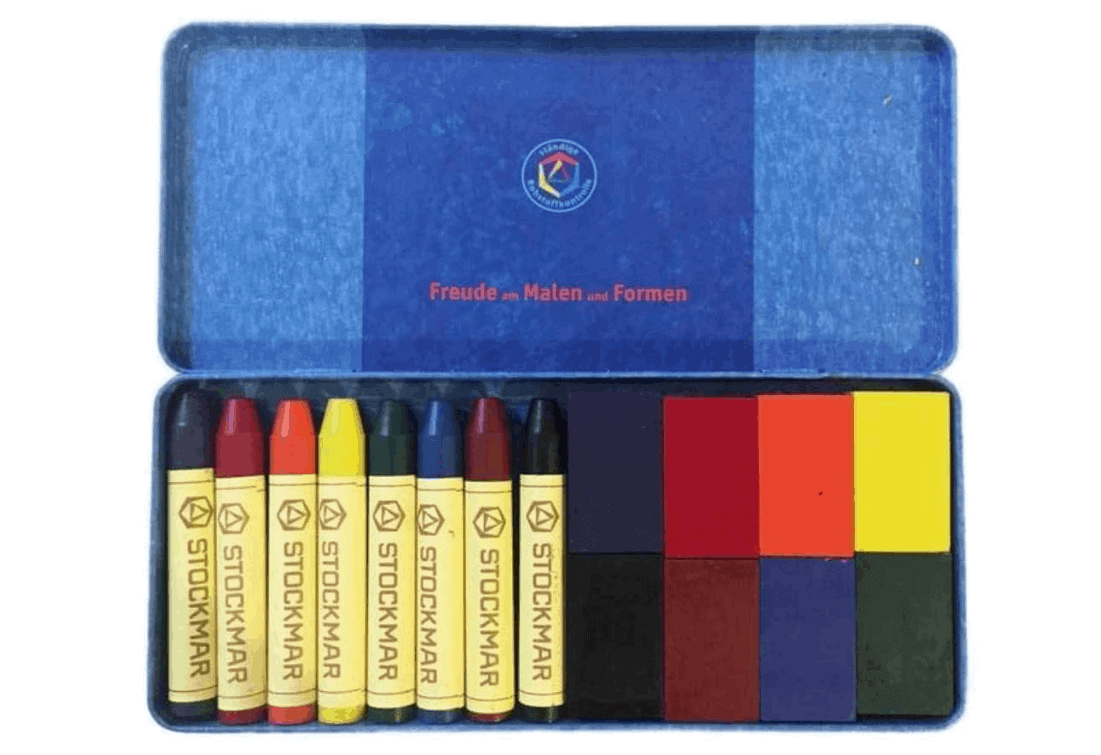 Colors layer nicely together and blend easily, so you can experiment with different types of art and combine the use of both sticks and blocks for different tactile experiences.
All Stockmar beeswax crayons are non-toxic and have a pleasant feel and smell. They won't smudge or crumble.
They come in convenient storage tins for easy cleanup or portability.
Pros
Comes in plenty of color combinations
Known for vibrant colors
Durable and versatile
Comes in blocks and sticks
Layer and blend easily
Cons
Expensive
Smaller than a normal crayon
FAQ
If you're hunting for the best beeswax crayons or you're just learning about them, you may still have some concerns. These frequently asked questions should help you sort out your options and put you on your way to deciding what's best.
Question: Are beeswax crayons safe for babies?
Answer: Beeswax is all natural and non-toxic. If you're shopping for beeswax crayons, it's important to look at the other ingredients as well, but many beeswax crayons contain food grade or 100% natural ingredients.
While you have to evaluate choking hazards and safety concerns when giving anything to a baby, you can rest assured that beeswax crayons like Honesticks are likely safe to give to all ages, including infants, kids, and children.
Question: Are beeswax crayons washable?
Answer: Most of us grew up knowing that Crayola was washable. At least most of the time. However, if you're looking at transitioning to beeswax crayons, this may be at the top of your list of priorities.
After all, if you're giving something to your child, you never know what they're going to do with it. You're going to want to make sure you can get it out of their clothes, the carpet, and everything else it might touch.
It depends on what kind of pigment they're using to dye the beeswax. Honeysticks are completely washable, as is any other beeswax crayon that uses a washable pigment. If you can't find the information you need, reach out to the manufacturer to verify before purchasing.
Question: Why are beeswax crayons better?
Answer: As if it hasn't already been made abundantly clear, there are an infinite number of reasons why beeswax crayons are better than other types of crayons. However, the most important reason is probably safety. They're all-natural and friendly to the environment.
Final Thoughts
If you are looking for a better alternative to traditional crayons, beeswax crayons are definitely the way to go. Honeysticks are highly rated and they make some of the best beeswax crayons you can buy.
My top three personal choices would be Honeysticks for their 100% beeswax and food-grade pigment composition, Faber-Castell for their value, and Stockmar for their high quality and durability.
However, there are plenty of other options out there, so do some research to find what works best for you and your family. If you're up for it, you can even make your own!
Recommended reads: