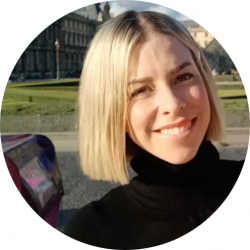 Latest posts by Jodie Chiffey
(see all)
Childhood today is mostly about spending hours in front of digital screens, watching TV, playing video games, and less about doing offline activities. The tech world has its benefits, no doubt, but it also makes children become less aware of their offline environment.
In today's world, encouraging your kid to spend some quality tech-free moments is golden. Arts and crafts represent a great starting point that might interest your little one as long as you show them how much fun they are. One possible solution is to offer your child a knitting kit specially created for kids.
Kids knitting kits will improve your child's creativity as well as other essential skills such as hand-mind coordination and more. Knitting could teach kids important life values like perseverance and patience. Also, it will develop the children's capacity to solve problems, not to mention they will be proud to show the final art piece they've created.
Below, you will discover some of the best kids knitting kits available on the market.
Top 8 Best Knitting Kits Suitable for Kids
With any of the following knitting kits, you can inspire your child to spend less time connected to a screen and more time doing something he or she enjoys that doesn't have anything to do with technology, something that will relax their brain and disconnect their mind.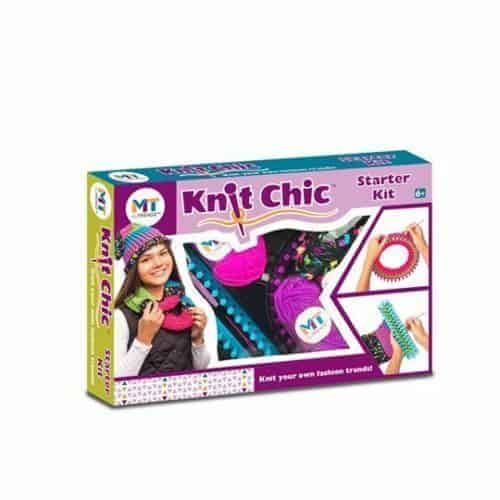 This knitting kit comes with all the things your little one needs to create beautiful scarfs, hats, and other fun accessories. The package features several detailed and clear instructions and the Knit Chic Deluxe Kit is the ideal gift for children who're willing to learn a new skill and create eye-catchy knitted projects.
The Knit Chic Deluxe Kit contains the following items:
5 yarns in vibrant colors;
Step-by-step instructions;
Both circular and rectangular looms;
A knitting hook made of sturdy materials that features a metal tip.
Pros
It has two types of looms: rectangular and large circular ones;
It is a great gift idea for kids because it's easy to use;
This knitting kit is an amazing choice for knitting flat items such as scarves but also for circular patterns like small bags or beanies;
It will help your little one gain confidence in his or her abilities by creating simple yet appealing products.
Cons
Younger kids might need assistance and help during the first few times they try this knitting kit.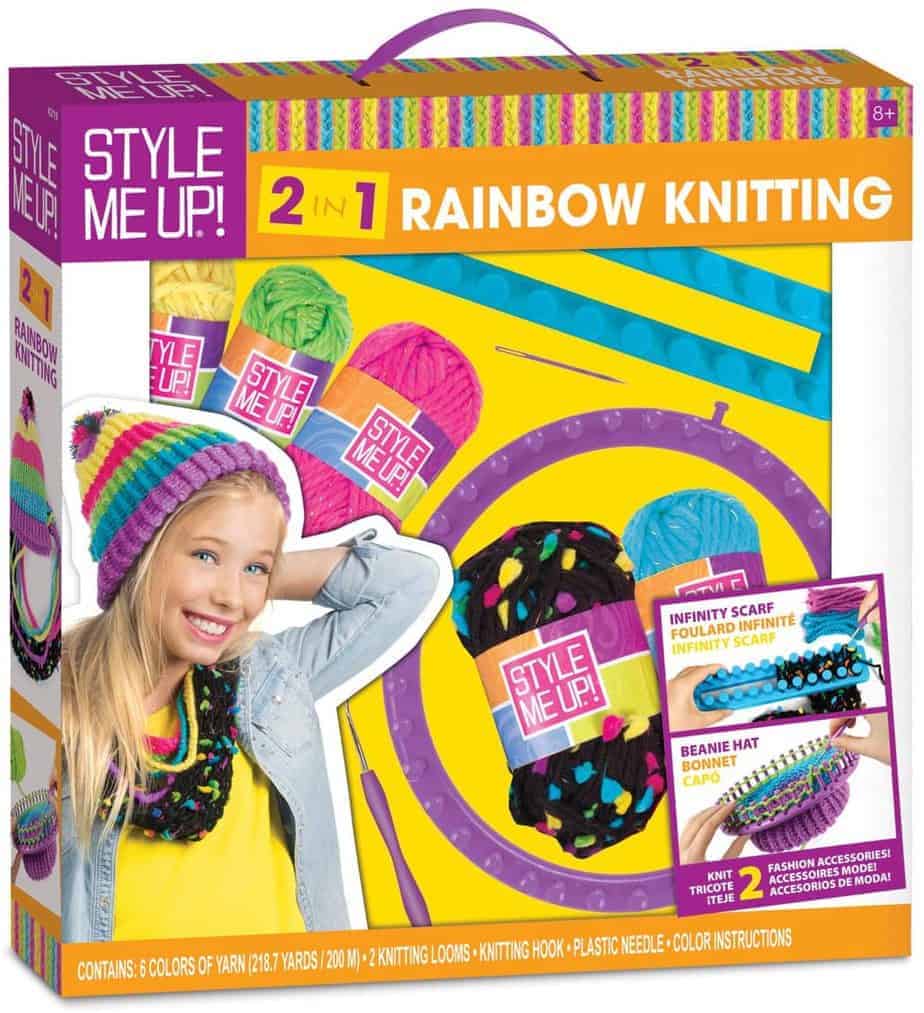 This knitting kit is amazing for when you want to teach your child the proper yet fun way to create infinity scarves or beanie hats. Once your child finishes the yarn that comes in the package, you should think about purchasing a special type of yarn that's machine-washable.
The Style Me Up! Kit consists of the following items:
6 colors of yarn;
One kitting hook;
Detailed instructions;
Two knitting looms;
One plastic needle.
Pros
The items are made of good-quality materials;
It comes with both circular and rectangular looms that allow your child to create different patterns;
The instructions are easy to follow by everyone, including children;
The knitting hook features a sturdy metal tip.
Cons
The plastic needle might break after a while; after all, plastic isn't a material that's supposed to last forever.
3. Quick Knit Loom by Creativity for Kids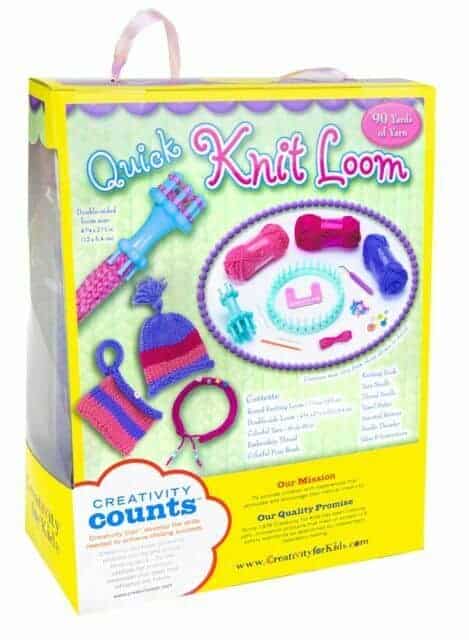 This product comes with a knitting look that's very easy to use in order to encourage children's creativity as well as their imagination. It allows your little one to create a wide range of products, from scarves and hats to purses and other items. This kit is suitable for kids who are at least 7 years old.
This Quick Knit Loom kit contains the following tools:
One handloom;
Three assorted needles;
Detailed instructions;
No less than 90 different yarns;
One circular loom;
Assorted beads and buttons.
Pros
At first, your kid might need help with it but after a while, it will be fun and easy to create products and complete fun knitting projects;
The package contains numerous accessories and items;
Compared to other similar kits, this one offers significantly more yarn;
The circular loom is large and spacious.
Cons
It won't be easy to get started so you may need to help your child at first.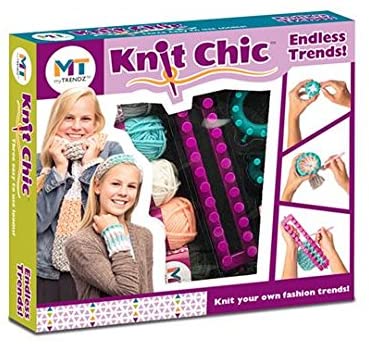 This knitting kit marketed by myTrendz will teach children the proper way to make a bunch of cool accessories like regular and infinity scarves, ponytail holders, wrist warmers, headbands, and many other items.
The Knit Chic Endless Trends Kit contains:
One rectangular knitting loom;
5 catchy and trendy colors;
Detailed instructions that are easy to follow;
Two smaller round-shaped knitting looms;
One knitting hook that features a durable metal tip.
Pros
It is an excellent gift for your little one because it's fun and easy to use;
The provided guidelines are clear and they're also easy to understand;
Your little one will be able to create both circular and flat designs;
It enables you to spend some quality time with your little girl and teach her a new valuable skill at the same time.
Cons
The yarn will end pretty soon so, you will eventually have to purchase more.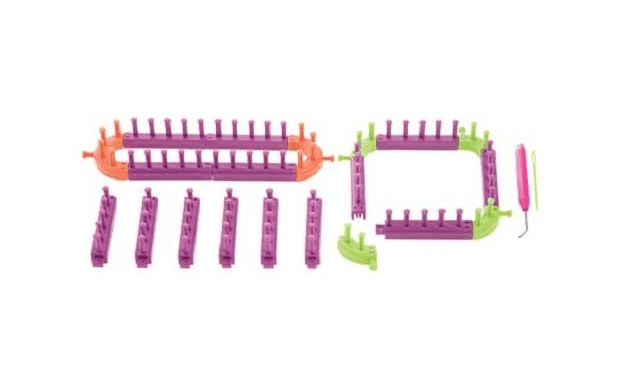 This knitting kit is great for both children and beginners and comes with four different round-shaped knitting looms. Although they're made of plastic, the materials are sturdy and the elements are fun due to their bright neon colors.
The Darice knitting kit contains the following elements:
A set of four knitting looms that are the same shape but different sizes: the smallest measures 5½ inches while the largest loom is 11 inches;
One looming hook;
One plastic needle;
An instruction sheet with guidelines on how to create a hat;
A clear plastic carrying case.
Pros
This kit is fun and engaging due to its vibrant colors and interesting accessories;
It is highly versatile and portable due to its carrying case;
The instructions are straightforward and your child will easily understand them;
The looms are bright colored and appealing;
This kit is suitable for both kids and beginner adults who want to learn how to knit;
It is made of durable materials.
Cons
There are instructions only for how to make a hat without other details on how to create different types of items;
Fiber isn't included so you'll need to purchase it separately.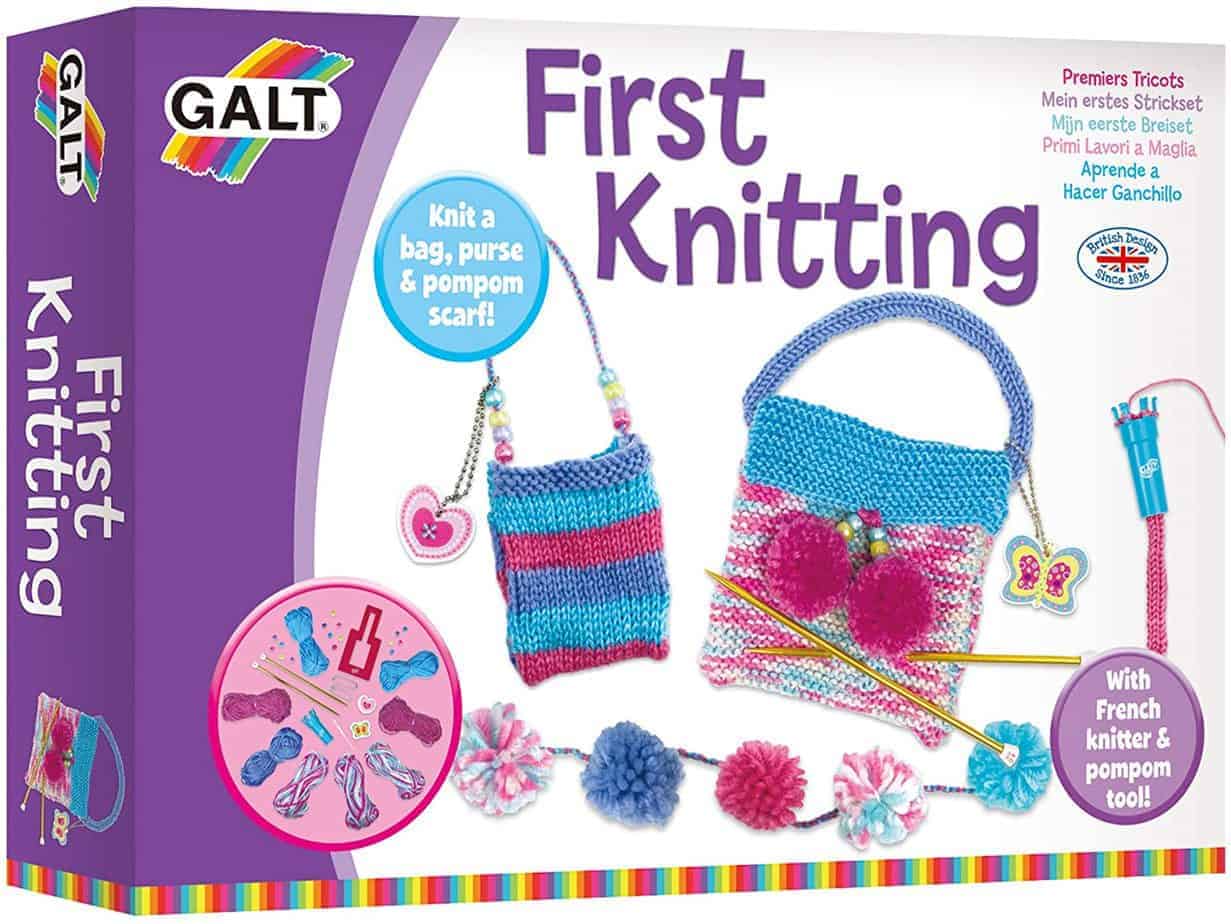 With the Galt knitting kit, your daughter can create bags, pompom scarves, purses, and so much more. It contains a pompom tool and a French knitter. This product is suitable for children who are at least 6 years old. They will acquire a new skill by working with real knitting needles.
The First Knitting Kit contains the following items:
Two yarn balls in assorted colors;
One French knitter;
Two knitting needles;
Beads;
An instruction guide;
A bodkin;
Two foam charms.
Pros
It is a safe and high-quality product that's great for your child;
Most reviews are positive and clients say that their children or grandkids enjoyed playing with the kit very much;
The tools are small enough to fit in the hands of a child.
Cons
It seems that the package is a tad smaller than most buyers expect it to be;
The instructions might be a tad difficult to follow for some kids so you will need to assist your child at first until she gets the hang of it.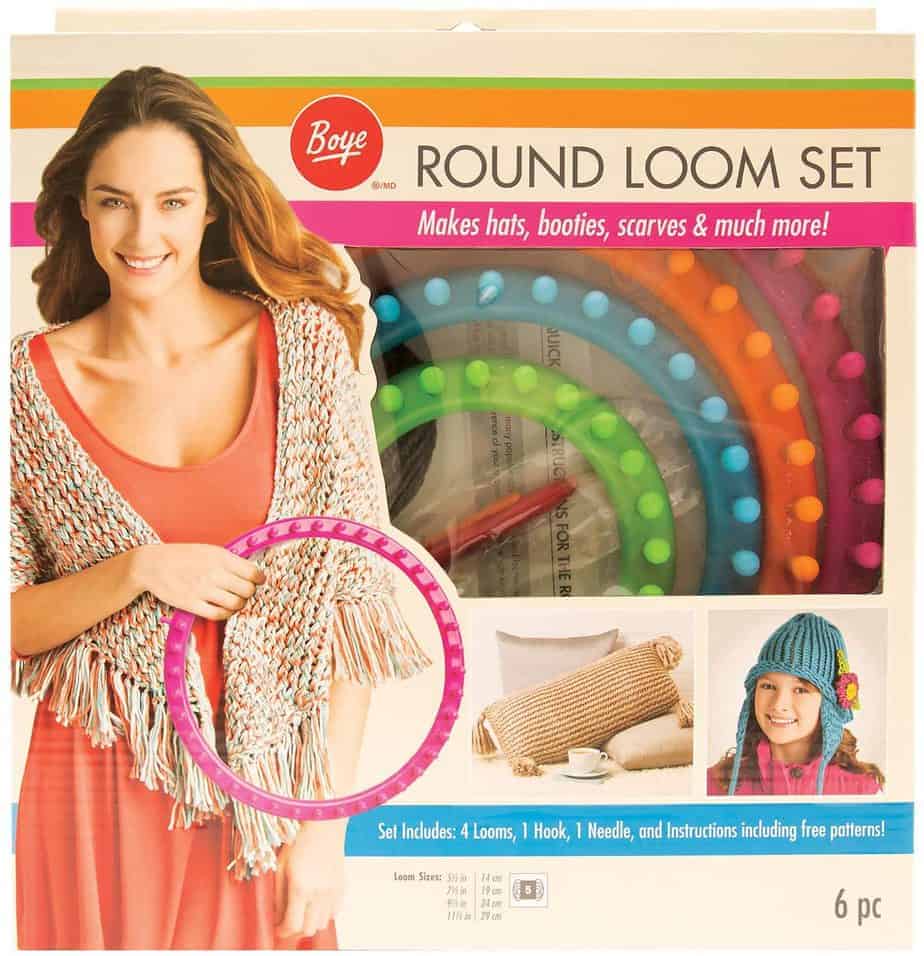 With this Boye knitting set, you can make scarves, hats, bags, and more. It contains multiple round and multicolored knitting looms that measure between 5.5 and 11.5 inches. This product represents a simple yet fun way to create a bunch of cool accessories without using needles.
The Boye Round Loom set consists of the elements listed below:
Four different looms, each one with its own number of pegs that ranges between 24 and 40;
A knitting needles;
One knitting hook;
A set of guidelines and instructions;
One pattern that helps users create a basic hat model.
Pros
It is a highly versatile and portable knitting kit that's suitable for beginners and older children;
It allows users to create a wide range of fun projects and accessories, from hats to purses and more;
This kit is safe to use.
Cons
The pegs feature slits that could make the process of grabbing the yarn's loop with the hook a bit tricky. These slits take the yarn right under the peg's head;
This kit won't work with lace weight yarns.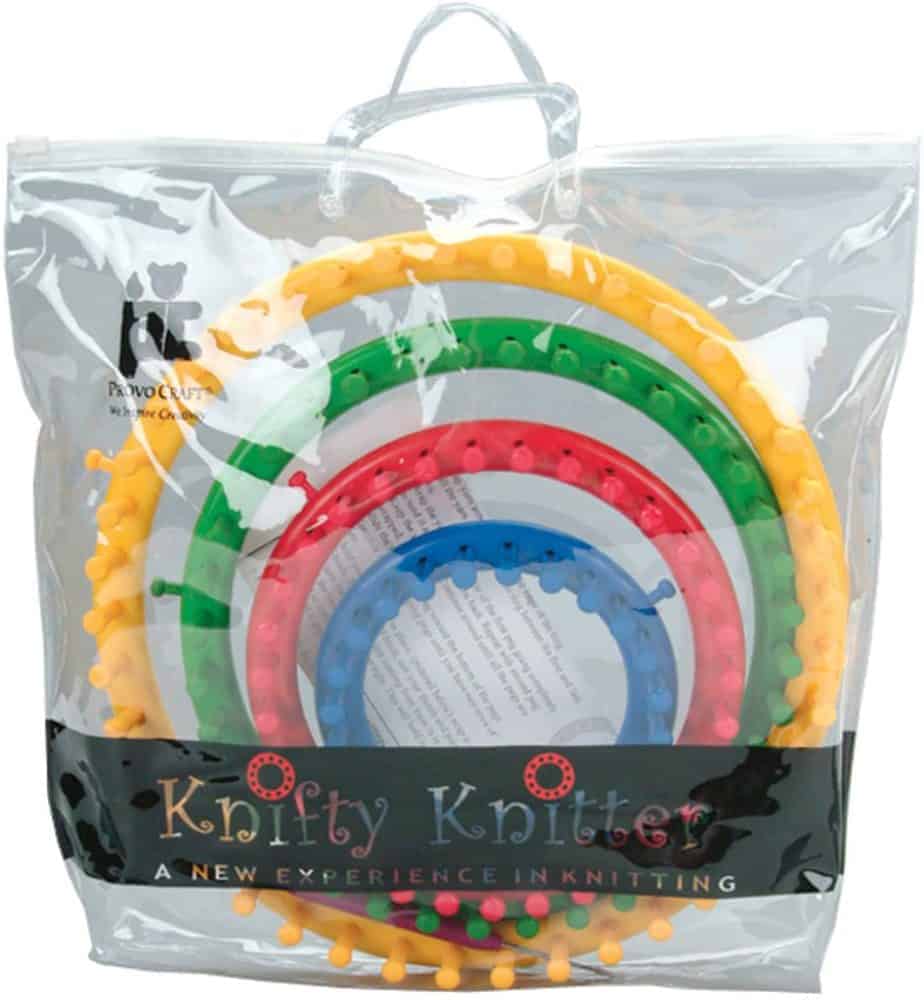 This knitting set contains no less than four different looms: from small all the way to extra-large. All the accessories included in the kit are placed inside a see-through carrying tote bag. It is a fun way to engage your daughter in an educational offline activity.
The Knifty Knitter set comes with the items listed below:
A board;
One crochet hook;
A knitting hook;
Four round looms;
A reference guide with several patterns that will show you how to make hats, scarves, washcloths, and baby blankets.
Pros
The looms are the perfect size to create fun hats and beautiful scarves;
This kit has a compact size which is why it's the ideal travel-friendly knitting set;
The instructions are easy to follow and they are accompanied by many colorful illustrations.
Cons
It has a limited usage; you cannot make something different than simple hats or small scarves;
You may need to watch some YouTube tutorials because certain instructions are pretty confusing.
FAQs
Question: Why Should You Offer Your Kid a Knitting Kit as a Gift?
Answer: Knitting kits are the perfect way to teach your little one new skill and encourage him or her to stay away from the TV or computer for a while. Kits come with all the things you need to create beautiful patterns. Here are the main benefits of purchasing a knitting set:
– It saves you a lot of time because all the tools are ready to use;
– It isn't a complicated activity; in fact, it's relaxing and fun;
– You can create a wide range of projects in a short period;
– The patterns that come with the kits feature simple techniques.
Question: What Aspects Should You Consider When Buying a Knitting Kit?
Answer: There are three important things you should take into consideration when purchasing a knitting set for your kid:
– Make sure the kit has high-quality needles that won't break easily;
– The yarn should also be of good quality material;
– The kit should come with clear instructions and easy-to-follow guidelines.
Question: Could a Young Child of Only 5 Years Old Knit?
Answer: It depends on the child. Does the child have the right abilities? Does he or she like or enjoy this type of activity? Are the parents willing to spend as much time as needed to teach their kids how to knit using, of course, safe knitting kits that are proper for children?
However, most kids that young lack strong hand-eye coordination and they also have a very low attention span so the learning process might be tricky at first. 7-year-old girls though might find more satisfaction in knitting and learning how to create cute hats and purses.
Question: What Are the Best Knitting Kits Suitable for Beginners?
Answer: There are many available options on the market:
– Alex DIY Knit Kit – besides allowing your kid to knit, this set will also enable him or her to stitch. It's a great idea for parties and gatherings. It includes beads, knitting needles, yarn, crochet hooks, a thimble, and even an embroidery hoop;
– Knit's Cool Knitting Studio – this is a great knitting kit that comes with everything your kid needs to create appealing patterns. It's suitable for beginners, older kids, and even adults. If your daughter is already 9 years old, you can include this product on the Christmas gift list;
– Knitting Kit by Make It Real – with this knitting set for kids, you can create cozy gloves that will keep your hands warm and beanie bun hats. It develops one's hand-eye coordination and brings plenty of fun and entertainment.
The Best Kids Knitting Kits – Final Thoughts
All the above knitting kits for kids are great gift ideas because they will help your child develop a new skill as well as offering some other important benefits such as improving hand-eye coordination. Knitting is an activity that requires patience and perseverance both of which are essential values for when your little ones will become independent adults.
If I were you, I would choose a kit that contains a higher number of accessories and patterns as well as one that comes with instructions guides.
Recommended reads: