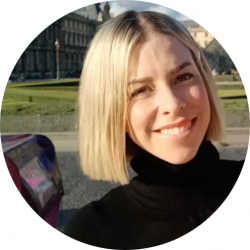 Latest posts by Jodie Chiffey
(see all)
Some of the best wooden pirate ships on the market can boost your children's imagination and inspire them to be more creative. Most parents like to run a tight ship (excuse the pun), while few prefer to run a pirate ship full of daring adventures and occasional mutinies.
The epic adventures of Captain Jack Sparrow or the infamous Captain Hook from the tale of Peter Pan can serve as a basis on which your children build up their play with wooden pirate ships.
Besides providing the platform on which your kids can develop their fantasy worlds, wooden pirate ships don't have sharp parts which makes them perfectly safe for children of all ages.
We've selected ten of the best wooden pirate ships that are a perfect Christmas or birthday gift for your child regardless of their age.
What are the most popular brands of wooden pirate ships?
All major toy brands offer pirate-themed toys that range from treasure chests and monoculars to pirate ships. However, you should keep in mind that the majority of products offered by companies like Lego or Playmobile are made of plastic.
So, if you want to get a wooden pirate ship for your child you should check out the toy produced by Hampton Nautical or KidKraft. Moreover, manufacturers like Little Tikes, Fischer-Price or Imaginenext also offer skillfully crafted wooden pirate ship toys.
There are thousands of relatively small and unknown brands that produce handmade wooden pirate ships, and either of them can be a great alternative to the toys offered by the industry's leading brands.
The most common types of pirate ship toys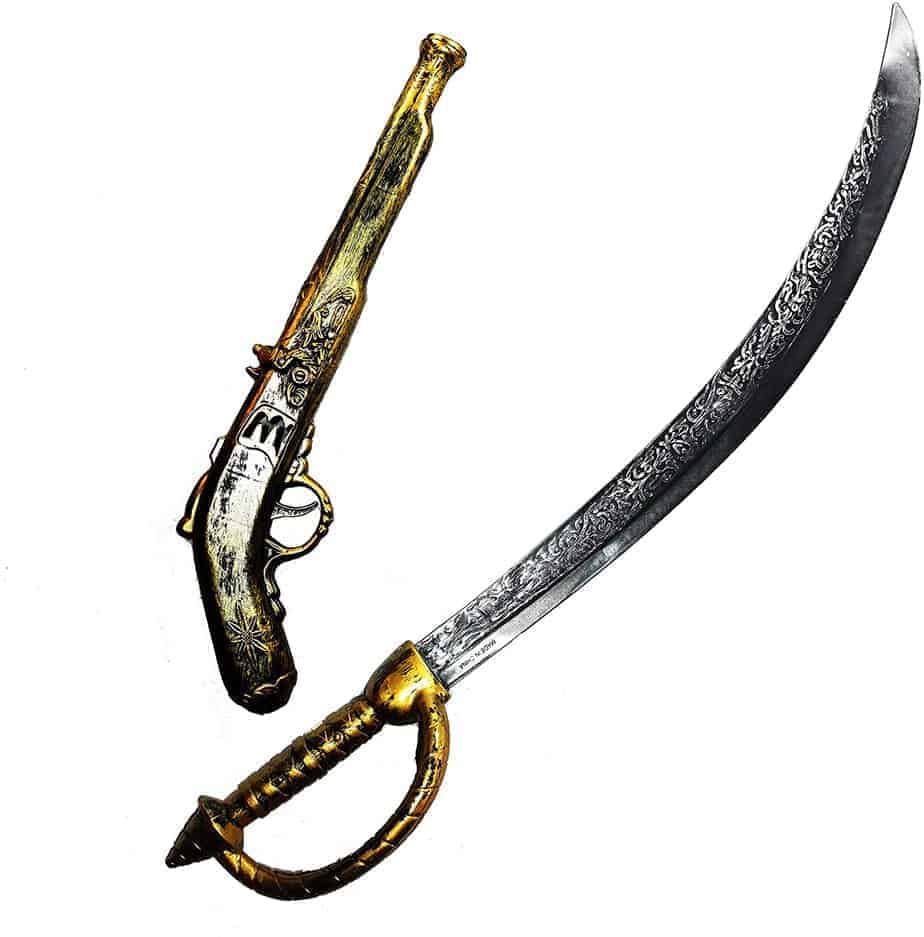 The world of pirate toys is wonderfully diverse and it extends well beyond the wooden ships and associated accessories. Getting a ride-on toy or pirate sword and a pistol can make your child's world richer and more cheerful.
Pirate ship toys come in a broad range of shapes and sizes, so a wooden pirate ship is far from being your only option. Let's take a closer look at the most common types of pirate ship toys.
Model kits
This is a perfect present for children aged between 7 and 14 years old, as model kits require a developed set of problem-solving skills. Assembling an entire pirate ship can be a challenging task for toddlers, although playing with such a kit can help a child develop faster.
Once a model kit is assembled your children can display it in their room or use it while playing with their friends.
Building kits
In addition to being easier to put together, building sets are also more entertaining to play with. They come with a set of instructions that are easy to follow and help the child develop hand-eye coordination or motor skills.
These sets often include figurines that make it easier for a child to become immersed in the world of pirates and daring sea adventures.
Wooden ships
The material from which the toy is built can make a lot of difference since many of the plastic pirate ship models lack the attention to detail you can find on wooden versions of these toys.
Moreover, wooden pirate ships look representative and they can fit nicely into your home decoration plans, whether in your child's room or the living room.
Water tables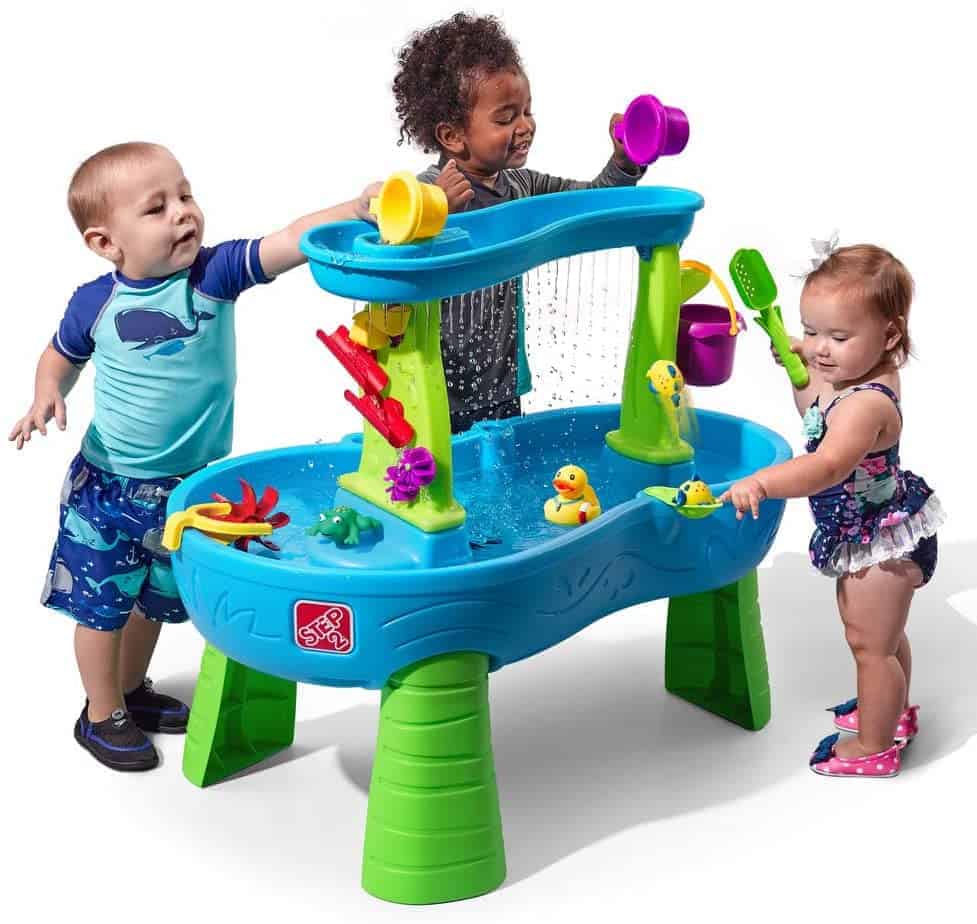 Even though they are not a pirate-themed toy, water tables compliment wooden pirate ships perfectly, as they provide children with the space they can use to play with the toy.
Water tables come in many different shapes and sizes, but they are usually designed for toddlers between 1 and 3 years of age.
Ride-on toys
A pair of wheels or a remote control function can make a pirate ship toy more dynamic. Wooden ships equipped with wheels can help toddlers overcome any balance related issues by prompting them to be more active while they are playing.
Moreover, ride-on toys open up a sea of opportunities for your child to get creative while they are playing.
Aspects you need to consider when buying a wooden pirate ship
Picking a perfect toy for your kid isn't always easy since sometimes they may not find it too interesting or entertaining. A wooden pirate ship can be a great present for any child regardless of their age, but more complex sets that contain a lot of pieces may not be a safe choice for children younger than 7 years old.
Here are some of the aspects you need to consider while choosing a wooden pirate ship for your child.
Child's age
Manufacturers usually specify the age group for which the toy is designed. So, if you are considering a particular wooden pirate ship model you should check the recommended age group to make sure that it is suited for your child.
Even though most wooden pirate ships don't require assembly, some kits and sets have to be put together before they can be used. That makes them a poor choice for toddlers that still don't have the ability to follow the assembly instructions.
The number of available features
Firing cannons, side wheels, or handmade sails are some of the features that a wooden pirate ship can offer.
Opting for a toy that doesn't come with different accessories and figurines your children can play with will make it more difficult for them to become fully immersed in the pirate world.
It is also worth noting that small accessories of a wooden pirate ship can pose a danger of choking if a child attempts to swallow them, which is the reason why you must pay close attention to all the parts that can potentially put your child's life in danger.
The 10 best wooden pirate ships
In addition to being a perfect play companion, a wooden pirate ship can also help develop a child's motor skills, their cognitive and problem-solving abilities or encourage their imagination.
We've selected some of the best wooden pirate ships your children are going to remember long after they stop playing with them, so let's take a look at what makes these toys so special.
Blue Panda Pirate Ship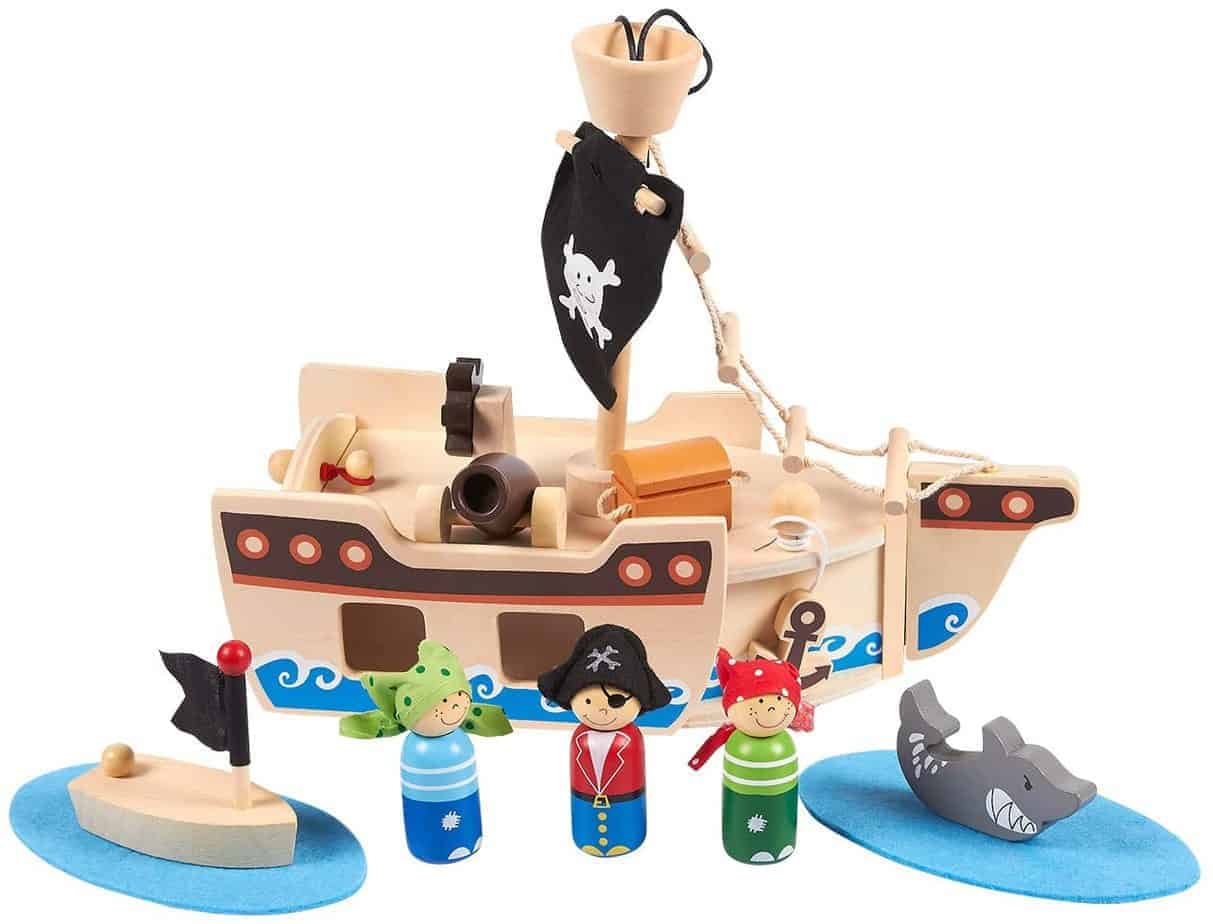 This kit contains 11 pieces, and besides the pirate ship, your child will be able to play with three wooden pirate figures, an artillery cannon, a treasure chest, and a toy shark. The wooden pirate ship contains the mast with rudder and sail, while the kit also features two felt water patches.
The Blue Panda Pirate ship weighs just 1.76 pounds and its dimensions are 12.9 x 5.6 x 4.4 inches, which makes this toy suitable for all children older than 3 years of age.
Pros
No assembly required
A great present for boys and girls alike
Contains 11 pieces that complement the wooden pirate ship
Sparks creativity
Cons
Some parts of the set may not be durable
Only suitable for toddlers
Ealing Wooden Pirate Ship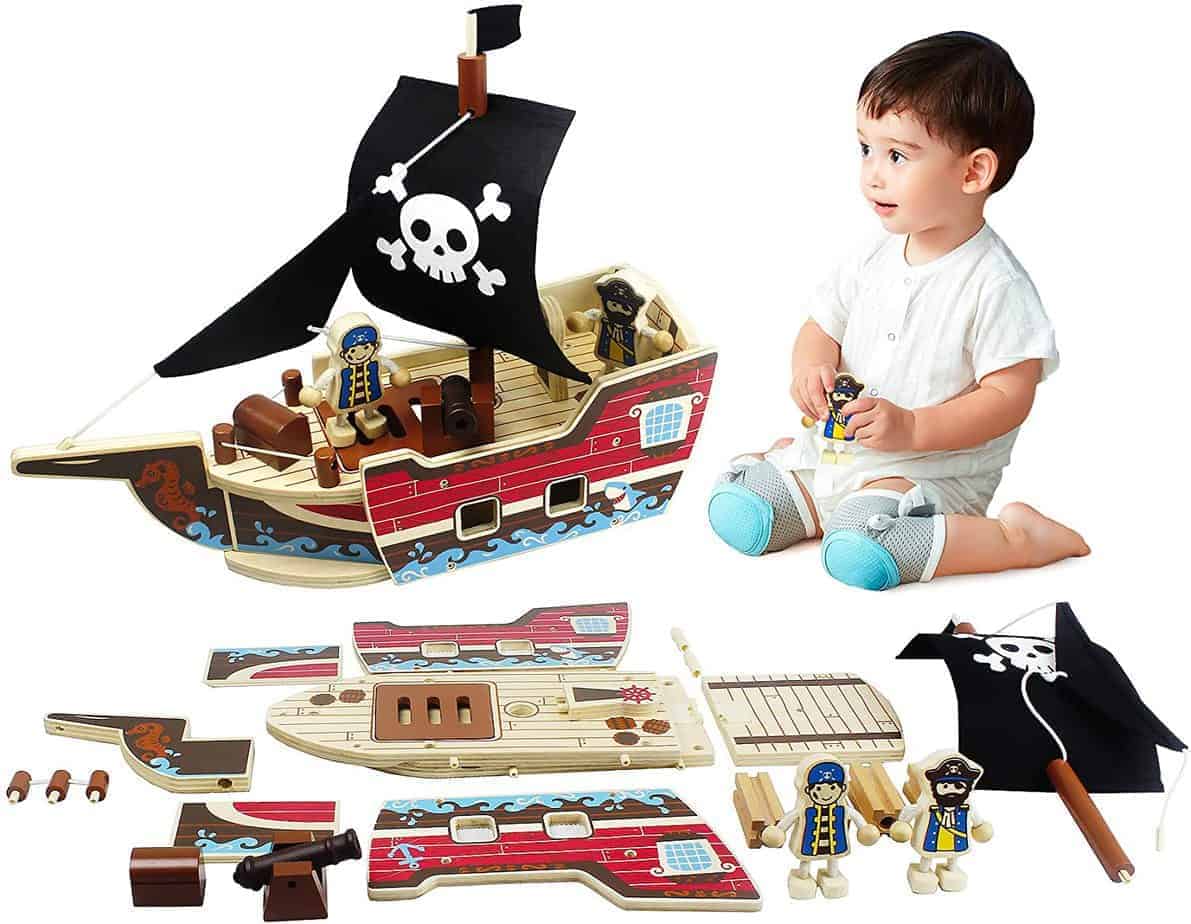 This pirate ship foster's the child's creativity and encourages it to develop an adventurous spirit. The model comes with two figures that can easily become the main characters of your child's play and it features accessories like a cannon and Jolly Roger sails.
However, the Ealing Wooden Pirate Ship must be assembled before your child can start playing with it. The ship's mast can be opened and it provides enough space to store the ship's spare parts.
Pros
This toy comes with additional accessories
You child can use it to play alone or with a group of friends
Built from water-painted wood
Comes with spare parts
Cons
The assembly process can be too complicated for a three-year-old
Not designed to be used on water
KidKraft Adventure Bound Wooden Pirate Ship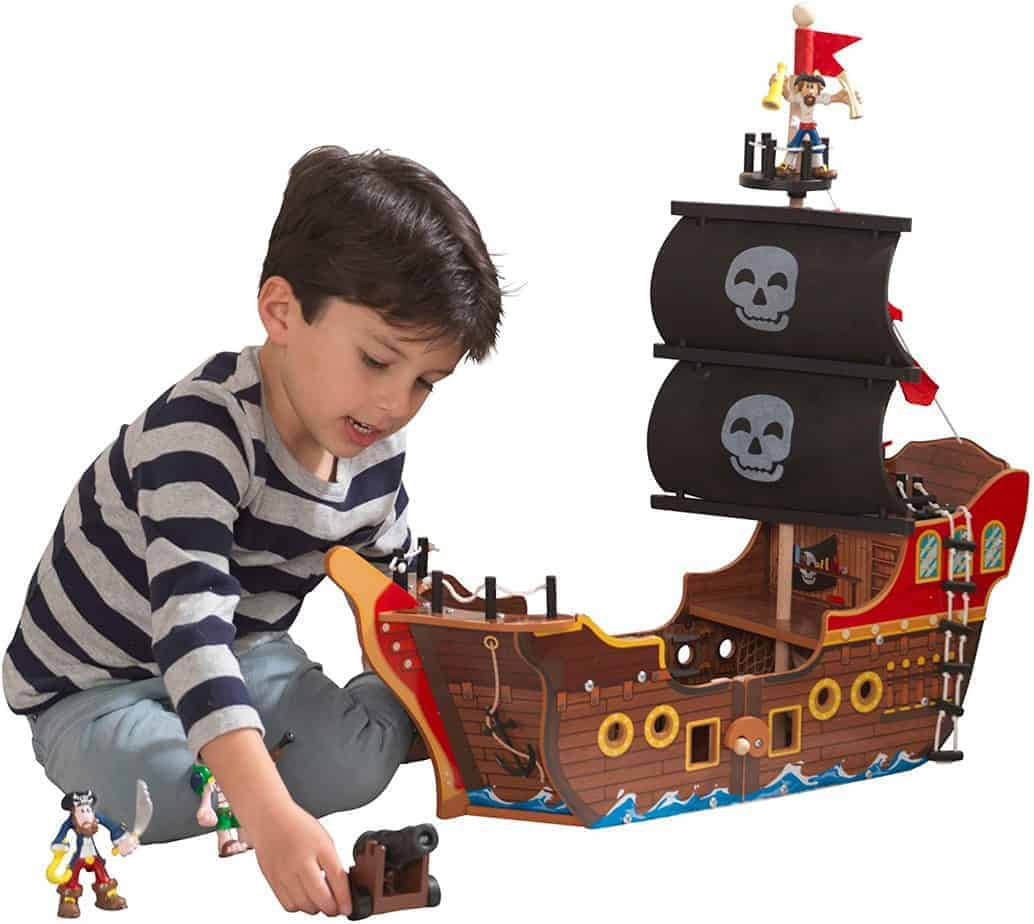 Unlocking the center of the toy, unhinges the ship and enables the child to gain access to the ship's interior. This adventure-bound pirate ship is built from high-quality wood and is uneasily damaged. The ship comes with a crew of three pirates, while it is also equipped with different accessories.
The cannons light up and make sounds when they fire, while treasure chests and barrels make it easier for your child to embark on an imaginary adventure.
Pros
The ship comes already assembled
Features two sails with skull prints
Cannons create audio-visual effects
Contains 8 pieces
Cons
More expensive than similar toys
Doesn't have a remote control option
Playmobile Pirate Raiders Ship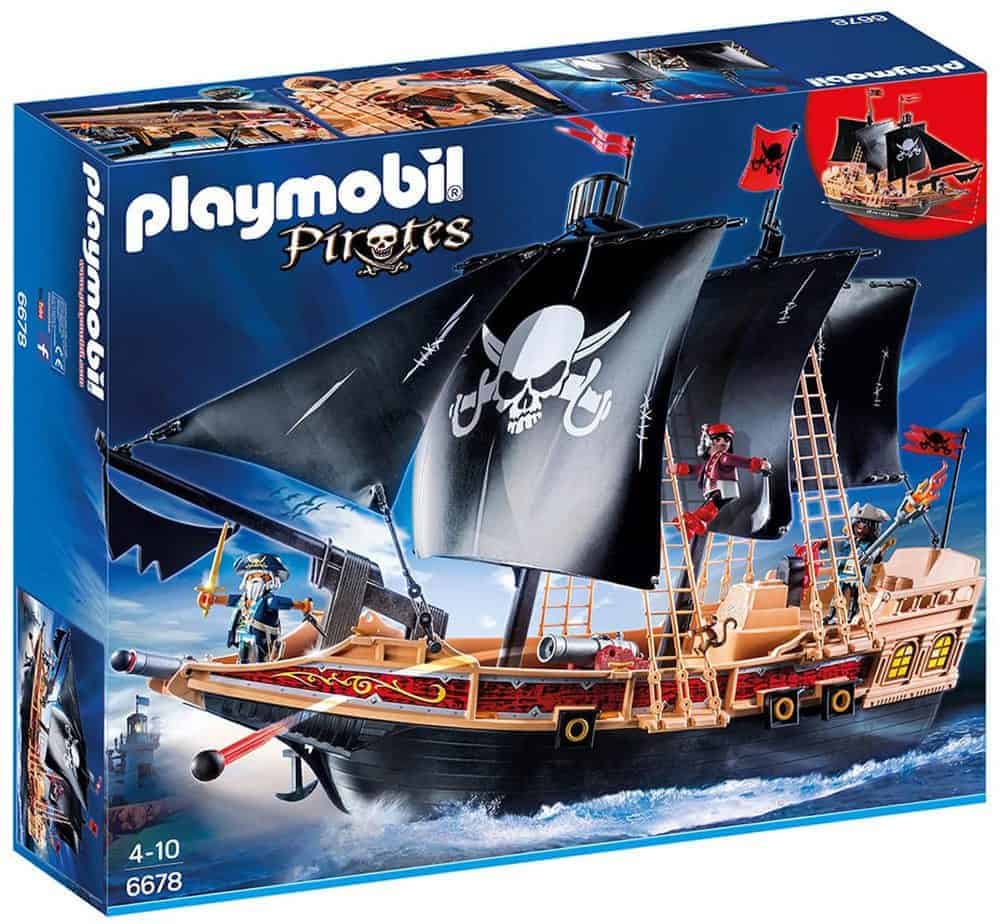 Three Jolly Roger sails and a wide range of accessories make this Playmobile's set a great gift for kids that love to go on adventures.
The Pirate Raiders Ship enables your child to play in a group or alone as it comes with cannons, swords, and other accessories that make the pirate fantasy more realistic. Even though it is larger than similar wooden pirate ships, this toy weighs just 2 pounds.
Pros
Provides a perfect background for a creative pirate adventure
Figures ensure an immersive play
Built from durable materials
Suitable for play dates
Cons
The toy doesn't have the remote control option
Not designed for use in water
3D Wooden Jigsaw Puzzle Pirate Ship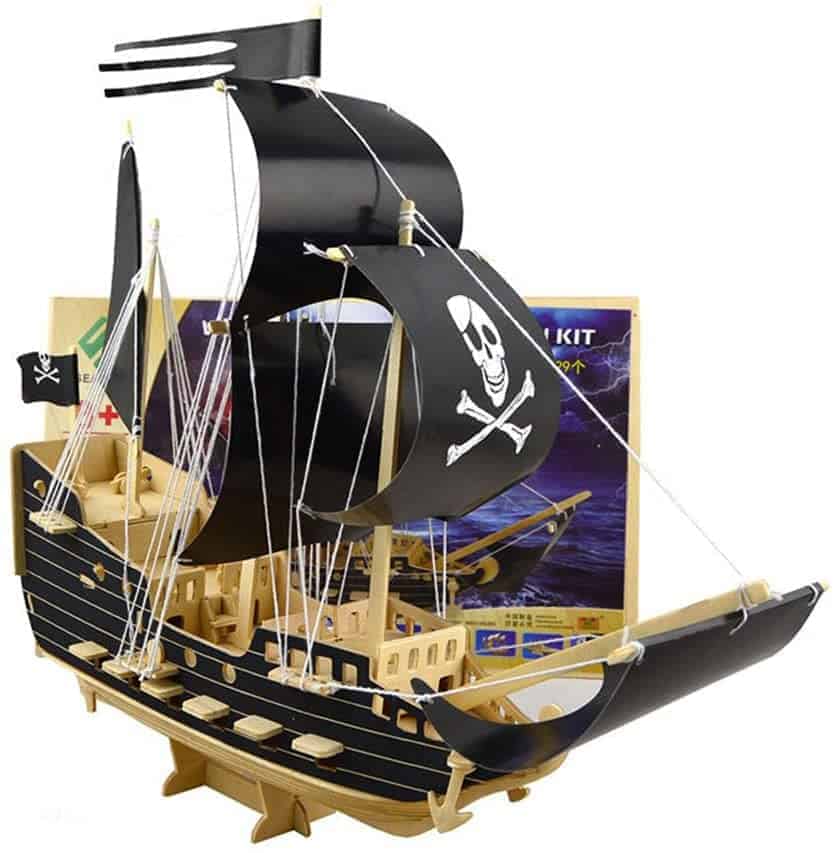 This puzzle ship can help develop your child's problem-solving capabilities, as it is designed to familiarize children with the process of building a wooden ship. The 3D wooden jigsaw puzzle contains 129 uniquely designed components that fit perfectly to create a realistic replica of a pirate ship.
Although aimed at children aged between 8 and 12, kids aged 6 or younger can play with the toy under the supervision of their parents.
Pros
Each component is cut with great precision
Encourages children to develop their problem-solving skills
A beautiful decorative element in any room
Comes with a detailed set of instructions
Cons
This wooden jigsaw puzzle doesn't contain any accessories
Small components can pose a choking hazard
Chesapeake Bay Wood Pirate Ship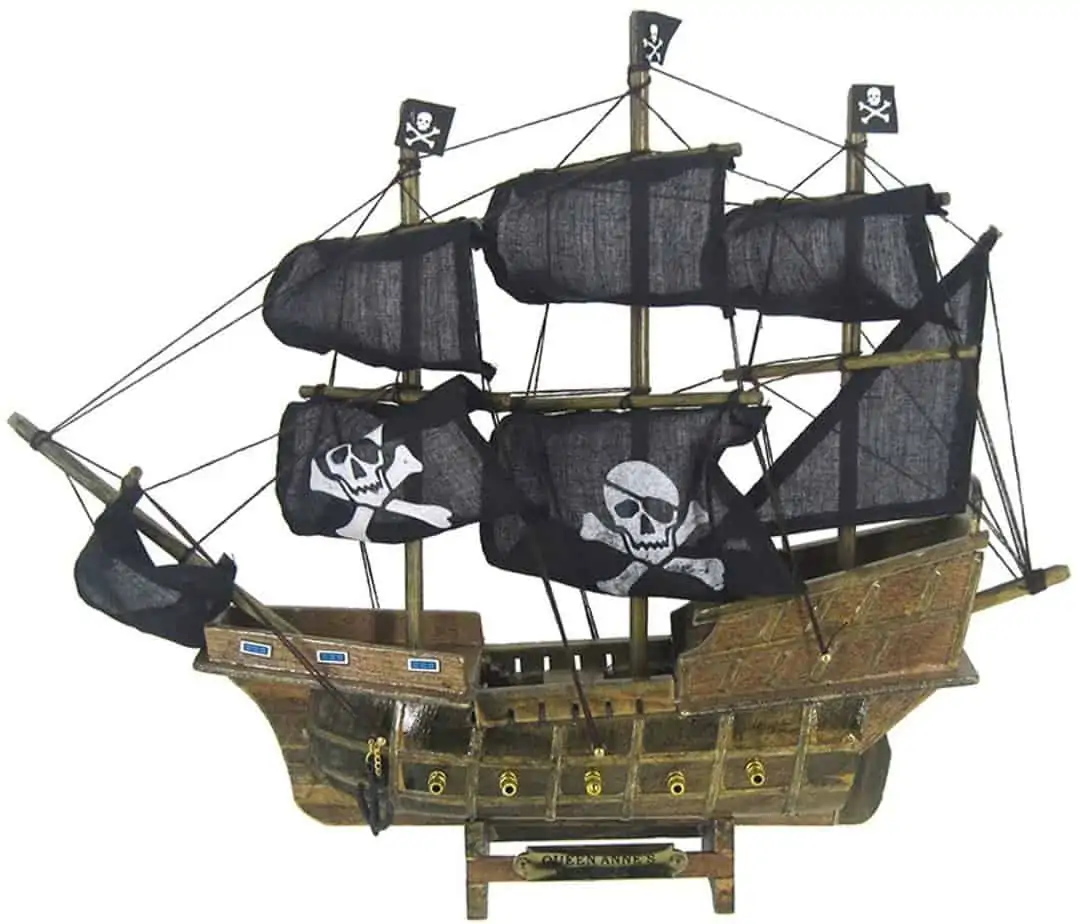 Even though it is not designed for play, it can be a nice decorative element for your child's room especially if they like the tales about Blackbeard. The item comes fully assembled so that you don't have to waste time on putting it together and it also features a wooden base.
The Chesapeake Bay Wood Pirate Ship is equipped with a few iconic Jolly Roger sails, as well as three Jolly Roger flags.
Pros
Produced with attention to detail
Takes up a minimal amount of space
An excellent present for children that like stories about pirates
Built from high-quality materials
Cons
Doesn't feature any additional accessories
Not designed as a toy
Hampton Nautical Blackbeard's Queen Anne's Revenge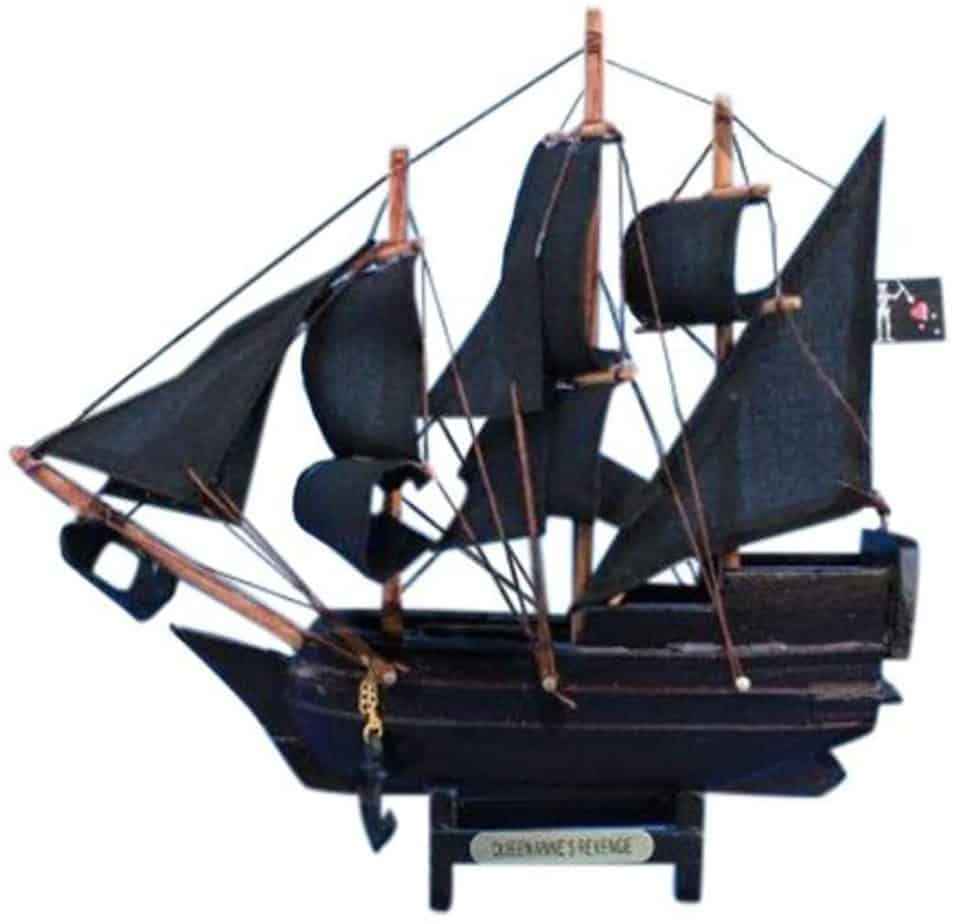 Like the Chesapeake Bay Wood Pirate Ship, this Hampton Nautical's model is based on the Blackbeard's infamous Queen Anne's Revenge ship. This is only a decorative item that doesn't offer children a lot of room to play with it.
The ship features the Blackbeard's flag as well as 11 hand-sewn sails. Although it isn't a toy, this pirate ship can prompt your children to learn more about one of the most famous pirates of all time.
 Pros
The mast, hull, and sails are handmade
No assembly required
Suitable for children aged 5 or older
Affordable
Cons
No features that encourage creative thinking or task-solving skills
Offers limited playing possibilities
Hampton Nautical Cutty Sark Tall Ship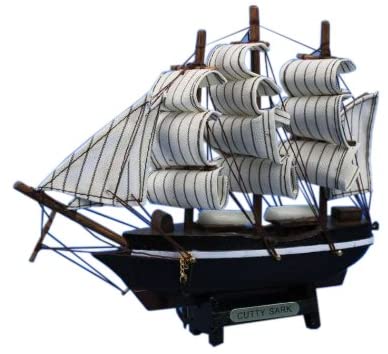 Very few ships have such a rich history as the Cutty Sark. Originally designed for the purposes of the booming tea trade the ship soon gained a murky reputation. Today, Cutty Sark is a museum ship and one of London's most famous landmarks.
This miniature replica of one of the fastest ships of its era comes fully assembled along with handmade sails, but you should keep in mind that the ship doesn't contain any pirate insignia.
Pros
Excellent gift for all children interested in naval history
Features two metal chains with attached anchors
The ship contains a base and a nameplate
Lightweight
Cons
This model doesn't come with any references to the ship's history
Not suited for toddlers
Puzzled 3D Puzzle Pirate Ship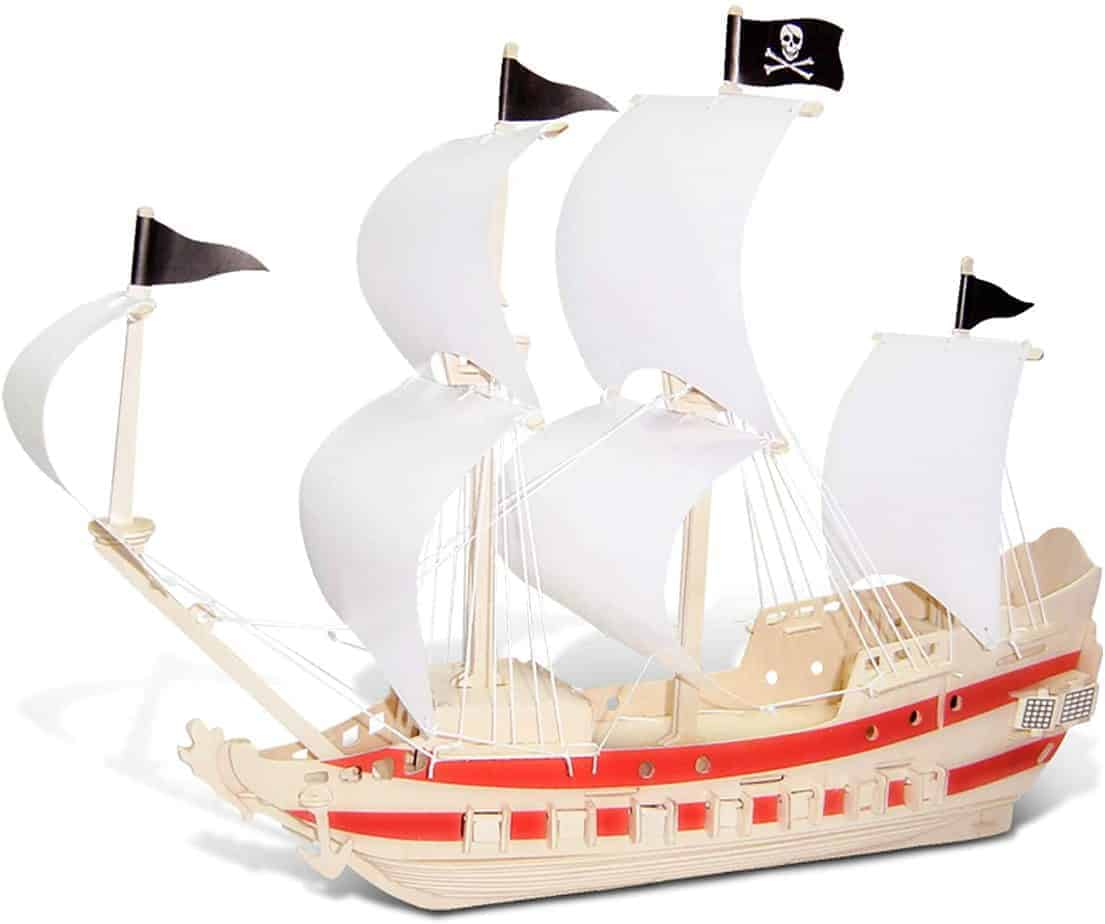 This 3D puzzle pirate ship is a great choice for parents that want to develop their children's shape recognition capabilities or eye coordination. Each of 139 pieces in the kit is made from 3mm natural wood, while the kit also contains sails, Jolly Roger flags, or an anchor.
Assembling the ship can be entertaining for both youths and adults which makes this 3D Puzzle an ideal activity for the entire family.
Pros
Made from high-quality materials
The kit includes a variety of accessories
Fosters problem-solving skills and creative thinking
White sails leave room for the creation of your own artwork
Cons
Some pieces have to be polished with the sanding paper
The assembly process is too complex for toddlers
The Black Pearl Pirate Ship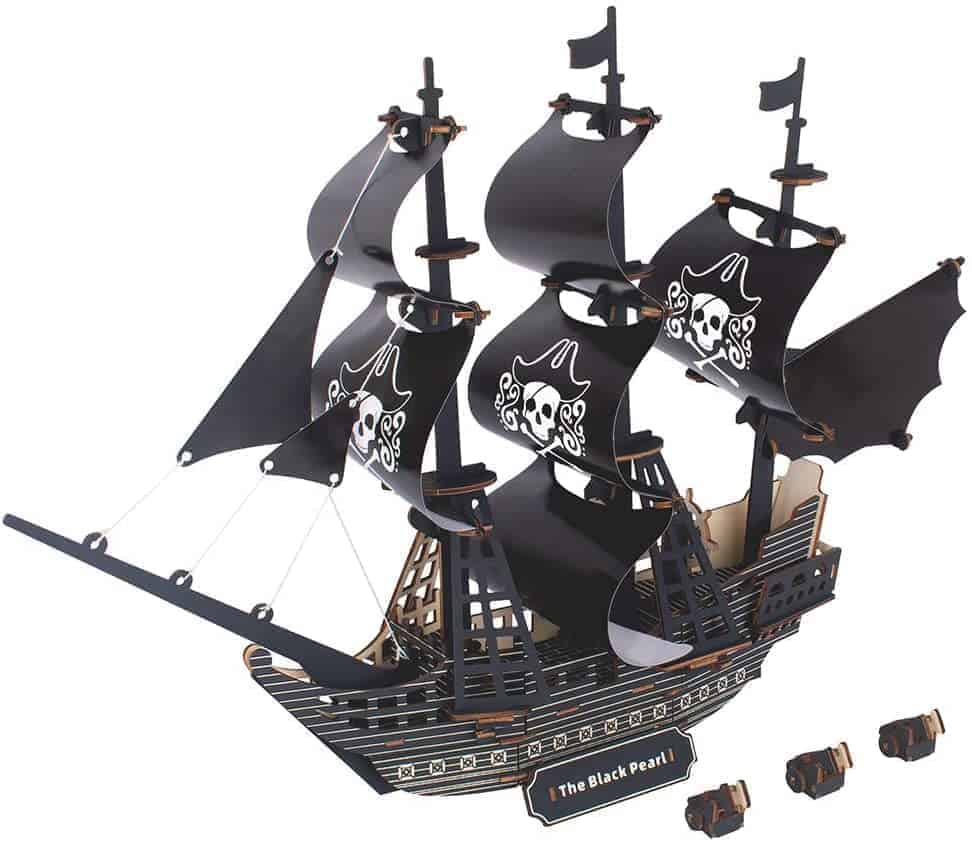 Fans of the Pirates of the Caribbean franchise are going to love assembling the Black Pearl Pirate ship that is captained by Jack Sparrow in the movies. Like on the big screen this 3D puzzle is characterized by distinctively large sails and Jolly Roger banners.
The building kit is designed for 14-year olds and it comes with detailed assembly instructions that make it easy to put together all laser cut pieces. The Black Pearl Pirate ship has dimensions of 13.2 x 8.1 x 0.39 inches and it fits on nightstands or desks.
Pros
The assembly process enhances task solving skills
Accurate replica of the famous Jack Sparrow's ship
The kit includes the sails and other accessories
Built from high-quality materials
Cons
This pirate ship shouldn't be exposed to water or moisture
The kit contains a lot of small parts that pose a choking hazard to children younger than 6 years old
FAQs
Question: Is a wooden pirate ship a good present for my child?
Answer: Pirate ships are great toys for children that have a sense of adventure and enjoy playing with ships and pirate figures.
Question: Should I get an already assembled wooden pirate ship?
Answer: In case your child is around six-year-old or younger, then you should opt for a pre-assembled model as 3D puzzle models contain a lot of small pieces that can potentially cause injury to the child.
Question: Are the wooden pirate ships a suitable gift for girls?
Answer: Yes, they are. In fact, most manufacturers claimed that their pirate ship kits can be used by boys and girls.
Question: Can a wooden pirate ship float on water?
Answer: The answer to this question depends on the model. Some wooden pirate ships shouldn't be exposed to water or moisture while others can be used for water-based adventures.
Conclusion
Like all toys, wooden pirate ships are fun regardless of the age group they are designed for. They often contain accessories that make it easier for children to become immersed in the pirate world. However, models such as the Blue Panda Pirate Ship or the KidKraft Adventure Bound Wooden Pirate Ship are better suited for preschool children.
On the other hand, 3D puzzles like the Hampton Nautical Blackbeard's Queen Ann's Revenge or the Black Pearl Pirate Ship are better suited for teenagers. Which of the ten best wooden pirate ships are you going to choose? Leave a comment and let us know.
Recommended reads: