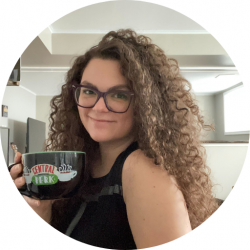 Latest posts by Candace Osmond
(see all)
Exploring the Best Wooden Music Boxes You Can Find
Wooden music boxes are classic and beautiful, aren't they? Have you considered picking one up for yourself or a loved one? I adore music boxes, which is why I've got a lot of great information about types of music boxes to share with you today.
I'll also show you how to identify quality wooden music boxes from fakers and give you my recommendations for the top 10 music boxes you can buy online. Ready? Let the symphony begin!
Top 3 Picks
Though every wooden music box in the long list down below showcases the best of what music boxes have to offer, these are my top 3. For their design, price, and the best combination of features, these 3 music boxes take the cake if you're unsure which one to buy.
How Does a Wooden Music Box Work?
A music box produces music by utilizing a steel comb that plucks the prongs sticking out of a rotating steel wheel. When the prongs are plucked, they play a note determined by their placement on the steel wheel. Pretty innovative for a device that's been popular for centuries, right?
Types of Wooden Music Boxes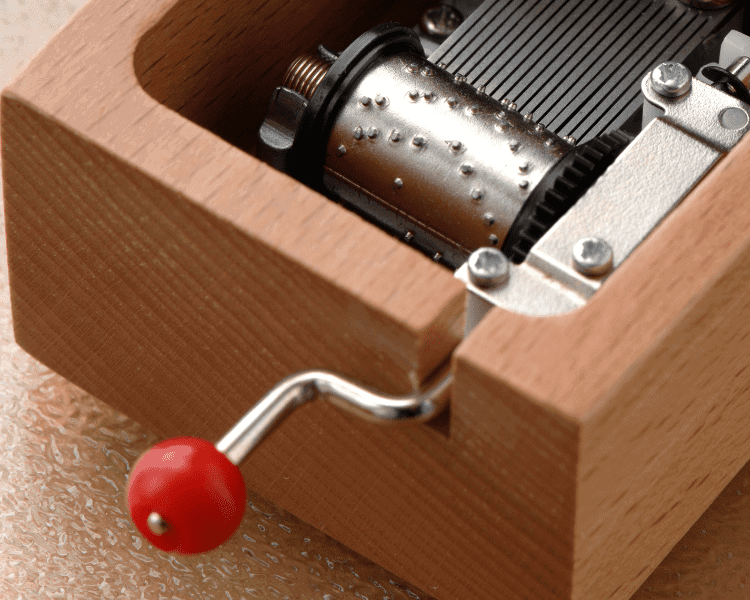 There are a couple of different types of wooden music boxes out there. Though construction varies from music box to music box, the end result should be the same: beautiful music that hits all the right notes every time you play it. You can have just that regardless of the type of music box you buy.
Hand-Cranked
As the name suggests, you'll have to manually turn a crank with your hand to make music boxes like these work. Hand-cranked wooden music boxes are the more traditional music boxes compared to their high-tech counterparts. Many people love them for this reason.
Battery Operated
If you don't want to have to put any elbow grease into making your music box work, a battery-operated box is perfect for you. These music boxes are also perfect for people who suffer from arthritis and struggle to turn tiny cranks. Remember, you'll have to buy battery replacements, too.
What to Look for in a Wooden Music Box
It's time to pull out your sleuthing gear! These are my best tips for investing in a quality wooden music box. Not every wooden music box is made from high-quality wood or is made by reputable manufacturers. That's why I'm here to help you decipher the champions from the, well, not champions.
Music Type
What type of music does the person you're buying the music box for like to listen to? Wooden music boxes can be customized to play any song in the world. From Elvis' The Twist to Ariana Grande's Dangerous Woman to Darth Vader's theme song, you can have anything you want.
Hand-Cranked or Auto
Does the person the music box is intended for have any kind of hand ailments, arthritis or otherwise? If so, I really recommend an auto wooden music box that doesn't require a hand-cranking motion. Auto music boxes are also great if they're going to get a lot of use.
Material
Wooden music boxes are clearly made from wood, but not all types of wood are ideal for music boxes. Hardwoods are what I look for in a music box because they're much more durable than softwoods. Some quality hardwoods to consider are:
Walnut
Cherry
Maple
Pine
Beech
Quality
Does the wooden music box you're considering come from a reputable brand? Does the seller have positive customer reviews under their product listings? If the answer to both of these questions is "yes," you may just have a winner!
Size
A big music box will look impressive and possibly have better sound quality, but it will be hard to maneuver and transport. A smaller wooden music box can be just as intricate with clear, beautiful notes, too. Consider the amount of space you have when buying a music box.
For Boy, Girl, or Adult
Is this a wooden music box for a boy or girl? Child or adult? They make gorgeous music boxes that play both kid's songs and classics the adults will know. Your music box can be covered in pink glitter or feature spaceships and monster trucks.
Think about the design when considering who the box is for
Think about the song being played when considering your gift, too
Price Range
Wooden music boxes come in a huge range of prices. There are cheap, poorly constructed wooden music boxes you can buy for $3. There are enormous, intricate music boxes that play multiple songs that will cost you hundreds. As a general price range, I recommend aiming for somewhere between $10-$110.
Best Wooden Music Box Ideas
These are the best wooden music box ideas online that I've ever seen. I love each of these music boxes for their beauty, functionality, and well-made construction. If you're at a loss for what to get someone, for a holiday, birthday, or anniversary, consider a sentimental gift like one of these.
Beauty and the Beast Music Box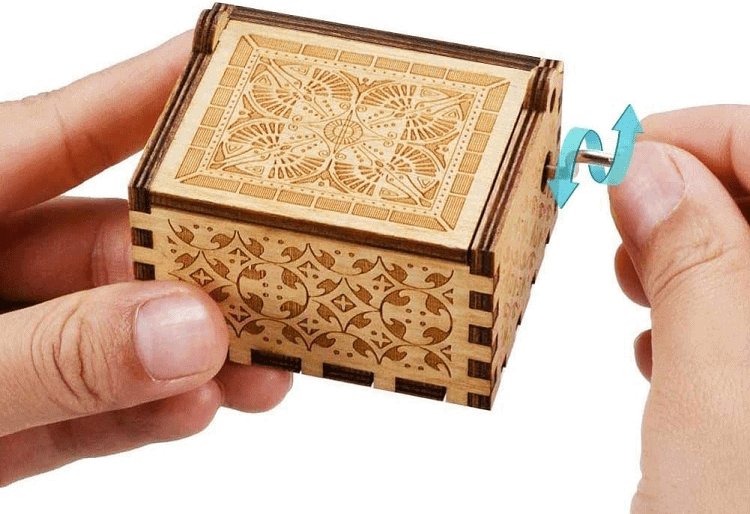 Best For: Price
About
This is the least expensive wooden music box on the list, but it certainly isn't lacking in quality. This music box plays the recognizable song from Beauty and the Beast, Tale as Old as Time. If you have a Disney fan in your life and you're trying to think of a unique gift idea, this would be perfect.
The inside features a Beauty and the Beast engraving. You'll notice that this wooden music box is controlled by a manual hand crank, which is great if you're searching for a music box with traditional style.
Material: Wood and steel

Price Range: $8-$12

Warranty: Please contact seller directly

Best Feature: Plays a romantic, familiar song
Gifting Ideas
Not sure when to give this musical gift to the Disney-lover you know? I think this music box would make a particularly good gift for:
Valentine's Day
Sweetest Day
Anniversaries
Birthdays
Weddings
Engagements
Pros
Plays a Disney song
Inexpensive
Traditional hand crank
Cons
Not everyone is thrilled with Disney
Clockwork Mechanism Carousel Wooden Music Box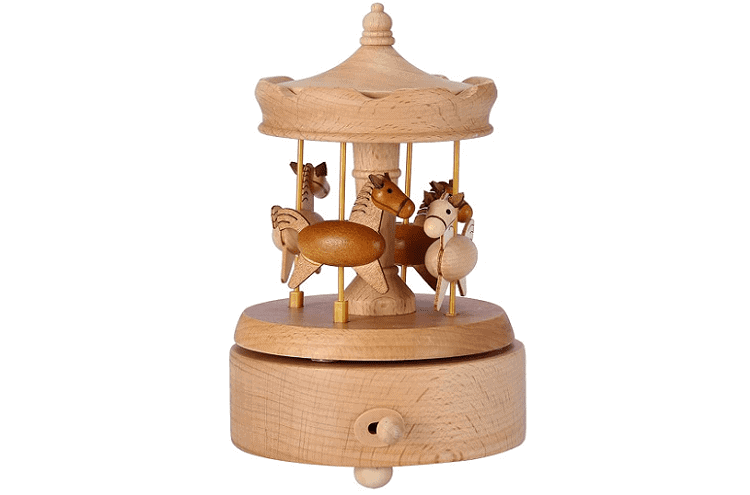 Best For: Young Children
About
This wooden music box is a darling gift for young children. Being made from beech wood, this music box was created to hold up for a very long time. The 3 rotating horses will capture the imagination of young minds, and the soft tune will lull even the crankiest toddlers to sleep.
This music box is automatic, so you won't have to worry about turning a crank to make it work. A simple wooden knob at the base allows you to turn this music box on and off.
Material: Beech wood
Price Range: $45-$55
Warranty: Please contact seller directly
Best Feature: The display spins
Care
If you're planning on buying this wooden carousel wooden box for a small child, there are some things to keep in mind. Namely:
Supervise toddlers who are using the music box to make sure they do not break any pieces off, which could be a choking hazard
Put the music box out of reach when you can't supervise a toddler using it
Pros
Build-it-Yourself
Rotating Horses
Cute decoration
Cons
VACTER Can't Help Falling in Love Wood Music Box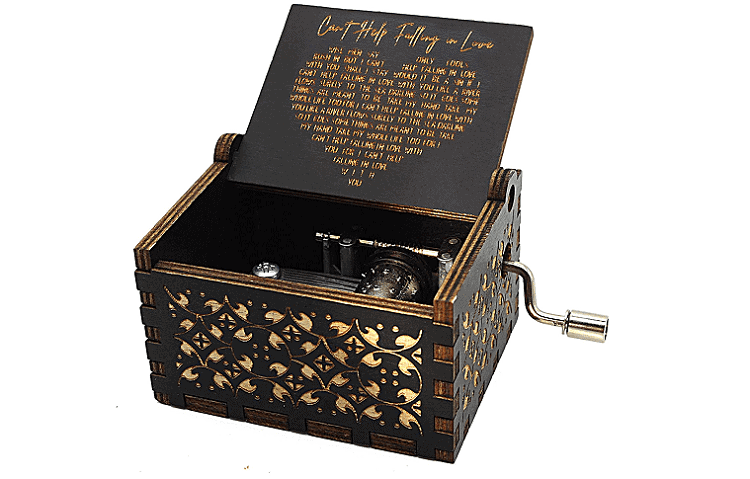 Best For: Older adults
About
This gorgeous wooden music box comes in 2 colors-black or beige. You operate this music box by turning a hand crank, meaning it is a manual music box.
When you turn the crank, you'll hear Can't Help Falling in Love by Elvis Presley. What else makes this box unique? The lyrics to Can't Help Falling in Love are imprinted on the inside.
Material: Wood
Price Range: $10-$16
Warranty: Please contact seller directly
Best Feature: Play a classic, beloved song
For Elvis Fans
Elvis music is timeless for so many people, which is why I'd recommend this over other gifts for an avid Presly fan. Music boxes are a unique novelty gift that has sentimental value.
Pros
Plays an Elvis song
2 color options
Inexpensive
Cons
Hand crank, which can be bad for arthritis
Wood Trick Mystery Flower Für Elise Wooden Music Box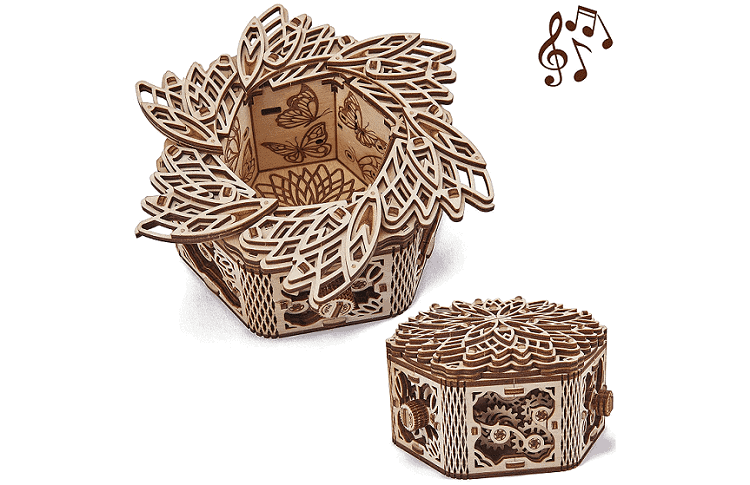 Best For: Design
About
This is a gorgeous wooden music box that you construct yourself. The music box is also a puzzle box that features intricate pieces with flowers and butterflies.
The music box can be used as a small box to store things in, too. You can see a gorgeous clockwork pattern of gears in the inside through the thin wooden pieces on the outside, which adds to its appeal.
Material: Wood
Price Range: $45-$55
Warranty: Please contact seller directly
Best Feature: Innovative, unfolding design
Assembled or Disassembled
You can either decide to gift this music box to someone disassembled so they can complete the box themselves, or fully assembled. If you choose to give them the music box fully assembled, the box will be ready to play music, and you can place an extra gift inside.
Pros
Gorgeous, intricate design
Unfolds to play music
Build-It-Yourself
Cons
Not good if you don't want to build it yourself
18 Note Engraved Hand Crank Wooden Musical Box with Silver Plating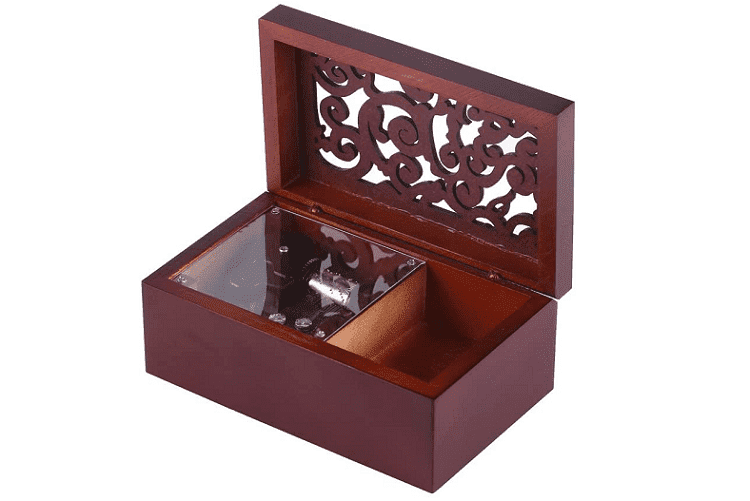 Best For: Romantic Gifts
About
This wooden music box has a simplistic elegance that I just can't get enough of. The deep, rich tones of the wood with the gold musical mechanisms inside protected by glass make this music box gorgeous. The song this music box plays is Edelweiss.
Material: Pinewood
Price Range: $22-$32
Warranty: Please contact seller directly
Best Feature: Elegant design
Care
To ensure the mechanisms inside continue to play beautiful music, keep your music box out of extreme heat and extreme cold. Too much heat or cold can cause the musical pieces to crack or warp.
Pros
Plays 18 notes
Elegant design
Holds jewelry
Cons
Not automatic, which isn't great for everyone
ROKR 3D Wooden Puzzle Mechanical Music Box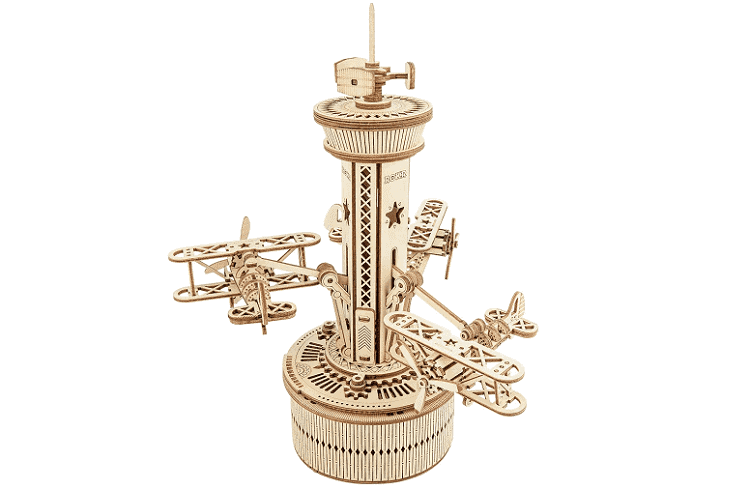 Best For: Boys
About
Aren't the 3 rotating planes on this music box fascinating? The manufacturer for this music box recommends you buy it for children who are at least 14 years old, because it needs to be assembled. The intricate wooden pieces make this 3-D puzzle a unique decoration, too.
Material: Wood
Price Range: $23-$33
Warranty: Please contact seller directly
Best Feature: Build-it-yourself
If Gifting to Small Children
Make sure to help your child assemble this music box if they are more than a few years under the recommended age range. Putting all the pieces together by the instructions may be more difficult and frustrating for younger children.
Pros
Build-It-Yourself
Movement with spinning planes
Unique decoration
Cons
May be difficult for small children to assemble
KDJSTORE Wooden Box Wooden Hand Crank Musical Box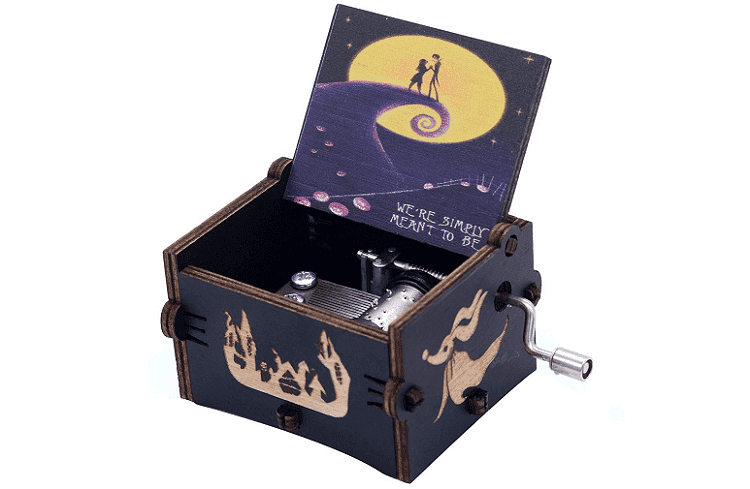 Best For: The Holiday Season
About
This wooden music box features paintings of the beloved Jack Skellington from Tim Burton's Nightmare Before Christmas. This music box also plays a song from the movie, This is Halloween. Tim Burton fans will love this holiday gift that plays music when you turn a traditional hand crank.
Material: Wood
Price Range: $7-$15
Warranty: Please contact seller directly
Best Feature: Nightmare Before Christmas theme
Hand-Carved
Another aspect of this music box that adds to its traditional appeal is that it is hand-carved. Being hand carved gives this music box a rustic feel, which makes it look less commercial despite featuring popular movie characters.
Pros
Nightmare Before Christmas theme

Plays song from Tim Burton's movie

Traditional style hand crank
Cons
The San Francisco Music Box Company Classic Floral Musical Wooden Jewelry Box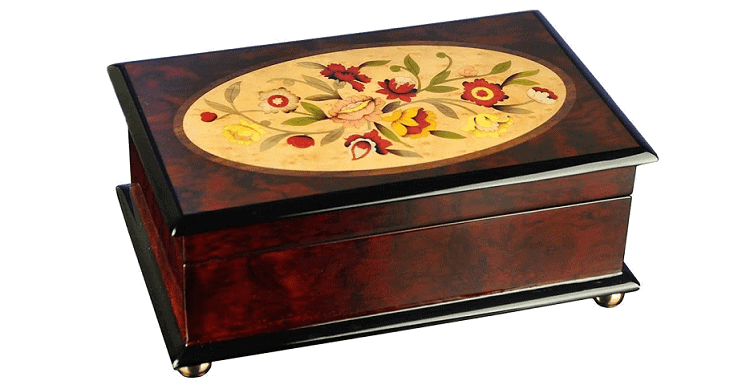 Best For: Overall
About
This is a pricey music box, but I love its high-quality look and feel. This is a musical jewelry box that showcases a beautiful floral pattern on the outside. You'll see the inside is covered by lush velour to keep your jewelry in peak condition. Fantaisie-Impromptu is the song that plays when you lift the lid.
Material: Wood and velour
Price Range: $85-$95
Warranty: Please contact seller directly
Best Feature: High-quality construction and design
When Gifting Jewelry
When you give someone jewelry, a neat way to do it in style is to give them jewelry in a beautiful case they can keep forever. A musical jewelry box like this would be the perfect way to give someone special two presents in one.
Pros
High-quality wood

Gorgeous floral design on front

Holds jewelry
Cons
RoWood 3D Wooden Puzzles for Adults Teens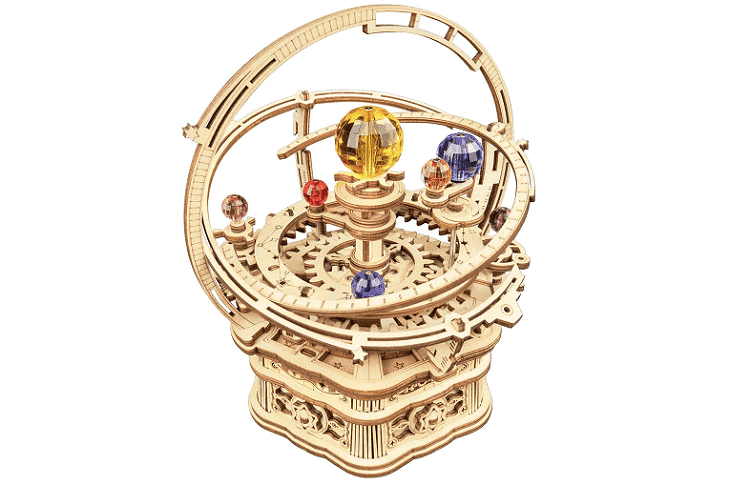 Best For: Older Kids and Teens
About
If you have an older preteen or teenager who likes outer space or 3-D puzzles, this is the wooden music box for them. This wooden music box must be assembled with the pieces that come together to form a rotating solar system. The song that plays once the music box is assembled is Memory from CATS.
Material: Wood
Price Range: $23-$33
Warranty: Please contact seller directly
Best Feature: Movement
Care
Make sure to read the instructions carefully when you assemble this music box. There are many small pieces that need to fit together just right for the structure to spin correctly. Precision is needed.
Pros
Build-It-Yourself
84 pieces
Spinning movement
Cons
Not great for small children
Elle Jewelry Box-Ballerina Jewelry Organizer and Swan Lake Wind-Up Music Box for Girls and Teens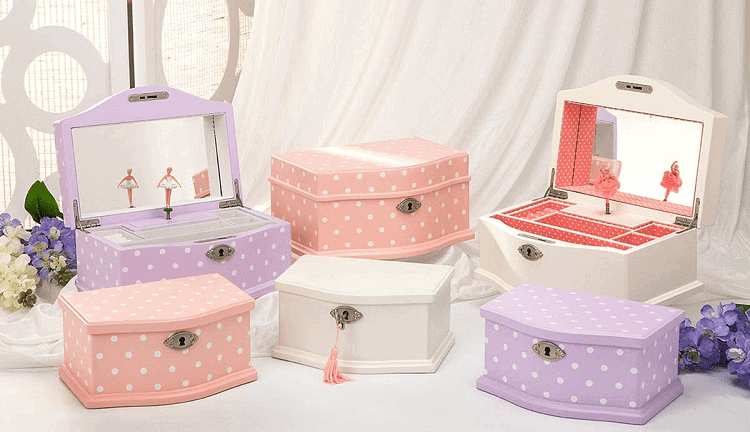 Best For: Girls
About
Is your little one obsessed with ballerinas? Do they like to feel like a princess? This music box, which plays Swan Lake, is just for them. A spinning ballerina in a pink outfit is the first thing you see when you lift the lid. This music box plays automatically. Your young one can store jewelry inside its compartments.
Material: Wood
Price Range: $65-$75
Warranty: Please contact seller directly
Best Feature: Spinning ballerina inside
Princess Party
A great idea when you're ready to give this to your little princess is to throw a princess party first! Blow up some pink balloons, watch a Disney movie, have a tea party, and give them this jewelry box. A plastic crown on their head makes it all more official.
Pros
Plays Swan Lake song
Pretty, spinning ballerina inside
Holds jewelry
Cons
FAQs
Last but not least, I'll answer your most frequently asked questions about wooden music boxes! Wooden music boxes are a classic, timeless gift that brings back precious memories when someone's favorite song is played.
I think these make for a beautiful, personal gift and I'd be happy to answer any more questions you may have about them in the comments below.
Question: Can I Make a Music Box?
Answer: You can construct a music box, but it is very difficult. If you've never done any woodworking before, a wooden music box is not the first project you want to take on. If you're feeling determined, there are great tutorial videos on YouTube that teach you all the steps for making a music box completely on your own.
Question: Are Music Boxes Still Made?
Answer: Yes, music boxes are still being made! Wooden music boxes have survived the eras of cassettes, CDs, MP3 Players, iPods, and music streaming services. Luckily, it doesn't look like they're going anywhere.
Question: What Is A Symphonium Music Box?
Answer: A symphonium music box is a music box that was popular in England during the 19th century. These music boxes play music by using what is called a "ratchet lever" that spins across a metal disc.
The Last Note
Are you feeling inspired to find the perfect wooden music box for yourself or a loved one? Today, you learned about what makes for a high-quality wooden music box and the differences between music box types.
I got to tell you all about the 10 music boxes I've been gushing over, and I'd love to know if you have any questions about them in the comments below!
Personally, I just adore the Wood Trick Mystery Flower Für Elise Wooden Music Box for its beautiful design but also because the song is one of my fav classics.
For more great ideas, check out our awesome guide to the best beeswax crayons!
Recommended reads: