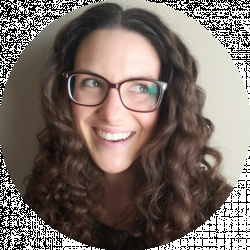 Latest posts by Sarah Caldwell
(see all)
All kids have a blast mimicking real life. Play kitchens are a timeless toy that brings joy to all ages and genders. Almost every kid has prepared a meal in a play kitchen before. When it comes to a toy that will stand the test of time and provide lasting entertainment, you may want to consider a play kitchen for your child.
However, not just any play kitchen will do. Wood toys are some of the best toys you can offer because they have so many benefits over plastic or metal. They're safer and more economically friendly. They last a lot longer, too.
Advantages of Wood Toys
Here are some of the advantages to choosing wood toys over other materials. Your child will get more use out of a wood toy, whether it's a kitchen, a car, or a set of blocks. Wood offers benefits that you can't find anywhere else.
Safety first
Worrying about safety just means that you're a great parent. You'll be happy to hear that wood toys are actually incredibly safe. They're much safer than other materials like plastic or metal. Kids put everything in their mouths, so turning to a natural material like wood can ensure that there are no poisonous ingredients.
Some common toxic chemical ingredients in plastic include BPA, PVC, and phthalates. Metal can also be toxic, heavy, sharp, and sometimes splinter.
However, wood doesn't break easily like plastic will, leaving sharp edges to injure your child or small parts to choke them. High-quality wood toys offer sturdy, durable options that are much less risky in terms of the health and well being of your children.
Friend to the environment
Wood is an all-natural, biodegradable option that can be recycled. That means that when your child is done with the toy, you can recycle it to be used again rather than dumping it in a landfill.
Because wood toys are not only recyclable but so durable and last so long, you can do your part to ensure that fewer trees are harvested for the production of even more toys. You're saving the planet in more ways than one.
Not only that, but you're passing these values on to your children and showing them how important it is to take care of the earth and all creatures in it. Choosing organic, sustainable, renewable toys like wood imparts these values and shows your children what's really important.
More durable
Most kids are hard on their toys. They get thrown, jumped on, kicked, and bit. With plastic toys, that could mean a pretty short lifespan. The dyes and stickers will fade over time and the toys will break.
With metal, that could mean tons of injuries. Injuries for your kids as they get hit in the head or injuries for your walls as they get banged around by a toy that may be a little too durable for immature hands.
However, wood is just right. It lasts for a long time and can be painted or refinished to look brand new. They cost a little bit more than plastic upfront, but it's well worth the cost for an environmentally friendly toy that lasts longer and is much more suited to child's play.
Wood toys also make great hand me downs for younger siblings or other family members, and many of them become family heirlooms. Their value is often sentimental, they can last a lifetime, and they're durable enough to be played with for generations.
Timeless
If there was ever a timeless toy, it was made of wood. The tactile and sensory experience you get from playing with a wood toy is totally different than any other, and most adults have fantastic memories of playing with wood toys when they were a kid.
Children take pride in playing with good quality toys over cheap plastic breakable ones. Wood does more to contribute to a beautiful aesthetic, which means the toy is fun to look at as well and can make for a beautiful bedroom or toy room.
Wood sparks nostalgia and parents often take pride in buying wood toys for their children, especially if it reminds them of a toy they used to play with.
Great value
Wood offers a great value. While the upfront cost may be more than purchasing a plastic toy, the money you save over the life of the toy makes up for it by far. Wood toys won't need to be repaired or replaced nearly as often, if at all.
Wood will last significantly longer and could last for decades. You can reuse them and pass them down for generations. You also won't need to constantly replace the batteries or electronic components in a wooden toy, because they typically don't have them.
They cost less money to maintain, they offer a great value, and if you're lucky, you may end up with a wooden toy that increases in value over time.
Wood Play Kitchens For You
If you're looking for a play kitchen for your child, there's certainly not a shortage of options. There are a lot of different materials, too, from metal to plastic, but if you're looking for wood, here are some of the best options to choose from.
KidKraft Ultimate Corner Play Kitchen Set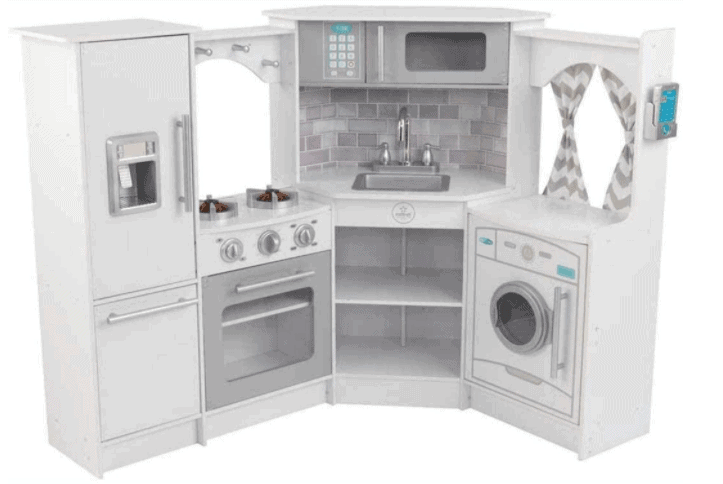 Ultimate is right! This play kitchen has it all, and if you have an aspiring chef in the family, this is definitely the best kitchen set for them. It maximized space by resting in the corner, so your chef can multitask, just like you.
It has tons of realistic interactive features to let their imagination run wild. It's also large enough for multiple children to play at once, so it's perfect for siblings, sleepovers, and play dates.
It comes in white or espresso, so you can coordinate it with the real kitchen. It includes an oven, microwave, sink, refrigerator, freezer, washer, stove, cordless phone, and window. The shelving holds all of your pots, pans, and accessories.
The burners and ice maker light up and make realistic sounds, and all of the doors open just like a real kitchen. Your little one will have fun pretending to cook just like you with all of the busy noises of a full kitchen.
There are plenty of buttons to press, handles to pull, and knobs to turn, so your child can stay busy playing for hours. Fabric curtains, fresh graphics, and a cordless phone give this kitchen a modern style that kids will love.
It's made of solid wood, MDF, and some plastic. It typically takes two people a few hours to set up, given its large size and number of pieces.
Pros:
Comes in two modern colors
Plenty of interactive features
Large enough for multiple children to play
Realistic lights and sounds
Cons:
Melissa & Doug Wooden Chef's Pretend Play Toy Kitchen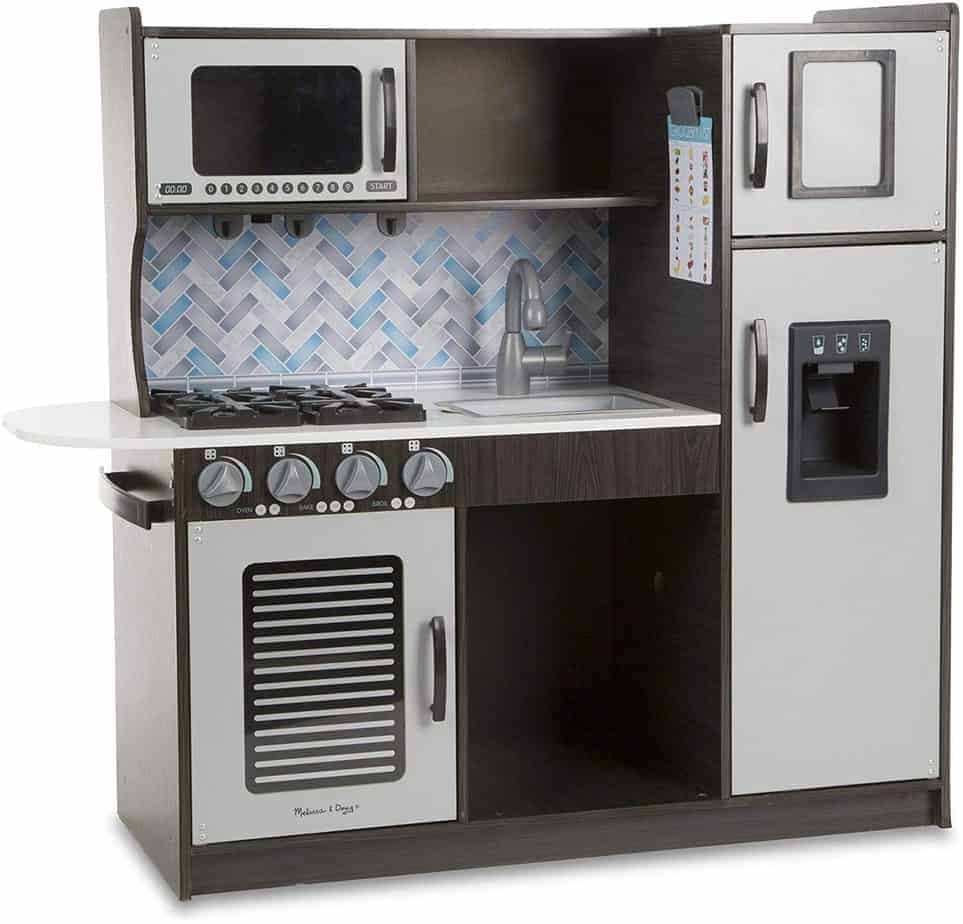 Melissa & Doug has been in the wooden toy making business for quite a while and they're known not only for quality but for great customer service. Every item they sell comes with a customer service number printed clearly on the back.
They make it a point to ensure that if you're not happy with the item, they do everything to make it right. When you purchase Melissa & Doug toys, you're not just purchasing the toy, you're purchasing peace of mind.
This pretend play toy kitchen has a beautiful charcoal design that looks modern and comes with plenty of features that your child will love. If you have a budding young chef at home, this complete kitchen will inspire them to create wonderful meals.
It's a breeze to assemble with detailed illustrated instructions. It comes with a refrigerator and freezer that include a working ice maker that will dispense ice cubes. It also has an oven, stove, microwave, sink, grocery checklist, shelves, and storage.
The stove includes turning dials, the microwave has a turning plate, the faucet and the handle on the sink move, and there are hooks on the grocery checklist. All of this offers endless interactive play and mimics a real kitchen. Its compact design fits nicely in any space but is still big enough for two children to play at once. It's made of high-quality wood, making it much more sturdy than other brands, so it will withstand years of use.
The fantastic thing about this Melissa & Doug play kitchen is that you can purchase the kitchen alone, or you can purchase any number of sets that come with the accessories your child likes. The baking set is a 20-piece set that comes with an oven mitt, rolling pin, cookie cutters, baking sheet, mixing bowl, measuring bowl, muffin tin, whisk, spatula, and more!
The food group playset encourages healthy pretend play with baskets full of items from all five food groups. It includes things like milk, cheese, eggs, fish, watermelon, bread, butter, onions, bananas, tomatoes, and more. The grocery cans playset comes with 10 cans that open and close so your little one can mimic removing the lids and cooking real food. There are a variety of sizes and designs.
The pots and pans playset is made of hand-polished stainless steel and comes with 8 pieces that include a pot with a lid, a colander, 2 wooden utensils, 2 pans, and a rack. The cooking utensil playset is a 7-piece set that gives your kiddo the chance to really mix it up with a whisk, a ladle, a slotted spoon, a wooden spoon, a spatula, a spaghetti server, and a holder to put them all in.
The best news yet is that you can get all of these accessory play sets individually, too. If you want to buy it all, you can! Your child can have a complete Melissa & Doug wooden play kitchen with all of the goodies.
Pros:
Comes as a stand-alone kitchen or as a set
Compact but large enough for two children
Realistic knobs, buttons and functions
Plenty of accessory options
Quality construction
Easy assembly
Cons:
KidKraft Farm to Table Play Kitchen Set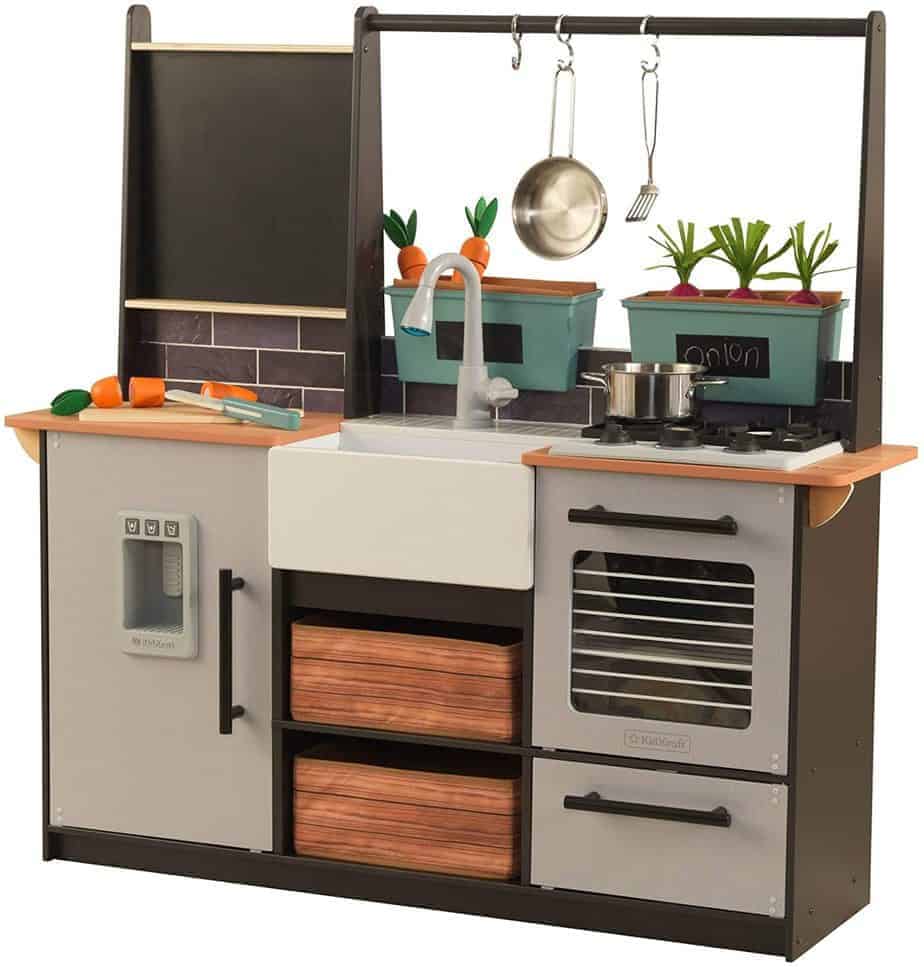 Are you raising a miniature foodie? This farm to table set may be the perfect gift. It inspires healthy cooking, eating fresh, and shopping local. Your child can show off their green thumb by growing purple onions and carrots in their window box.
When the vegetables are ready, they can pick them and chop them on the included cutting board with a wooden knife. The veggies even make a fun crunching sound. Then saute them on the cooktop and enjoy the realistic noises and the light and sound motion sensors.
A large farmhouse sink teaches the importance of washing your veggies before you eat them as well as washing your hands before you handle food. The sink features lights and the sounds of running water.
Your child can learn to organize things in the large refrigerator which also includes a working ice maker with pretend ice cubes.
In the center of the kitchen, there are two wood-print storage crates for other accessories as well as hanging hooks for pots and pans or other utensils. The large chalkboard can feature a grocery list or daily specials. The multicolor design is full of modern flair and it's the perfect little kitchen for aspiring organic chefs and healthy eaters.
It's super easy to assemble and comes with detailed instructions. It may take an hour or two but it only requires one adult. Unfortunately, along with solid wood and MDF, it also contains metal and plastic components.
Pros:
Perfect for teaching how to shop and cook organic or local
Large farmhouse sink for washing
Realistic lights and sounds
Refrigerator with working ice maker
Comes with vegetable garden and window boxes
Multicolor modern design
Cons:
Contains metal and plastic components
Best Choice Wooden Pretend Play Kitchen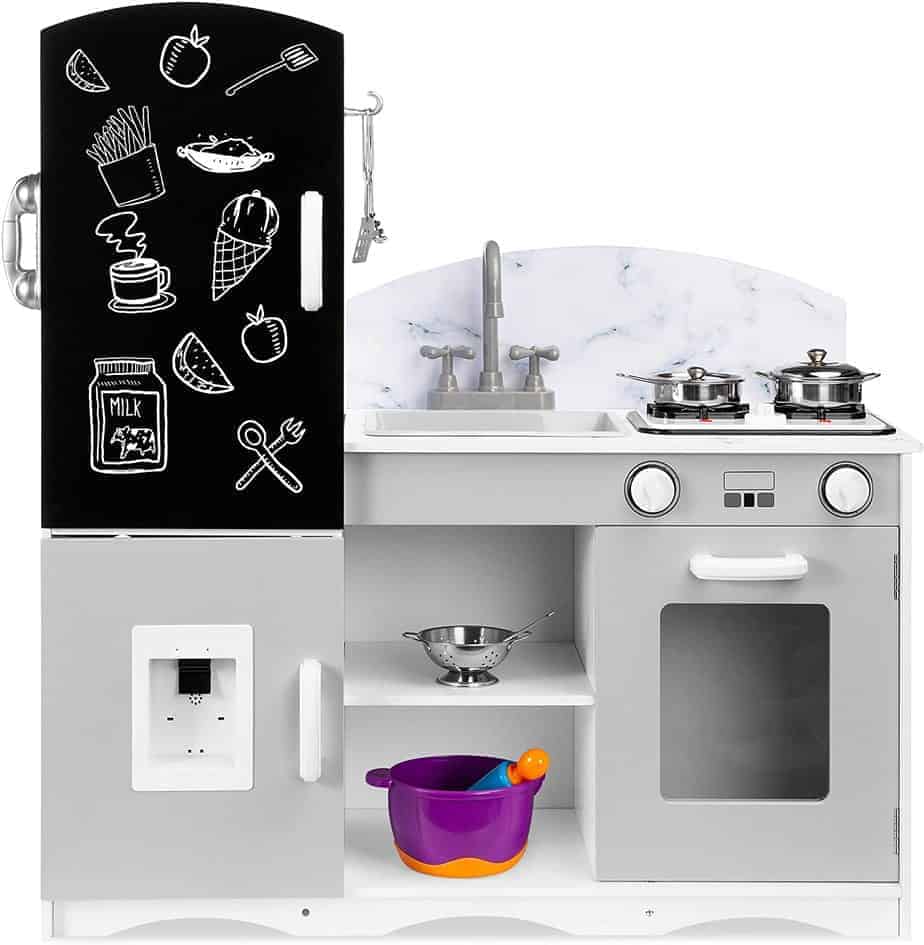 This toy kitchen set is made with safe materials including composite wood and molded plastic so your child can enjoy it for years to come. While it's very sturdy and will last for a long time, that means it will take some time to build. The assembly contains plenty of screws and using a power drill will make it go a lot faster. It does come with detailed instructions but will likely take an hour or two to put together properly.
The set includes seven accessories. There are 4 utensils, 2 pots that include lids, 1 potholder, 1 strainer, and 1 cordless phone. Your children will be able to play alongside each other as they create gourmet meals. Open shelving offers a modern design and gives them a place to store all of their food and accessories when they're done playing.
This kitchen offers a realistic experience like the click of oven knobs or the crunch of an ice machine, but perhaps the most unique feature of this play kitchen is the oversized chalkboard that they can actually write on. This chalkboard offers your child a space to make a grocery list, offer daily specials, or draw pictures.
Pros:
Sturdy and durable
Modern design
Realistic sounds
Large chalkboard
Great value
Cons:
KidKraft Vintage Play Kitchen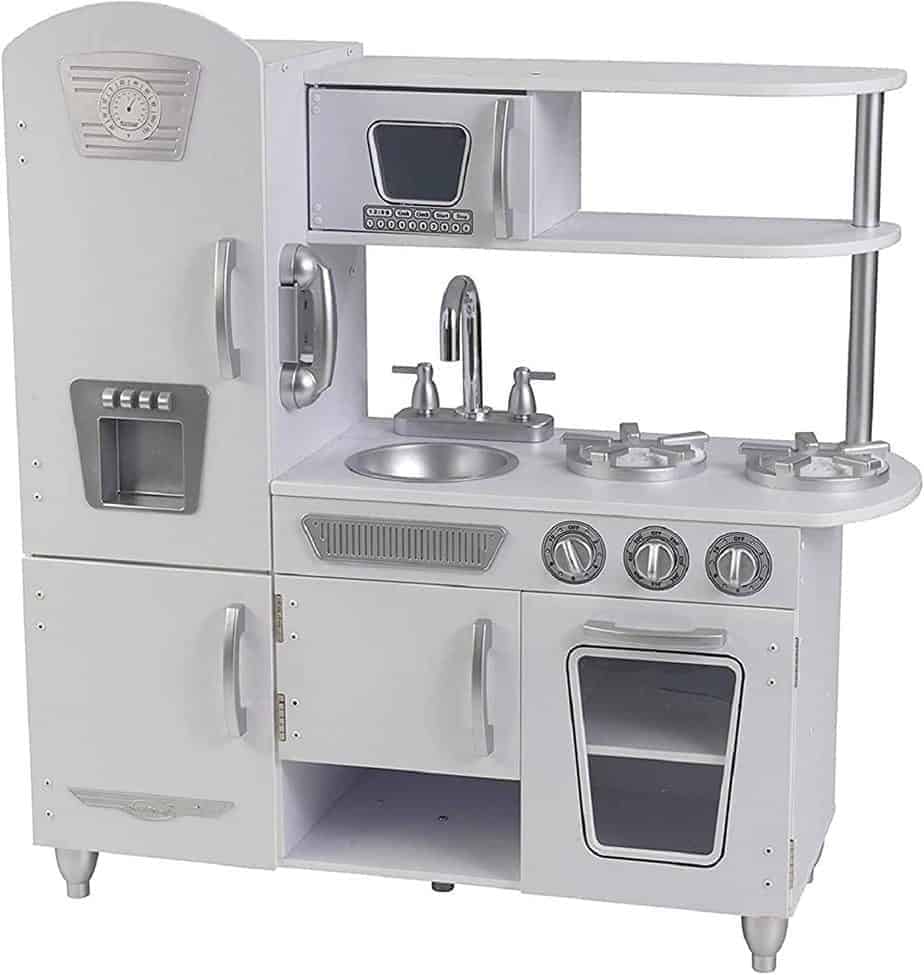 Much like other KidKraft play kitchens, this one features realistic lights and sounds with plenty of features that your child will love. It includes a refrigerator, freezer, sink, oven, microwave, range, and cabinet.
However, this time, it comes with a fun vintage design instead. The simple vintage design appeals to adults and children alike and fits well in any playroom. It's a fun kitchen to inspire your child to offer more simplistic, healthy meals without all of the extra unhealthy additives.
It comes in white, pink, red, or blue, so you can choose the fun vintage color your child will like best. The doors open and close, the knobs click and turn, and the refrigerator features an ice maker.
It's a throwback to simpler times with an open concept design. The entire kitchen will take a couple of hours to put together, but the most fun aspect of this kitchen is the retro phone that hangs on the wall.
Pros:
Cute vintage design with retro phone
Realistic lights and sounds
Comes in four colors
Great value
Cons:
Lengthy assembly
Some plastic components
FAQs
Question: Which play kitchen is the best?
Answer: Melissa & Doug is by far one of the best wooden toy brand manufacturers in the United States. They offer quality, but it does come at a price. You can rest assured that what you're paying for is not only the toy but a great customer experience.
Melissa & Doug stands behind everything they make, so you'll always have a great experience with the toy, and if you don't, they'll fix it for you. Their play kitchen offers the most variety of accessories.
However, KidKraft definitely offers the most variety when it comes to wooden play kitchens. They make the most designs and you'll be able to offer your child the exact type of play kitchen with the exact features you think they'll love. The quality is also outstanding.
Question: Is 5 too old for a play kitchen?
Answer: Absolutely not! Unfortunately, many parents buy play kitchens for children from 2 to 4 years of age, but don't consider play kitchens for older children. The truth is, play kitchens and cooking sets benefit a wide age range and are a good idea for children up to 12 years old.
Play kitchens are best for children ages 3 and up. However, even children as young as 1 or 2 years old love to get in on the action with older siblings, so if you have multiple children of various ages, make sure you get a large enough kitchen that everyone can enjoy.
Question: Are play kitchens worth it?
Answer: Yes, play kitchens can encourage your child's development in a number of ways. They motivate your child to play well with others and they can prompt discussions about gender roles in the kitchen. Hint: both genders belong in the kitchen.
They can also spark creativity in terms of how to prepare meals, store fresh food, keep leftovers, manage a restaurant, and all sorts of other food related subjects. It's a great way to enhance your child's social and cognitive development.
Question: Are KidKraft Products Non-Toxic?
Answer: Although KidKraft products are manufactured overseas, they are still one of the most reputable brands for play kitchens. They put all of their products through rigorous testing to ensure they meet or exceed all of the mandated safety requirements.
They only use materials that are BPA-free and their paint is oil-based and non-toxic.
Final Thoughts
When purchasing a play kitchen, the best way to shop is to make sure the play kitchen you're getting reflects what you want to teach your child about cooking and eating. For instance, if you want your child to learn that both men and women can cook for their families, make sure you get a play kitchen that includes a gender-neutral design.
If you are more concerned with teaching your children about food preparation and storage, make sure your play kitchen has plenty of shelving, cabinetry, accessories, and a fridge.
If you would like your child to focus on how to create healthy dishes and eat a balanced diet, a kitchen with a window that encourages growing your own food or even a kitchen with an ice maker that encourages healthy water drinking habits is a great idea.
No matter which play-kitchen you choose, wood is a great option because it will withstand heavy use. Your child will definitely love it and want to play with it a lot, so don't get a plastic kitchen that falls apart, and make sure you get a reputable brand.
Play kitchens are such a great toy for kids of all ages for many different reasons, including social and cognitive development, healthy habits, and all kinds of different learning, so you'll definitely want it to last!