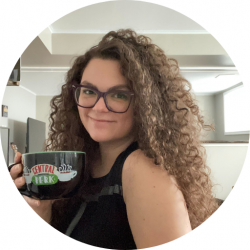 Latest posts by Candace Osmond
(see all)
There is just something magical and iconic about receiving a wooden toy truck as a gift for the holidays or even as a birthday gift. Wooden toy trucks have been around for so long because they remain an exciting and fun toy that is highly durable, highly entertaining, and just plain fun to use.
From dump trucks to fire engines, you simply cannot go wrong giving wooden toy trucks as a gift, but which toy trucks are the best ones? I have a complete rundown of some of the best wood toy trucks based on their overall quality, ease of use, and safety. And some extra specifications on why wooden trucks remain such a popular toy.
Top 3 Picks
Here are our top three picks for the best wooden trucks you can buy.
You simply can't go wrong with an assortment of miniature trucks. Straight from the Battat Store, this assortment of mini trucks is perfect for the child who loves all types of trucks, including airplanes.
Learn about shapes and have fun at the same time! This wonderful wooden dump truck by Melissa & Doug will provide hours of fun and learning simultaneously. Intricately cut-out shapes on the sides and top of this wooden dump truck will provide so much entertainment as kids drop in the appropriately shaped block.
Whether you need an emergency helicopter, a fire truck, an ambulance, a police car, or all three, this emergency vehicle carrier has you covered. You can have four emergency vehicles to play with for a really reasonable price instead of just one.
What is a Wood Toy Truck?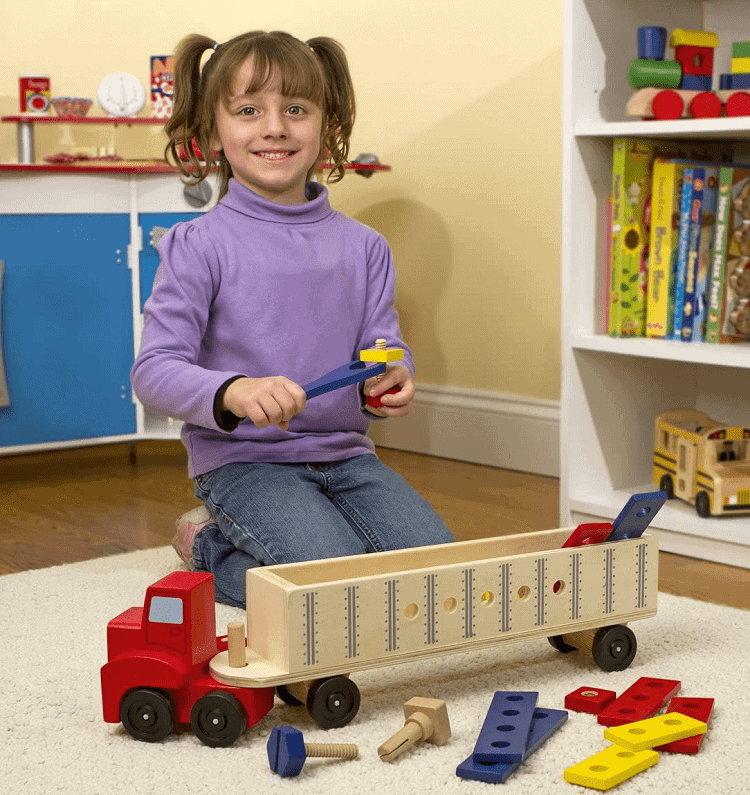 A wooden toy truck can pretty much be any kind of vehicle—things as an emergency vehicle like an ambulance, fire truck, police car, or helicopters. Also, any kind of construction vehicles such as steamrollers, bulldozers, and dump trucks.
Then you have a recreational vehicle such as normal cars, busses, school busses, and utilities work trucks. This is just a very small rundown, as so many great vehicles make wonderful wooden toys.
A wood truck is sturdily made, complete with rolling wheels, and usually a capacity to store or haul things inside. Kids love to haul items within their wooden trucks and play around with them outside.
Whether it's in the sandbox hauling sand from one spot to another or filling your truck with plenty of tiny rocks to help build a fort, a kid's imagination truly runs wild with wood toy trucks.
Benefits of Wood Toy Trucks
There are so many wonderful benefits to playing with wooden toy trucks, but here are just a few of our favorites.
Can Improve Motor Skills
Playing with wood toy trucks can help your child's motor skills and hand-eye coordination. As you have to steer a truck to get it to move, your child needs to be aware of their surroundings and quickly learn how to maneuver their truck.
It may seem like a simple act of play, but overall, this act will become a habit and will make your child more aware of his or her surroundings and the importance of avoiding any hazards. This will help them later on when they actually need to drive a car or work a vehicle.
Great Social Play
Wood toy trucks make for great social play. You will see children playing with all types of different vehicles, imitating a city, or working on a site like a construction site.
Playing in a group with wood toy trucks helps a child develop social and communication skills. Everyone needs to be on the same page when running around a city and working any type of construction vehicle.
Makes Great Individual Play
When not in a social setting, a child can spend hours of alone time playing with their wooden trucks. The more variety of trucks you have, the more functions your child can muster out of them and the more fun they will have playing with all of their utility, emergency response, or recreational trucks. Their imaginations will run wild.
Helps the Imagination
Your child can use their imagination to run a city, build a new neighborhood, trek across the country, or simply cruise around the neighborhood. Playing with a wooden toy truck is a great way to get those creative juices flowing, no matter if your child is playing in a social setting or playing independently.
What to Look for in a Wood Toy Truck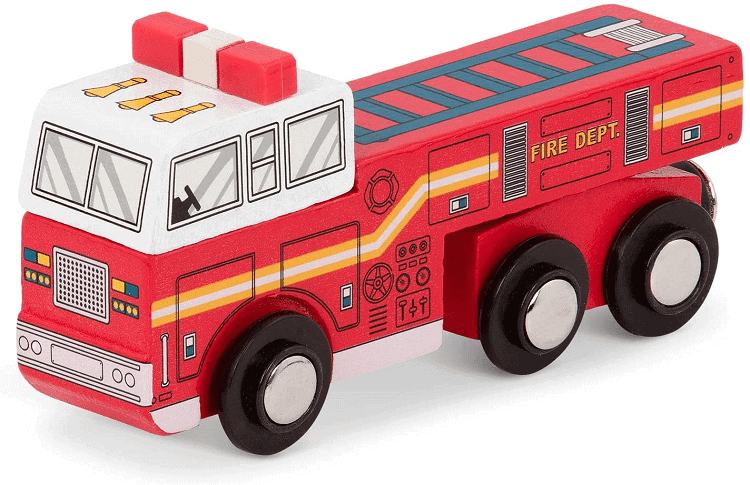 There are a few important factors to consider when looking for a wood toy truck, and here are just a few of the main ones.
Size
The size of your wood toy truck will matter, especially if your child is very young. You don't want to get a large truck for a small child, as they may not easily move it around. The same thing applies to very small trucks.
You would never want to gift a tiny child a small truck set, as it could contain smaller parts that could pose as a choking hazard. Always make sure you are looking at the sizes of the trucks and determine which size would be the most appropriate.
Colors
Wooden toy trucks are known for their brilliant colors, accurate detailing, and sturdy designs. Having a truck that is painted beautifully only adds to the overall intrigue of the truck.
If you have an assortment of trucks, each truck will stand out on its own with its own lettering, colors, and intricate designs. The more decorated and detailed the trucks are, the more interesting they will be.
Paint and Materials
As most wood toy trucks are made with child safety in mind, you will still want to make sure you know what kinds of paints and other materials are used in the construction of your wood toy trucks.
Make sure that the paint is non-toxic paint, such as milk paint, and that all of the components of the trucks are made from non-toxic materials and are all verified as child play safe.
Price Range
Price range is also important, especially if you are on a budget. There are plenty of great wood toy truck sets for under $25 that would make a great gift and would definitely provide hours of play. Overall, your child isn't going to care about how much their truck or truck set costs, just how cool it looks and how much fun stuff it can do.
Wood Type
Most trucks are made from a variety of very hard, solid woods, such as beech wood or oak. While it is hard to determine which kind of wood each truck is made of, you may want to reach out to the manufacturer if you are concerned about a particular type of wood or if your child has an allergy to any specific type of wood or material.
Construction
The overall construction of a wood truck is usually very durable. While some trucks are made entirely of hardwood, others have metal and plastic bits to help keep it all together. The manufacturer should detail what components were used to construct your wood truck.
So, if you have any concerns about certain material, you should read the components section. Otherwise, a wood truck will primarily comprise sturdy hardwood and maybe some metal or plastic pieces.
How to Clean and Care for Wood Toy Trucks
It is very easy to care for your wood trucks. All you need to do is make sure that they are out of the elements, such as direct sunlight, snow, and rain. If you leave your wooden truck out in the rain, for example, odds are the paint will start to fade or chip off, and the truck may rust if there are metal components to it.
To clean your wooden truck, lightly rub it down with a warm washcloth with soapy water or use any type of disinfectant wipe to get it a quick clean. As wooden trucks are very durable, they are great for wiping down, but you may want to reconsider fully submerging your wood truck if you don't have to.
The Best Wooden Toy Trucks
Wooden Stacking Construction Vehicles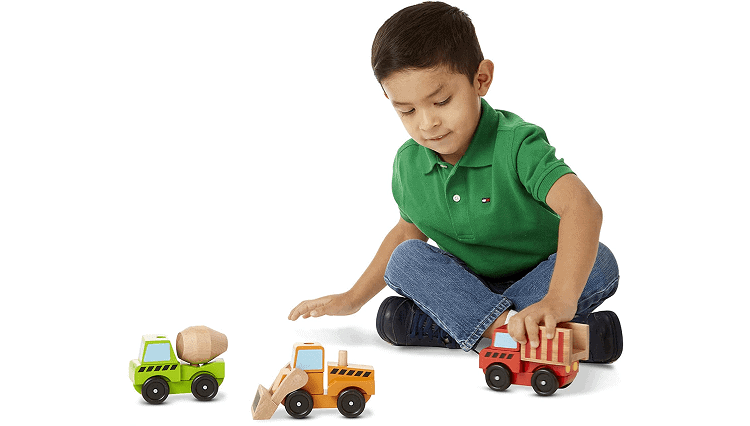 From bulldozing to dumping, this amazing stacking construction toy set is sure to provide hours of fun in the garden, in the living room, and maybe even the sandbox.
Wood Type: Hard, solid wood
Best for Age: Three and up
Price Range: Less than $20
Warranty: Free returns through Amazon Prime
This set comes with three utility vehicles, including a concrete mixer, a bulldozer, and a dump truck. This set is ideal for kids three years old and up due to some smaller accessory pieces included.
Pros
Stackable trucks
Freewheeling bases
Fifteen-piece set
Perfect for three years old and up
Cons
May be too simple for older kids
Tractor Trailer with Emergency Vehicles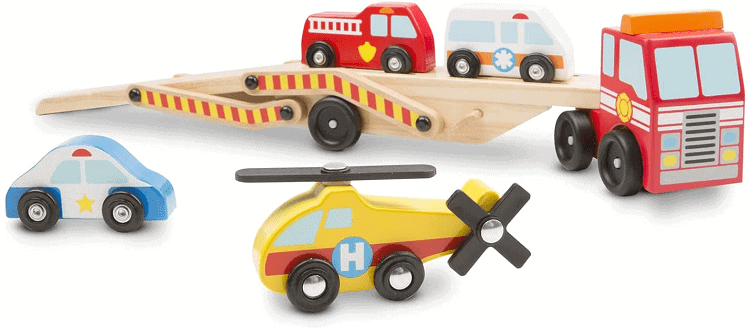 Tractor-trailer to the rescue! This adorable wooden truck set features a large tractor-trailer carrying four emergency vehicles, including a helicopter, a fire truck, an ambulance, and a police car.
Wood Type: Hard, solid wood and plastic
Best for Age: 36 months to 72 months
Price Range: Less than $15
Warranty: Free returns through Amazon Prime
No matter what the emergency may be, this tractor-trailer set has you prepared for just about anything. This set features a mix of wood and plastic, so you get elements from both.
Pros
Made of wood and plastic
Four in one
Tractor-trailer acts as a vehicle
Can provide hours of fun
Cons
May be too small for very young children
Wooden Fire Engine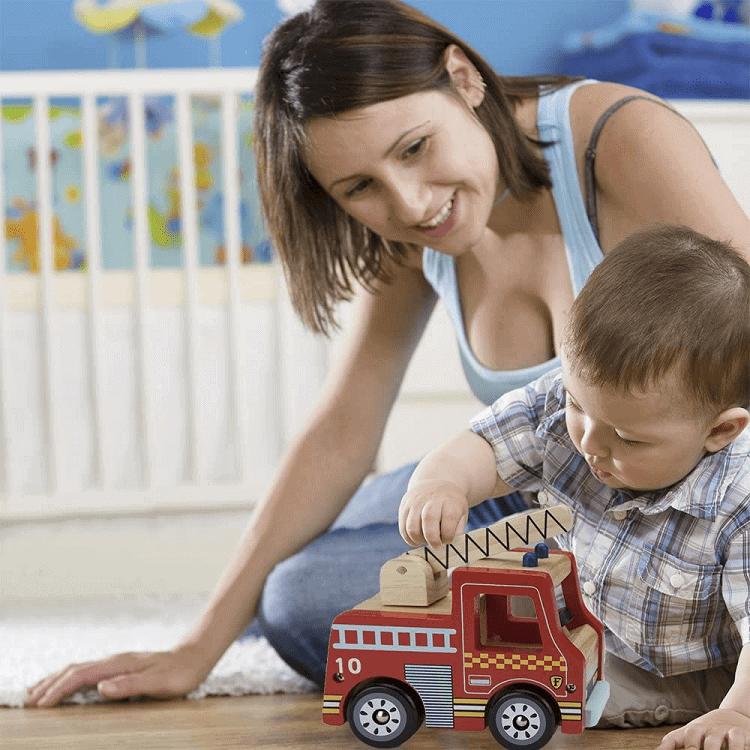 One of the most iconic wooden fire trucks you can find, this fire engine is expertly crafted with wheels made from beech wood and a wonderfully detailed design.
Wood Type: Hardwood
Best for Age: One year and up
Price Range: Less than $20
Warranty: Free returns through Amazon Prime
This fire truck has doors that can open and a ladder that can swivel. This would make the perfect toy for some backyard emergency adventures or for those rainy days when the kids need to play inside the house.
Pros
Large truck
Expertly designed
Bright colors
Moving parts
Cons
May not be suitable for older children
Wooden Town Vehicles by Melissa & Doug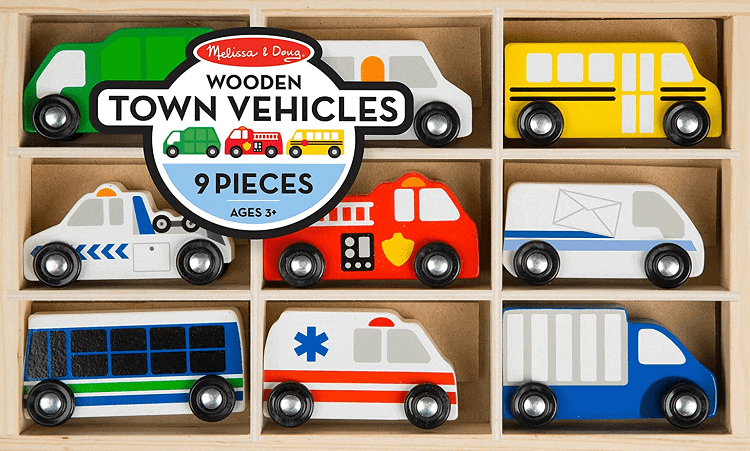 If transportation trucks are what you are looking for, this set pretty much has all of the transportation vehicles you can think of.
Wood Type: Solid wood
Best for Age: Three to five years old
Price Range: Less than $25
Warranty: Free returns through Amazon Prime
An assortment of busses, dump trucks, emergency vehicles, and other transportation vehicle completes this set, which would make a perfect birthday or holiday gift. It is constructed from hardwood and is brilliantly painted, so any child will truly love it.
Pros
Has a sturdy construction
Vividly painted
Expertly detailed
Great for ages three to five years old
Cons
May not be suitable for children under three years old
Wooden Dump Truck for Sorting Shapes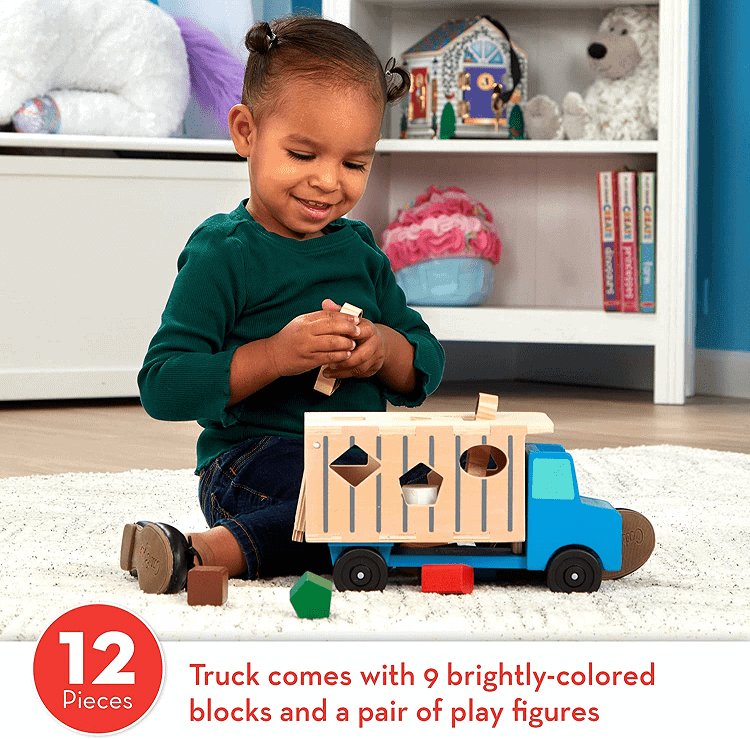 Play and learn with this dump truck by Melissa & Doug. This is a two in one shape sorting toy, as your child will learn about shapes and colors as they plop them into the truck bed.
Wood Type: Solid hardwood
Best for Age: two years old and up
Price Range: Less than $20
Warranty: Free returns through Amazon Prime
This truck comes with nine vividly colored shapes blocks and has a functional lifting back door. This is a highly durable truck made from hardwood and comes to you expertly crafted.
Pros
Play and learn toy
Has a functional back door
Durable construction
Shape sorter helps with learning shapes and colors
Cons
Small shape blocks may not be great for very young children
Imaginative Play Dump Truck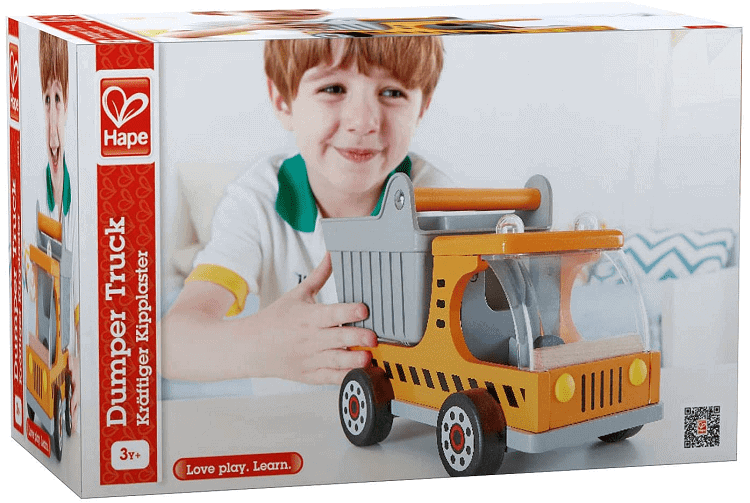 Give your kids the gift of hours of play with this wooden dump truck that can help them learn how to use their imaginations, role play, and even develop some social skills.
Wood Type: Solid wood
Best for Age: Three years old and up
Price Range: Less than $25
Warranty: Free returns through Amazon Prime
This dump truck is ideal for that child who loves trains, cars, boats, and all other kinds of impressive vehicles. This toy can be shared with others or used for independent play – it is very versatile.
Pros
Made with non-toxic finishes
Constructed with child-safe materials
Encourages imagination
Great for sharing or solo play
Cons
Not great for very young children
Assorted Wooden Vehicles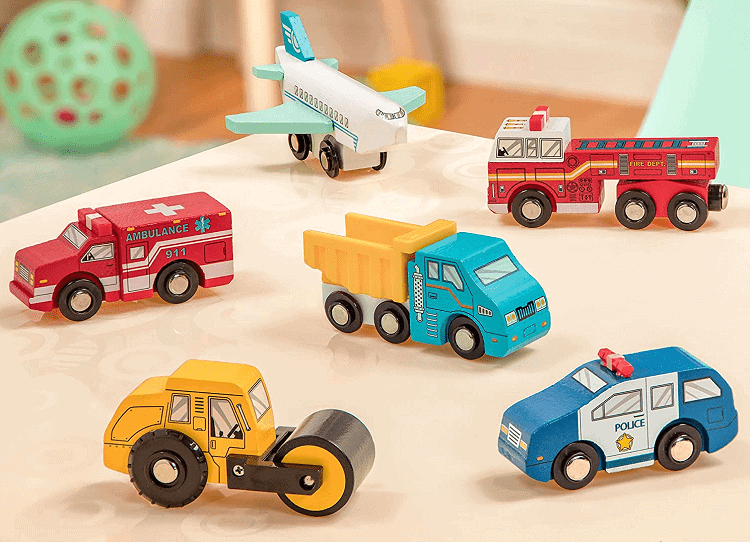 You can never have too much of a good thing, and this wooden truck assortment is a testament to that. Complete with a bulldozer, a dump truck, fire engine, police car, airplane, and ambulance, this wooden truck set features all of the best wooden trucks imaginable.
Wood Type: Solid wood
Best for Age: Three years old and up
Price Range: Less than $15
Warranty: Free returns through Amazon Prime
This is a retro wood-style toy set that is compatible with other types of Battat toy vehicles. You can either purchase this set alone or use it to work with other toys from the same manufacturer for even more hours of fun play.
Pros
Retro wood-style toys
Expertly crafted and painted
Can work with other toys from the Battat Brand
Sturdy designs
Cons
Not suitable for children under three years old
Wooden Building Set in a Big Rig Truck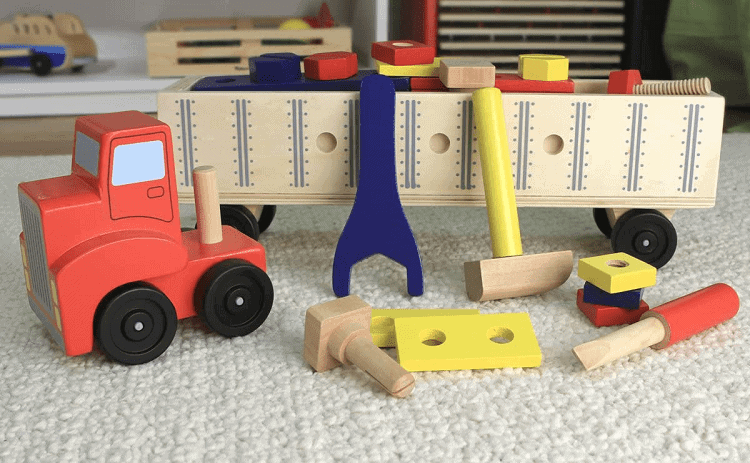 This giant wooden big rig truck actually works as a tool kit, carrying all your necessary tools in one place. This impressive wooden truck comes with 22 wooden building pieces, and it all moves around on super smooth-rolling wheels.
Wood Type: Solid hardwood
Best for Age: Four years old and up
Price Range: Less than $30
Warranty: Free returns through Amazon Prime
This sturdy wooden truck promotes a child's motor skills, helps with problem-solving, and even induces imaginative play for hours and hours.
Pros
Sturdy construction
Large toy set
Comes with 22 tools
Easy to move around
Cons
May have too many small pieces
FAQs
Question: Who Makes Wood Toy Trucks?
Answer: There are tons of great brands, but Melissa & Doug are one of the most popular.
Question: What Wood is Good for a Wood Toy Truck?
Answer: Any solid hardwood is an excellent choice for making toy trucks.
Question: Can You Make Wooden Toy Trucks?
Answer: Of course! If you can find a decent pattern for a truck, all you need to do is buy your appropriate wood, materials and get to work on your miller saw or table saw. You can find all sorts of easy tutorials on Youtube.
Bottom Line
So, there you have it! I've gone over why wooden toy trucks remain such a popular children's toy, some pretty great features about them, and even a rundown of some of our favorite wooden toy trucks that you could buy online.
Personally, I love the Shape Sorting Wooden Dump Truck for its overall design and versatile use.
Did you find this article helpful? I hope you did. Do you have any experience with wooden toy trucks or have any fun stories gifting them? I would love to hear from you. And for more awesome guides like this, check out our picks for the best wooden food toy ideas!
Recommended reads: