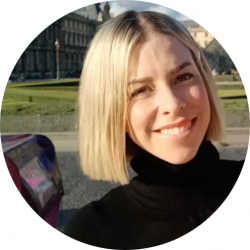 Latest posts by Jodie Chiffey
(see all)
A dollhouse enables your young one to let their imagination run free. That's why getting the best wooden dollhouse furniture for your daughter may be the best decision you've ever made.
Besides broadening her field of play, it will also allow her to redecorate her tiny world in different styles. As she grows older this may help her develop affection towards interior design or provide her with a better understanding of furniture styles from different époques.
We've selected some of the best wooden dollhouse furniture sets that match different styles of dollhouses to help you discover the one your children are going to like the most.
The most popular wooden dollhouse furniture brands
Most companies that produce wooden dollhouses also offer a broad range of wooden furniture sets. Toymakers like KidKraft, Melissa & Doug, or Fisher-Price are among some of the most popular brands that produce unique and stylish wooden dollhouse furniture.
However, the furniture you choose doesn't necessarily have to be produced by the same manufacturer as the dollhouse itself, as long as the dimensions of the furniture match the size of the room they are designed for.
Getting the furniture that matches the dollhouse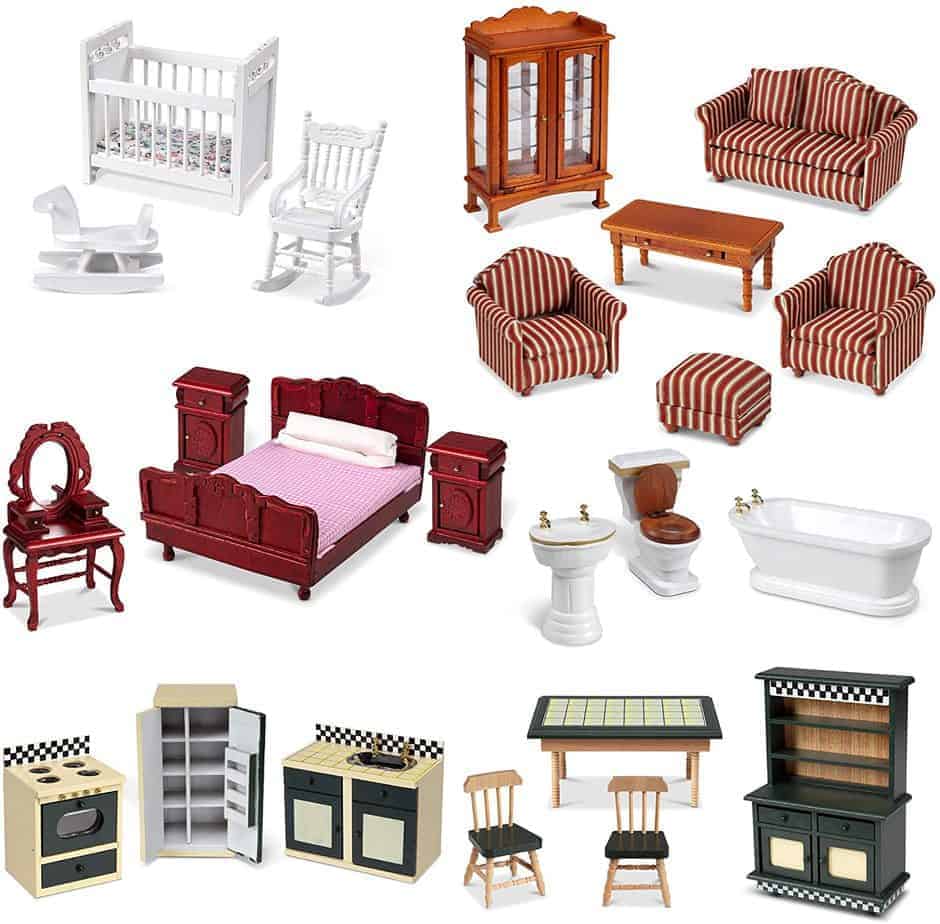 Finding the furniture that matches the style of the dollhouse can be challenging if the model doesn't include any additional accessories or appliances. It also presents your child with an opportunity to choose the furniture for each room and decide which sets she likes the most.
A wooden dollhouse like the Melissa & Doug's Victorian Dollhouse requires a furniture set that contains household appliances, as well as beds, sofas, chairs, or tables. Opting for a Gamileo's 5 set dollhouse furniture won't match the style of the Victorian dollhouse, even though it will enable your child to furnish most rooms.
It is important to pay attention to the style of the furniture you chose because it can make it easier for your child to imagine everyday life in a different era.
Factors you should consider while choosing the dollhouse furniture
Finding the furniture set for your child's dollhouse shouldn't be difficult, as there are so many options available on the market. Even so, there are several factors you have to consider while deciding which furniture set you should get.
One of the greatest advantages of wooden dollhouse furniture is that is made from durable material and it is completely harmless to your child's health. Here are some of the most important things you need to take into consideration while choosing the furniture for your daughter's dollhouse.
The size of the furniture
Dollhouses are available in scales varying from 1:6 to 1:18 as well as the furniture you can add to them. Choosing furniture that is too big or too small for the rooms in the dollhouse can make them look jammed or overly spacious.
For instance, a 1:12 furniture set is not going to fit into a 1:6 classic Barbie dollhouse, but it might be suitable for a 1:16 dollhouse. What's more, a 1:16 furniture set may be a good fit for both 1:12 and 1:18 dollhouses.
Checking if the wooden furniture is compatible with the dollhouse is probably the most important step in the process of choosing the set that will enable your child to create her fantasy world.
The child's age
Most dollhouses and accompanying furniture sets are designed for children that are not yet 12 years old. In case your daughter is older than 12 and she would still like to get new furniture for her dollhouse you should consider getting her collector's items rather than conventional wooden furniture sets.
Children between the ages of 7 and 11 often already know what they want, so it is best to take their advice when choosing the wooden furniture set. They commonly choose themed dollhouses and chances are that they will ask for the furniture that matches the style of their dollhouse.
Safety should be your priority when choosing wooden dollhouse furniture for toddlers and children up to age six. Most sets contain small pieces that can pose a choking hazard if the child is left to play unsupervised.
Colorful furniture sets are best suited for children in this age group as they may help them learn how to match colors or arrange pieces functionally.
The number of available pieces and accessories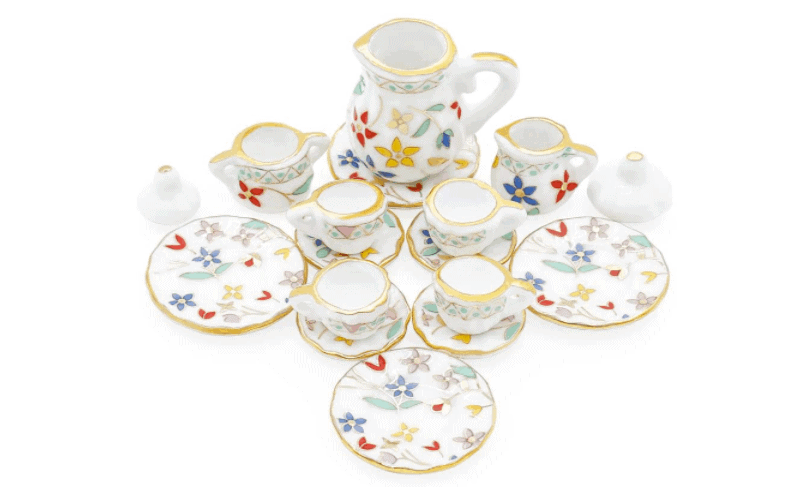 Dolls, baby cradles, or miniature tea sets for dollhouses are among accessories that can make your child's world richer. Which pieces a furniture dollhouse set is going to include depends on the room it was designed for.
Only a handful of sets are equipped with furniture for every room in the dollhouse, and you may have to buy several different sets if you want to furnish the entire dollhouse. You should also consider getting wooden dolls that will become permanent residents of your child's dollhouse.
Moreover, an accessory like a miniature animal or house pets can also be a nice addition to the toys children can use while playing in their dollhouse.
The 10 Best Wooden Dollhouse Furniture Sets
Revamping the look of your daughter's dollhouse should be a fun process that will make her happy. The best guiding principle while choosing a wooden dollhouse furniture set is to listen to your child and get her the toys she will enjoy playing with.
You shouldn't disregard safety concerns if your child is still younger than 7 years old since wooden dollhouse furniture sets contain numerous tiny pieces that can potentially harm her. We've shortlisted some of the best wooden furniture sets that will make your child's dollhouse look more stylish.
KidKraft Shimmer Mansion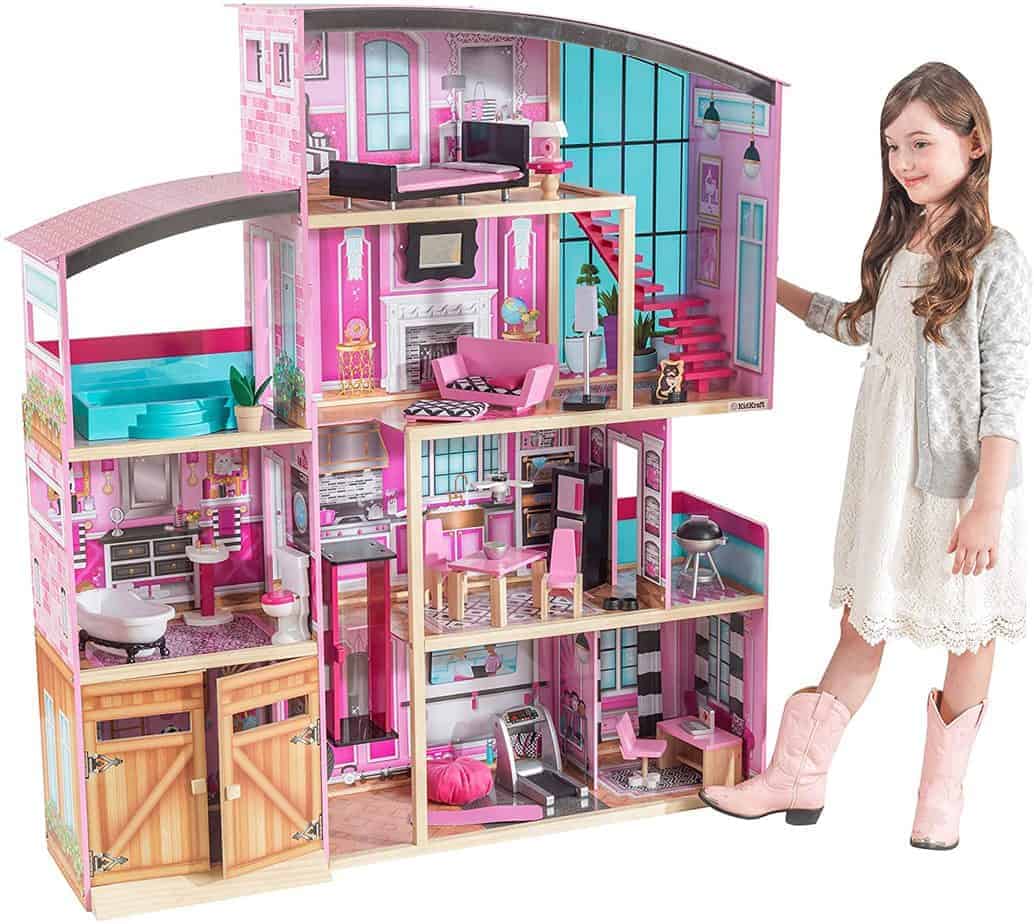 Choosing a dollhouse-like the KidKraft Shimmer Mansion may be a great decision if your child's current dollhouse is past its heyday. This 8 room dollhouse already contains furniture for every room including a grill, a treadmill, and a bed.
The 4-level wooden dollhouse features accessories that produce light and sound effects which makes playing with them even more entertaining. Most of the furniture in the Shimmer Mansion is wooden, and you won't have to replace it very often.
Pros
A perfect gift for children older than 7 years old
The Shimmer Mansion is fully furnished
The set features 30 lifestyle accessories
Wooden construction
Cons
Occupies a lot of space
Complicated assembly process
All Seasons House by Happe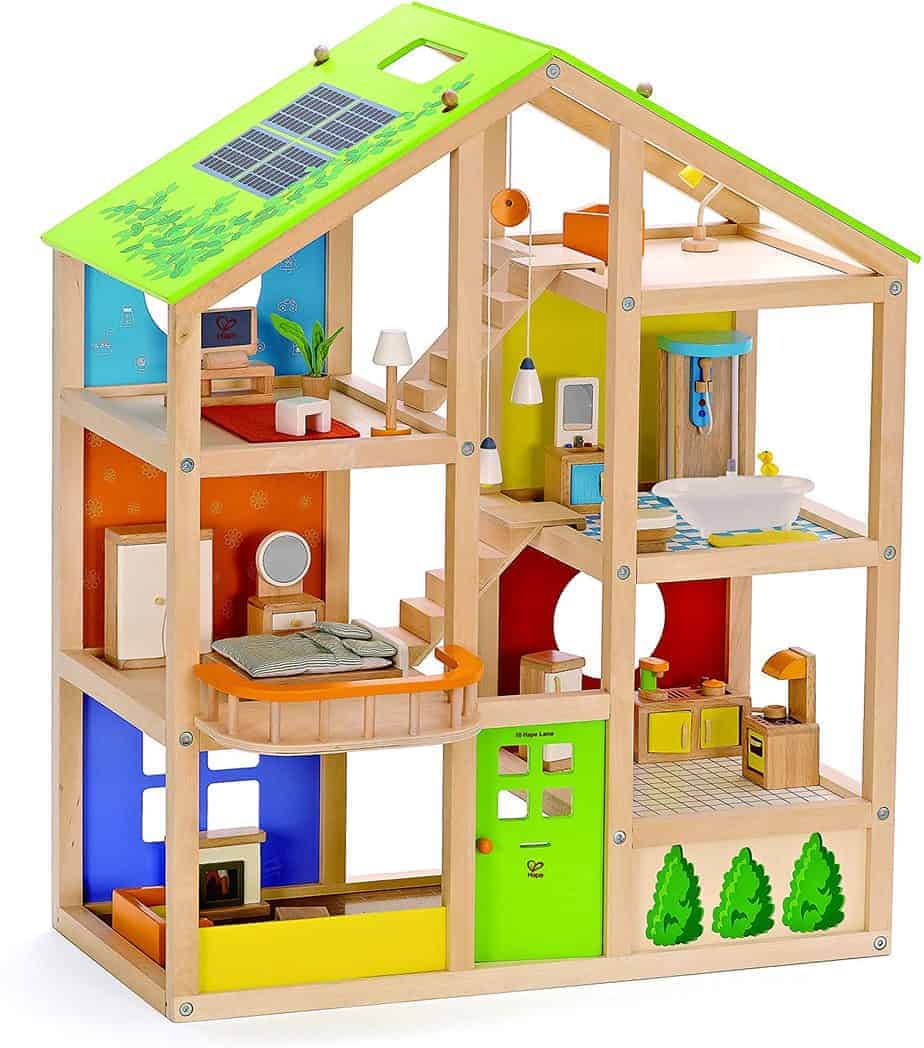 The modern design of Happe's All Seasons House presents an ideal playground for your child. This three-story house has six rooms and a living room that includes a fireplace.
The style of the furniture matches the dollhouse's style while it also leaves the space for revamping the look of some rooms if your child gets bored with the same house appliances, lamps, beds, or other accessories. Moreover, the reversible roof allows for scenarios that take place during different seasons.
Pros
The paint finish is safe for children
The style of the furniture matches each room perfectly
The roof is equipped with a solar panel
Affordable
Cons
Accessories like the family car must be purchased separately
Not recommended for children younger than 3 years old
Melissa & Doug Doll House Furniture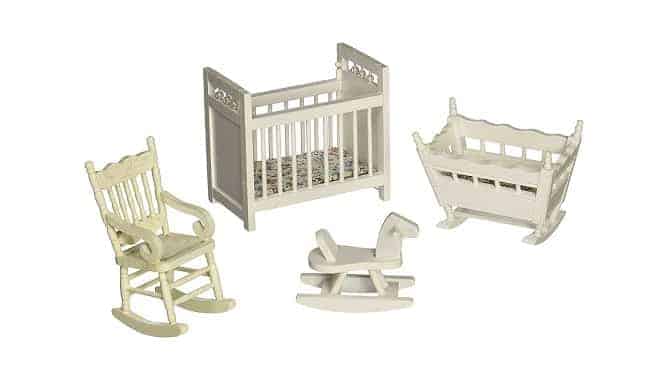 This Melissa & Doug's Doll House Furniture set contains enough pieces to furnish a single room. The set contains a rocking chair, a rocking horse, a crib, and a cradle and it fits all 1:12 scale dollhouses.
All pieces in the set are handmade and they can be combined with the Nursery Accessory Set that can be purchased separately. Moreover, the manufacturer offers furniture for living rooms, kitchens, or bathrooms in the same style so that you can match them with this set.
Pros
Handmade with attention to detail
Made from high-quality materials
Compatible with other sets made by the same manufacturer
Suitable for all children older than 36 months
Cons
The set contains only four pieces
Fits only 1:12 dollhouses
Dragon Drew Dollhouse Furniture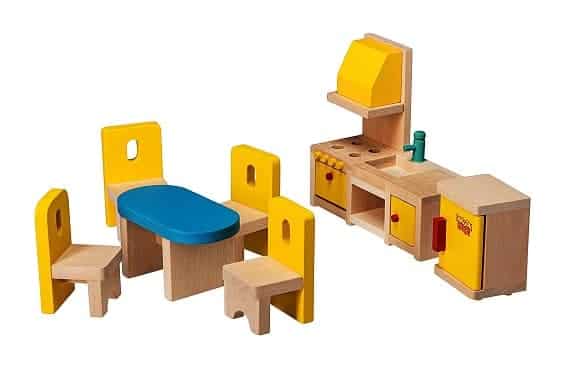 The kitchen in your child's dollhouse is going to look much more cheerful if you opt for this Dragon Drew's dollhouse furniture set. This colorful set contains a stove with an oven and a kitchen aspirator as well as a fridge that can be opened.
Besides, you will get a kitchen table with four chairs so that your child can cook tasty meals and serve them to the entire doll family.
Pros
Paint finish doesn't contain harmful substances
Suitable for a wide range of dollhouses
The table and chairs can be used in more than one room
Refrigerator and oven can be opened
Cons
The set doesn't contain enough pieces to furnish an entire dollhouse
This set comes with a choking hazard warning and it is not suitable for children younger than 3 years old
Hape Patio Set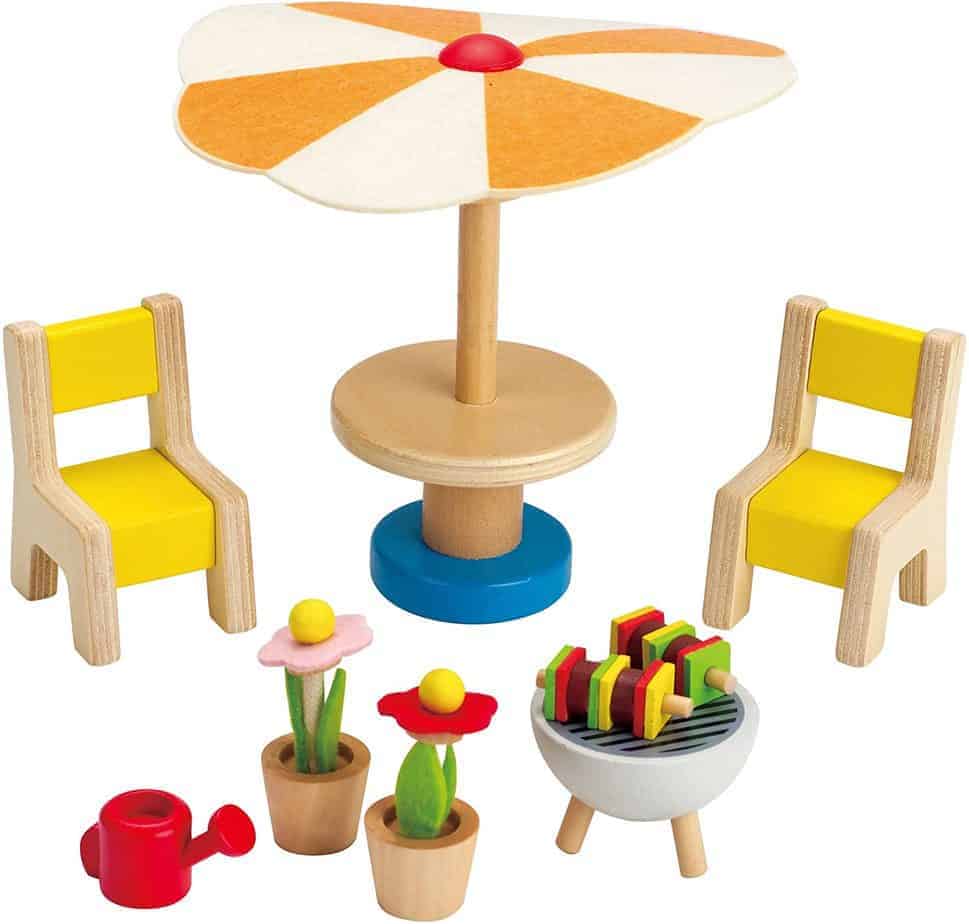 Imagining the sunny days in the yard of the dollhouse will become much easier with Hape's patio set that features 9 pieces. Besides two chairs and an umbrella patio table, the set also includes two flower pots and a watering can.
Your child can also play with a grill and two shish—kebabs while organizing a barbeque party in front of the dollhouse.
Pros
Extends the child's play beyond the dollhouse's interior
Allows for a broad spectrum of playing scenarios
Made from Baltic birch and maple
Non-toxic paint finish
Cons
The set doesn't include dolls
May not be suitable for large dollhouses
Melissa & Doug – The Living Room Set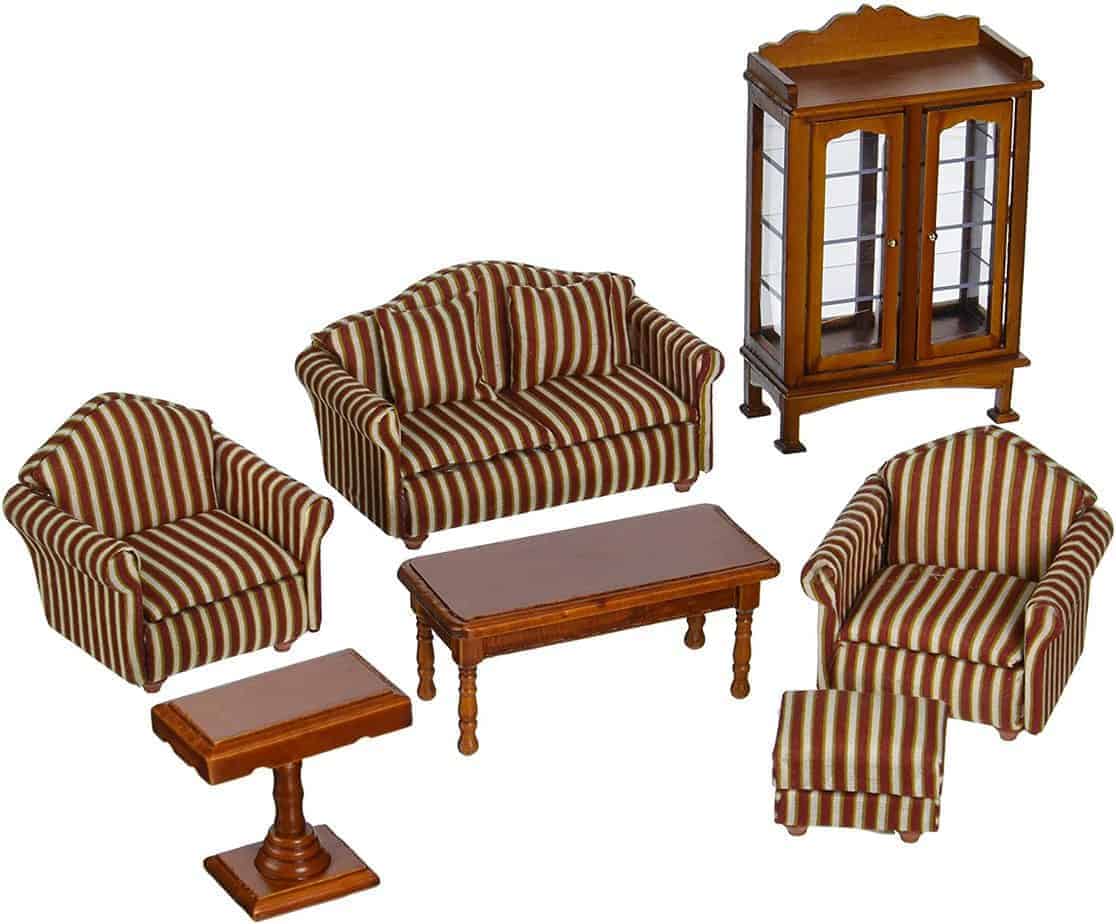 A classically designed dollhouse is going to look even more elegant with this Melissa & Doug's living room set. In addition to a couch, two upholstered chairs and an ottoman the set also offers a pair of pillows, a coffee table, and a side table.
This living room set matches with the manufacturer's bedroom and bathroom sets that recreate the look of traditional homes almost perfectly.
Pros
Makes one of the most important rooms in a dollhouse more stylish
Set contains ten pieces
Each piece is handcrafted
Perfect for historic dollhouses
Cons
More expensive than similar sets
Fits only 1:12 dollhouses
Lundby Smaland Dollhouse Kitchen Furniture Set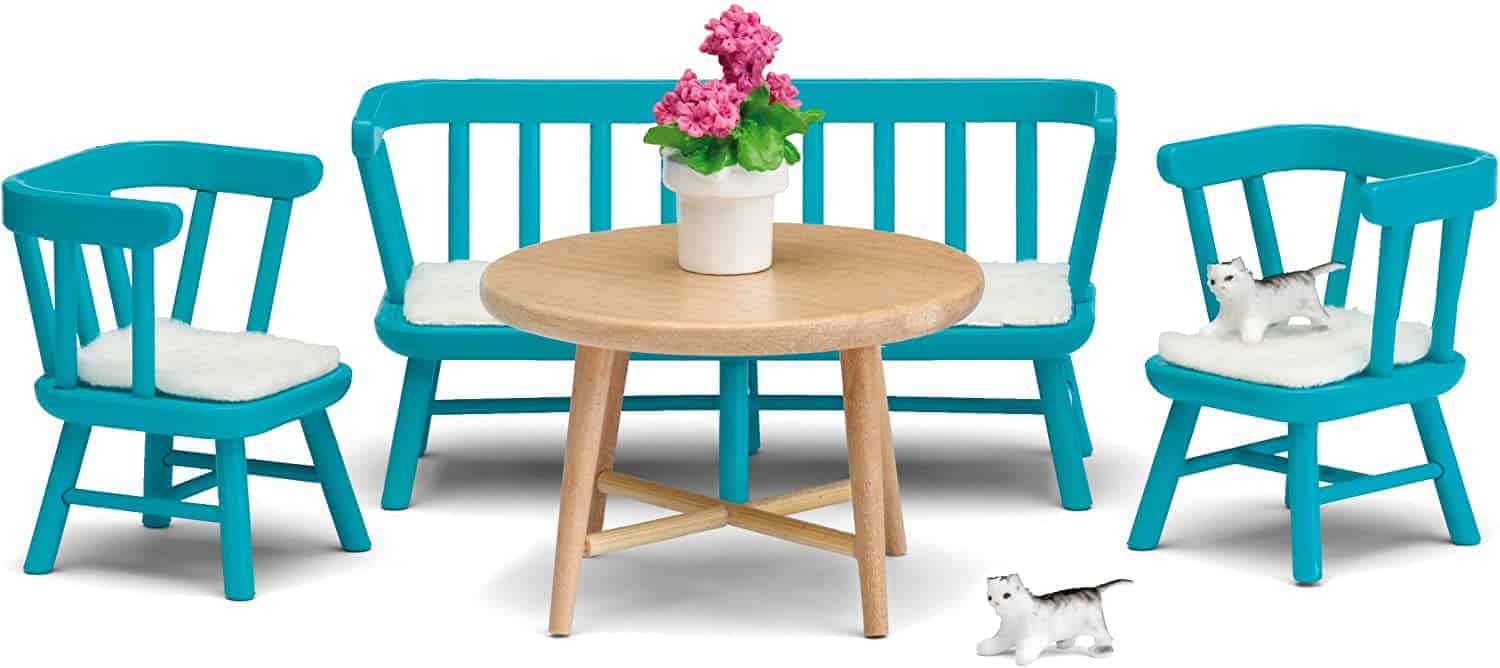 Designed to match the design of Lundby's dollhouses and accessories, this kitchen furniture set is a great complimentary piece to the rest of the house's furnishing.
Although it doesn't contain kitchen appliances, this set comes with a bench sofa, two chairs, and a table that is made from natural wood. Two kittens and a potted geranium make it easier to recreate the homely atmosphere of a stylish kitchen.
Pros
Colorful and beautifully designed kitchen furniture
Fits dolls that are up to 4-inches tall
Geranium flowers make the set look more realistic
Matches different styles of dollhouses
Cons
Made for 1:18 scale dollhouses
The set doesn't include kitchen appliances
Family Bedroom Set by Wooden Wonders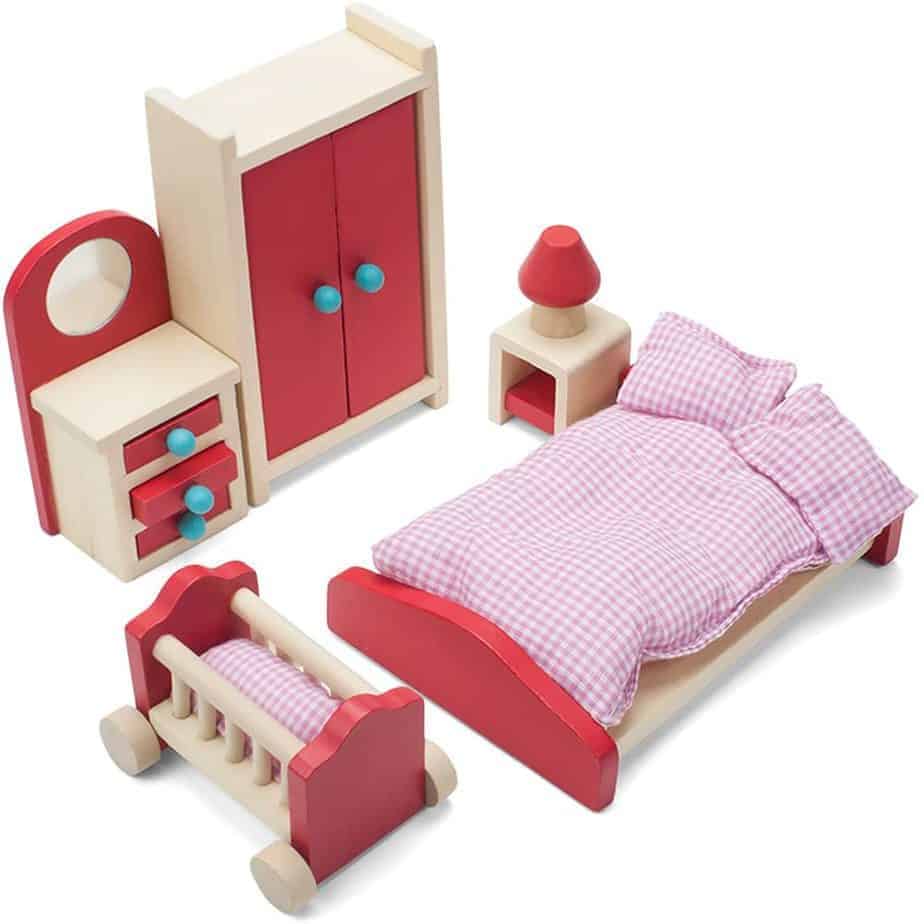 The bedroom in your child's dollhouse is going to look near-perfect if you choose this ten-piece family bedroom set produced by Wooden Wonders. Every detail from a dresser to the lamp on the nightstand is skillfully crafted and painted with non-toxic water-based paints.
A large number of pieces enables your child to reorganize the furniture as she sees fit, and it will also make it easier for her to include other children in her role plays.
Pros
The set is built from solid natural wood
Excellent upgrade for your child's current dollhouse bedroom
Crib for the baby features wheels for extra portability
Great for playing in groups
Cons
Dolls and other accessories must be purchased separately
Contains numerous small pieces that can be dangerous for toddlers
Tinsky Dining Table Set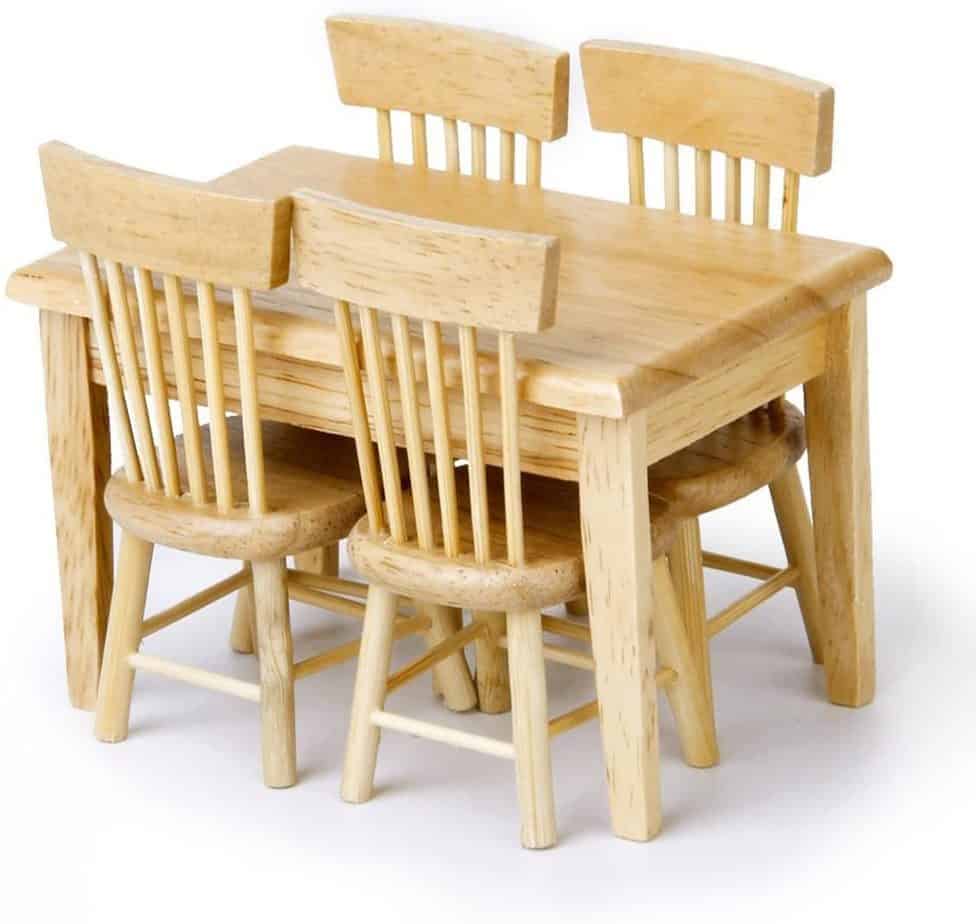 A dining table is a place where the entire family comes together either in real life or in your child's dollhouse. The Tinsky dining table set recreates the look of conventional dining sets that can be seen in most households.
Even though this wooden furniture set is only a portion of all the furniture your child is going to need to furnish her kitchen or the living room, it is certainly a nice addition to all modernly-themed dollhouses.
Pros
Simple design that fits a broad range of scenarios
A great choice for 3-year olds and older children
Matches with different types of wooden dollhouse furniture
Made from high-quality wood
Cons
Chairs are too small to place dolls on them
Aimed at relatively small dollhouses
Le Toy Van Daisylane Kitchen Dollhouse Furniture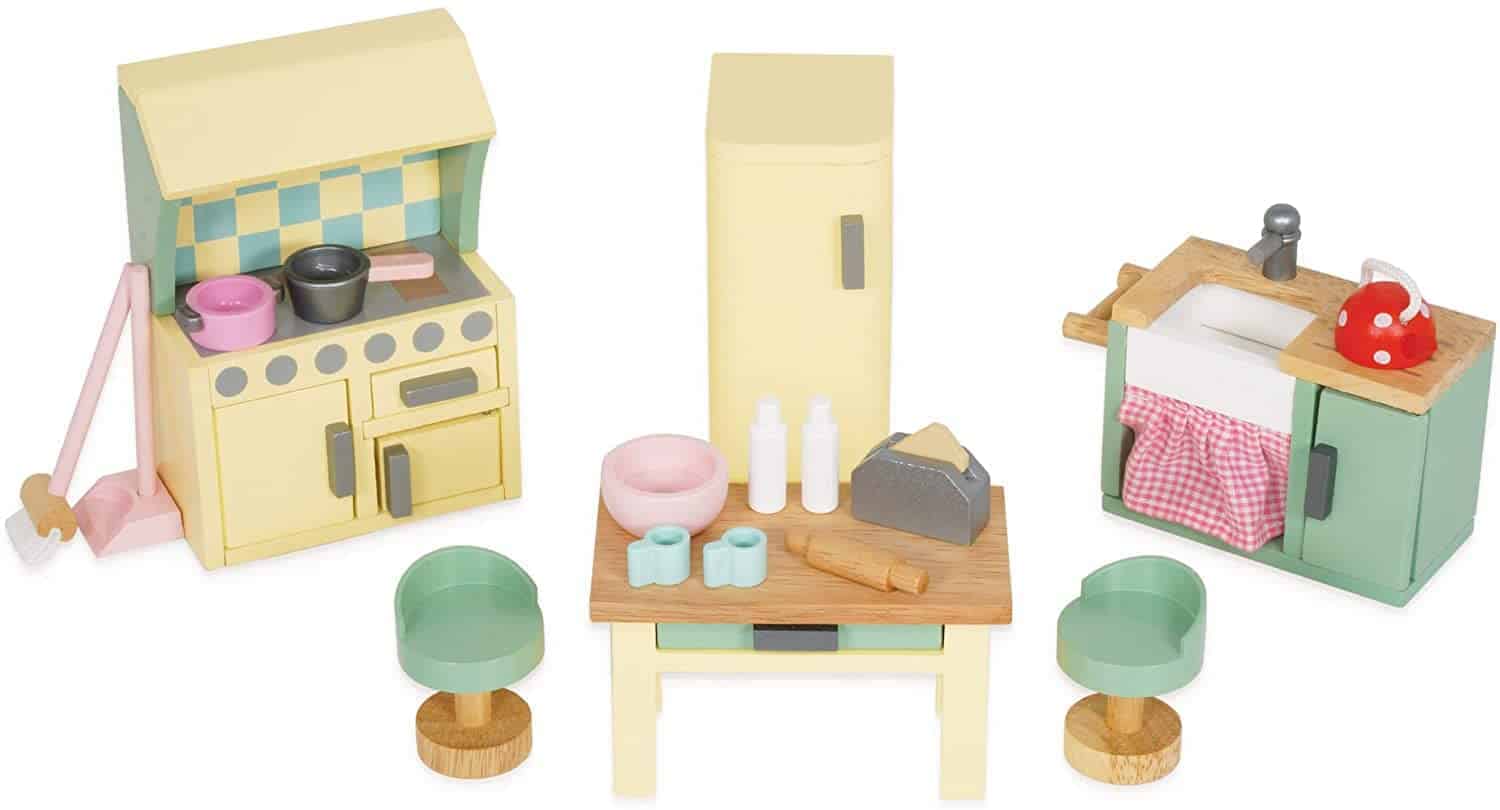 If you are looking for a wooden furniture set that will encourage your child's creativity and inspire her to imagine different cooking scenarios, then Le Toy Van Daislyane's kitchen dollhouse furniture may be the right choice for you.
The set contains 20 pieces including a refrigerator, a small table with two chairs, and a variety of kitchen items. However, you shouldn't allow a toddler to play with this wooden furniture set, because some of its pieces are small and easy to swallow.
Pros
Offers a broad range of kitchen furniture pieces
Matches the style of differently themed dollhouses
Inexpensive
Encourages creativity
Cons
Not suitable for toddlers
Dolls must be purchased separately from the set
FAQs
Question: Is wooden dollhouse furniture better than plastic?
Answer: Yes, it is. Plastic dollhouse furniture decays faster and you have to replace it often. Wooden furniture, on the other hand, cannot be damaged easily.
Question: How to know if wooden dollhouse furniture is good for my child?
Answer: You should consider your child's age when trying to determine if a particular set is a good choice for her. If your child is younger than 3 years old you should avoid wooden dollhouse furniture sets that contain a lot of pieces.
Question: Is it better to buy wooden furniture separately from the dollhouse?
Answer: Opting for a dollhouse that is already furnished will eliminate the need to search for the matching furniture sets. On the other hand, different wooden furniture sets allow your child to furnish her dollhouse according to her taste.
Question: Do paints on wooden dollhouse furniture contain toxic substances?
Answer: Most manufactures create paint finishes on their wooden dollhouse furniture using non-toxic or water-based paints that cannot endanger the health of a child.
Conclusion
All dream houses should have beautiful furniture their owners are proud of. The same is true for dollhouses that provide your children with an endless source of fun. KidKraft Shimmer Mansion that is fully furnished and equipped with a broad range of accessories may be a great choice if you want to get your child a new dollhouse.
Doll House Furniture produced by Melissa & Doug or family bedroom set by Wooden Wonders are better suited for children that want to give their dollhouses a fresh look. Which of the ten best wooden dollhouse furniture set are you going to choose? Leave a comment and let us know.
Recommended reads: