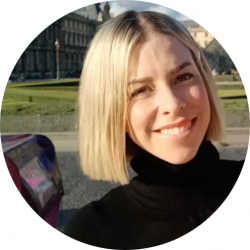 Latest posts by Jodie Chiffey
(see all)
In this guide, you will find a selection of the best wooden toy crane ideas for your little one.
Toy cranes are more than just fun. They're educational and help keep your child focused on tasks. Just like learning basic hand coordination with toy cars and fire trucks, children can enjoy new interactive experiences with other toy automobiles and equipment.
Here, I will share my thoughts on the best toy cranes that you can purchase for your child, including pros and cons, and also answer some frequently asked questions.
But if you're in a rush, you can take a quick glance at my top picks here below.
Related: Check out our reviews on some of the best natural indoor wooden toys.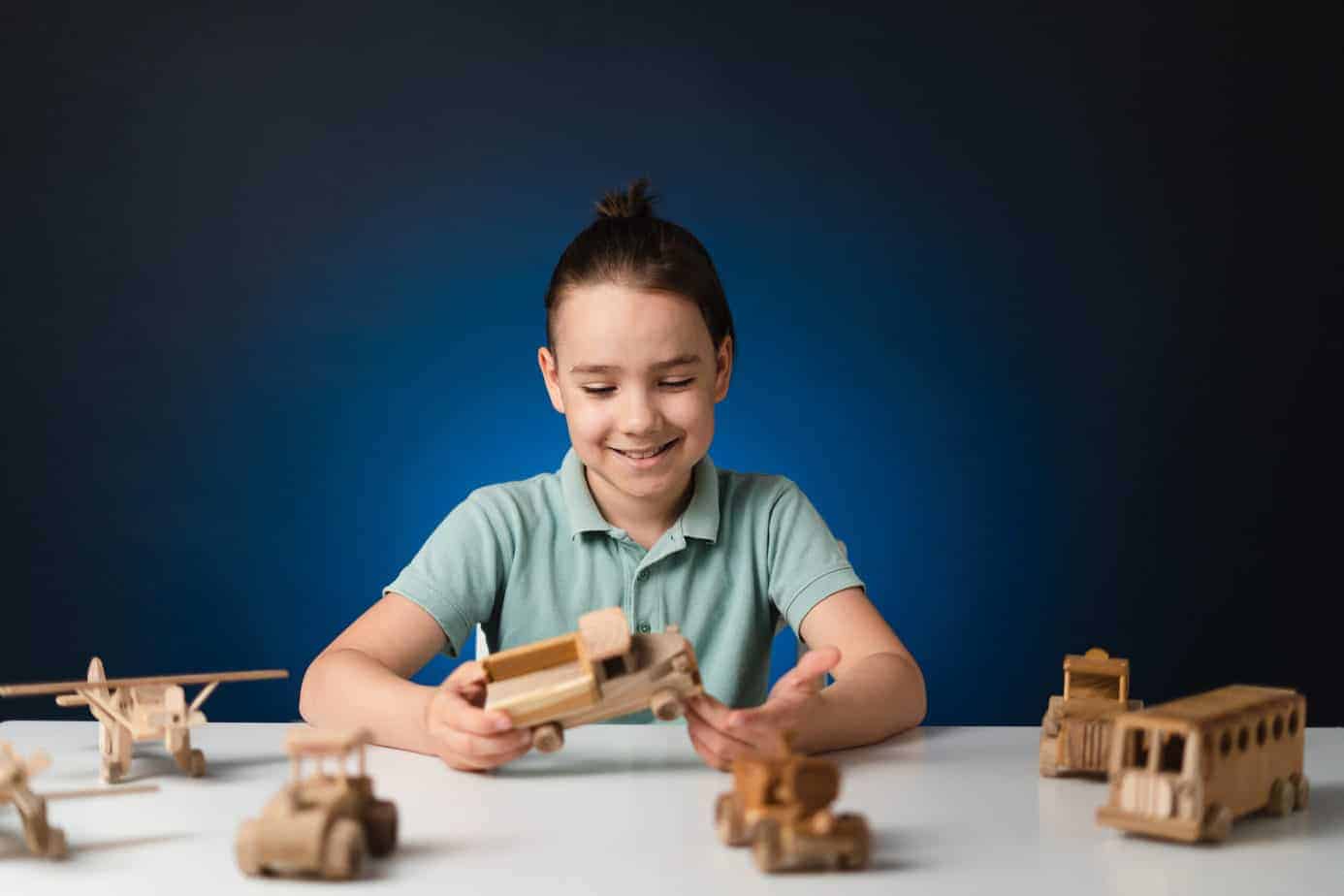 At a Glance: Best Wooden Toy Crane Ideas.
| | | | | |
| --- | --- | --- | --- | --- |
| Best Wooden Toy Cranes | Best for | Material | Dimensions | More Info |
| Award-Winning Hape Playscapes | Best for indoors and outdoors play | Wood and plastic | 17.8 x 16.5 x 21.22 | Find out more |
| Wood Trick Crane Toy Set | Model crane assembly for older children | Wood | 12.32 x 22.44 x 9.06 | Find out more |
| Fisher-Price Thomas and Friends Crane | Children and toddlers toys | Wood and plastic | 5.5 x 14 x 11 | Find out more |
| Wise Elk Toy Car Crane | Toddler play | Wood | 3.54 x 3.94 x 11.42 | Find out more |
| Mula Crane with Blocks | Toddler play | Wood | 11 x 6 x 4.5 | Find out more |
| BRIO World Clever Crane | Small children and toddler play | Wood and plastic | 7 x 1.5 x 3 | Find out more |
| Stanley Jr. Lifting Crane | Model crane assembly for young children | Wood and plastic | 4.1 x 9.4 x 6.8 | Find out more |
Selection Criteria
Each selection is thoroughly examined in detail to determine the best product. As you examine the pros and cons, you will be able to choose the best toy.
Styles
The best style of toy crane is colorful and has the ability to connect with add-ons if desired. It has a nice compact look that stimulates the child with attractive details.
Materials
Although some parts are constructed in other materials, the best toy crane will be made primarily from a strong wood that's durable and lasts a long time. Softwoods aren't the best choice for toy cranes as this product endures hard play at times.
Functions / Extras
The best toy crane has magnets for picking up blocks and boulder-shaped parts. It functions easily without breaking. The most desirable product also has accessories that add to the excitement of playtime and learning.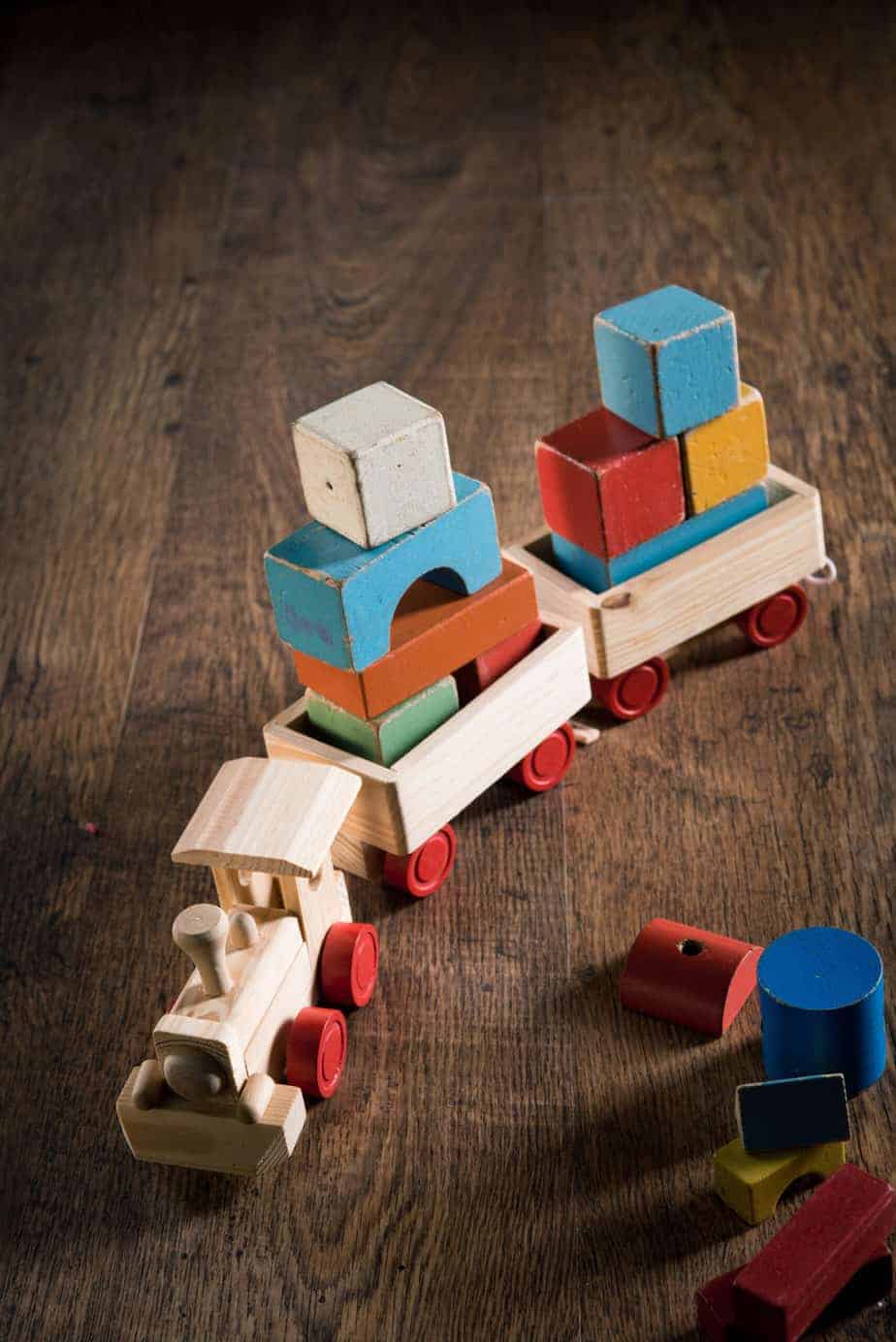 Types of Wooden Toy Cranes
Materials
Manufacturers use quality wood to create various toys for children, including cranes, trucks, and construction vehicles. Only the strongest and most durable grains can be selected when making these toys. After all, children can be rough with toys, and natural products must be reinforced to withstand heavy use.
Styles
There are a few types of wooden cranes. These toys are created for children of all ages, ranging from toddler toys to construction toys that are more suitable for older children. Toy cranes can be purchased completely built or in parts for assembly. This usually depends on the intricacy and age range of the toy.
7 Best Wooden Toy Crane Ideas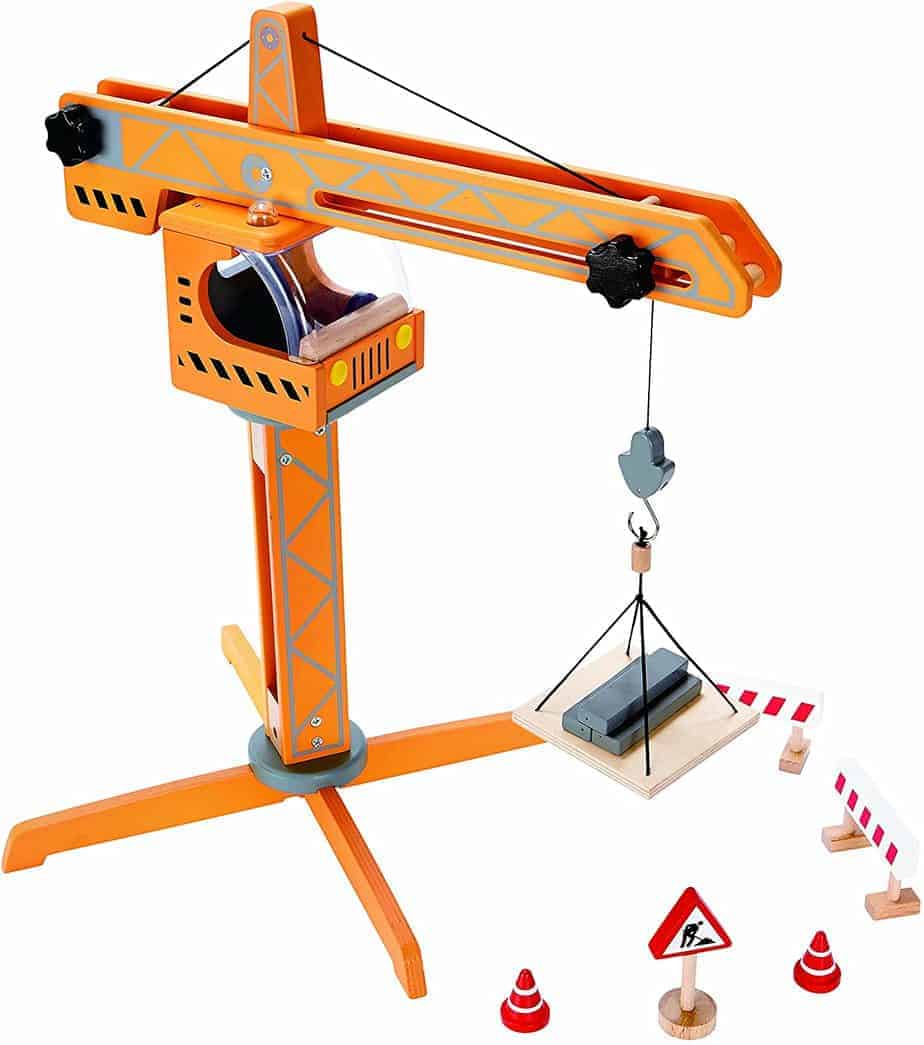 For those who have the desire to create and have a love for construction, this play set is just the thing. Children can spend hours loading and lifting blocks, interacting and pretending. This toy encourages role play and reinforces coordination and motor skills. Kids can play with only the crane and accessories or together with trucks and trains. Either way, this set brings hours of fun.
Manufactured with wood products from environmentally sourced forests, the Award Winning Hape Playscapes Crane Lift Playset is a guilt-free natural toy. As your children play with this set, you'll know that the components are as natural as it gets. Each crane playset comes with pallets, safety signs, and cones to create a more realistic construction site. Along with wood, some pieces are constructed from plastic and painted. Some are adorned with sticker details.
Overall Dimensions: 17.8 x 16.5 x 21.22
Weight: 4.8 oz
Pros:
Cute interactive toy
Realistic moving parts
Colorful
Accessories
Cons:
Does have plastic, cord, and paper materials included
Lightweight/ may be easy to break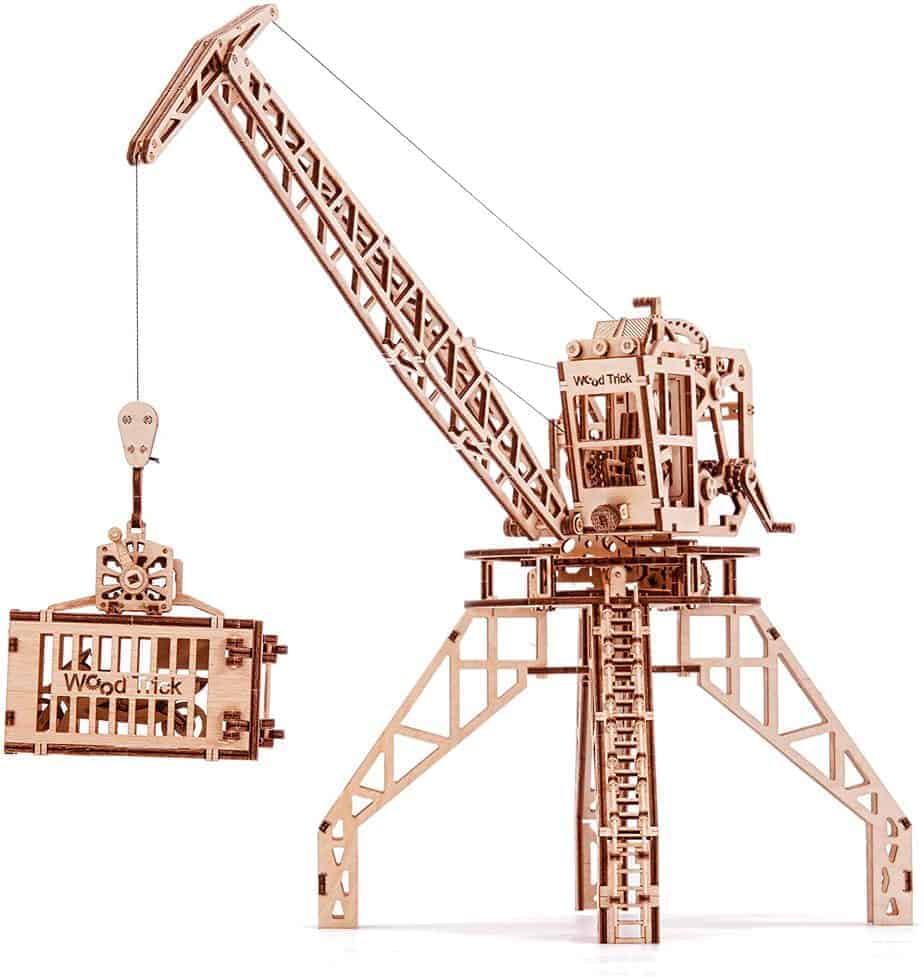 With this set, you can build your own hyper-realistic crane structure. This product is geared more to the older child and can help develop coordination, intellect, and attention to detail. You and your child can enjoy building this crane toy set together or sit back and watch your child work through the process alone, learning even more. This set is intricate and includes many pieces which add to its amazing appearance.
This set is constructed from high-quality plywood and has an assembly level of 'difficult'. While some youth will be able to assemble the set alone, some may not. The Wood Trick Crane Toy Set includes 172 pieces which also places it in the category of a 3D puzzle.
The good part about the assembly is that this toy set comes with full instructions in the owner's manual, so both parent and child can refer back to detailed images and notes on how to put their crane together. Kids, enjoy it alone or with help, as long as you have loads of fun.
Dimensions: 12.32 x 22.44 x 9.06
Weight: 1.75 lbs.
Pros:
Intricate details
Can enjoy this set with your children
Cons:
Most children will need help with assembly
Mostly used for display instead of a toy
Over a hundred pieces, so all parts must be included.
Considered a 3D puzzle by some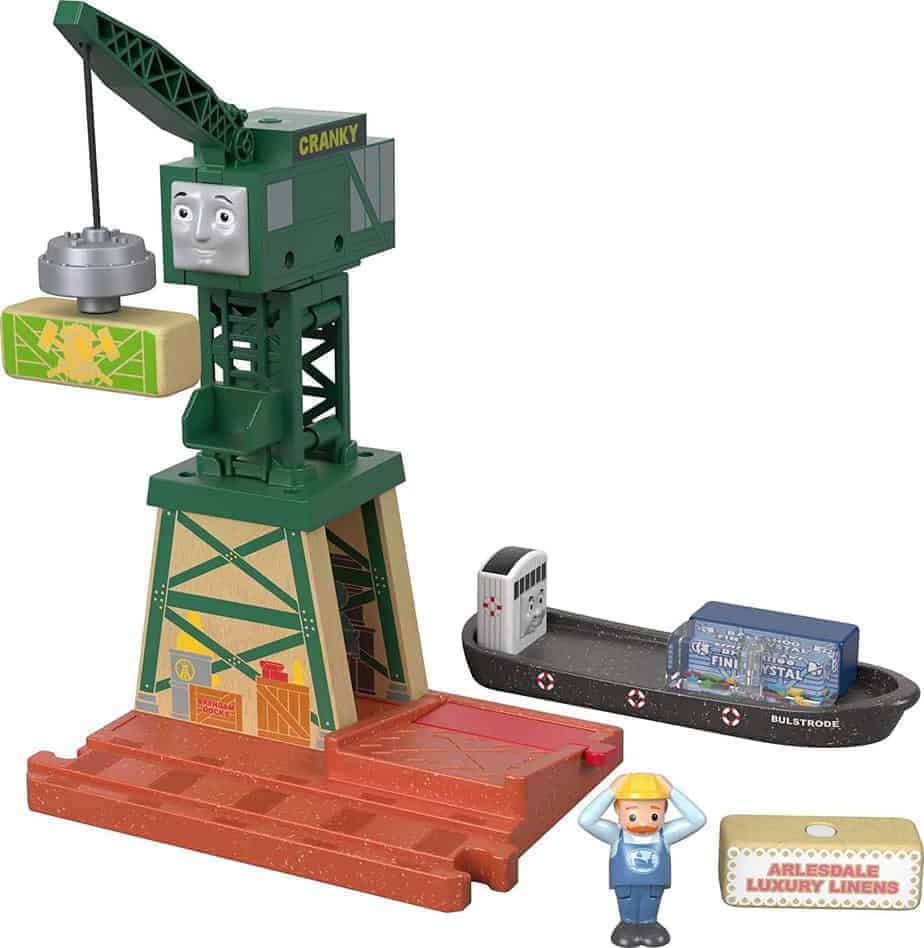 If your child loves Thomas the Train, then they'll love Fisher-Price Thomas and Friends Crane Set as well. In this case, children get to build on their own, as the set comes easily adaptable to additional pieces like train tracks and carts. Also, the crane is complete with a magnetized tip for lifting other accessories fitted with magnets. This product is designed for childhood fun and helps develop cognitive, emotional, and physical skills in children.
The crane set is manufactured from sustainably sourced wood to help protect the environment. Several accessories are included, but the piece is designed to continually add more parts over time. This toy helps your experience a sense of achievement as they use the crane, move cars down the track and interact with their imaginations. Parents feel proud watching their child grow up with Fisher-Price toy cranes and accessories.
Overall Dimensions: 5.5 x 14 x 11
Weight: 1.9 lbs.
Pros:
Made with sustainable wood products
Colorful toy
Made for a child of any age
Cons:
It may not be as fun for older children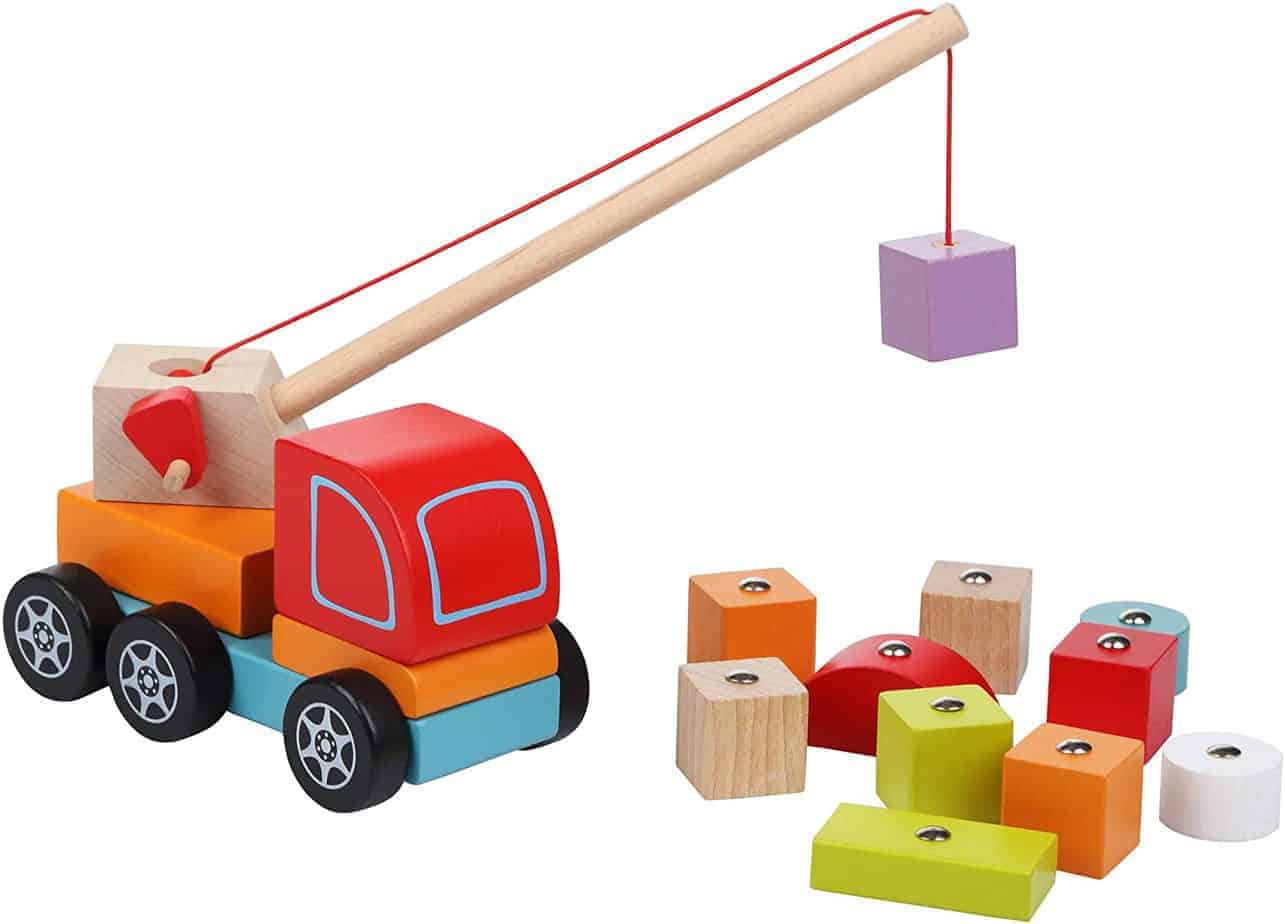 This colorful crane set is made with the rapid learning abilities of the toddler in mind. Although the toy is simplistic, each block is fitted with a magnet to teach the child basic connectivity skills. This toy trains eyesight, teaches shapes and colors and develops motor skills. Many other useful skills are learned as your child plays hours on end with the Wise Elk Toy Car Crane for Toddlers.
Made for both girls and boys, this toy crane can be used outside and indoors as well. The product is made from eco-friendly materials and does not include small pieces which could be hazardous if swallowed. The toy is compact and easy to carry from place to place, and easy to clean. Use a damp cloth to wipe away any dirt and grime, keeping your toddler safe from germs as well.
Overall Dimensions: 3.54 x 3.94 x 11.42
Weight: 1.49 lbs.
Pros:
Simplistic, few loose parts
Stimulates learning for small children
Has magnetic blocks
Cons:
Primarily made for toddlers
Simplistic
Only one block can be picked up at once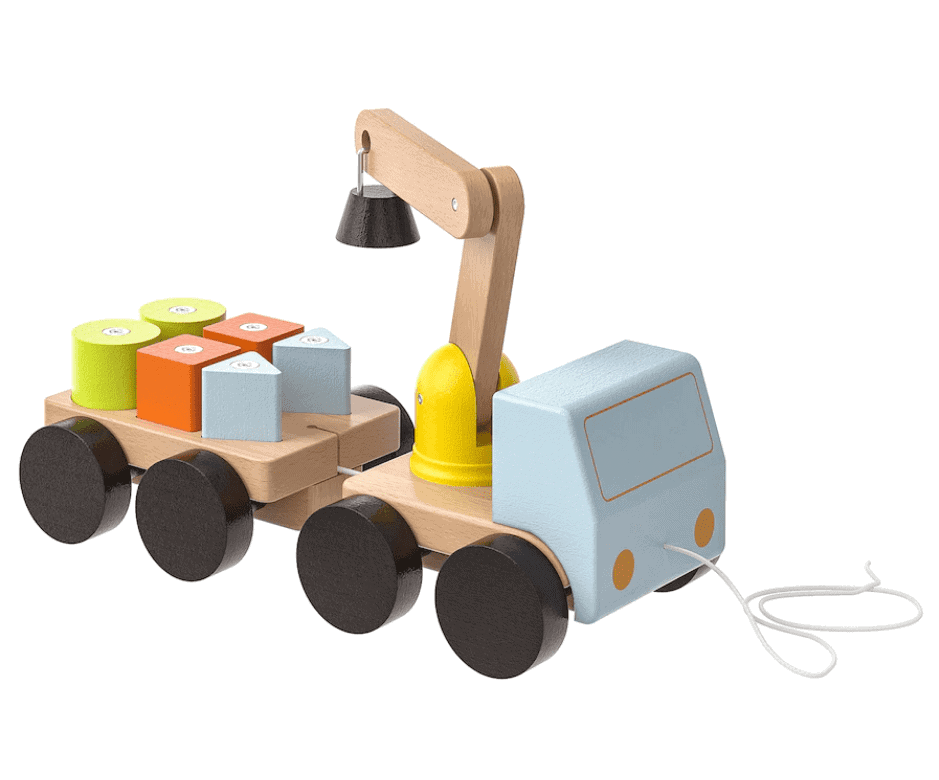 Also, specializing in toddler learning, the Mula Crane with Blocks from Ikea is another great option. Your child can build up dexterity by picking up blocks, dragging them around, and stacking them together. Also, playtime is enriched when learning hand-eye coordination and logical thinking. The best part is, everything is exciting to your children as they just enjoy the fun of playing pretend with learning as a side effect.
Made from sturdy wood, this little two-piece trailer can be pulled around by a string. This makes playing with the crane and blocks fun for both indoors and out. Your child can keep the crane hooked to the trailer or separate the two, it doesn't matter. With the ability to change things around, move and lift blocks, your child will enjoy this product for a long time. It's also safe, easy to clean, and colorful.
Overall Dimensions: 11 x 6 x 4.5
Weight: 1.75 lbs.
Pros:
It can be pulled with a cord
It comes in two pieces that can be separated
Indoor and outdoor play
Easy to clean
Cons:
Made specifically for toddlers
Stand-alone piece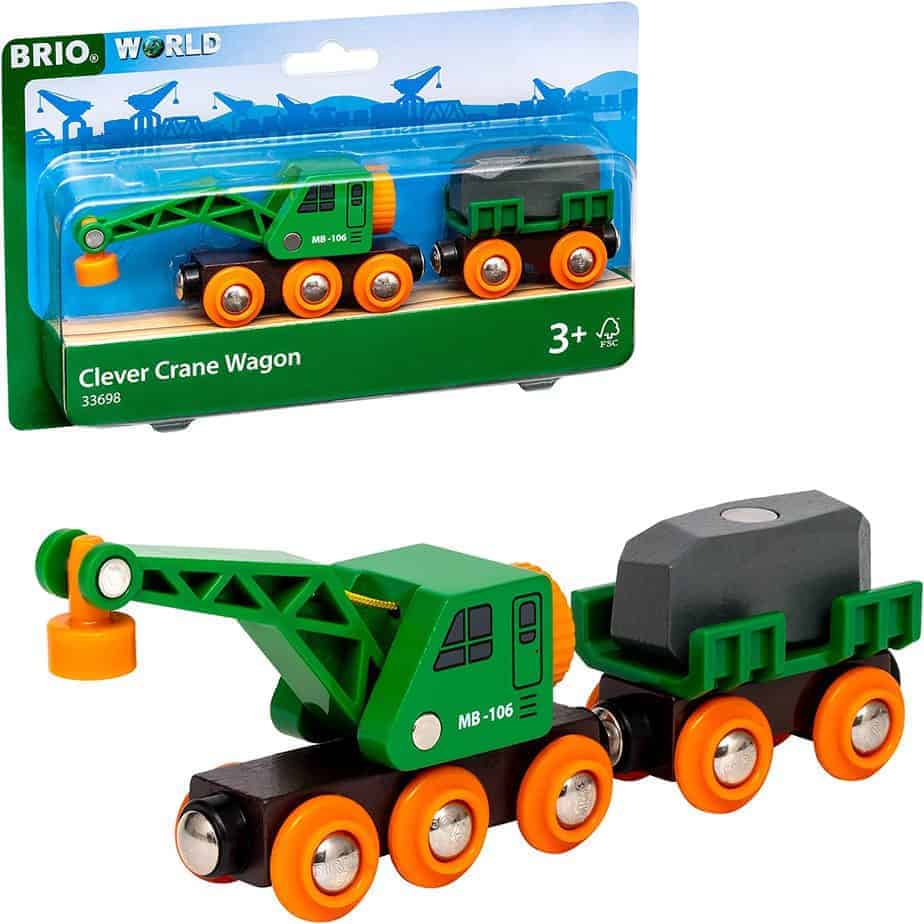 This product is the perfect choice for sparking creativity in your child. The BRIO World Clever Crane Wagon Set, like other toddler-based toys, also uses magnets to pick up objects and then carry them around. In this case, a nifty wagon carries the included wooden block. Let your child improve skills by using their imagination either outside or indoors. This product is both educational, stimulating, and fun.
Made from quality wood, the crane wagon set provides hours of fun and endures tough play. This toy is also colorful, painted a striking deep green with bright orange wheels and accents. As far as safety goes, the product is tested multiple times before sale to ensure your child has a perfectly safe toy to enjoy for a long time. Your toddler can play with this set alone or in conjunction with additional connecting pieces.
Overall Dimensions: 7 x 1.5 x 3
Weight: 5.8 oz.
Pros:
Attractive bright colors
It can be connected to more pieces
Cons:
May not interest older children
Includes some plastic parts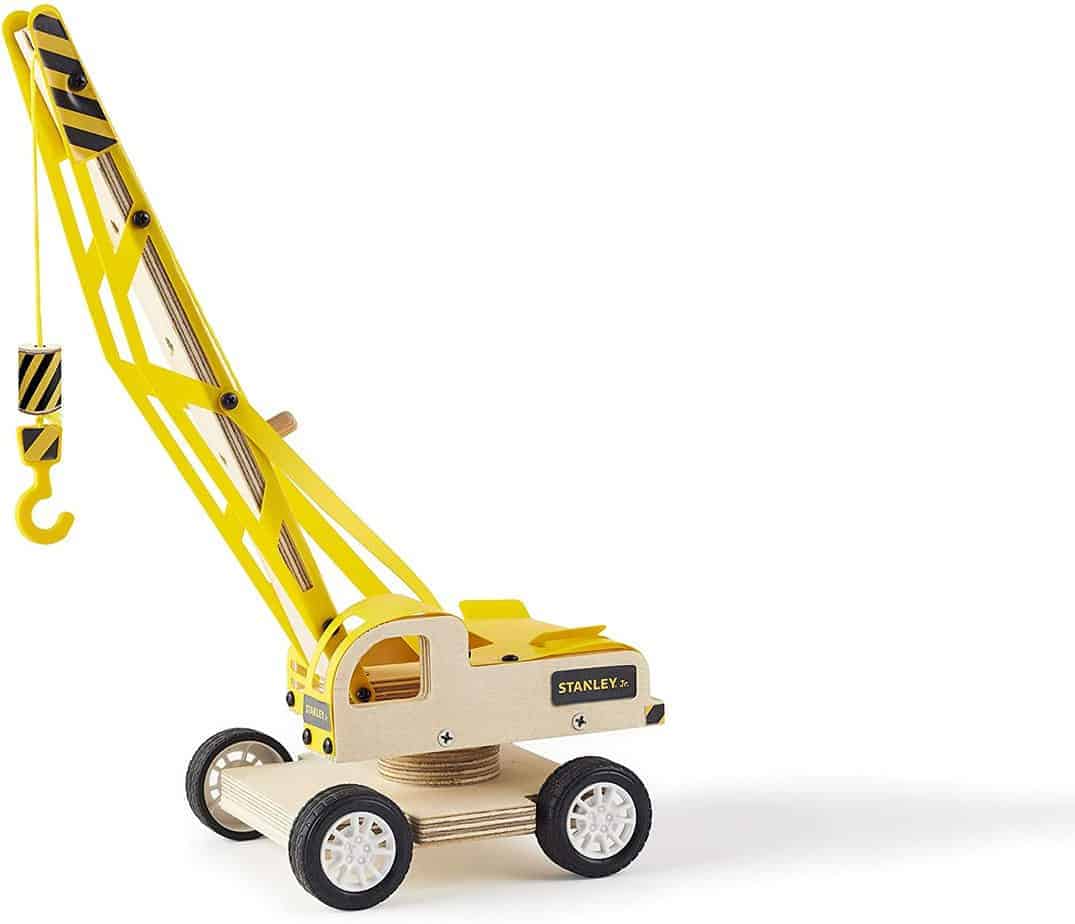 This product is also an assembly project, but it's catered more toward younger children. However, it's not intended for toddlers. Parents can help their children build a fully-functional crane toy with just a little effort and instruction. While cranes are fun to play with, building them is half the fun. This toy helps children build skills, improve focus, and also improve coordination.
Made from quality wood and plastic products, this kit is specially made for smaller hands. The kit is environmentally friendly, easy to put together, and a great way to spend quality time with siblings or friends. The Stanley Jr. Lifting Crane Kit is a safe and fun way to enjoy every day, the holidays, or even time alone practicing building skills. You can find this product on Amazon.
Overall Dimensions: 4.1 x 9.4 x 6.8
Weight: 15.5 oz.
Pros:
DIY crane toy
Fun alone or with family
Parts made with smaller hands in mind
Cons:
It may not be as fun for older children
Too complicated for toddlers
Includes plastic materials
Lightweight and can be broken easily
Frequently Asked Questions
Question: Are toy cranes easy to assemble?
Answer: This depends on which type of toy crane you purchase. With the toddler toys are quite easy to put together and usually take only a short period of time. With cranes targeted toward older children, it can take a bit longer. As for kits geared toward older children and teens, assembling can take a long time, and these types of kits are designed to make assembly fun for both child and parent. So, to understand the time it takes, you must know which crane toy piques your interests.
Question: Can you find 100% wood crane toys?
Answer: It's possible to purchase a toy that is almost entirely made from wood, but most of the time, you'll have items like screws or bolts that hold the toy together, which are made from metal. Some cranes even have small plastic and cloth pieces that accent and detail the toy. Most cranes are not 100% natural wood, but they are closer than other toys in that area.
Question: Can children really improve their intellect playing with wood toy cranes?
Answer: Yes, since children learn the most from birth to age 7, they can learn many skills while playing with toy cranes. Like several of the selected toy products listed before, children can improve their focus, coordination, building skills, and memory when playing with assembling or playing with toy cranes. Although moving pieces about with the crane may seem simple, it helps with motor and thinking skills that help boost cognitive health.
Question: Are most wooden toy cranes environmentally friendly?
Answer: While some wooden toy cranes may be made from plywood or particle woods, most of them are sustainable products that are safe for your child and protect the environment from overuse. In addition, the materials are clean and strong, providing a long-lasting, environmentally friendly toy.
Final Thoughts: Best Wooden Toy Crane Ideas
With the information I've provided here, you can make an educated decision for your child. Each toy has slight variations, some more than others, but all are high-quality toys. So choosing the best one may be difficult.
As for me, I picked the Fisher-Price Thomas and Friends Wooden Crane. This product is designed for children of many ages to enjoy and can be extended with other wooden track or train accessories. It's brightly colored and has the iconic smiling Thomas the Train face on the top of the crane. Who doesn't adore that!
I hope this review was helpful in helping you find the best toy crane for your child. If you're looking for other natural toys to spark the imagination, check out our reviews on wooden pirate ships. After all, most children love adventure. Good luck.
Recommended reads: