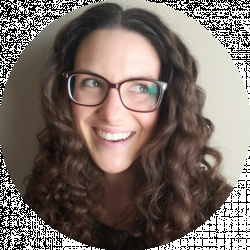 Latest posts by Sarah Caldwell
(see all)
You may be thinking, "Well, of course, all colored pencils are made of wood!" Believe me, that's what I was thinking, too. But not all of them are. There are chalk colored pencils, woodless colored pencils, and all kinds of others.
So, whether you're an aspiring artist or you have a child who wants a set for their birthday, you may be looking for the best set of wood colored pencils around. There are plenty of options, but it can be hard to know what to look for.
Between brands you've heard of and those you haven't, you'll find a wide range of materials, colors, and prices as well as sets that come with dozens of pencils and those that come with hundreds. Some even come with beautiful carrying cases and displays.
Buying Guide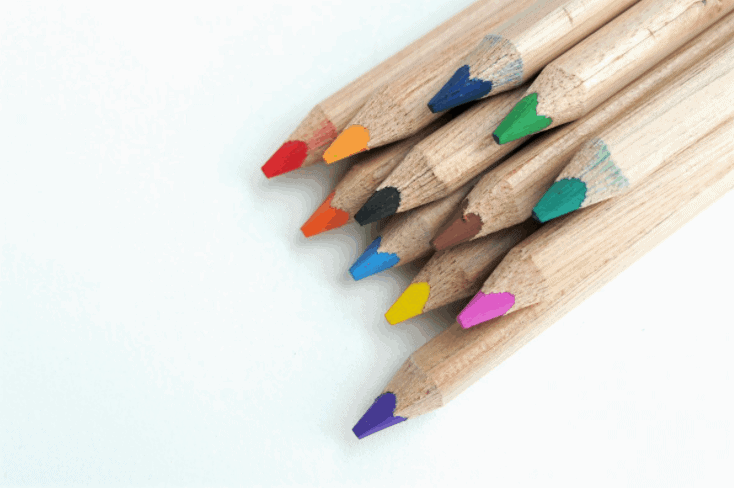 If you've never bought colored pencils before, or if you don't know much about them, there are a couple of things to think about before diving in. There's nothing wrong with the value brands or the school supplies you buy every year, but sometimes it's nice to consider a bit of an upgrade.
Quality
There are two buckets we can use to categorize colored pencils. Those are student grade and artist grade. If you have the budget for it, you'll notice the difference immediately upon purchasing artist-grade colored pencils.
They're far superior. While they cost more, that's because they have more pigment, so they produce bolder richer colors. Your art will be much more vibrant, the color will go on smoother, and you'll have a much better experience.
Artist-grade pencils are more lightfast and softer, making them much easier to use and blend. They come in a wider range of colors, but you can also purchase them individually when needed, which is referred to as open stock.
Consistency
The consistency of the lead is the biggest contributing factor to your enjoyment of colored pencils. While a child or an inexperienced person may not notice, a true artist will be instantly annoyed by the incorrect consistency.
However, the consistency you want or need will depend on how you're using the pencils and it will vary across pencil types and manufacturers based on the ingredients used to make the pencil.
The lead is made of pigment, gum binder, filler, and wax. Then it's encased in wood. The recipe can be tweaked to produce pencils that perform slightly differently under a variety of circumstances.
Soft colored pencils lay down easily and blend very well. Some may be crumbly and grainy while others may be smooth and creamy. Most artist-grade colored pencils are on the soft side because they have less binder and filler with more pigment.
The downside to this is that they don't hold a point as well and have to be sharpened more frequently, which can be annoying.
Hard colored pencils hold up better under sharpening and they won't crumble, even when sharpened to a very fine point. They're better suited for creating fine lines and detailed work like hair or fur.
Student grade colored pencils are typically harder because manufacturers cut costs by deleting pigment and adding more filler. However, that makes the colors dull. The pencils are also a lot less fun to use and they're harder to blend.
It also means it takes more work to apply color, it can cause damage to your paper, and it can cause hand fatigue. Surprisingly, harder doesn't always mean inferior. There are still hard colored pencils that are artist-grade.
Color
Colored pencils don't mix as well as other media, like paint, so artist-grade colored pencils come in a wider range of colors than student-grade colored pencils do. If you want more hues and tones, you may want to consider buying an artist-grade set.
Not only that, but you'll want to look closely at the colors offered. Even some artist grade sets that come with more than 100 colors won't offer the range of colors you want. You might find that there's an excellent selection of reds and pinks, but it seems to be lacking in greens and blues.
Permanence
All art may fade or break down over time. The ability to resist light and humidity is called lightfastness. Artist-grade colored pencils are more fade-resistant than student-grade colored pencils.
For children, student-grade colored pencils are likely fine. For those who want to create lasting works, you'll want to consider artist-grade sets that have lightfast qualities to hold up under light and humidity.
This can really help if you plan to digitize your collection. Check the lightfastness ratings on artist grade sets before purchasing if this is something you're concerned about.
The Best Options
There's no shortage of colored pencil sets out there for beginners and experienced artists. Here are some of the best options. They range in price, the number of pencils per set, and quality.
Prismacolor Premier Soft Core Colored Pencils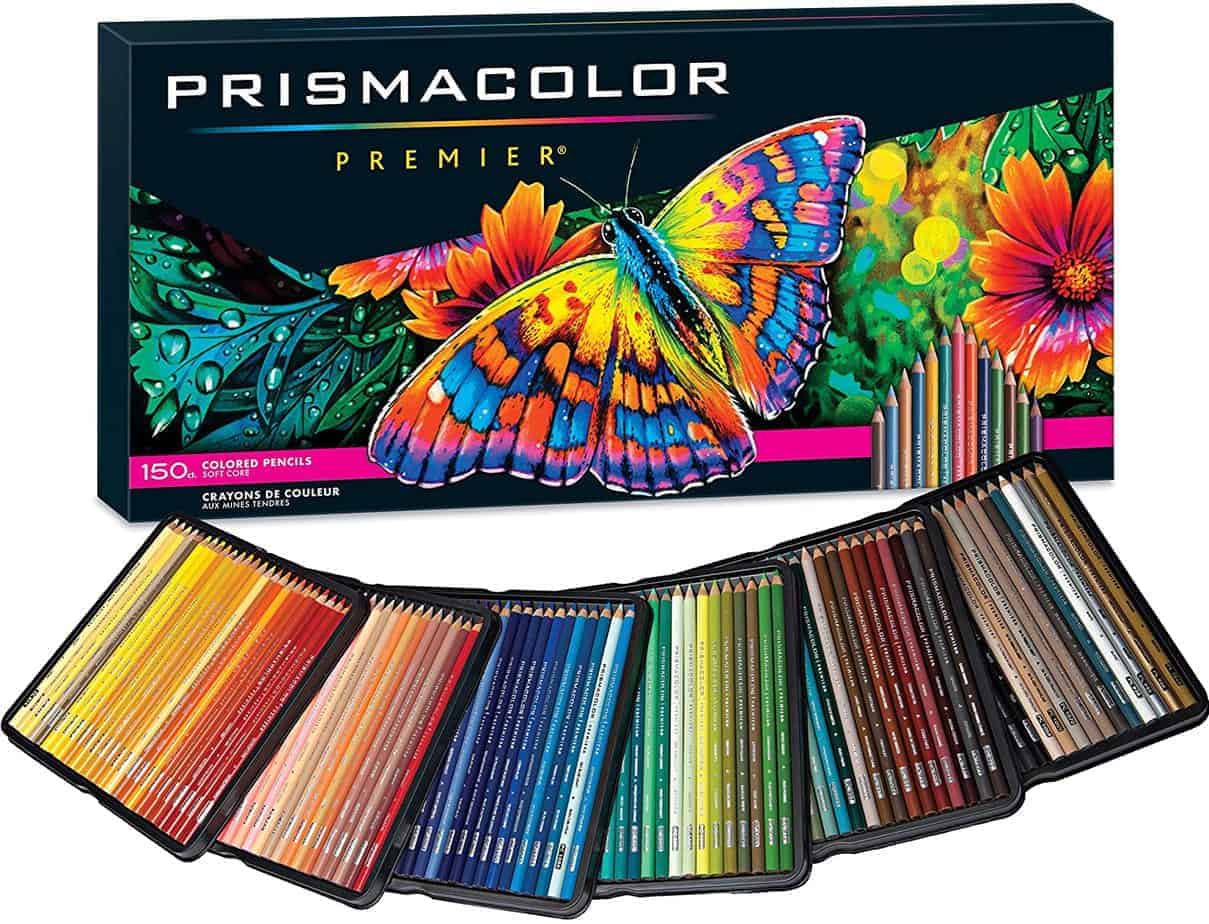 These artist quality colored pencils include a softcore that produces vibrant color. It offers superior blending in a wide range of colors. You can get them in packs of 24, 36, 72, or 150. They're wax-based, so while they're not quite as high quality as oil-based colored pencils, they're also not as high in price.
They're a great colored pencil for a beginner who still wants to try an artist-grade product. They move smoothly over paper, they're easy to blend, and they're waterproof. The thick cores resist chipping and cracking and they're also lightfast.
Prismacolor is one of the most well-known brands for producing art products and they've been making them for more than 75 years. You can trust the quality, and if you're looking for a brand you've heard of at a great value you can afford, this is it.
Pros:
Variety of pack sizes
Good value
Great for beginners
Cons:
The lower end of artist-grade quality
Faber-Castell Polychromos Colored Pencils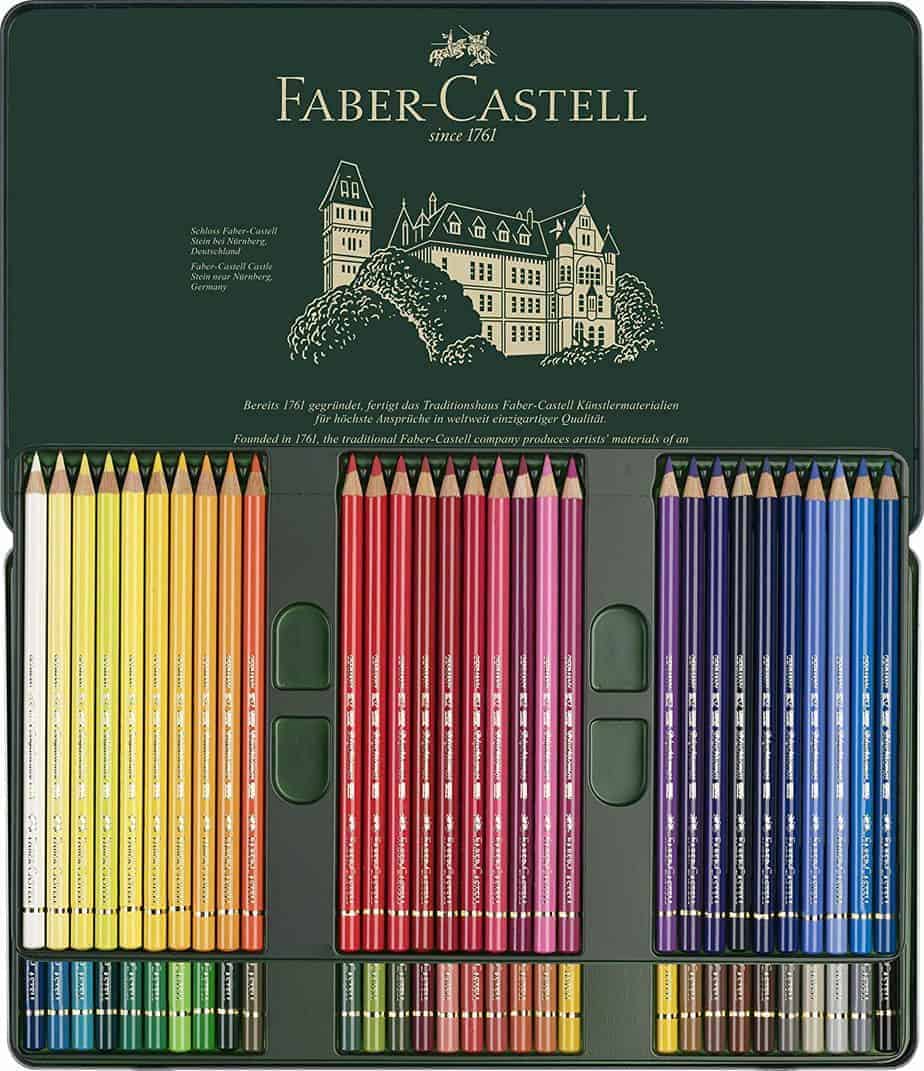 Polychromos means many colors. This German brand has been in the business of making materials for artists since 1761. You won't find anything of better quality, but it's unlikely you'll find anything at a higher price either.
If your budget can handle it, this is likely one of the best sets you can get. It comes in 12, 24, 36, 60, or 120 colors. The storage tin protects the pencils while they're not in use, and upon opening, you'll see layers of bright colors ready for designing.
Each color is made from the highest quality pigments so they contain permanent color and incredible lightfastness. The leads are 3.8mm thick and resistant to breaking and water. They're SV-bonded for the entire length of the barrel so they're easier to sharpen and they'll last much longer.
You can lay down color with buttery smoothness because these pencils are oil-based and they won't smudge, bloom, or feather. The pigment is rich and acid-free.
Pros:
Excellent quality
Superior lightfastness
Vibrant pigment
Smooth application
Strong lead core
Cons:
Crayola Color Escapes Colored Pencils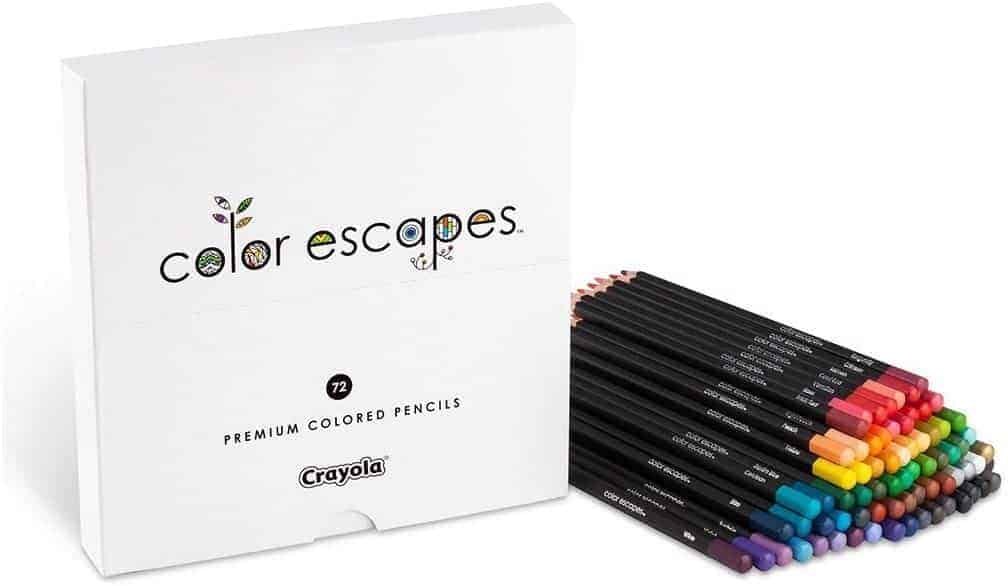 Don't think that just because they make children's art supplies they're not any good. They make art supplies for adults, too. Crayola has been a name in coloring just about anything since 1885, and they certainly have it down to a science.
Affordability and fun is the name of the game with Crayola, and there's no shame in needing just a bit of stress relief at the end of the day. These colored pencils are marketed toward the amateur colorer, the mom, or the hobbyist.
They're a way to relax and unwind while still creating colorful art projects. It's a set of 72 colors with 3.3mm soft cores. They're styled with a bit of modern flair, including jet black barrels with color dipped ends for easy selection.
They're easy to sharpen, they lay down smooth, and you can blend or shade thanks to a pigment that's slightly more premium than Crayola's school supplies for kids.
It comes with an easel box to keep them organized and, as with all Crayola products, they're non-toxic and AP certified.
Pros:
Fun and affordable
Modern design flair
Slightly more premium than other Crayola products
Non-toxic
Cons:
Derwent Artist Watercolor Colored Pencils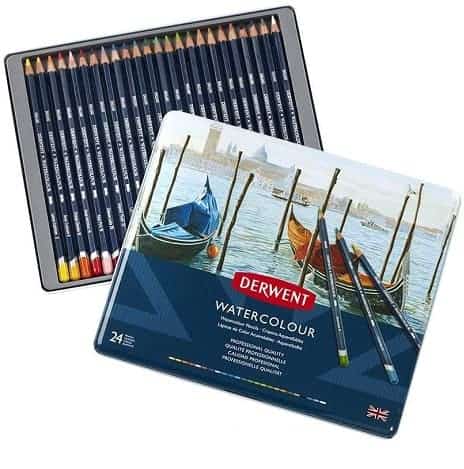 These colored pencils feature a 3.4mm core, so it's not quite as large as some other artist grade pencils, but it comes in a hexagonal shape, which provides several benefits. Hexagonal barrels offer more stability and strength than round barrels. They are also more convenient because they won't roll off the table when resting alone.
The set includes 72 colors and they're water-soluble, so you can create rich textured lines or bright colors with soft edges with a wetted tip. Adding water mutes the color wash, but that also means the color doesn't offer the same permanence that other artist-grade pencils do.
This set is a fantastic way to combine the control and precision of a colored pencil with the beauty of watercolor in one versatile tool. You can wet the tip of the pencil or use it on wetted paper.
Pigment transfer is soft and easy while blending and layering are smooth and seamless. You can create anything from bold colors to delicate details. The set is presented in an elegant wooden box.
Pros:
Versatile colored pencil/watercolor combination tool
Hexagonal shape offers more strength and convenience
Smooth pigment transfer
Easy blending and layering
Cons:
Not lightfast or permanent
ARTEZA Colored Pencils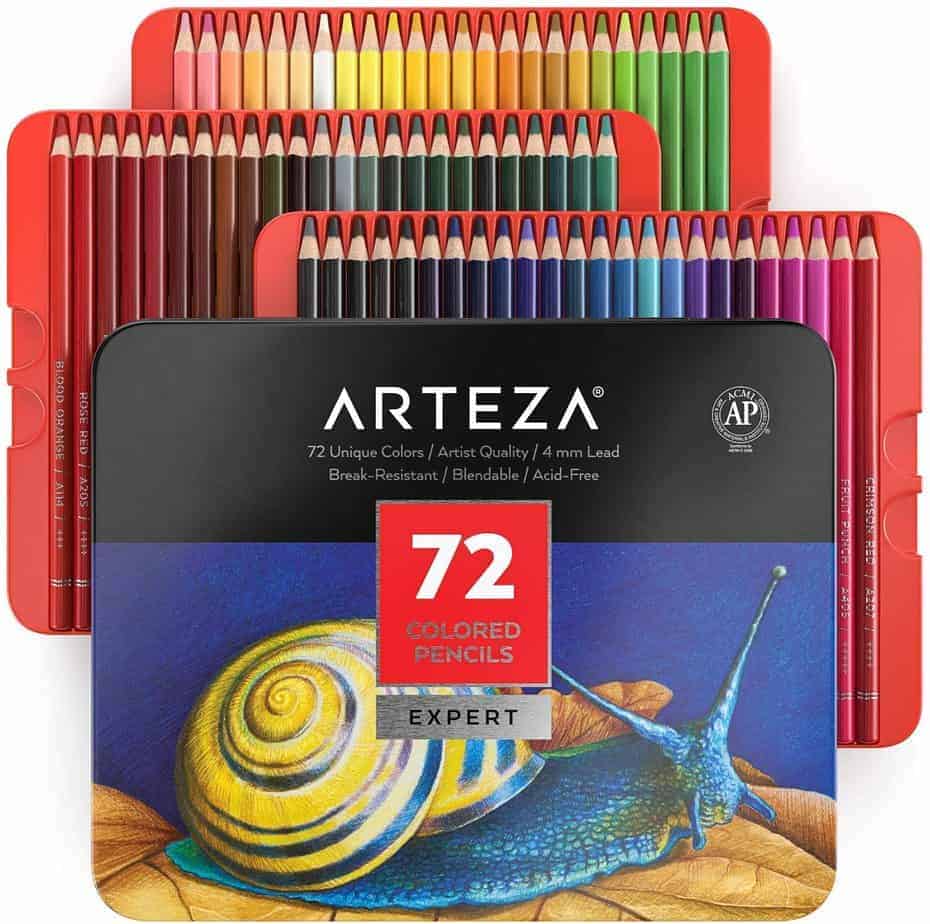 These colored pencils are fantastic because they come in a double-hinged storage tin, they're non-toxic, and they come with an iron-clad guarantee that says if you're not satisfied, you'll get a replacement for free.
It's an artist-grade set for a great price that goes on smoothly, blends effortlessly, and layers beautifully. You get rich, deep coverage at a fraction of the cost. The colors are vivid and each pencil is numbered for easy identification.
The barrels are sturdy and the cores are soft but break-resistant. They're made to sharpen easily without chipping. They are water-resistant, so you'll get the permanence you want at a price you can afford.
They're wax-based and non-toxic. You can choose from a set of 48, 72, or 120 pencils.
Pros:
Excellent value
Great guarantee
Vivid colors with identification on the barrel
Soft, break-resistant cores
Water-resistant for good permanence
Non-toxic
Cons:
Not superior artist grade
Caran d'Ache Pablo Colored Pencils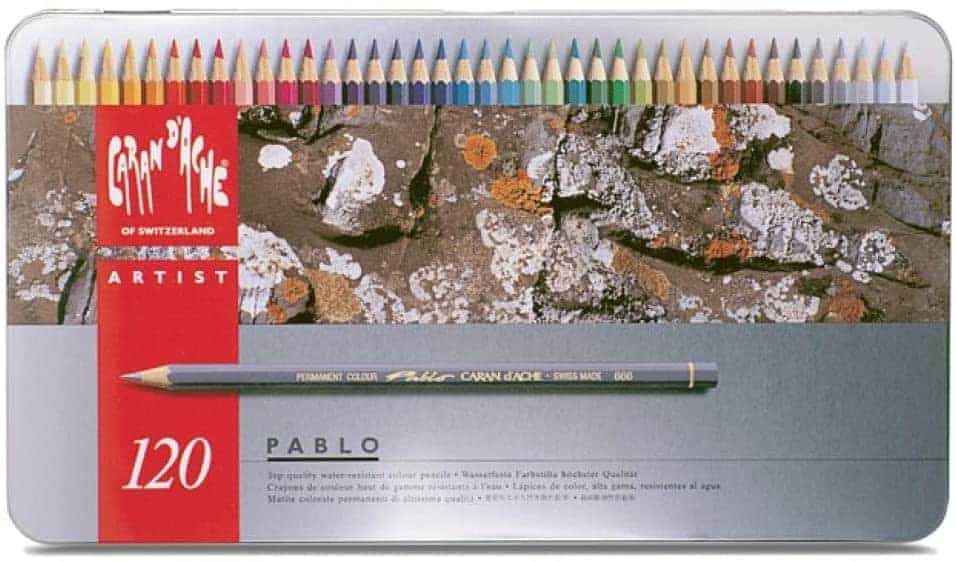 Where these colored pencils really shine is in their use with mixed media, their covering power, and their superb lightfastness. They come with very thick, 3.7mm leads and they hold up beautifully under sharpening.
Don't be fooled by their hard cores. These artist-grade colored pencils layer and blend beautifully, but still hold a point very well. In fact, you won't experience any bloom, and you can continue to layer past the point where the paper's tooth is full.
A better way to describe the core of these pencils is dense rather than hard. They don't drag across the paper or scrape its surface. In fact, they glide smoothly, despite the fact that they're not soft.
They do require some finesse and a different technique than soft pencils, or your hand will get tired, but they're a quality pencil with an excellent color range. There's also a lightfastness rating on each individual pencil, which adds a great detail for artists who need to know.
Every color features the same great quality and sharpening never results in splintered wood, broken tips, or crumbling cores. Every detail of these pencils exudes excellence, but you can also tell it in the price.
Pros:
Excellent quality
Lightfastness on each pencil
Thick cores
Great blending and layering
Wide color range
Cons:
Very expensive
Hard cores
Faber-Castell Albrecht Durer Watercolor Colored Pencils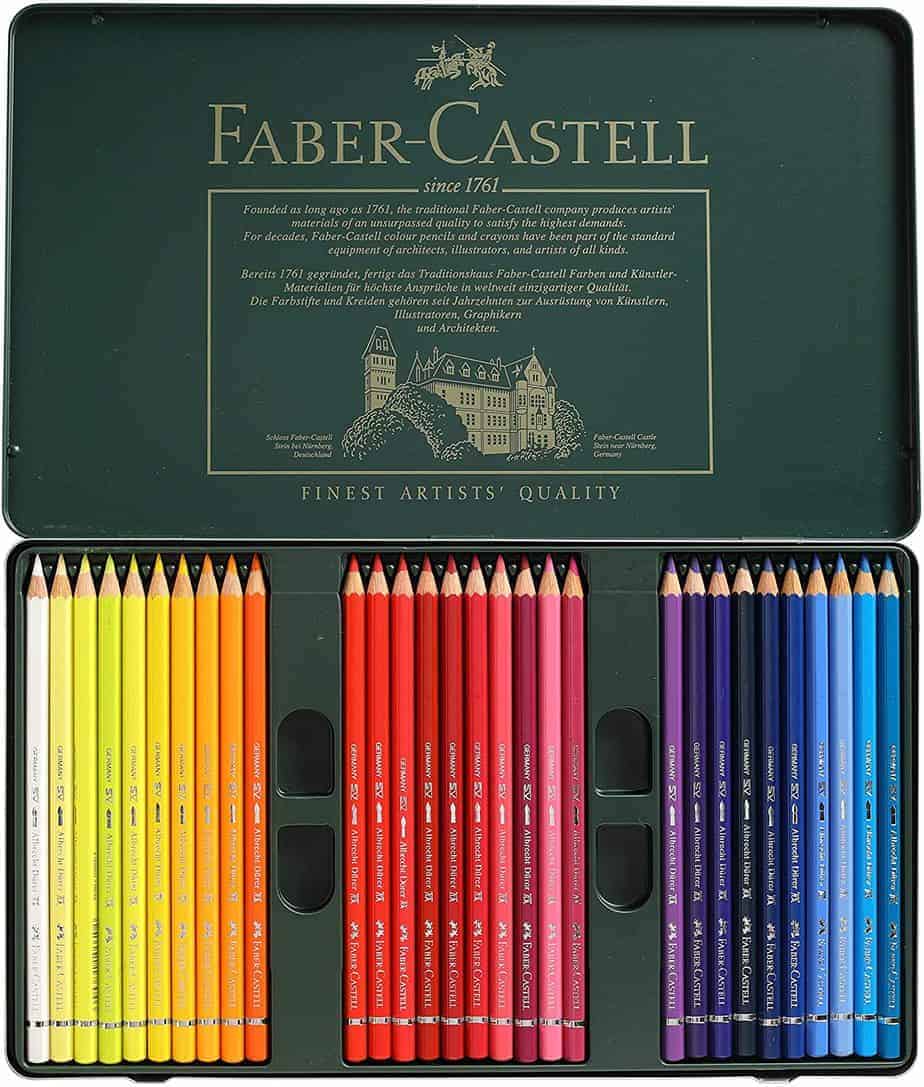 More from the German manufacturer, Faber-Castell, these Albrecht Durer watercolor pencils are water-soluble and make an excellent versatile tool for beautiful art. It's a set of 120 pencils and the price is just right.
The pigments are of excellent quality and offer unsurpassed lightfastness as well as brilliant color. They dissolve completely when brushed with water, so you can lay them down smoothly and then experience the same thing as you might with watercolors.
The colors become permanent once they're dry.
Faber-Castell's bonding process produces excellent break-resistant cores, but these are 3.8mm thick. They don't chip or splinter during sharpening but can be difficult to sharpen because they're so strong.
The gorgeous, varnished wood case is very large and displays all of your colors beautifully so you have full access as you're creating.
Pros:
Versatile colored pencil/watercolor tool
Smooth color application
Durable 3.8mm core
Varnished wood case included
Cons:
Caran d'Ache Luminance Colored Pencils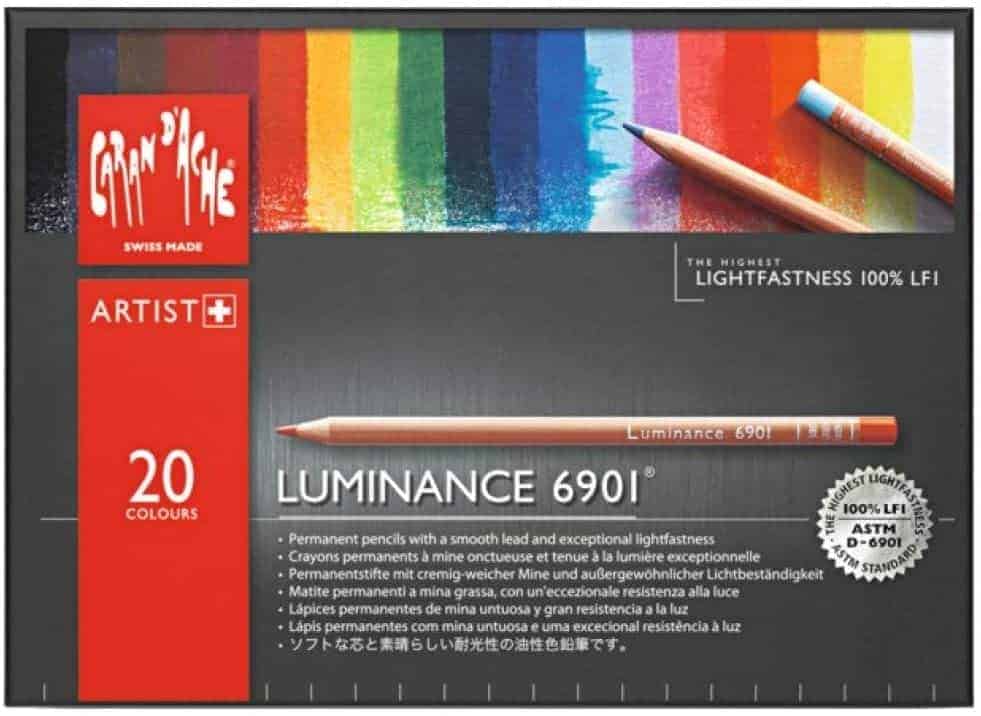 This set of 40 colored pencils were crafted with a combination of the best smoothness and the highest lightfastness of permanent lead in mind. Every shade was formulated individually from finely-ground pigments chosen specifically for their intensity, purity, and resistance to UV rays.
The colors can be burnished, layered, and blended on a variety of surfaces while the casing is made of California Cedar harvested from responsibly managed forests.
Each pencil cap indicates the color of the lead. They go on smoothly, with a texture like velvet and the resulting color has the vibrancy of a recently developed shade.
Caran d'Ache puts their pencils through the most rigorous tests to ensure they achieve the best combination of strength, lightfastness, and brilliance possible.
Pros:
Superior lightfastness
Brilliantly intense colors
Casings harvested from responsibly managed forests
Fantastic artist quality
Cons:
Castle Art Supplies Colored Pencils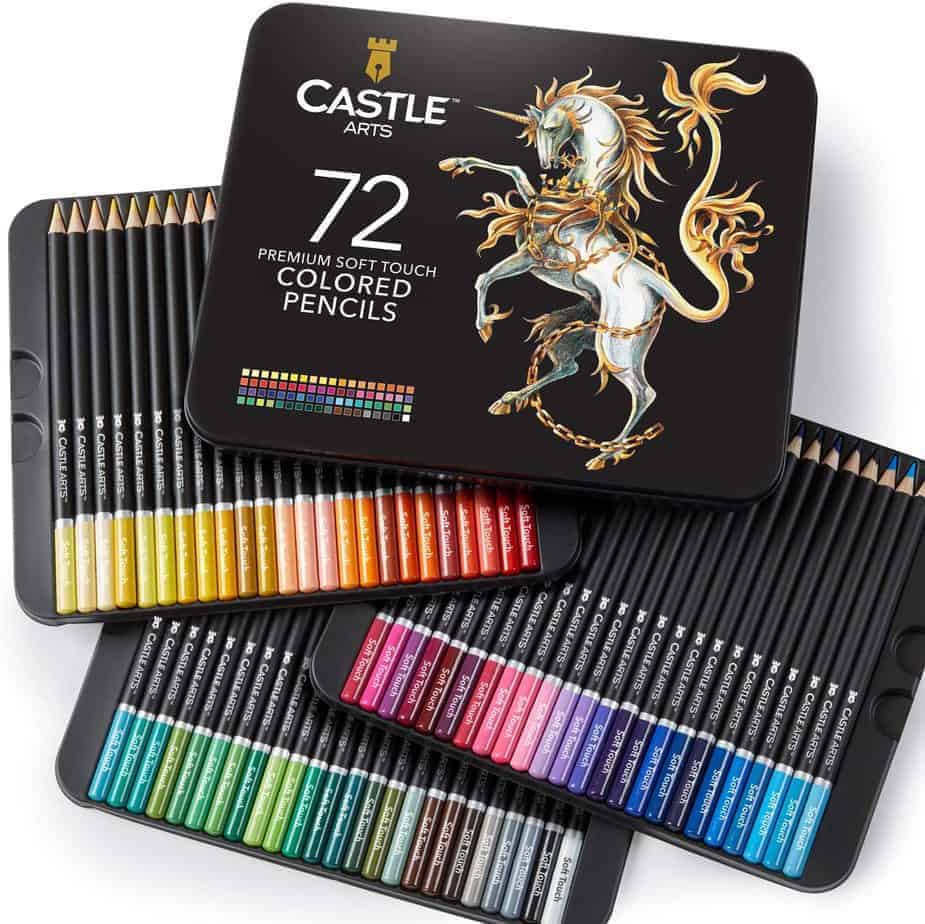 This set of 120 colored pencils is surprisingly affordable. The velvety leads have vivid colors and require minimal effort to lay down brilliant art. They offer easy shading, blending, and layering.
Consistency throughout these cores allow you to create gradients and always achieve the perfect shade. Each pencil is named, numbered, and color-coded for easy recognition and selection.
The barrels are made of basswood, which is comfortable and weightless in your hands. It's strong and reliable, so you can count on ease of sharpening. The tin storage box is great for storage and display while working.
Castle also provides a step by step tutorial so you can recreate the same Castle art that's on the front of your set. You can also take advantage of their Money Back Plus Guarantee that states, if you're not happy, you'll get your money back and you can keep the pencils.
Pros:
Fun and affordable
Consistent cores with strong barrels
Easy sharpening
Money-Back Plus Guarantee
Cons:
Limited range of blues and greens
FAQs
Question: Can you use colored pencils on wood?
Answer: You can use colored pencils on virtually anything. Just make sure you're using a quality colored pencil with a good lightfastness rating.
Start by adding some color lines, either separate or overlapping. Make sure your wood is sanded down smoothly.
Dense woods like hard maple may allow you to apply the pencil directly to the raw wood for instant vibrant color while softer woods like poplar may absorb more of the color and require more applications.
Question: What kind of wood are colored pencils made of?
Answer: Typically, the barrels of colored pencils are made of cedar. If you're worried about how that cedar is harvested, you can look up more about how the manufacturer obtains the cedar for more information.
However, not all manufacturers use cedar. On some rare occasions, other types of wood are used. You can use any wood that's strong enough to support the lead and hold up under sharpening without chipping or splintering.
Question: How long do colored pencils last?
Answer: It's hard to put an expiration date on something like a colored pencil. The short answer is that a colored pencil has a very long shelf life. In fact, historians have found colored pencils that were over 100 years old and they still colored beautifully.
It's also nearly impossible to indicate whether the lead may be broken, cracked, or chipped on the inside. You won't know until you sharpen the pencil that you're dealing with breakage and degradation.
It's likely a matter of quality and treatment. If you purchase quality pencils and treat them with care, your pencils will last for as long as you need them to.
Question: What is the difference between watercolor pencils and colored pencils?
Answer: Watercolor pencils look, feel, and operate just like a normal colored pencil. At least they do at first glance. However, the effect of the color changes when you add water. A watercolor pencil offers less intense colors.
It's more difficult to blend colors, but it's much easier to lighten the colors by simply adding water. However, you can use watercolor pencils just like regular colored pencils if you'd like to.
Question: What is the best way to sharpen colored pencils?
Answer: There's no right or wrong way to sharpen a colored pencil. It often depends on how you like to perfect your art and what type of colored pencils you use. Artists have personal preferences and they use all kinds of different types of sharpeners.
You can use a handheld pencil sharpener, a cosmetic sharpener, an electric sharpener, a sandpaper block, or a knife. The important thing to remember is that you must be gentle so you avoid breakage.
Question: What do I do with old colored pencils?
Answer: If you're using wood colored pencils, there are plenty of things you can do with the old colored pencils you don't want or need anymore. You can use them for kindling in a fire, you can use the shavings for mulch, you can make jewelry, or you can do arts and crafts with your kids.
Final Thoughts
If you're shopping for wood colored pencils, there are a lot of quality brands out there. What you decide to buy will depend on what you're using them for and what you can afford. Don't skimp if you need a truly remarkable set.
However, if you simply want something that's fun, affordable, and non-toxic, there's plenty of that going around, too! They each have their own strengths and weaknesses. The truth is, you'll likely be happy with whatever you choose, as long as you do your research and make sure it has the features you need first.
Recommended reads: