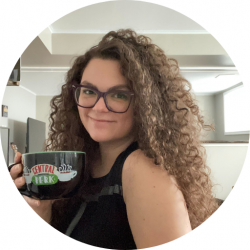 Latest posts by Candace Osmond
(see all)
A timeless classic for kids' playtime is playing with wooden food. From cooking to shopping to growing vegetables, wooden food toys have been around for such a long time – it just never seems to get boring. Kids love being able to use pretend food to play, no matter the capacity.
If you are thinking of purchasing some wooden food toy sets, but you aren't sure which ones are the best, we have you covered. We have a layout of some of the best reasons you should encourage your kids to play with wooden food toys. Along with some of the best wooden food toy sets based on their safety features, design, and affordability.
Top 3 Picks
Here are my top three picks for wooden food toys. All of these sets have amazing customer reviews and are high on the popularity list among kids.
Complete with tiny loaves of bread and an adorable wooden hard-boiled egg, this wooden toy set comes with 21 pieces of brilliantly illustrated wooden food pieces. Melissa & Doug have created a wooden food toy set that will not only delight your child in the playroom but is educational and will teach your child about food groups.
Juicy oranges, ripe bananas, and green kiwis are ready to be cut with a wooden knife in this wonderful cutting fruit wooden set. This set is ideal for toddlers because no overly small pieces could cause a choking hazard. Also, the bright colors will fascinate toddlers as they play with all of the pieces.
An adorable new variation from the traditional vegetables and fruit sets, this wooden food toy set features delicately iced cookies ready to be taken from the oven. This set includes a lot of great elements despite the lower price. It would make a great birthday or holiday gift.
Wood Food Toys Vs. Plastic Food Toys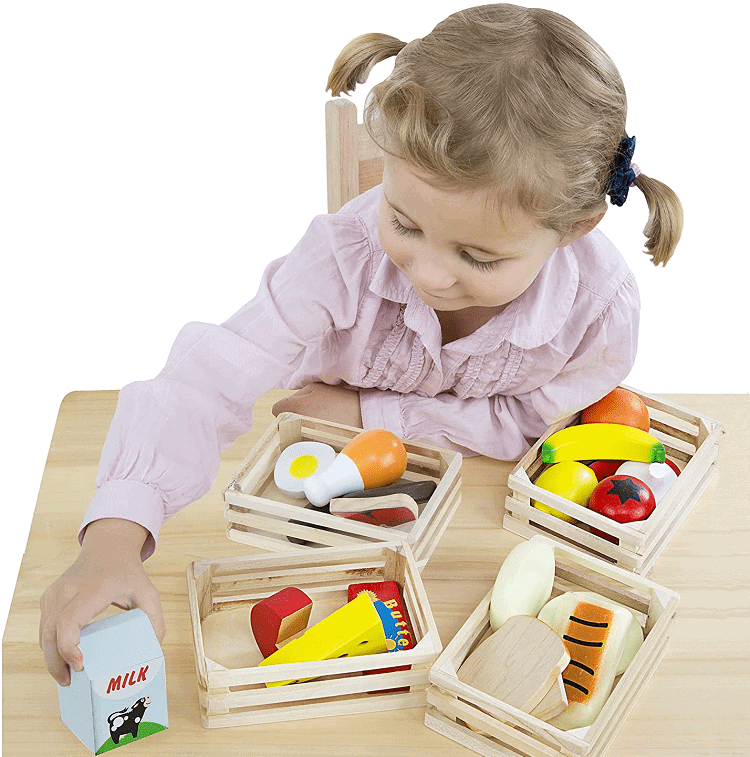 While wooden food and plastic food will make wonderful toys that can provide hours of entertainment, some people prefer one over the other. Why, you ask? I have a little rundown of each and why people prefer each one respectively.
Plastic Food Toys
Cost
The cost of plastic food toys will usually cost a lot less than wooden food toys. This is because plastic food toys are a bit easier to make and lighter in weight. Therefore, you aren't using as many textiles as you would with wooden food toys. Also, because of the lighter weight, the cost of shipping is significantly lower.
Durability
Plastic food toys are durable enough for play but may not last you as long as a wooden food toy set. This is because the plastic used within plastic food toy sets is very thin and can wear down over time.
The benefit here is that most plastic food toys can be taken into the bath so your child can play with them during bath time, but this may also affect the longevity of your plastic food toys.
Care
What's great about plastic food toys is that they are very easy to clean. You can easily disinfect and clean your plastic food toys by submerging them in a bucket of water with dish soap or even water with bleach if your food toys aren't painted. Just remember to rinse them thoroughly before allowing them to dry and handing them back to your child.
Overall
Overall, plastic food toys are a lot less expensive, can be easier to clean, and can still provide a lot of fun to your child.
Just remember that plastic food toys may break much easier and won't be handed down to other generations to play with as these toys tend to lose their hardiness very quickly. Also, some plastics are made with chemicals like BPA, so you have to be mindful of that aspect.
Pros
Cheaper
Easier to clean
Lighter to play with
Comes in all sorts of shapes and sizes
Cons
Will break apart more easily
Will have to be thrown away sooner
Wooden Food Toys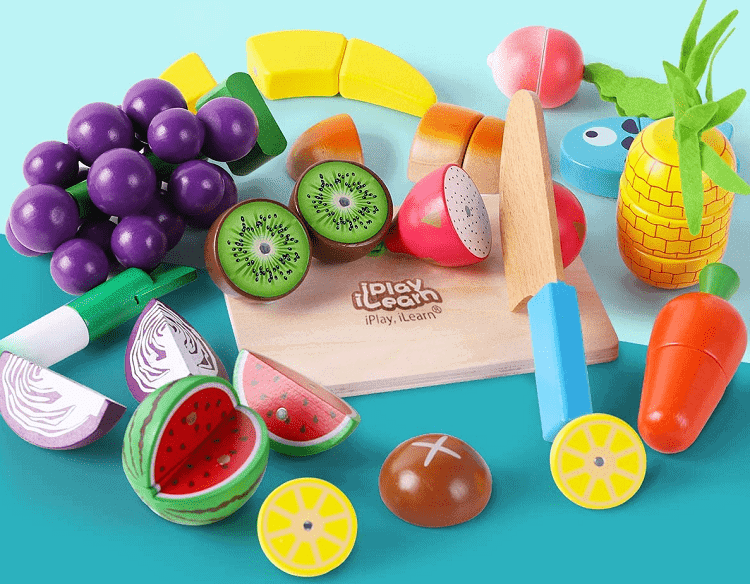 Cost
Wooden food toys may be a bit more expensive than plastic food toys because of the weight and the sturdier textiles used to make wooden food toys. These toys are typically made from high-grade solid wood, making them a lot more durable and easier to hold, and they are sure to last you much longer.
Durability
Wooden food toys are just more durable. They are stronger and can withstand years of hard play. They are tougher, and if they are painted, and the paint starts to come off, it is a lot easier to repaint wooden food toys than plastic food toys. People love wooden food toys because they can easily be passed down from generation to generation.
Care
A bit more difficult to clean than plastic toys. With some wooden food toys, you can't just submerge them in soapy water and clean them. Depending on the wood and the type of finish, you may have to find a way to clean your wooden food toys with a little extra care to protect the paint and wood.
Overall
Overall, wooden food toys are great because they are much more durable, can survive years of play. They can even be passed down from generation to generation. So, while they may be a bit more expensive at the purchase date, they will surely pay for themselves over the years of continuous play they will bring.
Pros
Very sturdy
Can be passed down
Easier to hold in hands
Easy to care for
Cons
May be too expensive for some
Can be tricky to clean depending on the wood
Benefits of Wood Food Toys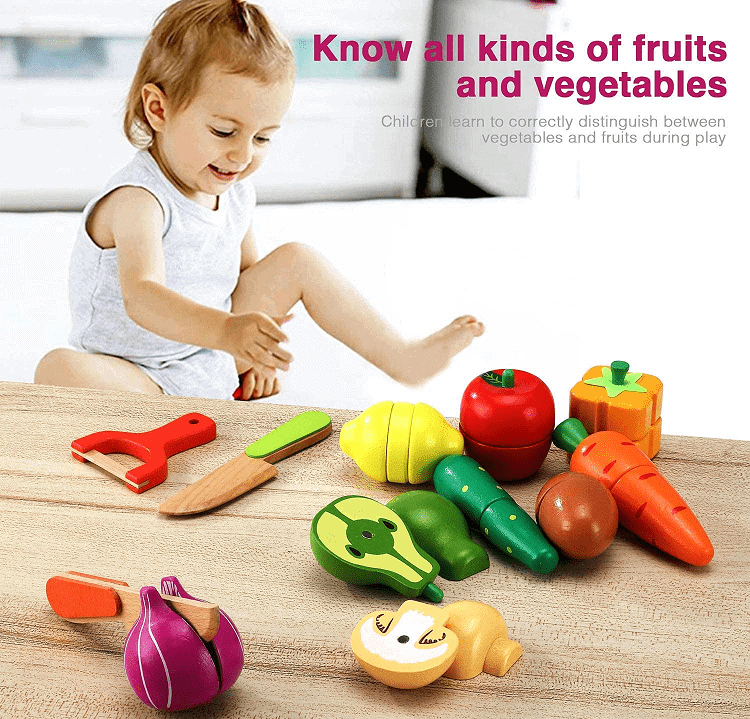 There are so many reasons to love wooden food toys. They are pretty to look at, sometimes look so much more realistic than plastic food toys, and can last you so long that you can easily regift the same set of wooden food toys from your kids to your grandkids. Here are a few other crucial reasons we love wooden food toys.
Ignites the Imagination
Using wooden food toys within the playroom can help your child ignite their imagination. They can either have a pretend farm and grow their fruits and vegetables or own a store and learn how food gets to the store.
They can also be a chef, using only the freshest ingredients for their kitchen and potential restaurant. The possibilities are truly endless with wooden food toys, as your child can find hundreds of ways and scenarios to play with them.
Great Learning Tools
Wooden food toys are great learning tools because they can help your child learn about their colors, shapes, and types of foods. Fruits and vegetables are commonly used as representations for color, such as purple grapes for purple, green apples for apples, and oranges for orange. So, not only will your child be able to learn about all the different types of foods, but they can also incorporate learning their colors into playtime as well.
Can Teach About Food Groups
Wooden food toys can help your child learn about the important food groups, and what types of foods come within each group. Grains, vegetables, fruits, meats, dairy, and starches are all essential food groups, and with a wooden food toy set, your child can easily start to understand how each group is comprised and what exactly goes into each.
They can learn how we need all of these food groups to promote a healthy diet, so they will grow up big and strong.
Easy to Clean
One of the easier toys to clean within your playroom, wooden food toys can be cleaned and sanitized by either wiping them down with disinfecting wipes, spraying with some disinfectant spray, or briefly soaking in warm, soapy water depending on the wood type.
Most wooden food toys can be soaked, but due to the paint, you may not want to soak them for very long just in case the paint starts to lift.
Highly Durable
Wooden food toys are so durable that they are often passed down from generation to generation. They can easily withstand years of play, and best yet, wooden food toys won't end up in landfills for years and years as they are also recyclable.
Plastic food toys can clog up landfills due to the hard to break down plastic. Wooden food toys are durable, and they won't harm the environment.
Importance of Encouraging the Use of Their Imagination
It is very important to encourage a child to use their imagination because it will help them become creative thinkers and problem solvers.
When a child can use their imagination, they can put themselves in various situations that require good thinking skills, great social skills, and an overall basis of comprehension. So, they may just be wooden food toys, but really, they are helping spark magic and interest in your child that could help them on their future paths.
What Are Common Items Found in Wooden Food Toys?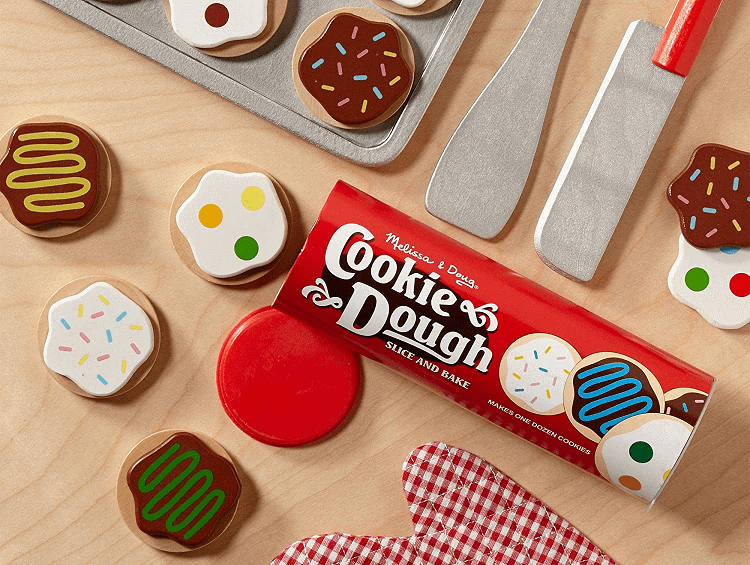 Some of the most common items found in wooden food toy sets can pretty much cover all of the basic food groups. Fruits and vegetables, meats, and even standard grocery items can be found in the most popular sets. Here is a bulleted list of some of the most common wooden food toys you will find in a set:
Oranges
Apples
Grapes
Cartons of Milk
Steak
Bananas
Tomatoes
Bread
Cheese
Fish
Eggs
Onions
Watermelon
Strawberries
Lemons
What Type of Paint Is Used on Wooden Food Toys?
It all depends on the manufacturer, but milk paint is the most common type of paint used on wooden food toys. This is a great choice for wooden food toys because it is all-natural and is the safest choice for a child's play toy.
This interesting paint is milk protein, limestone, clay, chalk, and other natural pigments. This will provide a non-toxic toy that you can hand to your child without any need for concern.
Tips for Cleaning and Caring for Wood Food Toys
Some of the best ways to clean your child's wooden food toys are by gently wiping them down with a cloth of warm water and dish soap. While it is not recommended to submerge or soak your wooden food toys for very long, you can easily rub them down with a disinfecting wipe or a washcloth to get rid of germs and keep them fresh and clean.
The Best Wooden Food Toys for Kids
Food Groups Wooden Food Toy Set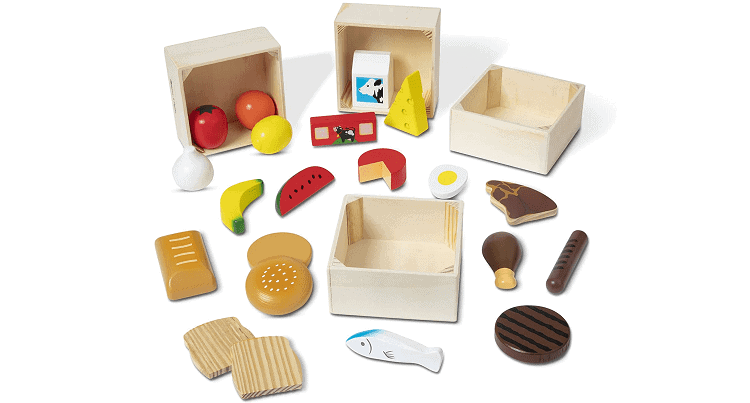 Help your child learn about the important food groups with this 21-piece wooden set. This set comes in four crates, so they are easy to store and easy to organize.
Wood Type: Solid Wood
Best for Age: Three and over
Warranty: Free returns through Amazon Prime
Melissa & David has created a healthy pretend play tool that features plenty of foods from the five major food groups.
Pros
Made from solid wood
Comes with four crates
Can help your child learn colors and counting
A better option than using a screen
Cons
Comes with a lot of pieces to lose
May be too large
Cutting Fruit Set by Melissa & Doug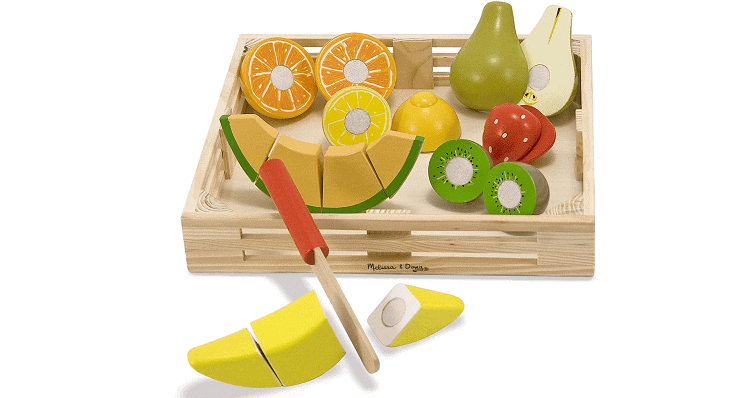 If you think cutting up juicy fruits would be fun for your child, this set has all you need. It is a more creative take to a wooden food toy set that comes complete with cantaloupe, a knife, a banana, oranges, kiwis, and so many other pre-cut wooden pieces of fruit that your child will love.
Wood Type: Solid Wood
Best for Age: Three and over
Warranty: Free returns through Amazon Prime
This set is brilliantly colored and comes in an easy-to-store wooden crate for when you are done playing.
Pros
Comes with a crate
A fun design concepts
Comes with 17 pieces
Affordable
Cons
Pieces may be too small for some
A smaller set
Baking Cookies Wooden Play Set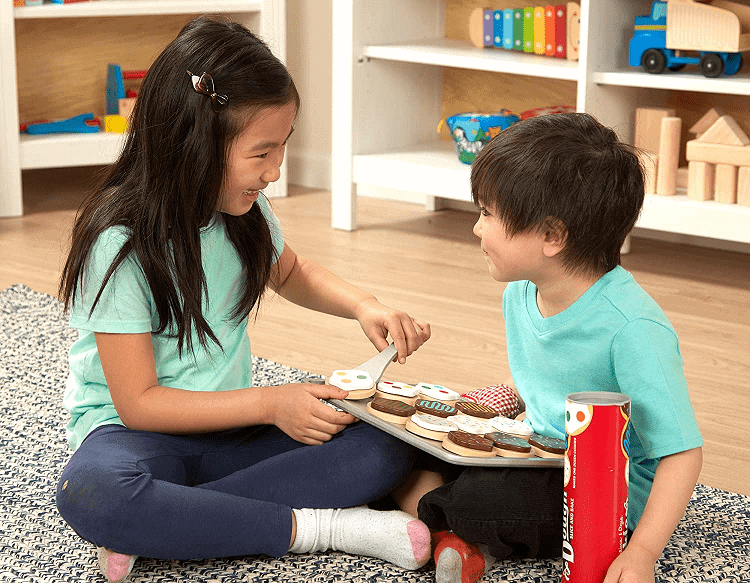 Another great design from Melissa & Doug, this baking cookie wooden playset will delight your child, and they bake up plenty of beautifully decorated cookies.
Wood Type: Solid Wood
Best for Age: Three and over
Warranty: free returns through Amazon Prime
This would make a great gift to give around the holidays, as most families start to bake a lot, and this helps your child join in on the fun holiday baking without any hazards. It's a colorful wooden playset that comes with sliceable cookies, toppings, a knife, a spatula, a cookie sheet, and even a kitchen mitt.
Pros
Fun concept
Pretend food inspires play
Durable pieces
Beautifully colored
Cons
Magnetic Wooden Food Play Kitchen Set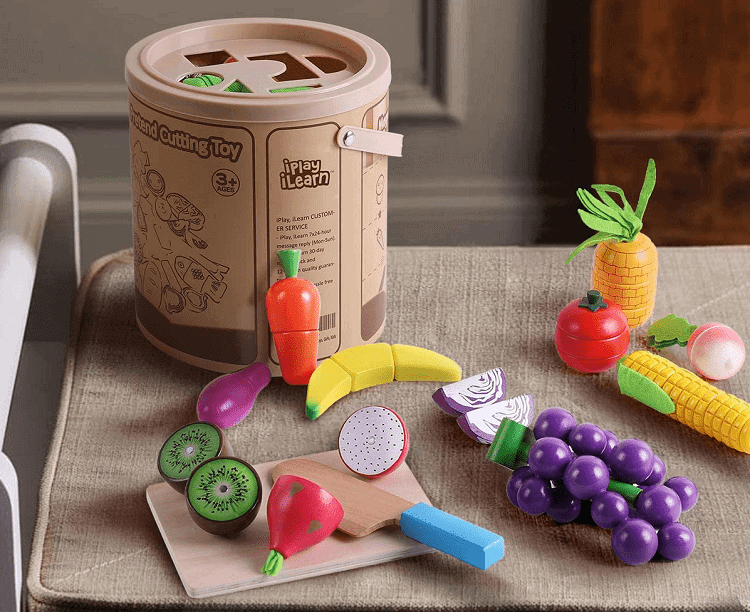 This magnetic wood playset comes with pretend food made from natural wood. Inside each piece of wooden food is a magnet that keeps like components together, like two halves or a watermelon.
Wood Type: Solid wood
Best for Age: Three and over
Warranty: Free returns through Amazon Prime
This means that with your play knife, you can easily "cut" the watermelon in half but also have it reconnect with sturdy magnets. It adds a little bit more magic to the set.
Pros
Large playset
Brilliantly colored
Has magnets inside for pretend cutting
A wide variety of foods
Cons
May contain too many small pieces
Not a great set for toddlers
Wooden Food Toy Set with Utensils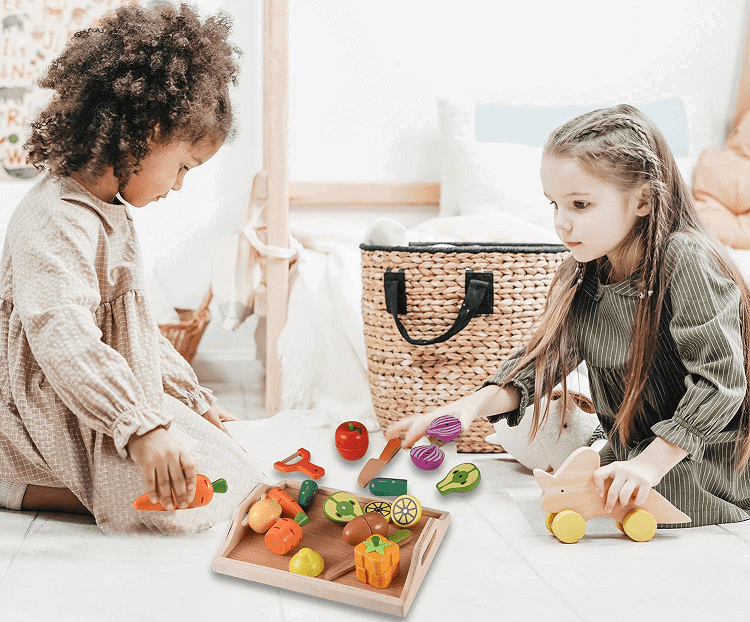 Talk about a great variety! This wooden food toy set comes with nine foods you typically see within the kitchen, including a toy peeler and two toy knives that children can use to cut their food while they play.
Wood Type: Solid Wood
Best for Age: Three and over
Warranty: Free returns through Amazon Prime
This is a very colorful set of toys that includes a sturdy wooden tray so you can hold all your food in one place.
Pros
Wide variety of foods
Comes with kitchen tools
Very colorful
Comes with a wooden tray
Cons
Contains some small pieces
Wooden Hamburgers and Hotdogs Set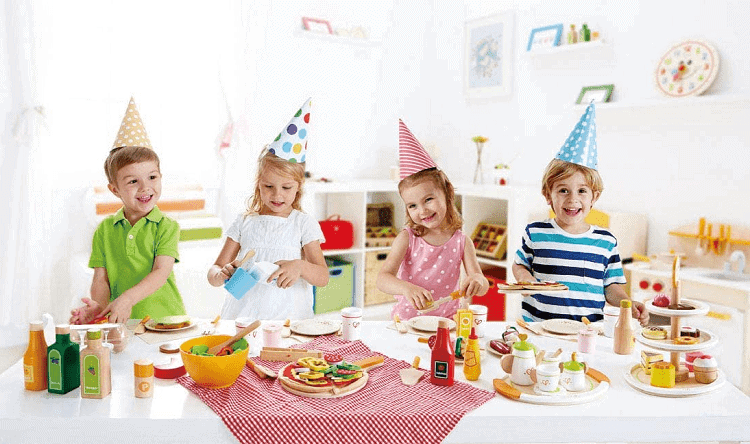 You can't go wrong cooking up some hamburgers and hotdogs in the kitchen, and with this iconic set, your child is sure to love cooking up some delicious food of their own.
Wood Type: Solid Wood
Best for Age: Three and over
Warranty: Free returns through Amazon Prime
This set comes complete with two hamburgers stuffed with cheese and all the fixings and two hotdogs with realistic buns. These foods are very lifelike, which is sure to delight your child and help with their imagination.
Pros
Lifelike design
Comes with 18 pieces
Features iconic hamburger and hotdog
Easy to hold
Cons
May not be great for toddlers
Wooden Toaster with Toast Set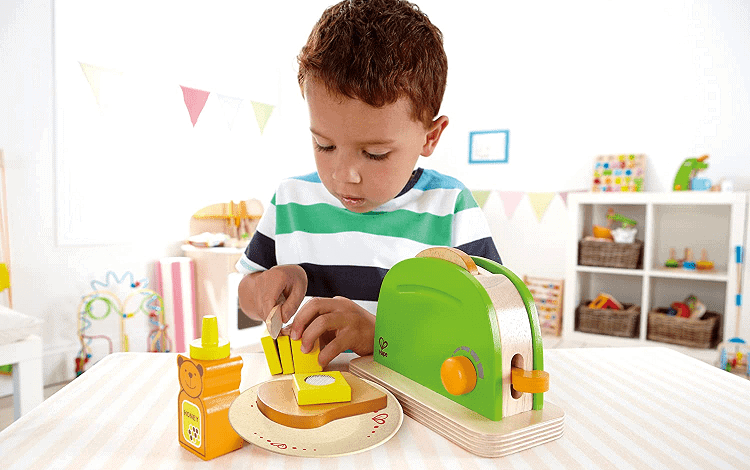 This pop-up toaster wooden playset features a wonderfully designed toaster complete with a few slices of toasted bread, butter with a butter knife, and a cute jar of honey.
Wood Type: Solid Wood
Best for Age: Three to five years old
Warranty: Free returns through Amazon Prime
This set is simple yet beautifully decorated, making it an ideal choice for children from three to five years old. The toast pops out of the toaster, which is sure to delight your kids.
Pros
Toaster pops out the bread
Not too many pieces
Good for younger kids
Beautifully decorated
Cons
May be too bulky for some
Older kids may not like it
Wooden Triple Layer Cake Party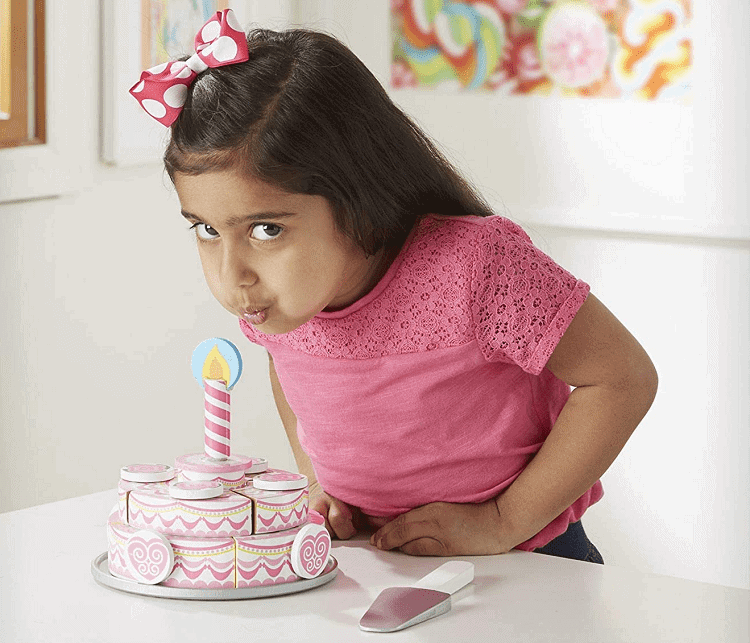 A truly unique wooden food toy concept, this party cake is sure to be the focal piece of your child's next food party spread.
Wood Type: Solid Wood
Best for Age: three and up
Warranty: Free returns through Amazon Prime
This wooden cake has come intricately iced with delicate hearts, swirls, and patterns, all topped off with a wooden candle with a flame. This set includes eight cake slices and a plate, serving knife, and candle.
Pros
Very cute design
Gorgeously decorated
Great for group play
Intricate details
Cons
Not everyone may like the design
May be hard to stack for everybody
FAQs
Question: What Age Are Wooden Food Toys Good For?
Answer: Wooden food toys are great for ages three and up.
Question: What Wood is Good for Kids' Wooden Food Toys?
Answer: Any kind of solid wood or hardwood is great for wooden food toys.
Question: Can You Make Wooden Food Toys?
Answer: You can make your own wooden food toys using a miller or table saw and some design cutouts.
The Bottom Line
So, there you have it. All you've ever needed to know about wooden food toy sets and which ones are the best and most popular by today's toy standards. Whether you want to buy a small set for that child in your life that loves wooden food toys, or you want to combine a few sets to gift the ultimate kitchen setup, I have plenty of options here for you to choose from.
Personally, for my littles, I love the Full Wooden Food Toy Set by Melissa & Doug!
Did you find this article useful? I hope so. If you'd like to check out more awesome tips like this, have a look at our guide to the best wooden play kitchens!
Recommended reads: