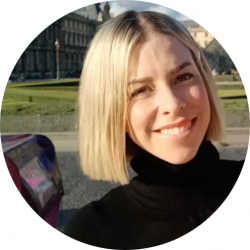 Latest posts by Jodie Chiffey
(see all)
It is becoming increasingly difficult to motivate children to participate in outdoor activities in the age of video games and smartphones. Some of the best natural outdoor toys can help you inspire your children to lead a more active life and spend more time playing outside of the house.
Choosing a toy that is not made of plastic and materials that are not eco-friendly may enable your children to become more connected to nature and improve their motor and intellectual capabilities.
In this article, we are going to take you through the most important aspects you need to consider while choosing an outdoor toy and show you how to find the best natural outdoor toys that will keep your children active.
What is a natural outdoor toy?
The vast majority of toys that are made of plastic and non-recyclable materials are used on average for six months. After that, they end up in landfills or oceans where they become a hazard for the wildlife.
A natural outdoor toy is above all else eco-conscious, as it reduces the ecological footprint the toy industry is making. This umbrella term covers a broad spectrum of toys that are made of wood and other recyclable materials.
A natural outdoor toy can be a swing, a playhouse or any other toy children or adults can use to play in open-air conditions. These toys are available for children of all ages and playing with them usually involves physical activity.
Besides ensuring that children remain physically active, natural outdoor toys often encourage them to develop their problem-solving abilities and foster their creativity. In addition, most of these toys can be used by several children at a time, which can prompt your kids to socialize with their friends more often.
The most common types of natural outdoor toys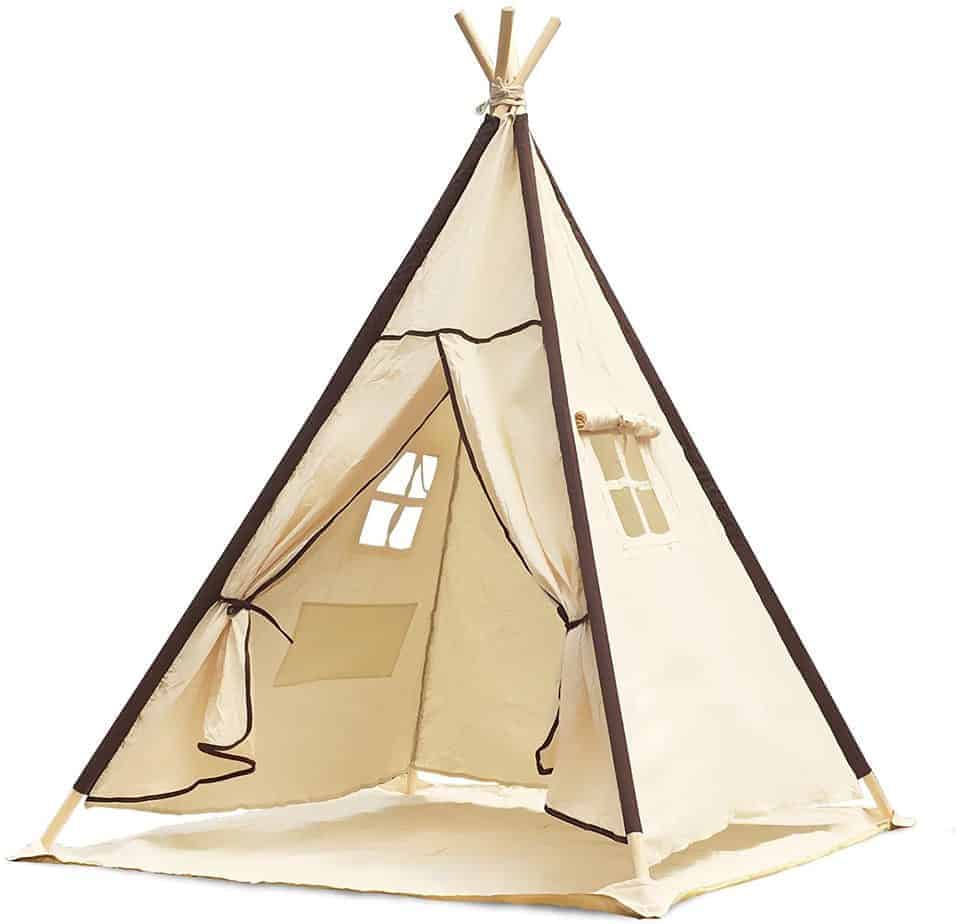 Even though a natural outdoor toy can be any toy that is designed for outdoor use, these toys can be divided into several categories. So, let's take a look at some of the most common types of natural outdoor toys.
Playhouses
Despite the fact that the majority of manufacturers offer playhouses that are made entirely of plastic, brands like KidKraft and Waltons still produce models that are made from wood.
Alternatively, you can also opt for tents that are made of recyclable materials and that provide children with enough room to play.
Swings
Probably one of the oldest outdoor toys, a swing is a great choice for children of all ages. You can either install them on a tree branch or get a steel frame that is sturdy enough to support a toddler or older children.
Sandboxes and water tables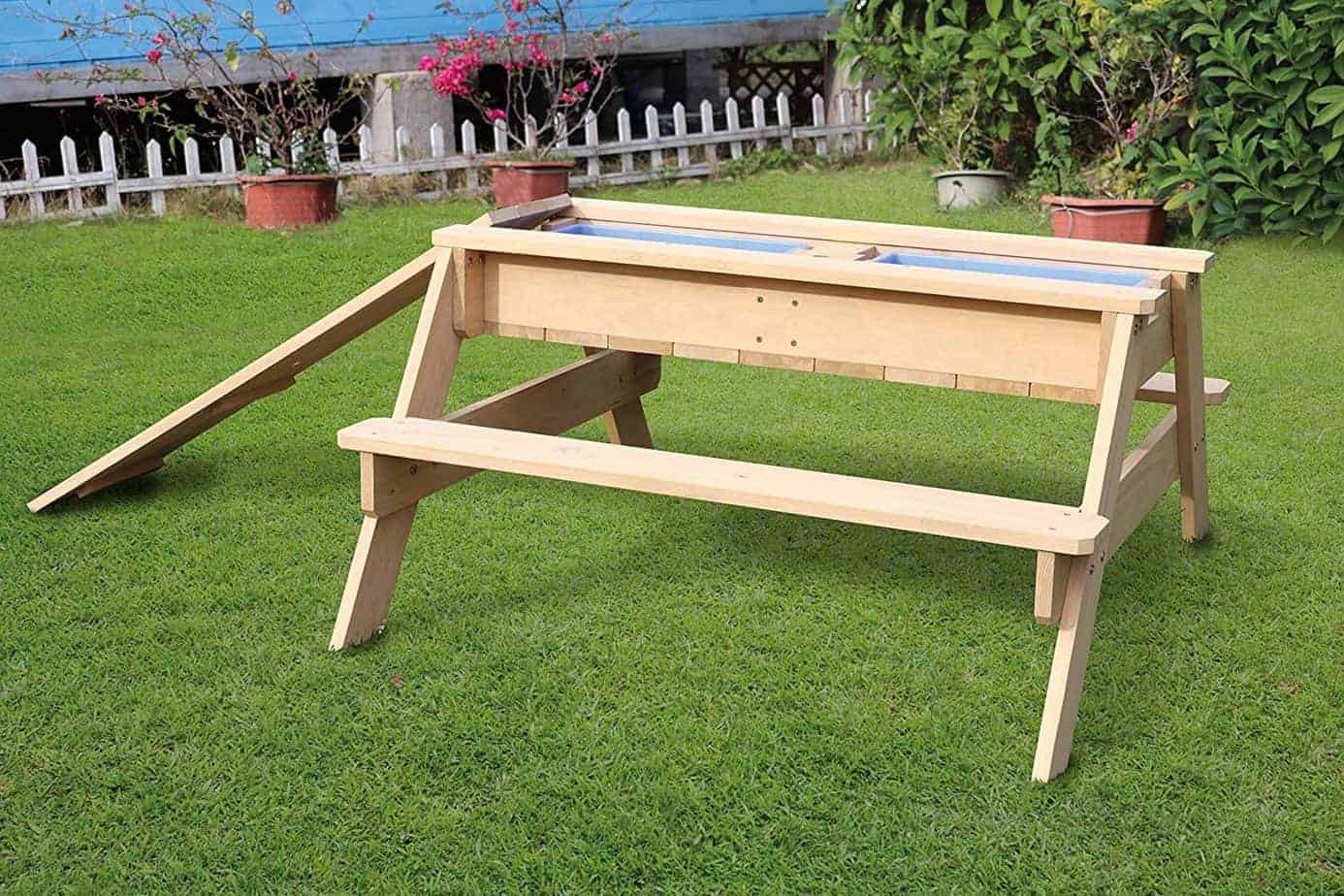 Usually aimed at children that are younger than 3 years old sandboxes and water tables can provide your little ones with an endless source of fun. However, finding a model that is made of wood may be a challenge, since most water tables and sandboxes are made of plastic.
Climbing frames
In addition to being made from materials that are recyclable, climbing frames are a great way to keep your child physically active even during the cold months of the year.
Most models are easy to install and they include a safety radius to prevent children from injuring themselves.
Differences between natural outdoor toys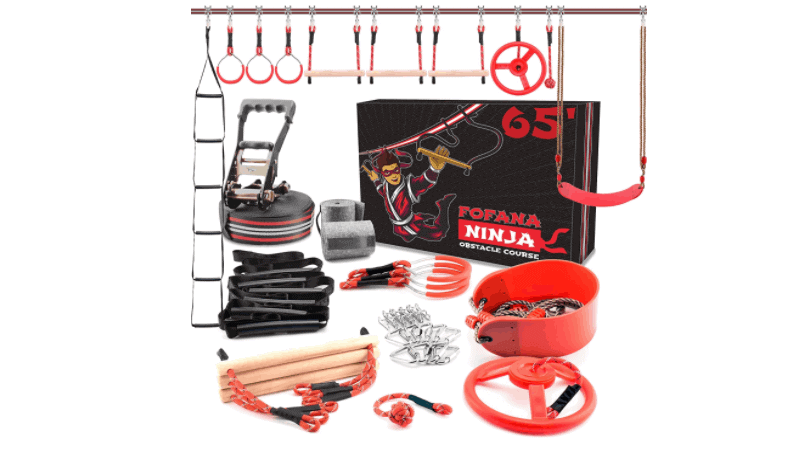 Broadly speaking all-natural outdoor toys can either foster a child's activity or provide space within which a child can work on their intellectual abilities.
An outdoor playhouse, for instance, gives children a frame within which they can imagine different scenarios. On the other hand, an obstacle course is designed to challenge children physically by making them overcome different obstacles.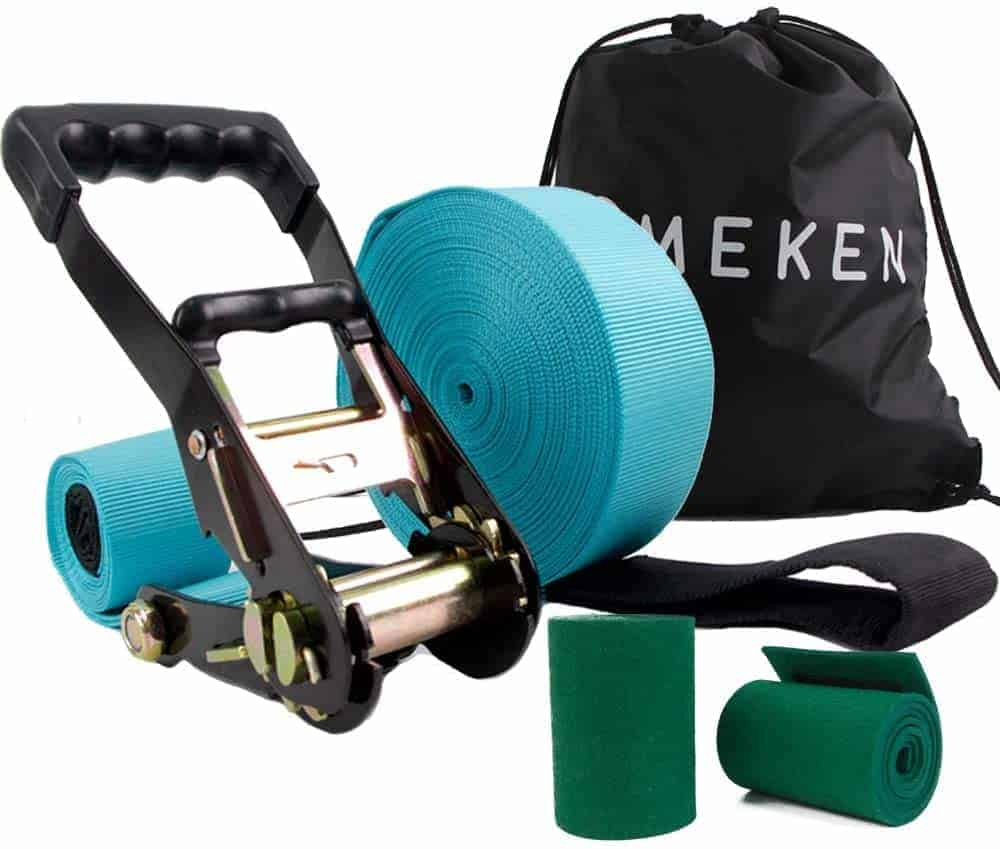 It is also worth pointing out that natural outdoor toys for toddlers are different from those designed for teenagers, as they involve different types of activities.
A teenager is highly unlikely to be interested in playing in the sand, while toddlers are simply too young to practice their balancing skills on a slackline.
Some natural outdoor toys, like swings, are well-suited for children of all ages, but their capacity to foster physical activity or inspire kids to develop their intellectual skills is limited.
Advantages of natural outdoor toys
More durable than plastic toys
Instead of going through an endless process of getting new plastic toys every year, you should try natural outdoor toys that don't break down as often as their plastic counterparts.
In addition, a natural outdoor toy is unlikely to contain chemicals that can be harmful to the child's health.
Encourage physical activity and creativity
Several categories of natural outdoor toys are designed with the aim to inspire a child to lead an active life and approach different tasks creatively.
Some toys can also help a child to develop their motor skills or push their boundaries further.
Minimal ecological footprint
Toys made from natural materials don't pollute the environment and they can be recycled. Besides, materials like wood or fabric decompose much faster than plastic.
Disadvantages of natural outdoor toys
Usability depends on the weather conditions
It can be difficult for a child to play with some outdoor toys during cold months, while a sled can only be used if there is enough snow outside.
The most important aspects to consider while choosing natural outdoor toys
It is by no means easy to persuade your child to stop playing Minecraft or leave their phone and go outside to play. Choosing the right natural outdoor toy for your kids can be a step in the right direction, as it may spark an interest in doing sports or playing with other children in the playhouse.
We've shortlisted several factors that can help you understand your children's needs better and enable you to get them a natural outdoor toy they will love playing with.
Where the toy is going to be used
Natural outdoor toys can be used in different contexts, and that is the reason why you must take this factor into consideration. A swing or a playhouse must be installed in the courtyard, while a slackline can be quickly assembled in a park or any other green spaces with trees.
What's more, you should keep in mind that it may not be safe to let your children use some natural outdoor toys unsupervised as they might injure themselves while playing with them.
The toy's size and storage space requirements
Ensuring that your children have sufficient space to use the toy you choose will make it easier for them to play with it regularly. A playhouse, for instance, must be assembled and installed in an area that is easily accessible to children and that allows them to play inside and outside of the playhouse.
Some outdoor toys can be bulky, which can make finding sufficient storage space for them challenging. That's why you need to check the dimensions of the natural outdoor toy before you purchase it.
The material from which the toy is made
The material from which a toy is made usually determines its quality. Just because a toy is made from a recyclable material doesn't necessarily mean that it is durable.
Finding out which type of wood, metal, or fabric was used to produce the toy you're interested in will give you a better idea of its quality. Opting for a model of the outdoor toy that is made from sturdy materials will enable your children to use it longer.
Potential safety concerns
Even a seemingly harmless toy like a pull sled poses a number of safety concerns, as children may get injured while playing with it. Weighing all of the safety concerns against the benefits that a toy offer is a big part of choosing a natural outdoor toy.
Also, you should consider your child's age and how likely they are to use the toy safely. For instance, toddlers may enjoy playing with building block sets, but if a set contains a lot of small pieces an infant may try to swallow them.
On the other hand, a slackline that is usually a better choice for children older than 7 years old can be dangerous if it is installed too far from the ground.
Child's preferences
The trick to persuading a child to spend more time playing outside is to get them a toy they really like. Regardless of their age, kids show their preferences, and it is important to choose the type of toy they want to play with.
Whether it is a stuffed animal that is going to become a companion on their outdoor adventures or a wooden horse swing the toy you choose needs to match your child's expectations.
The toy's cost
Toddlers grow fast and the toys they liked at the age of 2 become uninteresting by the time they are four. That's why you shouldn't overspend on natural outdoor toys if your child is still in its preschool years.
However, as they get older, children develop a bond with their favorite toys, so investing in a toy that encourages them to play outside and spend more time with their friends may prove to be a great long-term decision.
Top recommendations for best natural outdoor toys
The diversity of eco-friendly toys that can be used for outdoor play can be overwhelming, so we selected some of the best natural outdoor toys for children of all ages.
Gorilla Playsets Mountaineer Clubhouse Swing Set – The best natural outdoor toy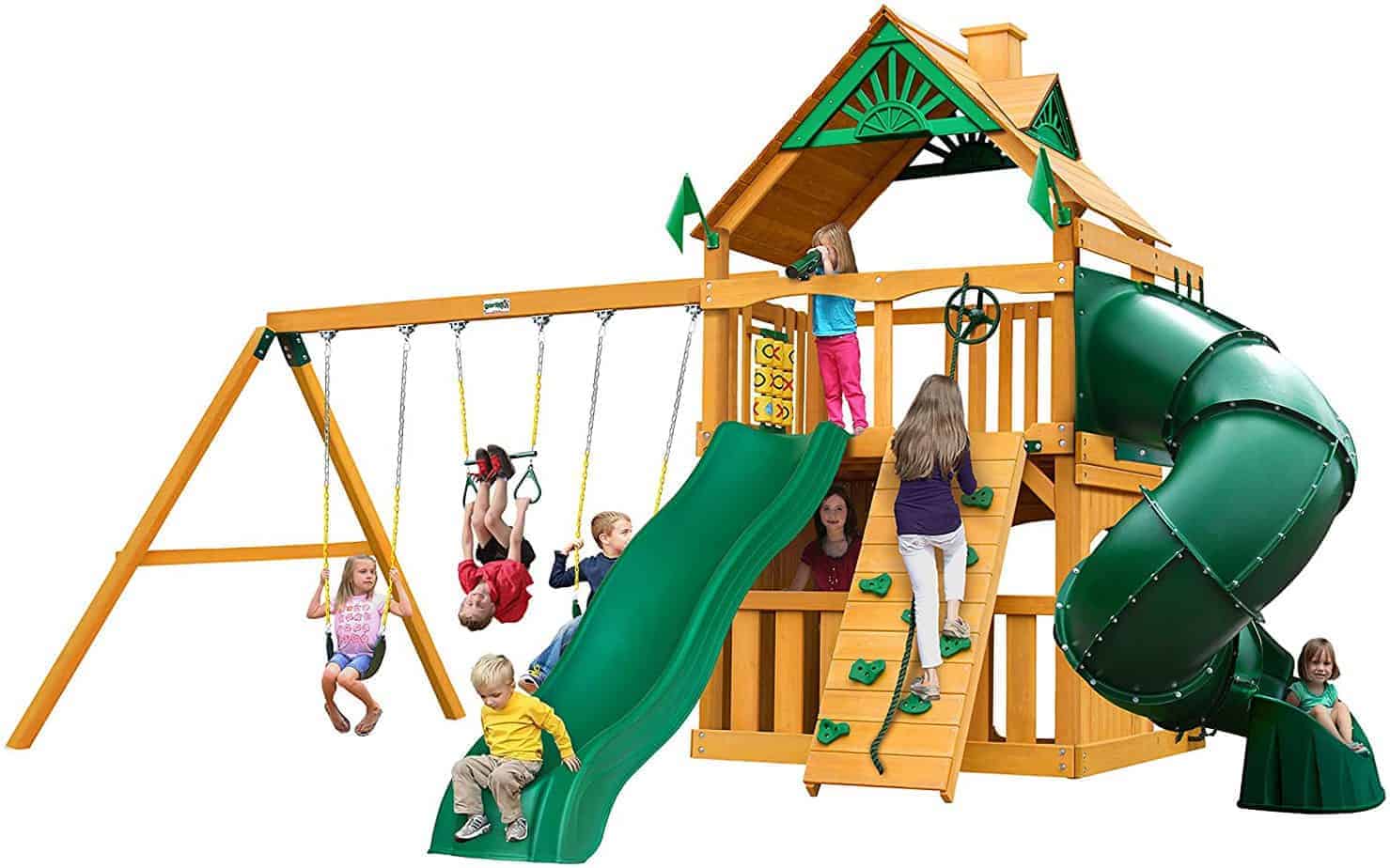 The playing options the Gorilla Playsets Mountaineer Clubhouse Swing Set offers are seemingly endless. Besides two belt swings and a trapeze swing, this set also contains an alpine wave and extreme tube slides as well as a rock wall with a climbing rope.
Also, children can play with a tic-tac-toe board or use the rope and safe entry ladders to get into the clubhouse. The set's construction is made from high-quality lumber while the cedar tongue and groove wood roof provide protection against rain or snow.
The swing beam can support up to 800lbs of weight and it has three stations that provide enough space for the installation of all standard size swing components. The entire set is resistant to rot and decay which ensures that your kids can play with it for years.
The Gorilla Playsets Mountaineer Clubhouse Swing Set is recommended for children between ages 3 and 11, but the sturdy swing beam ensures that even teenagers can play on a trapeze or regular swings. This set comes with a step-by-step assembly manual so that you can put it together relatively quickly.
Swufer – Standup Surfing Swing – The best natural outdoor toy for boys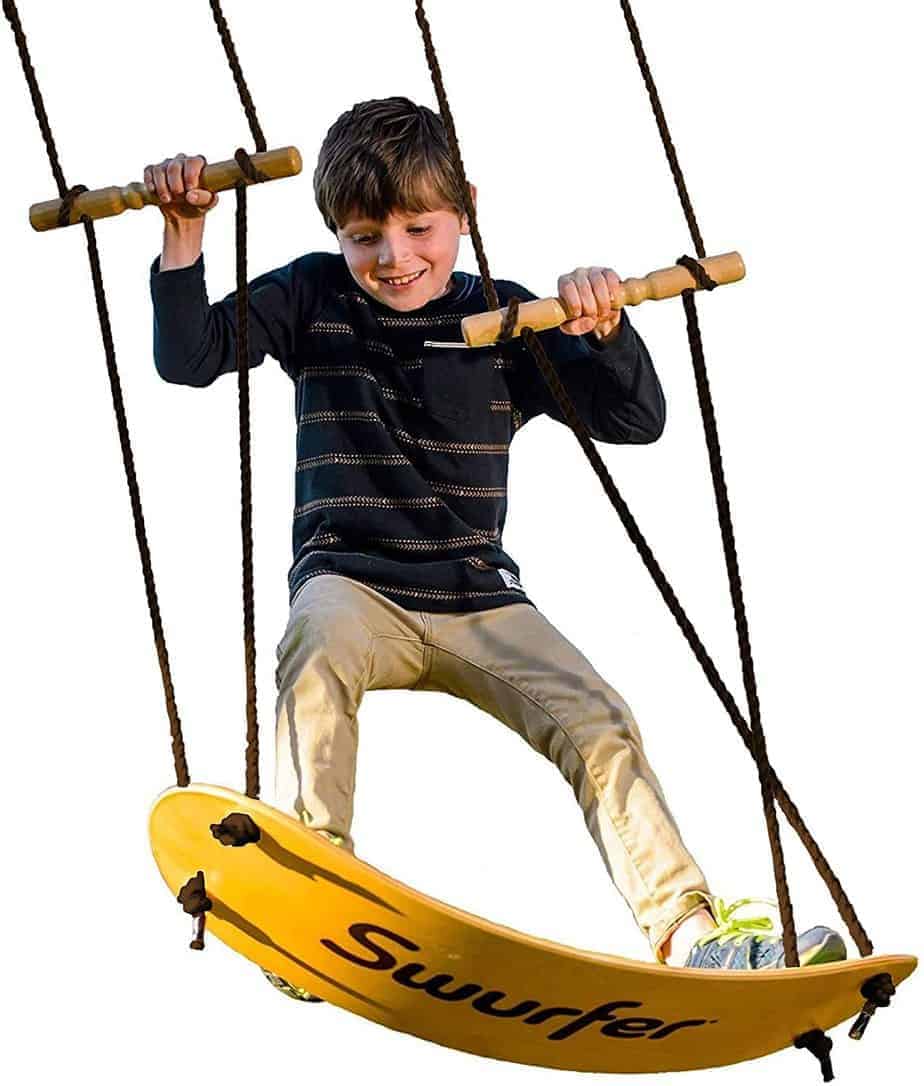 Working out while having fun is the core idea behind toys that encourage active play. Swufer's Standup Surfing Swing improves the child's core body strength and balancing skills while toning the upper and lower body muscles at the same time.
Instead of surfing on waves, your 6-year old child can start learning the ropes of this incredibly fun sports activity in your backyard. Unlike regular swings, the Standup Surfing Swing is curved which ensures more stability and extends the motion range.
This Swufer's model can support up to 200lbs of weight and it has dimensions of 33 x 10 inches, which means that it is large and sturdy enough to be used by teenagers or even young adults.
This standup surfing swing comes with handles that can be adjusted in accordance with the user's height and if features 60ft of double-braided, mildew, and UV resistant rope. What's more, the installation process takes just a few minutes of your time.
The Wild Republic Red Panda – The best natural outdoor toy for girls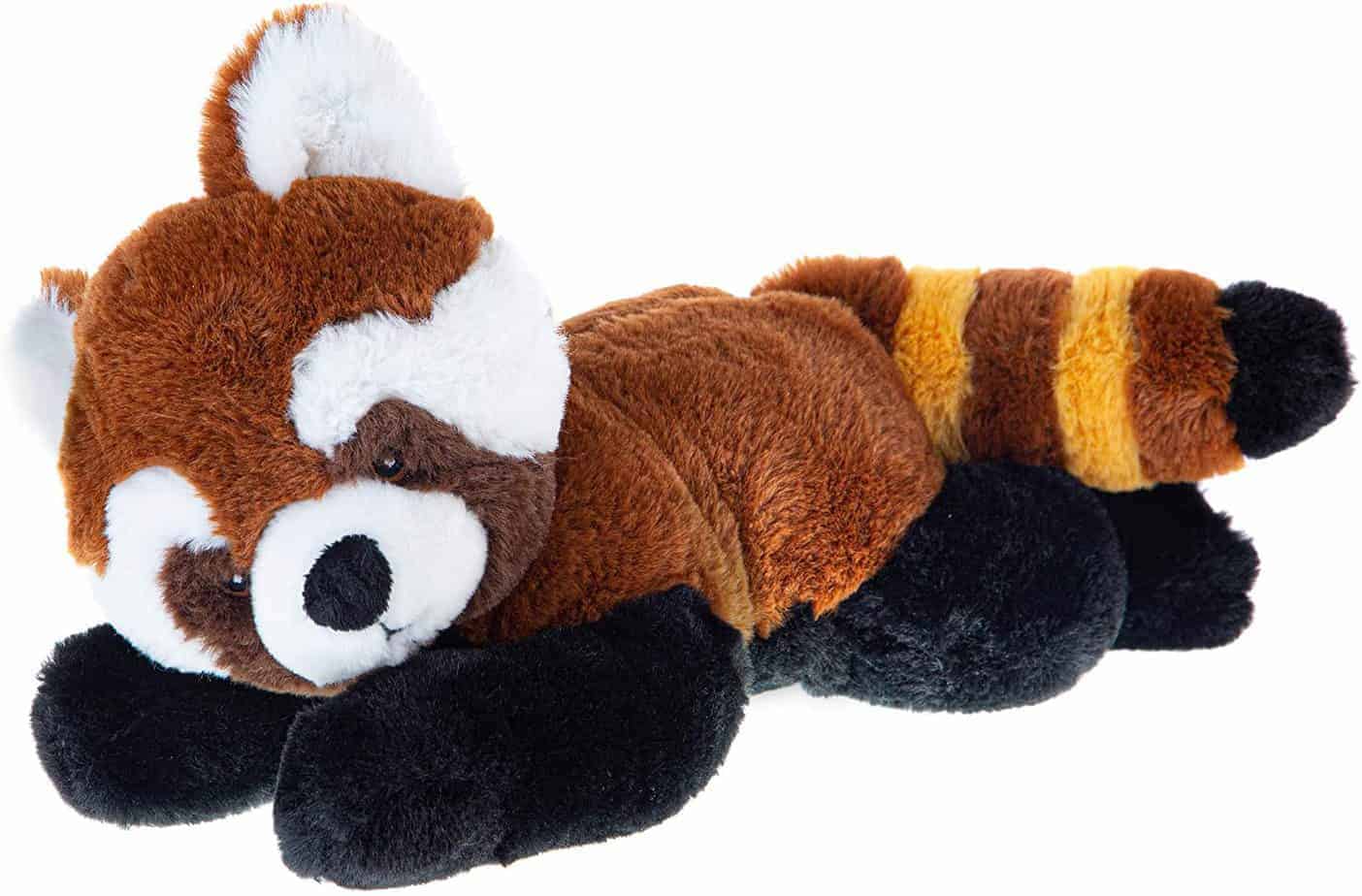 Having a companion she can play with indoors and outdoors can do miracles for your daughter's self-confidence. The Red Panda stuffed animal produced by the Wild Republic can become the best and the most loyal friend your child has.
Like all toys offered by this manufacturer, the Red Panda is produced entirely from recyclable materials, and even the shipping bag is made from biodegradable materials. This toy cannot pose a safety danger to children which makes it a great choice for preschoolers and girls in lower grades of elementary school.
Choosing a toy like this for your daughter can also have an educational aspect as it is going to familiarize her with endangered species and the importance of caring for the environment.
In addition, the Wild Republic's Red Panda has dimensions of only 13 x 5 x 4 inches, and your child can take it with her wherever she goes.
KidKraft Pirate Sandboat – The best natural outdoor toy for toddlers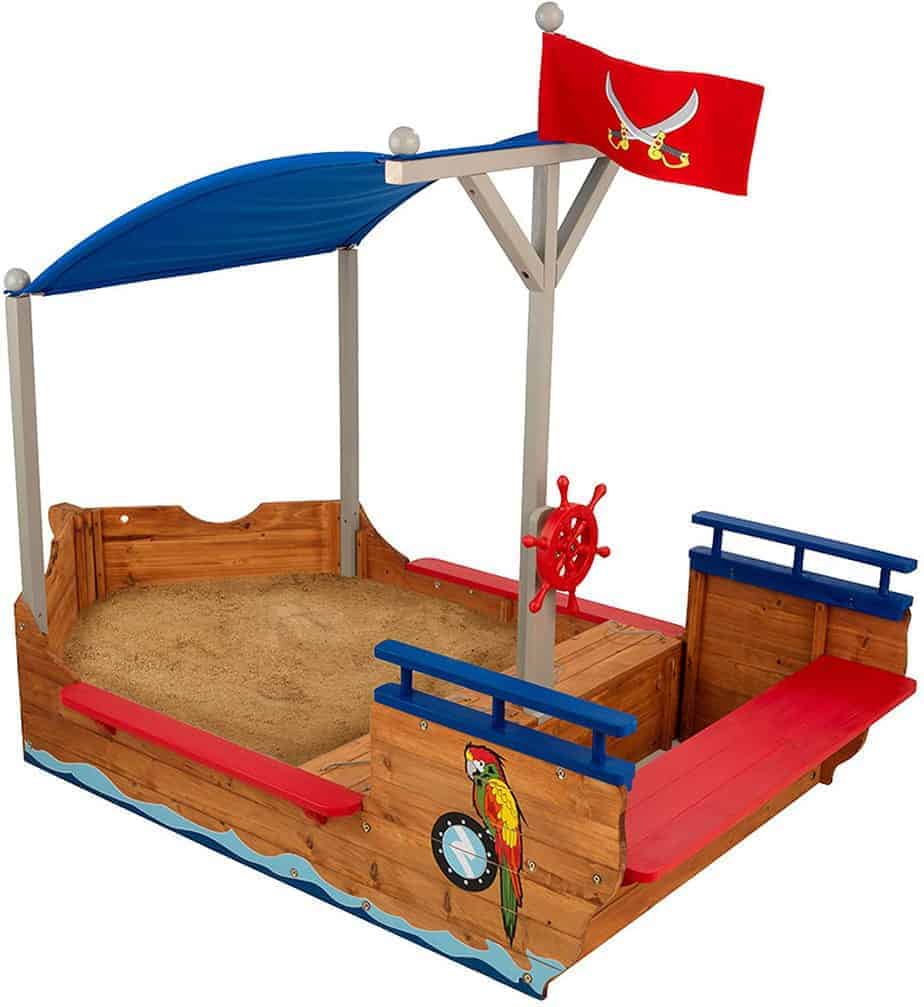 All kids love playing in the sand, but they don't often have the opportunity to do so, since playing at the beach is only possible during visits to the seaside. KidKraft Pirate Sandbox offers a perfect solution to this problem as it enables the children to play in the sand whenever they want.
This pirate-themed sandbox is built from a water-resistant roof and it has a shade canopy that protects toddlers from direct sun exposure or rain. The sandbox area is large enough to accommodate several children, which enables your kids to socialize with their friends while going on pirate adventures.
This outdoor natural toy also features pirate-themed artwork that makes it easier for children to imagine that they are on a real pirate ship. Even though the manufacturer recommends this toy for children between 36 months and 3 years old, this pirate sand boat can be used by older children.
GoSports Giant Wooden Toppling Tower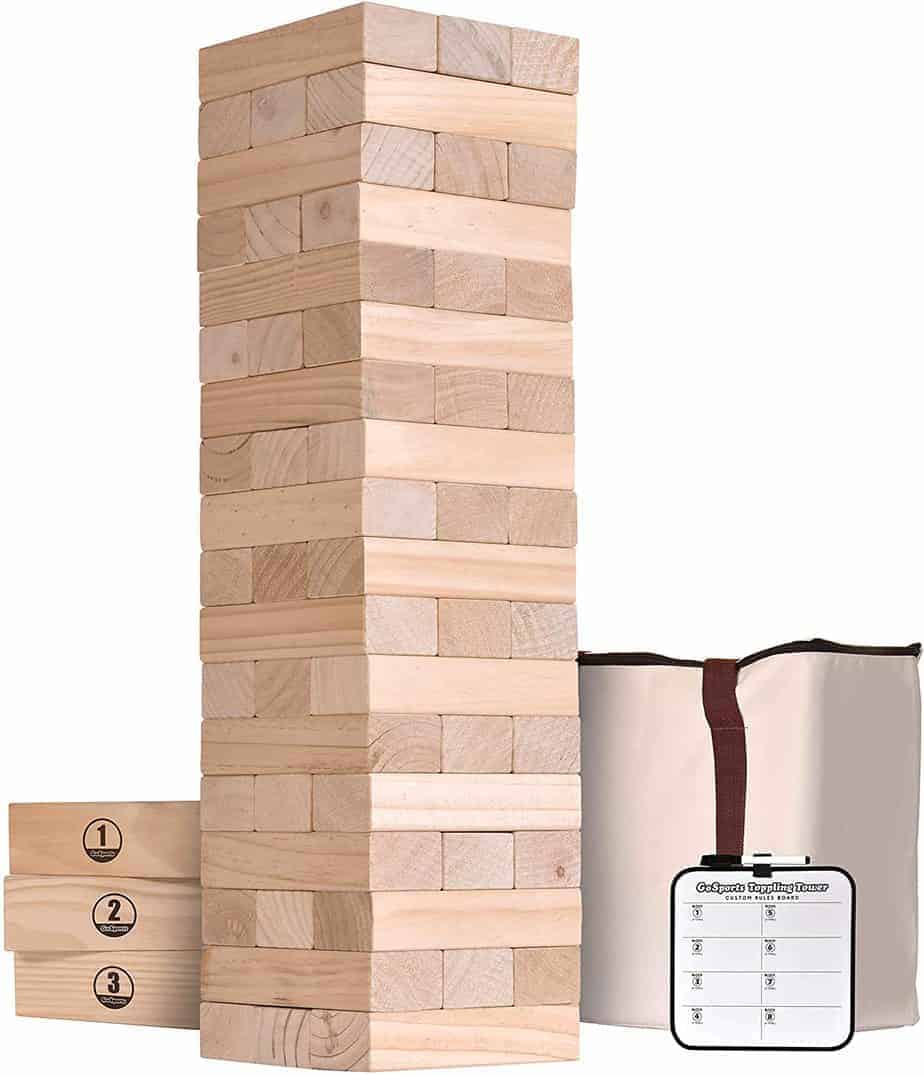 Games that nurture creative thinking and strengthen intellectual capabilities can also become the reason why your children choose to play outside.
GoSports Giant Wooden Toppling Tower is a simple and incredibly fun outdoor toy that is designed for five or more players and it encourages children to be more creative and social. The tower that starts at 2.5 feet and grows up to 5 feet tall is comprised of 18 rows or 54 blocks.
Each block has the dimensions of 7.75 x 1.5 x 2.5 inches and it is made from pieces of pine tree wood that don't contain knots. The dry erase board allows children to introduce game rules that make playing the game even more fun.
Wooden toppling towers produced by GoSports are available in different colors and they come with a carrying case that allows for the easy storage of the blocks and enables your children to take this outdoor toy with them whenever they are meeting their friends.
KidKraft Greystone Cottage Playhouse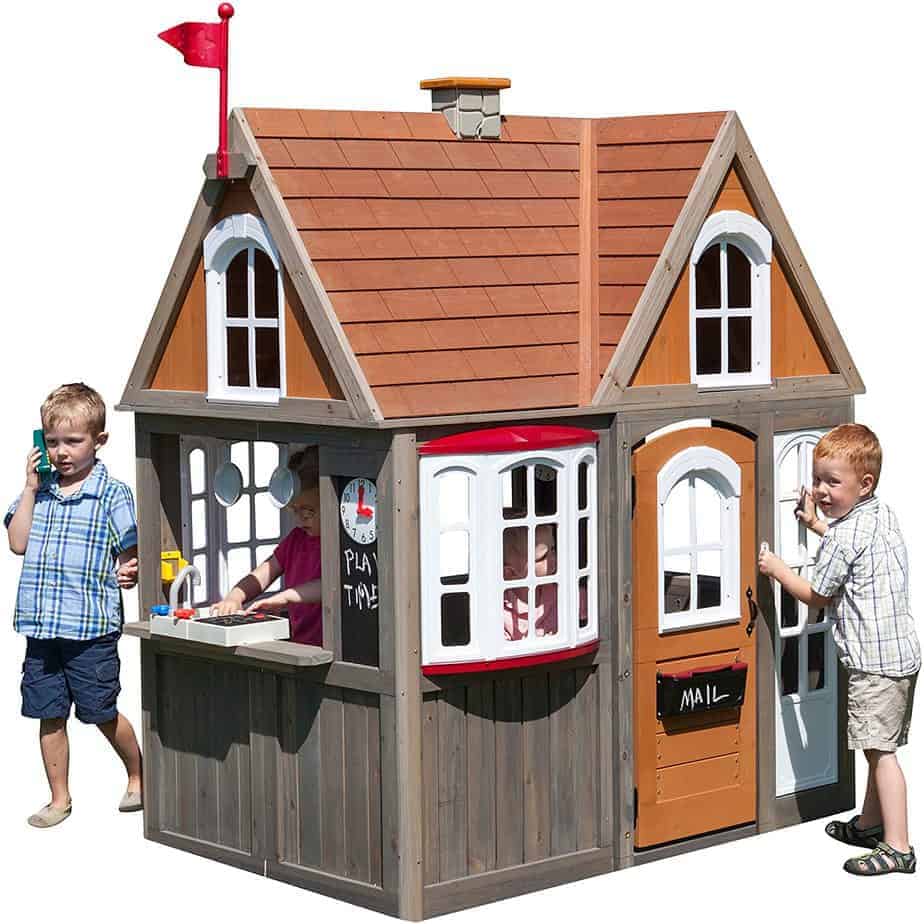 Sometimes all children need is their own space where they can daydream or play with other children. The KidKraft Greystone Cottage Playhouse is a perfect playground for two-year-olds as well as ten-year-olds.
Although its construction is wooden, the playhouse's decorative frames on windows and the chimney are made from plastic. Greystone Cottage Playhouse is still eco-friendly since it is built from cedar lumber and it contains a minimum amount of elements that leave an ecological footprint.
The front door features a doorbell that allows the visitors to announce their arrival at the cottage playhouse. The manufacturer recommends this natural outdoor to be used in residential areas and advises against installing it at locations where it is difficult to supervise children.
Assembling the Greystone Cottage Playhouse can be time-consuming, but it isn't overly complicated.
Zen Monkey Slackline Kit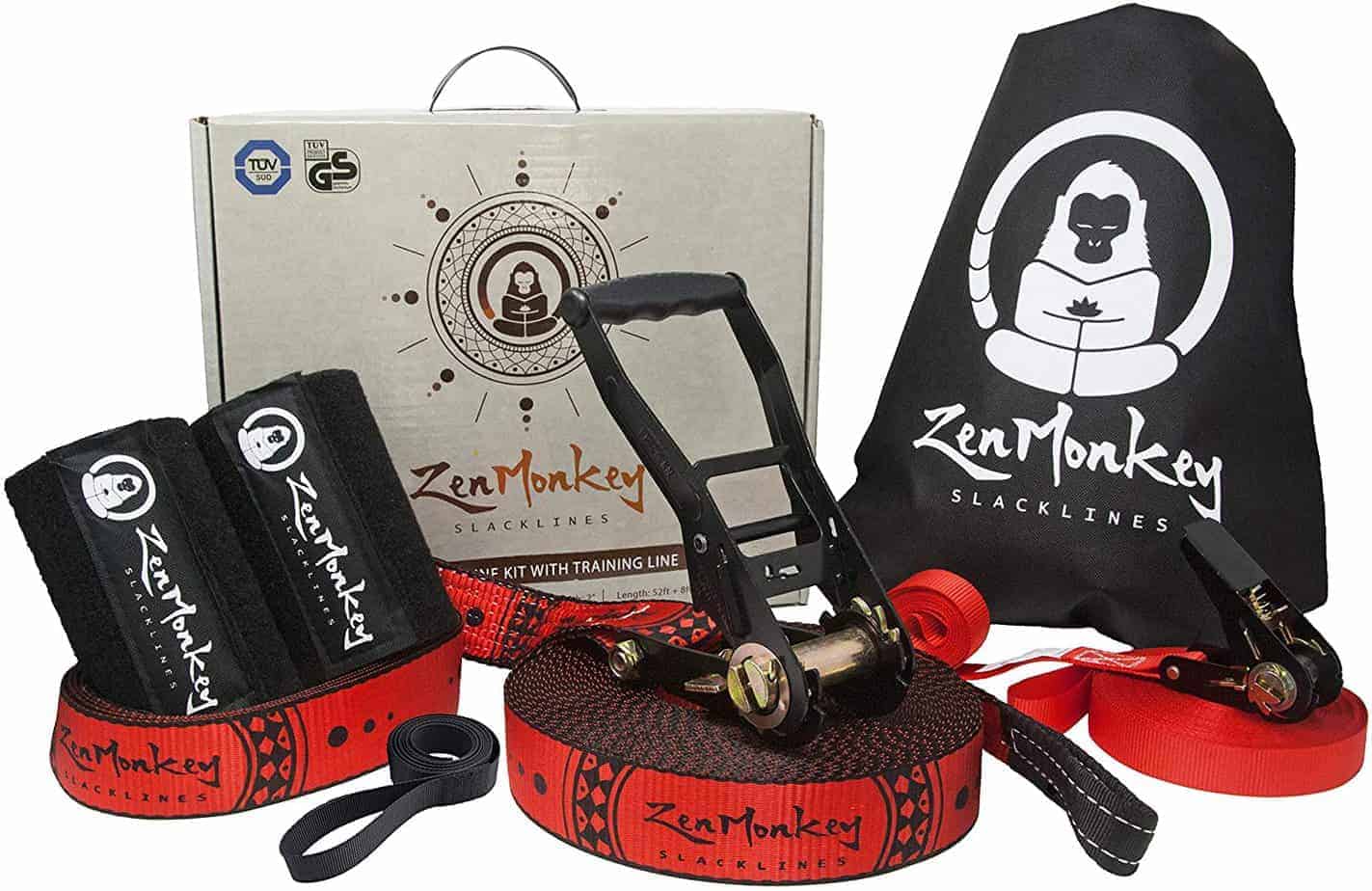 Your children can take the first step towards leading an active life on the slackline you installed in your backyard. Zen Monkey's Slackline Kit is kid-friendly which makes it suitable for all children older than 5 years old.
The slackline is durable enough to withstand the weight of adults, and your child can continue using it throughout their childhood. The main slackline that has multi-weave webbing with the reinforced loop is 2 inches wide and 52 feet long.
The kit also includes the main ratchet that has a carbon-steel construction as well as a molded hand-grip that features a built-in safety catch. An arm trainer, training line, training line ratchet, and tree protectors are also among the accessories you are going to get if you opt for the Zen Monkey Slackline Kit.
This natural outdoor toy help children develop their motor skills, improve their balance and it increases the strength of their muscles.
Flexible Flyer Baby Pull Sled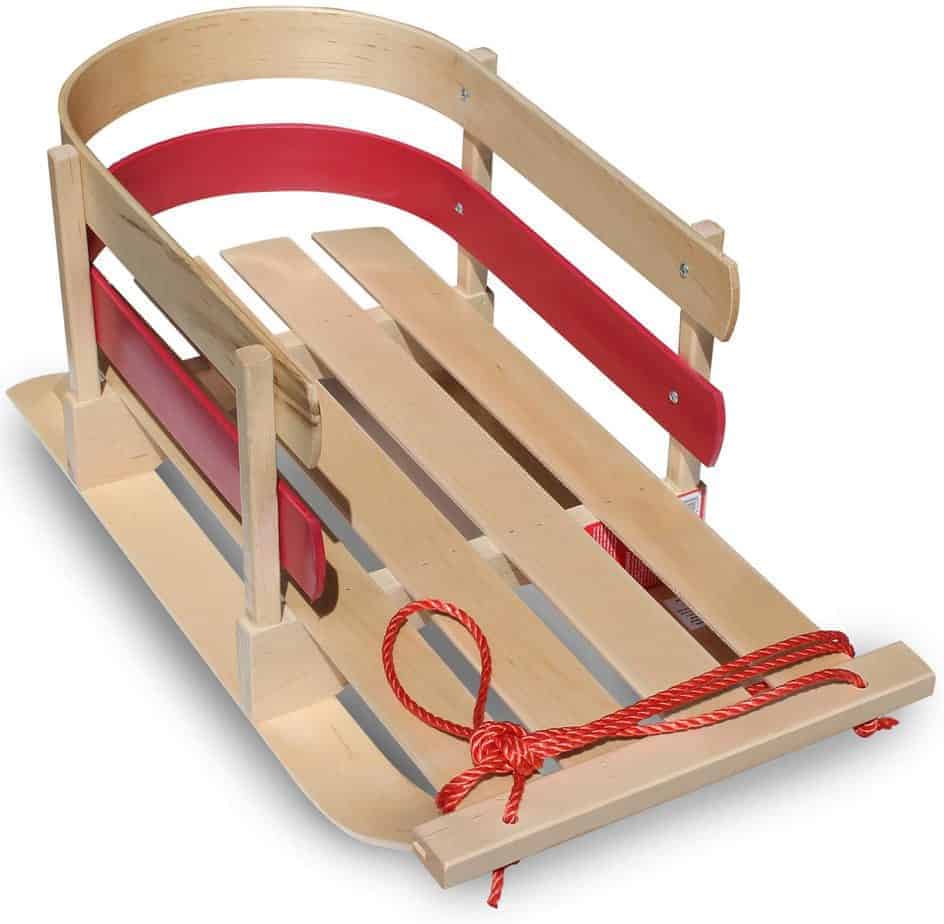 It is hard to imagine children playing in the snow without a sled. The Flexible Flyer Baby Pull Sled enables you to take your toddler on a snowy adventure without having to worry about their safety.
This handcrafted pull sled features a double-slat backrest that keeps the child safe and comfortable even on steep slopes. The classically designed wooden sled is perfect for children between 18 months and 4 years old as it can support up to 40lbs of weight.
The model comes fully assembled and ready to use, so you can just grab the rope for towing and start enjoying outdoor activities with your child as soon as you get this sled. The optional cushion pad provides the toddler with additional comfort and ensures that the clothes remain dry.
It is worth noting that side rails cannot be removed in case you want to allow your child to use this toy as a regular sled.
MAWELRATE Tetherball with Rope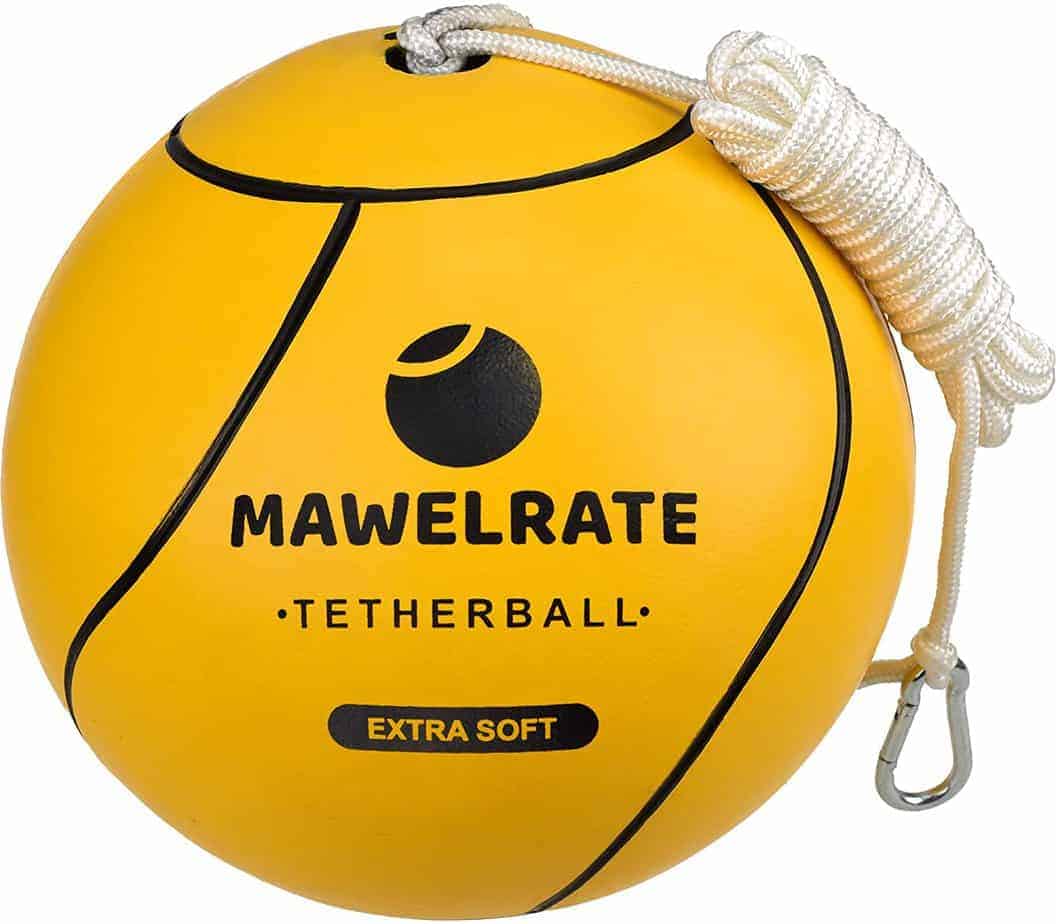 The game of tetherball may not be the most popular outdoor activity among children, but it is still a fun way for your child to spend time with their friends or family. The MAWELRATE Tetherball with Rope set is comprised of a durable rope and a softball that can withstand frequent usage for a long time.
This set can be attached quickly to any pole, which makes it a perfect pastime at the beach or in your courtyard. The rope can be easily adjusted to the height of the players, which makes this set suitable for all children older than five years old.
Also, the MAWELRATE Tetherball with Rope can be used by just children or an entire family which gives you the opportunity to enjoy this outdoor activity with your child. Even your pets can join in on the fun, but you shouldn't allow your child to play this game with a dog that has displayed destructive behavior in the past.
FOFANA Ninja Warrior Obstacle Course for Kids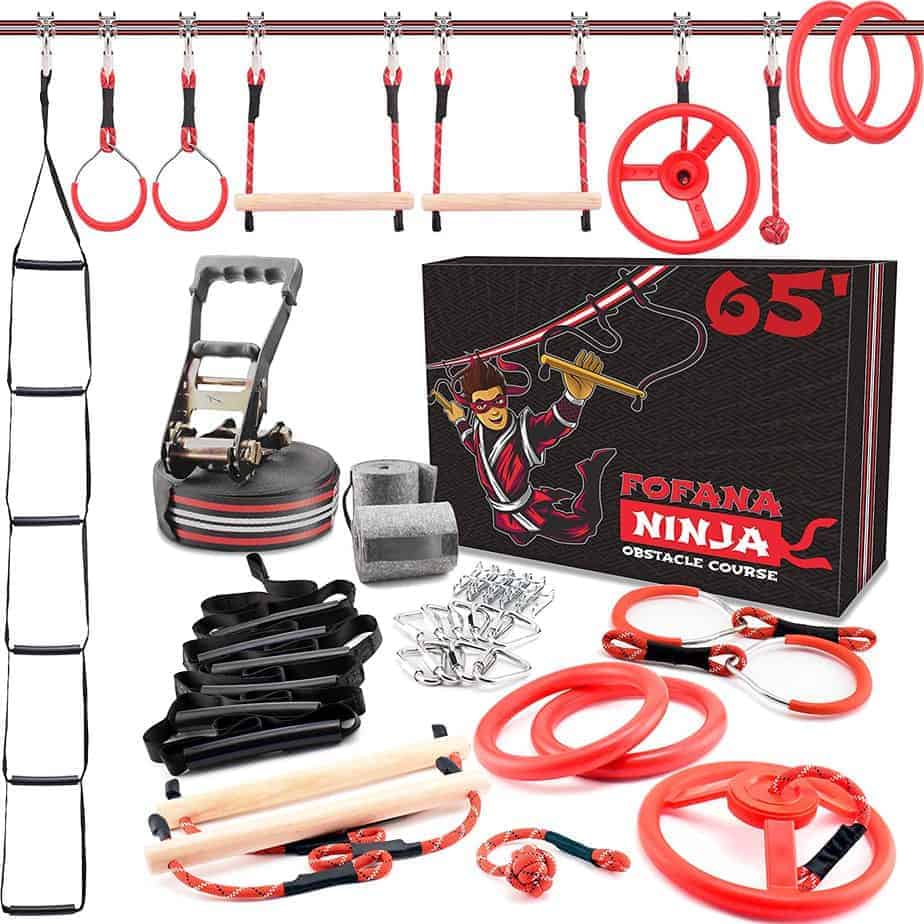 Finding an outdoor activity that offers a fun way for your children to exercise and stay fit can be difficult. The FOFANA Ninja Warrior Obstacle Course for Kids provides a wide range of workout possibilities while keeping children entertained.
The exercises kids can perform with this obstacle course are designed to improve their strength and coordination and to give a boost to their self-confidence. Besides a 55-foot slackline, the kit features a 7-inch ladder, a pair of monkey bars, and two gym rings.
Your child will also be able to use freestyle rings, a monkey fist, and a steering wheel that develops upper body muscles. Hooks are also included in the set and they ensure that the obstacles are securely fastened so you don't have to worry about your child's safety.
All you need to install the FOFANA Ninja Warrior Obstacle Course for Kids are two trees that are between 10 and 55 feet apart from each other.
M &M Sales Enterprises Outdoor Swing N' Spin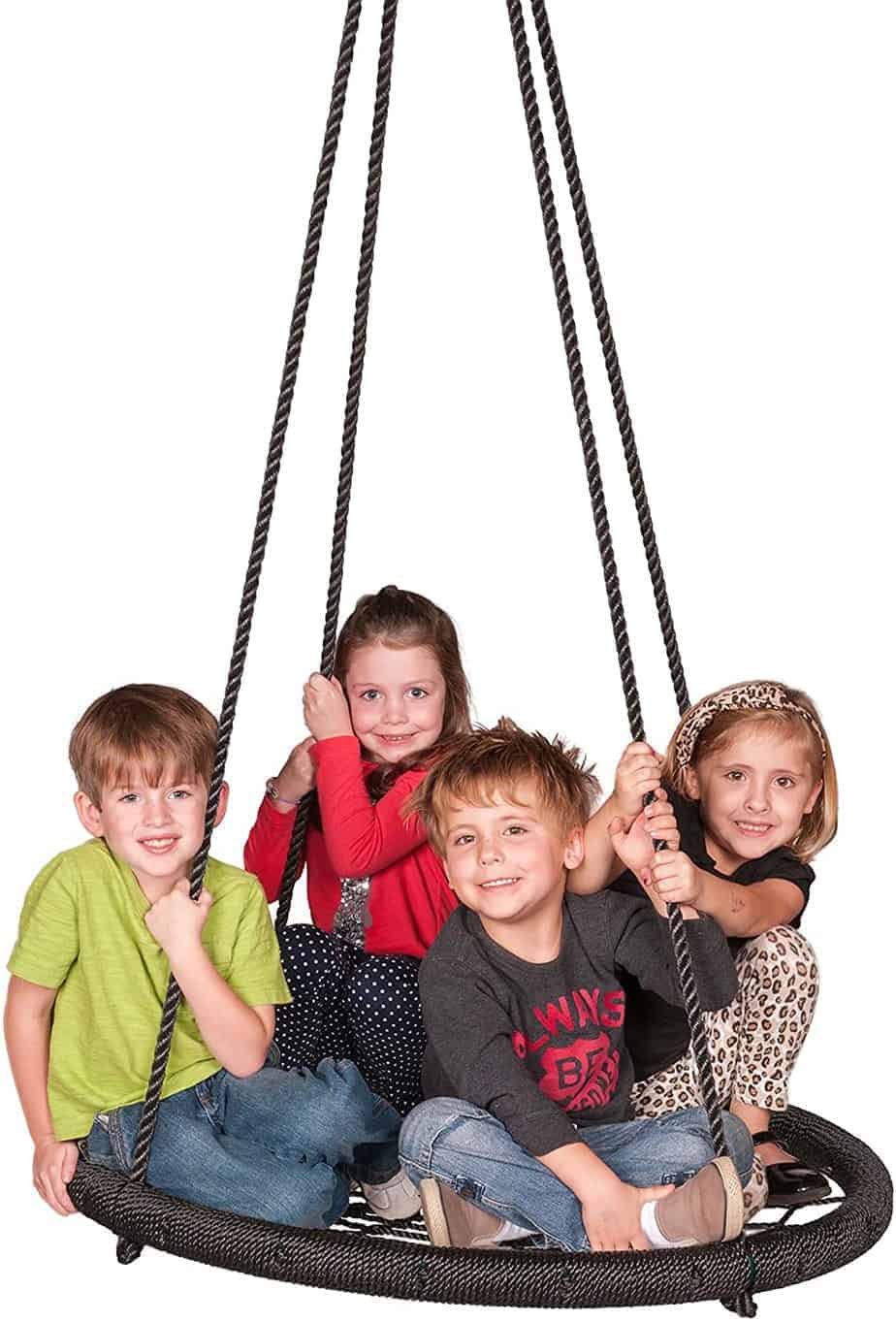 A Swing n' Spin is a great addition to any courtyard as it provides all members of the household with a space for relaxation. M&M Sales Enterprises Outdoor Swing N' Spin can keep your children preoccupied and entertained for hours as it allows them to swing and spin in all directions.
The toy's 600lbs weight capacity ensures that it can be used by children, teenagers, and adults without any difficulty. This swing n' spin is made of steel and polyethylene which means that it can endure daily wear and tear and that it is resistant to high or low temperatures.
This natural outdoor toy can be mounted on any tree branch as it comes with a stainless steel carabineer that can carry up to 5000lb of weight. In addition, this swing n' spin features a tree strap that protects the tree from potential damages.
Lifetime Geometric Dome Climber Play Center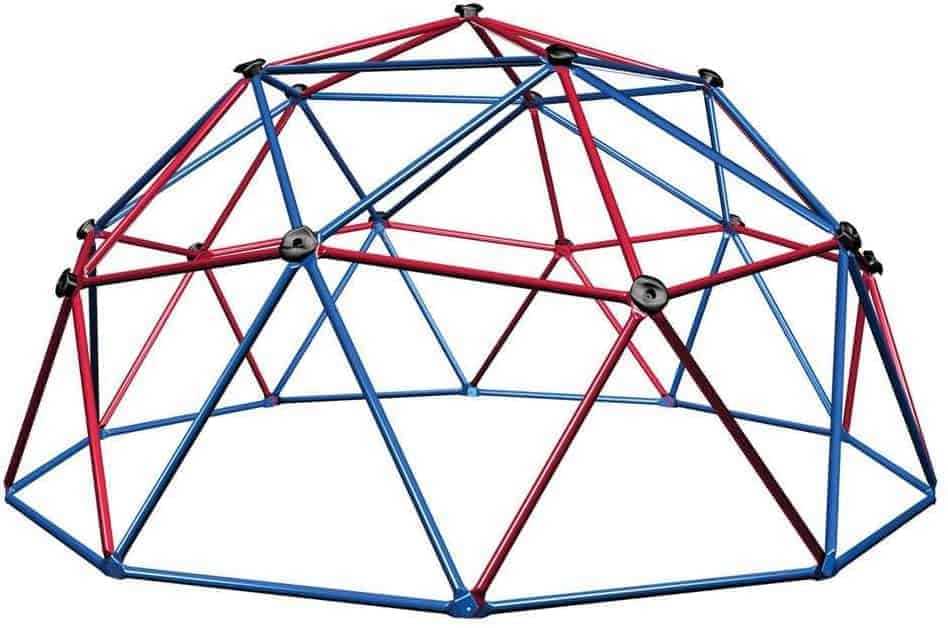 A toy like the Lifetime Geometric Dome Climber Play Center is designed to keep kids younger than ten years old active. However, the manufacturer doesn't recommend allowing toddlers aged three or younger to climb this geometric dome.
With the dimensions of 108 x 108 x 54 inches this natural outdoor toy requires you to have sufficient space for it in your yard, since going through the endless process of assembling it and disassembling it can be time-consuming.
The materials used to produce this climber play center are not based on lead which makes them harmless to children. The Lifetime Geometric Dome Climber Play Center is painted with non-toxic paints that are resistant to UV exposure.
Although this natural outdoor can be too expensive for some parents, it is a worthy investment as children can use it for the larger portion of their childhood.
iPlay iLearn Kids Wooden Building Block Set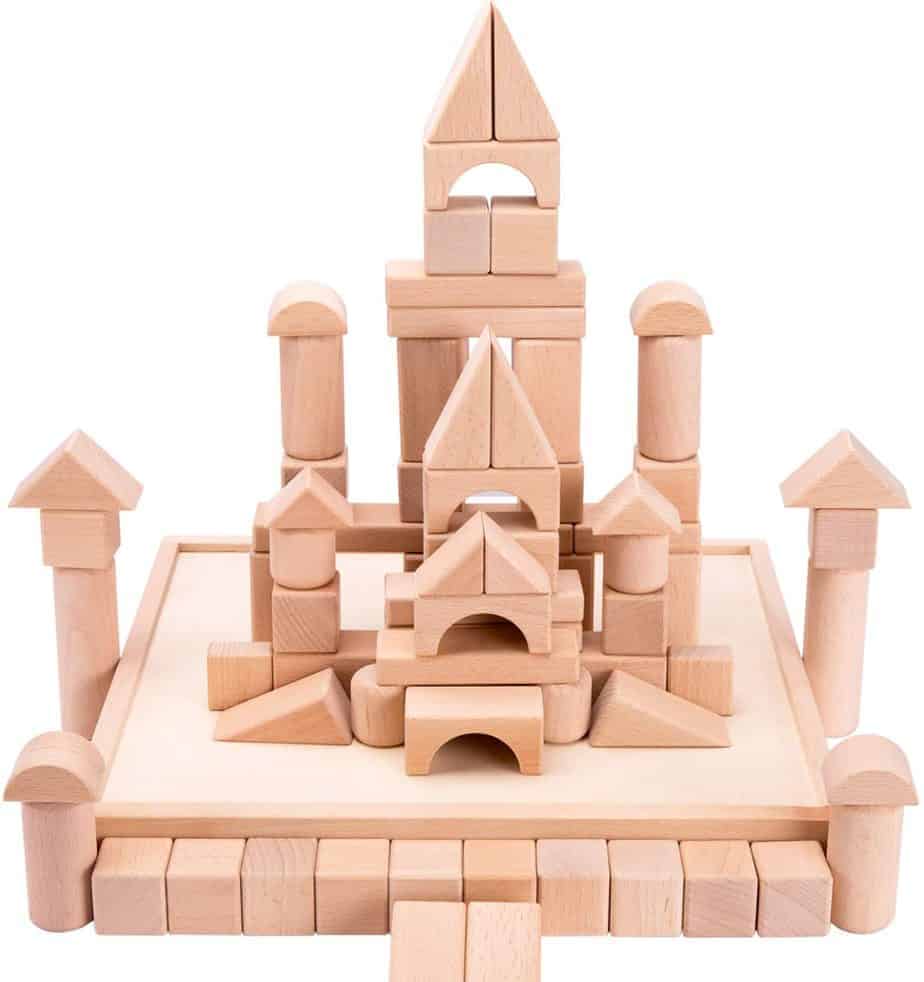 Using wooden blocks to create an object like a car or a train can be beneficial for children in different age groups. iPlay iLearn Kids Wooden Building Block Set is a natural toy that can be used either indoors or outdoors.
Each of the 72 pieces is made from high-quality hardwood enables your child to create a castle or anything else they want. It is worth noting that pieces in the set come in a variety of shapes and sizes, which means that children younger than 3 years old can only play with them under the supervision of their parents.
This building block can improve a child's dexterity and help them to learn how to differentiate between shapes faster. Playing with this wooden building block set may also nurture a child's creativity and spark an interest in visual arts.
Renegade Made Sidewalk Chalk Tagging Set
Every child is an artist, but as they grow older their affinity towards the arts slowly starts to vanish. The Renegade Made Sidewalk Chalk Tagging Set provides children with all tools they need to unleash their creativity and remain artists throughout their childhood and possibly longer.
This kit features six-packs of washable chalk paint in three different colors, seven stencils, a paintbrush, and a Renegade mask that turns your child into a true street artist.
Whether your child just wants to draw on the sidewalk or express their feelings and ideas through art, the Renegade Made Sidewalk Chalk Tagging Set will bring them a step closer to their dreams.
Each of the stencils in the set contains humorous messages that are going to make your neighbors smile, while they will make your child familiar with this art technique.
at will keep your kids active throughout the year
Getting your child a natural outdoor toy that will encourage them to develop an adventurous spirit or to express their creativity may have far-reaching benefits on their professional and private lives in the future.
A playhouse like the Gorilla Playsets Mountaineer Clubhouse Swing Set can become your child's private space where they forge friendships or spend endless hours playing.
On the other hand, FOFANA Ninja Warrior Obstacle Course for Kids could be a great toy for all children that want to become stronger and develop their motor skills. Which of these natural outdoor toys are you going to choose? Leave a comment and share your opinions with us.
FAQs:
Question: Why should I choose natural outdoor toys for my child?
Answer: Besides being less harmful to the environment, toys made from natural materials are also durable and you won't have to replace them too often.
Question: How old should my child be to play with a natural outdoor toy?
Answer: The sooner you introduce your child to natural outdoor toys the better since they will grow accustomed to playing outside faster. However, you should bear in mind that outdoor toys must be suitable for the child's age.
Question: Can an outdoor natural outdoor toy replace sports activities?
Answer: Even though natural outdoor toys encourage children to develop their physical and intellectual abilities, they cannot replace the structure and discipline sports activities offer.
Question: Are natural outdoor toys seasonal?
Answer: Most outdoor toys made from natural materials are aimed to be used under good weather conditions. However, a sled or similar toys can be used during winter.