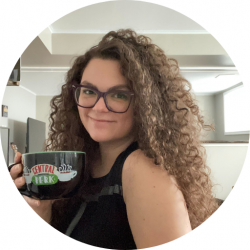 Latest posts by Candace Osmond
(see all)
You may remember playdough as one of the most fun and entertaining toys you had in your childhood. I know I do! You could create anything you wanted to out of playdough and always go back to square one to start over.
However, playdough has also been known to contain toxic materials inside which can make it dangerous, and keeping it around children suddenly becomes a hazard. Fortunately, there are organic playdough options that are safer to use so you don't have to worry about your little one.
Bottom Line Upfront
About halfway through this article, I began to wish these options were around when my kids were little munchkins. With that being said, I really thought The Dough Parlour Playdough was a great choice so I ordered some for my little niece! She's got so many allergies, so I think this will be a great gift for her!
Top 3 Picks
What is Organic Playdough?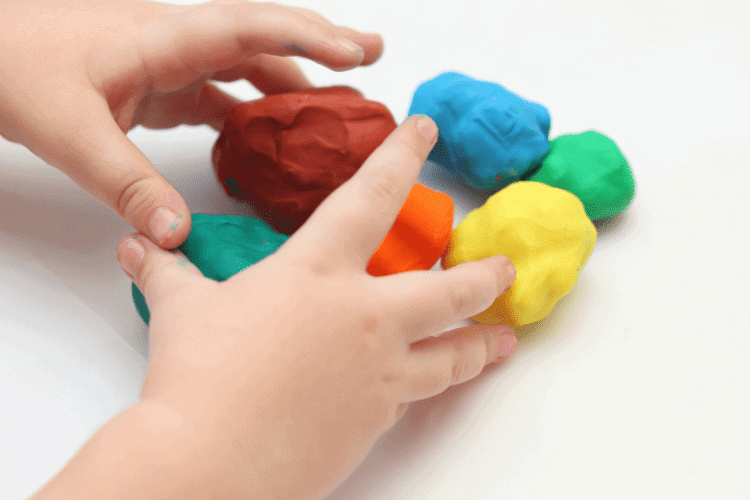 Organic playdough is made from natural materials which are not chemically manipulated. They are safer to use and play with on a regular basis and do not pose a threat to your skin. The playdough which we are all used to seeing can contain toxins and chemical compounds that are not too natural.
Organic playdough is the safer option, and some people even resort to homemade solutions to satisfy their playdough needs.
Pros and Cons of Organic Playdough
Organic playdough is essentially the exact same thing as regular playdough, save the difference in ingredients and recipe. Before we look at some organic playdough options, we'll first discuss what it is that makes organic playdough a better option.
Organic playdough can be homemade, which means you have complete control over what is inside of your own playdough recipe.
Organic playdough is made from natural ingredients when store-bought and does not contain toxins or harmful chemicals.
Organic playdough is safer to play with and use for both adults and children. You have to consider what your skin is in contact with while you're using playdough.
There are some shortcomings of organic playdough, however, but if you're interested in keeping your playdough safer and healthier, then these can be easily overlooked.
Organic playdough does not last as long as other artificial playdough due to the lack of preservatives and synthetic materials.
Organic playdough may not be as easy to mold and shape as other playdough. It's also limited in color options.
What's Inside Organic Playdough?
The main attraction of organic playdough is the fact that it's entirely made of natural ingredients!
As I discuss organic playdough further, you'll come to realize that all ingredients I mention are essentially found in your kitchen on a daily basis!
Flour
Tartar
Oils
Water
Food coloring
What to Consider When Buying Organic Playdough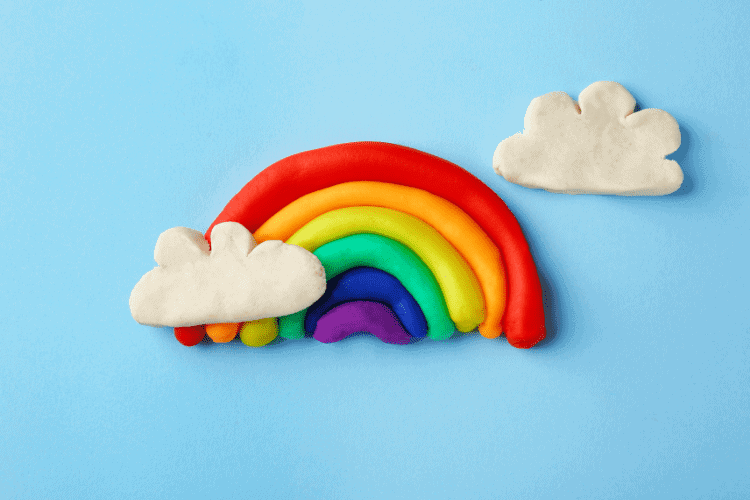 Ingredients
The best thing about organic playdough is the fact that its ingredients are items you can easily find around your home! Though different brands' recipes may vary in specifics, you're essentially looking at flour, tartar, oils, water, and food coloring which create your fun and enjoyable playdough.
Colors
Though in some cases organic playdough may not offer the most vibrant of colors, there is still an impressive variety of colors to choose from. If you're using playdough for stress relief balls, then it might not be as much of a priority for you.
If you're buying for your child or for artistic purposes (sculpting, modeling) then color might be an important consideration for you. You'll want to find bold, bright, and long-lasting colors which don't fade over time. This, of course, is a consideration since organic playdough does not contain the same synthetic and artificial ingredients as regular playdough.
Certifications
Any company can claim that their playdough is organic and safe, but the actual certifications will help determine whether or not they are telling the truth.
According to USDA standards, there are four categories for organic products: 100% organic, organic, 'made with' organic ingredients, and finally specific organic ingredients.
Availability
Playdough doesn't last forever, and if you're using playdough to mold figurines and models, then you're going to be buying it more often than others. You want to ensure you find a supplier who is reliable and consistent. You don't want to find a playdough company that is always out of stock when you need it. In this case, customer comments and reviews are very useful to make a final decision.
See also: Best Minimalist Children's Toy Ideas
Tips for Caring and Storing Organic Playdough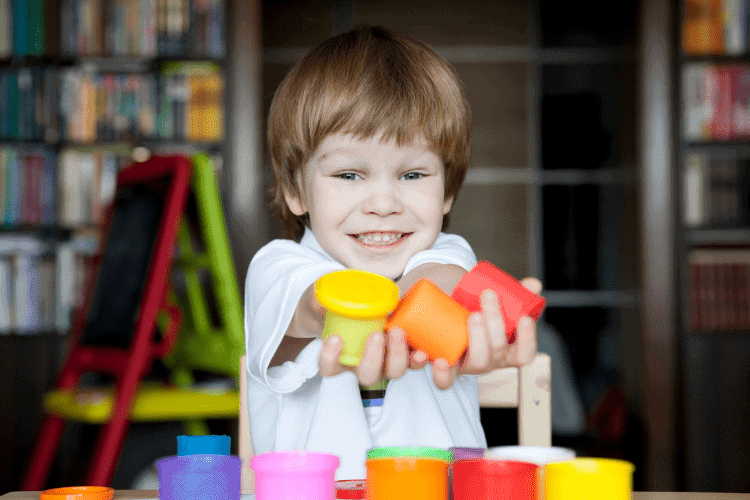 Just like all things you own; playdough has to be taken care of. You have to store it and keep it moist for it to continue being a soft, squishy ball of dough.
Always ensure your playdough is stored in an airtight container when it's not being used. If it came with one, keep that handy. If you made it at home, then purchase or find an airtight container that can be used for your playdough. A Ziploc bag or Tupperware will usually serve this purpose.
If you leave your playdough outside for too long, then you can use water to help soften it back down. Mildly hardened playdough can be softened with water, while hardened playdough can be wrapped in a damp towel and tucked into an airtight container. In a few days, it'll be soft enough to play with again. Be sure to wash the container afterward.
See also: Best Wooden Rocking Chair Ideas
The Best Organic Playdough Options
I did some reading and saw what users had to say and rounded up some of the best organic playdough options. All of them are based on actual parent testimonials, but also color options, allergies, and price.
Aroma Dough Play Dough for Kids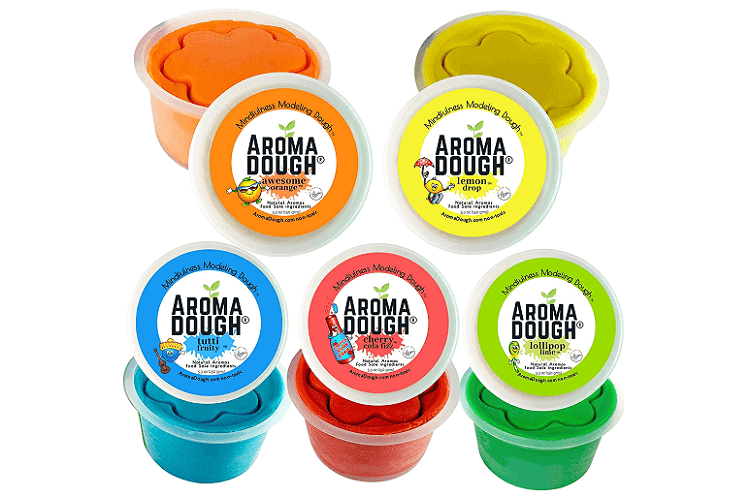 With each purchase, you get 5 different colors of scented organic playdough. Aroma Dough uses natural oils to create a pleasant scent that helps soothe and relax your children while they play. No artificial scents are used to sustain the scent of the playdough. The recipe for this playdough is vegan, gluten and soy-free, and non-GMO, making it a safe and healthy option for you and your kids to use!
Price Range: $30-32
Weight: 64g per container
Quantity: 5 Pieces
Colors: 9 options
This playdough is non-toxic, non-allergenic, and handmade with love and care. Aroma Dough makes environmentally friendly playdough for everyone to enjoy, including children with celiac disease, autism, and ADHD. It's even recommended to provide your children with special needs the opportunity to play with playdough as it is therapeutic and imagination-inducing.
Pros
5 colors in one purchase
All-natural scented playdough
Non-GMO, soy-free, gluten-free, and vegan recipe
Non-toxic and non-allergenic
Environmentally friendly product
Cons
Molds quickly if left unattended
Overpowering scent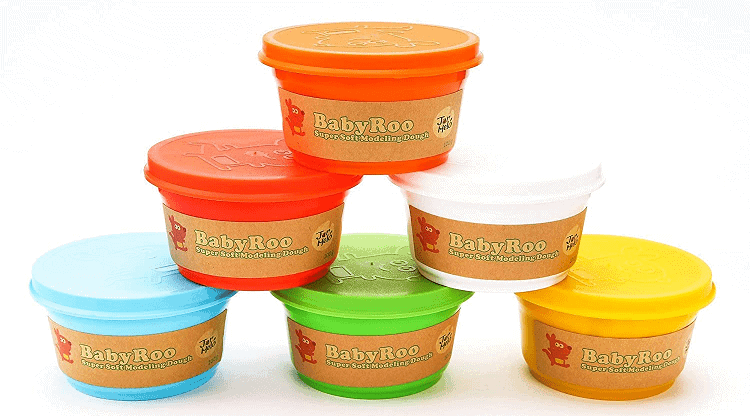 This BabyRoo Super Soft Modeling Dough is made with dermatologically tested 100% natural wheat flour. To give the playdough fragrance, natural essential oils are used to give off a relaxing and soothing effect while your children play with the dough. It's both environmentally friendly and non-toxic.
The super-soft texture helps make it easier for kids to mold and shape the dough, provoking their creativity and ingenuity. It's easier to clean off hands and fun to play with over and over again. The only key to prolonging its life is by keeping it in an airtight container. If it begins to dry up, add a little water and kneed it until it's been fully absorbed.
Price Range: $30-$33
Weight: 100g per container
Quantity: 6 Pieces
Colors: 6 options
There are six colors that come with your purchase: yellow, blue, red, orange, white, and green. It's very easy to mix these colors together to create a completely new color but be cautious as this cannot be reversed. There is also a cartoon mold on the bottom of each container in case your child needs inspiration for their own creative endeavors.
Pros
All-natural essential oil scents
100% Natural wheat flour
Non-toxic product
Environmentally friendly product
Reusable Playdough
Cons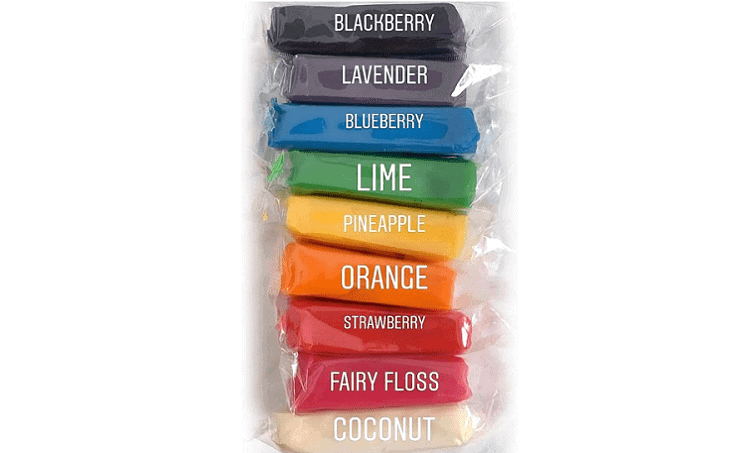 This Australian playdough is made with all-natural ingredients, providing safer playdough and an easier choice for children, parents, and teachers alike. Bio Dough is made completely out of organic food-grade ingredients. The playdough is also scented using food-grade colors as well as fragrances.
Bio Dough is rehydratable, so you can keep playing with it to your heart's content. Whenever you feel as though your playdough is drying out, simply drop some water on it and kneed until it's been absorbed. You'll have soft, moldable dough in no time. You can combine and reshape your Bio Dough as much as you want, the color and fragrance are here to stay.
Price Range: $25-$30
Weight: 125g per container
Quantity: 9 Pieces
Colors:  9 options
This dough can also be used for aromatherapy with the strong scents associated with each color. There is coconut, fairy floss, strawberry, orange, pineapple, lime, blueberry, lavender, and blackberry with their corresponding colors.
This playdough does not contain common allergens such as peanuts, tree nuts, soy, dairy, eggs, and casein. It does, however, contain wheat and salt.
Pros
Non-toxic playdough
All-natural ingredients, colors, and fragrances
Can be used for aromatherapy
Rehydratable playdough
Comes in 9 different colors
Cons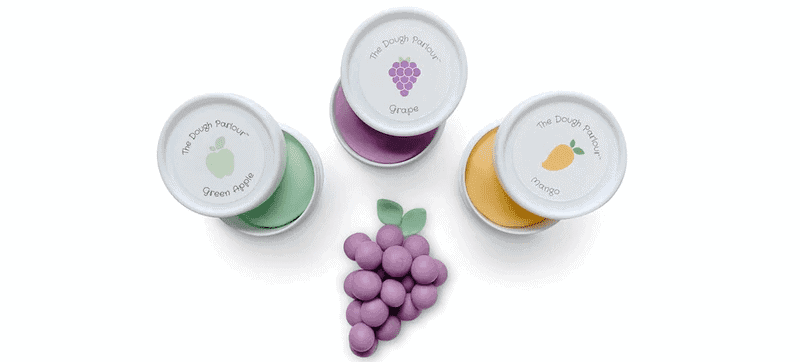 This playdough from The Dough Parlour is a culmination of beautifully vibrant colors and realistic fruity scents for an invigorating and playful experience. With soft dough and a large variety of colors to choose from, The Dough Parlour actively promotes creativity in children.
The playdough is made with a 100% non-toxic recipe. This playdough is biodegradable and rehydratable, so not only is this playdough reusable, but it's also environmentally friendly. The recipe is also BPA-free.
Price Range: $7 – $120 (Inclusive of individual purchases and deals)
Weight: 100g per container
Quantity: customizable with each purchase
Colors: 22 colors
If you purchase directly from The Dough Parlour website, you can purchase accessories such as rolling pins, playmats, and dough cutters to keep your children entertained with their new playdough sets. You can purchase playdough individually or in deals and packages. You can also customize gift baskets in case you're thinking about gifting this playdough to someone.
Pros
A large variety of colors and accessories
Package deals through the website
100% non-toxic recipe
Biodegradable and rehydratable formula
Cons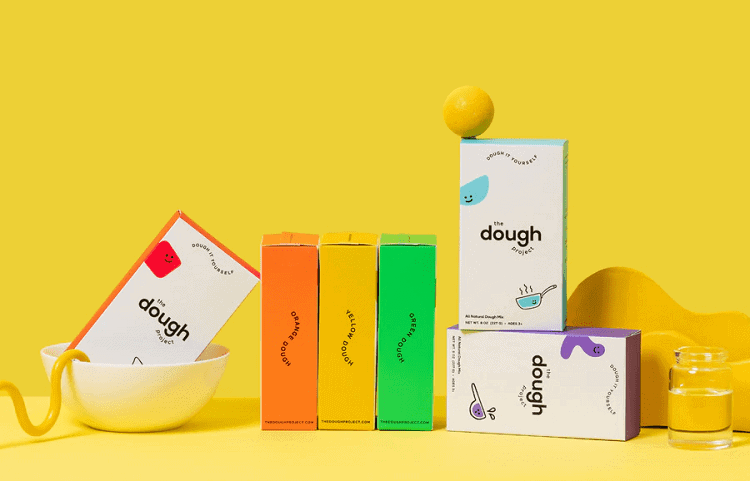 The Dough Project presents an invitation to endless creativity. There are three bundles you can purchase, the 3-pack, 6-pack, and 9-pack bundle which all come with an assortment of animated colors. You can also buy accessories with the playdough to make your child's playdough experience more immersive.
The recipe is all-natural and plant-based for a safer and healthier product. The Dough Project even offers a DIY Recipe to their buyers so you can have a go making your own playdough at home! The recipe is 100% non-toxic and the color comes entirely from plant sources.
Price Range: $20 – $55
Weight: 140g per container
Quantity: 3-Pack, 6-Pack, 9-Pack
Colors: 9 options
Every time you're done using the playdough, be sure to return it to the containers provided upon delivery and store it somewhere cool. Ideally, storing in the fridge would properly preserve the playdough if you don't intend on using it for a while. The playdough is made to last 4-6 months maximum, and there is a chance of the color fading the more it's played with.
Pros
100% Non-toxic recipe
Plant-based recipe and coloring
Bundles and accessories available on the website
DIY recipe from The Dough Project
Cons
Not available in a single purchase
Playdough is not scented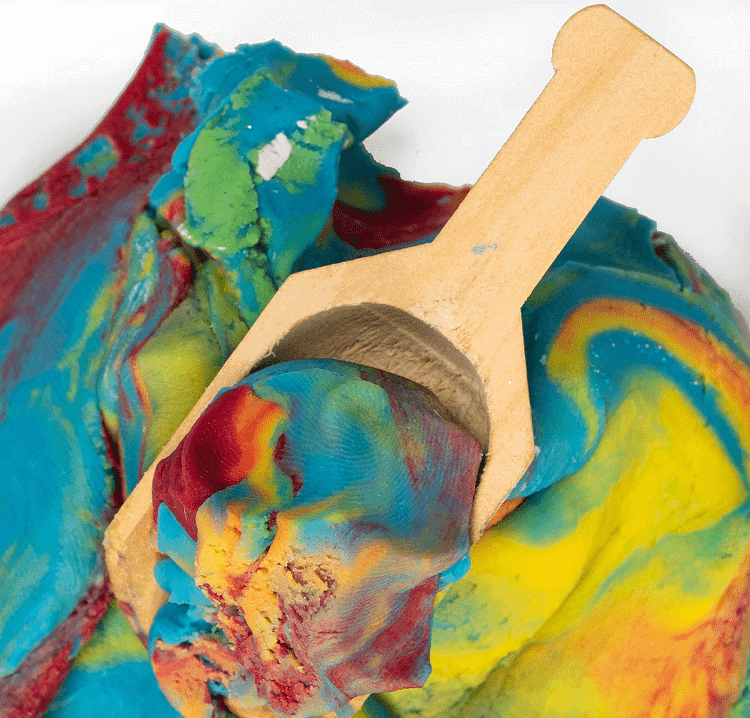 Our final option comes from Land of Dough, with its wide variety of exciting playdough. Each cup of playdough is a new exciting scene that your kids can dig into! Once they're done mixing the playdough, they can mold it to their heart's content and create something new!
Price Range: $10 – $25
Weight: 200g per container
Quantity: Individually customized playdough cups
Colors: Various colors peer design
The formula for each unique cup of playdough is 100% all-natural with light essential oils used in each color. The packaging which the playdough comes in is environmentally friendly, and the included glitter is compostable too.
If you leave the playdough outside, it will dry up so you can mold sculpts with it. If you wish to preserve it instead, you can store it in an air-tight container and keep it in a cool place.
Pros
Unique cups of playdough
Accessories available on the website
100% all-natural formula, scents, and colors
Environmentally friendly packaging and ingredients
Cons
Does not come with many bundles or package deals
FAQS
Question: How Do You Make Organic Playdough?
Answer: If you're interested in making homemade playdough, then it's actually quite easy! All of the ingredients you need are most probably in your house right now!
Here is a step-by-step guide on how to make organic playdough at home.
1 cup of all-purpose flour
1/2 cup of salt
2 tablespoons of tartar
1 cup of water
2 tablespoons of olive oil
Food coloring of your choice
The first step is to mix all of your dry ingredients properly. Be sure to use a relatively larger dish when mixing these, as it can get messy.
Then, steadily mix in your wet ingredients. Once they're all properly mixed, you can pour them into a saucepan and stir them on medium-low heat for five minutes.
Essentially, you're mixing until you've created a dough ball. Once the dough ball has taken shape, take it out to cool for 5 to 10 minutes. Store in air-tight containers.
You now have your very own ball of homemade playdough!
Question: Is There Non-Toxic Playdough?
Answer: You may recognize the following names: Hasbro Play-Doh, Crayola, and RoseArt Fun Dough. All of these brands provide non-toxic playdough which is safe and fun for children to play with.
Other brands may not be the same and may have toxic properties inside of their recipe, so definitely check before you purchase from any other brand. Another safe bet is to purchase organic options which are free from synthetics and artificial ingredients.
Question: Why is Playdough Toxic?
Answer: Playdough can be considered toxic because of its salt and baking soda levels. These, if consumed, can be considered poisonous and raise sodium levels dangerously high.
Now, one innocent and curious bite will immediately result in a very unappetizing and spontaneous reaction of spitting it back out, but if your child does ingest playdough, consultation with a pediatrician is highly recommended, if not mandatory.
Hands Down
Playdough is a fun, creative way to play and therapeutic means of relieving stress. Everyone enjoys playdough, and with organic options available, everyone can also feel a little safer using it too.
I fell in love with The Dough Parlour Playdough, what about you? Let me know which one you picked and why! And, for more awesome recommendations, read what we have to say about the best natural arts and craft kits!
Recommended Reads: