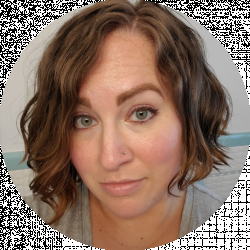 Latest posts by Elizabeth Ramos
(see all)
Minimalism is a mindset based on simple living and freedom from clutter. From my experience in my classroom and my home, kids of all ages can benefit from minimalism. This starts with the toys they play with.
Below I'll share the benefits of minimalist toys, as well as give you my best ideas for minimalist children's toys.
Is There Such Thing as a Minimalist Toy?
I think about the battery-operated toy my daughter loves. You push a button, and it lights up and sings a song! She loves it. But it does nothing to encourage her imagination any further. Are these toys bad? No! But in my opinion, they should be limited. Instead, I encourage you to look for minimalist toys.
While the idea of simple living isn't new, the minimalism movement is seeing a rise in popularity. Perhaps you dream of owning a tiny house or maybe you're a big fan of Marie Kondo. In a society obsessed with consumerism, having less stuff feels radical. But minimalism has been shown to make people happier and more present with a better sense of well-being. That's what it's all about.
If you feel overwhelmed with a busy life full of stuff, imagine how your child feels! We've known for a long time that busy classrooms can hurt children's ability to focus. Recent studies have proven that children play more with fewer toys to choose between. Play is how children learn. So, getting rid of toy clutter can help kids learn to be more present, use their imagination, and build their attention span.
So, what is a minimalist toy? It's not one product you can go out and buy. It's a few things:
Minimalist toys encourage imagination

Minimalist toys are made of eco-friendly and sustainable materials

Minimalist toys work within many child-rearing philosophies
Think of toys that can be used in many ways. In teaching, we call these toys open-ended materials. They don't just do one thing. Silk scarves are a popular example. They can be used during pretend play as baby blankets or superhero capes. I love to use them to play hide and seek with infants.
Based on minimalist ideas and my personal experience, I've put together a list of toys to inspire you on your minimalist toy journey.
Bottom Line Up Front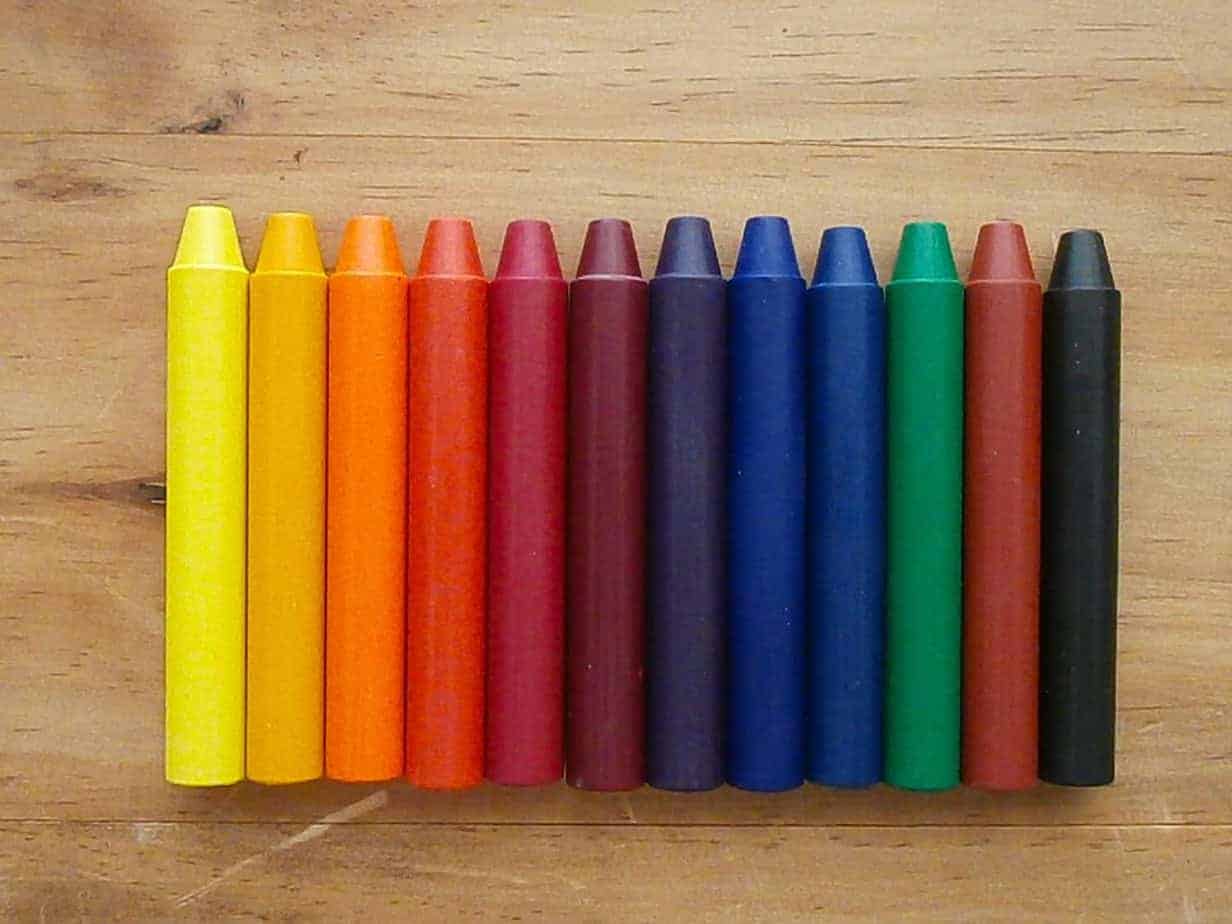 When it comes to minimalist toys, I think the best overall are play silks and a good block set. These items engage the imagination, can be used in all kinds of ways, and are made of quality natural materials.
For a detailed description of each of the products I chose, keep scrolling. Or check out this overview of each toy:
At a Glance: The Best Minimalist Toys Ideas
Tips for Choosing Minimalist Toys
Minimalism might be a new concept to you. When choosing minimalist toys, I encourage you, don't feel pressured! This mindset should make your life easier, not more stressful. So, I have a few tips that will help you focus on the goal.
Don't worry about buying the most expensive natural toy! If you have a plastic shape-sorter already, don't feel like you need to replace it with a wooden one. Minimalism is about appreciating what you have and limiting mindless consumption. However, choosing to invest in high-quality toys will pay off over time.
Rotate your toys. I like to offer my 1-year-old daughter 3-5 open-ended toys during the week. This usually includes a few open-ended toys, a book, and a doll, just to start. Thanks to their grandparents, she has more than 5 toys, so we rotate! This is what works in our house. You'll figure out how to introduce minimalist toys to your kids.
Finally, observe your child. Watch what they play with and what they don't. This will help you decide what to get rid of and what to store for rotation. It will also give you ideas about any new interests they may have so you can make future intentional purchases.
My Selection Criteria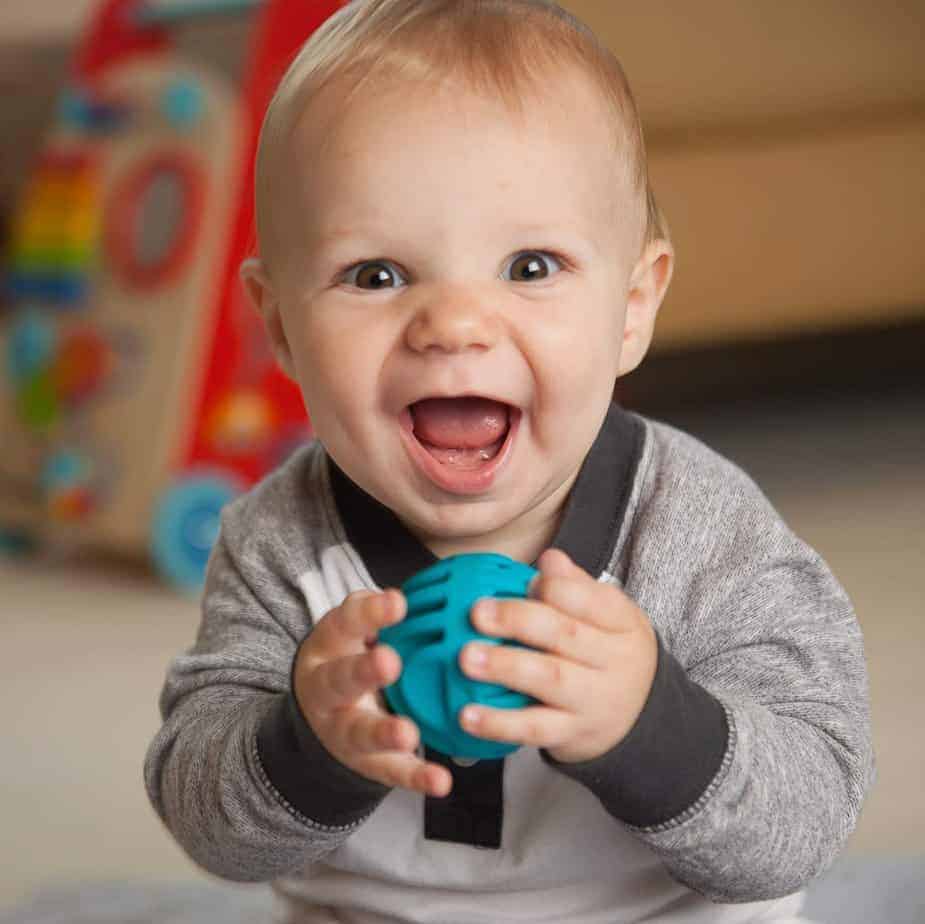 When choosing minimalist-type toys, I looked for certain things:
Materials
I looked for toys made of quality materials, like hardwood, organic fabrics, shatterproof glass, and food-grade silicone. I always look for stained and sealed wood because I find that painted wood that can chip over time, no matter the quality of the product.
Age Range
Keeping sustainability in mind, I looked for toys that would work with the widest age range. I picked a few different toys for each age group, but most of them should engage your kids for years to come.
Minimalist Qualities
I chose toys without unnecessary designs or branded characters. I looked for open-ended toys or toys that can be used in all kinds of ways. Most of the toys I've chosen have multiple pieces for optimal creative use but will store away easily.
My Recommendations for Minimalist Toys
I think silk scarves should be a part of every toy collection! From infants to school-age children, play silks have countless uses. The medium-size silks that I've chosen here are perfect for different kinds of play. The quality material doesn't easily wrinkle or snag. Plus, they fold flat, making them easy to store away.
The soft silk is a delight for little hands to hold and build strength. Use them to play hide-and-seek or create a Montessori scarf pull by putting them in an empty box. With older children, I've kept play silks in pretend-play areas and draped them over lightboxes for science lessons. You can also play music and dance, moving the scarves to the rhythm!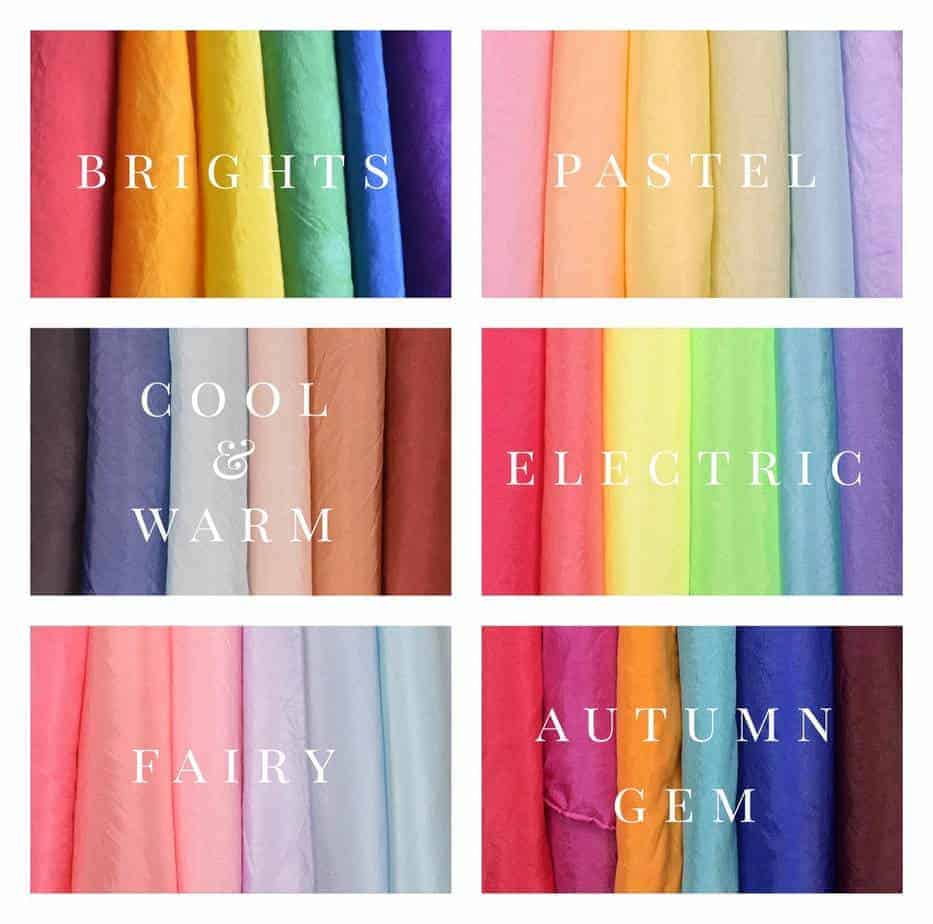 Specs
6 100% silk scarves 21.5 x 21.5 inches
Pros
A variety of rainbow colors

Soft, quality silk will last a long time
Cons
On the pricey side

Non-vegan material
Natural finished blocks make the best minimalist toys. Buy these for your 3-year-old and you'll have them for years to come! While you can also buy similar blocks from Melissa & Doug that are painted, I prefer these for their simplicity. Keep them on a low shelf in their area so there's room to build with them.
You can introduce blocks once children have the coordination to stack toys, at around 12-15 months old. While these blocks are made for 3 and up, the company also makes a scaled-down version for toddlers. Blocks are excellent to learn new ideas like "big" and "small." I also find blocks are wonderful to use in teaching all kinds of things you wouldn't think of, like sharing.
Check out our guide on how to find the best wooden blocks for kids here.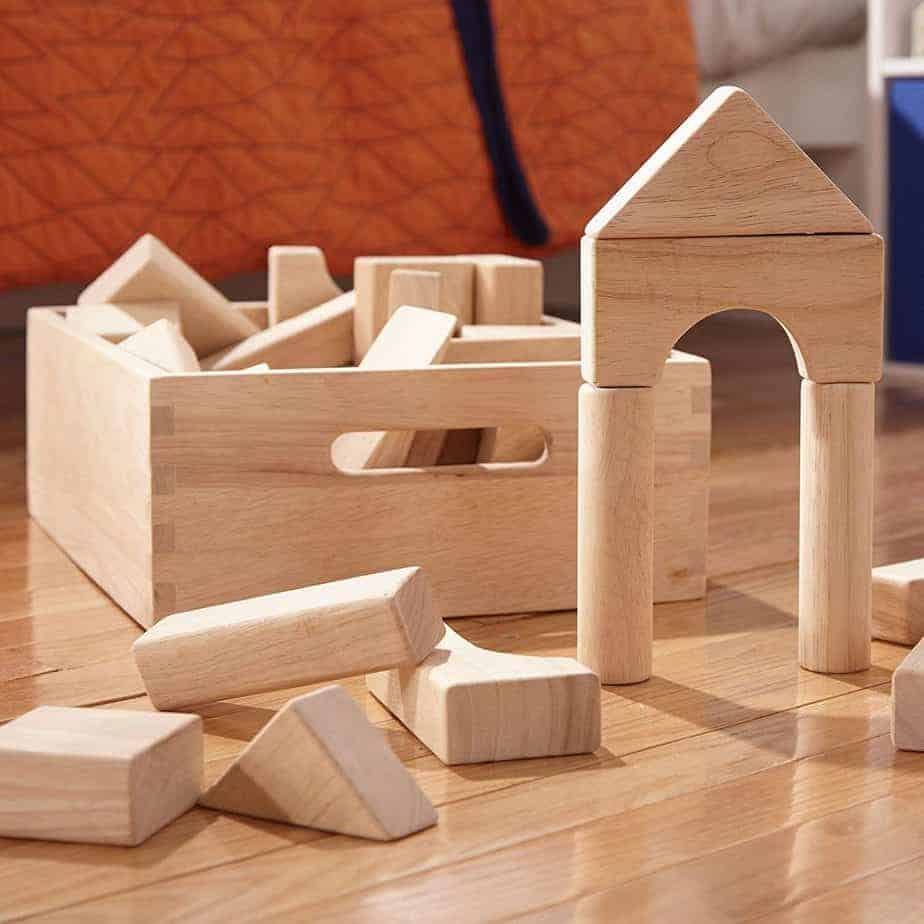 Specs
60 sanded hardwood blocks in a variety of shapes with a natural finish
20.1lb
Pros
Nice quantity and range of shapes

Natural finish means you can treat them how you choose
Cons
Blocks may be awkward for the smallest hands to hold
Fat Brain Toys makes a lot of baby toys in this food-grade silicone material that feels good to hold. A good eco-friendly alternative to plastic, it's a durable material that's easy to clean. These sensory balls are visually appealing with bright colors and have all kinds of features that will stretch your baby's attention span.
Get small sensory balls when your infant starts grasping toys. You can use them during tummy time and to encourage crawling. They jingle when they roll to catch your baby's attention. I also give toddlers small balls like these when they are learning to throw, roll, or kick balls.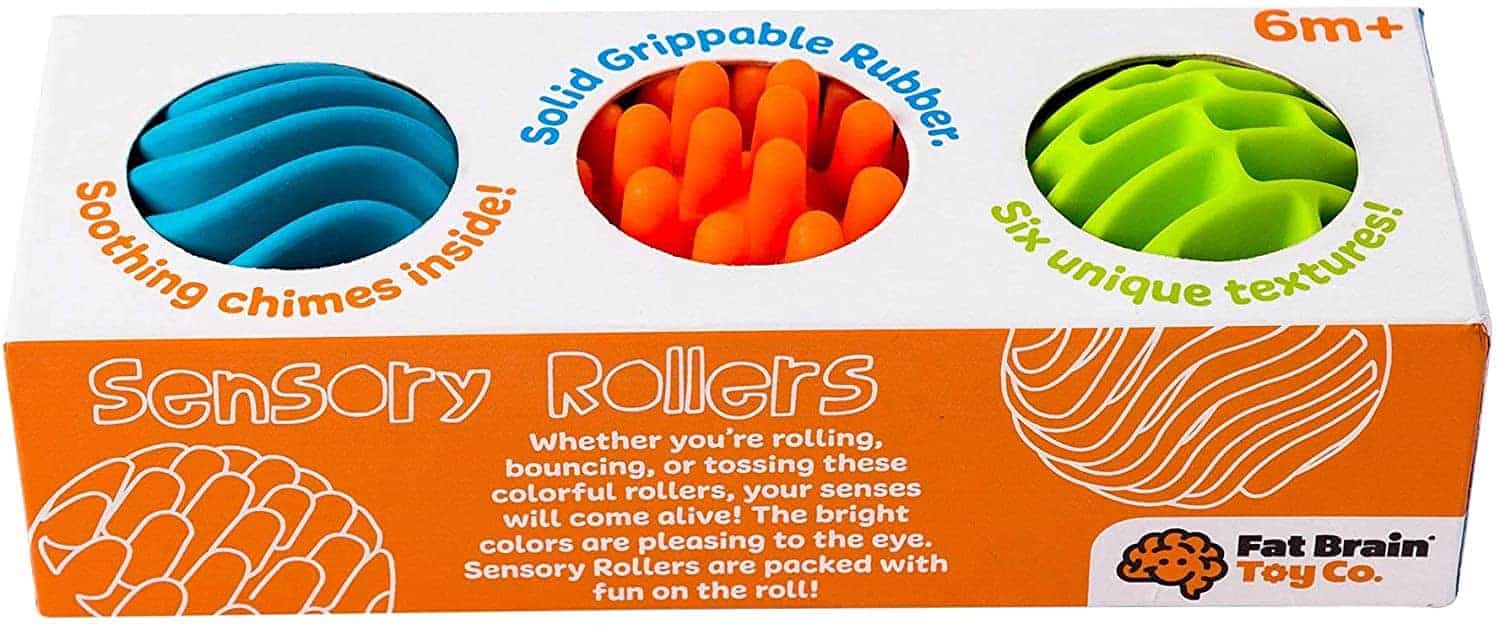 Specs
3 food-grade silicone balls
Orange, blue, and green
Each ball: 2.5 inches in diameter and 0.071 ounces
Pros
The rigged texture is easy to grip

Rolls smoothly
Cons
Bells in each ball may be too loud for some babies
For the future engineer in your life, consider the Hape Marble Run! Instead of the junky plastic marble runs, this one is made with beautiful natural stained wood pieces. Kids ages 4 and up can decide how they want to design their marble run with easily removable pieces.
I love that this set comes with classic tempered-glass marbles. For little hands that are learning to hold a pencil, marbles will help build hand muscles while they play. A great minimalist toy, this set can be rearranged in all kinds of designs. It encourages creativity and builds planning skills when your child experiments with different layouts.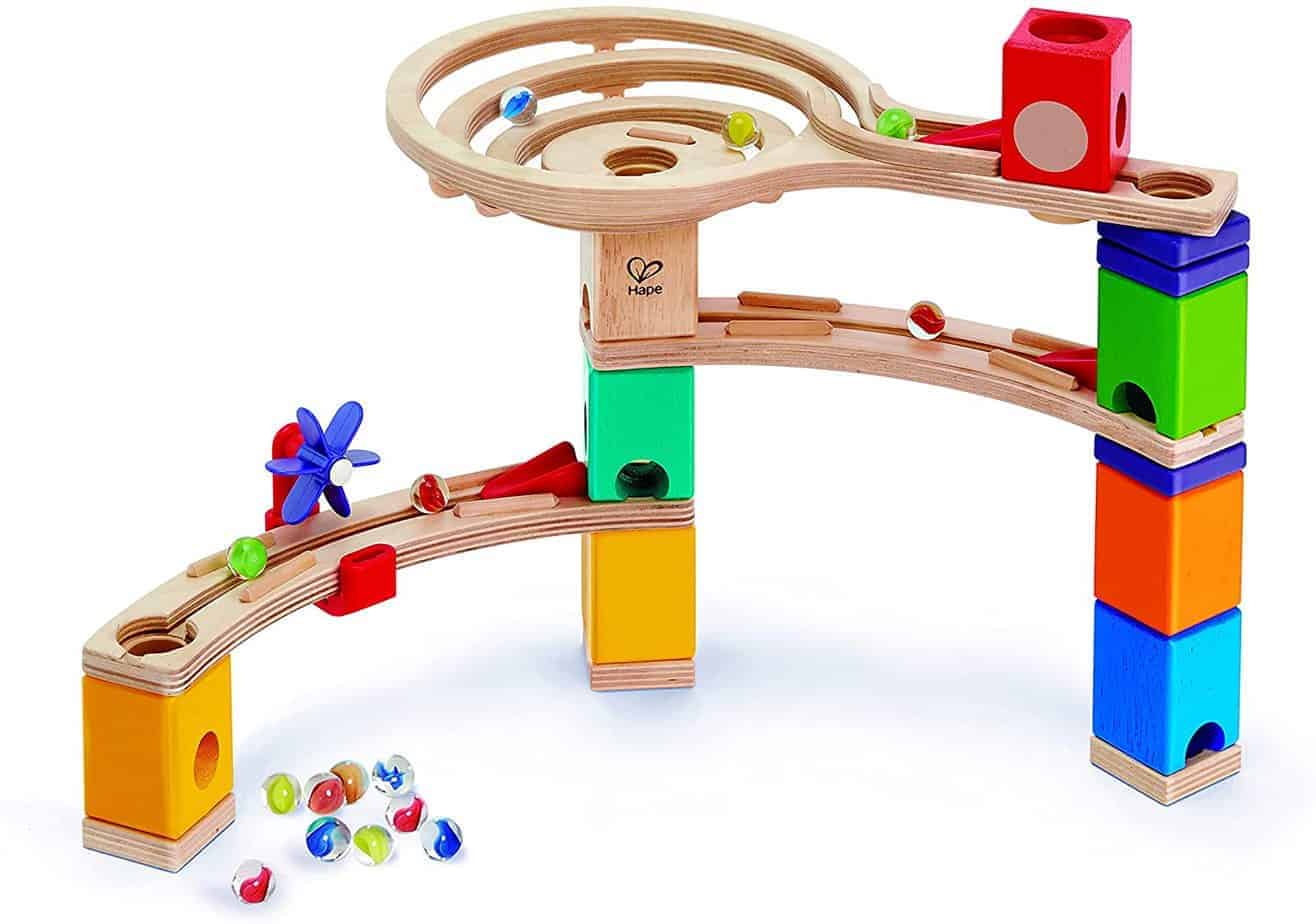 Specs
28 wooden pieces and 30 glass marbles
2.86lb
Pros
Stained and natural wood finishes will last through washing

Can be used with additional expansion sets
Cons
Small glass marbles may not be appropriate for some children
You'll love all the things you and your child will find to do with this nesting block set. Besides stacking, each side has beautiful images of animals. When I look for high-quality minimalist toy ideas, I also try to find beautifully designed products. You can teach children to appreciate beauty as they learn the value of being present.
I love using these blocks to teach young walkers how to reach up while they're standing. It's fun to compare how tall they are to the height of the block tower! They're also great for flipping over and using as containers.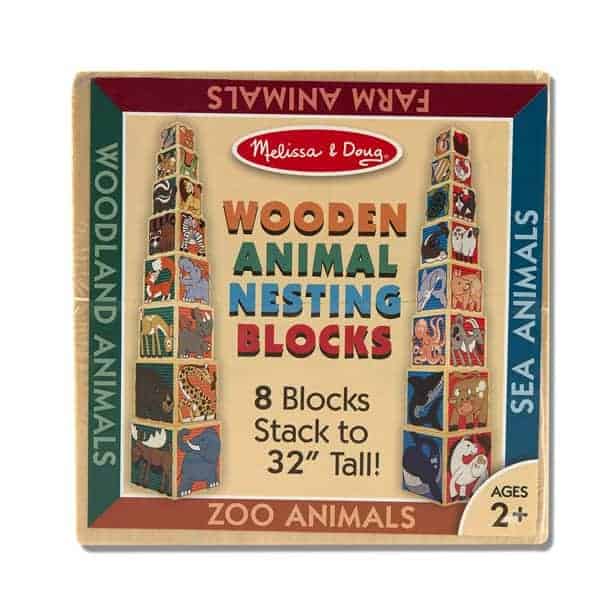 Specs
8 wooden blocks
Nested blocks are 5.7 inches x 5.7 inches x 5.7 inches (L x W x H)
2.4lb
Pros
Beautiful images painted and sealed on each side

Stacks almost 3-feet tall
Cons
The busy design might be distracting for some children
You should include art materials in your minimalist toy collection. I recommend crayons over markers because they're more challenging to developing muscles. I also prefer them over chalk, which can be messy and unappealing to some people. Crayons are nice to hold, encourage creativity, and come in a variety of buildable colors.
Crayons are one of the first art materials that I introduce to infants. I still use them as an adult! When choosing art materials for children, don't leave things up to chance. Choose safe materials like these beeswax- and soy wax-based crayons. If you find teeth marks in them, there's less concern!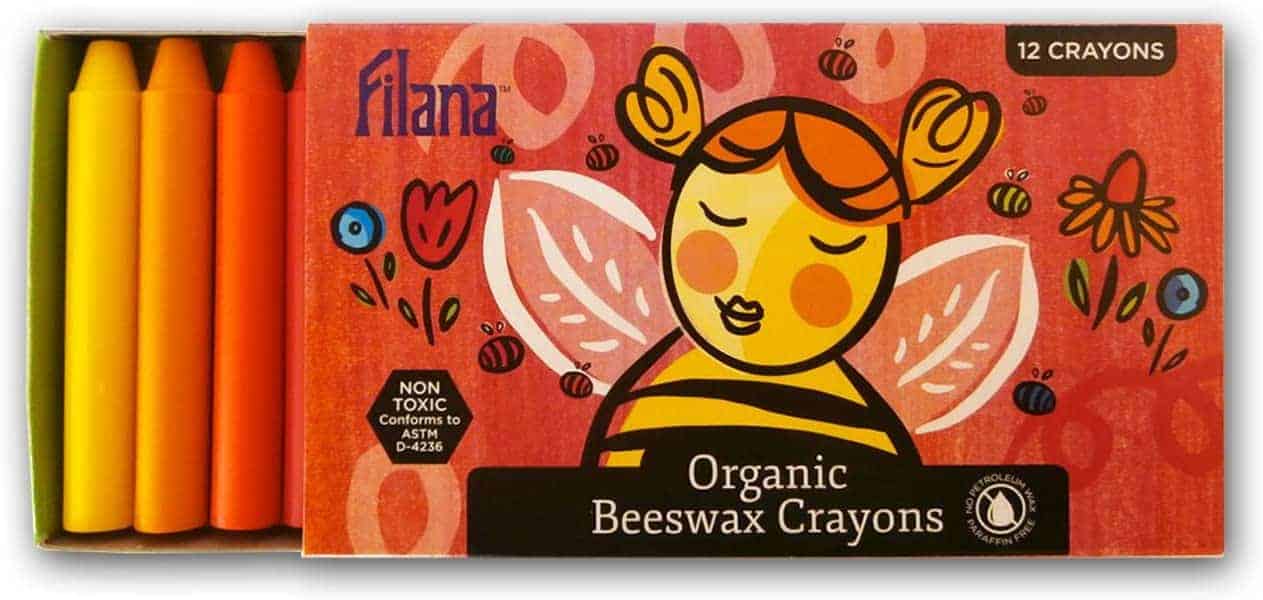 Specs
3.7-inch-tall crayons with blunt tips made from beeswax and soy wax
12 individual colors
4.7oz
Pros
Crayons are durable in children's hands

No paper wrapping

Good variety of colors
Cons
Can transfer to other surfaces

No list of pigments used
Things like dolls, stuffed animals, and dress-up clothes are all excellent minimalist toy ideas. Any toys that older children will role-play with are good ideas. Soft body dolls like this one from Tikiri are great from birth and up because they can be played in different ways at every stage.
I love that the Baby Kye doll has embroidered facial features. I gave my daughter a similar one when she turned 1-year. I just removed the clothes, and it became her lovie. For older children, dolls can be used in pretend play. Choose a high-quality doll and they'll grow with your child.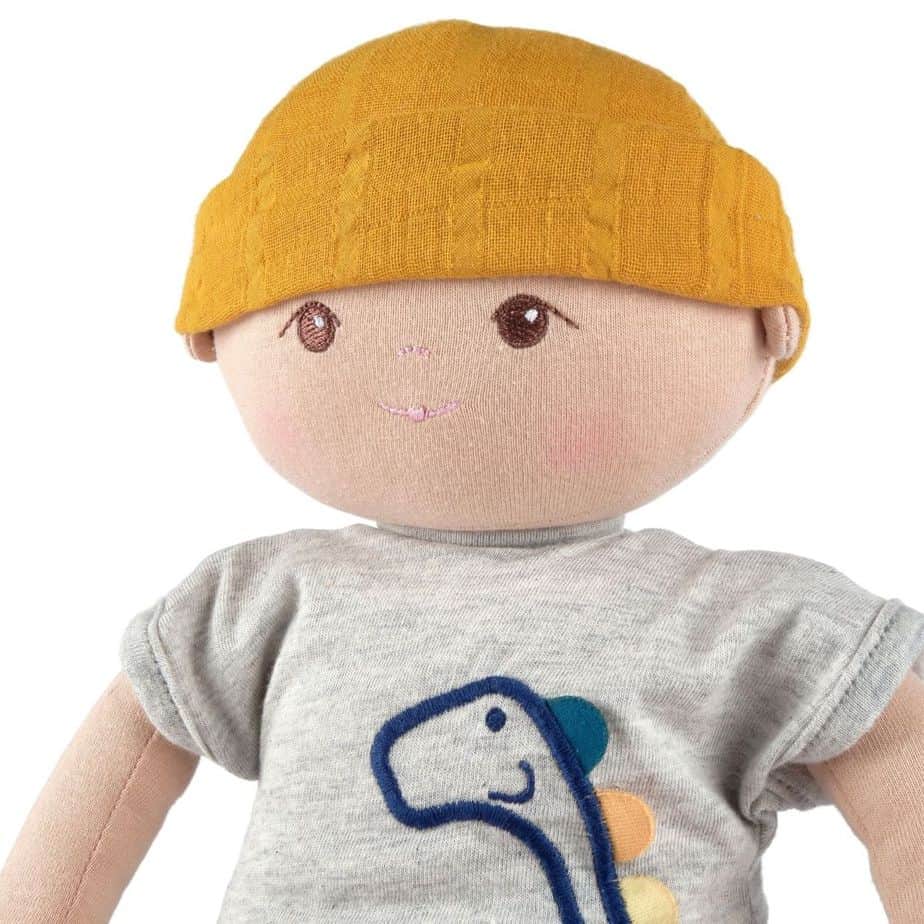 Specs
17 inches tall
Made of organic cotton with recycled polyester fill
Pros
Beautiful hand-made construction

Embroidered eyes and removable clothes for safe sleeping
Cons
Has a recycled polyester fill
When it comes to simple living and quality materials, you can't beat wooden balls and cups set. I've been a fan of Ulanik products for a while now. They make beautiful Montessori-style toys. I like the versatility of this set for toddlers interested in using a spoon.
You can also remove the spoon for kids who like to put things in their mouths. Just let them handle the balls for matching. I love that you can stack the cups, too! With minimalism, you don't need to shy away from toys just because they have lots of pieces. Pieces encourage open-ended play and imagination. At the end of the day, just store them in the included tray!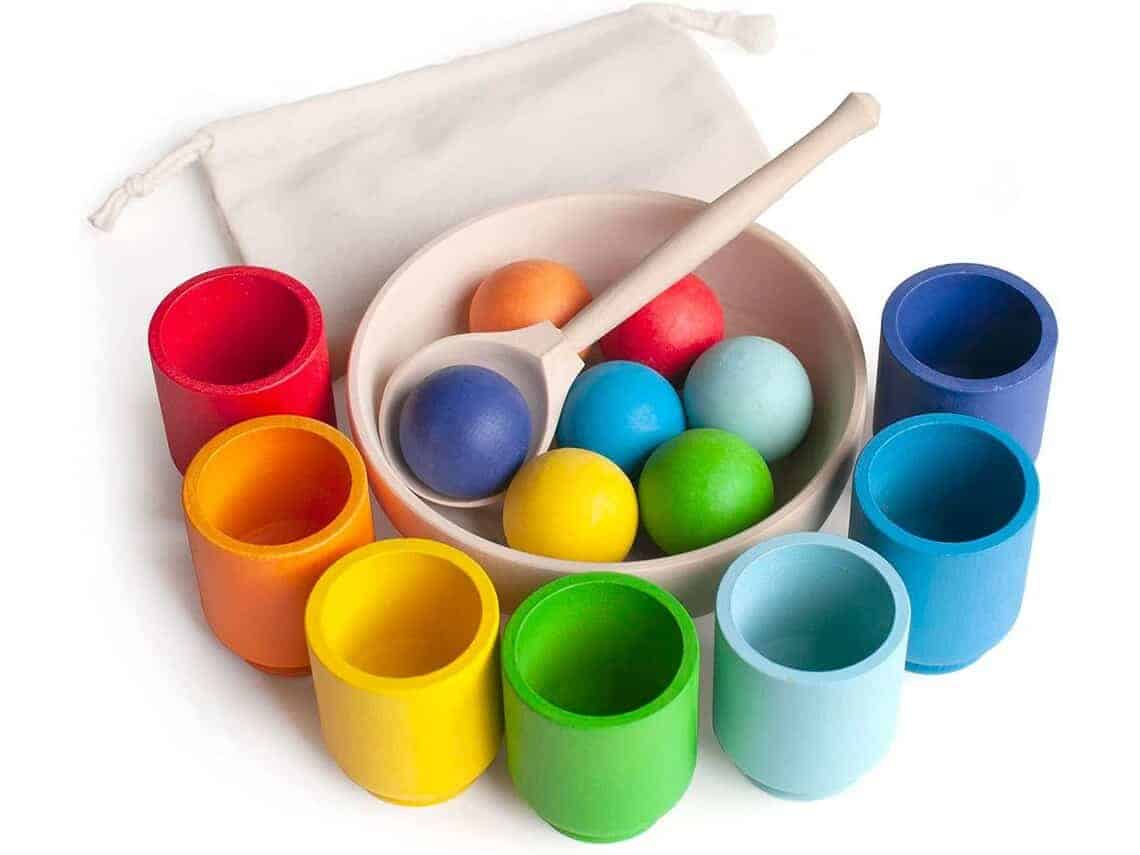 Specs
7 30-millimeter-diameter linden wooden balls
7 5-centimeter-high linden wooden cups
14-centimeter-long linden wooden spoon
12-centimeter-diameter linden wooden bowl
Comes in a birchwood plywood storage tray
Linen drawstring bag
The balls and cups are covered in BIOFA wax
Pros
Bright colors

Storage tray included
Cons
BIOFA wax can't be washed without dissolving

Spoon handle could be hazardous for some children
Balance boards are all the rage currently, but any kind of movement toy could be included in your minimalist toy collection. I love balance boards because you don't do just one thing with them. They encourage physical activity but can be used in all kinds of play.
Flip it over and roll cars off it. Roll balls under it or crawl through it! Add a pillow and you have a reading nook. I chose this particular board because it's lined with merino wool to prevent slipping and pinched fingers. The high-quality birchwood board would make a worthwhile investment for your active kids.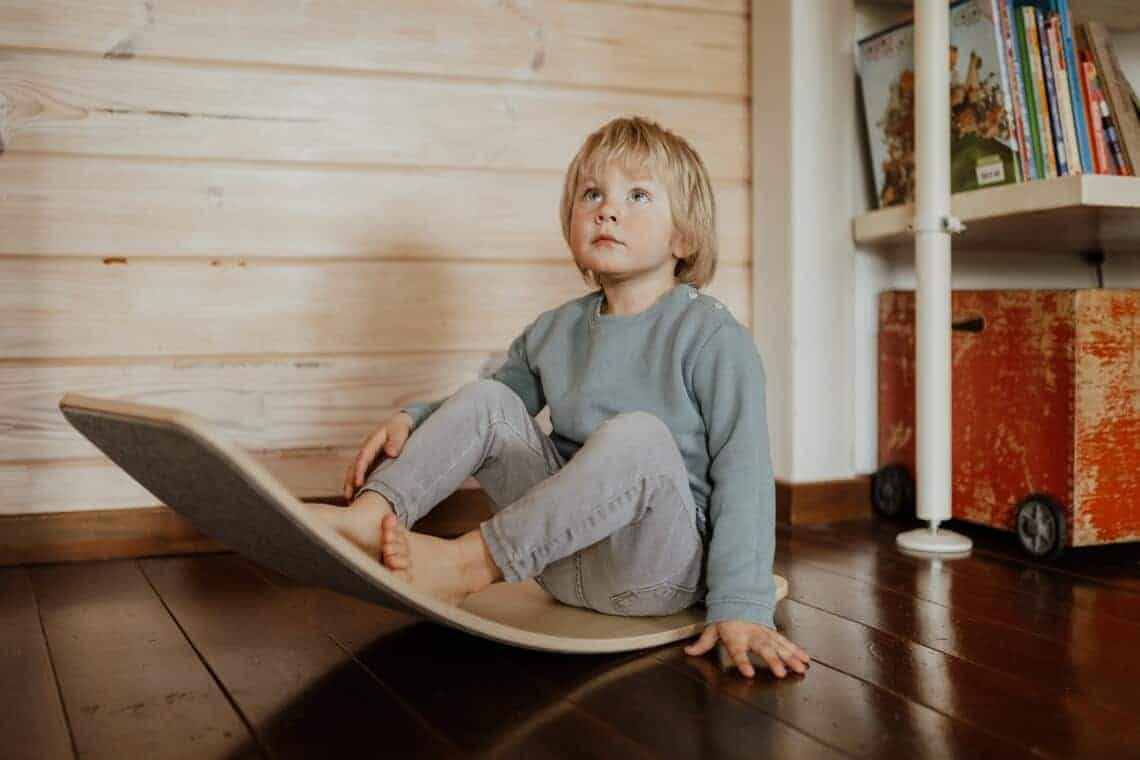 Specs
For the classic medium size:
Water-based sealed birch plywood and merino wool felt lining
880 millimeters-long
280 millimeters-wide
3-kilograms
Pros
Can hold an adult up to 3kg or 450lb

Open-ended toy

Great for indoor movement
Cons
Can only be used indoors because of wool lining
I had to include a puzzle on my list, but this Grimm's puzzle is more than that. Each piece is its own block. Stack them, create patterns and shapes, then place them back in the frame. The challenge to little hands is to make them all fit.
All the stained wood puzzle pieces come together to create a stunning finished product. Your child can play with it, then put everything back and display it. For children 3 years and up, puzzles can lose their spark over time because they only do one thing. This one will keep their interest!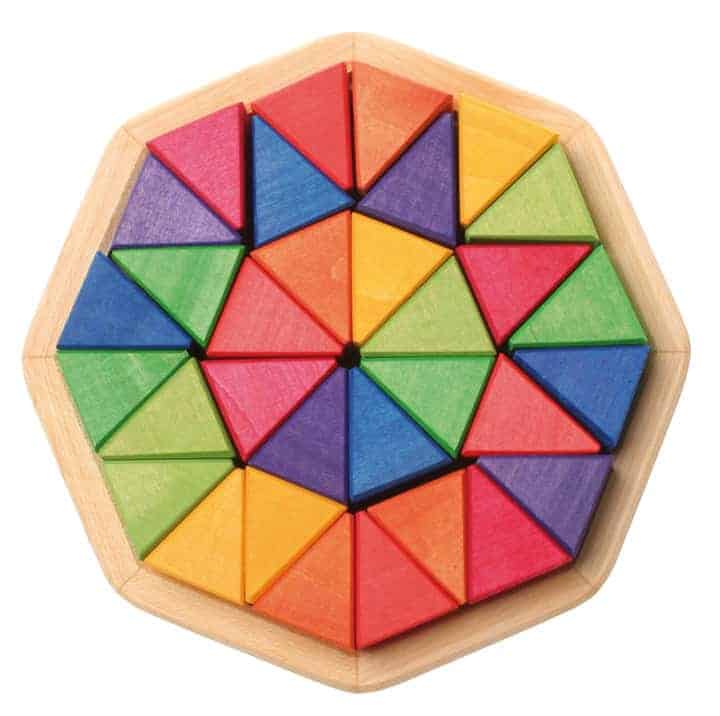 Specs
32 wood pieces in a wood frame made of birch and poplar plywood
Stained wood with a plant-based oil finish
8.25 inches-diameter and 1.75 inches-deep
Pros
Variety in colors

Wide block sizes are easy to pick up

Triangles creating an octagon encourages early math skills
Cons
Limited to only triangle-shaped pieces
FAQs
When you're thinking about minimalist toy ideas, you might have a few questions. Here are the most common ones that you probably have as well.
Question: How can I be minimalist with toys?
Answer: It's all about the mindset. Think about what your child plays with now and keep those toys out. Throw out or store the rest. Limit the number of toys kept out and rotate them. Then, moving forward, make choices that align with your new minimalist thinking!
Question: How do I explain minimalism to my children?
Answer: If they're older, explain why you're introducing minimalism at home. Also, start by being an example. Minimize your possessions first. Then, work on the things your child doesn't use to make the transition less jarring.
Question: How many toys should there be in minimalism?
 
Answer: It's not about a number, but about the quality of your child's experience when they're playing. My daughter stops playing with her toys when she has to choose between more than 3 things at a time. Your child may prefer 6 choices. It's about moderation and being present with the possessions we have, even in play.
Final Thoughts on Minimalist Toys
Natural parenting aligns well with many aspects of minimalism. Limiting clutter will help focus while choosing simple toys will encourage them to use their imagination. While I think the best choices for minimalist toys are play silks and blocks, I hope all the toys on my list inspired you!
Recommended Reads: