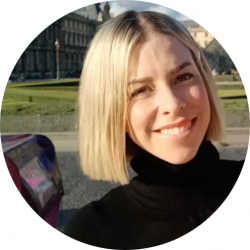 Latest posts by Jodie Chiffey
(see all)
If you've been searching for the best wooden toy carts for your child, then this guide will help.
Watching children push around a toy cart (or even a fancy snack cart complete with little wooden foods) while playing just kind of warms the heart.
In this guide, I will share all the details, along with pros and cons, to help you choose the best toy cart for your child.
If you're in a rush, here's a quick snapshot of my top picks and what I will be covering in the guide.
Related: See our guide to other indoor wooden toys your child may love.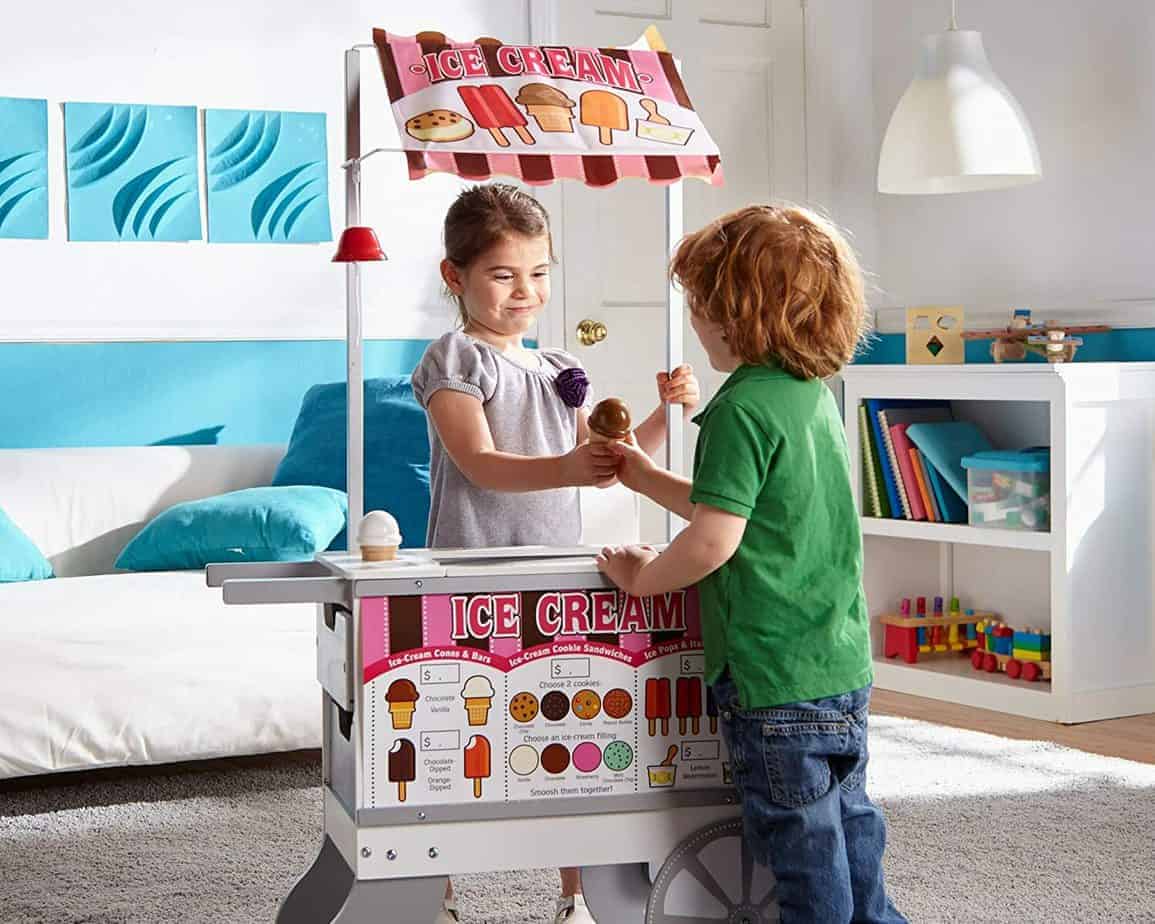 At a Glance: 7 Best Wooden Toy Carts
| | | | | |
| --- | --- | --- | --- | --- |
| Best Wooden Toy Carts | Best for | Materials | Dimensions | More Info |
| Janod Crepes and Co. cart | Imaginative food cart fun | Wood | 23.23 x 13.19 x 42.91 | Find out more |
| London-Kate Cleaning Cart | Pretend cleaning | Wood and cloth materials | 13.5 x 12.5 x 24 | Find out more |
| Melissa and Doug Snack Cart | Make-believe fun selling snacks | Wood | 7.75 x 19 x 34 | Find out more |
| Tongina Wooden Shopping Cart | Play pretend shopping | Wood /Cloth | 11.81 x 13. 39 x 17.72 | Find out more |
| Svan Ice Cream Cart / Playstand | Serve imaginary ice cream | Wood | 40 x 25 x 13 | Find out more |
| Melissa and Doug Donut / Taco Cart | For selling toy donuts and tacos | Wood, plastic, cloth | 31 x 18 x 10 | Find out more |
| LA Chama Kids Kitchen Wooden Cart | For playing, pretending to cook, and learning shapes | Wood | 22.24 x 17.13 x 19.06 | Find out more |
Selection Criteria
Only the strictest criteria are used to select the best wooden toy cart for children. Looking at aspects such as mobility and learning, you can find a great toy stimulating your child to learn even more.
Styles
If there are learning aspects in a playful setting, children will want to learn more. Colorful designs and bold accessories make education a delight.
Materials
Only the best materials should be used. Natural wood toys may still use small metal parts like screws or hinges. They may even use cloth. The best wooden cart minimizes the use of unnatural materials, relying mostly on wooden parts and accessories.
Functions and Extras
The best wooden toy carts should be mobile and not too heavy. This makes moving the toy much easier for the child. Extra accessories and learning tools are also a plus.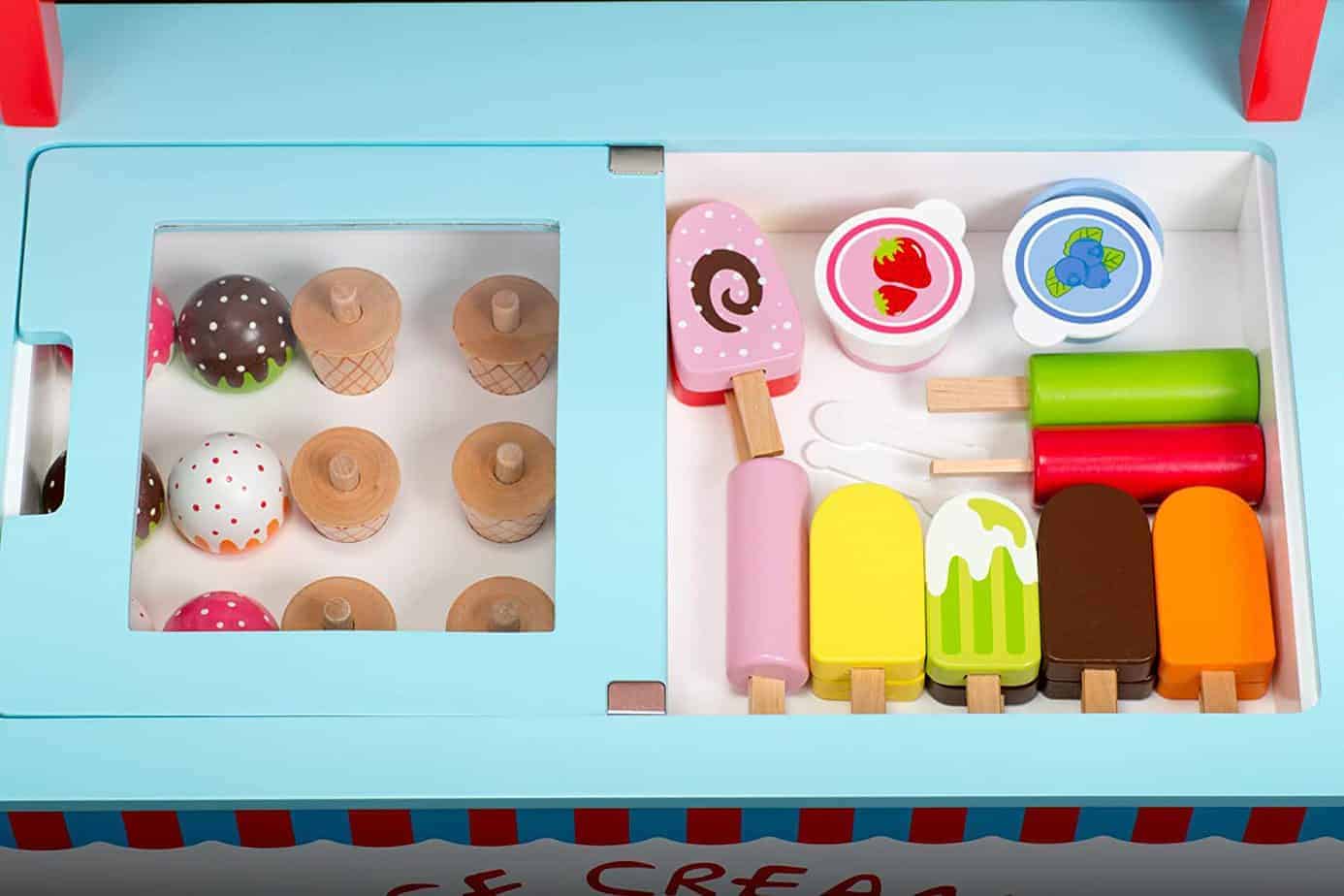 Types of Wooden Toy Carts
Materials
Only the best wood products are used when manufacturing wooden toy carts. There are sometimes a few other types of materials used to secure the parts as well, such as cloth or metal materials used for accessories or wheels. But these natural toy products are primarily created using wood.
Styles
There are a few different styles of wooden toy carts. Many of these products are created to resemble snack carts, while others are designed as activity centers for learning. There are even wooden toy carts that serve as play shopping carts, and a few selections are children's cleaning carts, complete with wooden brooms and mops.
7 Best Wooden Toy Carts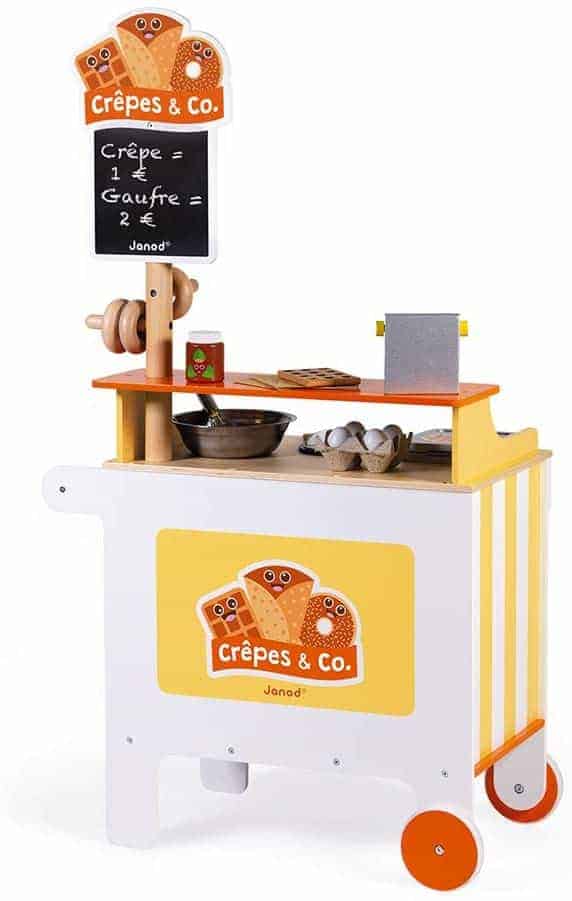 Have great fun mixing and making pretend waffles and donuts. Janod Crepes and Co. Waffle Wooden Food Vendor Cart creates a fun 'European' style bakery stand atmosphere. Your child will love using their imagination to prepare and serve tasty-looking treats. This activity stand will bring hours of fun for your children and make you laugh as well.
The cart can be used indoors or out, with one set of wheels and a stationary base on the opposite end. This stationary area helps the cart stay steady and prevents toppling. The stand is made from non-toxic materials, and it's parent-approved for safety. It comes with 40 accessories, including play foods, mixing bowls, and even a little cash register. This durable cart is easy to clean as well. Just wipe the entire product down with a soft cloth.
Overall Dimensions: 23.23 x 13.19 x 42.91
Weight: 16.4 lbs.
Pros:
A creative and interesting theme
Having one set of wheels and stationary back, can be a plus.
Has foods and store accessories
Natural wood construction
Cons:
It may be too small for taller children
Has many small parts, caution is needed.
It doesn't have wheels on both ends
Wheels are small
Heavy for only having two wheels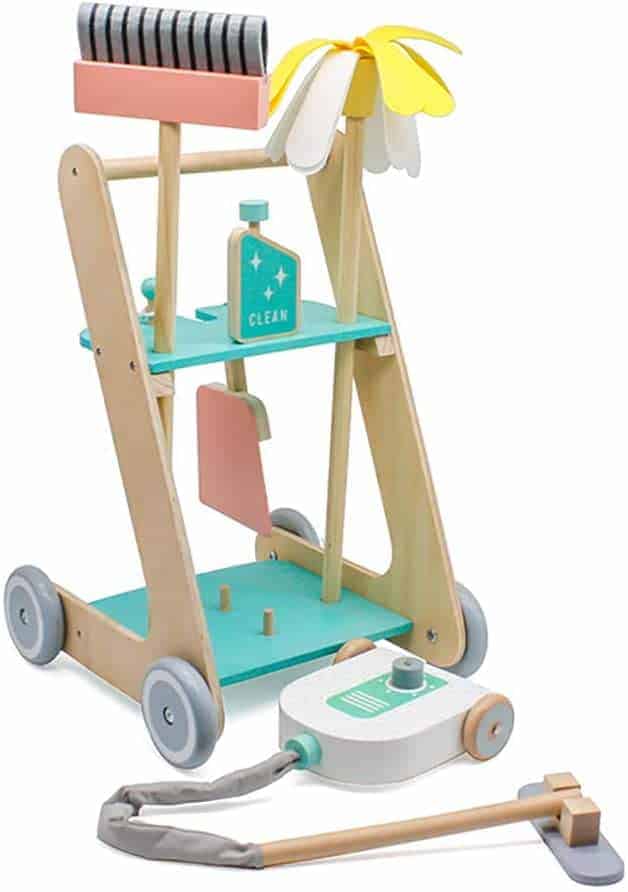 Cleaning has never been this fun before. Isn't it a wonderful idea to start early, teaching your child the basics of keeping the home clean. It's smart, and it's educational. Created to enhance early childhood development, London-Kate Wooden Play Pretend Cleaning Cart is inspiring. Complete with all the accessories, your child can have fun while sweeping, mopping, or even vacuuming, with the imagination, of course.
This cart comes with the basics and has a dustpan and clothes for dusting. It's safe and environmentally friendly, made from wood and a few other materials for the accessories. With four large wheels, your child can push this cart all around the house, learning skills needed for the real world.
Overall Dimensions: 13.5 x 12.5 x 24
Weight: 7.28 lbs
Pros:
Fun and educational
Unique design
It has four wheels and is easy to move
Cons:
Very lightweight
Not all materials are made from wood
Accessories may be easily broken / not meant for hard play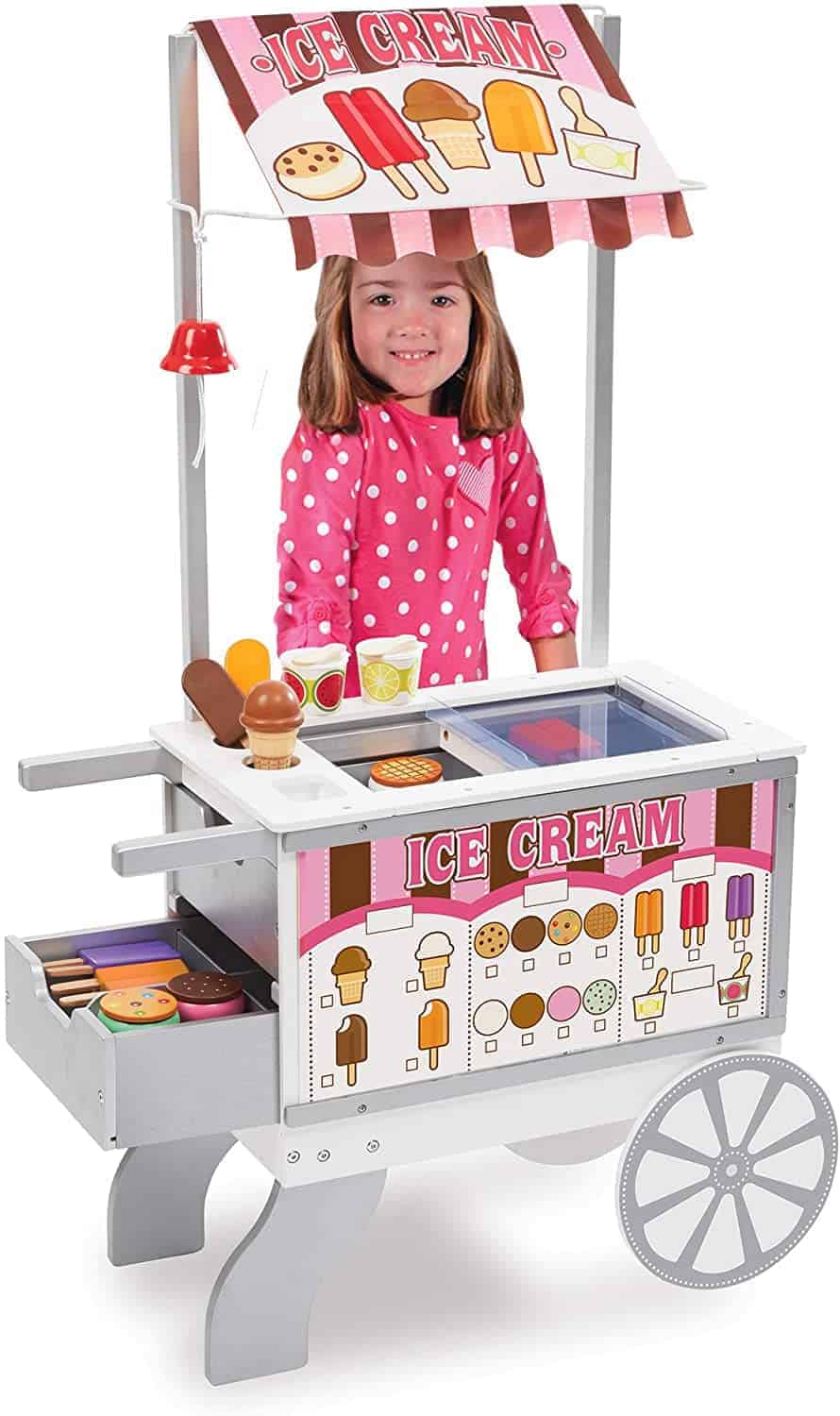 Snack carts are a classic, and so is the ice cream stand. Put them together, and you get a super-fun option for any child. On hot days, your child can pretend to serve up single or double scoops of imaginary ice cream or present a yummy ice cream cookie sandwich. There's no limit to how much fun children can have carting around their own little sweet snack stand.
Write your order in for that double chocolate cone or tasty sherbert. The Melissa and Doug Wooden Snacks and Sweets Food Cart brings joy to your face and heart. This stand is absolutely adorable, from its little colorful awning down to its wide handle and two big wheels. Play outside or in. Either way, it's a safe and parent-approved product. So enjoy!
Overall Dimensions: 7.75 x 19 x 34
Weight: 31.6 lbs.
Pros:
Realistic food stand with sliding door
Includes awning and handle
Cons:
Lightweight and can turn over easily
Heavy product / may be more difficult to move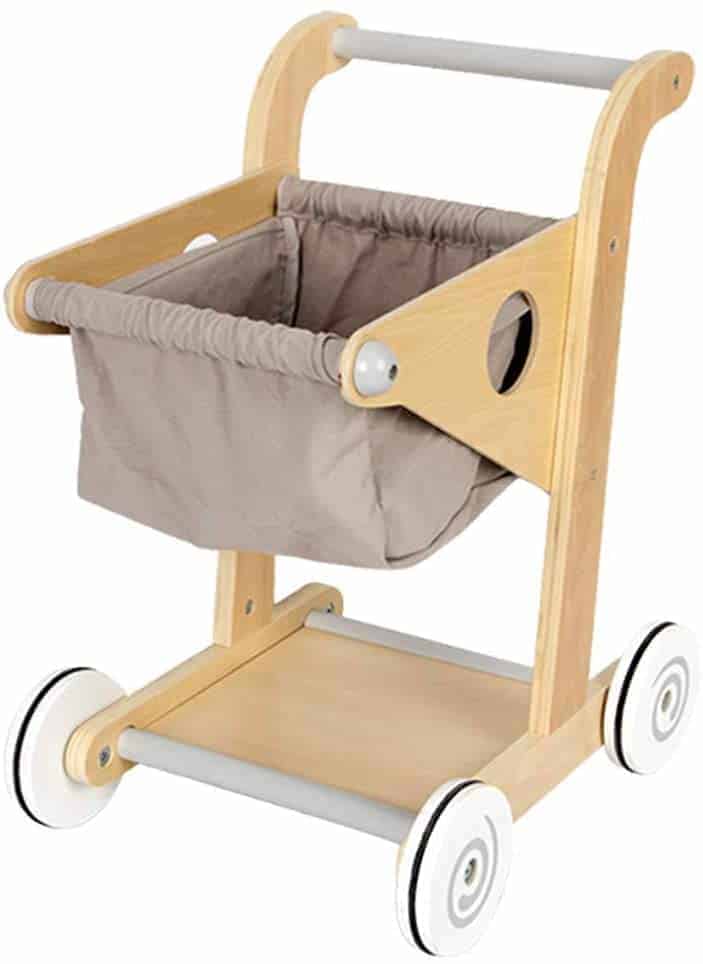 While different from a fully-loaded food cart, this trolley is perfect for little ones who want to play shop. This cart is easy to push and practical. The simplicity of the design allows for creative shopping games with other children and encourages social activities. This product also helps your child learn while having great fun.
The cart is made from wood with a soft cloth basket. The Tongina Wooden Shopping Cart has sturdy wheels, a smooth handle, and a bottom rack to use for carrying larger items. Play pretend with a safe shopping cart, approved by parents. Use this cart at home, in daycare, or outside. Your child's going to love this high-quality shopping role toy, that helps get them ready for the adult lifestyle.
Overall Dimensions: 11.81 x 13. 39 x 17.72
Weight: 8 lbs.
Pros:
Learn how to shop tool
Simplistic and safe
Durable
Cons:
It may not be as stimulating to some children
It doesn't come with accessories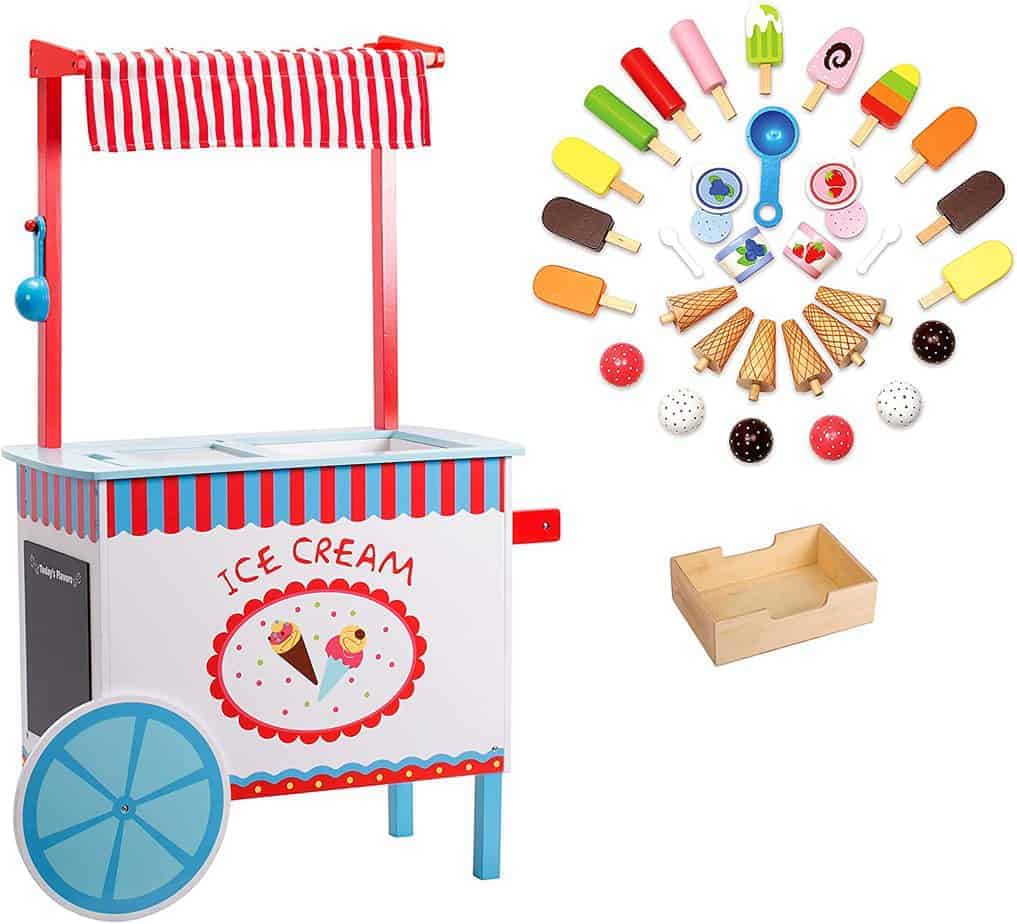 If your child loves ice cream, then they will adore this cute little play stand and cart. This product comes with 30+ accessories, including multi-colored popsicles, cones, scopes, and more. Kids can pretend to work at their very own ice cream vendor, selling yummy treats and making friends. Let them take the cart outside or use their imagination in the home. It doesn't matter.
The Svan Ice Cream Cart and Playstand has one large wheel and leg in front and a sturdy base in the back. Lift the handle, and the cart can be moved easily from place to place. A striped red and white awning gives the cart a realistic look and keeps the sun out of your child's face. There is also a chalkboard on the side so friends can 'place an order.' This cart is safe and sturdy, so children can play for hours.
Overall Dimensions: 40 x 25 x 13
Weight: 20.3 lbs.
Pros:
Fun and educational
It comes with many accessories
Cons:
It may take some time to assemble
Only has one wheel / may be more difficult to move
Made from thin wood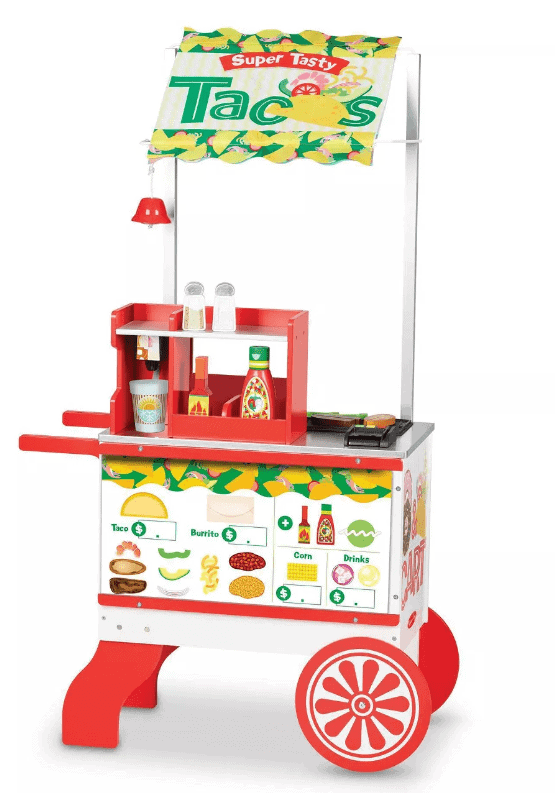 It doesn't have to be 'taco tuesday' for kids to get excited. This cart brings loads of fun for children who love to make pretend tacos and donuts with friends. There are plenty of toy foods and accessories, a credit card machine replica, and two-sided side to change the taco cart to a donut shop.
Made from natural wood, the Melissa and Doug Super Duper Donut and Taco Cart provides hours of fun for children. It is also a great learning experience for them as well. This trolley has two wheels on the back, a handle, and sturdy legs on the front. This makes it easier to move the toy from inside to outside the home. The cart also has a cute awning and shelves for added detail.
Overall Dimensions: 31 x 18 x 6
Weight: 22 lbs.
Pros:
Cute and educational
Has smart accessories
Cons:
Has many parts to assemble
Foods are plastic
Wheels are thin compared to weight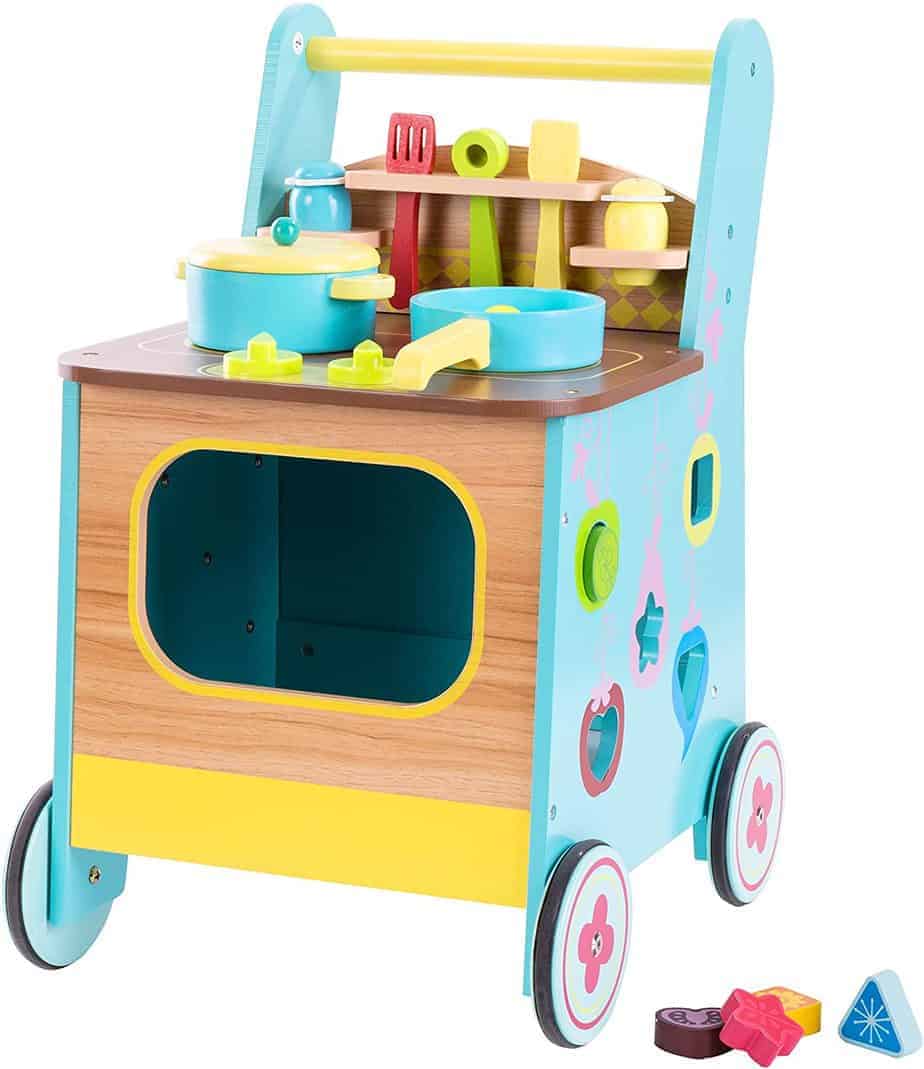 If home cooking is what your child wants to do, this cart helps them prepare for the culinary world. This complete little oven cart with stovetop provides a realistic and imaginative toy, all in one. But here's the best part: not only is this a play cart, but it's also an educational tool. It teaches coordination and balance, as there are sections on the side to place different-sized blocks.
On top is a rack for soup spoons and spatulas and plenty of room for pots and pans. The LA Chama Kids Kitchen Wooden Cart has four wheels, a handle, and a detailed stovetop with dials, making the toy fully mobile and easy to move. You can also store things inside the stove as well, utilizing all the cart's features.
Overall Dimensions: 22.24 x 17.13 x 19.06
Weight: 7.72
Pros:
Unique stove cart design
It has four wheels for easy moving
Lightweight and can be moved faster
Learning tool and play cart
Cons:
Lightweight and could roll on its own
Frequently Asked Questions
Question: Why are wooden toys better for kids?
Answer: There are many reasons why wooden toys are just better overall. They are long-lasting and durable, so your child can enjoy them much longer. Unlike plastic toys, they create less waste, as they are environmentally friendly. Good quality wooden toys do not include PVC or other similar chemical substances.
Question: What type of wood is used in the construction of wooden toy carts?
Answer: Most wooden toys are made from woods like Maple, Cherry, Beech, and Pine. These wood grains seem to have a better reputation and cause fewer allergies. They are strong and durable, making toys last much longer. However, since Pine is a softer wood, it's not used as commonly as the others.
Question: Can children play outside with wooden toy carts?
Answer: Yes, however, if they do, it's important that they bring the toy cart back inside when done. As wood can be warped or damaged due to weather like rain or snow, the cart should not be left outside to battle the elements. If covered, the cart may withstand a day or two in situations where it cannot be brought inside. But the cart should not stay all the time outdoors.
Question: Can toy carts be taken apart to store?
Answer: It's not recommended that you take the toy cart apart due to the length of time it takes to put them together. It's best to purchase a cart that fits comfortably in your child's room or a corner. These carts have many small parts and sometimes take hours to put together, so it's best to leave them that way.
Question: Can the product be pre-assembled and then shipped?
Answer: This is possible but not recommended at all. The toy cart is quite large and would take a huge box and a high shipping charge to send put together. Most companies refuse to do this anyway.
Final Thoughts: 7 Best Wooden Toy Carts
Now that you've had a chance to consider the details of each of the best wooden toy carts, you can make a more informed decision.
As for me, I would choose the LA Chama Kids Kitchen Wooden Cart for its many great features and attention to detail. This cart is both fun and educational. Children can learn shapes, colors, and practice cooking at the same time. Plus, even though this cart may roll slightly, it's easier to move with four wheels and a sturdy handle.
I hope my review was helpful with finding the best wooden toy cart for your child. If you're interested in more wooden kitchen-style toys, check out our review on the best wooden play kitchens.
Recommended reads: