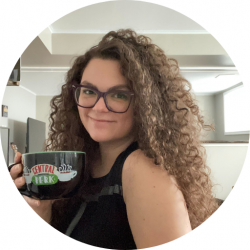 Latest posts by Candace Osmond
(see all)
Have you checked parenting blogs lately and read up on the benefits of wooden toy castles? Searching for ideas on what to buy your little one this season?
I'm a huge advocate for wooden toy castles, which is why I'm going to tell you about how they help your child's brain develop and what comes in a set. I'll also go over my recommendations for the best wooden toy castles you can find online in case you need some ideas. Ready? Let's read on.
Top 3 Picks
Though I go over 8 great wooden toy castles down below, I want to start by showing you these 3. These are my absolute favorites because I think the quality, overall designs, and price all make these castles worth it.
Benefits of Playing with Wooden Toy Castles
Scientists have proven that wooden toy castles are beneficial for your young child's brain. I'm going to share some information that I think is important when considering what to get for kids (if not the candy they wanted.) Some of the skills wooden castles teach might even surprise you.
Early Childhood Development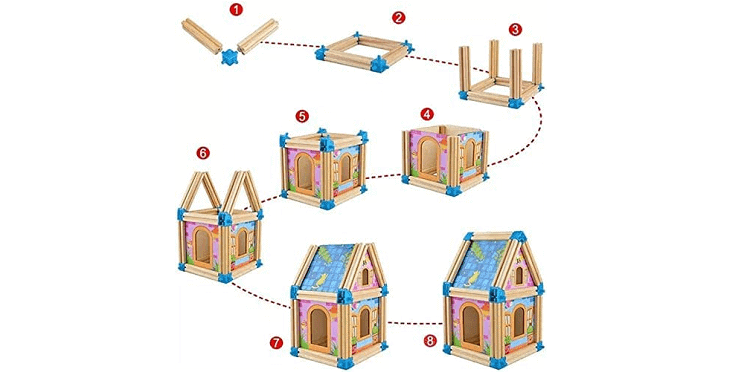 Maybe you remember playing with wooden toy castles, but did you know that they helped you learn vital skills? One of the most obvious but most important things wooden castles teach kids is how to use their imaginations. It's an essential tool for early childhood development.
Castles can be a place for knights, dragons, and princesses or your kid's favorite fictional characters. Fostering your child's imagination will make them creative thinkers from the start.
Motor Skills
Important motor skills are learned through playing with wooden toy castles. Hand-eye coordination is an important lesson these classic toys teach.
They teach your kid how to grip objects and move them. Toy castles, which have to be built by hand, also teach kids critical thinking skills. Problem-solving is needed to complete the structure.
Learning Words
Some toy castles have letters on the blocks so your child can learn to spell as they play. Learning to communicate with written words will be vital to your small child as they enter school or started school not long ago.
Kids are super curious, so familiarizing them with the shape of the letters they'll be seeing for the rest of their lives has been proven to help them learn a language faster.
Practice Social Scenarios
Back to the point about imagination, kids like to create characters for the games they make up. A wooden castle is the perfect setting for your child to act out social scenarios between the characters of their imagination. Doing so lets them rehearse how people behave in the real world.
Give Your Child Early Math Skills
No equations are involved, but toy castles can help strengthen your child's math skills. That's because building blocks for castles teach children logic. The blocks fit together in a logical order to "solve the problem."
What Usually Comes in a Wooden Toy Castle Set?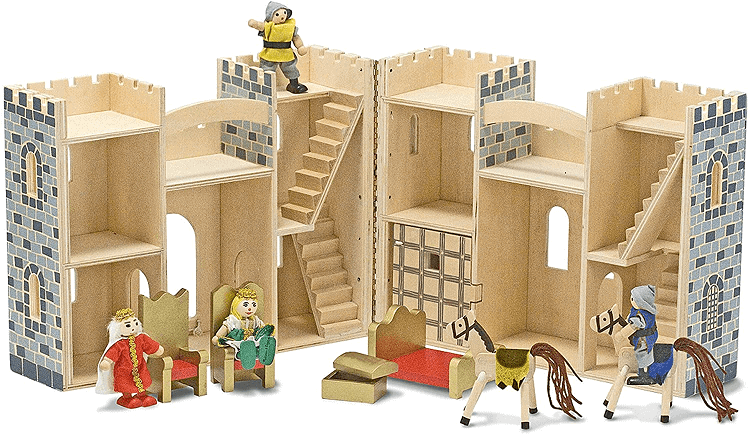 Has your interest in this toy been piqued like mine was? All wooden toy castle sets are a little different, but most come with a few basic things. Down below, I've detailed what comes in a quality wooden castle set, so your little one has the right tools to build their own world.
Block Pieces
Not all wooden toy castles come with pieces that need to be assembled. Some wooden toy castles are one piece, for the toy castles that are multiple pieces, you should receive a complete set. One day, count all the blocks to make sure you got what you paid for.
User's Manual
Your wooden castle should come with a manual. The manual will let you know how to clean the toy set and what hazards to avoid. The manual could also give you some background information on the toy company and talk about why their toy is good for childhood development.
Accessories
Some wooden toy castle sets come with accessories that fit the theme of the castle. For instance, some wooden castles come with wooden knights, horses, kings, queens, and other things.
Some castles come with toy farm animals. Your child can always play with toys they already have in the toy castle, but bonus accessories are always nice.
Best Wooden Toy Castle Ideas
Drumroll, please! I'm excited to tell you about the 8 best wooden toy castle ideas for your young ones. I love that all these toy castles are built to be durable and appealing to children. If you need inspiration for gifting, read on!
Melissa & Doug Deluxe Folding Medieval Wooden Castle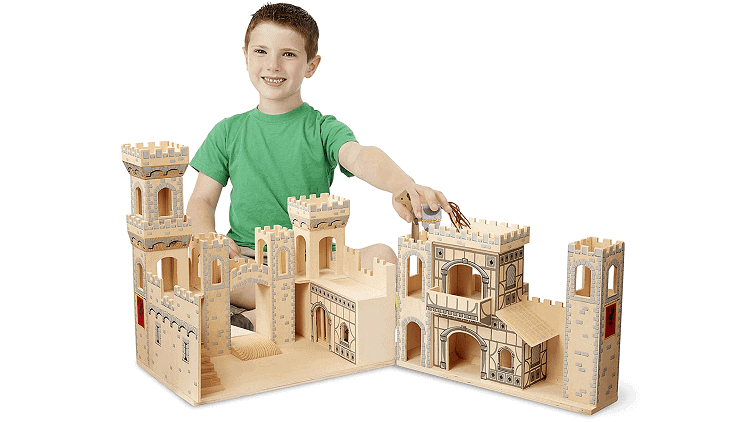 Best For: Older Kids
About
This is a great wooden toy castle for kids that are 4-7. This castle isn't buildable because it isn't made of wooden blocks, but it is a fold-out castle that makes it appear twice the size once extended.
The drawbridge can be opened and closed. I recommend this toy for older kids because the wooden pieces are thinner than the pieces in other castle sets in the list. The pieces are still sturdy, but too much force could potentially break them.
Price Range: $75-$85
Material: Wood
Warranty: Please contact seller directly
Best Feature: Extends to be twice the size
Castles that Aren't Buildable
Since this castle isn't made of blocks, a great way to get your child interested in play is to buy some accessories to go with the castle. Buy dolls or toy soldiers or small stuffed animals to make up the cast of characters your child will use to act out scenes in the castle.
Pros
Large toy castle that's great for older kids
Interactive elements
Red accents make an eye-catching design
Cons
Melissa & Doug Fold and Go Wooden Castle Dollhouse with Wooden Dolls and Horses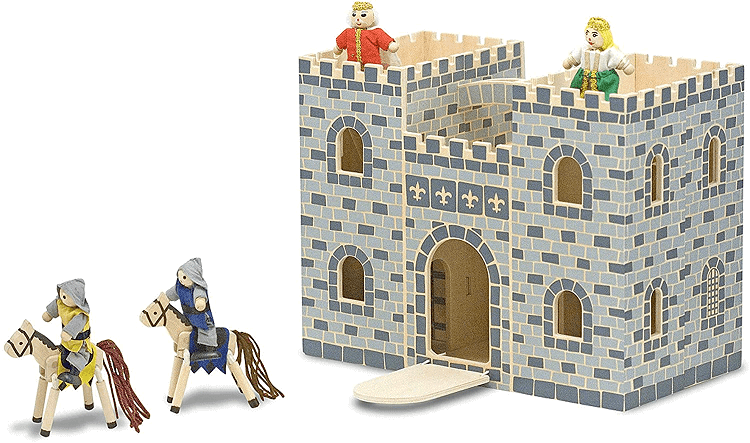 Best For: On the Go
About
This is a portable wooden castle that comes with adorable doll and horse accessories. This castle is foldable, which makes it easy to store and take with you for traveling. This set only has 12 pieces, but the castle isn't small. It's 13.5″ x 7.25″ x 10.5″. 4 dolls and 2 horses are included.
Price Range: $33-$43
Material: Wood
Warranty: Please contact seller directly
Best Feature: Foldable
About the Brand
Melissa & Doug is a respected toy brand, which is why I recommend buying from them. They've made toys for 30 years, and in that time they've become #1 for parent-recommended creativity and learning.
Pros
Great for traveling
Comes with accessories
High-quality wood
Cons
Garlictoys 75 Piece Set Wooden Castle Retro Building Blocks Set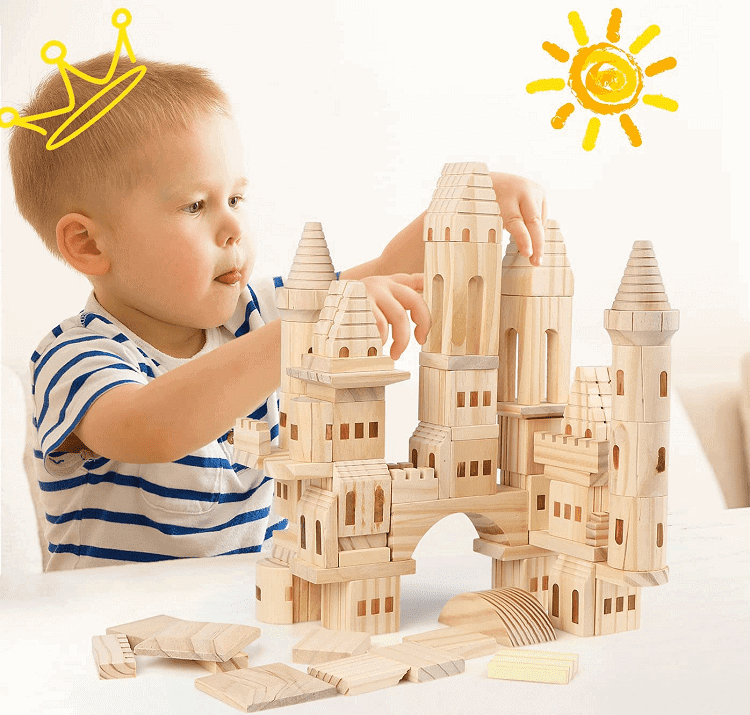 Best For: Price
About
Though simple, this retro-style wooden castle is great for your child's development. There are 75 pieces in this set, which might be too much for younger kids. I recommend you buy this for a child who is at least 4 ½-5.
Pinewood is a durable wood that lasts for a long time. With proper care, this toy could be in the family for generations.
Price Range: $25-$30
Material: Pinewood
Warranty: Please contact seller directly
Best Feature: 75 Pieces
Ideas
Since this wooden castle is all unpainted wood, you could try painting the castle with your child as another way to inspire creativity. Grab some wood paint in fun colors and go wild with your decorations.
Pros
Least expensive on the list
High-quality wood
75 pieces
Cons
Dull color if you don't paint it yourself
Wooden Castle Building Blocks Set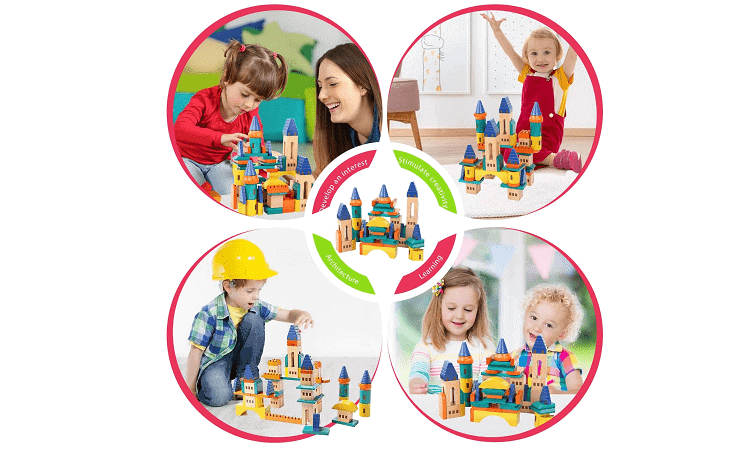 Best For: Best Overall
About
This wooden castle set is made of 69 beech wood pieces, some of which are painted either blue, orange, yellow, or green. This set is colorful, which makes it more interesting to small children. The paint used on the beechwood is safe, water-based paint so you won't have to worry about toxins.
Price Range: $38-$48
Material: Beechwood
Warranty: Please contact seller directly
Best Feature: High-quality wood
Why Beech Wood?
Beechwood is a high-quality North American hardwood that is used for buildings, furniture, and more. Beechwood is also weightier than some other hardwoods, which adds to its value.
Pros
High-quality beechwood
Colorful blocks
Lots of pieces
Cons
Not all the blocks are painted
Le Toy Van-Castles Collection Wooden Toy Educational Excalibur Knights Castle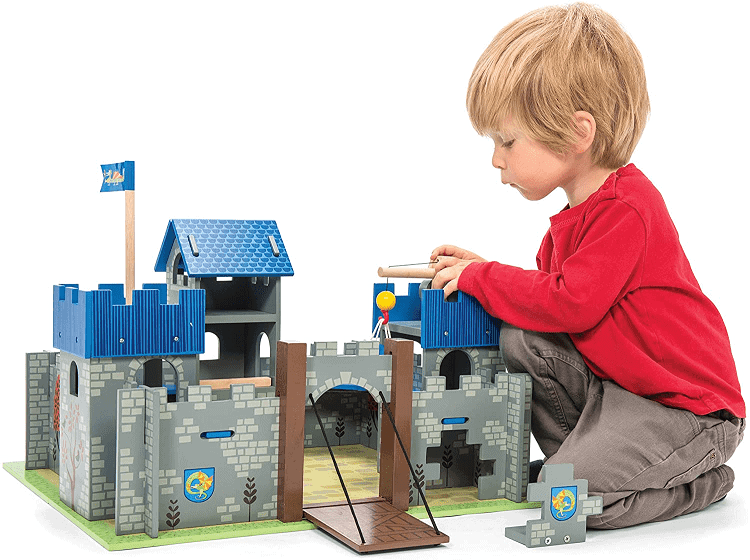 Best For: Features of the Castle
About
The details in this wooden toy castle are striking, which is why I love it so much. Though your child won't be able to build this castle with blocks because it is one piece, there are many interactive parts.
The drawbridge in the front can be lowered and raised. The jail door can be opened and closed, too. This set doesn't include toy knights, but the company sells the knights separately.
Price Range: $100-$120
Material: Wood
Warranty: Please contact seller directly
Best Feature: Interactive pieces
Care
Be sure to keep drinks out of the way of this wooden castle to avoid spills. If you do have a spill, use gentle dish soap, warm water, and a sponge to clean the castle. Let it air dry somewhere where all the wet surfaces can be exposed.
Pros
Interactive pieces
Colorful design
Doesn't need to be constructed each time
Cons
Pricy compared to other toy castles
KidKraft Disney Princess Belle Enchanted Wooden Dollhouse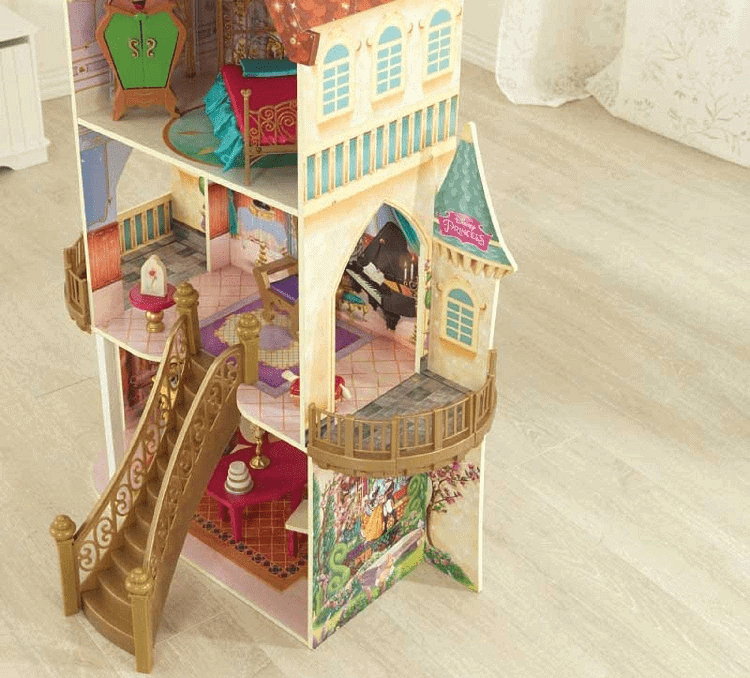 Best For: Disney Princess Fans
About
This toy castle isn't made of wood, but it is made by one of the most trusted and recognizable toy brands in the industry. Barbie partnered with Disney to create this toy castle inspired by Beauty and the Beast.
If your little one loves Belle, they'll love this 3-tiered castle that's almost 2 feet tall! 12 accessories are included.
Price Range: $80-$90
Material: Plastic
Warranty: Please contact seller directly
Best Feature: Large and vibrant
Gifting Ideas
If your little one loves Belle from Beauty and the Beast, consider giving them this castle as a gift for their birthday. You can throw a Beauty and the Beast-themed party, buy a Belle-themed cake, and give this present to them at the end once they've been given a toy crown.
Pros
Large
Trusted toy brand
Lots of accessories
Cons
iPlay, iLearn Wooden Building Blocks Set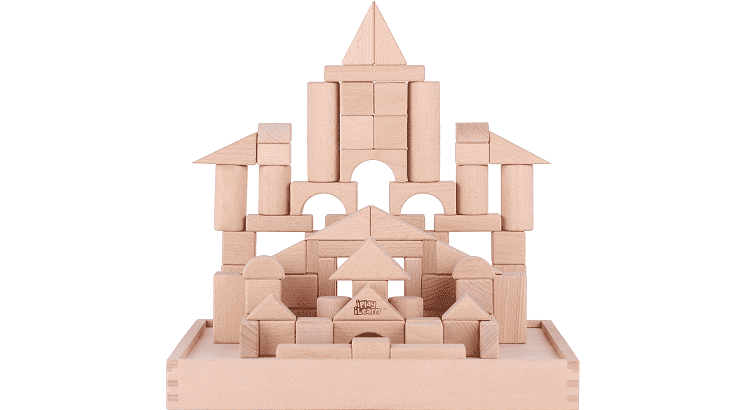 Best For: Small Toddlers
About
I recommend this toy castle for children who are 3-5 years old. The blocks are perfect for teaching hand-eye coordination and critical thinking skills for building.
Though a 3-year-old may struggle to build the castle on the box, they'll learn how many different shapes fit together and how building is accomplished. A wooden storage box is included, which can keep this toy in great condition for a long time.
Price Range: $28-$38
Material: Wood
Warranty: Please contact seller directly
Best Feature: Lots of pieces
If You're Going to Paint this Castle
If you want to paint this wooden toy castle with your child, first make sure to grab non-toxic paint that's meant for wood. Paint not meant for wood can wear away over time, or not stick to the surface at all.
Pros
72 pieces
High-quality wood
Comes with a base to stand the castle on
Cons
Building Blocks Set for Kids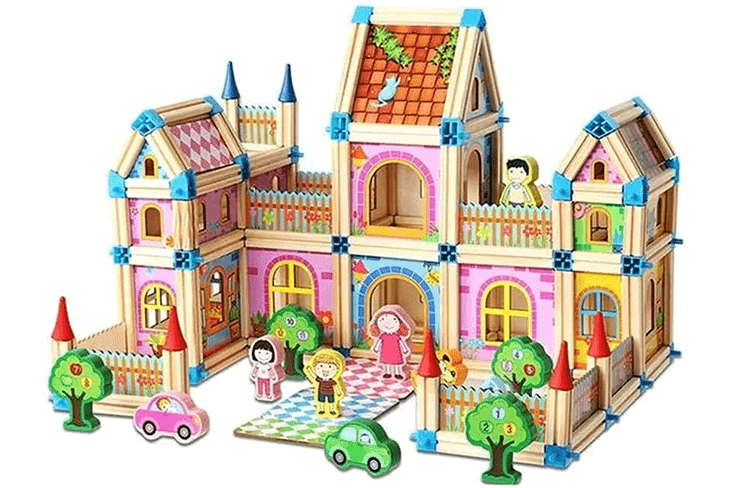 Best For: Design
About
This is my favorite design for a wooden toy castle. The pieces are vibrant and eye-catching. The connectors used to construct the castle give it an interesting construction.
Your child can have lots of fun putting the castle together and playing with the accessories that come with it. A wooden family, trees, cars, and more also come with this castle set.
Price Range: $58-$68
Material: Wood
Warranty: Please contact seller directly
Best Feature: Colorful, unique construction
Care
The little blue connectors that you need to build this castle are very small. To make sure your child doesn't lose any, give them a bag to store the blue connectors in when they're done playing with the castle.
Pros
Colorful pieces
Unique construction
Comes with accessories
Cons
Some pieces are small and easy to lose
FAQ
There are tons of frequently asked questions about wooden toy castles. I answer some of these questions down below but feel free to leave me a comment if you don't see your question answered. I'm sure someone else can learn from your question, too!
Question: What Wood is Best for Wooden Toys?
Answer: Hardwoods are typically considered the best types of wood for wooden toys. Beechwood and pine wood are two types of wood that are used to make some of the castles listed above. Both are very durable.
Question: How Big Should a Wooden Toy Castle Be?
Answer: This depends on what your child wants. Toy castles can be big and small, so consider if your child is going to play with this toy on the go or only at home, too.
Question: What Age Range is Best for Wooden Toy Castles?
Answer: 3-8 is the recommended age range to buy your child a wooden toy castle. By 3 years old, your child should have the dexterity and critical thinking skills to be able to construct the toy and play with it.
Any older than 8 and your child might feel bored, but you could ask your kid if they're a little older than 8 and see what they think.
The End
We covered a lot of ground, didn't we? I'm glad to tell my audience about the benefits of wooden toy castles and which ones are the best. Wooden toy castles are a classic toy for a reason-they've helped children develop motor skills, hand-eye coordination, and even words for hundreds of years.
Personally, I love the Garlictoys 75 Piece Set Wooden Castle Retro Building Blocks Set for the amazing price and how much you get.
Are you thinking about buying your child a wooden castle as a present? Let me know about it in the comments below! For more great content about toys, check out our guide to the best wood food toys!
Recommended reads: