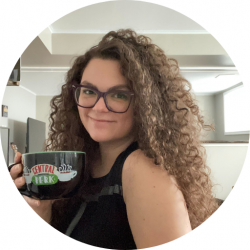 Latest posts by Candace Osmond
(see all)
What are the Best Waldorf Play Stand Ideas?
Are you looking to encourage your child's creativity by offering imaginative play solutions? Perhaps you follow the Waldorf education philosophy? Then a Waldorf play stand may be just what you're looking for.
I have 7 of the best Waldorf Play Stand Ideas suited to any space, the number of kids, budget, design preferences, and more so that you can choose the perfect play stand for your children. Let's take a look!
Top 3 Picks
Let's cut to the chase – if you're looking for the absolute best of the best when it comes to Waldorf Play Stands, here are my top picks based on their design, ease of use, and price.
What is a Waldorf Play Stand?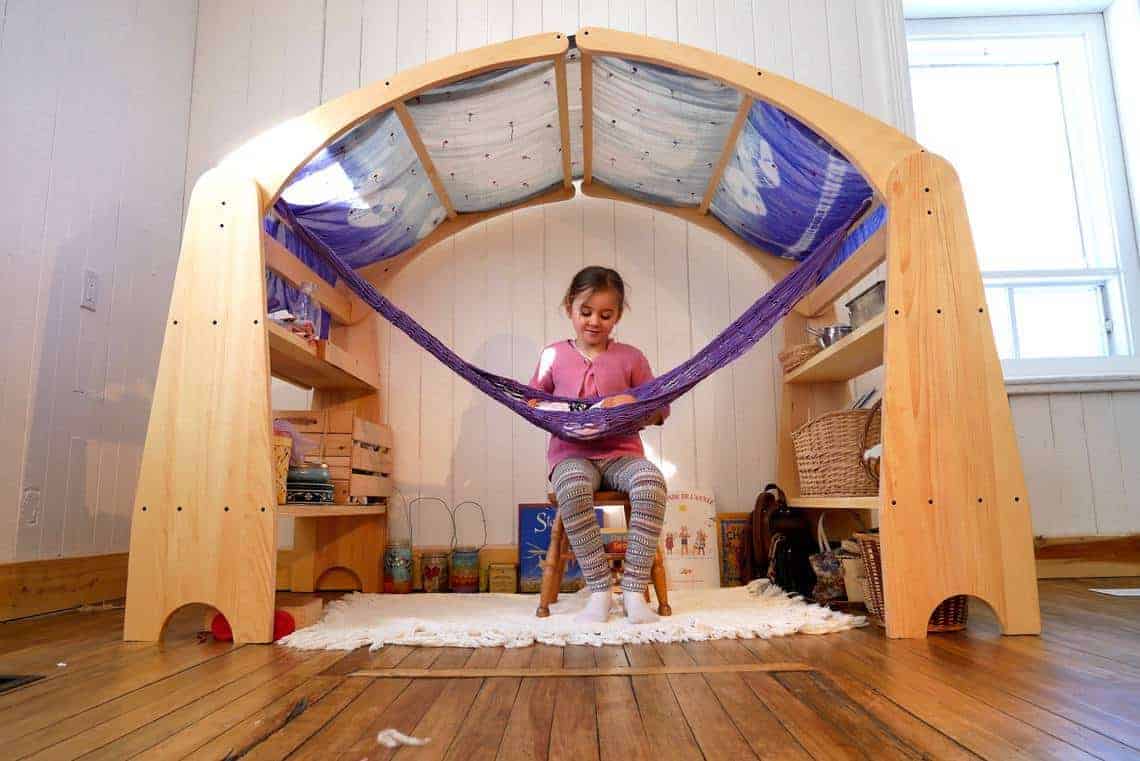 Waldorf play stands are based on the Waldorf educational philosophy and are an open-ended play structure. The goal of Waldorf Play Stand is to facilitate your child's imagination and learning through creative, tactile play.
The design of these Waldorf Play Stands is simple. This allows for the addition of a variety of accessories like play stoves, toys, books, and fabrics to transform the structure into whatever your child can imagine. Be it a house, a pirate ship, a cozy reading nook. The options are endless.
About the Waldorf Name
The Waldorf name comes from the educational philosophy created by philosopher Rudolf Steiner. It's an independent school movement expanding globally for over 100 years.
This educational philosophy focuses on the "head, heart and hands – thinking, feeling, and doing" through intellectual, creative, and practical activities and assignments. Waldorf education doesn't focus on merit-based achievement such as grades.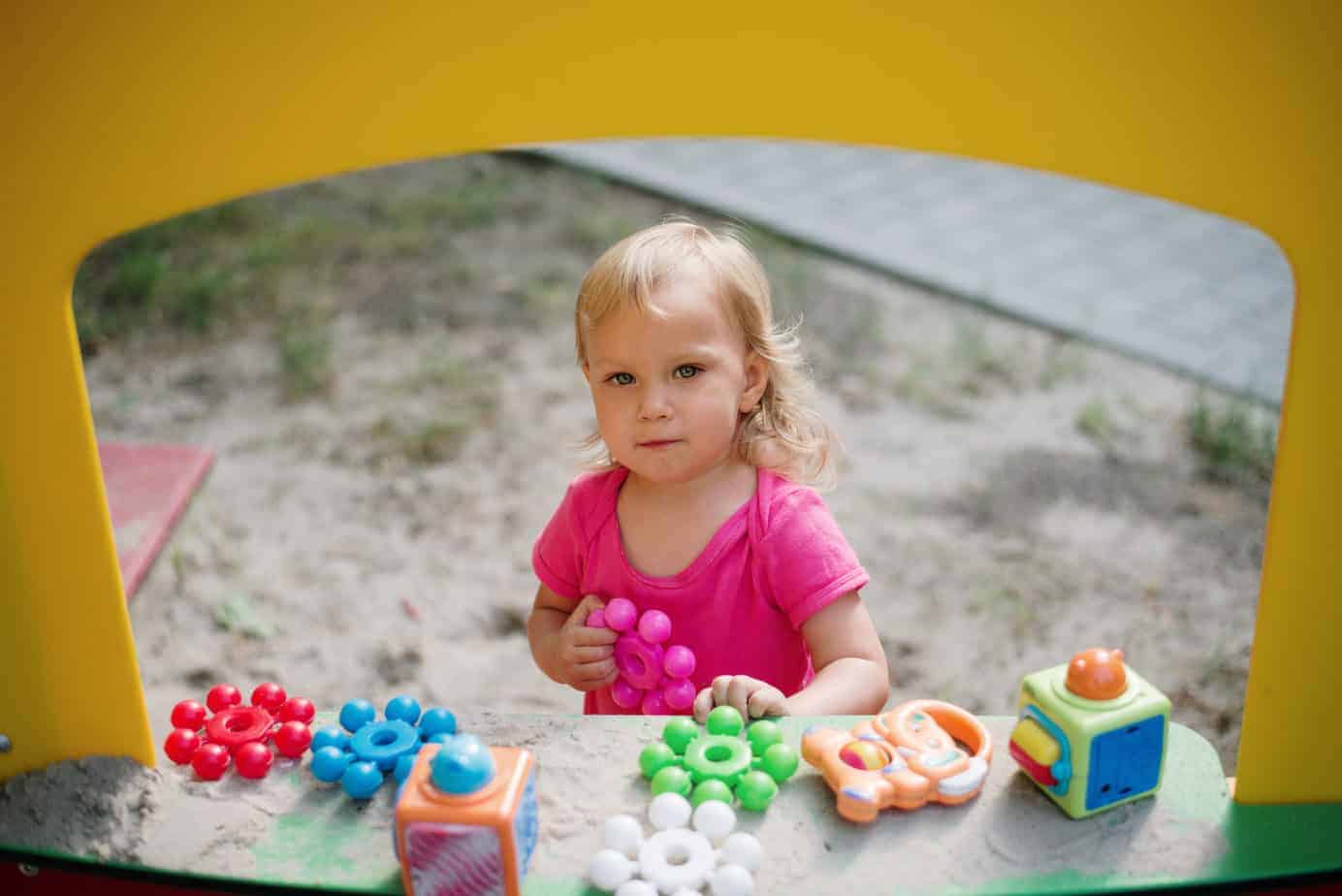 Waldorf Stages
Waldorf education focuses on the three distinct developmental stages outlined by Steiner.
Early Childhood (birth – 7 years old): Develop by Doing.
Middle Childhood ( 7 – 14 years old): Develop Imagination.
Adolescence ( 14 – 21 years old): Develop Intellect, Critical and Abstract Thinking, Problem Solving, etc.
Each stage is targeted and developed through a particular focus; "thinking, feeling and doing." Early childhood brings much more learning through play and tactile exercises – "doing." Middle childhood focuses on creativity and imagination using storytelling, visual arts, drama, and more – "feeling."
Adolescence is when children gain more and more autonomy over their education and work with their teachers to help direct their learning. This stage is where they develop critical and abstract thinking skills, learn to problem solve, and have independent intellect – "thinking."
Waldorf Play Structures
With that in mind, Waldorf Play Structure Ideas are basic wooden structures with a versatile design to accommodate learning through imaginative, hands-on play.
This means that a child in early childhood can use the structure for hands-on play with a play stove or toys, while a kid in middle childhood can transform the play structure into a pirate ship, a house, or their very own puppet theatre as they learn to use their creativity and imagination.
What Woods is Most Popular for Waldorf Play Stands?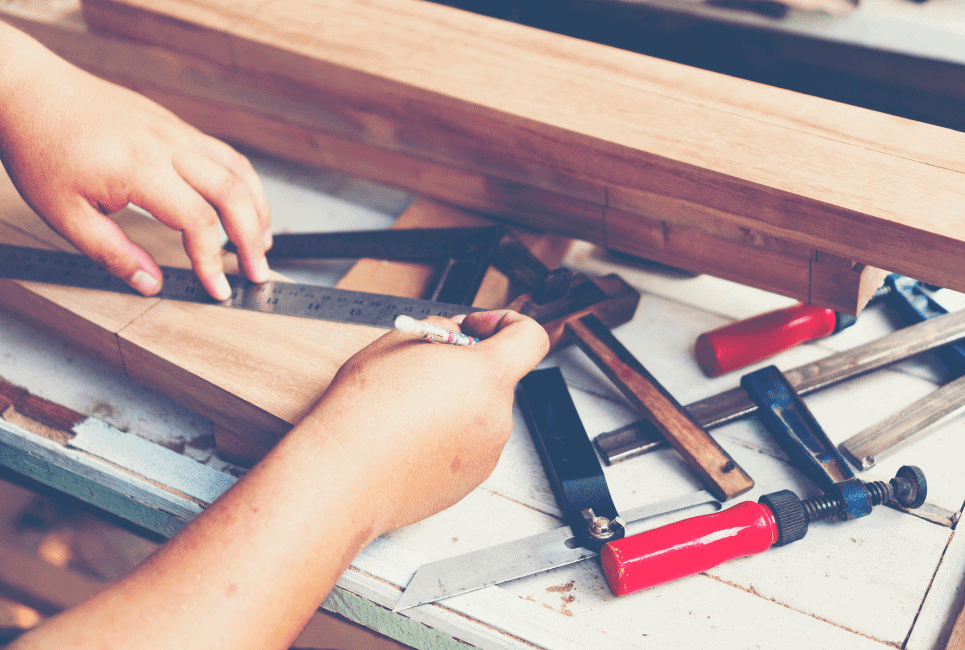 Waldorf Play Stands are often made using softwoods like pine and alder. These woods are soft with good shock resistance, tons of strength and durability, and are relatively lightweight.
These types of woods, once sanded, are great vessels for a variety of finishings such as paints and stains or can be oiled or waxed to produce a nice natural look with a high level of protection.
What is the Best Wood for Children's Play Furniture?
The best wood for children's play furniture is solid wood. Solid wood may be more expensive, but it is more durable than cheaper alternatives like plywood and particle boards. Solid wood play furniture is built to last a lifetime and handle the wear-and-tear little ones tend to inflict on their favorite toys.
What type of solid wood will depend on a variety of factors, including availability, type of play furniture, desired finish, and budget. In general, the best woods for play furniture are; pine, alder but harder woods like oak and maple can be fantastic too.
What to Look for in a Waldorf Play Stand
If you're looking for Waldorf Play Stand Ideas for your home, there are a few things to keep in mind to ensure you find the perfect fit for your needs.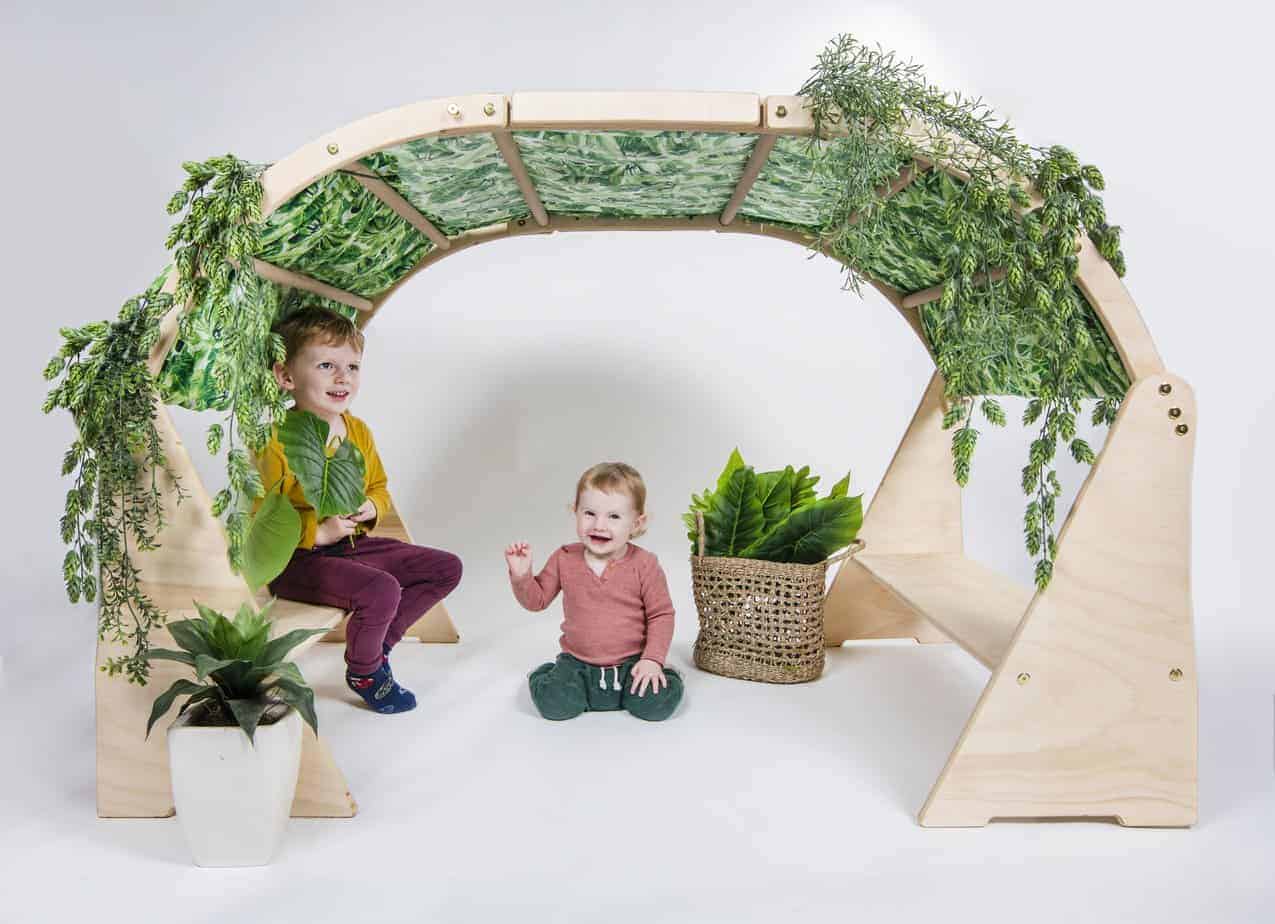 Design
While most Waldorf play stands have a similar style, there are a few popular variations that you can consider.
Traditional double-sided shelf playhouse with a canopy roof.
Side-sided shelf play stand.
Divider/Play Tent.
The traditional double-sided shelf playhouse with a canopy roof is the Waldorf play stand that you will most commonly see. It features two sides with shelves and an overarching curved roof that connect to form a playhouse and fabric to create a canopy roof.
The side-sided shelf play stand is just one of the sides of the full playhouse featuring two shelves and half of a curved roof. This allows you to position it like a bookshelf or lean it against the wall to create a smaller playhouse for a single child.
The divider/play tent-style Waldorf play stand features three wooden frames connected by hinges or ties that can be arranged to form either a room divider style play structure, placed near a wall to create a house or puppet theatre, etc. These structures don't tend to have shelves and rely on fabrics for creating "walls."
Size
The size of the Waldorf play stands that you choose will depend on the amount of space you have and the number of kids you want to be able to play in the structure at once.
For smaller spaces and 1-2 kids, a play tent or single-sided structure is your best bet, while larger areas with 2-4 kids would benefit from a full double-sided playhouse or potentially even an extra-large playhouse design.
Wood Type and Finish
Most Waldorf play stands typically use durable woods such as pine and alder, so the type of wood and finish you choose will mostly depend on what look you prefer. Additionally, you'll need to decide whether or not you'd like to paint or stain your play structure, as that will determine what type of finish you should choose.
Both pine and alder take well to paints, stains, and oil or wax finishings. If you're looking to paint and customize your play stand – it's recommended that you buy a play stand with no oil or wax finish. However, if you prefer the natural wood look, an oil or wax finish is recommended to help maintain the integrity of the wood and ensure longevity and durability.
Quality
Your Waldorf play stand is going to be moved, climbed on, and used in so many ways by your kids that you want to ensure it's the best quality you can afford. Cheaper, mass-produced play stands are often made from particleboard or plywood, which are easy to break.
A high-quality solid-wood Waldorf play stand is durable, strong, and sturdy – ready to stand up to whatever your little one's imagination throws at it.
With a high-quality play stand, you can repurpose the sides as bookshelves as your children grow older and, in many cases, may even be able to pass the play stand down through generations as it's built to last.
Budget
Of course, budget is another essential consideration when purchasing a Waldorf play stand. Luckily, there are tons of great options out there to suit any budget, no need to resort to cheaper plywood toys.
If your budget is on the lower end – a single-sided shelf play stand or play tent Waldorf structure are great options that balance affordability with all the features and quality you want in a kids' play structure.
Higher budget? Great! You can afford to explore all kinds of great options, from extra-large playhouse designs and beautifully patterned silk canopies to a variety of accessories and add ons to create the perfect play stand.
Add-ons and Accessories
While the Waldorf play stands themselves are very simple in design, there are many ways to customize them. For example, use a variety of fabrics to create a canopy roof, siding, or walls.
Add fairy lights, blankets, and pillows for a cozy reading nook. Choose from endless add ons and accessories such as play stoves, puppet theatres, markets, and more to help your child play and imagine all kinds of different environments and scenarios.
Add-ons and accessories can get pricey, though, so if you're trying to be more budget-conscious when buying a Waldorf play stand, try to limit the add-ons you buy or look for cheaper alternatives and ways to DIY your accessories.
How to Use a Waldorf Play Stand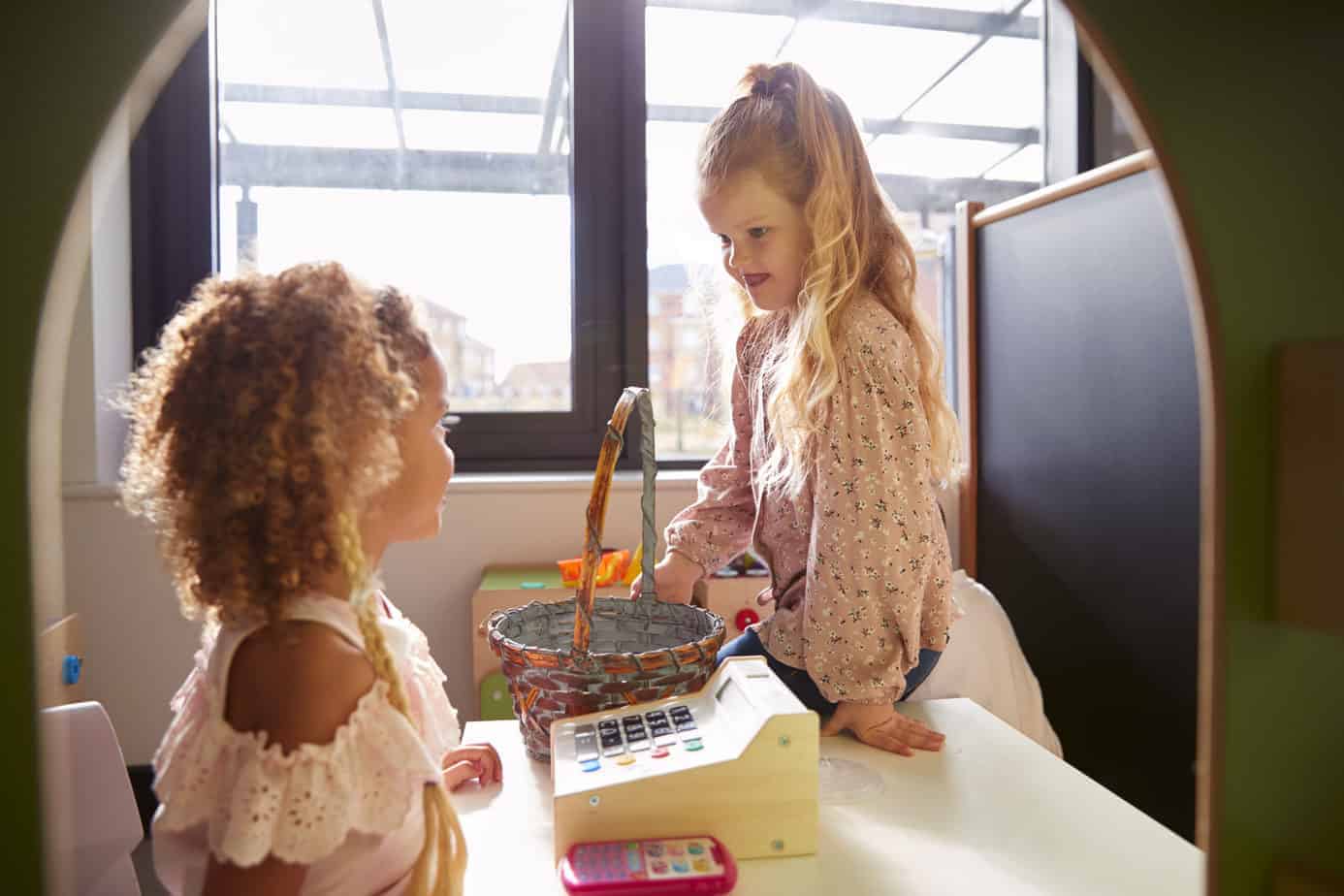 That's the best part! There's no right or wrong way to use a Waldorf Play Stand. The play structure is simple and versatile, meaning that you can join two sides together to create a playhouse or put them back to back for a pretend market and cashier.
Assemble the play stand according to the instructions included. From there, you can create your design or let your child lead and tell you what they want their new play structure to look like. There are tons of great ideas on Pinterest and Youtube for ways to customize your Waldorf play stands.
Best Waldorf Play Stand Ideas
You can't go wrong with any of these great choices for your child.
This Waldorf Single Side Playstand is great for small spaces and comfortably accommodates 1-2 kids. Double shelves allow for books, optional play stove attachment, playsets, and more. When your child outgrows their play stand, the single-sided design will enable you to convert the play stand into a bookshelf easily.
Price Range: $250 – 350
Wood: Natural pine
Full or Single: Single
Canopy? Canopy roof, canopy fabric not included.
The arching roof is perfect for leaning against a wall and adding a canopy covering to create a fun playhouse or den perfect for playing house, taking naps, or a cozy reading nook. The all-natural pine is sanded and oiled and ready for use once assembled.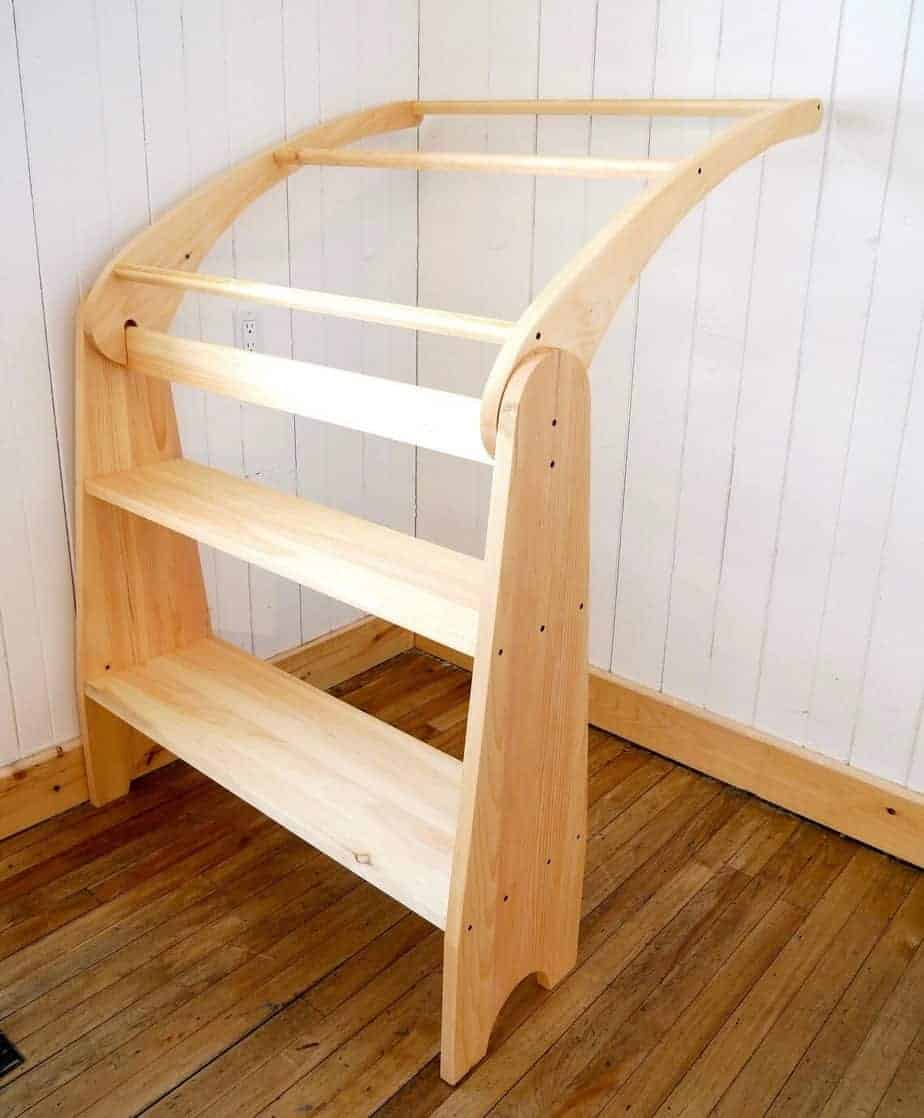 Pros:
Single side stand is great for small spaces.
Sanded and oiled natural pine.
Sourced and made in Canada.
2 shelves for books, playsets, etc.
Can be repurposed as a bookshelf.
Easy to assemble.
Optional play stove
Cons:
Single side play stand is best for 1-2 kids max.
Doesn't come with a canopy.
If you're looking for the perfect playhouse or play structure for your kids' room, outdoors, or classroom, the Waldorf Playstand – Playhouse is a great multipurpose play structure.
The playhouse allows extra room for 2-3 kids to comfortably play at once, making it perfect for siblings, friends, and classmates to share. Complete with a canopy roof and optional cloth addition to creating a cozy covered hideaway.
Price Range: $400 – 500.
Wood: 100% Natural Pine.
Full or Single: Full.
Canopy? Yes.
Add the wood play stove to quickly turn this play structure into an adorable playhouse or kitchen. Double shelves on either side allow plenty of space for books, toys, playsets, and more. It's easy to take this playhouse from a cozy reading nook to a dream home in no time.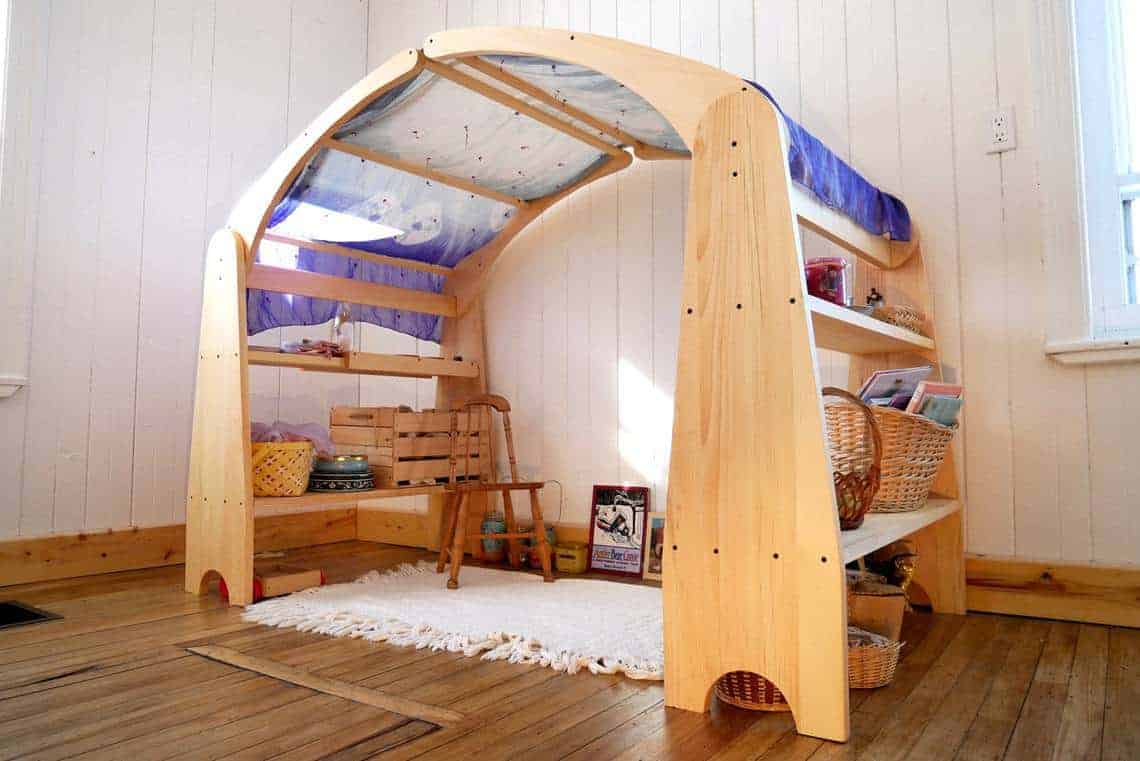 Pros:
Multipurpose indoor/outdoor play structure.
Can be used as bookshelves when children age out of the play stand.
Roof designed for a canopy to create enclosed/cozy playhouse structure.
Large enough for 2-3 kids at once.
Sourced and made in Canada.
100% natural pine wood
Easy to assemble.
Double shelf on either side allows plenty of space for books, playsets, etc.
Optional cloth canopy and/or play stove.
Cons:
Requires a larger room or space than a single-sided play stand.
Expensive.
The Waldorf Play Tent design allows for a versatile tent/room divider that can be customized to fit your space, no matter how large or small. Add your choice of fabrics to create the exact play structure that your child desires.
Especially great for small spaces, the play tent design is perfect for 1-2 kids and can be propped near a wall or used as a freestanding structure depending on the desired use – reading or napping nook, puppet theatre, small kitchen.
Price Range: $120 – 200
Wood: 100% Natural pine.
Full or Single: N/A
Canopy? Depends on configuration – not canopy roof.
The fabric tie system allows for a quick 5-minute assembly and makes it easy to change the configuration to suit your child's play.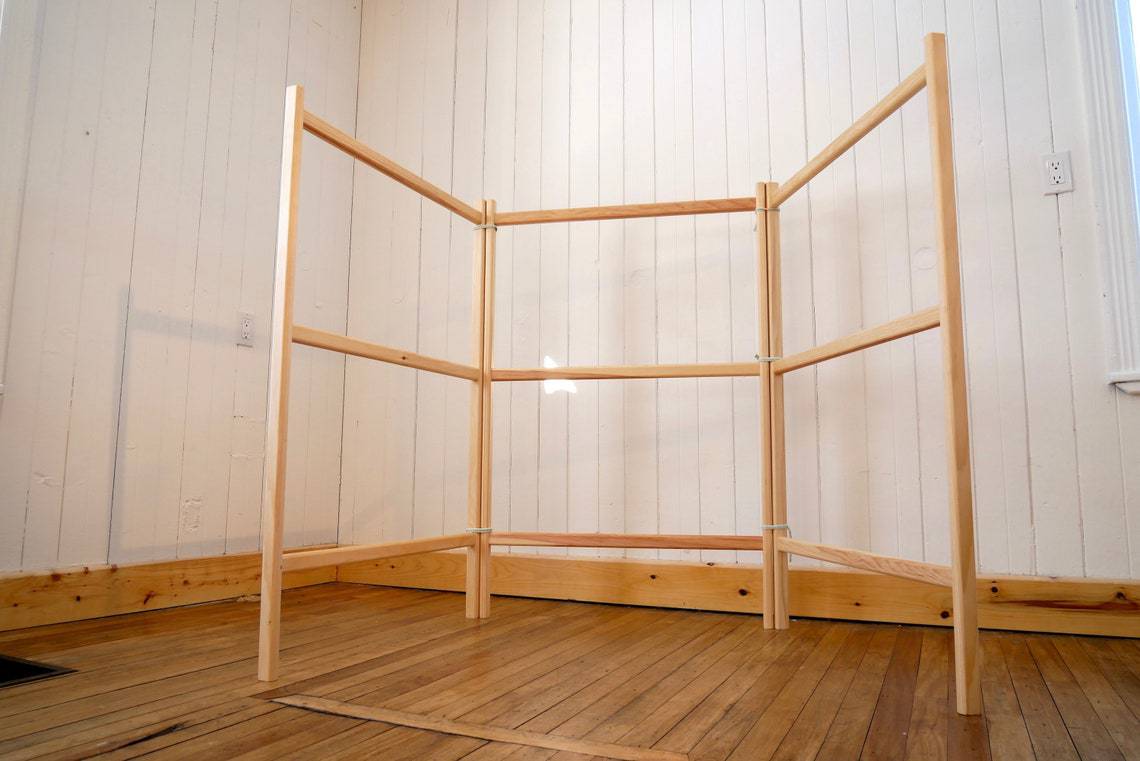 Pros:
3-sided divider/tent design allows for multiple configurations.
Fits nicely in small and larger spaces.
Customize with your choice of fabrics.
Souced and made in Canada.
100% natural pine.
Easy-to assemble.
Best for 1-2 kids at a time, depending on the configuration.
Affordable.
Cons:
Tie design is easy to assemble but not as sturdy as hinges.
Requires more customization than other play structures with additional fabric, etc.
This Waldorf Playstand Playhouse with Canopies is the epitome of an all-in-one play solution for your kids. Crafted with beautiful alder wood, this playhouse is built to last and features tons of optional bespoke additions for you to customize your playhouse to suit your kids – a kitchen, a market, a theatre scene, a toy box, a bookshelf.
Price Range: $680 – 1500
Wood: Alder.
Full or Single: Full.
Canopy? Yes (optional).
This Waldorf play stand was made to be a beautiful treasured childhood memory that gets passed down through the family for years.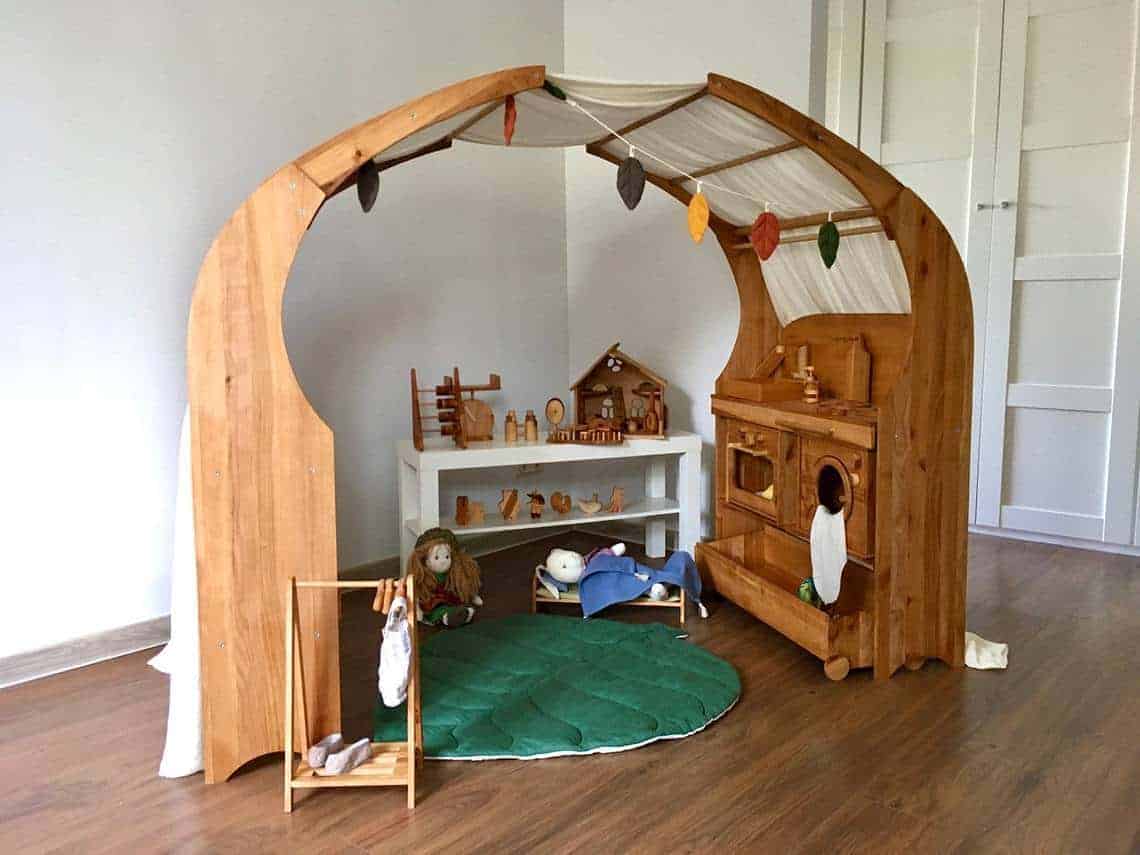 Pros:
Beautiful two-sided design.
Perfect for 2-3 kids.
Tons of additions – kitchen, bookshelf, market, etc.
Available with canopies.
Variety of configurations.
Beautiful oiled alder wood.
Easy to assemble.
Cons:
The Elves and Angels Double Shelf Playstand combines a simple Waldorf design with unmatched workmanship and exceptional design.
This stand is built to last and features a variety of unique fastening and stability systems to create a Waldorf play stand that you can take up and down in no time while still being sturdy and wobble-free for your kids' playtime.
Price Range: $650 – 800
Wood: White pine and hardwood.
Full or Single: Full.
Canopy? Yes (optional).
Upgrade to the deluxe set to choose your own beautifully patterned play silks for your canopy covering and level up the cozy feel of this play stand.
Pros:
Beautiful two-sided design.
Perfect for 2-3 kids.
"Downeast Fastening System" for quick set-up and take-down.
Available with canopies.
Variety of configurations.
White pine and hardwood.
Option of including a variety of different patterned play silks.
Cons:
The ultra-simple design of the Rainbow Waldorf Playstand will fit perfectly in any space. As a single-side, it can easily be used by one to two kids for play, as a bookshelf, and more.
Price Range: $300 – 400
Wood: Sustainably-sourced.
Full or Single: Single.
Canopy? No.
The adorable rainbow roof adds a touch of fun to a typically solid-wood design making it cute and inviting for your kid's bedroom or playroom.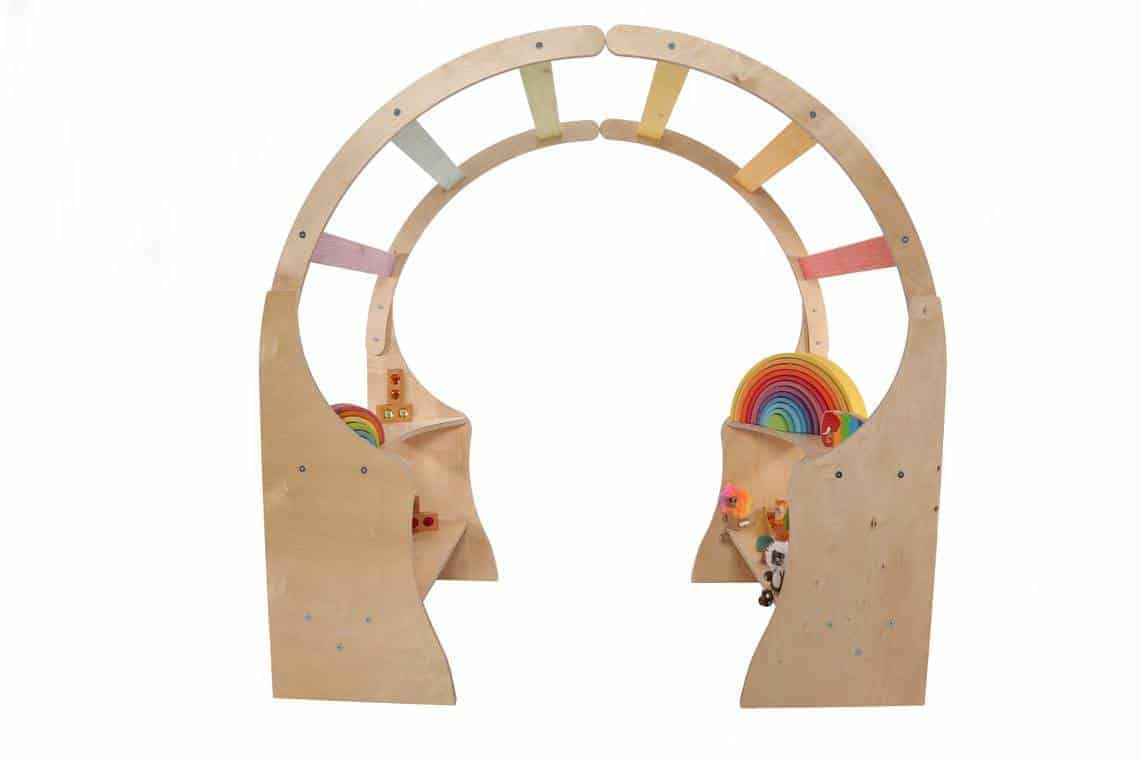 Pros:
Simple, modern design.
Adorable rainbow-colored roof.
Sustainably-sourced wood.
Single side stand is great for small spaces.
2 shelves for books, playsets, etc.
Can be repurposed as a bookshelf.
Easy to assemble.
Your choice of 2 rainbow colorways.
Cons:
A single-sided play stand can only accommodate 1-2 kids.
Expensive.
Perfect for families with multiple kids or those that just want a bigger space to play – the Extra Large Waldorf Playstand is perfect. Impeccably crafted – this beautifully designed play stand will be something you can pass down through the family for years to come.
With the option of waxed or non-waxed pine wood, you can choose to customize your own play stand by painting it or keeping it natural and protected with waxed wood.
Price Range: $400 – 1000
Wood: Pine.
Full or Single: Full.
Canopy? Canopy roof, fabric not included.
It'll be easy for your kids to turn this Waldorf play stand into their own little home, reading nook, pirate ship, or whatever their little brains can imagine with tons of space in this extra-large design.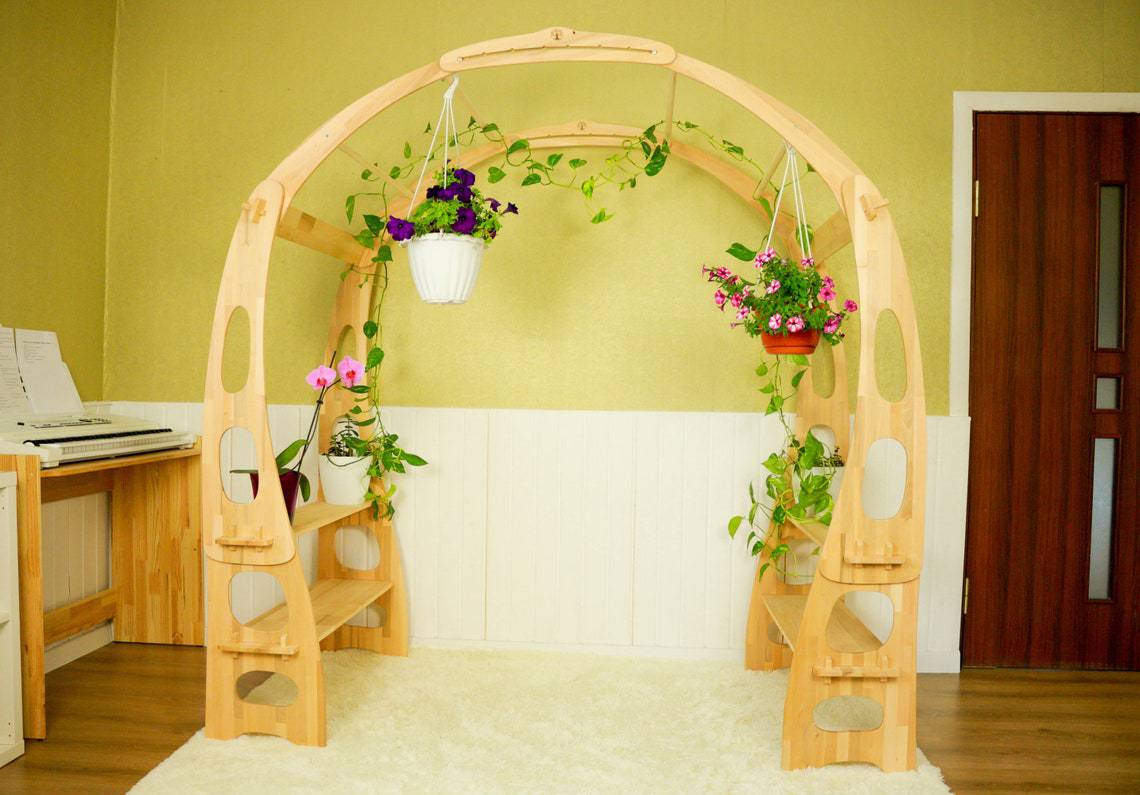 Pros:
Extra large size can accommodate more kids.
Waxed or unwaxed wood options.
Easy to assemble.
100% pine.
Can be personalized to include a custom message or design.
Cons:
Expensive.
Requires a large amount of space.
FAQ
Question: Where Can You Buy Waldorf Play Stands?
Answer: Many Waldorf Play Stands are custom built and sold directly from the woodworker either through their own shop or Etsy. You may also be able to find some more basic Waldorf play stands at toy stores, big box stores, or online retailers like Amazon.
Question: What Does Waldorf Mean?
Answer: Waldorf refers to the "Waldorf" educational philosophy created by Rudolf Steiner. This educational philosophy aims to help children develop intellectually, artistically, and practically in a well-rounded way that does not use merit-based assessments.
The philosophy focuses on "head, heart, and hands," allowing kids to use their imagination, think for themselves and work through things in a tactile manner.
Question: What is the Best Waldorf Play Stand for Kids?
Answer: The best Waldorf Play Stand for kids will depend on various factors – how many kids you have, the space you have available, your budget, etc. Ideally, you want to ensure that you're buying a well-built, sturdy, solid-wood play stand in a size that fits your space – either full or single-sided.
Final Words
Waldorf play stands are an excellent way for kids to play and use their imagination, so finding the perfect Waldorf play stand idea is important for you and your kids. Luckily, I've rounded up some of my top picks, and the overall best choice with an outstanding balance of price and features has to be the Waldorf Playstand – Playhouse.
If you liked this article be sure to let me know in the comments below, and if you want more great toy ideas, check out our guide to the best wooden blocks.
Recommended reads: