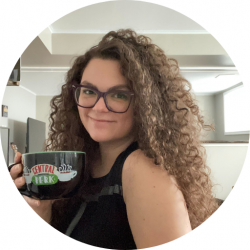 Latest posts by Candace Osmond
(see all)
One of the oldest toys, but still ever popular, are good old-fashioned wooden blocks. With blocks, kids can extend their imaginations far into the architecture world and create plenty of castles, forts, and even an elaborate house or two.
Whatever your child may like to build, their imagination can truly become a reality with the tangible satisfaction of building blocks.
Want to get your child or a child you love a set of blocks but aren't sure where to look? I have you covered! I've got a guide filled with some of the best blocks you can buy online today based on their quality, ease of use, and safety.
Top 3 Picks
Here are our top three picks in best overall, best for small hands, and the best price to help you with your shopping choices.
Best Overall: Colorful Wooden Building Blocks Set: This gorgeous set by Melissa & Doug features plenty of hard, colorful wooden blocks to build castles, skyscrapers, or large structures. These blocks are eye-catching to young children due to their vivid colors and are easy to hold for tiny hands.
Best for Small Hands: Large Wooden Blocks Set: Best for tiny hands, this large wooden block set will help keep your toddlers' hands on each block due to their size. While some pieces are small enough to be handled with one hand, most of the pieces are large enough to be placed with two hands. The larger the blocks, the less risk of any choking hazards for your small child.
Best Price: Wooden ABC's Block Set: If you are on a budget but still want to gift your child a great block set, look no further than this educational ABC block set crafted by Imaginarium. These blocks have beautifully decorated images with numbers and letters, which also make these highly educational. Your child can learn while they play.
Why Wood Blocks Are So Good for Kids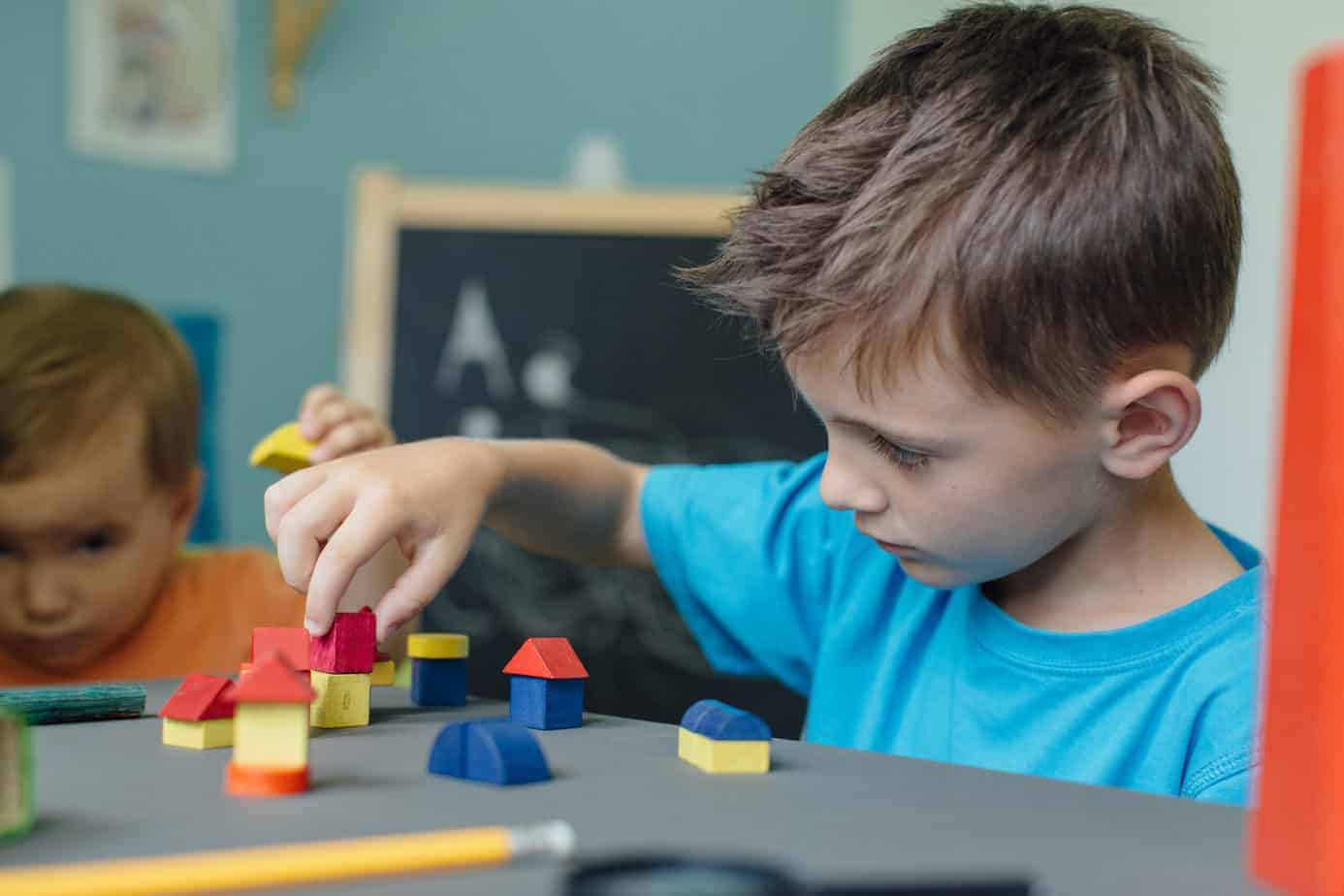 Wooden blocks have been scientifically proven to be a great learning tool for growing minds. Wooden blocks allow children to explore their imaginations, all while feeling the textiles of the blocks and often learning about colors, shapes, and patterns in the process. Here are a few more reasons why we love wooden blocks as a play tool for children.
Time Consuming
There is a reason why wooden blocks have been around for so long. One of these reasons is that it keeps kids entertained for hours. With so much to build and so many ways the blocks can be put together, kids can spend hours playing with blocks and building new, fantastic things in the process.
A child can build as many things as their mind allows, so this event can be very time-consuming and keep your child entertained for a long time. It's great for those rainy days indoors or throughout the summer when your child may not have many activities lined up to keep them occupied.
Helps Their Intellect
Wooden blocks are building blocks, so whether your child has a flair for architecture or not, wooden blocks will help them learn more about the physical world around them.
Wooden blocks can help with a child's dexterity, help them understand gravity and physics, and even teach them how to home in their imagination and build something physical instead of keeping it in their imagination. It's a great tool to help sharpen their physical, social, and intellectual skills.
Durability
Since blocks are made of wood, they are highly durable. Young children and toddlers can tend to be rough on their toys, so you won't need to worry about your child breaking these blocks as it would be pretty hard to break them. Blocks can get dirty, thrown around, and even discarded in the yard, and they will remain their shape, and hopefully, their color and designs. Blocks are great for rougher play as they are highly durable.
Can Help with Social and Language Skills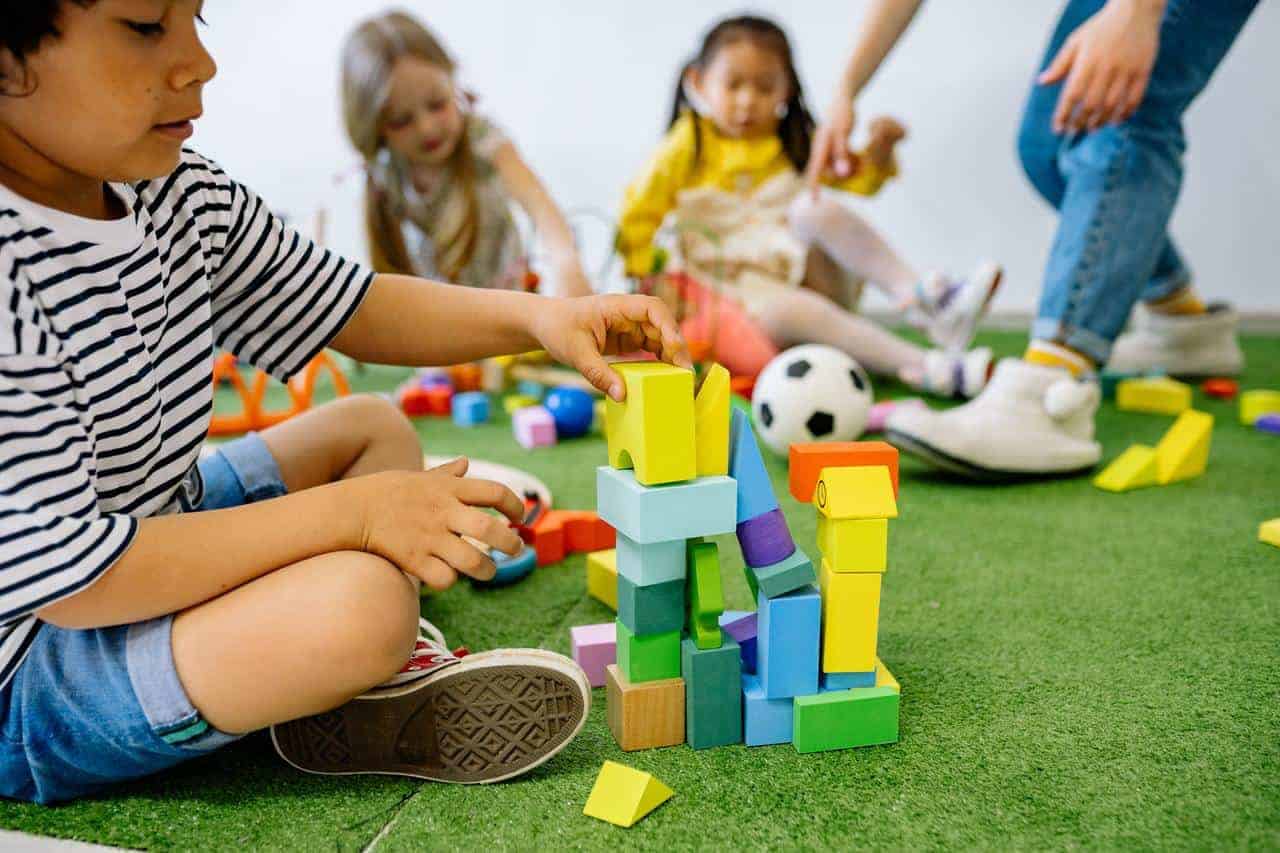 Blocks are great when you want to entertain your child, but if you put blocks in a room with several children, all of their imaginations will start to come out to play. Children will start building things in a network instead of as a solo project, so they will be talking with each other and helping each other build massive and intricate structures. It's a great activity to help children learn how to talk to each other and be social.
Pros and Cons to Wooden Blocks for Kids
There are so many things to love about using wooden blocks as a play tool, but they may not be for every child. Here is a list of the top pros and cons of using wooden blocks for your kids.
Pros:
Time-consuming play
Provides a valuable learning experience
Helps develop intellect
Helps with physical play
Helps with social interaction
Can help with language skills
It does wonders for dexterity
Highly durable play tool
Cons:
Not all blocks are the same size
Some wooden blocks sets can be expensive
Importance of Baby's Hand-Eye Coordination and Dexterity
A baby's hand-eye coordination is so important because it is one of your baby's first opportunities to interact with the world around them. The way they see, perceive, and handle their surroundings will tell you so much about how your child's brain is developing. Being able to manipulate the world around them is an important skill that will grow into lifelong habits for your child.
Along with that, the development of hand-eye coordination and dexterity will help your child develop the confidence and independence that they will need to continue to learn and grow for years and years to come.
Ways to Encourage Proper Hand-Eye Coordination and Dexterity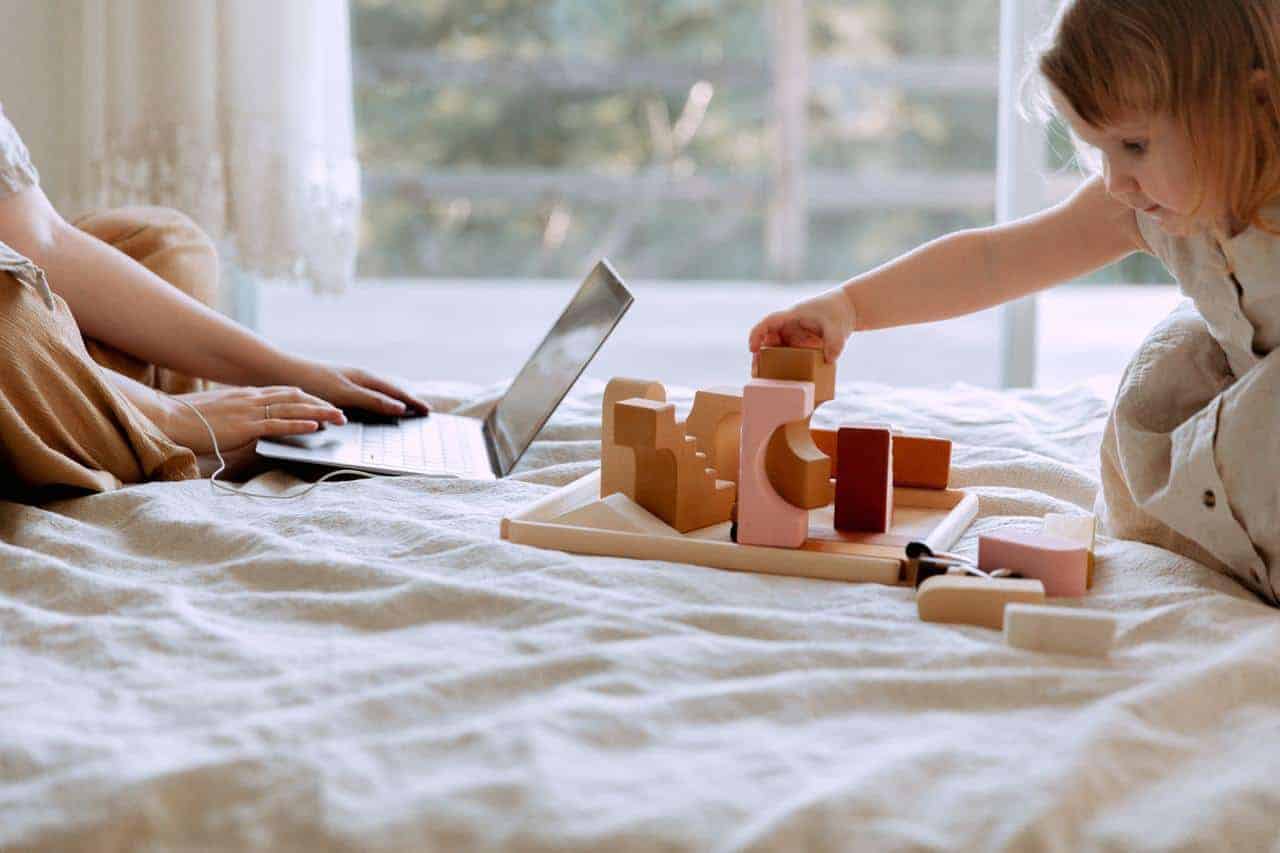 Using your wooden block set as a standard play tool is a great way to help encourage proper hand-eye coordination and dexterity. Blocks are an easy-to-grip, physical play tool that can be built up and down, which your child will develop cognizance and dexterity through understanding how to play with their blocks.
Some other great ways to encourage proper hand-eye coordination and dexterity includes:
Tossing beanbags
Tossing a ball
Connecting the dots activities
Stringing beads
Bouncing balls
Coloring
The Best Wooden Blocks for Kids
Rather not try to make them yourself? Yeah, me neither, lol! Check out some blocks sets backed by stellar customer reviews that your child is sure to love.
This wonderful wooden building blocks set will provide hours of education and fun. There are 100 pieces to these wooden blocks set in four different colors and nine shapes overall. This is a great way to get your child off their tablet.
Wood Type: Solid Wood
Best for Age: 3 to 8 years old
Price Range: Less than $20
Warranty: Free returns through Amazon Prime
These blocks are highly durable and safe, as they are made from solid wood. They are light in weight and have rounded edges, so they are safe for playtime and won't splinter even after hours of continuous play.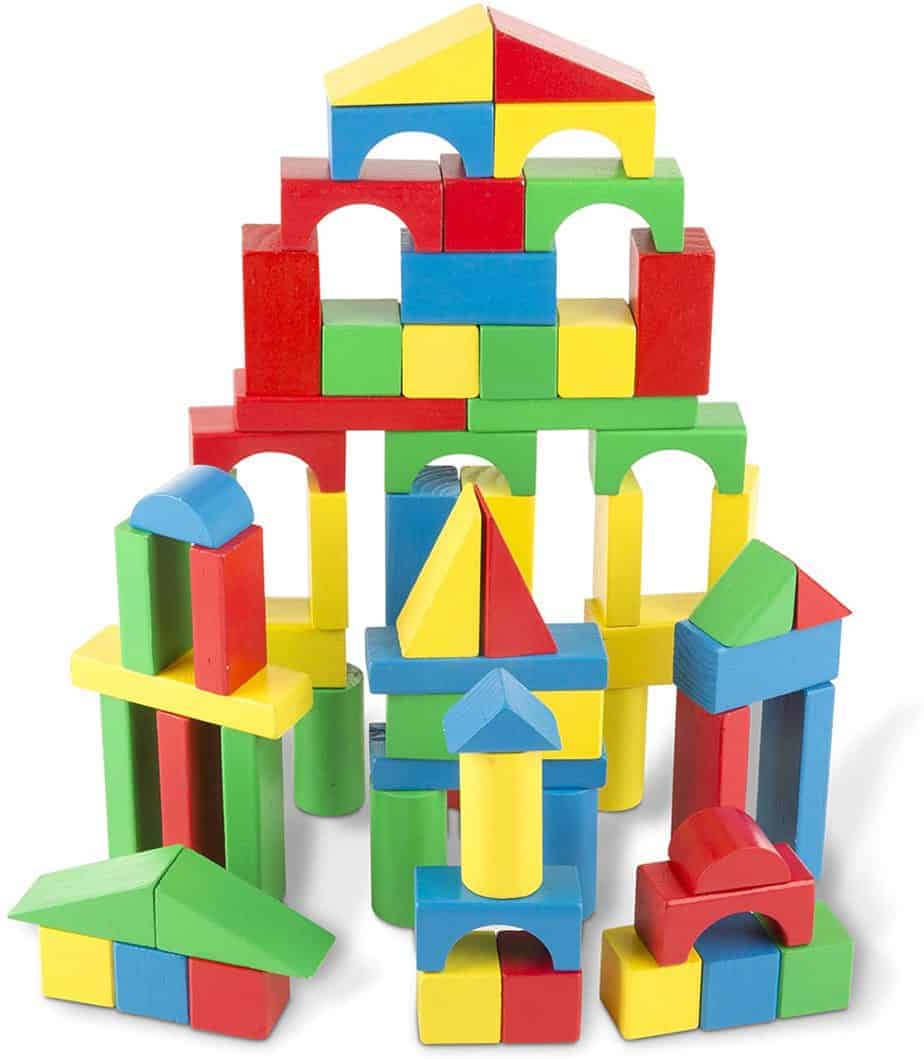 Pros:
Can provide hours of play
Stimulates creativity
Durable and safe
Great gift
Cons:
Blocks may be too large for some
Other than color, not very decorated
This set of wooden blocks comes with 60 natural finished, gorgeously smooth sanded hardwood blocks that are ideal for getting your child away from a screen and instead submerged in a more physical form of play. These blocks promote multiple developmental benefits as well as provide a truly magical experience for kids.
Wood Type: Natural hardwood
Best for Age: three to eight years old
Price Range: More than $55
Warranty: Free returns through Amazon Prime
These blocks come packaged in a wooden crate, making it easy to store them when not in use. They also make a great gift for any child that loves to build with their hands.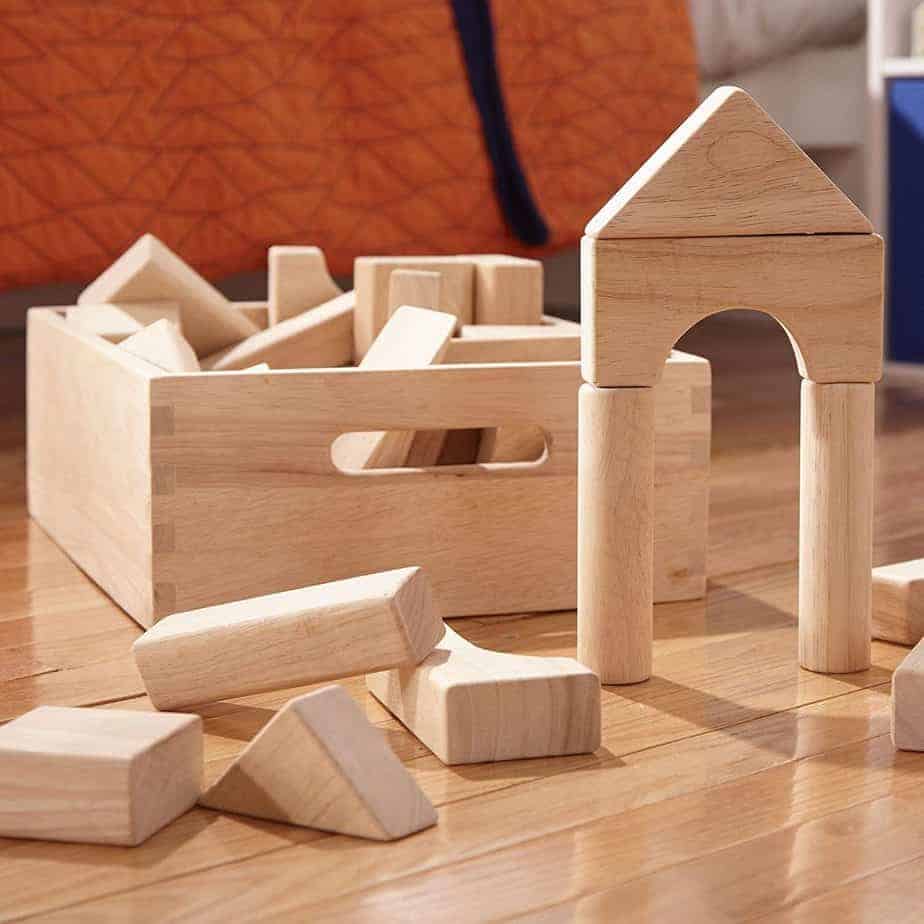 Pros:
Smooth finish
Natural wood color
It comes in a wooden crate
Easy storage
Cons:
A bit pricey
It only comes with 60 pieces
Great for shape recognition and helping with numbers and letters, this ABC alphabet block set by Imaginarium truly brings in the classic style of blocks with a modern flair. These brilliantly colored blocks will provide your child with hours of play as each block comes complete with a colorful figure, number, and letter pattern.
Wood Type: Solid Wood
Best for Age:Ages 2 to 4
Price Range: Less than $20
Warranty: Free returns through Amazon Prime
These blocks are easy to grab and will promote the stimulating play. They come in a bag to easily store your blocks when they are no longer being used.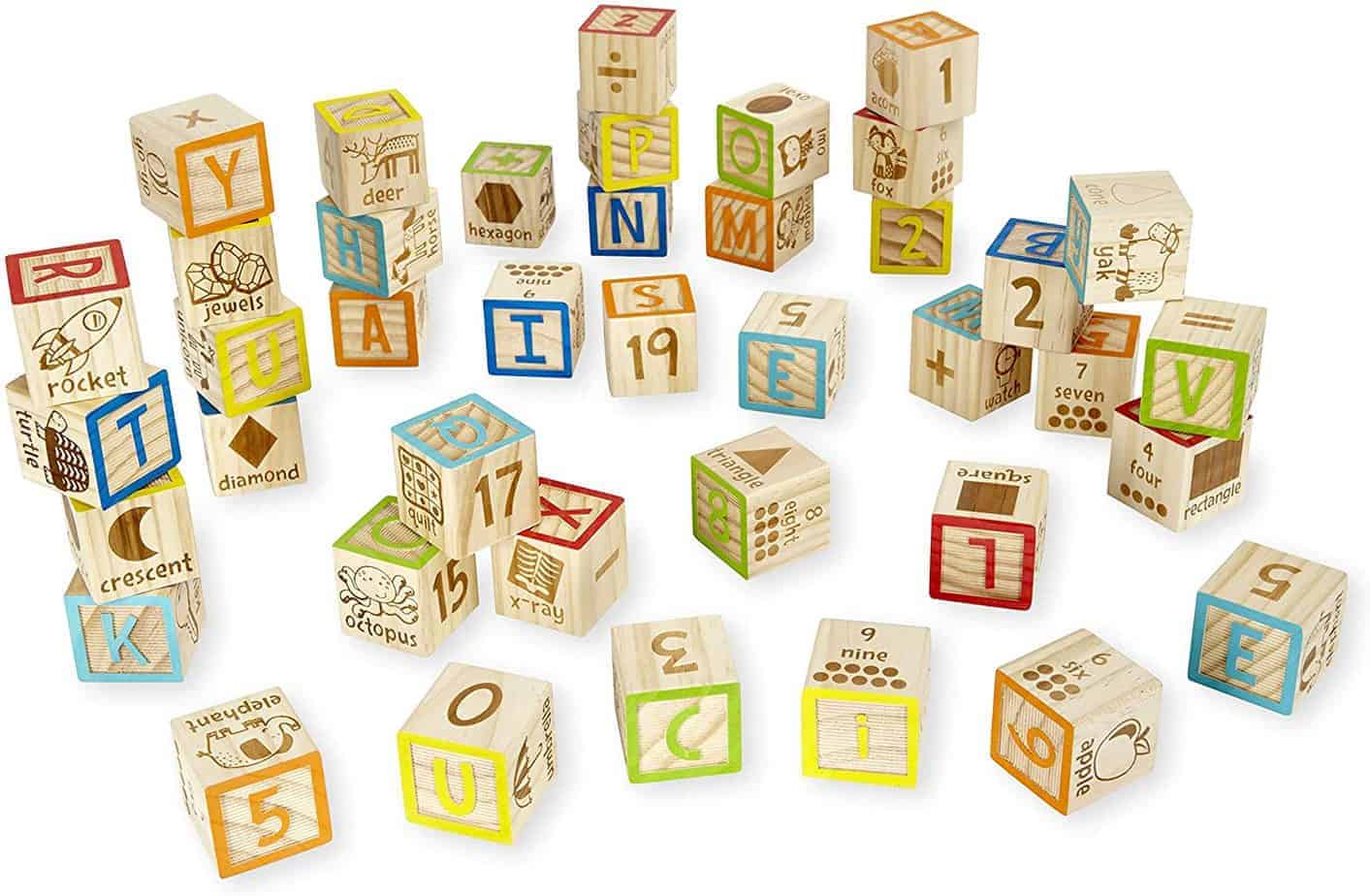 Pros:
Promotes stimulating play
Encourages creativity
Beautiful colors and patterns
All the same shape
Cons:
It only comes with 40 pieces
Not all colors are vivid
These large wooden blocks are ideal for younger children as they are designed safely without any choking hazard. There are 32 pieces within this block set, and each piece is oversized for safety. This set comes with a carrying bag so you can place your hardwood blocks in the bag when not being used.
Wood Type: Natural Wood
Best for Age: Two to four
Price Range: Less than $35
Warranty: Free returns through Amazon Prime
This set is vividly colored, which makes them even more stimulating for young children. This set is made from all-natural wood with no harmful chemicals added to it.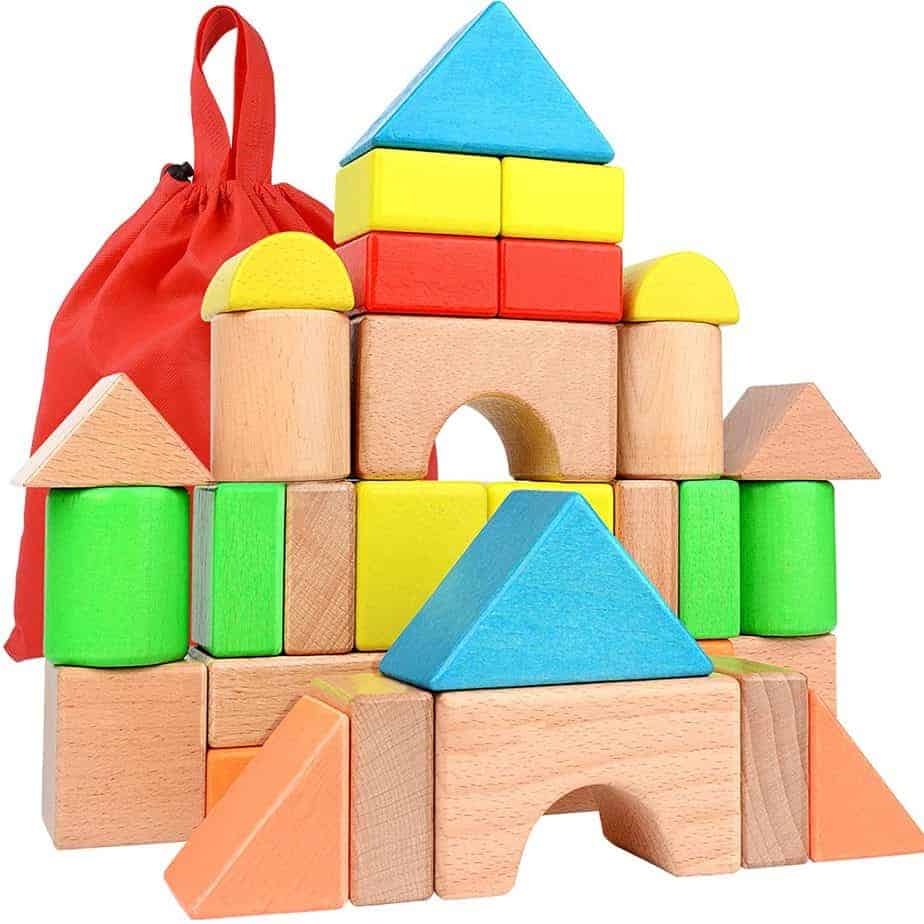 Pros:
Safely designed
Large pieces
Vividly colored
Natural wooden toy
Cons:
It may be too big for some
Not a very large set
Gorgeously colored with see-through panels, these rainbow stacker blocks set is a perfect way to teach your child about construction. These are geometric-style wooden blocks ideal for boys and girls who love to build more intricate construction designs.
Wood Type: Hardwood
Best for Age: 5 to 11
Price Range: Less than $35
Warranty: Free returns through Amazon Prime
This set comes with 24 blocks that are made from non-toxic materials. You can easily use these blocks to do wooden puzzles and promote next-level learning by using these blocks for color recognition and matching games.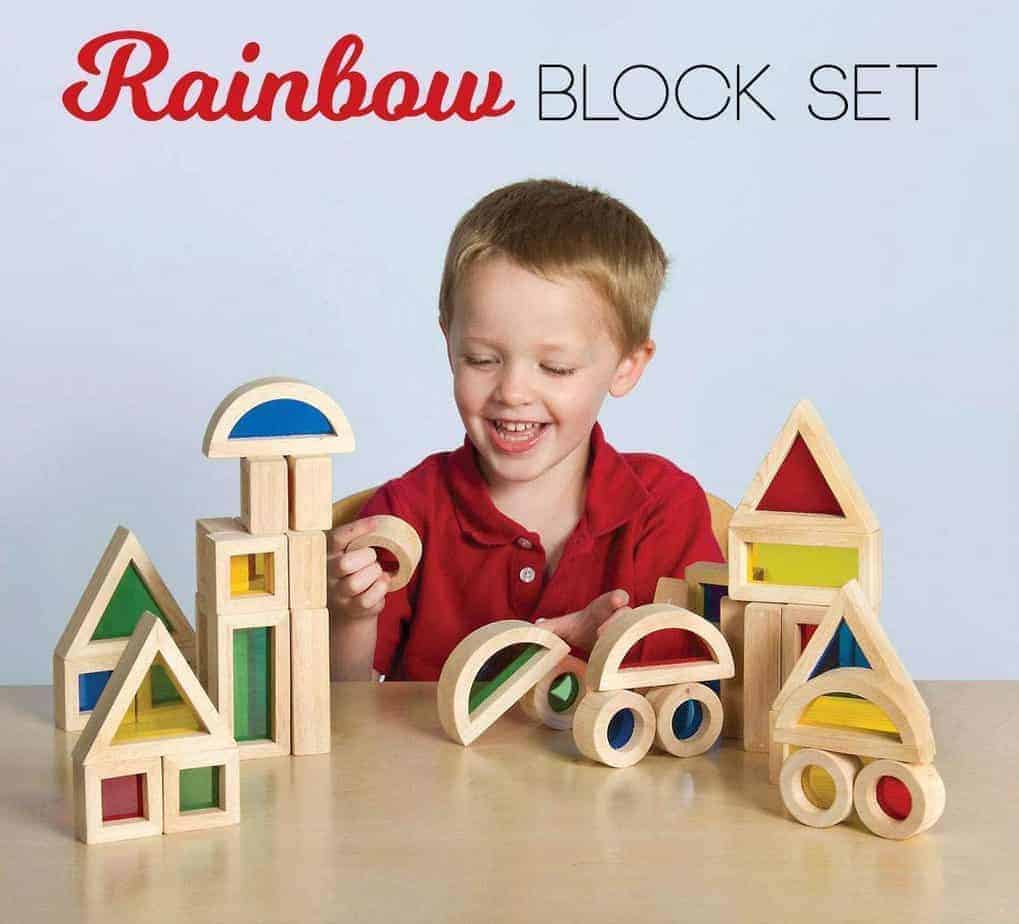 Pros:
Rainbow wooden blocks
Geometry shapes
Easy to use
Colorful design
Cons:
Edges may be too sharp for toddlers
Maybe too pricey
If you have a child that loves STEM learning, these wooden blocks set by Brain Blox could be the next best toy for your child. These blocks will help your child build while learning all about math, physics, and engineering.
Wood Type: New Zealand Pine Wood
Best for Age: Over 7 years old
Price Range: More than $75
Warranty: Free returns through Amazon Prime
These smaller blocks can create much more intricate designs, such as robots, spaceships, and tall towers or houses. You can see so much more detail with these blocks as they are thinner and easier for making more complicated designs.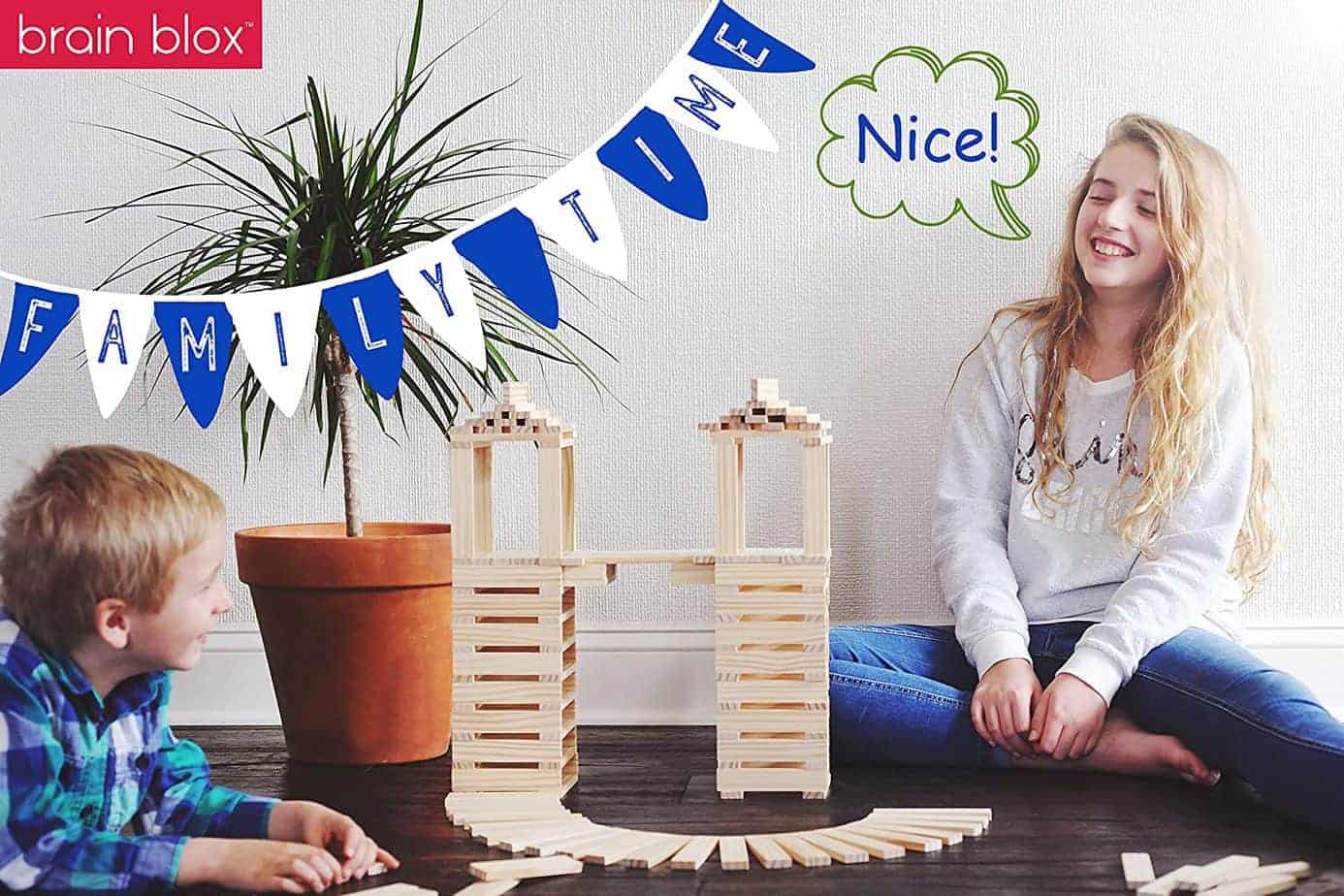 Pros:
Great for older kids
Promotes STEM learning
Made will all-natural New Zealand Pine Wood
Inspires kids to build more intricate designs
Cons:
Too small for younger children
It comes with a lot of pieces
Ideal for the child who likes to build whole cities instead of just one house or one structure, this blocks set comes with plenty of educational earning. It promotes team-building skills, dexterity, shape recognition, and even creative thinking.
Wood Type: Natural hardwood
Best for Age: Toddlers and up
Price Range: Less than $50
Warranty: Free returns through Amazon Prime
Watch your child build a whole town complete with roads, cars, and different buildings instead of the usual stacking blocks. This set would make a great gift, and it's made with all-natural hardwood, so it will last for many years to come.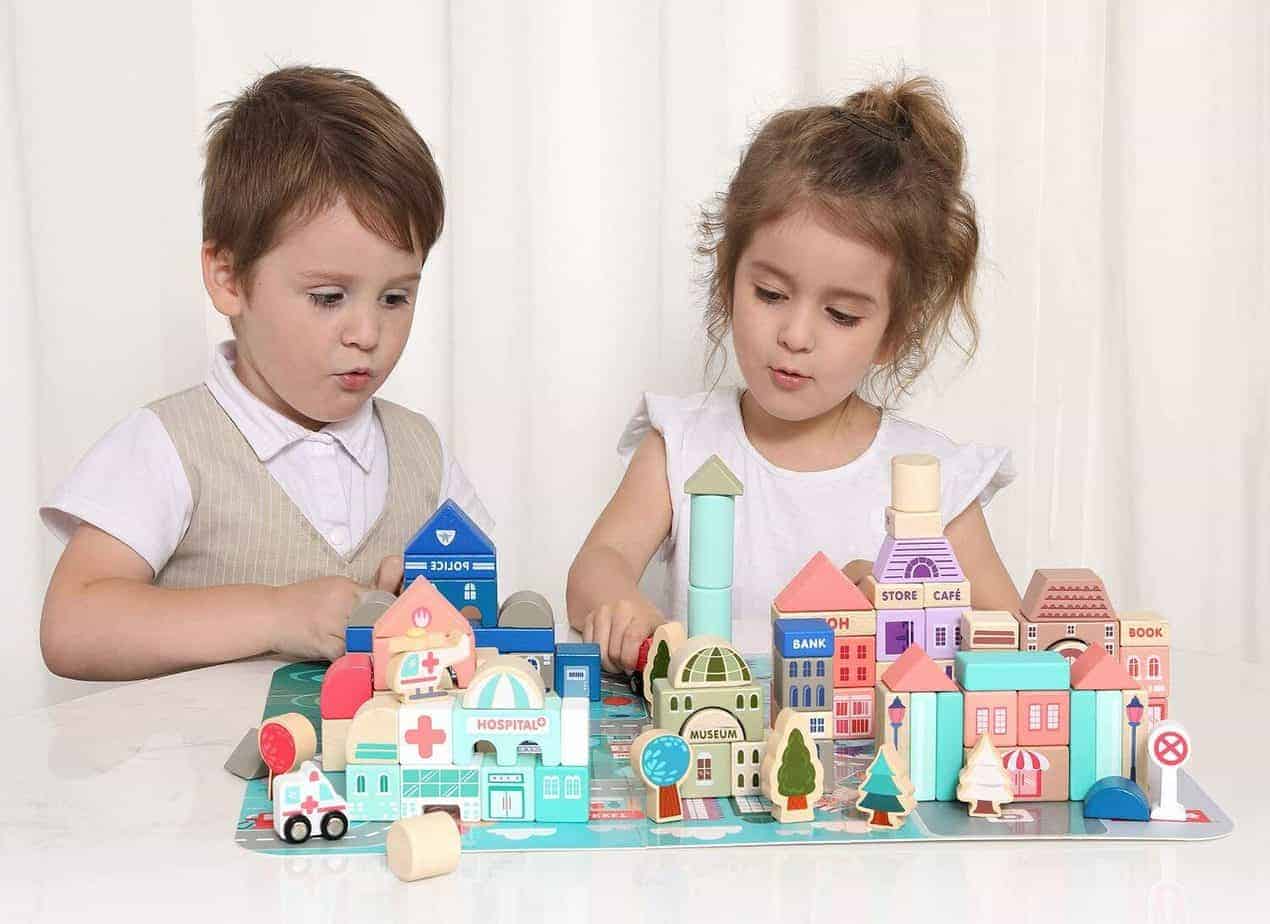 Pros:
It comes with intricate blocks
Can build a whole town
Perfect for toddlers and older kids
Fun colors
Cons:
Maybe too pricey for some
Not the usual blocks set shape
Ideal for kids three years and up, this intricately designed wooden stacking block set imitates the look of balancing stones. Your kids will find delight in balancing brilliantly colored wooden rocks to create Zen masterpieces for hours of play.
Wood Type: Natural hardwood
Best for Age: Three years old and up
Price Range: Less than $35
Warranty: Free returns through Amazon Prime
These blocks can help with your child's motor skills and team-building, hand-eye coordination, and sorting skills. It's an interesting take on a traditional block set that your child is sure to love.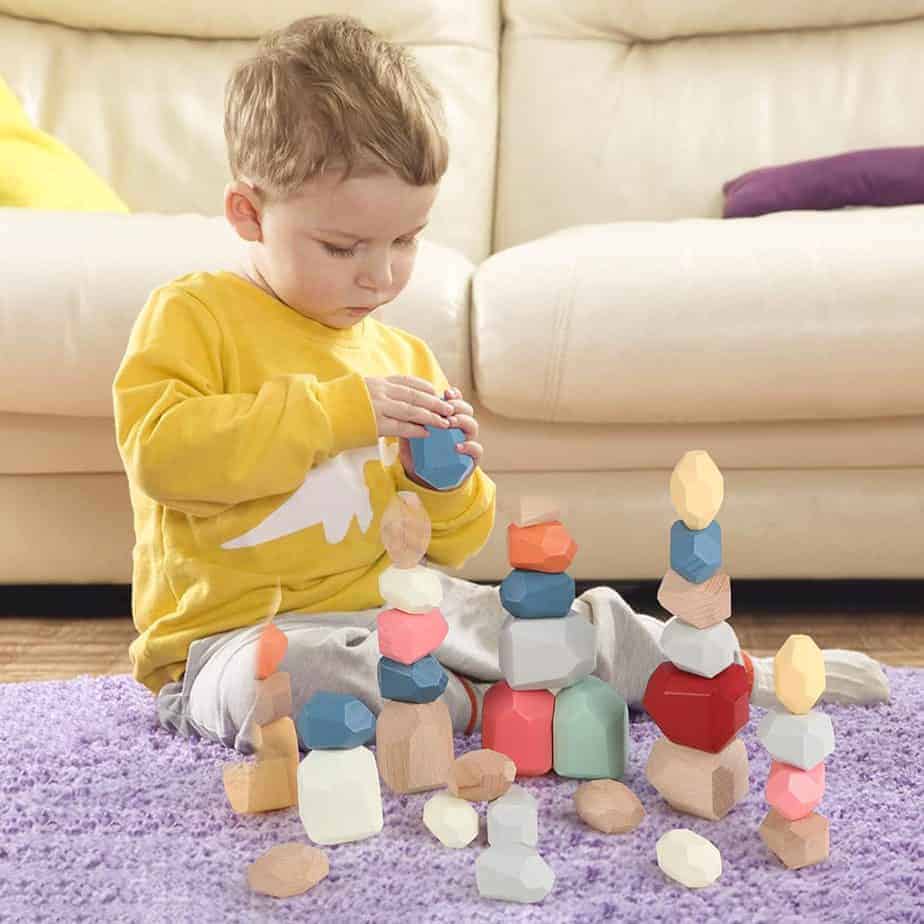 Pros:
It looks like stacking rocks
It comes with 36 pieces
Promotes tranquility
Promotes creative thinking
Cons:
Not everyone may like the shape
Not many blocks for the price
FAQs
Question: What age are wooden blocks good for?
Answer: Wooden blocks are perfect for ages anywhere from two years old to about 11 or 12.
Question: What wood is good for kids' blocks?
Answer: Any solid hardwood is perfect for wooden blocks sets.
Question: Why are wooden blocks good for toddlers?
Answer: Wooden blocks are great for toddlers because it helps them develop their hand-eye coordination and dexterity.
Final Words
So, there you have it – all you've ever wanted to know about wooden block sets, why they are so important to your child's development, and even a list of some of the best wooden block sets you can buy online now.
Whether you want to purchase some for your child, or you know of a child who would love a new set of blocks, you simply can't go wrong with any of these wonderful sets listed. But I'd highly recommend the Colorful Wooden Building Blocks Set for its overall awesomeness.
Did you find this article helpful? I hope you did. Do you have any experience using wooden block sets as a play and educational tool? I would love to hear from you.
Please feel free to share your experiences in the comments section below. And for more awesome guides, check out our best beeswax crayons!
Recommended reads: