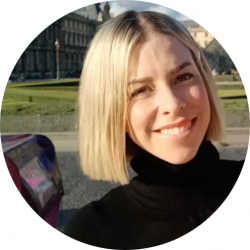 Latest posts by Jodie Chiffey
(see all)
Wooden toy barns are created to engage your child in play using farm themes and aesthetics. Not only will your little one enjoy playing pretend, but they will also learn the basics of coordination and organization as they explore rural farm life.
In this guide, you will find the best wooden toy barn ideas, including an overview of each of the toys, pros, and cons, as well as FAQs so you can make an educated choice for your little one.
Related: Also, take a look at our reviews on the best wooden Kapla blocks.
If you're in a rush, here's a quick look at my favorites and top choices.
At a Glance: 5 Best Wooden Toy Barn Ideas
| | | | | |
| --- | --- | --- | --- | --- |
| Best Wooden Toy Barns | Best for | Materials | Dimensions | More info |
| Melissa & Doug Wooden Toy Barn | Indoor and outdoor play | Wood | 13.5 x 4.7 x 11.25 | Find out more |
| Terra by Battat Wooden Barn | Fun learning with friends | Wood | 19.57 x 13.9 x 13.07 | Find out more |
| Lakeshore Barn | Simple play | Wood | 16 x 8 x 13 3/4 | Find out more |
| Breyer Deluxe Traditional Barn Set | Children who love horses and learning | Wood | 30.5 x 18.5 x 21 | Find out more |
| Constructive Playthings Wooden Barn | Aimed at younger children | Wood | 21.25 x 16.75 x 4.25 | Find out more |
Bottom Line Up Front
My top choice is the Terra by Battat Wooden Barn due to the number of extras that come with it. This wooden barn not only includes moveable parts but also has 20 farm animals.
Selection Criteria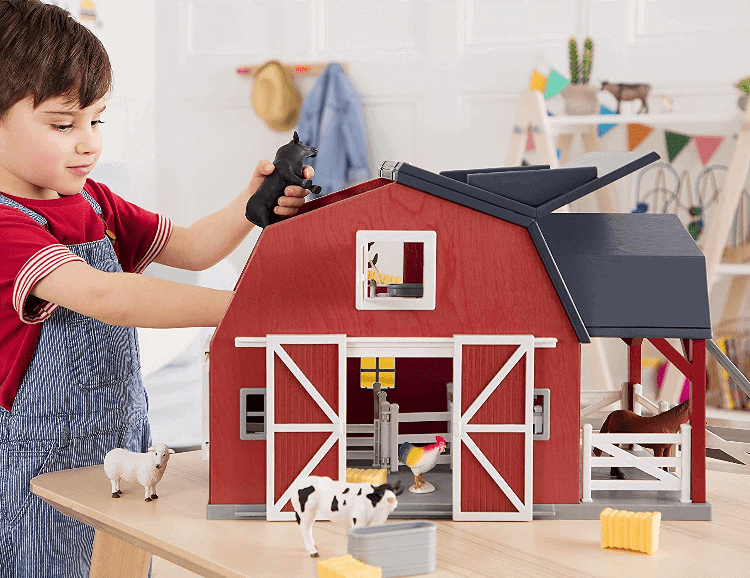 I used strict criteria when selecting the absolute best choice in wooden toy barns.
Styles
The best wooden toy barn is a style that's attractive to the eye, being colorful and detailed. Also, styles that include removable tops provide a way to enjoy the interior of the toy barn. The best wooden toy barns are styled with children in mind.
Solid Wood
The best material for wooden toys barns is solid wood. Even though some plastic or metal pieces may be used when assembling the toy, the largest percental is natural wood or wood products.
Functions/Extras
The best wooden toy barn has moveable parts, good access to the interior, and is easy to move. A few things that make a wooden toy barn stand out are the extras, such as accessories and plenty of animal figurines.
Types of Wooden Toy Barns
There are numerous types of wooden toy barns on the market today. Among the many options, you'll find large, medium, and small versions of this educational toy. Wooden toy barns are also made in simplistic or detailed styles and in an array of colors.
Materials
Most wooden toy barns are made from plywood or other manufactured wood products. This is mainly because most children like to carry their wooden toy barns to various locations. Having a lighter-weight wood product makes this possible. There are still some versions made from solid wood, but they are usually for tabletop play only.
Styles
Wooden toy barns come in many styles as well. There are full-size barns that open down the middle that can be spread out for ease of play, and there are solid barns that only open through doors and windows. Some styles are also open-faced barns where the interior remains visible at all times.
There are pre-assembled barns, barns that need assembly, and detailed barn kits. There's a wooden toy barn for every desire.
5 Best Wooden Toy Barn Ideas
Melissa & Doug Fold and Go, Wooden Barn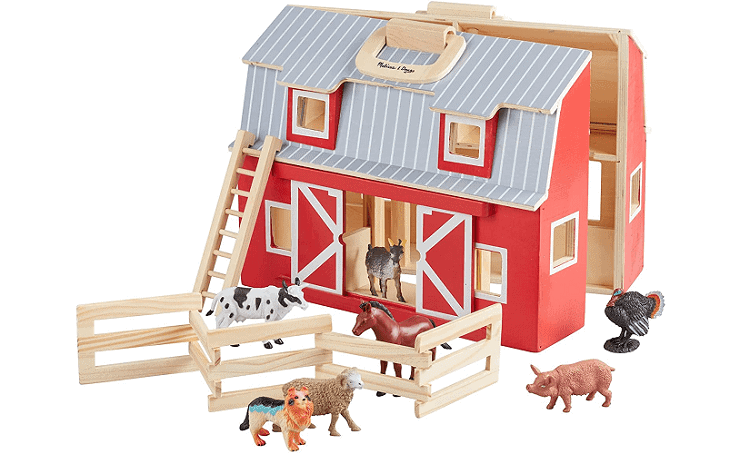 If you're looking for fun imaginative play for your child, this product serves the purpose. The Melissa & Doug Fold and Go Wooden Barn is perfect for an indoor or outdoor learning experience.
The little wooden barn is part of a set that includes farm animals, including a turkey, cow, and pig, a wooden ladder, and a fence. The barn opens down the middle for a full view of the interior. It also has a handle for easy carry.
The various ways to engage with this product help children build social skills and self-confidence. While most Melissa & Doug products are exceptional, some of the barn sets purchased had scratches and faded paint.
There were other small inconsistencies, but overall, most products were of high quality. Reports of these manufacturing defects are rare with this company. The barn is made from quality wood products and plastic accessories.
Overall Dimensions:13.5 x 4.7 x 11.25
Weight: 2.2 lbs.
Pros
The barn opens for a large interior view
It comes in a set
Great for indoor or outdoor play
Durable
Cons
Manufacturer defects on rare occasions
It contains some plastic parts
Terra by Battat Wooden Barn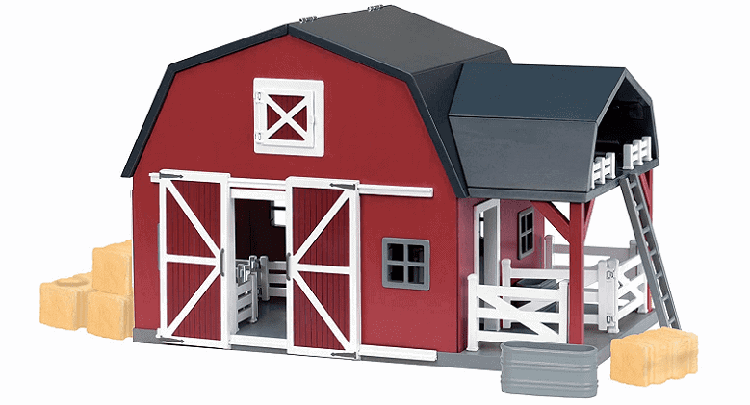 This toy may be just the thing to help reduce screentime for children. Interactive farm play also helps increase compassion for animals as well. The Terra by Battat Wooden Barn has many unique features, including a roof opening, pulley system, and various animals.
This little country playset also has ladders, hay bales, and barrels to complete the scenario. Your child will love having fun and learning at the same time with this quality toy.
While some manufacturing defects were reported, they are minor. A random door or window fails to close properly on rare purchases on this product. However, the set is made from solid wood and built to endure many sessions of play. The animals, hay bales, and other accessories are made from plastic. Otherwise, all the foundational pieces are wood. So, in reality, this set is not entirely made from wood products.
Overall Dimensions:19.57 x 13.9 x 13.07
Weight: 10.85 lbs.
Pros
Sturdy construction
It comes with 20 animals and various accessories
Open roof entry
Moveable parts
Cons
Rare manufacturer defects
Accessories are plastic
Lakeshore Barn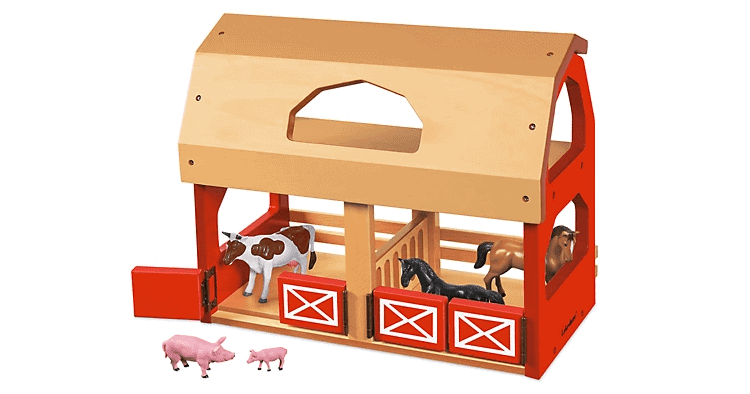 The little red roof barn is adorable for small children learning about farm life. Let your little one play pretend as they feed the horses and fence in the pigs. The Lakeshore Barn is made for years of solo fun, learning, and playing with friends as well.
With its open-back construction, seeing inside is as easy as turning the barn around. Pair the barn with farm animals or other accessories sold separately.
Unfortunately, no farm animals or accessories like hay bales are included with this product. The wooden barn is a full-piece design with an enclosed front and open back. It has swinging barn doors on the bottom level in the front. The first floor has double stables, and the top floor is a hayloft. The Lakeshore Barn is crafted from high-quality wood and assembled using various pegs and screws made from metal and plastic. It's a simple product that's fun and easy to assemble.
Overall Dimensions:16 x 8 x 13 ¾
Weight: 4 lbs.
Pros
High-quality construction
Bright colors
Cons
Some manufacturer defects
It doesn't include accessories
Fully open back
Breyer Traditional Deluxe Toy Horse Barn Set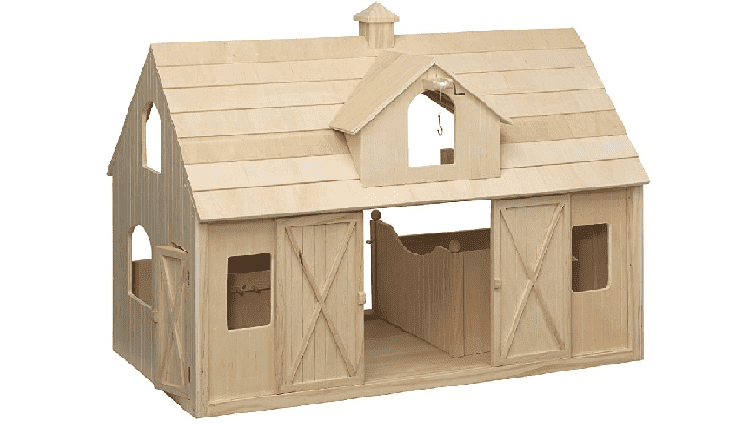 This toy barn satisfies even the pickiest junior equestrian for children who love horses. This traditional series is an authentic replica of a real horse cupola, complete with haylofts, bridle and saddle rack, and 2 room stalls.
The Breyer Traditional Deluxe Toy Horse Barn Set provides your little one with the ultimate learning experience, paired with hours of fun.
Although this toy is loads of fun once assembled, it's the process that disappoints. The reading instructions are small, and sometimes they're difficult to understand.
There are sometimes manufacturer defects as well. For the price, this can be frustrating. However, when assembled, this barn has many details and several accessories.
The barn does not include horses but does provide an educational environment. This toy helps with learning compassion and social connections with other children.
Overall Dimensions: 30.5 x 18.5 x 21
Weight: 18 lbs.
Pros
Natural wood construction
It comes with some accessories
Cons
Difficulties with instruction
Manufacturer defects
No horses included
Constructive Playthings Wooden Barn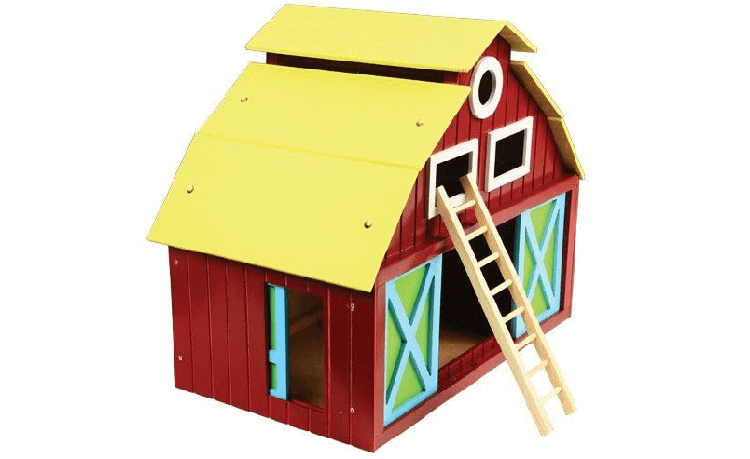 Some children prefer simplistic toys, like this one. The Constructive Playthings Wooden Barn is a compact structure that sets farm life scenes. This little red barn has bright green and blue sliding front doors, a yellow roof, and white trimmed windows. There's also a cute beige fence that comes with the barn.
It's simple enough to be safe for toddlers, but still, loads of fun for older children. Your little one can spend hours creating wholesome scenarios with this toy. Unfortunately, this wooden barn doesn't have any other accessories, or farm animals included.
It also has no moveable parts or handles. To see inside, you must completely remove parts of the roof. However, this little barn is still great fun and educational too.
Overall Dimensions:21.25 x 16.75 x 4.25
Weight: 9.83 lbs.
Pros
Simplistic and colorful
Great learning tool for toddlers
Cons
It does not include accessories or animals
The top isn't easily opened
No extras, including handles
Frequently Asked Questions
Question: Do all Barns Include Animals?
Answer: No, not all wooden toy barns include farm animals. However, many do. There are some barn sets that include animals, farm tools, and even other accessories. Reading through the descriptions and details of each product of interest will help you determine these things.
Question: Do Wooden Toy Barns Come Pre-Assembled?
Answer: Unfortunately, most wooden toy barns do not come preassembled. However, they are usually pretty easy to put together. Each toy barn comes with comprehensive assembly instructions that make building your barn much easier than guessing. If you have any issues with assembly, just call customer service for help.
Question: Are Any Other Materials Used Besides Wood for Making the Wooden Toy Barns?
Answer: There are some small plastic and metal pieces used to hold the barn together, although not many. Most pieces are glued together.
The metal pieces are usually small rivets or screws that hold larger parts together, and the plastic pieces are for details such as hooks or for the ends of farm tools. Paint is also used, but it is non-toxic and safe for children.
Question: Can You Keep Your Wooden Toy Barn Outside?
Answer: You can take your toy barn outside and play, but you shouldn't keep it there. Considering it's made from wood materials, it can fade and warp over time. It's best to bring the toy barn back inside after playtime. Also, never expose your wooden toy barn to bright sunlight or light rain.
Final Thoughts: Best Wooden Toy Barn Ideas
When it comes to wooden toy barns, I chose the Terra by Battat Wooden Barn. This product is unique because it has moveable parts, an easy-to-utilize roof opening, and a large number of farm animals.
Also, there are accessories such as hay bales and barrels to complete the overall farm life scenery. By carefully considering each detail and weighing the pros against the cons, this wooden toy barn made the grade.
I hope my review of these products proved useful in finding the best toy barn for your child. If you're looking for other natural wood toys, check out our review on the best wooden toy crane ideas. All toys are reviewed thoroughly so your child can enjoy only the best.
Recommended Reads: